Classic Mexican Tortilla Soup
This classic Mexican Tortilla Soup is adapted lightly from Rick Bayless. It is crazy delicious and I make it probably at least once a month (or more!)!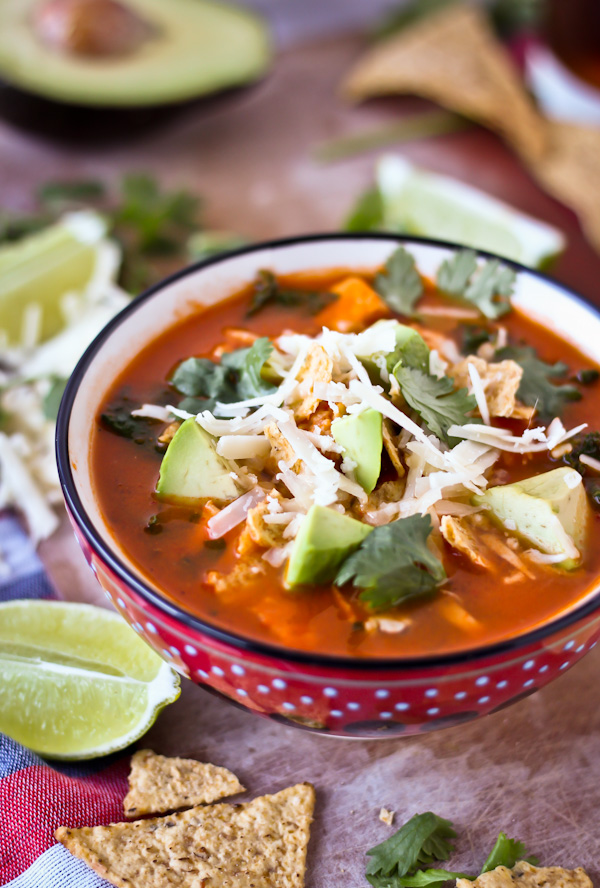 I'm not going to lie, I'm a little sad that soup week is over.  Our fridge, on the other hand, is probably thrilled–as we're just beginning to clear out all of the leftover containers.  It was sort of a mess for a while.
On a more positive note, I haven't had to make lunch for days and days!  Maybe a February soup week is in order?  Thoughts?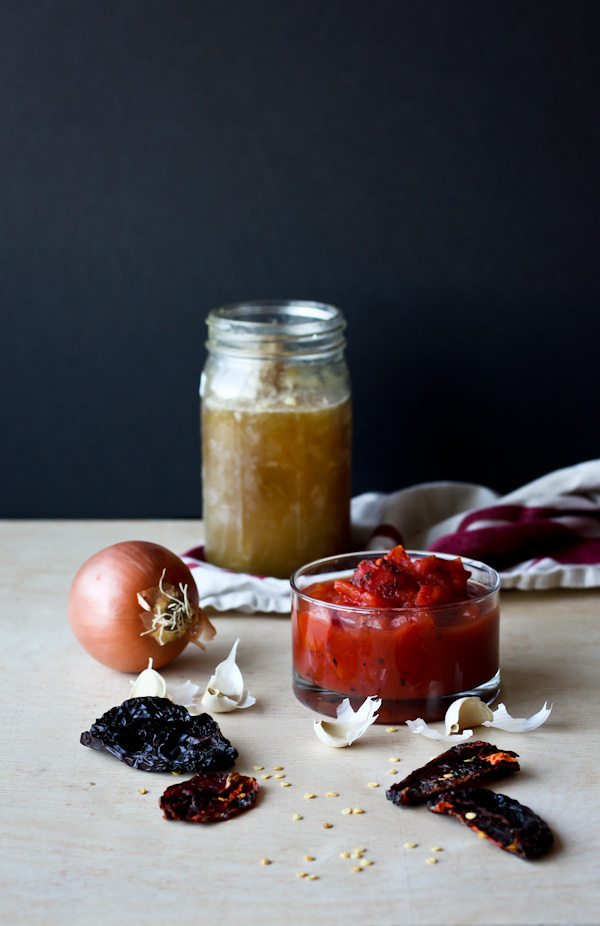 Today's soup might just be one of my absolute favorites EVER!  I've been making it for years–and have probably made it at least three times in the last month and a half.
I'm all about the toppings when it comes to pretty much anything.  And as you probably know already, Mexican tortilla soup is all, and I mean all about the toppings.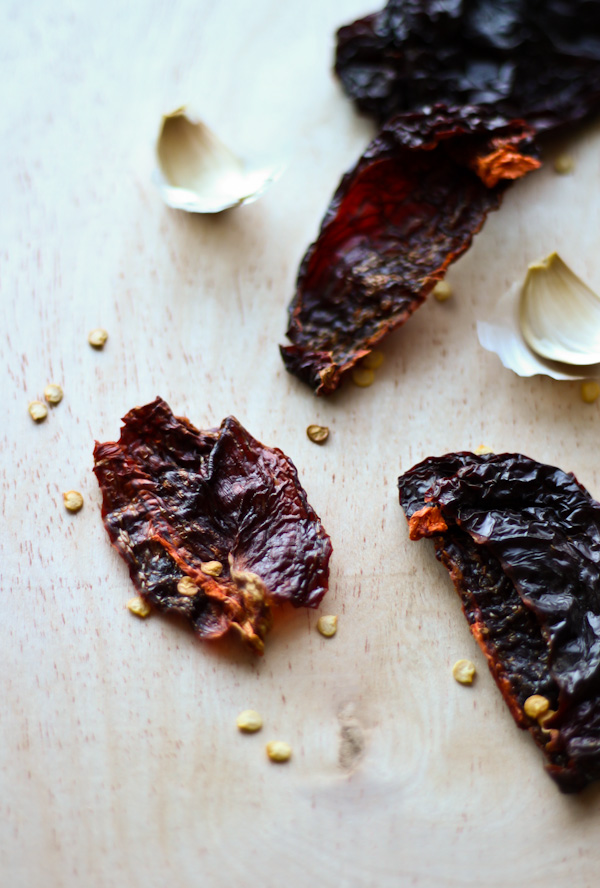 Obviously, the chiles are equally as important.  As are the fire roasted tomatoes.  You can't have a good Mexican tortilla soup without any one of these ingredients!
There are a million recipes for Mexican tortilla soup in the world, but today's recipe is adapted from one of my favorite cookbooks, Mexican Everyday by Rick Bayless.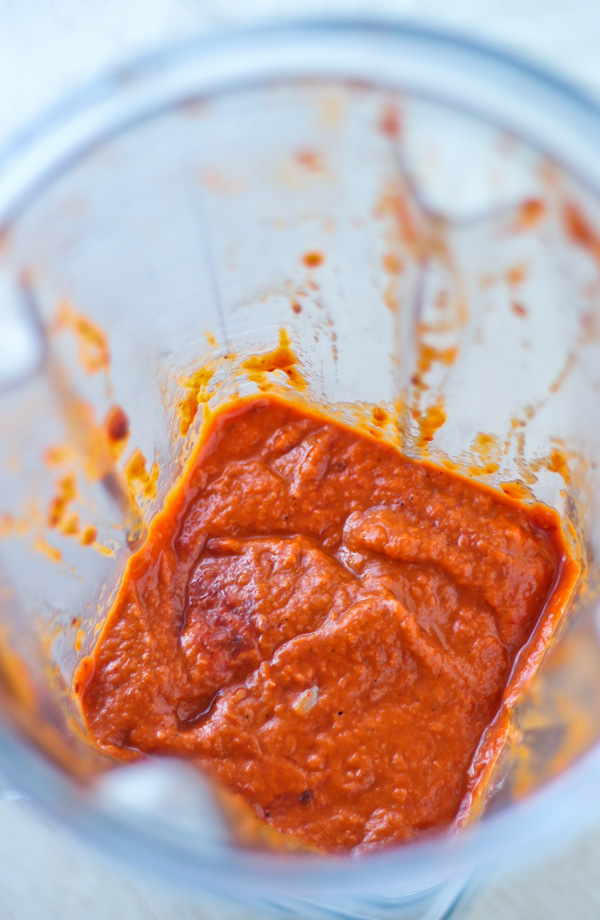 The original recipe calls for pasilla negro chiles–but I've always had difficulty finding those, so I've adapted the recipe to use the more readily available pasilla ancho chiles.
To prepare the base of the soup, you simply toast the chiles over an open flame, de-seed and de-stem them, and puree them in the blender with fire-roasted tomatoes and sauteed onion and garlic (see picture above).  
This chile tomato mixture is then reduced over high heat, until it is very thick.  At this point, you simply add in chicken stock and allow the flavored broth to simmer for an additional 10-15 minutes, before adding the chicken.  It's that easy!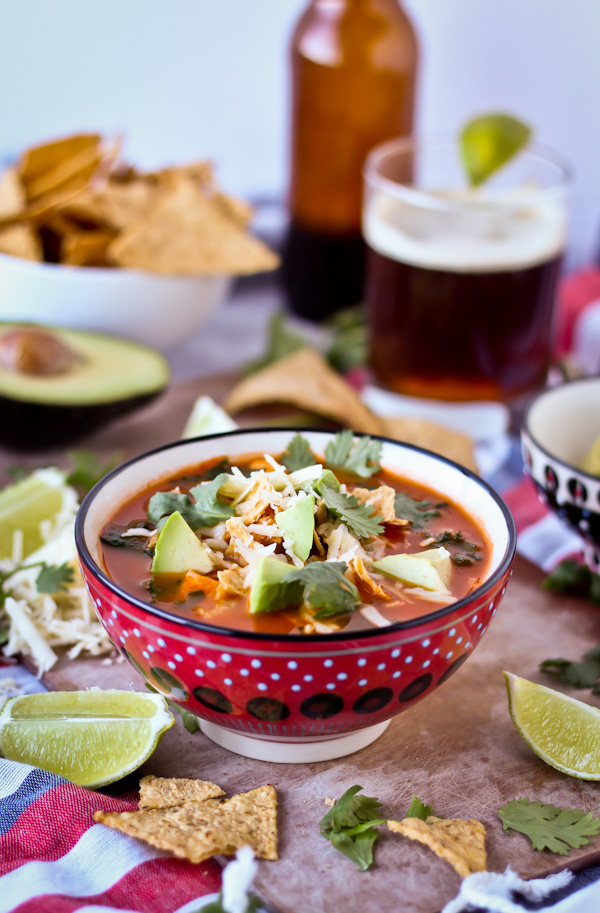 To make it even more hearty, I love to add chopped kale or collard greens (as the recipe below reflects).  The broth is smoky, a little bit spicy, and bursting with flavor.
And then, of course, comes the best part.  The toppings: crushed tortilla chips, grated sharp cheddar cheese, cilantro, diced avocado, and fresh lime juice.  Texture heaven!  Enjoy.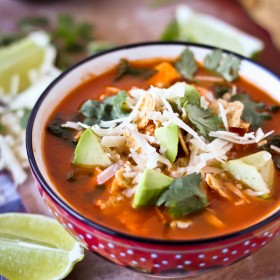 Classic Mexican Tortilla Soup
Ingredients:
Soup Ingredients:
2 large dried pasilla ancho chiles
1 (15-ounce) can of fire-roasted tomatoes (I prefer Muir Glen brand)
2 tablespoons extra virgin olive oil
1 medium onion, diced
4 garlic cloves, roughly chopped
8 cups low-sodium chicken broth or stock
kosher sea salt
freshly ground black pepper
2 cups roughly chopped kale leaves, stems removed
1 1/2 lb chicken breast, cut into 1/2" chunks
juice from half a lime
Toppings:
fresh lime wedges
corn tortilla chips
grated sharp cheddar cheese
avocados (1-2), pit removed and diced
fresh cilantro leaves
Directions:
Using metal tongs, toast the chiles carefully over an open flame (using a gas burner--or alternatively, in a dry skillet over medium heat) until they are soft and fragrant. Set aside on a cutting board to cool, before discarding the seeds and stems. Cut the chile roughly and place in a blender, along with the fire roasted tomatoes in their juices. Set aside.
Heat the oil in a large soup pot over medium-low heat. Add the chopped onion and garlic and stirring frequently, cook until soft and translucent--roughly 5-6 minutes. Remove from heat.
Using a slotted spoon, transfer the cooked onion and garlic to the blender with the tomatoes and chiles. Puree all of the ingredients together until very smooth.
Return the soup pot to high heat. Once pot is very hot, add the pureed tomato chile mixture all at once--it should sizzle immediately. Continue to cook over high heat, stirring constantly, until the mixture thickens substantially--for about 5-6 minutes--once it is ready, it should resemble the thickness of a loose tomato paste.
Add the chicken broth to the pot and combine thoroughly using a spoon or whisk. Reduce the heat and allow the broth to simmer for 15-20 minutes. Season generously with salt and pepper to taste.
Over low heat, add the kale and chicken. Stir occasionally until chicken is just cooked through (this should only take 2-3 minutes). Finish the soup with lime juice.
Serve hot with toppings (or alternatively, place toppings in empty bowls and pour soup directly over them).
Recipe adapted lightly from Mexican Every Day by Rick Bayless. Dried pasilla ancho chiles can be found at Whole Foods or specialty Mexican markets.