Greek-Style Potato Skins with Hummus
Greek-style potato skins with hummus, feta, chopped cucumber, tomatoes, and scallions.  A delicious (gluten-free and vegetarian) healthy twist on a classic tailgating appetizer.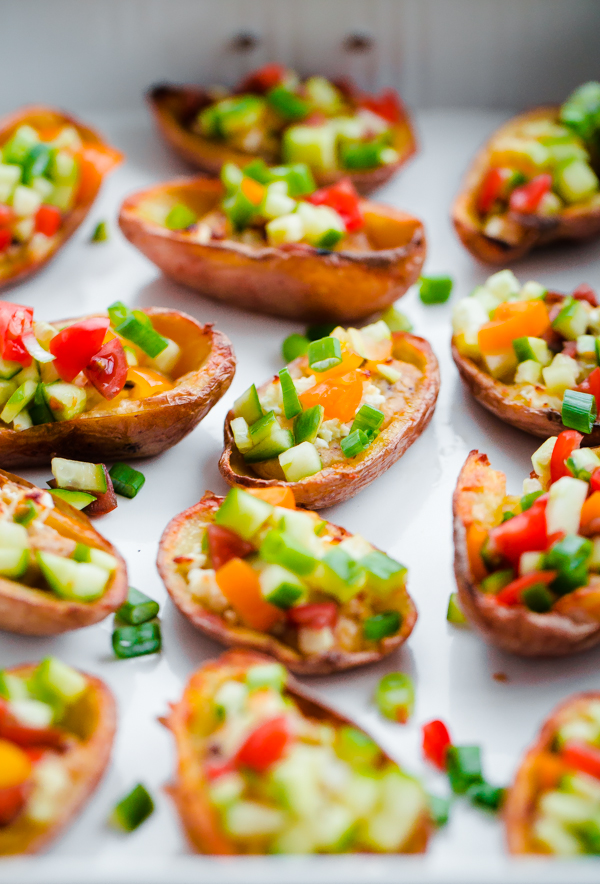 This post is sponsored by Sabra.
Crispy potato skins. Warm olive tapenade hummus. Feta. Vegetables. I think I've pretty much just covered all of my favorite food groups.
As most of you know (because I've told you three thousand times already), appetizers are my favorite part of any meal. If it were up to me, my dinner every night would consist of bites of various appetizers and snacks. Whose with me?
Easy snack and appetizer recipes are particularly important at this time of year. I don't know about you, but my family gets hangry extremely easily (not an exaggeration), so bite-sized snacks are a must at all times. When I was trying to come up with a creative twist on a classic party or tailgating snack, crispy potato skins came to mind almost immediately. As crazy as this may sound, I don't think I had my first potato skin until I was almost 27 years old. So, I'm making up for lost time.
Instead of going with a classic potato skin (filled with rich ingredients, such as  sour cream, cheese, and bacon), the idea for these lightened up Greek-style potato skins came to mind. They are filled with hummus, sprinkled with a touch of feta, and finished with chopped cucumber, tomato, and scallion. Super satisfying, tasty, nutritious, and vegetarian! [Naturally gluten-free too.]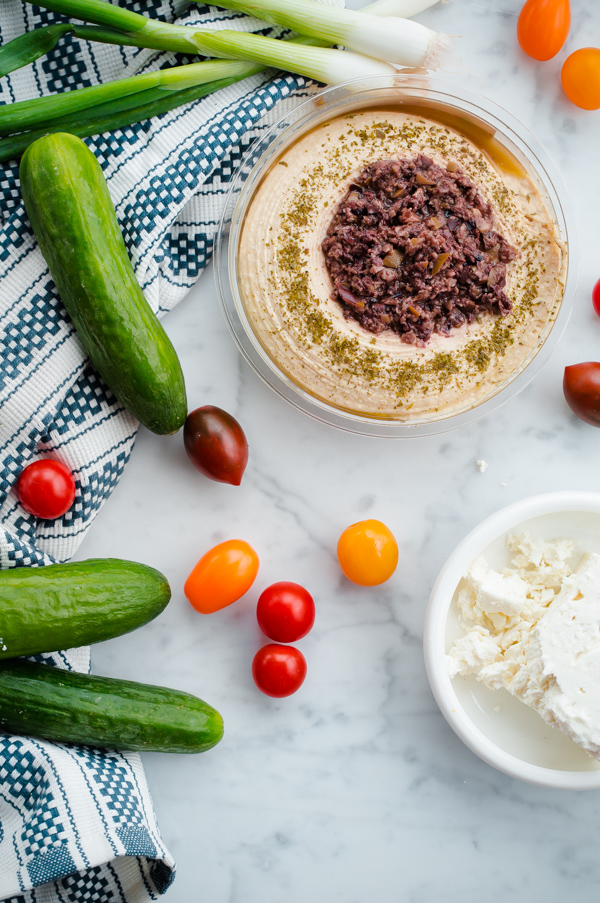 Most potato skin recipes call for russet potatoes. Instead of using russets, this recipe uses medium red (or yellow) potatoes. The skins are a bit more delicate, but I love that their smaller size makes these potato skins bite-sized. If you can find small russet potatoes, you can use those too!
To go with the Greek theme, I used Sabra's olive tapenade hummus, which is my second most favorite hummus flavor after their lemon twist hummus. Olive tapenade is one of my favorite foods (remember this swirled tapenade bread?) and it pairs so perfectly with the hummus.
Once the hummus and feta are added to the potato skins, they are broiled in the oven for a few minutes. This allows the hummus to be warmed (if you've never tried warm hummus, this is a game-changer!) and the feta to be lightly caramelized.
If you're not into olives, you could absolutely use classic hummus for these potato skins as well! Or simply substitute with another favorite Sabra flavor. As I've discovered over the past few years, hummus is so incredibly versatile. Just one of the many reasons why I love it so much.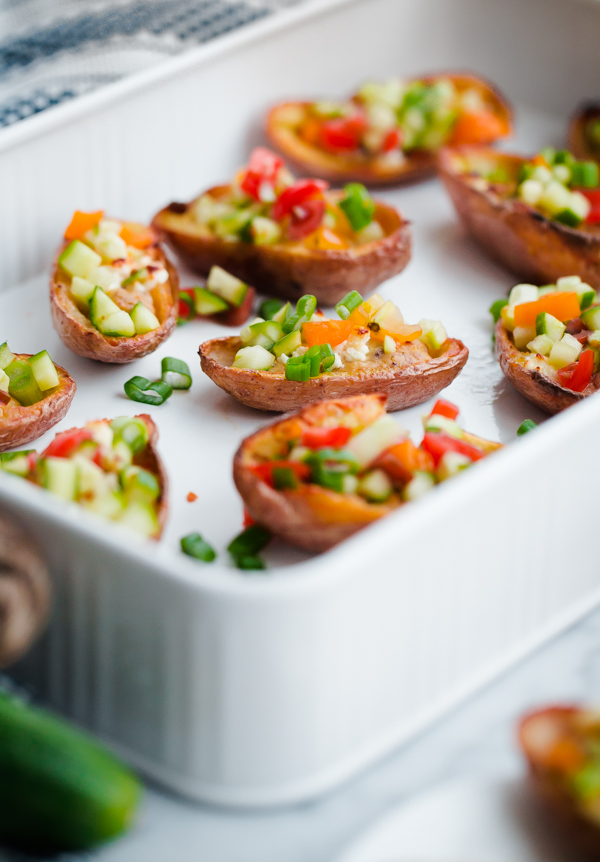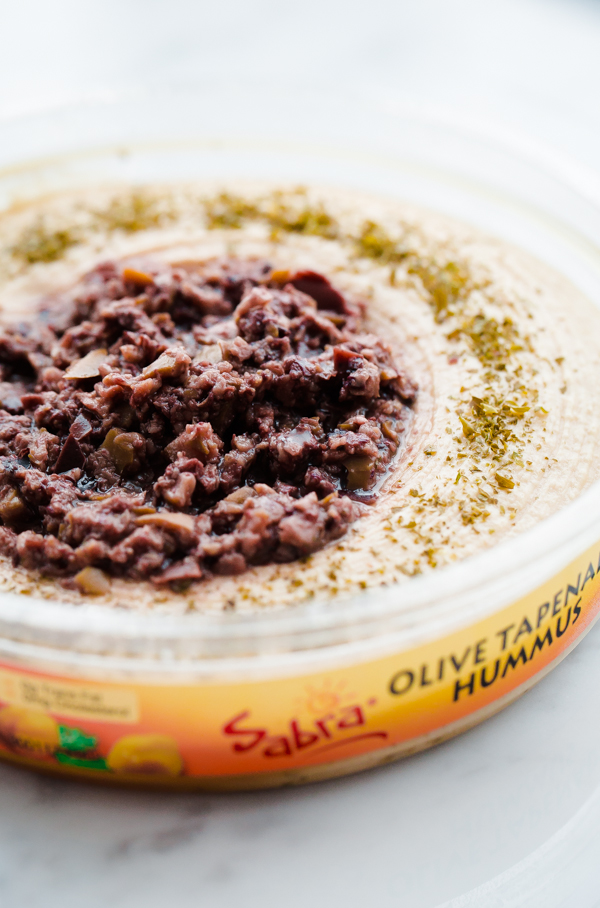 If you are bringing these potato skins to a tailgating or holiday party over the next few weeks, you can bake and prepare the potato skins in advance (sans any toppings), place them in a large container, and simply warm them in the oven for a few minutes at your friend or family member's house before filling them.
You can also store the empty potato skins in the refrigerator for a few days prior – if you need to reduce prep time for the day that you want to serve them.
The rest of the ingredients can be packed up easily and brought with you for quick assembly! It doesn't get much easier than that.
Bonus: These potato skins can be made vegan or dairy-free by simply leaving out the feta cheese. Voila! Or you can simply set aside a few potato skins without cheese. No one is left out of the fun!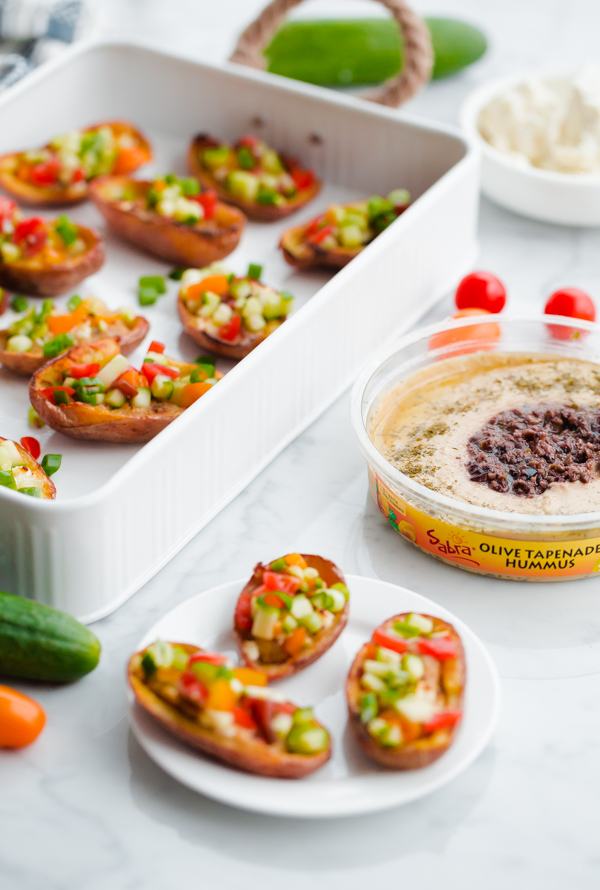 Just remember to make lots of extras! These things are quite addictive and it's hard to stop at just one! The good part? No guilt required.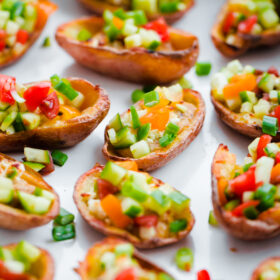 Greek-Style Potato Skins with Hummus
Ingredients:
2.25 lbs medium red or yellow potatoes (or small russet potatoes), rinsed
1 tablespoon extra virgin olive oil, plus more for brushing
kosher sea salt
freshly ground black pepper
one (10-ounce) container of Sabra Olive Tapenade Hummus, stirred well
1.5 ounces crumbled feta cheese
1/4 cup finely diced English or Persian cucumber
1/4 cup finely diced grape or cherry tomatoes
2 scallions, green tops only, finely sliced
Directions:
Place one rack in the center of your oven and another rack in the top half of the oven (roughly 4-5 inches below your broiler). Preheat the oven to 400 degrees Fahrenheit. Line a sheet pan with aluminum foil. Combine the the chopped cucumber and tomatoes together, season lightly with salt and pepper, and set aside.
Place the potatoes in a medium mixing bowl. Toss the potatoes with one tablespoon of extra olive oil and sprinkle with kosher sea salt and pepper. Distribute the potatoes evenly in rows on the sheet pan - so they are not touching one another. Bake at 400 degrees (center-rack) for 25 to 30 minutes, or until a wooden skewer can easily be pierced through them without meeting resistance.
Place on a cooling rack until the potatoes are cool enough to handle. Increase the oven temperature to 425 degrees Fahrenheit. Slice the potatoes in half lengthwise. Hold each potato half in the palm of one hand and using your other hand, carefully (red potatoes have more delicate skin than russet potatoes) scoop out the potato flesh with a small melon ball scoop or spoon leaving about 1/8 of an inch of potato in the skin. Set aside the scooped potato into the mixing bowl from earlier - use for mashed potatoes or other cooking applications.
Set a rack in the foil-lined sheet pan. Brush the potatoes with olive oil, inside and out, and sprinkle lighting with salt. Distribute the skins, skin-side up, on the rack and bake at 425 degrees Fahrenheit for 8 to 12 minutes, flipping the potatos halfway through.
Remove the potato skins from the oven. Preheat the oven broiler to the highest setting. Spoon between 1 to 2 teaspoons of the olive tapenade hummus into each potato skin (you want the skins to be about half-way full). Top with a small amount of crumbled feta. Set the potato skins back on the rack lined sheet pan. Broil in the oven (4-5 inches below your broiler) for 3 to 4 minutes, watching carefully, until the feta is lightly caramelized and the hummus is warm.
 Remove and top each potato skin with a small spoonful of the chopped cucumber and tomato mixture. Garnish with sliced scallions. Serve immediately.
These potato skins can be made vegan or dairy-free by simply leaving out the feta cheese. Or you can simply set aside a few potato skins without cheese for friends and family!
This post is sponsored by Sabra.  I am proud to be part of the Sabra Tastemaker program. Thank you for supporting brands that help make this site possible!