Apple Hazelnut Crisp
Apple hazelnut crisp – this easy apple crisp recipe has a sweet and tart spiced apple filling, and is topped with a buttery hazelnut oat topping.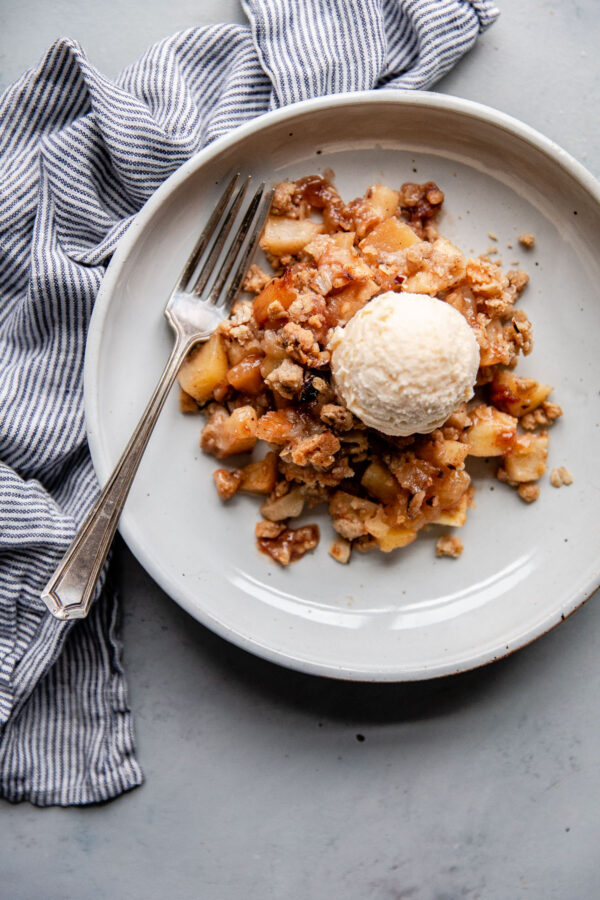 I've been keeping a secret from all of you. Apple crisp might be one of my favorite desserts of all time. There's something about that warm, gooey apple filling and buttery oat topping that speaks to me.
In my mind, a great fruit crisp is lightly spiced, perfectly balanced in sweetness and tartness, and unpretentious. Easy comfort food that delivers on flavor, texture, and deliciousness.
I'm not sure why it's taken me this long to share an apple crisp recipe with you, but today's the day. If you are swimming in freshly picked apples, looking for a simple Thanksgiving dessert, or craving apple crisp (it happens), this recipe is for you.
It is the best apple crisp recipe that I've made to date.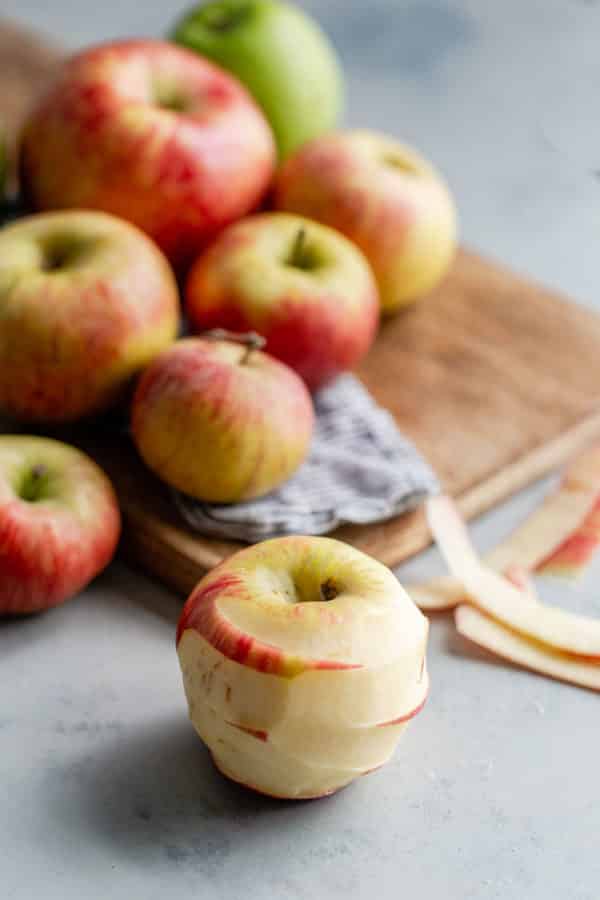 Best Apples for Apple Crisp
Just as we did in this apple cranberry pie, the best apple crisps are made with a variety of apples.
This crisp recipe uses an equal combination of Granny Smith and Honeycrisp apples to achieve that. These are readily available and each contribute varying levels of sweetness, tartness, and texture.
My favorite apple crisps have a good mix of cooked down apple pieces and some pieces that are slightly firmer (yet not at all crunchy or dry).
Granny Smiths contribute tartness and hold their shape better as they cooked. Honeycrisp apples are sweeter, give off more liquid, and become softer (without becoming too mushy) during baking. It is the perfect mix.


Chopped Apples vs. Sliced Apples
There are all sorts of apple crisp fillings. Ones made with sliced apples, others made with large apple chunks, and some made with smaller chopped apple pieces.
After trying a variety of methods, I discovered that chopped apples (specifically, 1/2-inch-thick pieces) produce the most consistent, best results for homemade apple crisp. I highly recommend this method if you've had mixed results with other crisps.
Smaller apple pieces cook down more quickly, more evenly, and, in my experience, ensure that you won't be left with any undercooked, slightly crunchy apple piece or dry filling. Chopping the apples also has the added benefit of making the crisp easier to serve and, in my opinion, a lot more enjoyable to eat.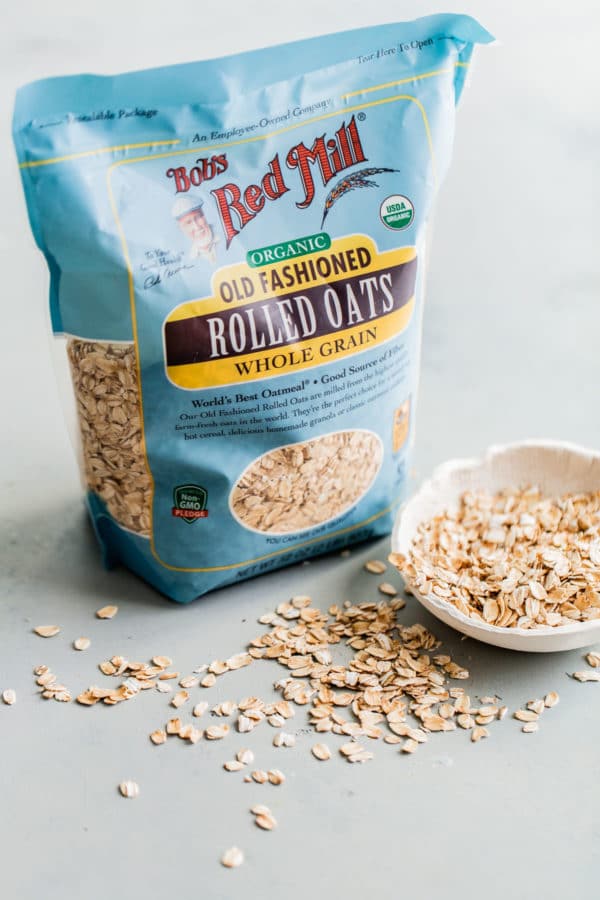 Apple Hazelnut Crisp Topping:
A classic apple crisp is as much about the crisp, butter-flecked oat topping as it is about the warm apple filling.
My ideal crisp topping is made with wholesome ingredients, like flour, old fashioned rolled oats, cold butter, brown sugar (which offers more flavor than granulated sugar), spices, and salt.
For this recipe, I turned to my favorite Bob's Red Mill Organic Old Fashioned Rolled Oats. They are milled from high-quality fresh oats, certified organic, and come in a super convenient resealable bag. We always have a bag (or two) in our pantry.


We use old fashioned rolled oats on an almost daily basis for muesli, breakfast cookies, overnight oats, hot oatmeal, and other baking projects.
I love the chewy texture and flavor that they add to apple crisps, and always use a generous portion in my crisp toppings. To add more texture, we're also throwing in some chopped hazelnuts.
The topping for the recipe comes together quickly in a mixing bowl (using your hands) and can be prepared in advance – refrigerated or frozen – if you're looking to get ahead during the holiday season. Doesn't get easier than that!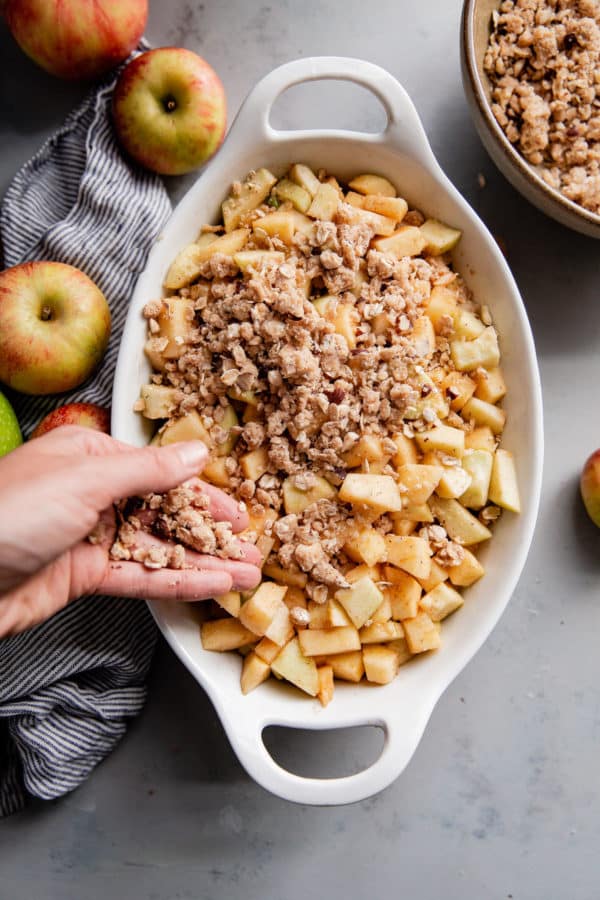 What Makes This Apple Crisp Different
I know what you're thinking. There are a million different apple crisp recipes on the internet. Why is this one any different?
Variety of Apples – similar to this apple cranberry pie, this crisp uses a combination of tart and sweet apples, specifically Granny Smith and Honeycrisp, for flavor and texture.
Warming Spices – this apple crisp recipe uses a lovely mixture of ground cinnamon, allspice, and ginger in the filling and crisp topping.
Lemon Zest and Juice – in my opinion, there's not many desserts that don't benefit from the addition of citrus zest or juice. It helps balance sweetness.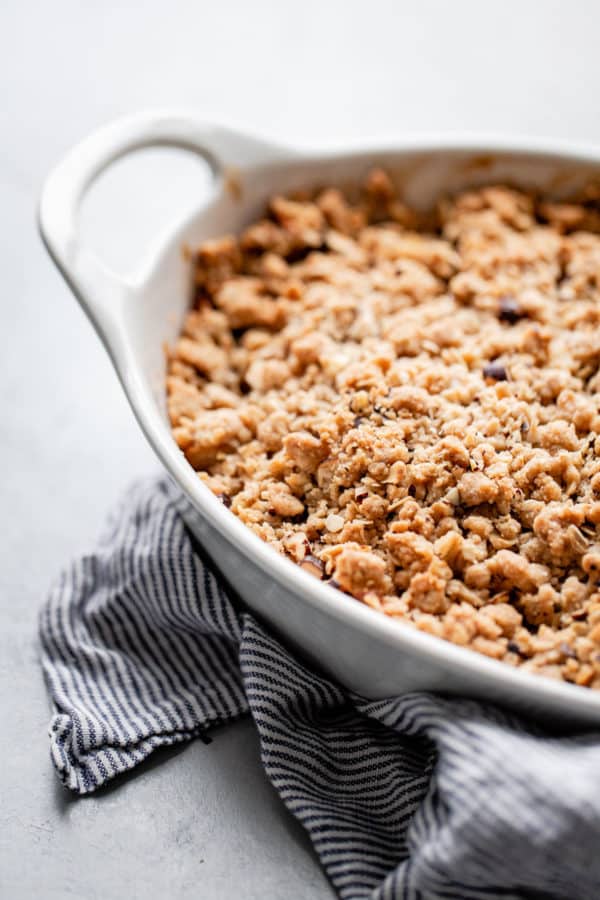 This apple crisp takes about 55 to 70 minutes to bake in the oven. It will vary a bit depending on whatever apples you are using that day.
The crisp topping should be golden brown and the apple filling should be bubbling lightly around the edges of the baking dish. I like to use a paring knife to poke the apples and make sure they are tender. If the knife meets any resistance, continue baking for an additional 5 to 10 minutes.
Allow the crisp to cool slightly out of the oven before serving warm with a scoop of vanilla ice cream or a drizzle of heavy cream. Enjoy!