Brussels Sprouts Salad with Apple, Walnuts, and Parmesan-Pecorino Crisps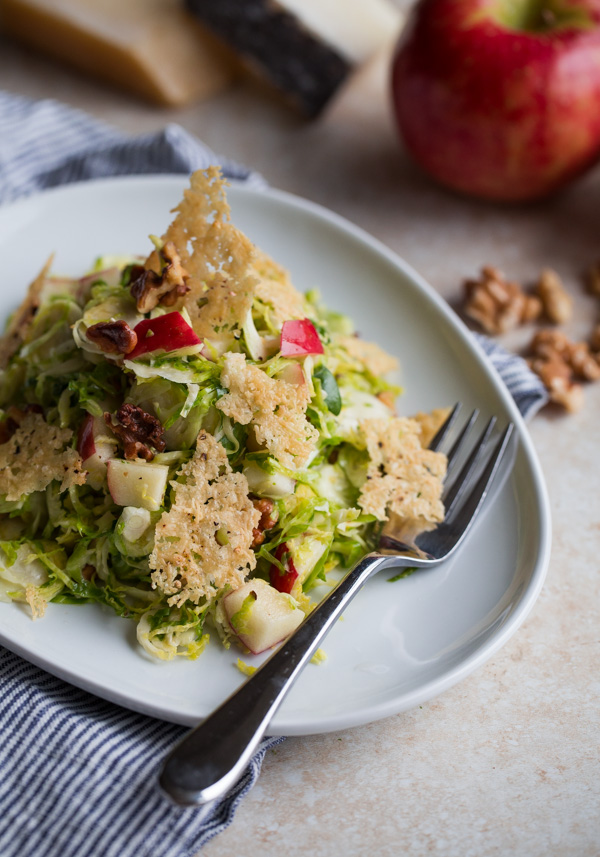 Ok, so today I'm challenging your love of Brussels sprouts. Just a teensy bit, because it wouldn't be #BrusselsSproutsWeek if I didn't do that, right?
As much as I would love to sit here and promise you that everyone under the sun would love this salad, it wouldn't be the truth. I'm all for honesty when it comes to recipes! This is not the (for lack of a better word) 'gateway drug' of all Brussels sprout recipes.
Yesterday's roasted Brussels sprout and squash recipe? Yes (add bacon or pancetta and the odds will substantially increase!). This raw salad? Not so much.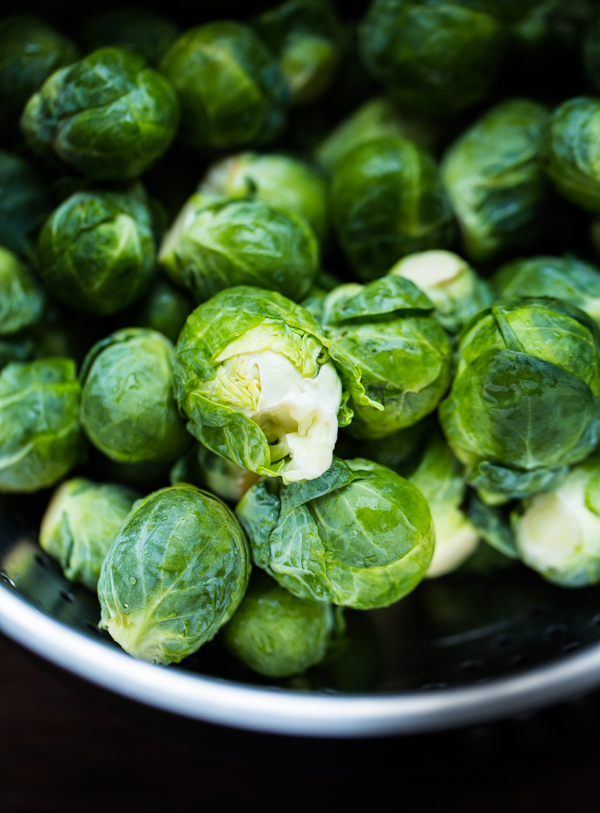 Is it because this Brussels sprouts recipe isn't good? Noooooo. I would not be sharing it if I didn't think it was good.
It's just that raw Brussels sprouts are a lot different than roasted, sauteed, or even steamed Brussels sprouts. I mean, how could they not be?
It would be sort of the equivalent of saying that everyone would love a raw kale salad if they happen to be a fan of cooked kale, and let's face it, not everyone will be. It's just…different! 
But different can be very good too.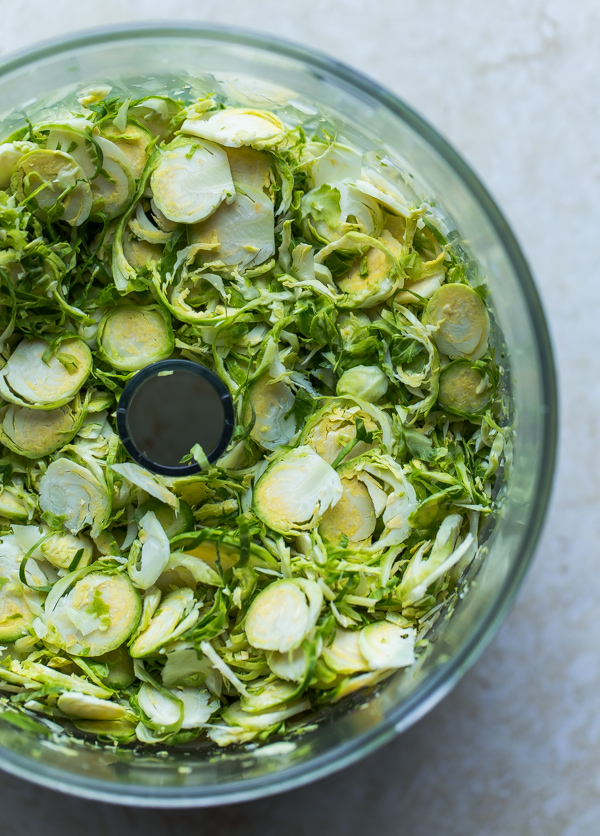 Texture is key for a good Brussels sprout salad!
As you all know, Brussels sprouts are pretty fibrous. I mean, they are basically mini cabbages! Adorable mini cabbages, but majorly fibrous cabbages nonetheless.
In order to enjoy Brussels sprouts raw or in salad form, you really need shave or slice your Brussels sprouts extremely thinly! The thinner and more delicate the better! The best and fastest way to do this–hands down–is to use your food processor's thinnest blade attachment. It takes only five minutes to shred a pound or two of Brussels sprouts. Totally worth the extra dishwashing effort required.
NOTE: To achieve very thin delicate slices and shreds, apply very light pressure when pushing the sprouts through your food processor tube. Strong pressure will yield thicker, crunchier slices and shreds.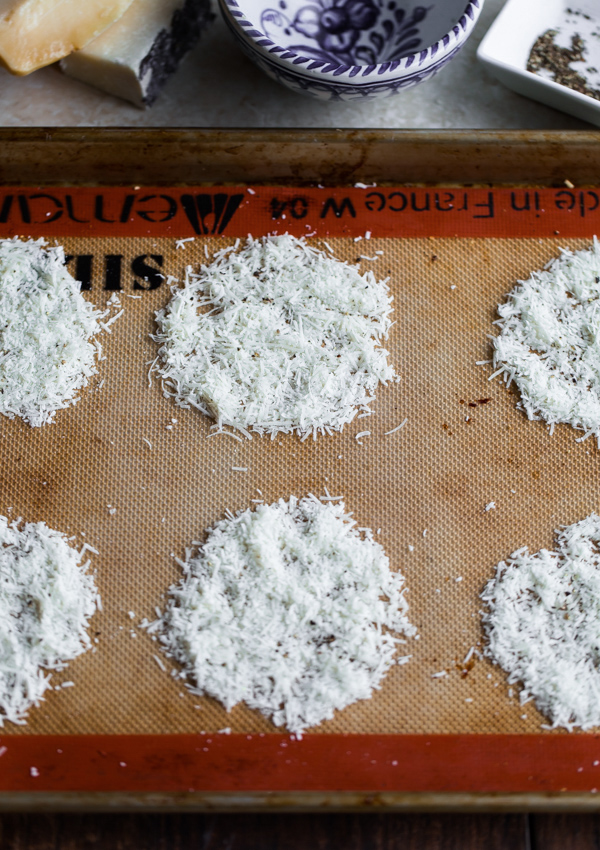 One of my favorite parts of today's salad are these parmesan-pecorino crisps! Feel free to use just parmesan or just pecorino if you prefer or don't want to buy two cheeses, but I loved the combination of the nutty parmesan with the salty, slightly funky aged pecorino.
They add great texture to the salad along with the chopped honeycrisp apple and toasted walnuts. To up the walnut flavor, the vinaigrette is made entirely with walnut oil, which you can find at Whole Foods or other specialty grocery stores. It is so flavorful.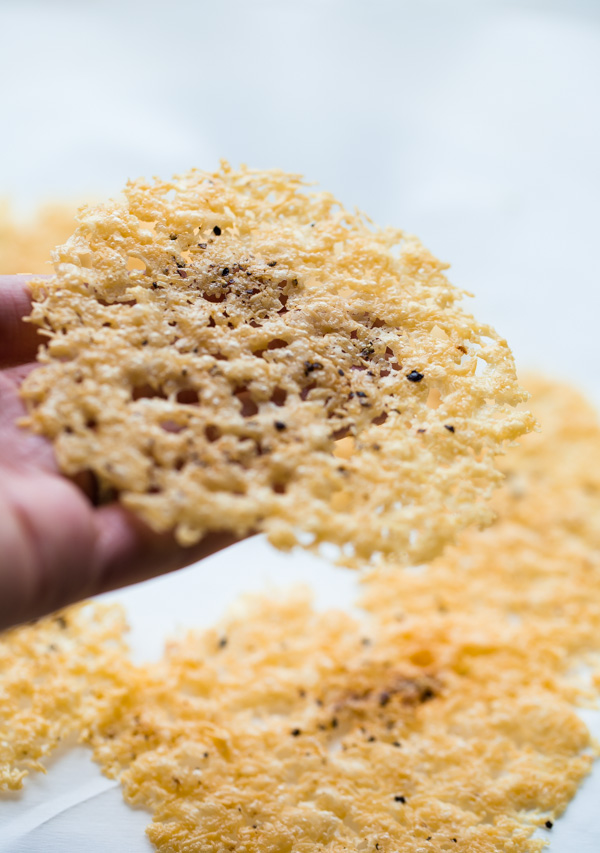 But I'm going to go ahead and answer the question that some of you may already be thinking: "What if I don't own a food processor with a blade attachment?"
I hate to say this (really, I do) but if you don't own a food processor with blade disc attachments, I recommend skipping this and basically all Brussels sprout salad recipes. I know, I know! Don't hate me.
Some recipes suggest using a mandolin (or simply chef's knife) to thinly slice or shred Brussels sprouts, but I would not recommend doing this. Mandolins scare the bejesus out of me, and Brussels sprouts are slippery little buggers. Plus, it would take way too long.
Your fingers are way more important than this salad. Trust me.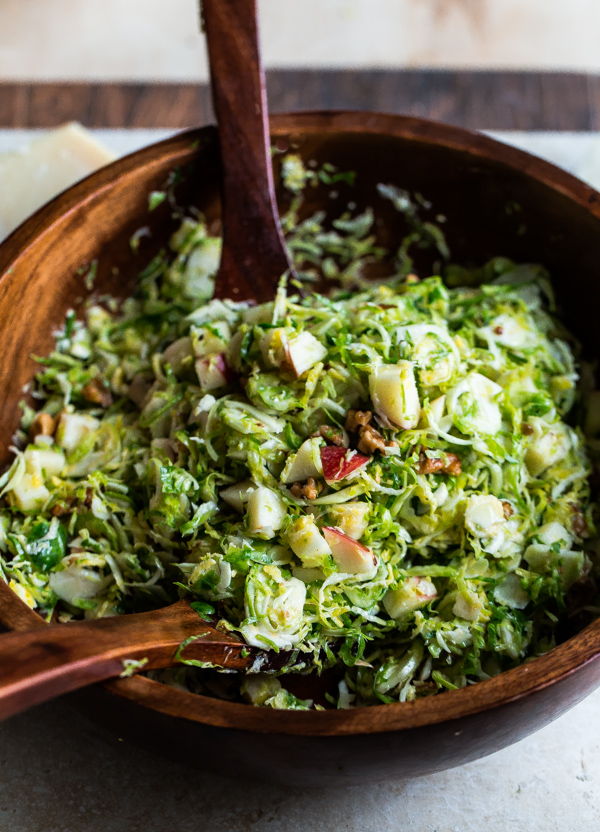 I'm totally going to be one of those crazy over-protective mothers one day, aren't I?
Don't answer that.
Ingredients
Lemon Walnut Vinaigrette:
1/3 cup lemon juice
1.5 teaspoons Dijon mustard
1/2 teaspoon honey
1/3 cup walnut oil (or extra virgin olive oil)
kosher salt
freshly ground black pepper
Parmesan-Pecorino Crisps:
1 ounce parmigiano-reggiano cheese, finely box-grated
1 ounce pecorino cheese, finely box-grated
cracked black pepper
Brussels Sprout Salad:
1 and 3/4 lb Brussels sprouts
1 large Honeycrisp apple, cored and cut into 1/2-inch chunks (heaping cup or so)
3/4 cup toasted walnuts, roughly chopped
Instructions
Preheat the oven to 400 degrees Fahrenheit. Line a large baking sheet with a silicone baking mat (eg. Silpat) or flat sheet of parchment paper.
While the oven preheats, prepare the vinaigrette. In a medium bowl, whisk together the lemon juice, Dijon mustard, and honey until well combined. Slowly pour in the walnut oil, whisking continuously with your other hand, until the vinaigrette is well emulsified. Season to taste with salt and pepper. Set aside.
Combine the grated cheese in a small bowl. Place six  (roughly equal in size) large spoonfuls of cheese on the baking sheet, leaving an inch in between. Pat the cheese down into large circles until the cheese forms a thin layer. Sprinkle the cheese with cracked black pepper. Bake the cheese at 400 degrees for 5-7 minutes, or until golden brown and crisp. Allow the crisps to cool slightly before transferring to a wax or parchment-lined plate. Set aside.
Rinse the Brussels sprouts, and dry them well. Trim the stems. Using the thinnest blade disc attachment of your food processor, thinly shave and slice the Brussels sprouts. Note: to achieve very thin delicate slices and shreds, apply very light pressure when pushing the sprouts through your food processor tube. Strong pressure will yield thicker, crunchier slices and shreds. Place the shredded Brussels sprouts in a large salad bowl and add the chopped apple and chopped toasted walnut pieces. Dress the salad with the lemon walnut vinaigrette and toss well. Season to taste with salt and pepper (raw Brussels sprouts call for a decent amount of salt). Serve and top each salad with a few pieces of broken parmesan-pecorino crisps.
Notes
Walnut oil can be found at Whole Foods or other specialty grocery stores.
Nutrition Information:
Yield:

8
Serving Size:

1
Amount Per Serving:
Calories:

207
Total Fat:

18g
Saturated Fat:

3g
Trans Fat:

0g
Unsaturated Fat:

14g
Cholesterol:

7mg
Sodium:

225mg
Carbohydrates:

10g
Fiber:

3g
Sugar:

4g
Protein:

5g
A Beautiful Plate provides nutritional information, but these figures should be considered estimates, as they are not calculated by a registered dietician.

If you want even more Brussels sprouts, check out my Facebook page, where I'll be sharing my favorite links from around the web all week long!