Turbot with Mushrooms, Ginger, and Soy Broth
Turbot with Mushrooms, Ginger, and Soy Broth. An EASY and healthy weeknight dinner!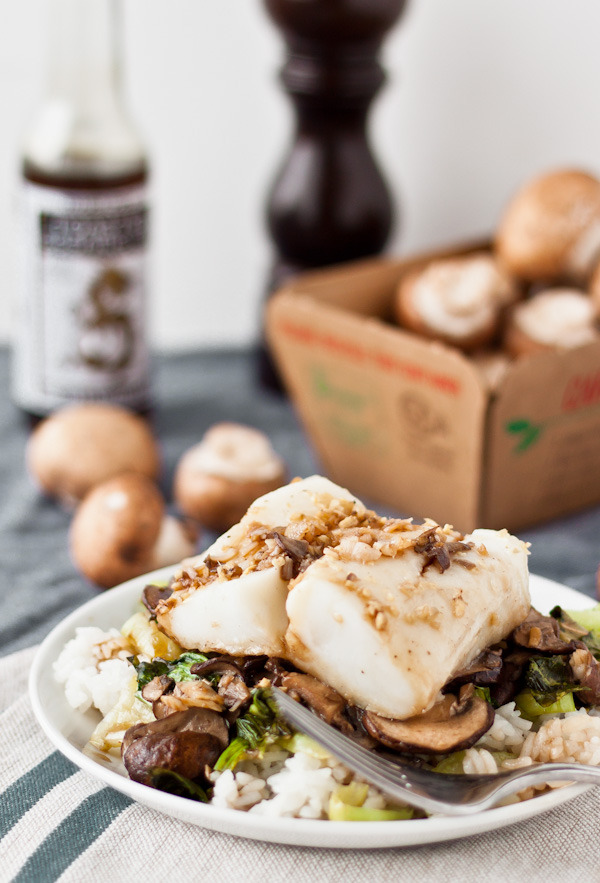 Ok, so I can't take much credit for this dish.  It was actually the creation of my (soon to be, might as well already be) mother-in-law, Rachel, who made it as our post-Thanksgiving Day dinner.
Immediately after taking my first bite, I decided that I had to recreate it and share it with you guys.  It is one of those meals that you will make, love, and want to add to your permanent meal rotation.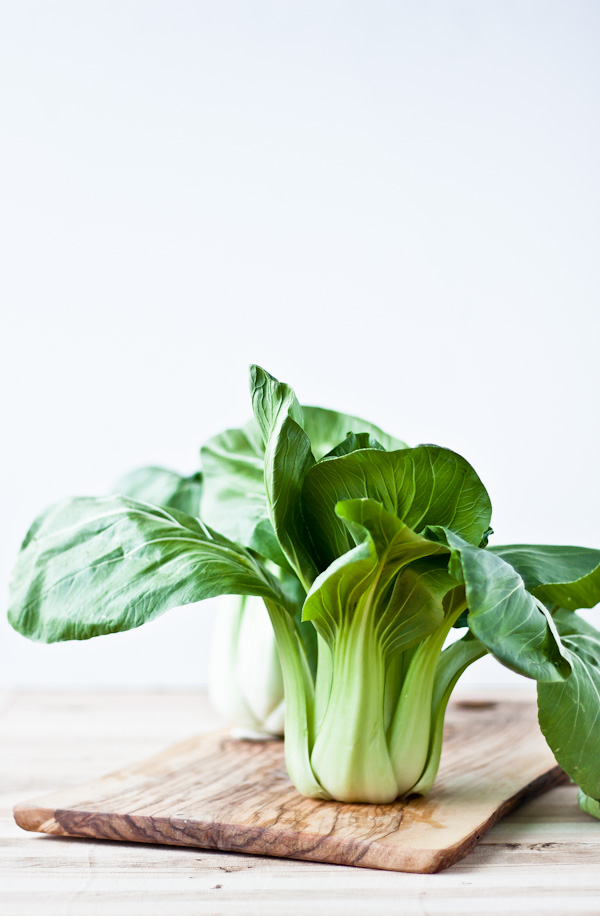 This dish is incredibly light and delicate, yet still–like many of my other favorite types of dishes at this time of the year–hearty and comforting.  [It is also really healthy, which is good considering I've been eating a lot of cookies lately.]
And while it may sound a bit exotic and complicated, I assure you it is not.  I know that I'm guilty of sharing the occasional labor-intensive recipe every now and then, but this is definitely not one of them.
Pinky swear.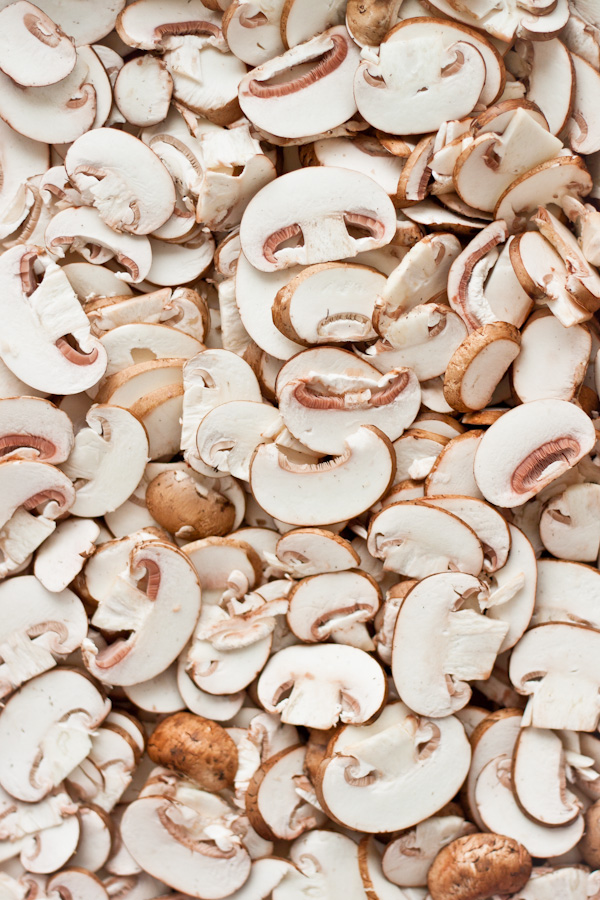 Plus, all of the ingredients are incredibly easy to find.  You might even already have a few of them in your fridge or pantry.
The main flavor comes from the mushrooms, which are roasted together with garlic, soy sauce, sesame oil, and a lot of ginger.  Basically six tablespoons worth of it.
Lots and lots of ginger.  Don't worry, I promise it is not over-powering in the least.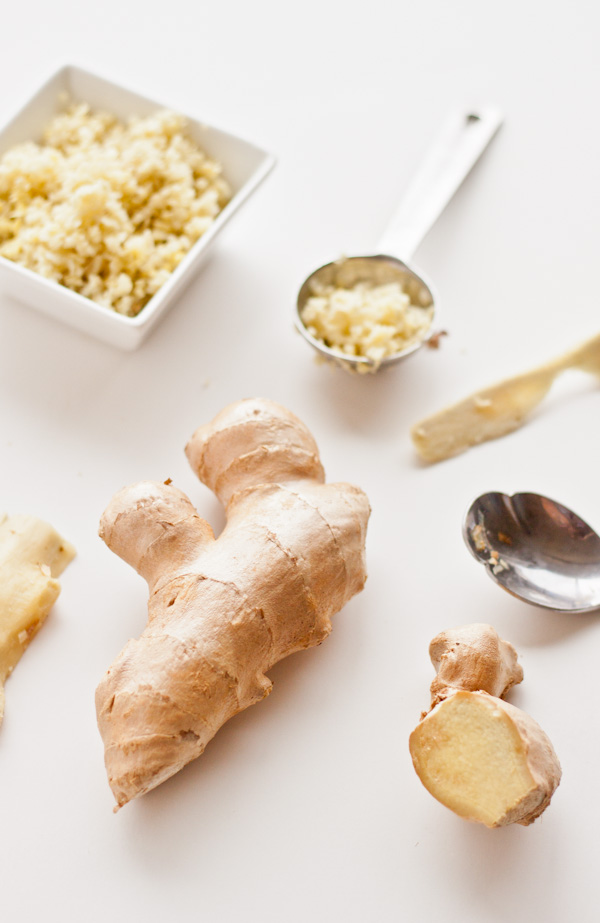 Unlike other mushroom recipes I've posted, where you want to roast the mushrooms until their caramelized and slightly crispy, this dish is a little bit different.
In this case, the layered sliced mushrooms end up releasing all of their juices, which mix with the rest of the ingredients and seasonings, to create a lovely broth that is full of umami flavor and begging to be slurped up with a spoon.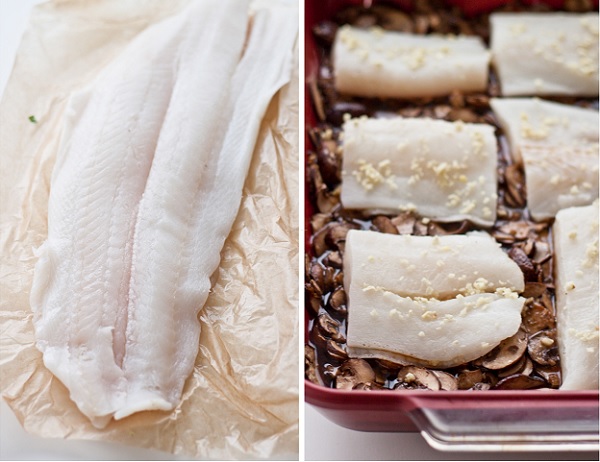 Once the mushrooms have cooked down a bit, you simply top them with the seasoned fish fillets, which you rub with the remaining minced ginger, before placing this back into the oven for another 8-10 minutes or until the fish is just cooked through.
This specific recipe calls for turbot, which is a flat fish similar to flounder, but feel free to substitute it with any other delicate, flaky white fish.  All options will work.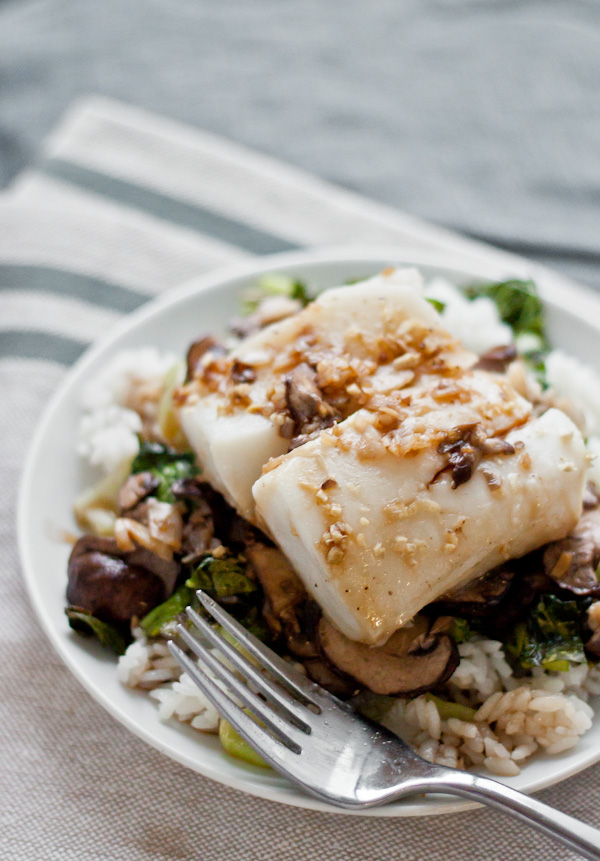 This dish comes together in less than 45 minutes–and could easily be made any day of the week.I recommend serving this dish on top of sushi rice (you could also try soba noodles or regular brown rice!) alongside roasted or sauteed baby bok choy or another hearty leafy green.
On a side note, can I also mention that this dish makes the best leftovers?  I know that sounds weird since it is a fish dish, but it really does.
Prep Time: 15 minutes

Cook Time: 30 minutes

Total Time: 45 minutes
Ingredients
1 1/2 lb whole cremini (baby bella) mushrooms, stems trimmed
6 tablespoons finely minced fresh ginger (roughly 4 ounces), divided
2 garlic cloves, finely minced
2 tablespoons sesame oil
3 tablespoons soy sauce
freshly ground black pepper
kosher salt 
1 1/2 lb wild turbot fillets, cut into 4 ounce servings
Instructions
Preheat the oven to 425 degrees Fahrenheit.
Thinly slice the mushrooms and spread out in a large 9 inch x 13 inch glass baking dish (they should fill about 3/4 of the way up the sides of the dish). Add the garlic, sesame oil, and soy sauce, as well as four tablespoons of the finely minced ginger, and toss to combine evenly. Season with salt and pepper.
Roast for 15 minutes, tossing once or twice, until mushrooms are soft and juices have released. Remove from the oven and season with salt and pepper to taste.
Slice the fish into 4 ounce pieces, roughly, and seasons generously with salt and pepper.
Rub the tops of the fish with the remaining minced ginger (dividing it evenly among all the pieces).
Place the fish on top of the cooked mushrooms, spacing them apart by an inch or so, and bake for another 8-12 minutes (depending on the thickness), or until the fish is just cooked and flakes easily with a fork.
Serve immediately with sushi rice and sauteed baby bok choy or another leafy green.
Notes
If you are unable to find turbot fillets at your local grocery store or fish monger, feel free to substitute with flounder or another delicate, flaky white fish.
Nutrition Information:
Yield: 4 Serving Size: 1

Amount Per Serving:

Calories: 78 Total Fat: 7g Saturated Fat: 1g Trans Fat: 0g Unsaturated Fat: 6g Cholesterol: 0mg Sodium: 804mg Carbohydrates: 3g Fiber: 0g Sugar: 0g Protein: 1g

A Beautiful Plate provides nutritional information, but these figures should be considered estimates, as they are not calculated by a registered dietician.