No Bake Strawberry Mascarpone Tart
An elegant no bake strawberry tart with a creamy almond mascarpone filling. This tart recipe is perfect for spring or summer, requires only a handful of ingredients, and comes together quickly!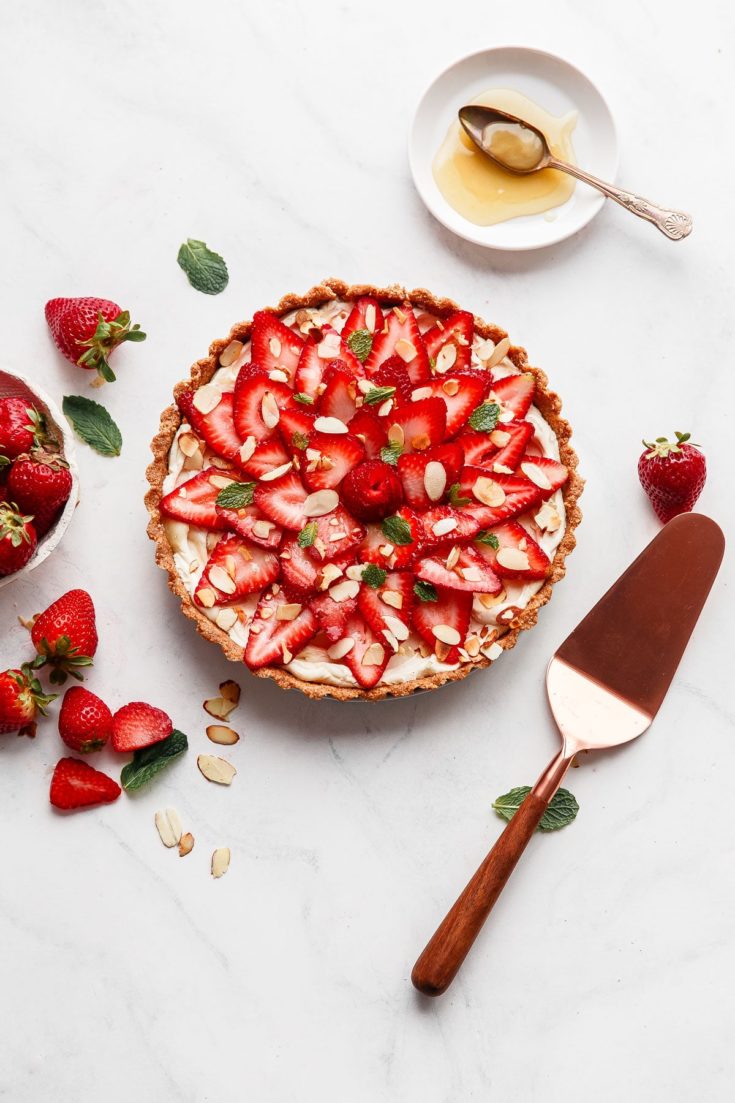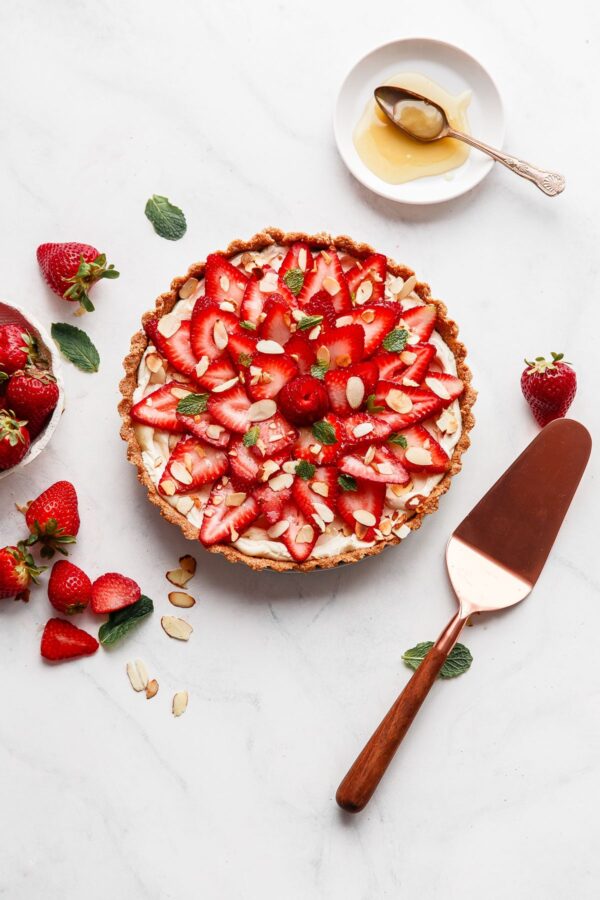 Strawberry Mascarpone Tart
Guys! I'm so excited to share this strawberry mascarpone tart recipe with you. It's been a long time coming.
First off, it is shockingly simple to make, requires few ingredients, and is extremely fun to decorate and assemble. The absolute best part? This strawberry tart is a no bake dessert, which means that you won't need to blind bake anything or even preheat the oven. You can also easily adapt the recipe with other flavors, berries, or seasonal fruit. I love it!
The tart requires a few steps, an hour of chill time in the refrigerator, and that's about it. If you're looking for a special treat for Mother's Day, be sure to bookmark this one!


Secondly, and most importantly, this strawberry tart recipe hails from my good friend Jessica Merchant's brand new cookbook The Pretty Dish. [Affiliate links included below.]
I'm pretty sure Jessica needs no introduction, but she is the incredibly talented, generous, and hard-working food blogger behind How Sweet Eats. Not only does she make some of the most creative, yet approachable recipes out there, she is also a fantastic writer. Jessica has poured her heart and soul into this book and it shows. I could literally gush on and on about it.
Her latest cookbook is packed with more than 150 brand new recipes, as well as 50 simple beauty DIY recipes (homemade face and hair masks, lip balms, bath melts, and lots more!), kitchen playlists, entertaining ideas, and more. It is such a fun mix!
Each recipe is also accompanied by a beautiful photograph too. I've been the lucky recipient of The Pretty Dish since its release in late March, and I've had the opportunity to make several recipes from it already. They've all been fantastic!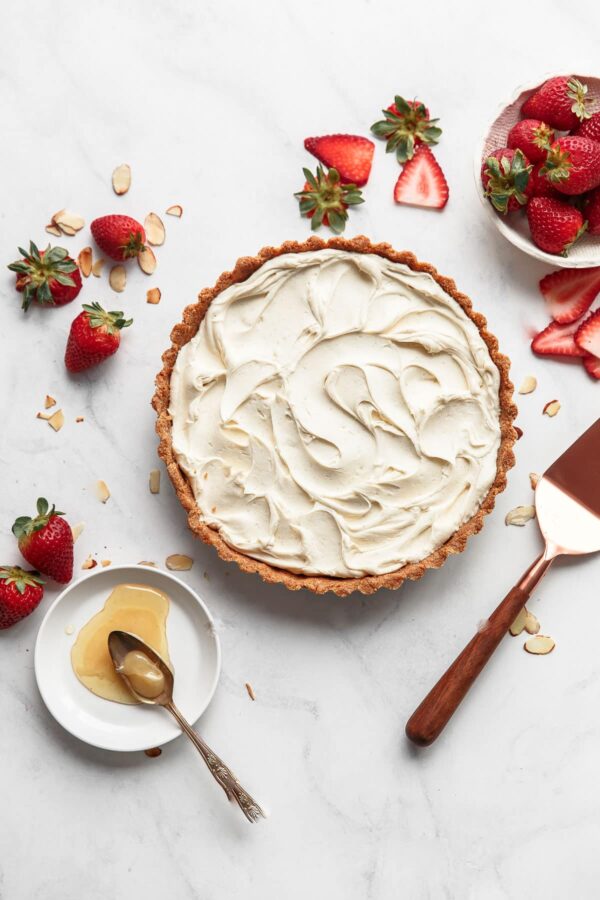 Why You'll Love this Strawberry Tart Recipe:
I had the hardest time deciding on which recipe to share with you all, but I kept coming back to this beautiful tart. Not only are the ingredients just coming into season, but it would also be a wonderful Mother's Day dessert. To quote Jessica: 
"This strawberry tart looks super fancy but is pretty easy. It doesn't require a ton of ingredients. And it tastes fantastic. The filling is almond-flavored mascarpone and oh-so-creamy. A bit like cheesecake, but creamier and not as rich. Plus, it comes together in minutes."
In the original recipe, Jessica suggests keeping the strawberries whole and slicing them into roses. Since my strawberries were all different sizes, I chose to forgo the strawberry roses in lieu of layered slices. I've included instructions for both options!
Since this is a no bake dessert, it goes without being said that this tart is ideal for entertaining on hot summer days!


Strawberry Mascarpone Tart: Ingredient Breakdown
The tart crust is a simple mixture of graham cracker crumbs, almond meal (or almond flour – they're interchangeable in this recipe!), melted butter, and almond butter. It comes together in seconds and gives the tart great texture.
The filling is made up of mascarpone cheese, powdered sugar, and almond extract. It has a very distinct almond flavor. The mascarpone mixture is thick and creamy, yet isn't overly sweet, which I absolutely love. I added a touch of vanilla bean paste (substitute 1:1 with vanilla extract) to my version. Once the filling is added to the crust, it needs to set in the fridge for a minimum of one hour – otherwise it won't slice cleanly.
The tart is topped with fresh strawberries then drizzled with honey and garnished with toasted almond slices for texture and fresh mint.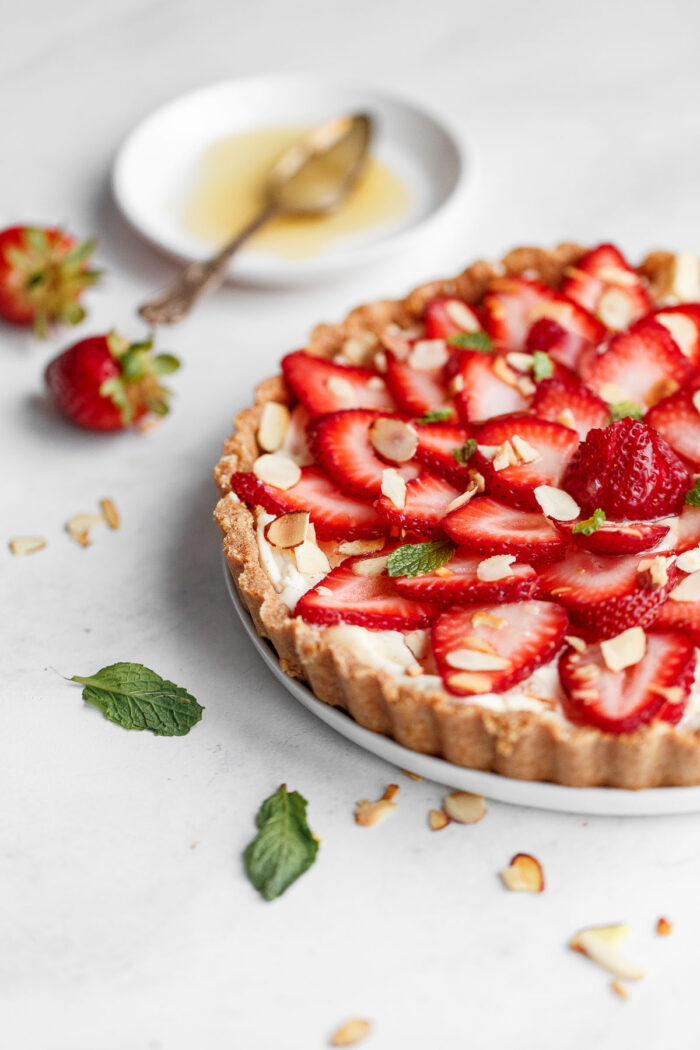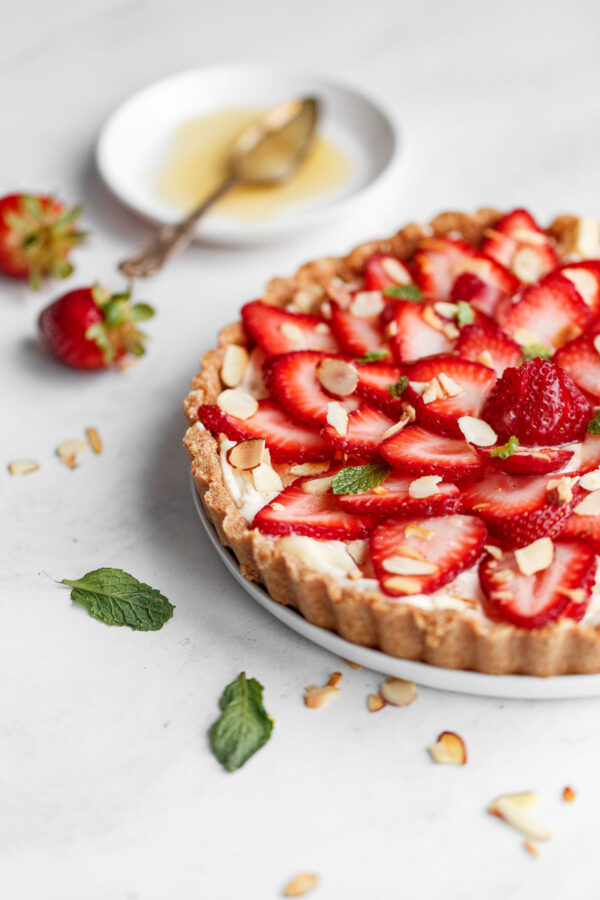 One of the reasons why I love this recipe so much, aside from its wonderful taste, is that it can be adapted in so many ways. Strawberries and almonds pair extremely well together, but you could easily adapt this recipe with other seasonal berries, stone fruit, etc.
You can also mix up the crust with other nut flours or cookie crumbs. Get creative and give it your own twist!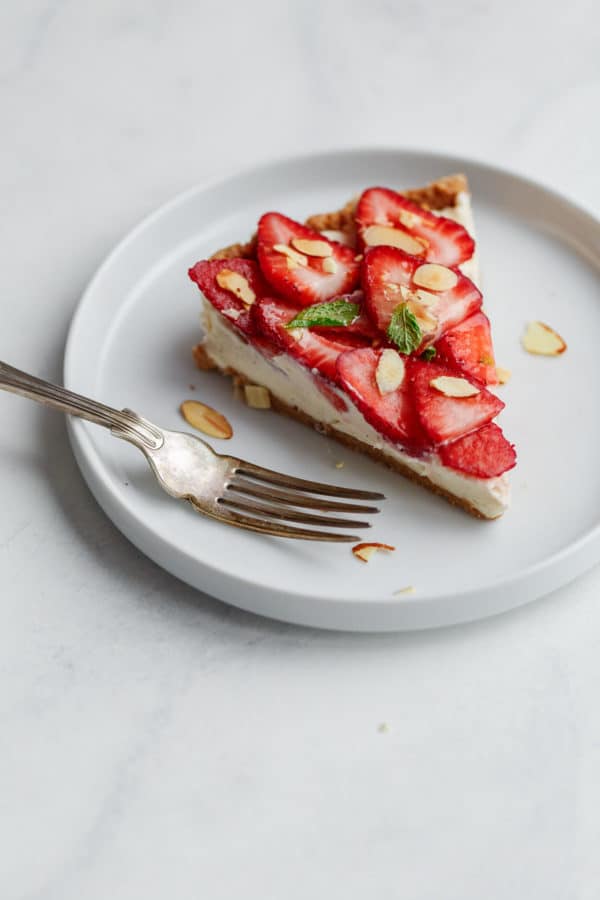 If you love this recipe, be sure to pick yourself up a copy – The Pretty Dish would also make a fantastic gift for a girlfriend or loved one too!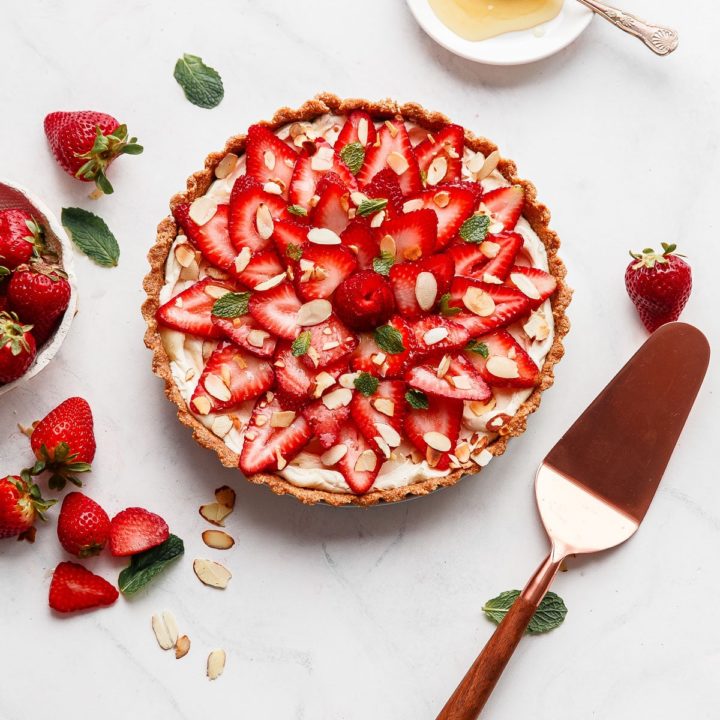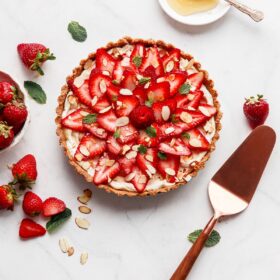 No Bake Strawberry Mascarpone Tart
This strawberry tart recipe, from The Pretty Dish by Jessica Merchant, is perfect for spring or summer, requires only a handful of ingredients, and comes together quickly! This recipe can be adapted easily with other summer berries or stone fruit. The tart crust and mascarpone filling can be prepped one to two days ahead - leave off the fruit until the day of to ensure the best texture and prevent any weeping.
Ingredients
Crust:
¾ cup (90 g) graham cracker crumbs
¾ cup (90 g) almond meal or almond flour
5 tablespoons (75 g) unsalted butter melted
3 tablespoons (50 g) almond butter melted
Filling:
12 ounces (340 g) mascarpone cheese room temperature
¼ cup (30 g) powdered sugar
1 teaspoon vanilla bean paste (or vanilla extract)
1 teaspoon pure almond extract
16 ounces (2 pints) fresh strawberries stemmed and thinly sliced
1 tablespoon (20 g) pure honey
3 tablespoons sliced almonds toasted
fresh mint leaves for garnishing (optional)
Instructions
Prepare the crust: In a bowl, stir together the graham cracker crumbs, almond meal (or flour), butter, and almond butter until combined and all the crumb are moistened. Press the crust into an 8-inch round tart pan (*the original recipe in the book was prepared in a 14-inch x 4-inch tart pan, this recipe will also work with this size). If desired, use the bottom of a small measuring cup to tamp the crust down evenly. Set aside.

Prepare the filling: In a bowl, stir together the mascarpone, sugar, vanilla bean paste (or extract), and almond extract until creamy and combined. Spread evenly over the graham crust. Refrigerate for at least 1 hour.

While the tart is in the fridge, slice the strawberries. Trim off the stems and slice vertically into thin slices. Remove the tart from the fridge and distribute the strawberry slices onto the mascarpone filling - feel free to do this however you wish. To achieve a similar look as the photos above: starting from the outside of the tart and working your way in, layer the strawberry slices next to each other, in a circular pattern with the pointed ends facing out. Repeat, layering the strawberry slices slightly with each circle and so on.

Drizzle the tart with honey. Garnish with sliced almonds and mint, if using.

Serve immediately or keep in the fridge, covered loosely with plastic wrap, until ready to serve.
Tips for Success:
To make graham cracker crumbs, place broken graham cracker cookies (this recipe requires roughly 6 full pieces!) in a food processor. Pulse repeatedly until finely crumbed.
To toast almond slices, heat almonds in a dry skillet over medium heat for a few minutes, stirring frequently, until golden in color. Transfer to a separate bowl and cool completely.
Reprinted (with a few minor changes) with permission from The Pretty Dish by Jessica Merchant.
Serving: 1serving, Calories: 694kcal, Carbohydrates: 33g, Protein: 13g, Fat: 59g, Saturated Fat: 23g, Polyunsaturated Fat: 31g, Cholesterol: 103mg, Sodium: 299mg, Fiber: 7g, Sugar: 17g
This post contains affiliate links, which means that I make a small commission off items you purchase at no additional cost to you. Please read my
privacy policy
for more information.