Easy Whole Wheat Biscuits
Easy whole wheat biscuits made with 100% whole grains! These biscuits can be made in less than 30 minutes, making them the perfect side for breakfast, soups, and main courses.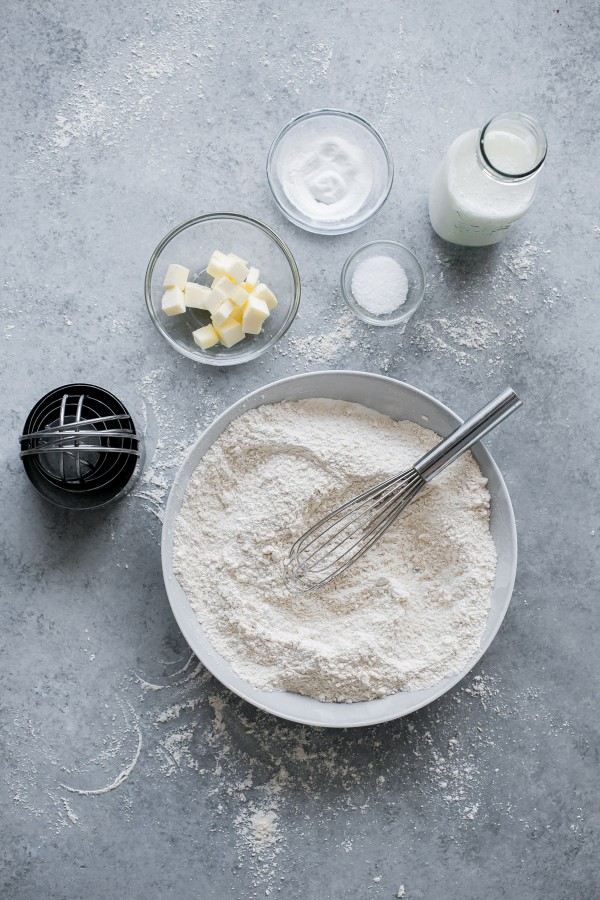 Why biscuits today? Why the heck not. I've actually been meaning to share this easy, whole wheat biscuit recipe with you for so long (read: years).
I have a very outdated biscuit recipe on this site that needed some love, so here is the new and improved version! As you might have noticed over the past few months, I'm making a greater effort to share more whole grain baked goods this year!
Desserts are not my main weakness in life. Whether this is due to spending hours upon hours baking them in my previous life, I just don't crave them all that often. Shocking, I know. Carbs (and other savory things) on other hand? Give me all of them.
Bread, pasta, side grains. I can't imagine a life without 'em. I still believe there is a time and place for all-purpose flour, but if I can prepare baked goods in whole grain form, I'm all for it! Starting with these biscuits…
These biscuits are 100% whole wheat, believe it or not! Traditional buttermilk biscuits are probably the last thing that people imagine in whole wheat form. There is something special about a true Southern buttermilk biscuit and I won't deny that one bit.
But you'd be amazed just how fluffy whole grain biscuits can be too. In fact, they actually have a more nuanced flavor due to the addition of the bran, germ, and endosperm (which are removed from traditional all-purpose flours).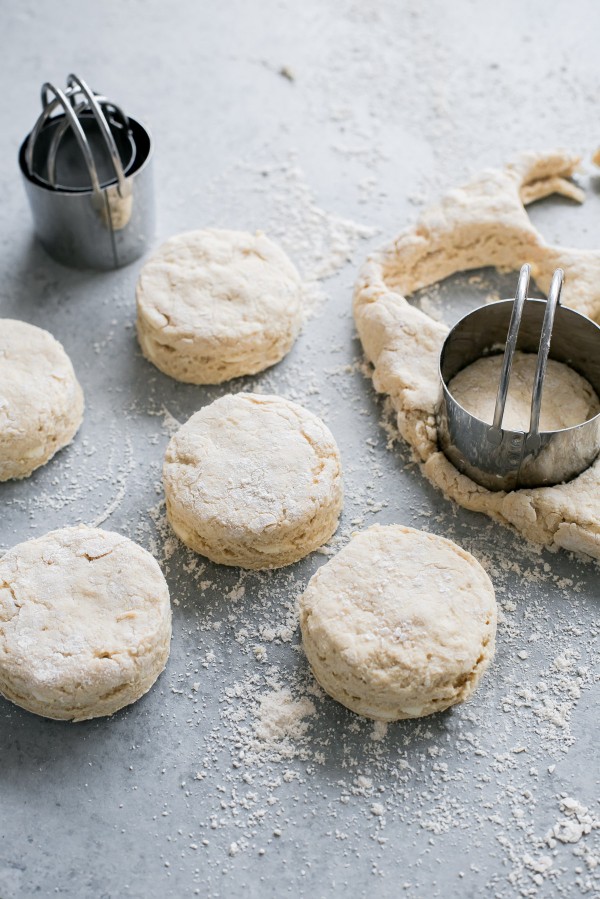 What is Whole Wheat Pastry Flour?
The trick? Whole wheat pastry flour. Not to be confused with traditional whole wheat flour. Whole wheat pastry flour is made with fine soft wheat, whereas whole wheat flour is made with hard red wheat. My favorite brand of whole wheat pastry flour is made by Bob's Red Mill.
This difference is critical, because whole wheat pastry flour has a significantly lower protein count than whole wheat flour. Whole wheat pastry flour ranges from 9%-10% in protein percentage, and whole wheat flour is ranges from 12% – 15%, depending on the brand. They are equally as nutritious as the other, but this protein range greatly affects the texture of baked goods. This post on different types of flour goes into this concept in depth.
When liquids are added to these proteins (in this case, cold buttermilk), glutens are formed. Gluten provides the structure, among other factors, for baked goods (which is why gluten-free baking is so tricky).
For tender baked goods, such as biscuits, cakes, and pastries, there is a fine balance. If too much gluten is formed, pastries and other dedicate baked goods, such as biscuits and cakes, can become dense and tough.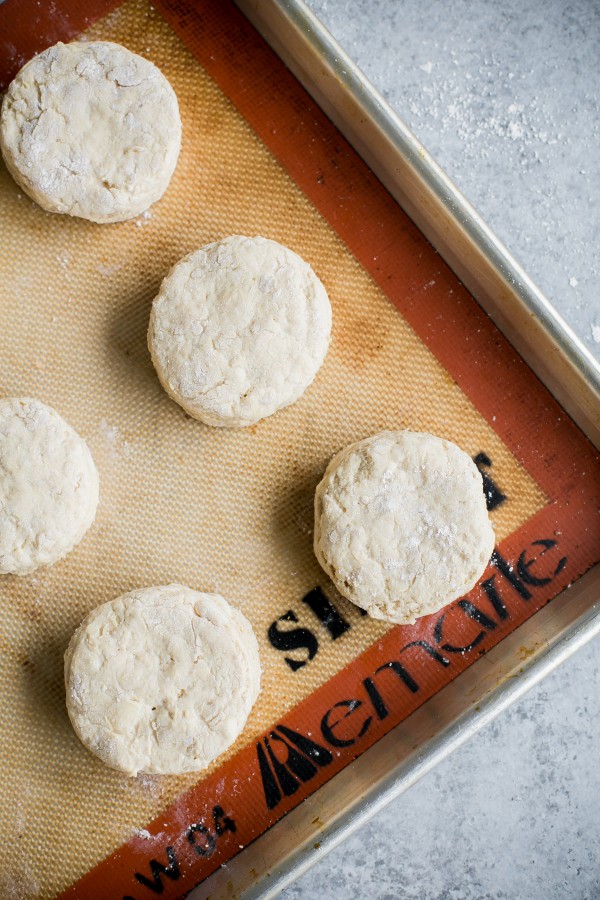 Whole wheat pastry flour is just as nutritious as regular whole wheat flour, and is my go-to whole grain flour for baking for all of these reasons. If you've never baked with whole grains before, I highly recommend grabbing a bag of whole wheat pastry flour and trying it!
You'll be amazed by the results. These biscuits (and this lemon poppy seed loaf cake) are evidence of how fluffy and tender whole grain baked goods can be when used properly!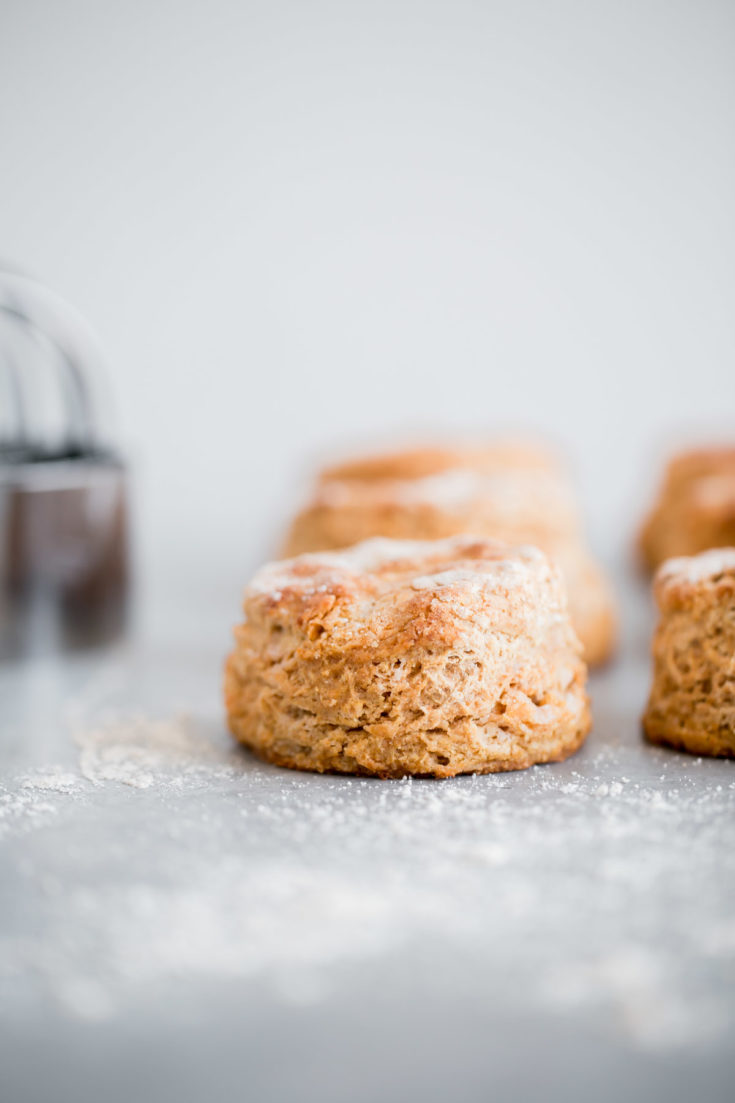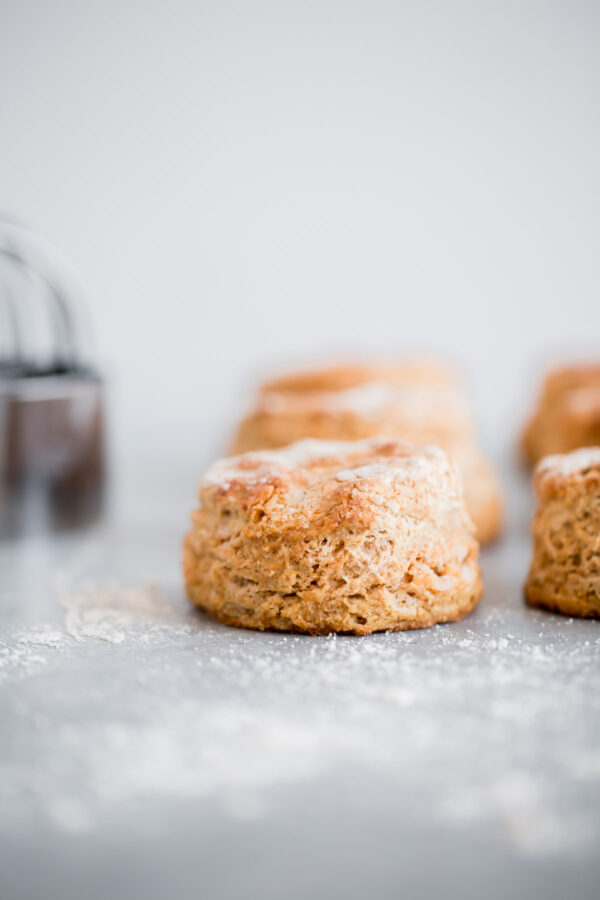 Can I just add that these biscuits would be a fantastic addition to your breakfast or brunch plans this weekend? Which should totally include this chorizo potato hash eggs benedict with cilantro hollandaise.
Yes, yes.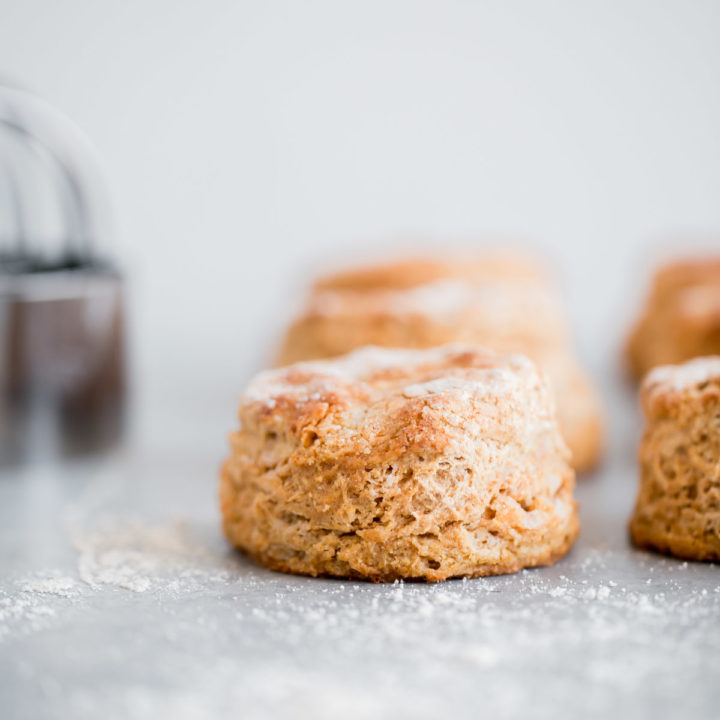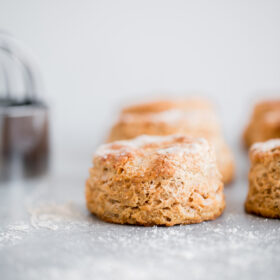 Easy Whole Wheat Biscuits
Easy whole wheat biscuits made with 100% whole grain flour. These fluffy buttermilk biscuits can be made in less than 30 minutes, making them the perfect side for breakfast, soups, and main courses. 
Ingredients
2 cups (240 g) whole wheat pastry flour plus more for dusting
1 tablespoon aluminum-free baking powder
1 teaspoon baking soda
¾ teaspoon Diamond Crystal kosher salt
4 tablespoons (2 oz) very cold unsalted butter cut into ½-inch cubes
1 cup (236 mL) cold buttermilk
Instructions
Preheat the oven to 425°F (220°C) with a rack in the center position. Line a sheet pan with parchment paper or silicone baking mat.

In a medium mixing bowl, whisk together the pastry flour, baking powder, baking soda, and salt. Add the cold butter and toss in the flour mixture. Using a pastry cutter or a fork, cut the butter into the flour mixture until the butter is pea sized. Place the bowl in the freezer for 5 minutes to chill.

Remove the flour mixture from the freezer. Create a well in the center of the dry ingredients and add the buttermilk. Using a wooden spoon, stir the buttermilk into the flour mixture until just absorbed. The dough will seem slightly wet.

Transfer the dough to a lightly floured countertop. Knead the dough 4 to 5 times until it comes together, dusting the dough lightly with flour as necessary to prevent it from sticking to the countertop.

Pat the dough gently with your hands into a disc that is roughly 1-inch thick. Fold the dough over itself 2 to 3 times, this will help create layers. Dip a 2½-inch-diameter biscuit cutter in flour and cut out the biscuits. Do not twist the biscuit cutter as you cut the dough, this will prevent the scones from rising evenly. Transfer the biscuits to the sheet pan, setting them apart. Gently press and knead any remaining biscuit dough (avoid overworking) and repeat to make roughly 10 biscuits total.

Place the biscuits in the oven and immediately increase the oven temperature to 450°F (230°C). Bake until lightly golden, about 9 to 11 minutes. Transfer to a wire rack. Biscuits are best served hot out of the oven, sliced, and with a little bit of salted butter.
If not serving right away, warm the biscuits briefly in a toaster oven (or microwave at 10 second bursts, if desperate!).
Tips for Success:
If you want slightly lighter and taller biscuits, substitute half of the whole wheat pastry flour with regular all-purpose flour.
It is important to use very cold ingredients when working with biscuit dough. Try to avoid over-working if at all possible, as this will affect the rise and texture of the biscuits.
Serving: 1serving, Calories: 222kcal, Carbohydrates: 41g, Protein: 9g, Fat: 4g, Saturated Fat: 2g, Polyunsaturated Fat: 1g, Cholesterol: 8mg, Sodium: 560mg, Fiber: 5g, Sugar: 3g
This post contains affiliate links, which means that I make a small commission off items you purchase at no additional cost to you. Please read my
privacy policy
for more information.