Easy Whole Wheat Biscuits
These easy whole wheat biscuits are prepared with whole wheat pastry flour and tangy buttermilk, providing them with that classic flavor and an exceptionally fluffy texture.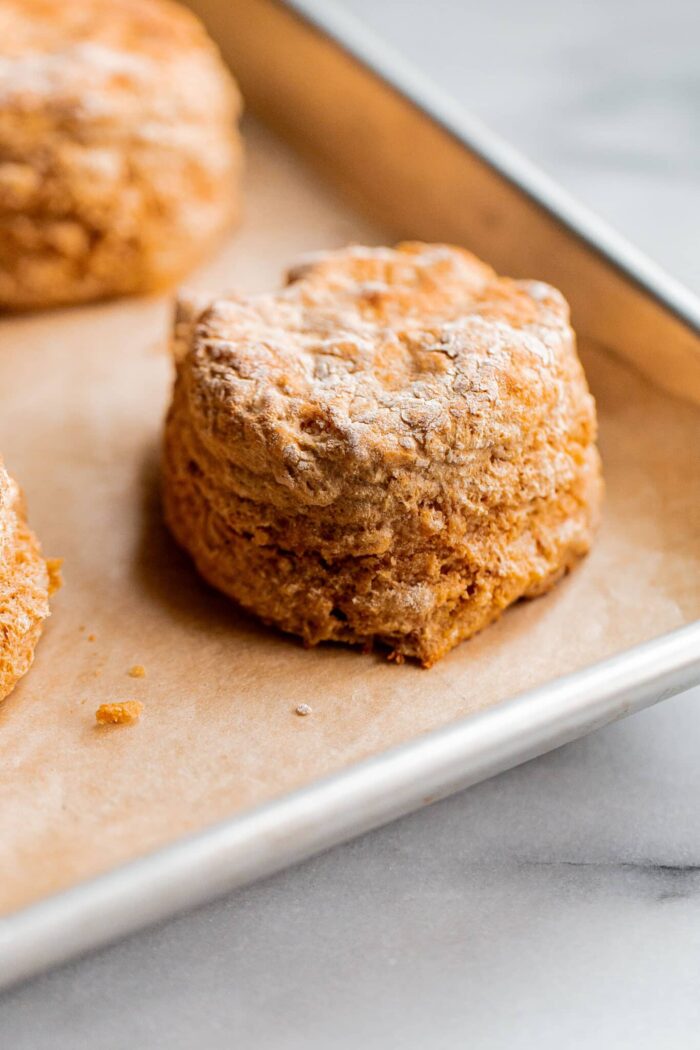 With a preparation time of less than 30 minutes, this whole wheat biscuit recipe is a great choice when you crave a quick and delicious accompaniment for breakfast, your favorite soups, or main courses.
You can prepare the dough and freeze cut-out biscuits, allowing you to bake them from frozen on a whim. There's truly nothing better than filling your kitchen with the irresistible aroma of tangy, buttery biscuits at a moment's notice.
I hope this becomes one of those cherished recipes that you make, love, commit to memory, and find yourself turning to time and time again, just as we have.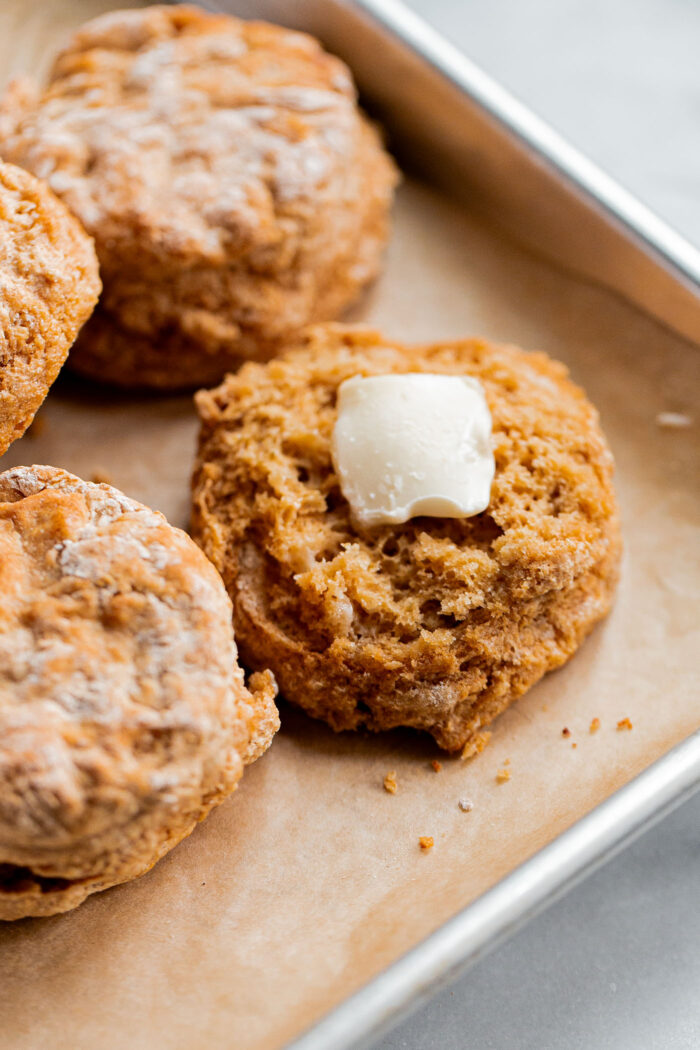 Why You'll Love These Biscuits:
Classic Flavor, Elevated: These whole wheat biscuits offer more flavor and a slightly elevated nutritional profile, all while maintaining that classic flavor and beloved texture.
Light and Tender – This biscuit recipe defies expectations, demonstrating that whole wheat biscuits can be just as tall, light, and tender as their all-purpose counterparts.
Easy to Make – These biscuits come together in less than 30 minutes, allowing you to make a batch whenever the moment or craving calls.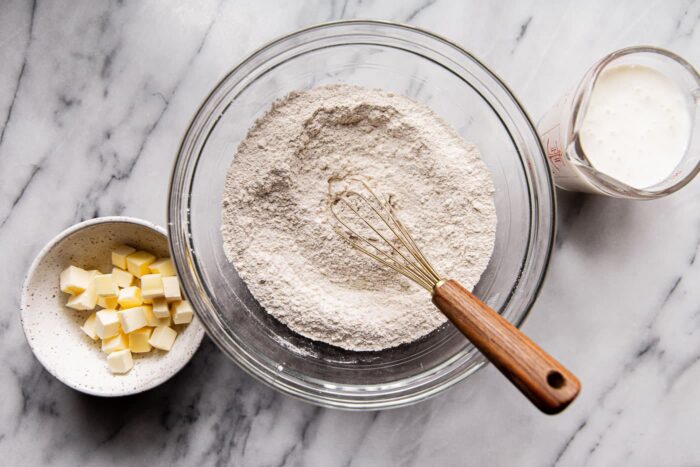 Whole Wheat Biscuit Ingredients:
WHOLE WHEAT PASTRY FLOUR: milled from soft wheat, whole wheat pastry flour offers a lower protein content than traditional whole wheat flour and most all-purpose flours. It is my favorite secret ingredient, as it allows you to produce more nutritious and flavorful, yet tender whole grain biscuits. Here's an article with more about baking flours and when to use them.
BAKING POWDER: serving as the primary leavening agent, baking powder ensures a lofty rise during baking. Given the generous amount used in this recipe, opting for aluminum-free baking powder prevents any metallic aftertaste.
BAKING SODA: a touch of baking soda helps balance the acidity of the buttermilk.
SALT: added for flavor. I use and recommend Diamond Crystal Kosher Salt, my preference for cooking and baking. If using other brands, halve the quantity to account for higher density (read this article on cooking salts).
UNSALTED BUTTER: cold butter is cut into the dry ingredients. These pockets of butter give the biscuits great flavor and also help with rise.
BUTTERMILK: a classic ingredient in Southern biscuits, buttermilk provides moisture and that signature aroma and tangy flavor. I don't recommend substitutions for this application.
For the full recipe and instructions, see recipe box below.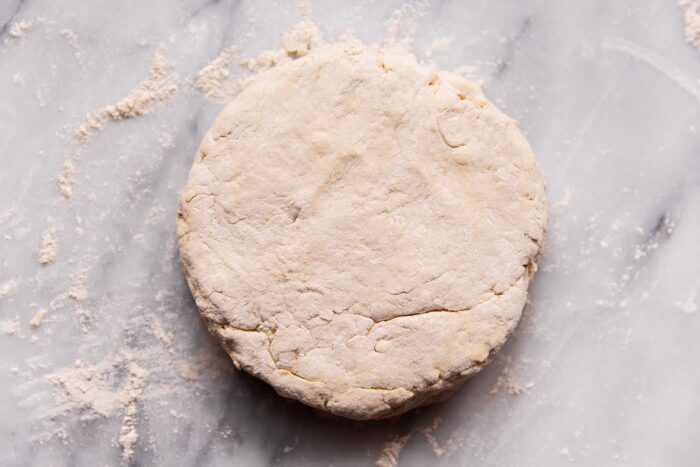 How to Make Whole Wheat Biscuits:
Like other pastries, biscuits are prepared using cold ingredients and minimally handled. This ensures a tender texture and good rise during baking.
Preheat the oven to 450ºF (230°C). Line a sheet pan with parchment paper or a silicone baking mat. Set aside.
In a medium bowl, whisk together the whole wheat pastry flour, baking powder, baking soda, and salt. Add the cold butter and toss in the flour mixture. Using a pastry cutter, cut the butter into flour until it is pea-sized. Set the bowl in the freezer for 5 minutes to chill.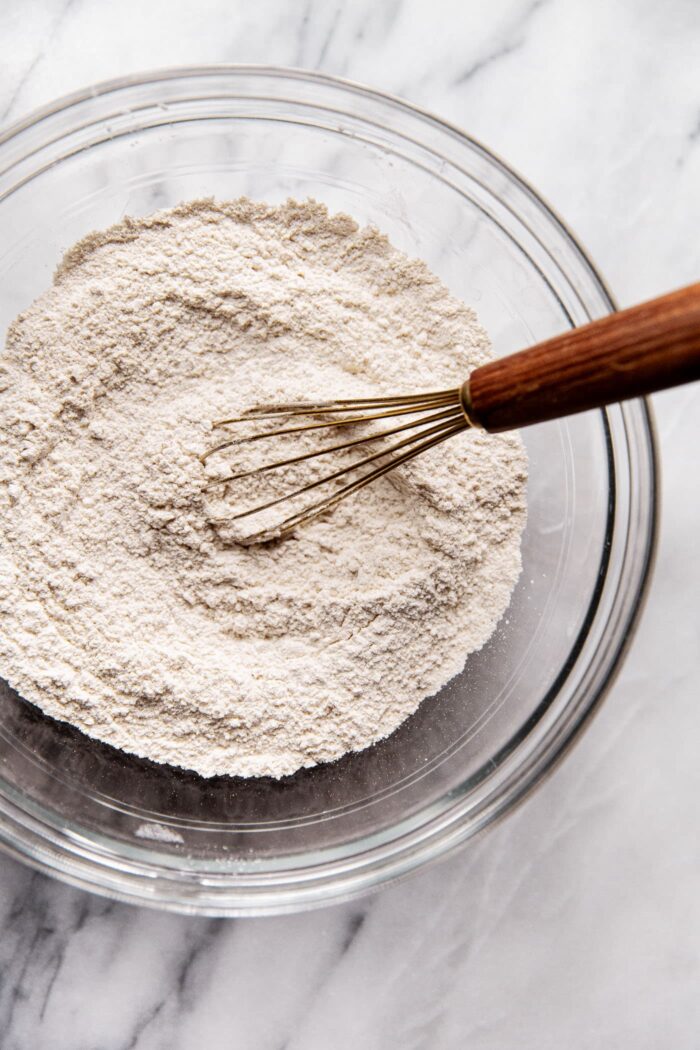 Create a well in the center of the dry ingredients and add the cold buttermilk. Using a wooden spoon, stir the buttermilk into the flour mixture until just absorbed. The dough will seem wet, don't worry.
Transfer the dough to a floured countertop. Knead and fold over the dough over itself several times until it comes together, dusting the dough with flour as needed to prevent it from sticking to the countertop.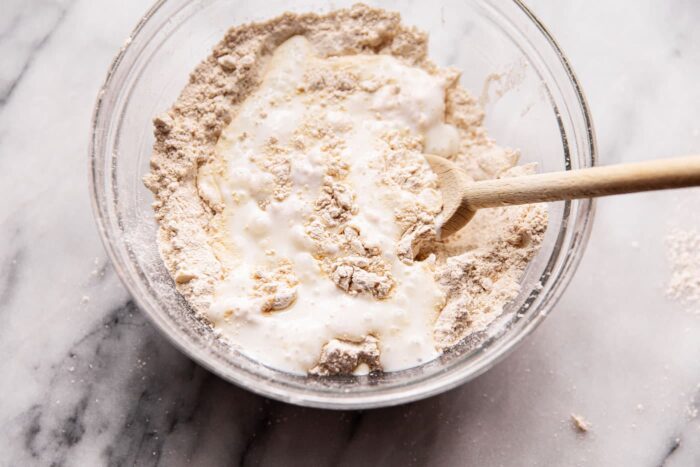 Pat the dough with your hands into a disc that is roughly 1-inch thick. The dough should be cold, soft, and supple. Dip a 2.5-inch biscuit cutter in flour and proceed to cut out the biscuits. Be sure not twist the biscuit cutter. This seals the edges and prevents the biscuits from rising evenly during baking. Transfer the biscuits to the lined sheet pan, setting them apart by at least an inch. Gently press and knead any remaining dough and repeat; this recipe yields roughly 6-7 biscuits.
Bake until lightly golden, about 9 to 11 minutes. Transfer to a wire rack. Biscuits are best served hot, split down the center, and topped with a generous pat of butter.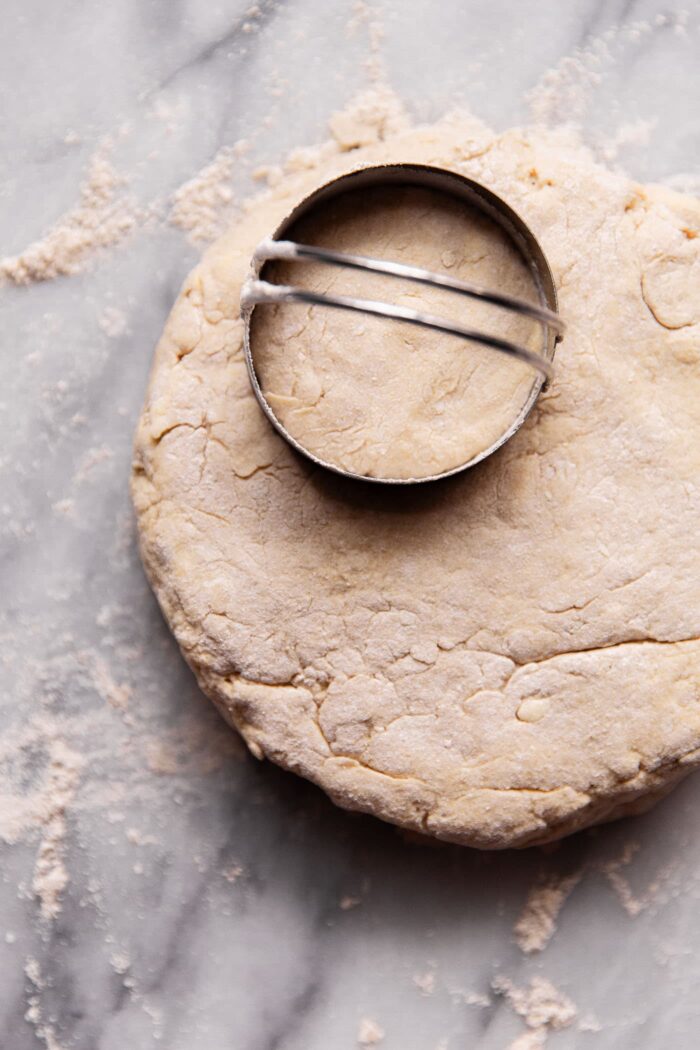 Make-Ahead Instructions:
FREEZING INSTRUCTIONS: Prepare the biscuit dough and cut out the biscuits. Place on a parchment-lined plate or pan and set in the freezer until solid. Transfer frozen biscuits to a large Ziplock bag, excess air squeezed out and sealed well. Freeze for up to a month.
HOW TO BAKE FROZEN BISCUITS: Preheat the oven to 450ºF (230°C). Place frozen biscuits on a parchment-lined sheet pan. Bake until golden, about 10 to 12 minutes. Serve hot out of the oven.
WARMING INSTRUCTIONS: Leftover baked biscuits can be warmed in a toaster oven or split and warmed, cut-side down, in a preheated and buttered cast-iron skillet.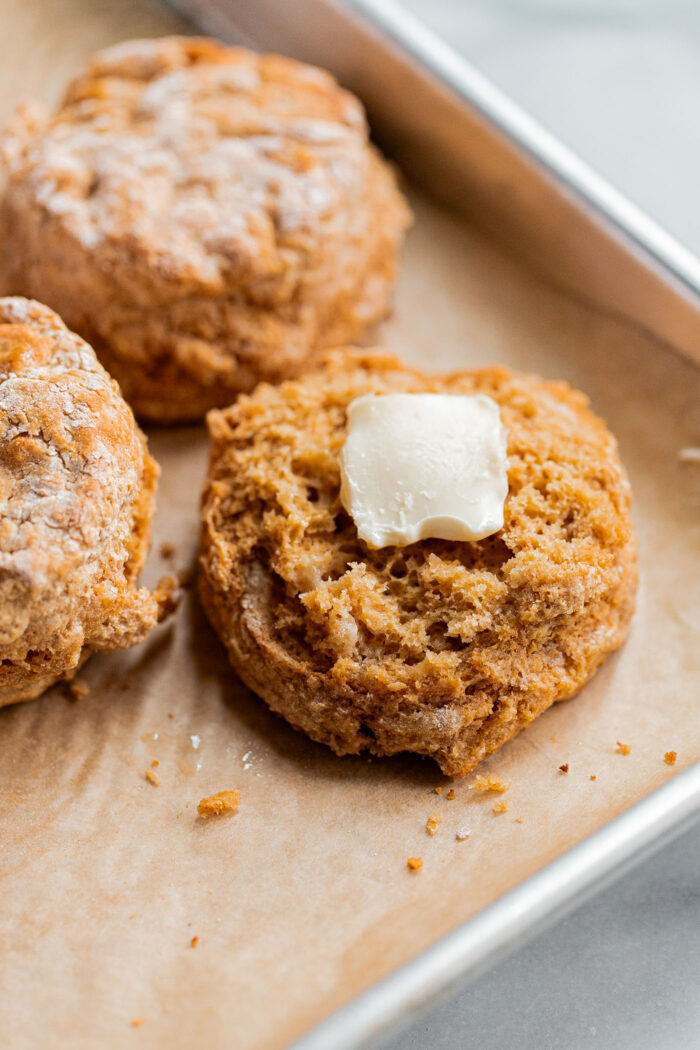 More Whole Wheat Recipes to Try: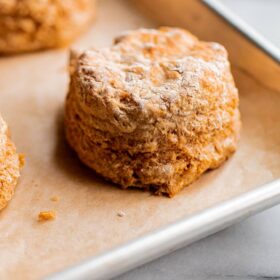 Easy Whole Wheat Biscuits
Serving: 1serving, Calories: 365kcal, Carbohydrates: 59g, Protein: 12g, Fat: 11g, Saturated Fat: 6g, Polyunsaturated Fat: 1g, Monounsaturated Fat: 3g, Trans Fat: 0.3g, Cholesterol: 26mg, Sodium: 844mg, Potassium: 342mg, Fiber: 8g, Sugar: 2g, Vitamin A: 319IU, Calcium: 256mg, Iron: 3mg
This post contains affiliate links, which means that I make a small commission off items you purchase at no additional cost to you. Please read my
privacy policy
for more information.