An easy chicken snow pea stir fry with bell peppers and flavored with a fresh ginger, garlic, sambal oelek, and soy sauce, this meal comes together in 30 minutes.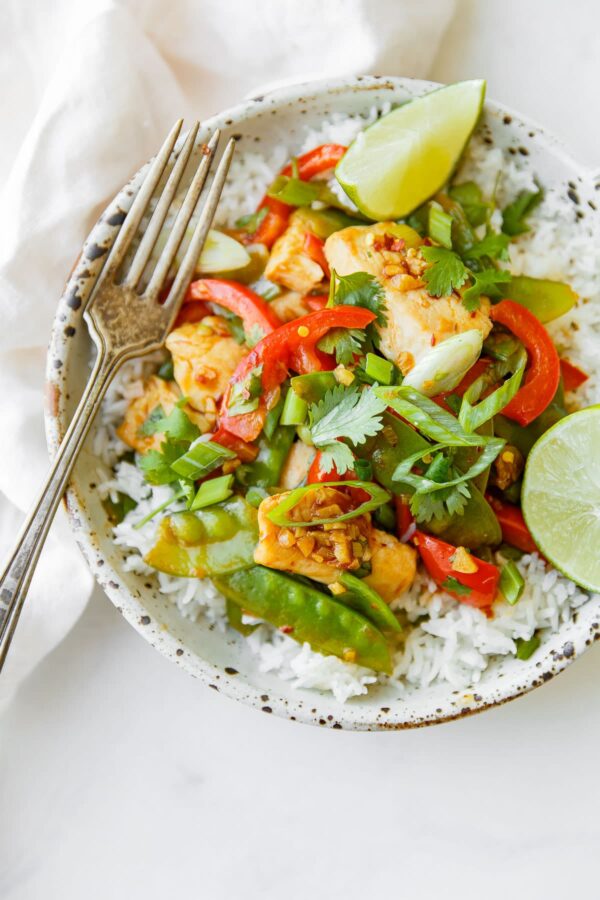 Easy Chicken Snow Pea Stir Fry
I've been on such a stir fry kick lately! My stir fry consumption these past few months has been fairly high. For whatever reason, I'm just really into them lately. One of my favorites is this easy shrimp stir fry. I've been wanting to make a simple chicken version of that dish for a while, and recently decided to go for it.
This dish comes together extremely quickly, making it an ideal weeknight dinner when you are looking for something flavorful, fast, and easy. Most of the flavors come from staple ingredients in my pantry and fridge, such as fresh garlic, ginger, soy sauce, sambal oelek (chili paste), and sesame oil.
The rest of the fresh produce in this chicken snow pea stir fry are easily accessible, and fairly interchangeable. Just be sure to use ingredients that will are ideal for a stir fry situation (ie. ones that cook quickly!).