Easy Blueberry Muffins – this whole wheat blueberry muffins recipe gets its fluffy, moist texture from buttermilk, frozen wild blueberries, and coconut oil.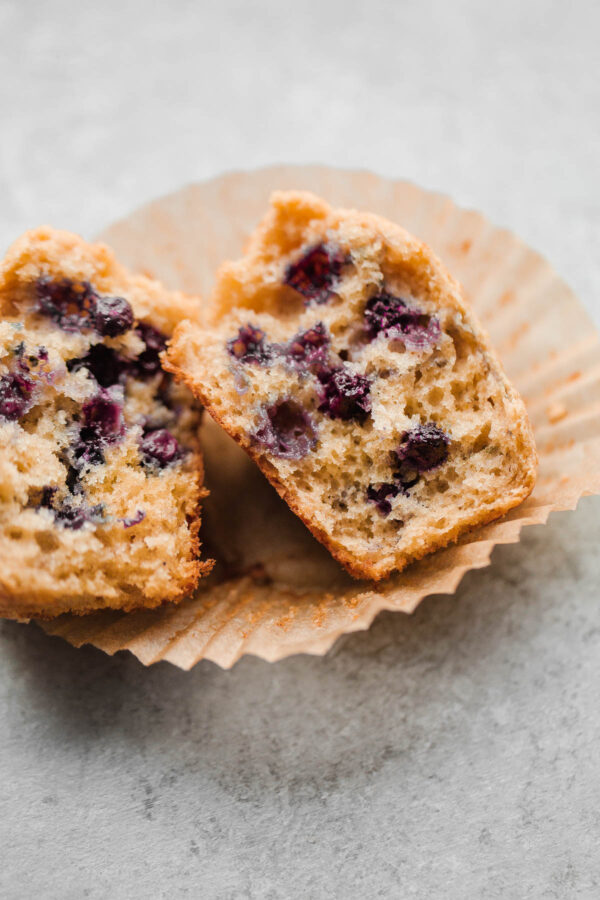 Easy Blueberry Muffins
I've had an unexplained infatuation with blueberry muffins for as long as I can remember. I don't even understand where the obsession began, but I've been searching for an incredible blueberry muffin recipe for a very long time.
To be specific, a whole wheat blueberry muffin recipe that doesn't have that cloying, stick-to-the-top of your mouth texture and flavor that is common in generic blueberry muffins. You know the ones I'm talking about? Well, I've finally met my match.
These whole wheat blueberry muffins are the polar opposite of that. They're incredibly tender, fluffy, and packed with frozen wild blueberries, which means that you can bake these up any day of the year. They have a perfect balance of sweetness complemented by a touch of cinnamon and crunchy Demerara sugar topping.
The batter comes together in a grand total of 10 minutes (or less!) with just two mixing bowls.  Let's do this.