This refreshing and lightened up Mediterranean Zucchini Pasta Salad is prepared with zucchini noodles in lieu of traditional pasta, and tossed with briny feta, chickpeas, artichoke hearts, tomatoes, spinach, and olives.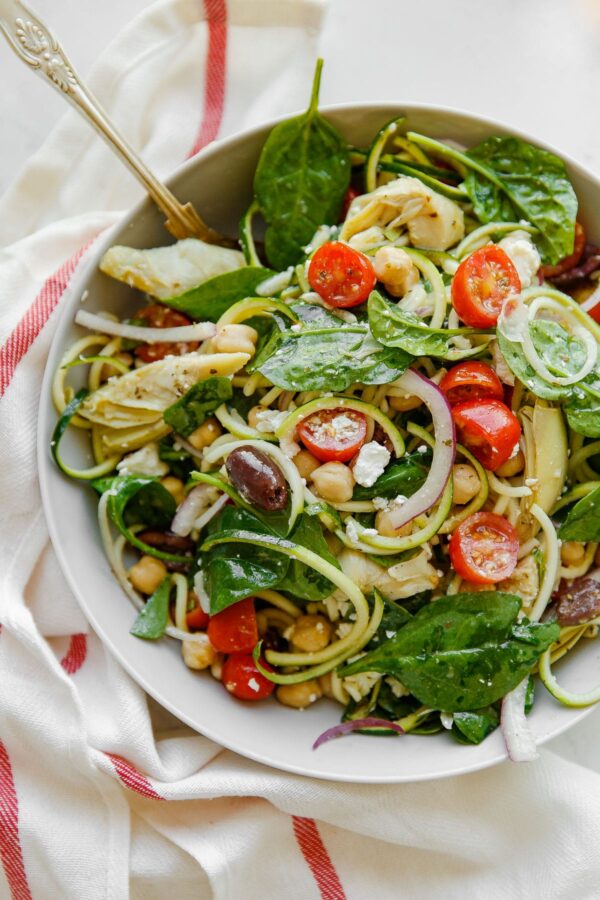 Zucchini Pasta Salad
Hello there! It has been a long (translation: longer than intended) break since my last post. There were several recipes that were all ready to go and be shared with you, but life got in the way a bit. Travel, internet issues (remind me to never plan to post while traveling!), a move, freelance photography shoots, and a lot of packing/unpacking. The good news?
Connor and I are completely settled in our new apartment and loving it. I feel settled, yet anxious to get back into this space and share more with you.
We're starting with this light, yet hearty Zucchini Pasta Salad. I had originally planned on sharing this recipe a couple weeks ago, but I'm happy I waited. Summer produce is just beginning to pop up at my local farmer's market, which means most of the produce in this salad (summer squash, tomatoes, fresh greens!) will peak very soon.
While you can certainly make this pasta salad all year long, it is best reserved for the summer season and an ideal dish for summer potlucks or BBQs. I always gravitate towards lighter, vegetable-centric meals this time of year, and this salad ticks all of those boxes and then some.