Favorite Sourdough Bread Tools and Resources
An extensive (updated) guide to my favorite tools and resources for homemade sourdough bread baking.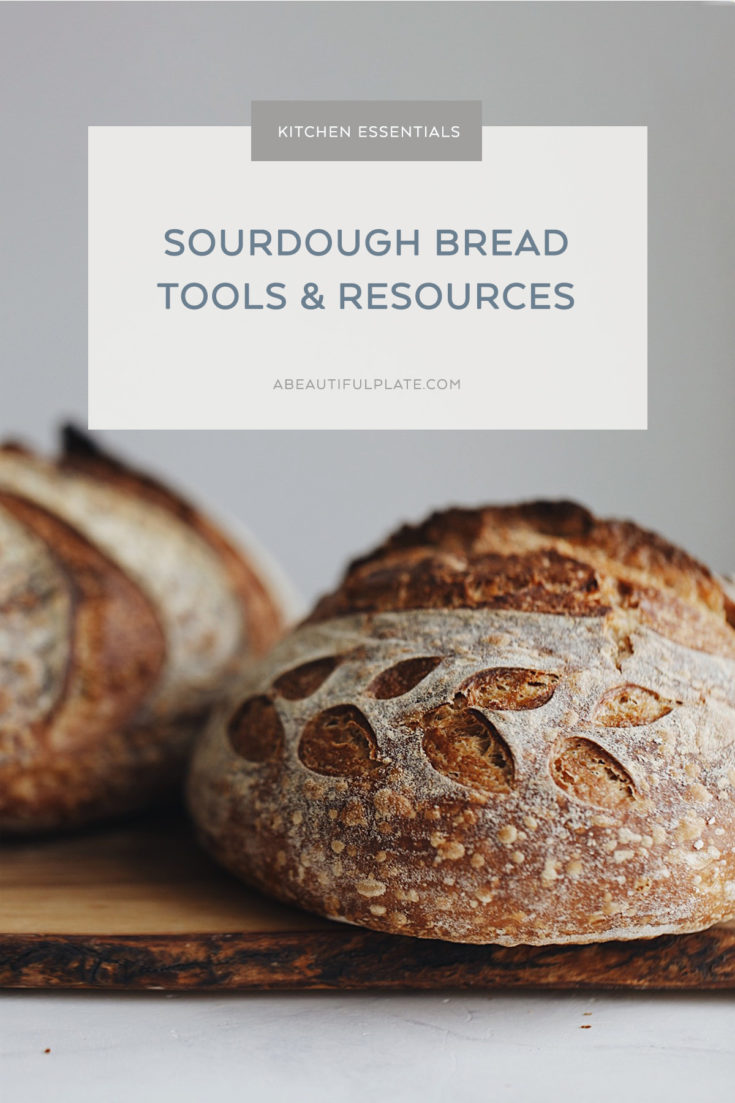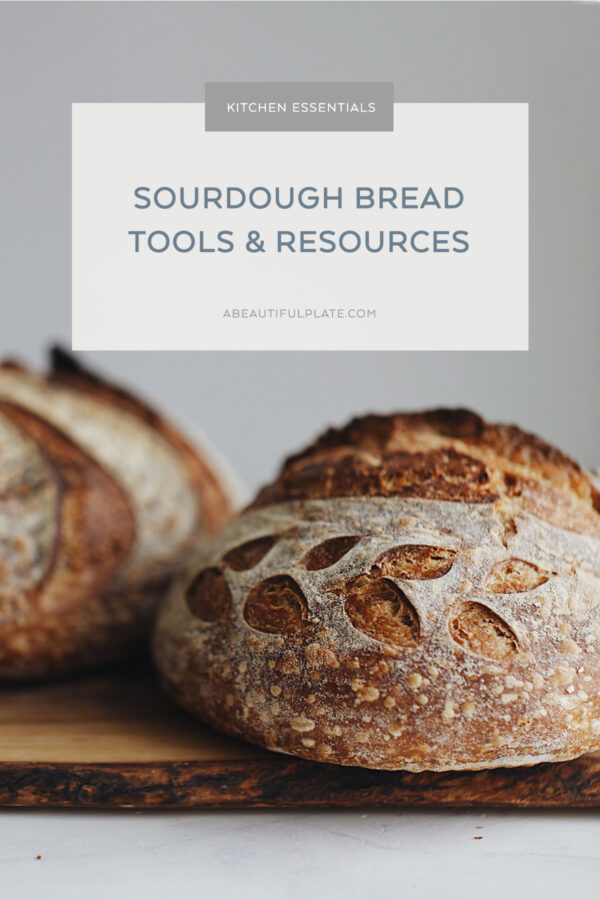 Original guide was published in October 2018 and updated with new photographs and recommendations in February 2022.
Every year I come up with a handful of cooking and baking goals. Recipes and techniques that I want to tackle and cross off my culinary bucket list. This process keeps me on my toes, reinvigorates my love of cooking, and forces me to slow down and enjoy the process.
In the last few years, my biggest goal was to learn how to make homemade sourdough bread. Fermented bread made from naturally occurring yeast and bacteria.
I tried my hand at sourdough bread a while back, but for various reasons the process was never documented. I developed a sourdough starter and attempted a few loaves, but travel and various projects side-tracked me.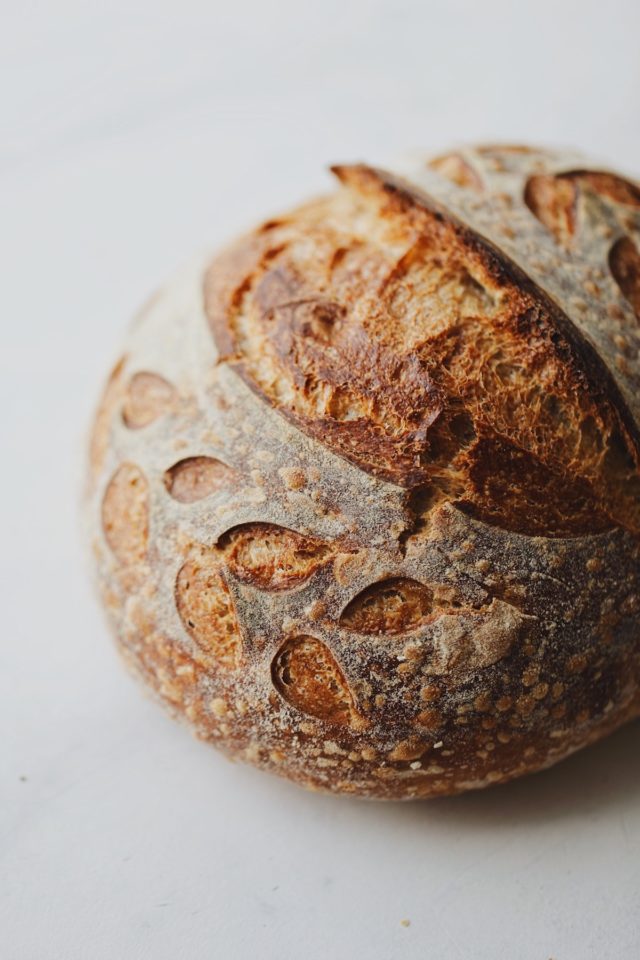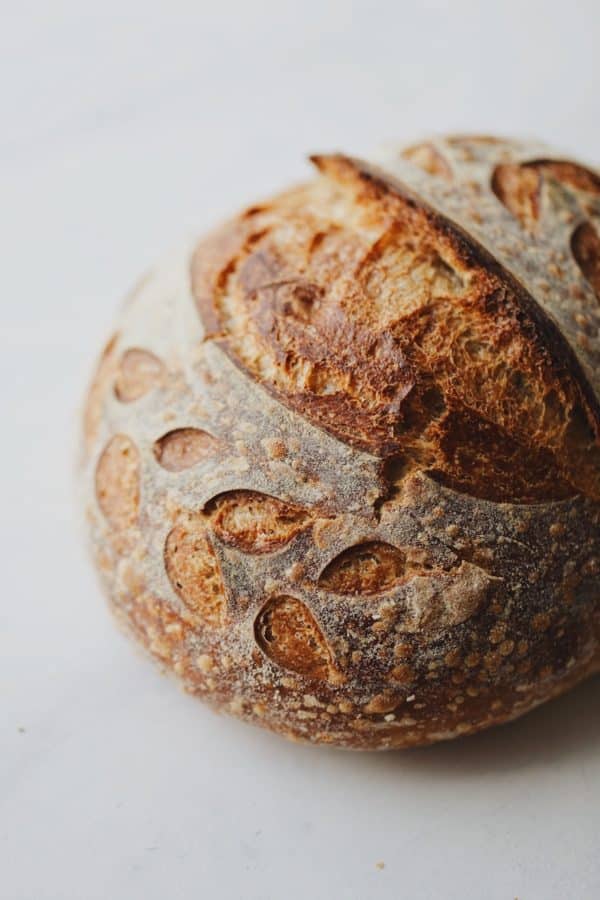 In the summer of 2018, I had a spontaneous urge to pick it back up (a trip to France inspired me!). I created my sourdough starter right then and there.
I am now the proud owner of a thriving homemade sourdough starter named Breadley Cooper. You can watch a video journey of me creating my sourdough starter on Instagram.
The learning process has been fascinating and rewarding. There is nothing quite as exciting as slicing into a fresh loaf of sourdough bread or being able to prepare an incredible sourdough pizza at home. It sparked the desire to share recipes and more of the baking process.
Mission Statement: My goal is to encourage and inspire, as well as make the process of making sourdough baking easier and more approachable for home bakers.
The world of sourdough baking can be intimidating. The language can be confusing and difficult to follow. The process mysterious and, at times, very frustrating.
But we all have the power to make amazing, artisanal sourdough bread at home.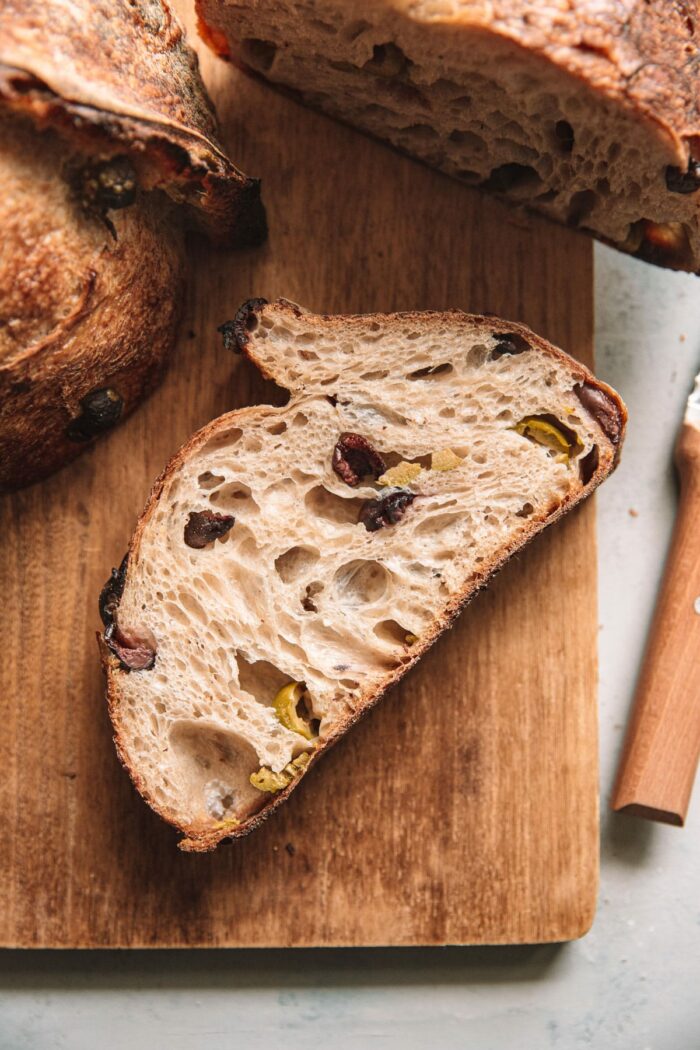 Before we dive into baking, let's discuss must-have tools for sourdough baking. While there are ways to improvise with various kitchen equipment, there are a few essentials that you'll need to get before baking.
In this guide, you'll find an exhaustive list of my favorite resources, cookbooks, and sourdough bread tools.
I've broken this guide into essential must-have's for beginners, while also providing a list of helpful optional tools for the enthusiastic or advanced home baker.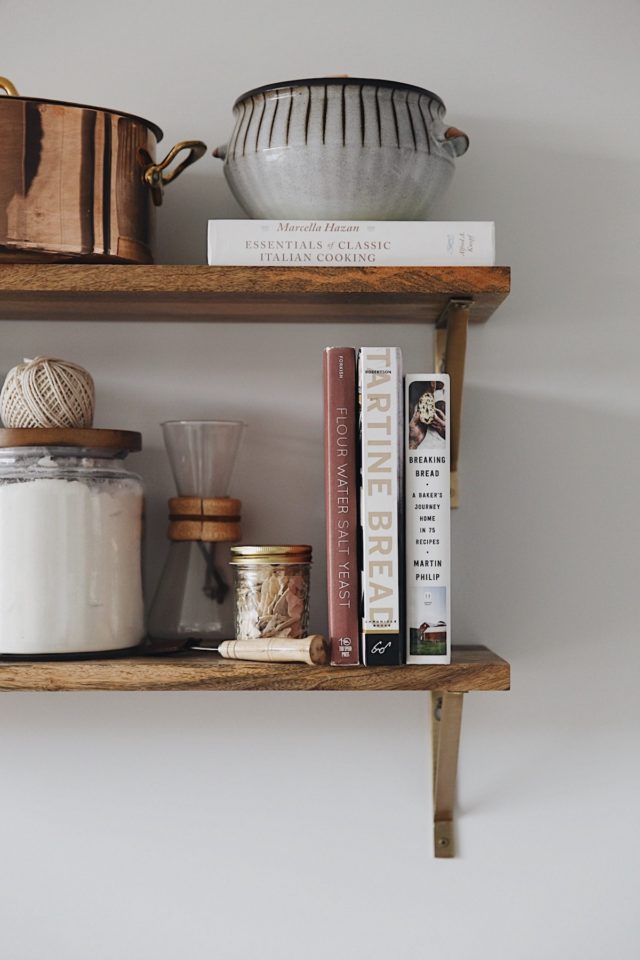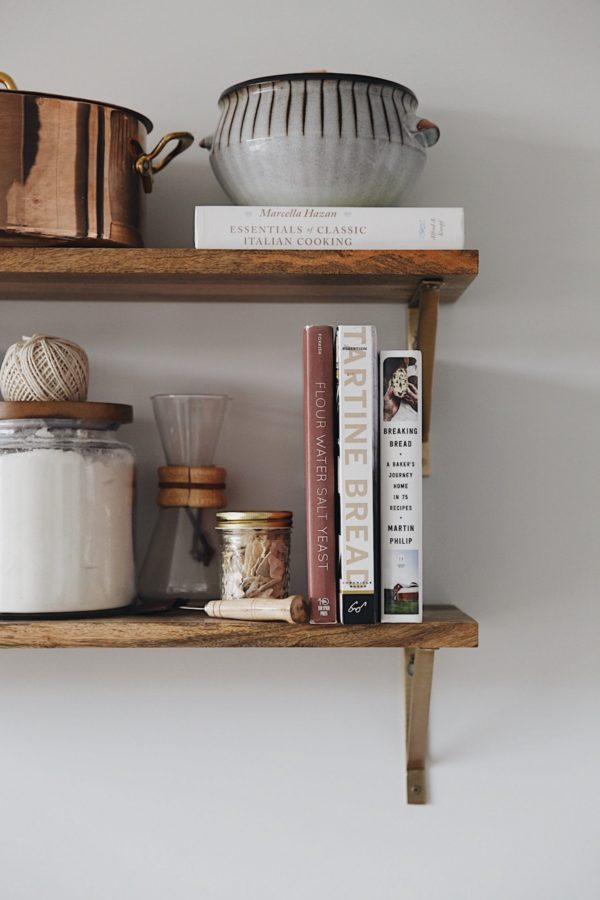 This post contains affiliate links. If you purchase an item below, I may receive a small commission at no cost to you.
Before Getting Started: While this post is lengthy and detailed, please don't be deterred by the long list of items below. There are few required tools necessary to bake sourdough bread at home, but this list includes all of my well-tested favorites, including several optional tools that make the process easier and more enjoyable.
For more guidance, be sure to check out my other Sourdough Resources, as well as my Sourdough Starter Troubleshooting Guide and Baking Troubleshooting Guide.
Favorite Bread Cookbooks & Learning Resources
Tartine Bread – a classic, Tartine is a wonderful addition to any bread baking cookbook collection. With that said, I highly encourage you to use this cookbook in conjunction with other resources. The classic bread recipe and method (particularly the sourdough starter guide) is vaguely detailed and assumes a certain level of understanding. In addition, the long-format recipes can be frustrating to follow. However, there is a huge amount of information to glean from the book if you're willing to read it thoroughly!
Flour Water Salt Yeast – one of my favorite cookbooks, Flour Water Salt Yeast draws inspiration from the Tartine bread method, but contains more detail with regard to tools, equipment, and baking science. The recipes are easy to follow and contain sample baking timelines, which is extremely helpful for beginners. It is worth noting that the majority of bread recipes in this cookbook use commercial yeast (instant or active dried yeast) and only a limited quantity are pure levain (sourdough starter) recipes.
The Perfect Loaf – one of my favorite sourdough bread baking resources, Maurizio's website is packed with sourdough recipes, which provide thorough explanations and process photos that are extremely helpful. This is the method that I used for developing my sourdough starter (and had the most success with it!). If you don't wish to invest in cookbooks, this is great resource to follow and bookmark.
Baker Bettie – my friend, Kristin Hoffman, is equally as enamored with sourdough bread baking and has shared an incredible wealth of resources on her website. I highly recommend checking out her YouTube channel, particularly if you're looking to gain a better understanding of the why's of baking. She is a wonderful teacher.
The Bread Baker's Apprentice – while this cookbook is not sourdough focused, Peter Reinhart's James Beard award-winning cookbook is an incredibly helpful resource for anyone looking to dive into bread baking. If you're looking to understand the whys of bread baking, this book is packed with information and baking science fundamentals. It also contains master formulas for everything from boules to bagels to brioche.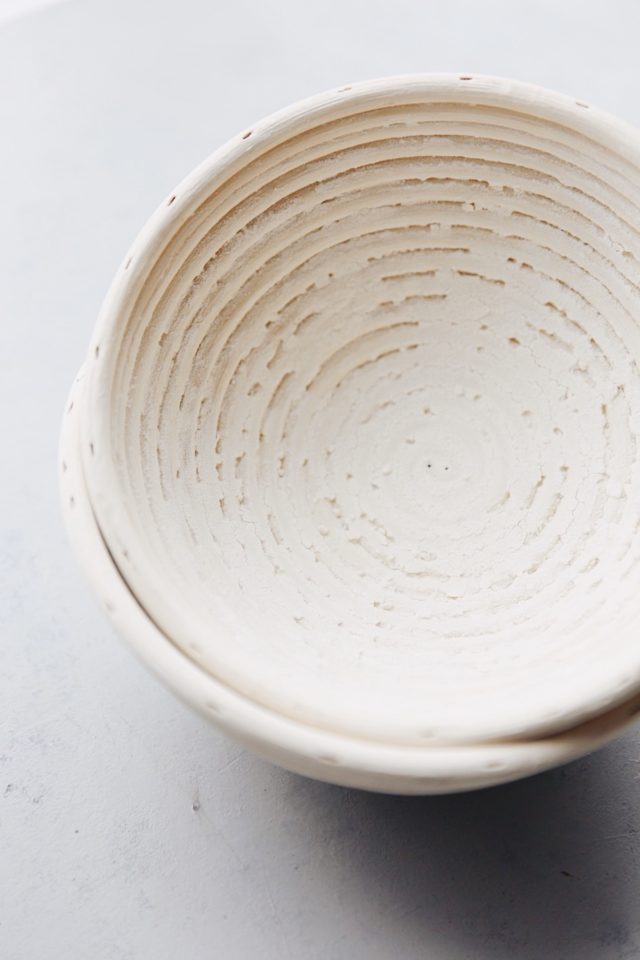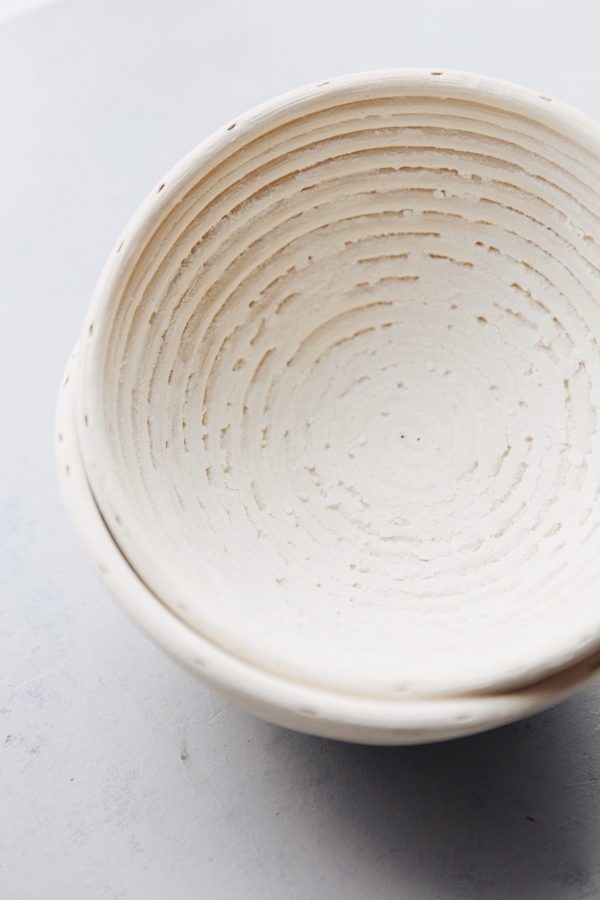 Artisan Sourdough Made Simple – while I do not personally own this cookbook, I've heard consistently great things about it. If you're a beginner and looking for an approachable resource, this cookbook is a great starting point.
Bread – this extensive cookbook is ideal for seasoned or professional bakers who wish to gain a deeper understanding of the bread making process and try their hand at a variety of European-style breads. I recommend getting your hands on other cookbooks before moving onto this resource.
Breaking Bread – this cookbook was gifted to me by King Arthur Flour. Written by their head bread baker, this book contains an extensive variety of bread and dessert recipes. Everything from bagels to biscuits, pies, and everything in between. It is not exclusively about sourdough, but does contain helpful information, easy-to-follow instructions, and a broad overview of bread making techniques. I recommend several other cookbooks on this list before acquiring this one.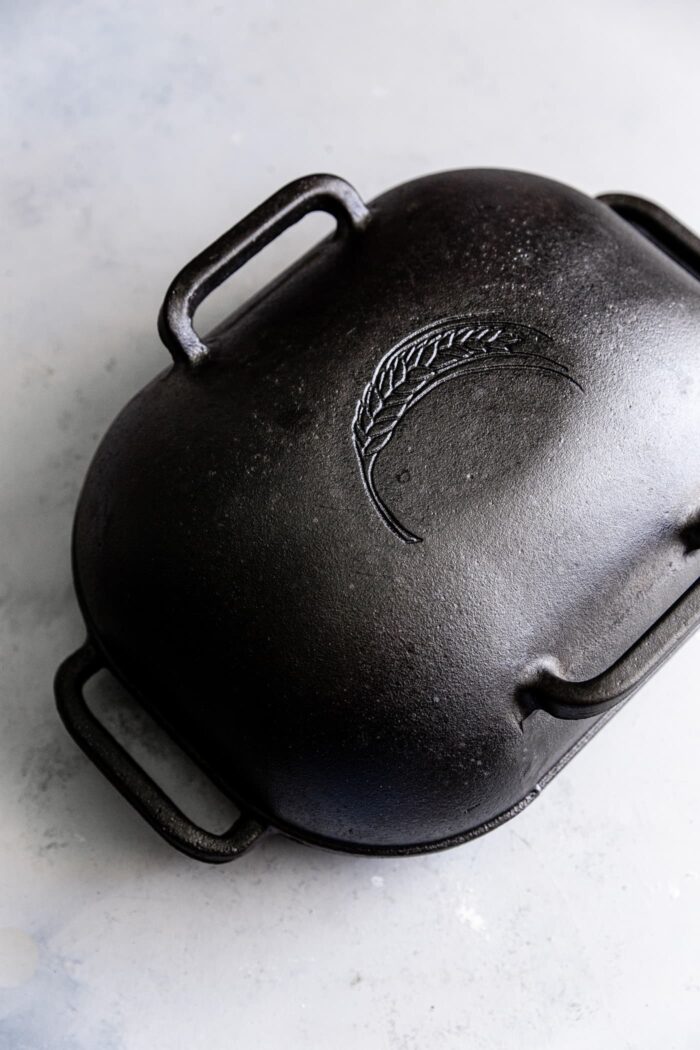 Must-Have Sourdough Tools & Equipment:
Challenger Bread Pan – my favorite bread baking tool. If you're interested in baking regularly, I highly recommend this pan. It is an investment, but makes the baking process easy and seamless. The heavy cast-iron base and lid traps heat and steam beautifully, resulting in improved oven spring and crust development. In addition, the shallow base with handles enables easy and safe dough transfer, eliminating the need for parchment paper. The Challenger's unique shape allows you to bake boules (rounds), batards (ovals – my preferred shape), demi baguettes, and more. If you're looking for more versatility, the base can also be used for stovetop cooking.
Cast Iron Dutch Oven – a Dutch Oven is another great option that you may already have in your kitchen. Dutch ovens are multi-purpose and versatile in the kitchen, but typically cannot be used for oval (batard) loaves. Ideally, you'll want a Dutch Oven that is 5-6 quarts in size (slightly larger than your standard loaf size). I'm partial to Staub, but Le Creuset is another classic option that will last a lifetime.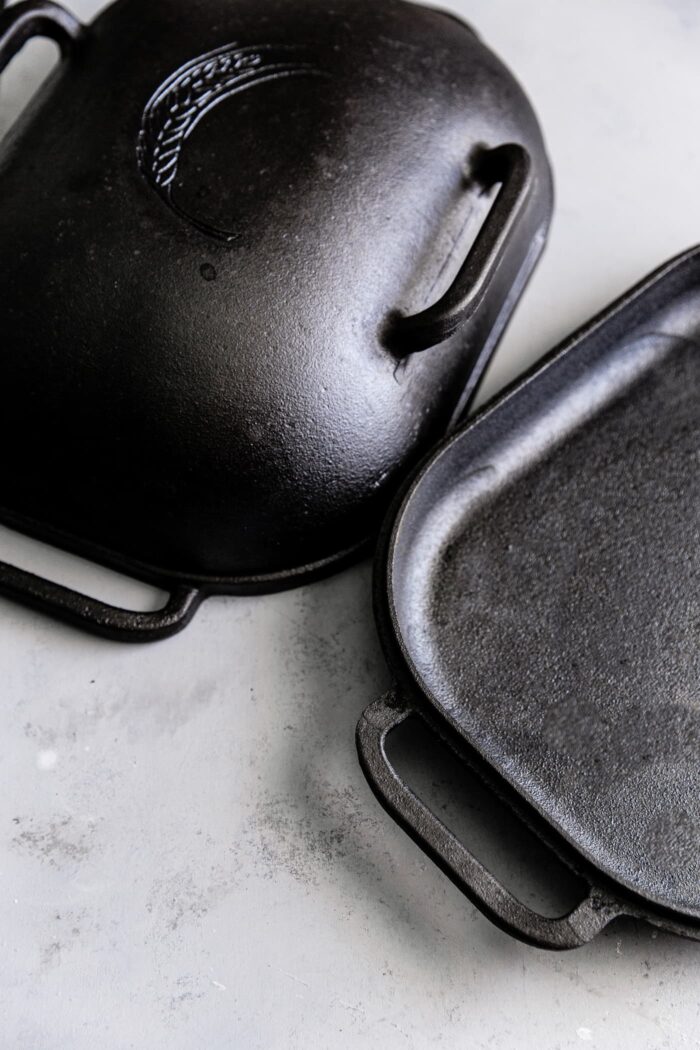 Combo Cooker – essentially an inverted Dutch oven with a cast iron lid (base) that can also be used as a stand-alone skillet. A combo cooker is a great option if your budget doesn't allow for a Challenger, you don't own or wish to purchase a Dutch oven, but you are still looking for an affordable option that makes dough transfer easy.
Equipment Note: While you can skip pans and bake bread directly on a baking steel or stone, these methods generally require special techniques for trapping steam, making them cumbersome for beginners. Steam is essential for achieving a crispy, well-blistered crust (the hallmark of great bread) on traditional artisan loaves. The Challenger and Dutch Ovens do this extremely well.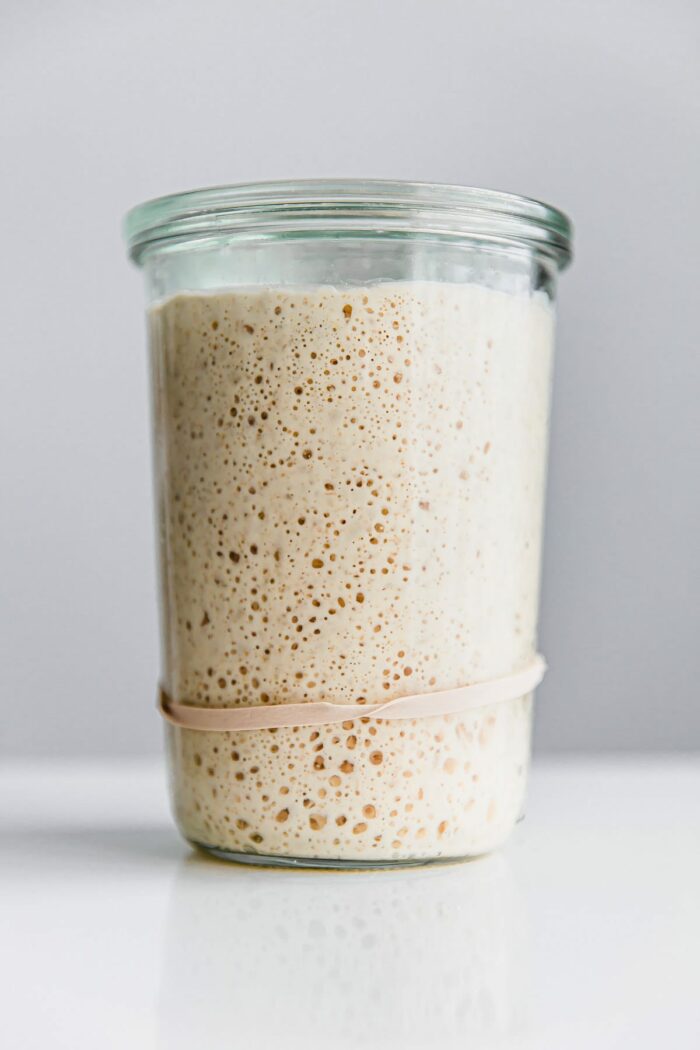 26 Ounce Weck Jar or Basic Straight-Sided Glass Container – you will need a basic container for your sourdough starter. Choose a glass container that is: 1) is easy-to-clean, 2) includes a lid, which is not airtight, 3) appropriately sized and allows you to scale up your starter and accounts for it growing 4x in height. My favorite sourdough starters are straight-sided Weck Jars (26-Ounce), but a repurposed jar can be used too. I keep several on hand, including smaller sizes for everyday maintenance. Challenger Breadware also sells starter jar sets, but they are higher in price. Set a rubber band around the jar to create a visual cue of the starter's activity over time.
Baking Scale – a baking scale is essential for bread baking. Having a familiarity with gram measurements and understanding baking percentages will make you a more consistent bread baker. Scales also allow you to customize and adapt bread recipes to your liking as you progress.
Instant Thermometer – various stages of bread making require you to measure temperatures. I highly recommend investing in a high-quality Thermapen Instant-Read Thermometer as you will use it for so many kitchen tasks and the quality is unparalleled. However, a basic instant thermometer will suffice.
Parchment Paper – if you're using a standard Dutch oven for baking, I recommend keeping parchment paper on hand. I use this simple parchment paper sling technique to easily transfer dough to the hot pan.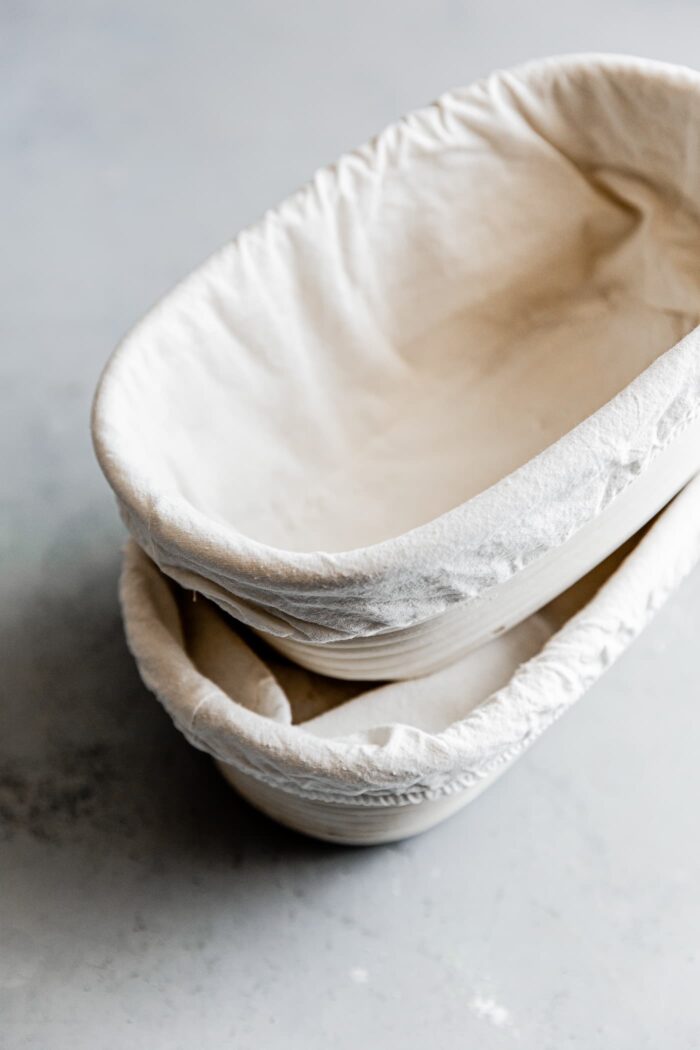 Banneton Baskets or Mixing Bowls with Linen Towels – bannetons (called brotforms or proofing baskets) are natural cane baskets used to proof and hold dough. The natural cane material helps absorb excess moisture. They are available in various sizes and shapes. Be sure to purchase bannetons that allow the dough to expand slightly during proofing. I recommend 8 or 9-inch round bannetons and 10-inch or 11-inch oval bannetons depending on your baking vessel. Owning two bannetons allows you to bake two loaves at once. In a pinch, you can use mixing bowls lined with kitchen linens.
Bench Knife – a basic bench knife is one of my favorite everyday kitchen tools. They are extremely helpful for shaping and dividing bread dough, scooping up ingredients, and cleaning off countertops. I prefer bench knives with rubber handles so that I can pop them into the dishwasher.
Flexible Bowl Scraper – flexible scrapers are cheap and so helpful for scraping mixing bowls and mixing bread dough during various stages.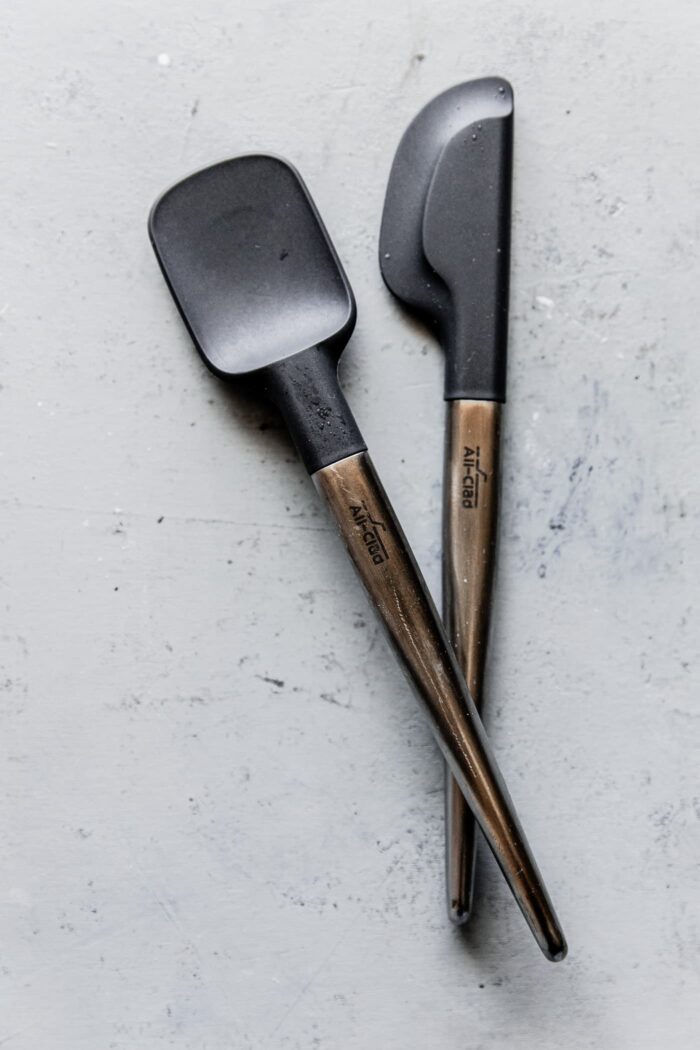 Small Spatula – while not required, a small rubber spatula is very helpful for mixing your sourdough starter. OXO makes a solid option. I love this set of All-Clad spatulas, which are an ideal size and shape for mixing and scraping down a starter jar.
Long Serrated Bread Knife – a good-quality, 9 to 10-inch serrated bread knife is essential for slicing bread, particularly crusty bread, and many other kitchen tasks. It is a must-have in any well stocked kitchen. Mercer makes a good budget-friendly option.
Bread Lame – if you wish to create beautiful bread 'ears' or decorative scores, a bread lame (pronounced 'lahm') is essential. I have owned and tested many, but this WireMonkey Lame is my absolute favorite (note: ABP readers will receive an automatic 10% discount using these links). The size and shape makes it easy to hold and maneuver, and the blades are extremely sharp. Alternatively, you can use a knife or scissors, or even make a lame with a wooden coffee stirrer and razor blade. However, a steady well-made lame will make the job easier and quicker.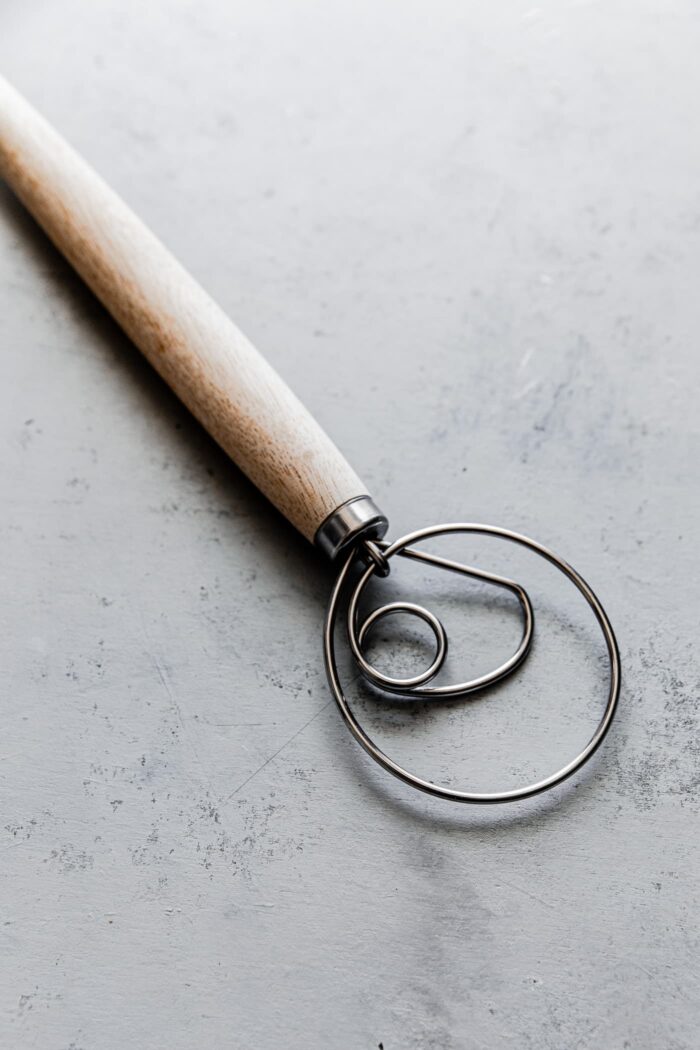 Other Helpful Tools:
Danish Dough Whisk – if you're looking to keep things a bit less messy, a Danish dough whisk is a helpful tool for mixing doughs. The unique shape prevents sticking and makes it easy to clean. I use it for sourdough pizza, biscuits, and pastries too.
White Rice Flour – rice flour is less absorbent than regular wheat flour (and is naturally gluten-free), which makes it a great choice for dusting banneton baskets or bowls to prevent dough from sticking during proofing. Bob's Red Mill brand is my recommended choice and easy to find in most grocery stores.
Ambient Thermometer – an ambient thermometer is extremely helpful particularly if your home or kitchen experiences big temperature fluctuations. Temperature is an ingredient in bread baking and will determine many elements of the process, including your baking timeline. Being able to know the ambient temperature of your space (aka. where you store your starter, proof your dough, etc.) is very beneficial.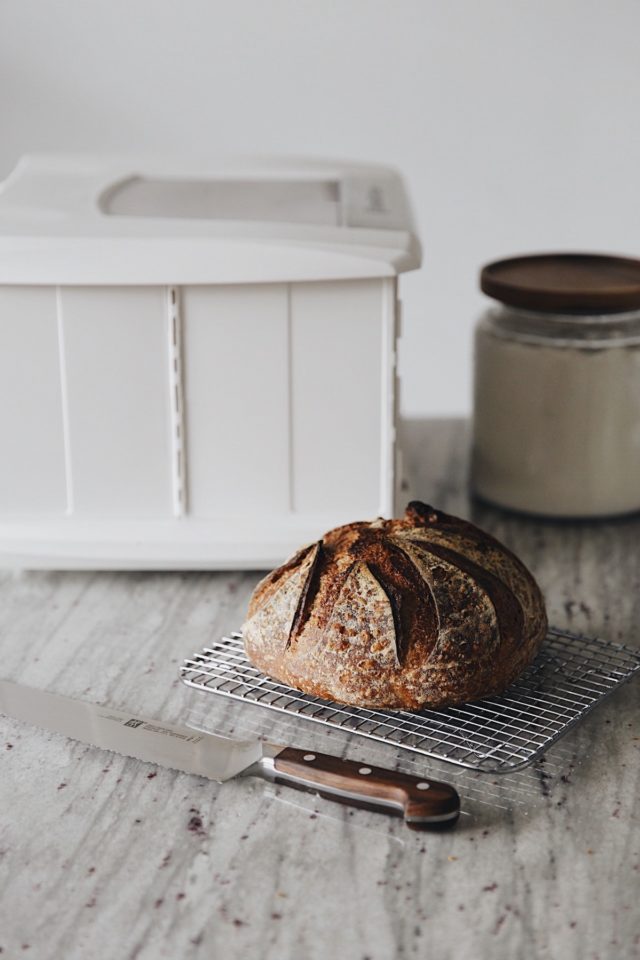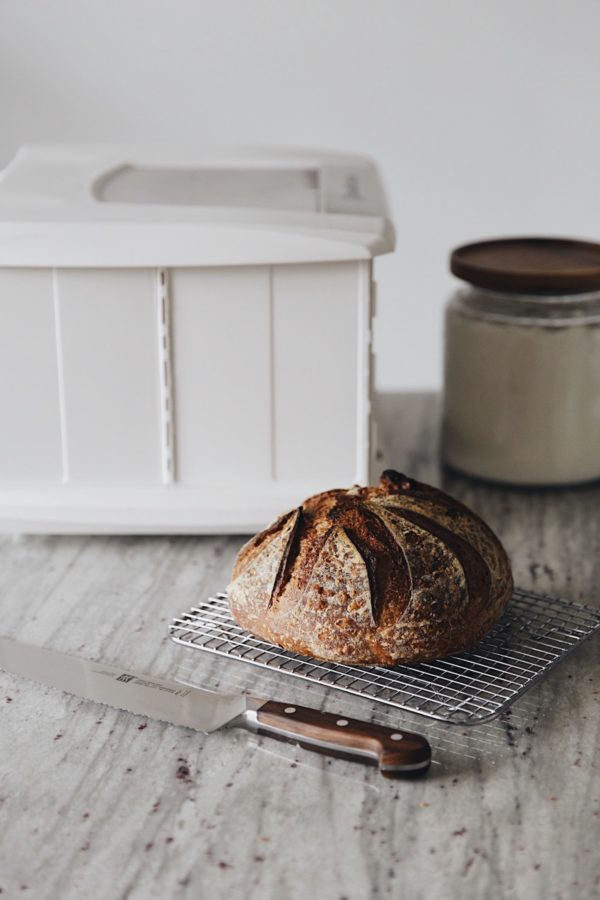 Splurge-Worthy Tools for the Advanced Baker:
Brod and Taylor Proofing Box – the ultimate bread-baking tool if you wish to take your sourdough bread baking to the next level and create a controlled proofing environment. If you experience massive temperature fluctuations, you will love this tool. It can also be used to explore other homemade fermented foods, such as kombucha, yogurt, etc. and even be used as a warmer and slow cooker. This particular proof box can be set from 70°F – 190°F (21°C-88°C) and includes a water tray for controlling humidity.
Note: I invested in a Brod and Taylor Proofing Box to gain more control during the fermentation process and take my bread-baking passion to then next level. It is a splurge, but a valuable tool for controlling flavor, fermentation, timing, and more. The proofer is the size of a small microwave, but energy efficient and can be folded down flat for storage. It is big enough to hold a sourdough starter, levain, and dough at the same time.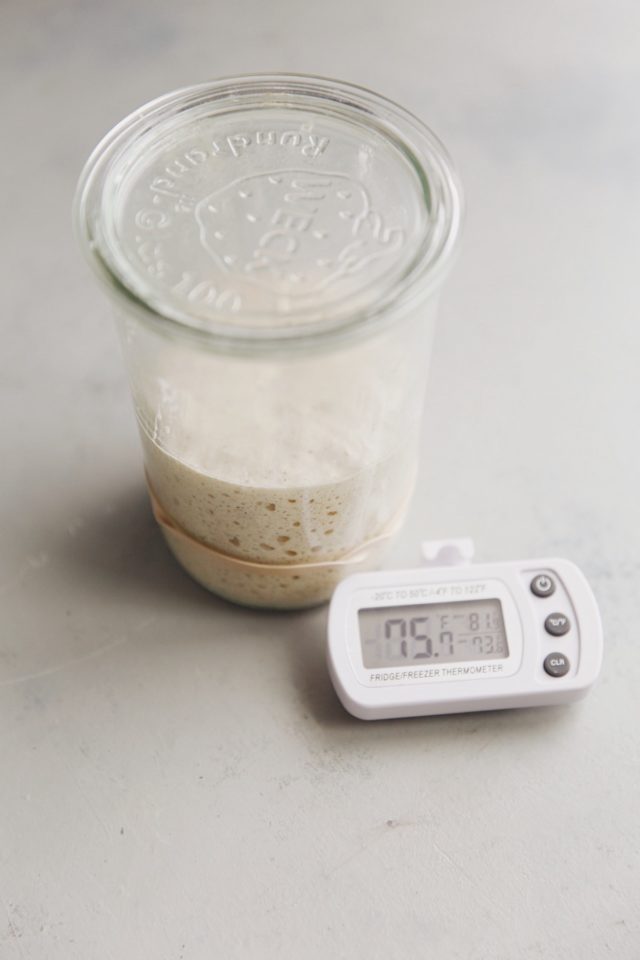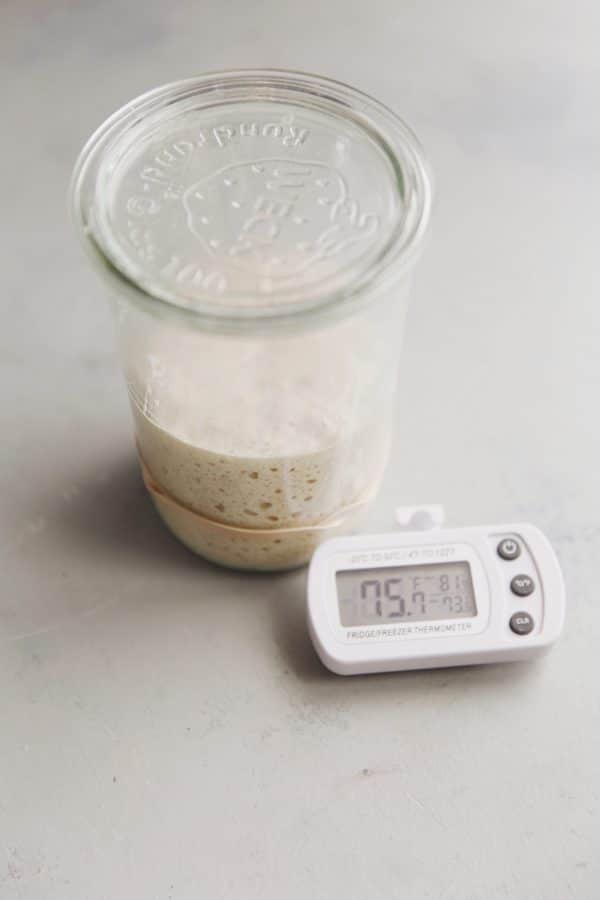 Baking Steel – if you plan to bake bread in a Challenger or Dutch Oven, you do not need a baking steel or stone. However if you're looking to explore different bread shapes, a baking steel is wonderful. When it isn't in use, it will radiate heat evenly in your oven and provide a hot surface for baking other items such as pies. Baking steels retain more heat than a baking stone (making them ideal for pizza) and are more durable and easy to clean.
Feel free to ask questions in the comments below and I'll be happy to answer them! Follow along on Instagram if you wish to see more behind-the-scenes videos of my sourdough bread making process.
---
For additional sourdough baking resources, be sure to check out the following:
This post contains affiliate links, which means that I make a small commission off items you purchase at no additional cost to you. Please read my
privacy policy
for more information.