My Favorite Sourdough Bread Tools and Resources
This post contains affiliate links.
An extensive guide to my favorite tools and resources for homemade sourdough bread.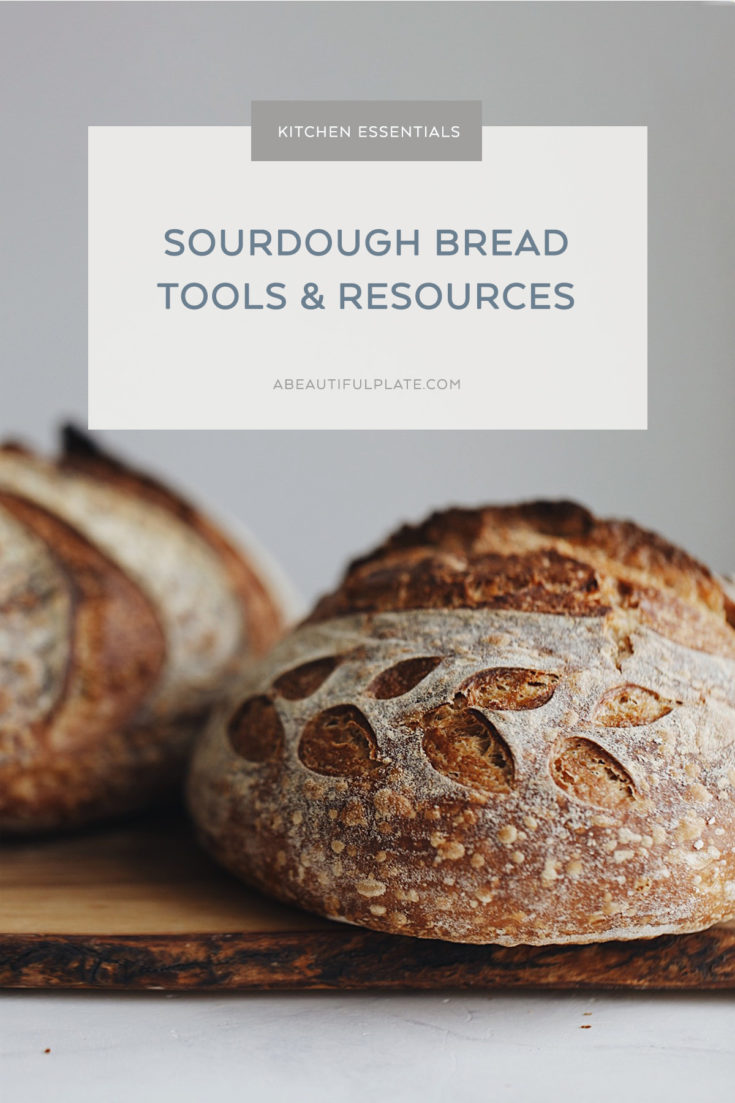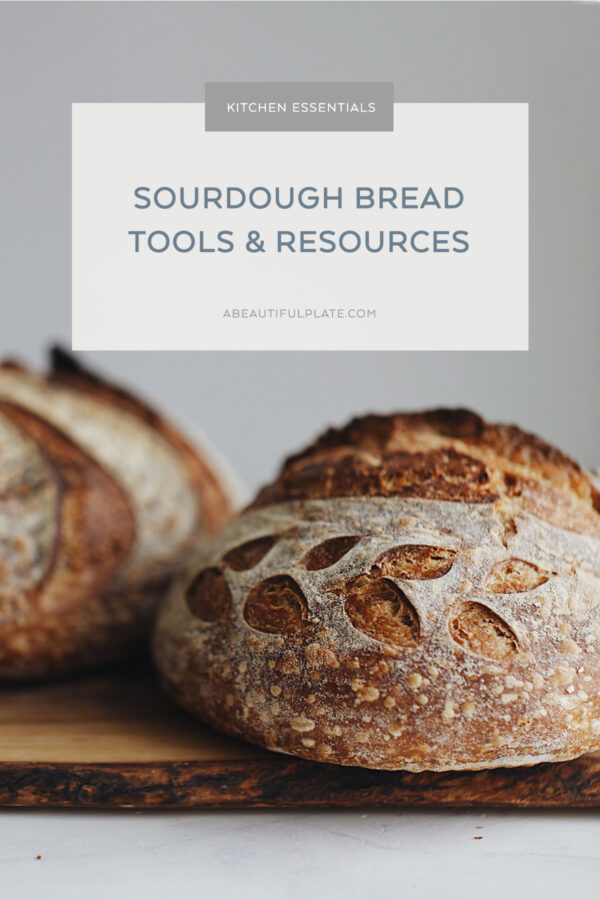 Every year I come up with a handful of cooking and baking goals. Dishes and recipes that I've always wanted to tackle and cross off my bucket list, and techniques that I want to learn more about. It keeps me on my toes, reinvigorates my love of cooking, and forces me to slow down and enjoy the process.
In 2018, one of my biggest goals was to dive headfirst into homemade sourdough bread. Fermented bread made from naturally occurring yeast and bacteria.
I tried my hand at this a few years ago, but for various reasons, the process never made itself onto the blog. I developed a sourdough starter and attempted a few loaves here and there, but various projects and travel side-tracked me.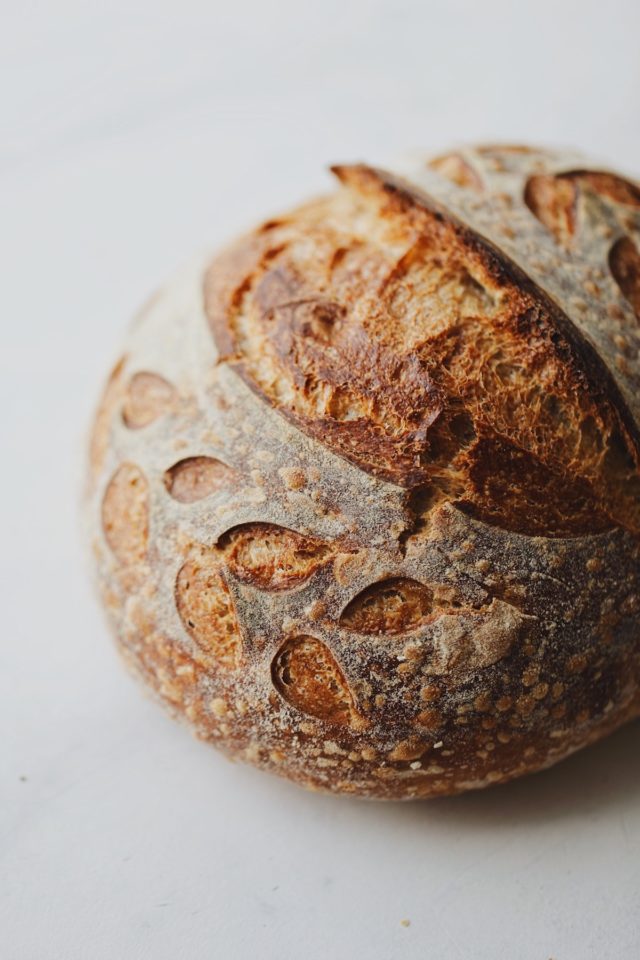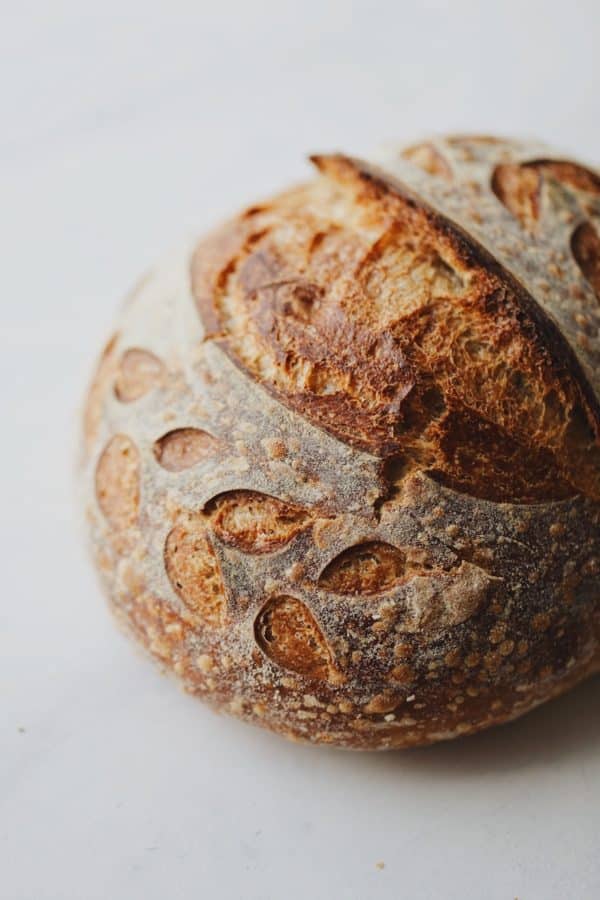 In summer 2018, I had a spontaneous urge to pick it back up (my trip to France inspired me!). I created my sourdough starter right then and there.
After several lulls and some uncertainty, I am now the proud mama of a thriving homemade sourdough starter named Breadley Cooper (yes, that's really his name!). You can watch a video journey of me making my sourdough starter here.
I have officially boarded the sourdough train. I'm kind of obsessed. The process been extremely fascinating and rewarding – there is nothing quite as exciting as pulling a loaf of homemade bread out of the oven – it has sparked the desire to share and write more about the process.
You see, I have a sneaking suspicion that many of you would enjoy (or, better yet, love) making sourdough bread at home! Or at the very least, be interested in learning more about it and having helpful resources, tools, and guides at your disposal if or when you do.
The world of sourdough bread can be intimidating. The language can be confusing. The process mysterious and, at times, frustrating. We have a tendency to want to leave it to the pros.
But we all have the power to make amazing, artisanal sourdough bread at home. My goal is to encourage and inspire you, as well as make the process of making sourdough bread easier and more approachable for home bakers.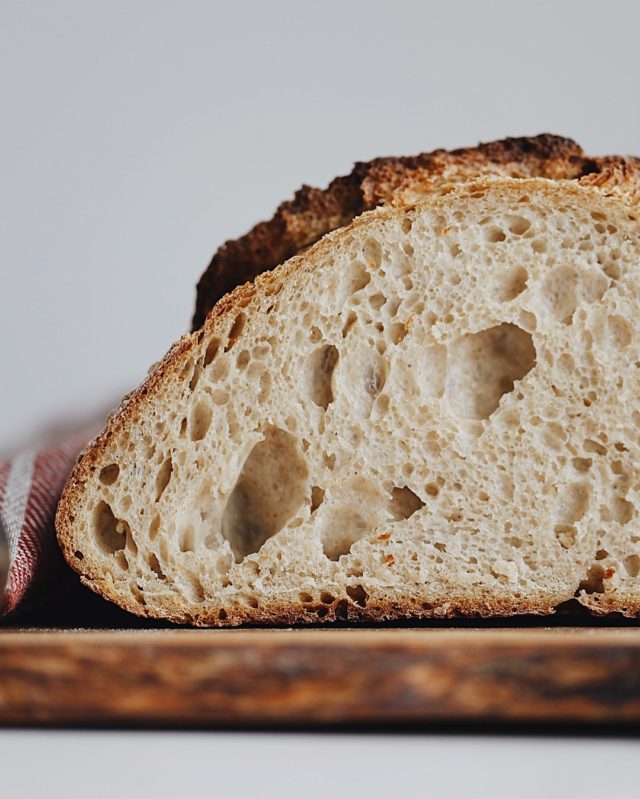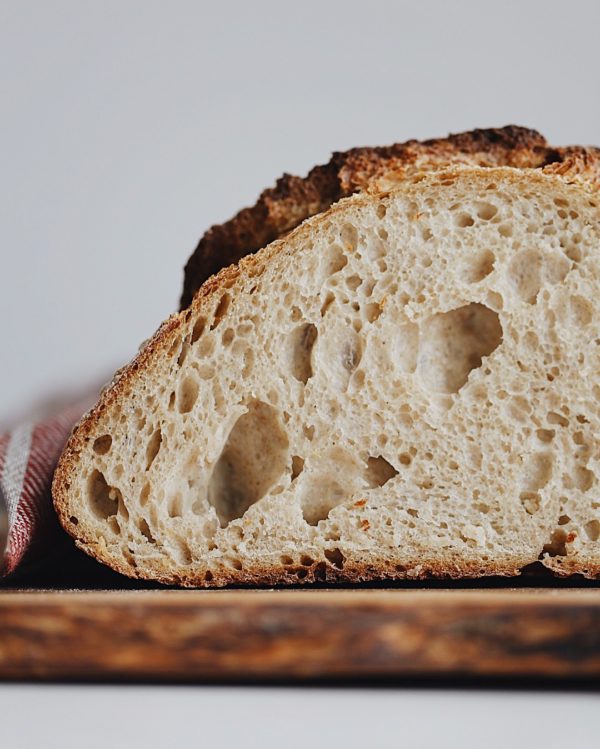 So, let's officially declare this post the beginning of my sourdough bread series.
You can find my favorite resources, books, and tools below. If you're creating a sourdough starter from scratch, please review my Sourdough Starter Troubleshooting Guide for more guidance and tips.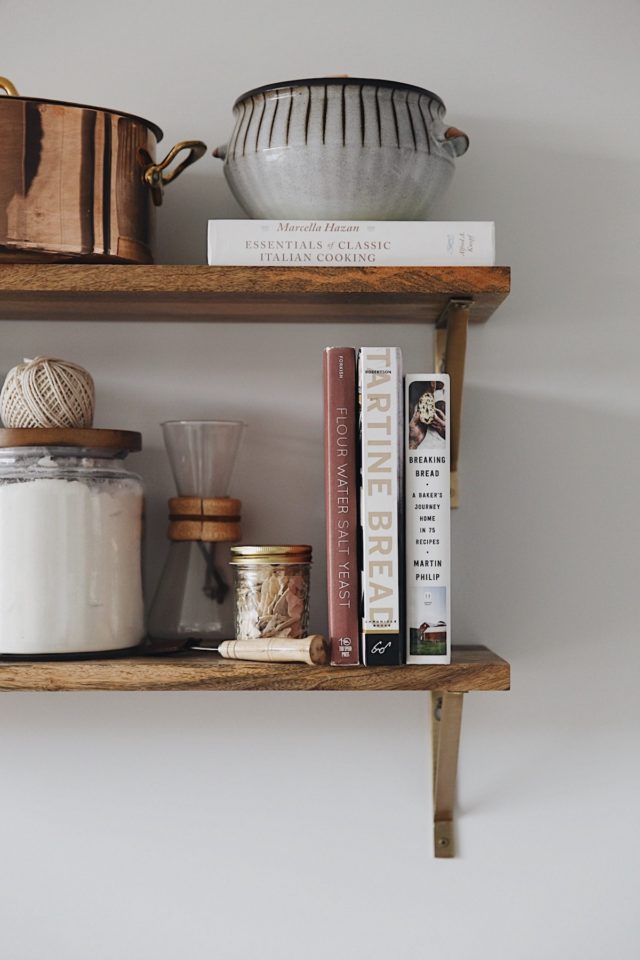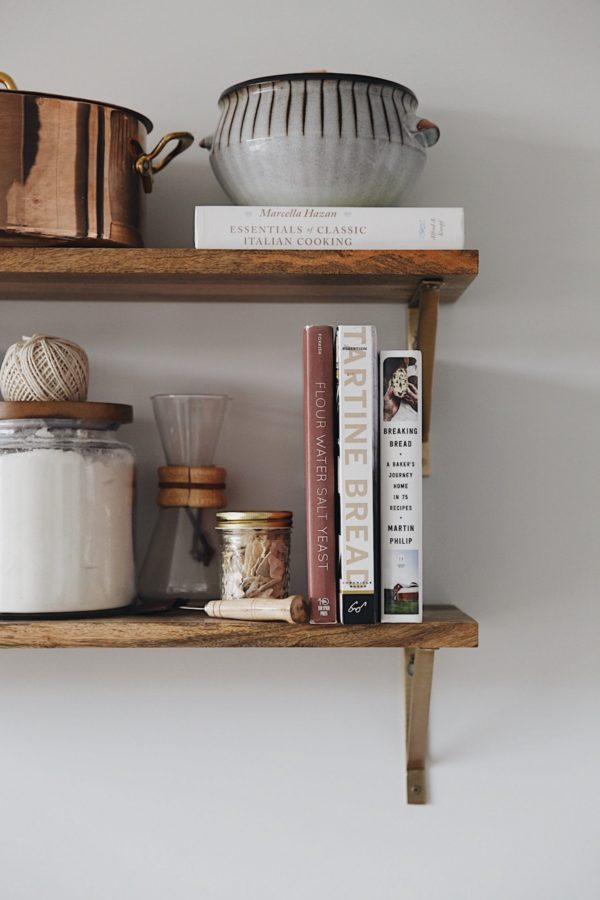 This post contains affiliate links. If you purchase an item below, I may receive a small commission at no cost to you.
While this post is lengthy and detailed, please don't be deterred by the long list of items below. There are few required tools necessary to bake sourdough bread at home, but this list includes all of my favorites, including many that have made the process easier and more enjoyable.
Favorite Bread Books + Helpful Resources
Tartine Bread – a sourdough baking classic, Tartine is a wonderful cookbook for aspiring sourdough bread bakers. While I recommend it to everyone looking to get into homemade sourdough, I encourage you to use it in conjunction with other books and resources. The recipes (particularly the sourdough starter method) is loosely detailed and does assume a certain level of knowledge. Some may find the recipes frustrating to follow as they are written in long-format and broken up with photographs, explanations, writing, etc. However, there is a huge amount of information to glean from the pages if you're willing to read them thoroughly!
Flour Water Salt Yeast – one of my favorite bread cookbooks, Flour Water Salt Yeast draws inspiration from the classic Tartine bread method, but contains significantly more detailed information regarding tools, equipment, baking science, etc. All of the recipes contain sample baking timelines, which is very useful in bread making, particularly right when you're getting started. It is worth noting that the majority of bread recipes in this cookbook use a small quantity of added yeast (instant dried yeast). There are only a limited quantity of pure levain bread recipes in the book. With that said, it is one of my favorite bread cookbooks.
The Perfect Loaf Blog – this has been one of my favorite resources during the sourdough bread making process. I've turned to it time and time again. If you're looking to get your feet wet (and don't wish to invest in any other cookbooks), I highly recommend exploring Maurizio's website and recipes. He provides thorough explanations, guidelines, and many step-by-step photos that are extremely helpful. My thriving sourdough starter was developed using his method (my favorite that I've tried thus far), and the breads shown in this post are of his beginner sourdough bread recipe.
Artisan Sourdough Made Simple – while I don't own this cookbook (yet!), I've heard wonderful things about it. If you're looking for an approachable resource for sourdough bread making, this is a wonderful resource and starting point.
Bread – this extensive cookbook is great for seasoned or professional bakers who wish to gain a deeper understanding of the bread making process, and try their hand at a large variety of European breads. I recommend getting your hands on one of the two cookbooks above before moving onto this resource.
Breaking Bread – this cookbook was gifted to me by King Arthur Flour. It was written by their head bread baker, and contains an extensive variety of bread and dessert recipes. Everything from bagels to biscuits, pies, and everything in between. It is not exclusively about sourdough bread, but does contain helpful information, easy-to-follow instructions and recipes, and a broad overview of bread making techniques and science. I would recommend several of the other cookbooks on this list before acquiring this one, but I felt it deserved to be on this list.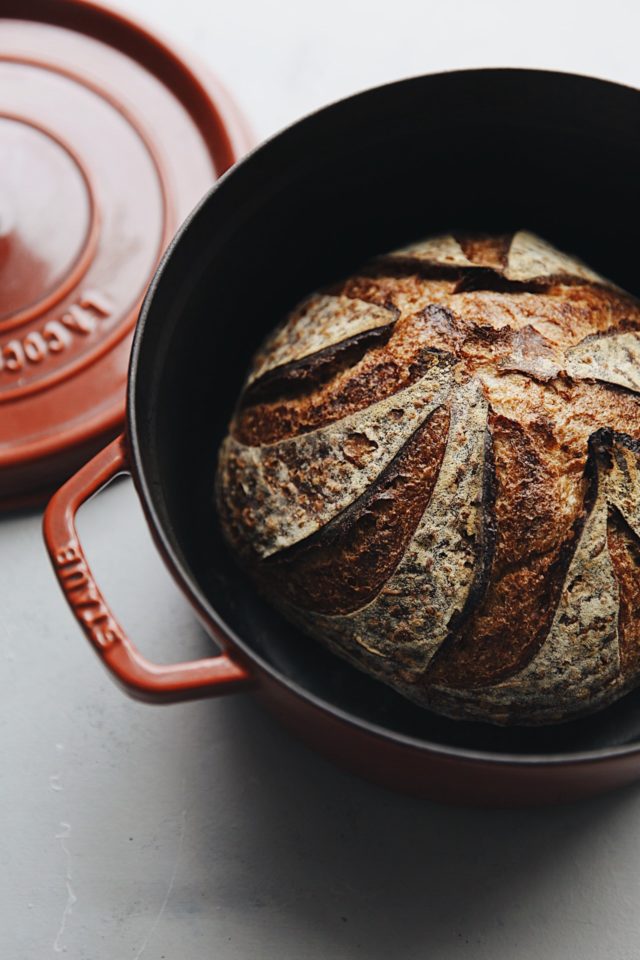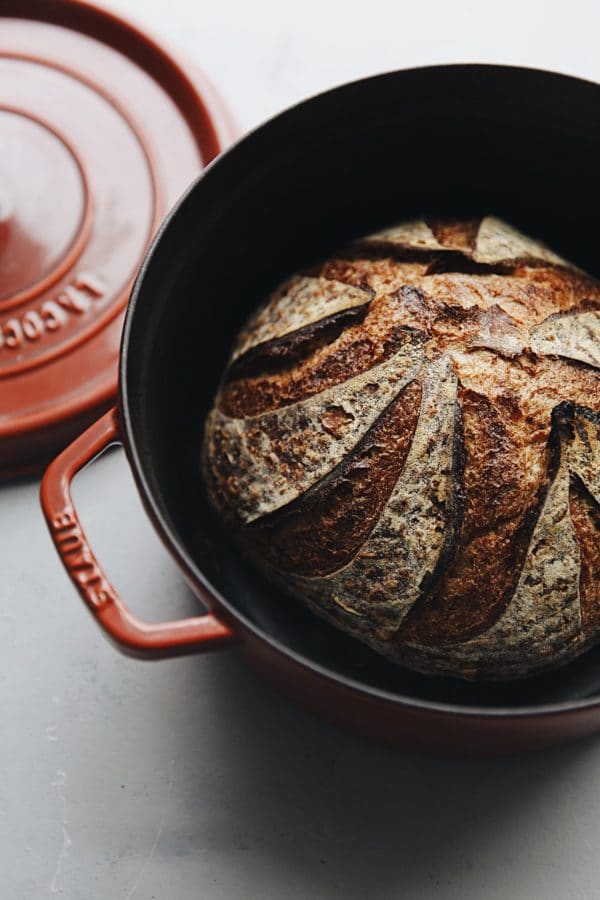 Essential Sourdough Bread Tools
Challenger Pan – this amazing pan has quickly become my favorite sourdough baking tool! While it is definitely an investment, it makes the entire sourdough baking process easier and seamless, and the results are truly fantastic. The unique size and shape allows you to bake rounds or batards (my favorite sourdough shape!) or even two demi-baguettes. *I was gifted this pan, but highly, highly recommend it.
5.5 Quart Dutch Oven or Combo Cooker – the easiest way to produce homemade sourdough bread at home is to bake in a Dutch oven. Heavy Dutch ovens can be preheated and retain high temperatures extremely well. They also trap steam during the baking process (when the lid is left on during the initial stage of baking). This is essential for achieving a crispy, well-blistered, and dark crust (the hallmark of great bread). While you can use a baking stone or steel as an alternative and turn to other means for producing steam, these methods often require complex, cumbersome equipment and a higher level of skill.
Before acquiring the Challenger, I used this 5.5 Quart Staub Dutch Oven for my sourdough bread baking and prefer the slightly larger size. However, you do not need to invest in an expensive Dutch oven for basic sourdough bread. You just need a heavy, good-quality one that will get the job done. Lodge is a great budget-friendly brand option. Alternatively, you can choose a combo cooker, which is essentially an inverted Dutch oven with a cast iron lid base that can also be used as a stand alone skillet. A combo cooker is a great option if you don't currently own the appropriate sized pot and are looking for one that makes the process of transferring dough in/out a bit easier. However, if you are already looking to invest in a large Dutch oven, you might want to stick with that.
26 Ounce Weck Jar or Starter Container – you will need a basic container to hold and maintain your starter. You want to choose a container that meets the following criteria: 1) is easy-to-clean, 2) includes a lid, which can be set askew or is not completely airtight, 3) is appropriately sized and allows your starter to grow at least 4x its height, and 4) is see-through. I've found this jar to be perfect because it is straight-sided (which makes it much easier to clean!), is the perfect size for my starter quantity, and allows me to place a rubber band easily around the jar, making it easy to create a visual cue for the starter's growth over time.
Baker's Scale – a must-have tool! Using a kitchen scale, having familiarity with gram measurements, and understanding baking percentages will make you a stronger bread baker and allow you to customize and adapt bread recipes as you move forward. While you can resort to baking cups and measuring spoons if necessary, bread making requires fairly exact quantities if you wish to see consistent, strong results.


Parchment Paper – if you're using a standard Dutch oven to bake bread, I highly recommend keeping a roll of parchment paper (a high-quality brand) on hand. It makes transferring dough to a Dutch oven easy and painless, and acts as insurance to avoid super-dark bread loaf bottoms.
Small OXO Spatula – while this isn't essential, a small, easy-to-clean rubber spatula is very helpful for mixing your sourdough starter. I really like this one because it is seamless, high-quality, and dishwasher safe.
Banneton Baskets or Mixing Bowls with Linen Towels – bannetons (otherwise known as brotforms or proofing baskets) are natural cane baskets used to hold and proof your final shaped dough. They are dusted with flour, help absorb excess moisture, and are responsible for those beautiful flour lines that you see in gorgeous artisan loaves. They come in various sizes, but you'll want to be sure to get one that allows your bread to rise and increase in size during proofing. I recommend a set of 9-inch round bannetons and a set of 10-inch or 11-inch oval bannetons depending on your baking vessel. If you don't have or wish to purchase these, you can get away with using small mixing bowls lined with kitchen linens.
Bench Knife – I use my bench knife for so many tasks in the kitchen. Scooping up chopped ingredients and transferring them to cookware or prep bowls, scraping down my kitchen countertop, and so much more. A basic bench knife is extremely helpful for dividing bread dough, shaping, and cleaning up. They are affordable and come in handy in so many ways! I prefer ones that have rubber handles (as opposed to the prettier wooden handles) so that I can pop them into the dishwasher easily.
Flexible Bowl Scraper – these flexible plastic scrapers are cheap and so helpful for scraping down mixing bowls (as they are flexible) and mixing bread dough during various stages – they help eliminate a bit of the mess involved in sourdough bread making!
Bread Lame – if you wish to work on your bread scoring skills and create more intricate patterns in your sourdough bread, a bread lame (pronounced lahm) is a must-have tool. I currently own two bread lames (the one pictured in the photo above) and this one that offers a straight and curved blade option. However, this WireMonkey bread lame is my go-to bread lame, as the blades are very sharp and it is the easiest to hold and maneuver. I highly recommend it. A very sharp knife, scissors, or basic razor blade (be careful!) can act as a somewhat effective alternative, but having a steady, well-made bread lame makes the job significantly easier. Alternatively, you can make your own with a wooden coffee stirrer and standard razor blade.
Long Serrated Bread Knife – you'll want to get your hands on a good-quality, sharp serrated bread knife so that you can properly slice your loaves of bread. You don't need to spend an enormous amount of money to get an effective bread knife. Whenever I get asked for recommendations on kitchen knives, I always say to have three basics: 1) paring knife, 2) chef's knife, 3) serrated bread knife. It is a must-have in any kitchen!
Basic Instant Thermometer – various stages of sourdough bread making require you to measure temperatures. While I highly recommend investing in a higher-quality instant thermometer (see below – you'll use it for so many tasks in the kitchen, and the quality is unparalleled!), any basic instant thermometer will suffice.
Rice Flour – while not essential, rice flour is useful to have on hand. Rice flour is less absorbent than regular wheat flour, which makes it a great option to use for dusting bannetons, baskets, or bowls to prevent sticking during proofing.


Helpful Tools for the Advanced Bread Baker
Thermapen Thermometer – my favorite instant thermometer! Thermapens are the fastest and most accurate instant thermometers on the market. While they are pricey, I promise that you'll quickly find a million uses for this thermometer (meat, candy, etc.). Highly, highly recommend.
Baking Steel – if you're planning on baking bread in a Dutch oven, you do not need a baking stone or baking steel. However, I do place my baking steel at the bottom of my oven during bread baking, because it helps absorb and radiate heat evenly throughout the oven. If you're looking to expand into different bread shapes (batards, baguettes, etc.), a baking steel is the best option on the market. However, you'll need to produce steam using alternative methods. Baking steels retain more heat than a traditional baking stones, and are more durable and easy to clean. They are also fabulous if you wish to make great homemade pizza at home!
Room Thermometer – an ambient thermometer is extremely helpful in sourdough bread making, particularly if your home has big temperature fluctuations throughout the year. Temperature is an ingredient in bread baking and will determine many elements of the process. Being able to know what the ambient temperature in your home is (aka. where you store your starter, proof your dough, etc.) is extremely beneficial.
Brod and Taylor Proofing Box – this is the ultimate bread-baking tool if you wish to take your sourdough bread baking to the next level. It can also be used to explore other homemade fermented foods, such as kombucha, yogurt, etc. and even as a rudimentary slow cooker. A proof box can be set to temperatures ranging from 70 degrees F to 190 degrees F, which means you can create a controlled environment and are no longer subject to temperature fluctuations in your kitchen.
I invested in a proofing box to gain more control during the fermentation process and take this hobby to another level. It is an indulgence, but an extremely valuable tool for controlling flavor, fermentation, timing, etc.. The box itself is the size of a microwave, but is very energy efficient and can be folded down flat for easy storage (essential!). It's also big enough to hold a sourdough starter, levain, and proofing dough all at the same time.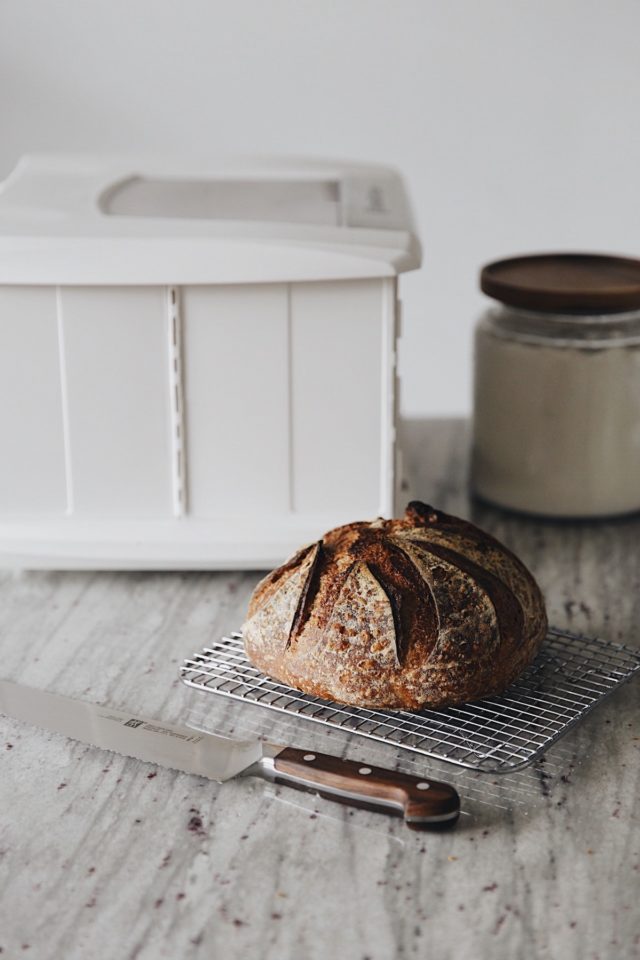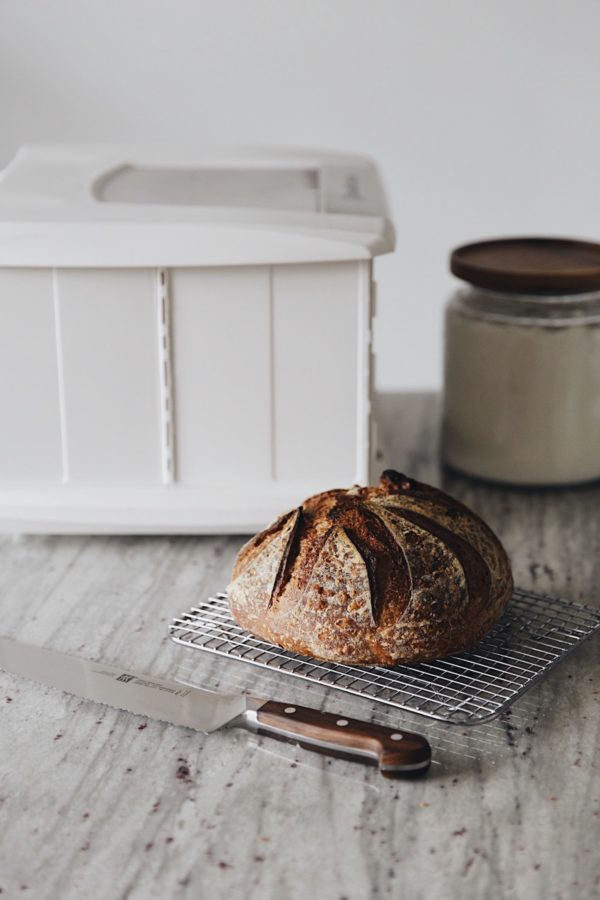 Feel free to ask questions in the comments below and I'll be happy to answer them! In the meantime, be sure to follow along on Instagram if you wish to see more behind-the-scenes videos of my sourdough bread making process.
This post contains some affiliate links, which means that I make a small commission off items you purchase at no additional cost to you. Please read my
disclosure policy
for more information.