About Laura Davidson
 Hi! I'm Laura Davidson and welcome to A Beautiful Plate! I'm so glad you're here!
Developing recipes and experimenting in the kitchen excite me more than anything else. I grew up cooking with my family. Sharing my love of cooking and baking – and inspiring others in the kitchen – is my greatest passion.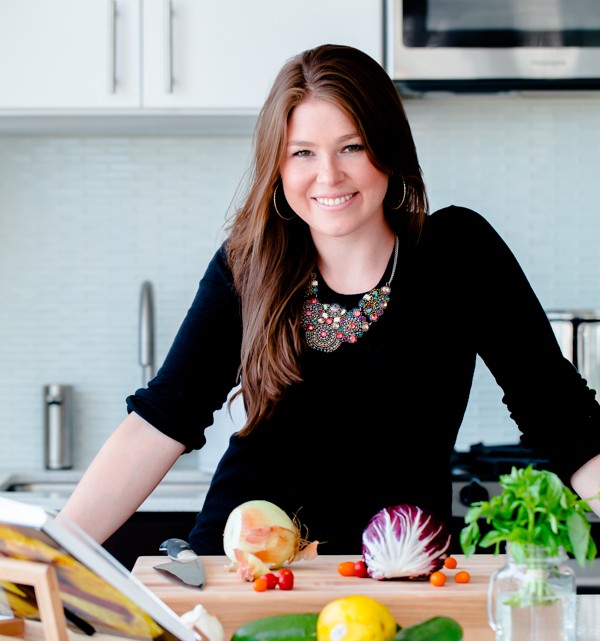 I grew up in a family of die-hard food lovers. After working as a head baker for a dessert food truck, I made the decision to enroll in professional culinary school and pursue a career in the food industry.
Attending culinary school was one of the most difficult and rewarding experiences of my life. After graduating I worked as a line cook at an award-winning restaurant in Washington, DC before transitioning to do marketing for a fine foods company.

In May 2015, I left my office job to pursue A Beautiful Plate (originally started as a creative outlet in 2010) full-time. It has been a wild ride.
I currently reside in the beautiful mountain town of Bend, Oregon with my husband, Connor King, and our lovable rescue dogs, Marley and Finn.
You can find me on Instagram, YouTube, Pinterest, and Facebook. Or reach me directly at laura@abeautifulplate.com. If you'd like to keep in touch, be sure to subscribe to my newsletter to receive the latest recipes or updates!  
Thank you for taking the time to visit this site and try my recipes! It means the world to me.

---
My Cooking Philosophy:
I love creating fresh, seasonally-inspired meals! You'll find flavor-forward recipes, as well as cooking and baking tutorials, to help you become a more confident cook.
You'll find recipes from all ends of the spectrum: weeknight dinners, healthier and lighter dishes, pastas, comforting soups and stews, breakfasts, indulgent desserts and pastries, drinks, and side dishes. Everyday eats, if you will.
The vast majority of recipes are elegant, yet approachable and time-friendly.

My biggest sources of recipe inspiration come from my cooking background, meals out at restaurants, and travel experiences.
I want you have to success in the kitchen! The vast majority of my recipes have been tweaked and tested multiple times; however, please remember that we're all working with different equipment and cooking experience. If you've made or tried one of my recipes, I love and appreciate all feedback. Please leave a recipe review or shoot me an email!
---
Why Did You Attend Culinary School?
After graduating from college, I started a part-time job working as a baker and decorator for a popular food truck in the Washington, DC area. At the time, I was merely fulfilling a life-long dream to work in the food industry.


Two weeks later, I became the lead baker and was soon whipping up and decorating between 20-50 dozen cupcakes and other baked goods daily. It was an amazing learning experience and I have a few burns and scars to prove it (like that one time I got a pastry tip stuck on my finger).
I loved working with my hands, being busy, and doing something creative where I could pursue my love of food. I eventually decided to take the plunge and enroll in professional culinary school. You can follow my day-to-day experience in culinary school here.
---
 Getting Around the Site:
I love to hear from you! If you want to get in touch with me, feel free to contact me using this form or send me an email at  laura [AT] abeautifulplate [DOT] com. You can also reach out to me via social media.
If you are looking for a specific recipe, visit my visual recipe archive.
If you have a general or photography-related question, check the FAQ page.
Have a specific question about a recipe? Please leave a comment on the original recipe post and I will try to respond back to you as soon as possible.
Want to work with me? Read ways in which we can partner together here or send me an email directly at laura [AT] abeautifulplate [DOT] com.