Brussels Sprouts Salad with Hazelnuts, Parmesan, and Pomegranate Molasses Vinaigrette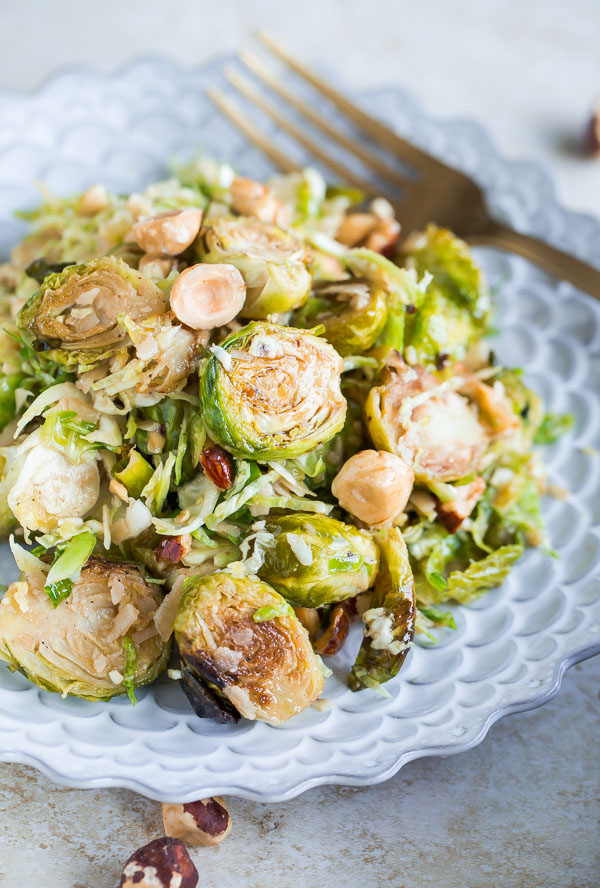 I have a little bit of a confession. As you may already know based on my last post, I traveled up to New York City this past weekend to visit my sister, brother-in-law, and six-week-old (ridiculously cute and adorable) nephew.
We ended up eating all sorts of delicious things, but this amazing Brussels sprouts salad was one of my absolute favorites that my sister made for us while we were there. She gets all the credit for this one. Despite the fact that spring appears to be around the corner, I knew I had to re-make it and share it with all of you! Immediately. [On that note, you seemed just as excited about it as I did!]
So, after arriving back home on Sunday morning in a daylight savings fog, I ran to the grocery store to grab Brussels sprouts and everything else I needed, rushed back home, and made it right then and there. Priorities, huh?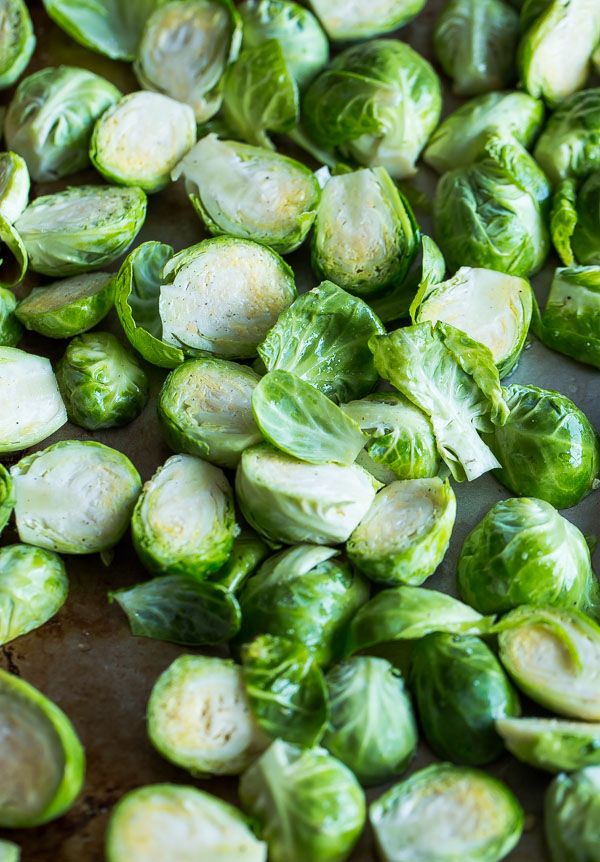 If you recall, this year has been the year of Brussels sprouts on the blog. I dedicated an entire week to new Brussels sprouts recipes back in November, and truthfully can't wait to do it all over again next year. Oh yes, that will definitely be happening. Obviously, I couldn't wait until next year to share this one.
For now, think of today's recipe as a final farewell to my favorite winter sprouted vegetable! But seriously, move quickly and go out and buy Brussels sprouts…now! Despite my silent protests, I have a strong feeling they will disappear from stores altogether very, very soon.
And trust me, you need to make this dish.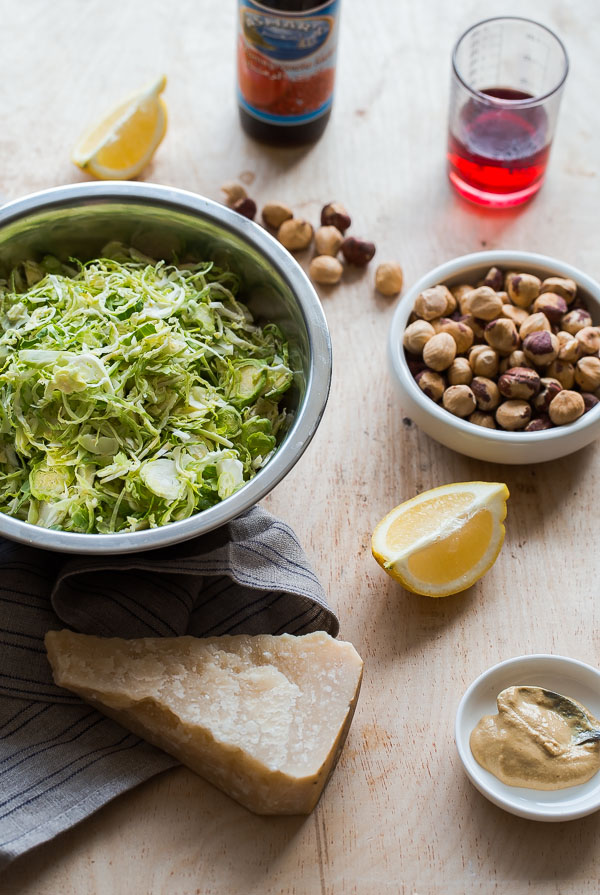 The best thing about this salad? It combines both caramelized and roasted Brussels sprout halves with raw, shaved Brussels sprouts!  It's the perfect gateway dish for those who are still hesitant to eat raw Brussels sprouts and well, obviously, texture heaven for those of us who are not.
Although it is tossed with a vinaigrette and served room temperature (or cold from the fridge), it can definitely be served as a side dish to any number of things, or eaten on its own. We served it alongside seared and roasted pork tenderloin, if that gives you any ideas!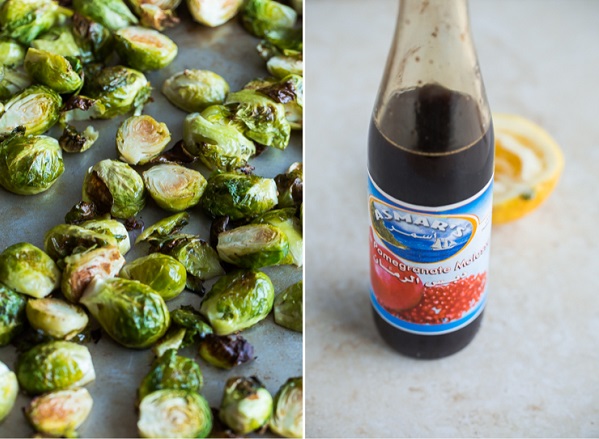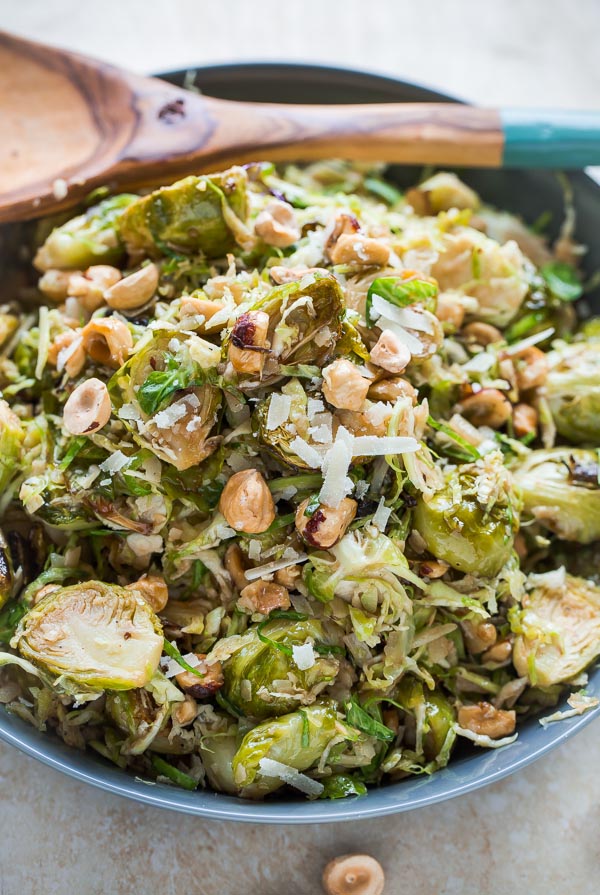 First things first, you'll need to round up a few ingredients. For the vinaigrette, you'll need fresh lemons, red wine vinegar, olive oil, Dijon mustard, and my new favorite thing: pomegranate molasses. 
For those unfamiliar with this ingredient, pomegranate molasses is essentially cooked down, concentrated pomegranate juice. It's not as thick as traditional molasses, but has some similarities. It's a staple ingredient in Lebanese cooking, and it's known for its thick, tangy yet sweet and musky flavor.
Though it's a bit hard to come by (note: I found some at my local Whole Foods in the baking section!), I highly, highly recommend picking up a bottle. You can even order it on Amazon! Don't worry, it has all sorts of uses in the kitchen and it will disappear before you know it.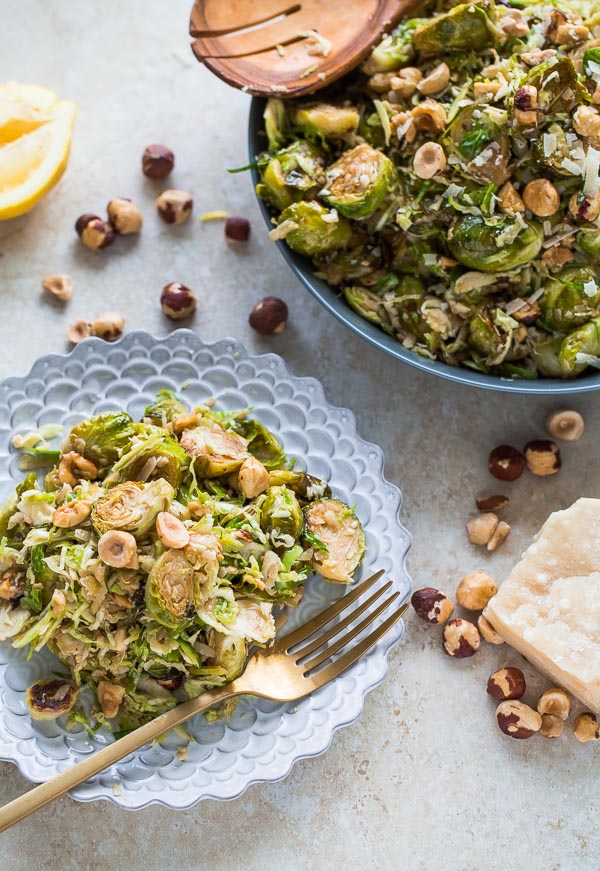 For the salad, aside from Brussels sprouts, you'll need toasted and chopped hazelnuts and my favorite ingredient in the whole wide world, parmigiano-reggiano cheese.
The combination of the roasted and raw Brussels sprouts, tangy vinaigrette, nutty and salty cheese, and crunchy hazelnuts is out of this world. You'll love it!
P.S. You should totally garnish this salad with fresh pomegranate arils.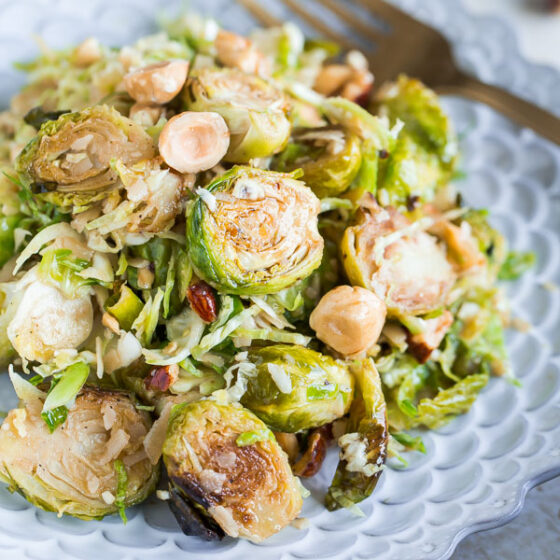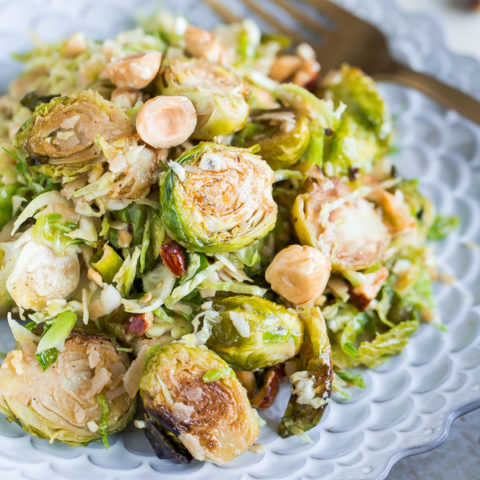 Brussels Sprouts Salad with Hazelnuts, Parmesan, and Pomegranate Molasses Vinaigrette
Yield: 6 Servings
Prep Time: 15 minutes
Cook Time: 25 minutes
Additional Time: 5 minutes
Total Time: 45 minutes
Ingredients
Pomegranate Molasses Vinaigrette:
2 tablespoons freshly squeezed lemon juice
2 tablespoons red wine vinegar
2 teaspoons pomegranate molasses
2 teaspoons Dijon mustard
1/4 cup extra virgin olive oil
kosher salt
freshly ground black pepper
Brussels Sprouts Salad:
2 and 1/2 lbs Brussels sprouts, divided
2 tablespoons extra virgin olive oil
kosher salt
freshly ground black pepper
3/4 cup chopped toasted, skinned hazelnuts
2.5 ounces coarsely grated parmigiano-reggiano cheese
1.5 tablespoons pomegranate molasses
kosher salt 
freshly ground black pepper
Instructions
Preheat the oven to 425 degrees Fahrenheit. Set aside 1 and 3/4 lbs Brussels sprouts, trim ends and slice in half lengthwise. Place on a large baking sheet and toss with two tablespoons olive oil, salt, and pepper.
Roast the vegetables at 425 degrees for 20 to 25 minutes, tossing them gently 1 to 2 times during the roasting time to ensure that they caramelize evenly on all sides. Allow to cool to lukewarm or room temperature, while you prepare the remaining ingredients.
Prepare Vinaigrette: In a medium bowl, whisk together the lemon juice, red wine vinegar, pomegranate molasses, and Dijon mustard. Slowly pour in the olive oil, whisking continuously with your other hand, until the ingredients are emulsified. Season with salt and pepper to taste.
Assemble Salad: Trim the ends of the remaining 3/4 lb of Brussels sprouts. Using a mandolin or the thinnest blade disc attachment of your food processor, shave them thinly. Combine the roasted (and cooled) Brussels sprouts and shaved, raw Brussels sprouts in a large bowl. Add the chopped hazelnuts and toss the salad with the vinaigrette until coated evenly. Add the grated parmigiano-reggiano cheese and drizzle the salad with 1 to 2 tablespoons of pomegranate molasses. Toss again, season with salt and pepper to taste, and serve at room temperature (or chilled straight from the fridge).
Notes
Tips for Success:
Salad can be prepared in advance and kept in an airtight container in the fridge for up to 3 to 4 days. Suggestion: To add color, garnish and toss the salad with fresh pomegranate arils!
Nutrition Information:
Yield: 6
Serving Size: 1
Amount Per Serving:
Calories: 357
Total Fat: 30g
Saturated Fat: 5g
Trans Fat: 0g
Unsaturated Fat: 24g
Cholesterol: 10mg
Sodium: 569mg
Carbohydrates: 17g
Fiber: 4g
Sugar: 8g
Protein: 9g
Products Recommended for this Recipe:
This post contains affiliate links. Thank you for your support!