Classic Italian Beef Pot Roast
This is a classic Italian pot roast, or in Italian known as 'stracotto', is incredibly flavorful or hearty. Serve with mashed potatoes or soft polenta!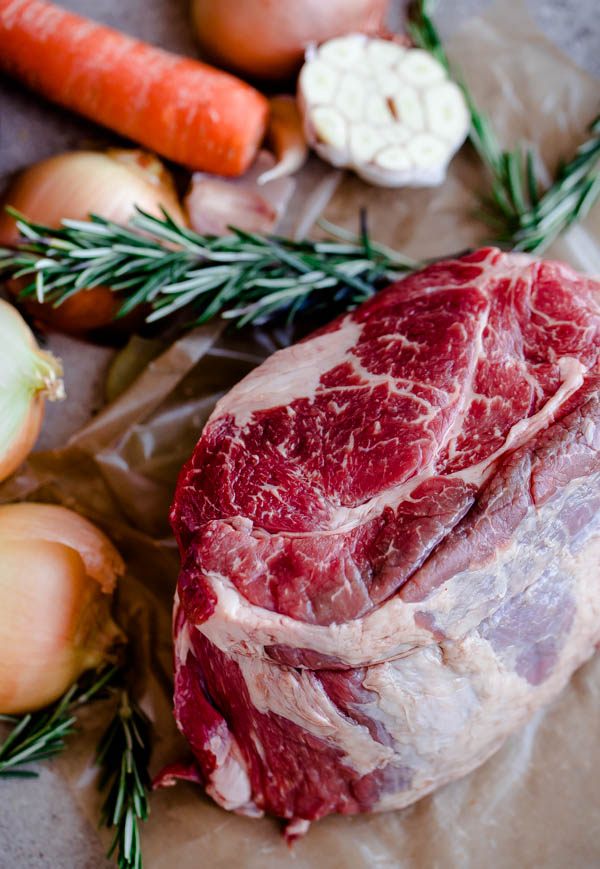 It has been way too long since I shared something braised, and today I'm finally doing something about that. After all, spring is just around the corner (it literally says it will be nearly 70 degrees on Monday in Washington, DC)–and soon enough, we won't want to braise anything.
What are your favorite things to make or do in the kitchen? Braised dishes are at the top of my list! They take time and some preparation, but for the most part, they pretty much take care of themselves. I can do whatever I please in the meantime, while knowing that a delicious meal will be ready in just a few hours.
Oh, and they make the best meals for company, as they tend to be very forgiving and are generally very hands-off.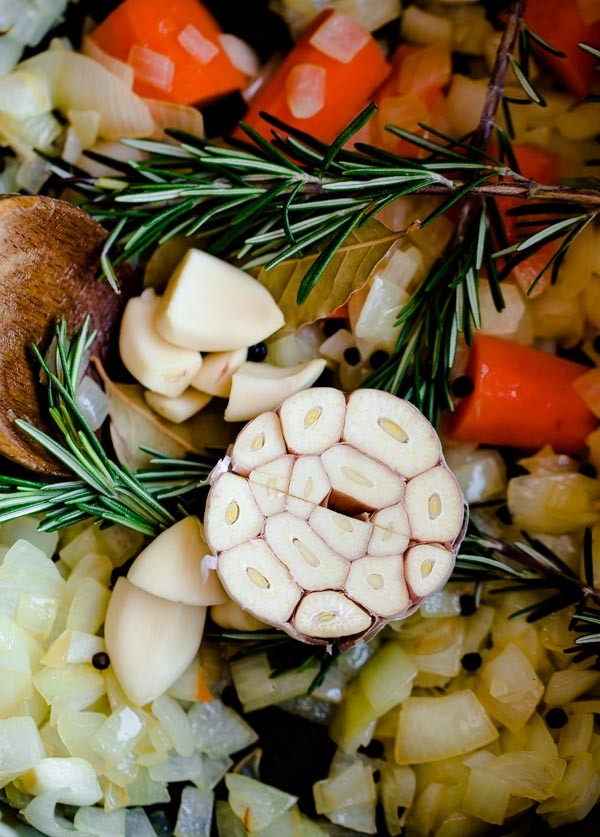 I don't make pot roasts often, but it might be one of my favorite meals. This one comes from one of my most-loved cookbooks, All About Braising: The Art of Uncomplicated Cooking by Molly Stevens. I've yet to be disappointed with a single recipe out of this book, and the even better part? It is full of braised seafood and vegetable dishes, in addition to the classic, more expected beef and poultry ones.
This is a classic Italian pot roast, or in Italian known as 'stracotto', which basically means over-cooked. Quite possibly the worst translation ever (despite being true), because this dish couldn't be more flavorful or hearty.
I mean, any dish that uses an entire bottle of red wine in the cooking process is bound to be good, right? Yes, yes, yes.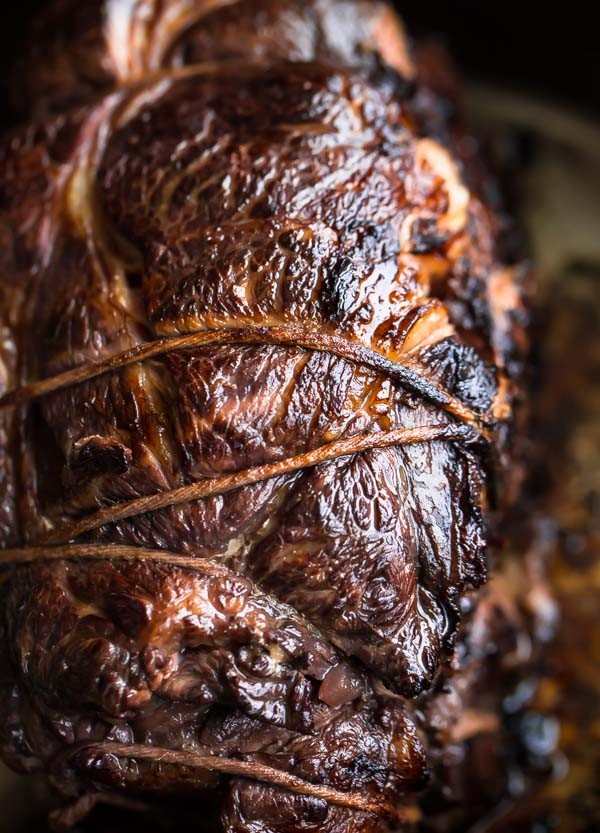 Ok, so here's the deal with this dish, because I have a feeling people may be intimidated by the long cooking time and instruction list. It is not a difficult recipe to put together, but it does require a lot of time. As with most braised dishes, you can't decide to make this one on a whim.
To break it down, you basically need to set aside 24 to 36 hours (which means this is perfect to start preparing this evening after work, and serving tomorrow or, preferably, Sunday evening) for marinading the raw meat.
You'll then need to set aside a little more than 4 hours (from start to finish) to sear the meat, get it in the oven, and braise it. You can do it! I promise, it is so worth the effort.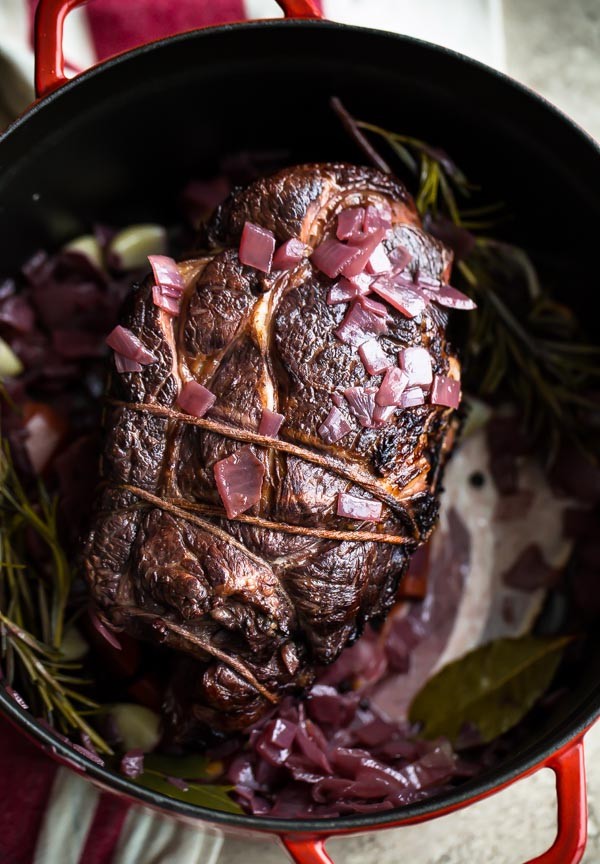 I served this dish with a side of simple Yukon gold mashed potatoes or soft polenta. Since most of the vegetables are discarded during the cooking process, you could even serve it alongside some steamed spring asparagus.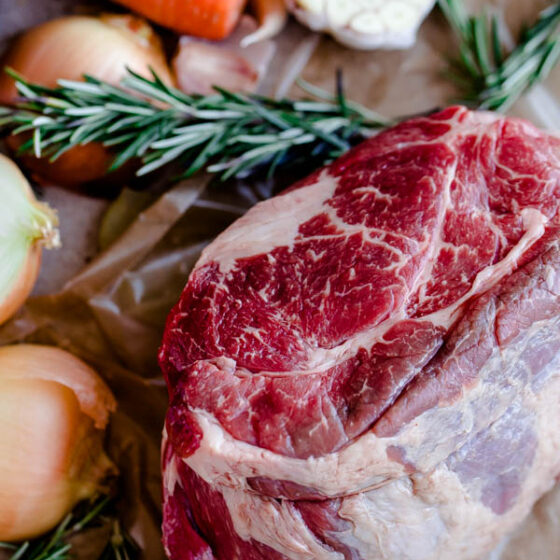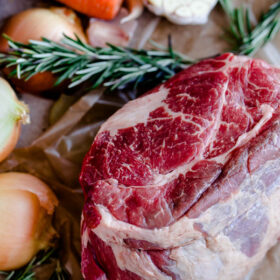 Classic Italian Beef Pot Roast
This is a classic Italian pot roast, or in Italian known as 'stracotto', which basically means over-cooked. Quite possibly the worst translation ever (despite being true), because this dish couldn't be more flavorful or hearty. Serve this classic Italian pot roast with mashed potatoes or soft polenta!
Ingredients
Marinade:
2 tablespoons (30 mL) extra virgin olive oil
2 celery stalks coarsely chopped
2 medium yellow onions coarsely chopped
1 carrot coarsely chopped
1 head of garlic cut crosswise in half
2 dried bay leaves
2-3 large sprigs of fresh rosemary
½ teaspoon black peppercorns
1 (750 mL) bottle fruity dry red wine (eg. Chianti)
1 (3½-4 lb) boneless beef chuck roast trimmed and tied snugly with kitchen string
kosher salt
Braising Liquid:
2 tablespoons (30 mL) extra virgin olive oil
¼ cup (60 mL) brandy
1 cup (240 mL) beef stock
½ lb (8 oz) pancetta, preferably 1-inch thick or 2-3 strips of thick-cut bacon
freshly ground black pepper
Instructions
Prepare Marinade (24-36 hours in advance): Heat oil in a large saucepan over medium heat. Add celery, onions, and carrot and saute for 7 to 8 minutes, or until they are lightly caramelized. Add garlic, bay leaves, rosemary sprigs, and whole peppercorn, pour in wine, and bring mixture to a boil. Reduce heat and simmer liquid for 5 minutes to infuse wine. Remove from heat and allow to cool to room temperature.

Season the meat, on all sides, generously with salt. Place in a large gallon size freezer bag, and carefully pour the room-temperature red wine marinade into bag, along with all of the aromatics. Place on a small baking sheet and refrigerate for 24 to 36 hours. Turn meat a few times during the marinade process.

Preheat the oven to 300°F (150°C) and place a rack in lower third of oven. Remove the pot roast from the marinade, place on a rack on top of a baking sheet to drain (you want to save any marinade that drips from the meat for cooking later). Pat the meat thoroughly with paper towels, you want it to be relatively dry in order for it to brown well.

Heat the oil in a large skillet over medium heat. Add meat, and sear on all sides, using large kitchen tongs to turn it. It will take anywhere from 12 to 20 minutes total. It should be a relatively dark sear (especially due to the wine marinade). Transfer meat to a 3 or 4-quart Dutch oven.

Discard any fat in the skillet, and wipe it with a clean paper towel. Return skillet to medium-high heat and add the brandy–be extremely careful and stand back, as alcohol can ignite. Bring brandy to a boil, scraping bottom of skillet to deglaze any brown bits on bottom of pan. Reduce liquid to roughly 2 tablespoons. Strain the marinade into the skillet (reserve vegetables), and bring to a boil. Boil marinade until it is reduce to about a cup. Add stock, and boil again to reduce by half. Remove from heat.

Place pancetta (or bacon, if using) under or next to the seared pot roast in the Dutch oven pot. Place the reserved vegetables from the marinade around the meat (you can also push some under the meat too). Pour over the reduced braising liquid, cover with a sheet of parchment paper so that it nearly touches the meat, and cover tightly with lid.

Place pot into the oven, checking after 15 to 20 minutes to ensure it is very slowly simmering (not simmering too quickly). Reduce heat by 10°F to 15°F if simmering too quickly. Braise the roast for 2½ to 3½ hours, turning it once halfway through the braising time.

To finish: Lift pot roast carefully and place on platter to catch juices. Strain braising liquid into a saucepan (reserve pancetta and garlic)–discard any other vegetables. Skim and discard most fat from the braising liquid, and bring to a boil. Simmer for about 10 minutes, tasting as you go. Season to taste with salt and pepper.

Meanwhile, squeeze the garlic cloves out of the head of garlic, and smash into a paste using a fork. Pull apart the pancetta. Tear into small shreds, and add this to the sauce along with the smashed garlic.

Remove kitchen string from pot roast, and carve on an angle to produce ½-thick slices, and serve with sauce and mashed potatoes.
Serving: 1serving, Calories: 593kcal, Carbohydrates: 10g, Protein: 21g, Fat: 40g, Saturated Fat: 13g, Polyunsaturated Fat: 25g, Trans Fat: 1g, Cholesterol: 80mg, Sodium: 355mg, Fiber: 1g, Sugar: 3g
This post contains affiliate links, which means that I make a small commission off items you purchase at no additional cost to you. Please read my
privacy policy
for more information.