Homemade Locro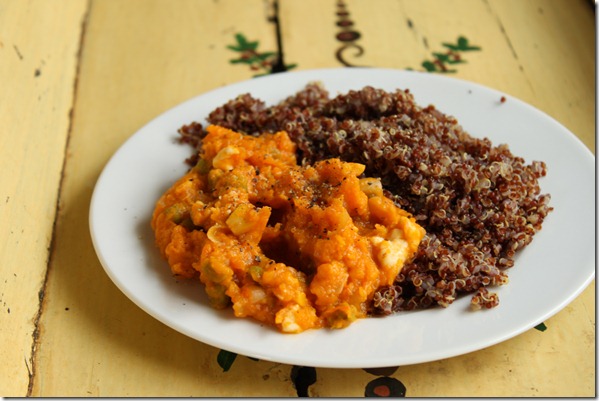 I have finally accomplished something I have been wanting to do for months—maybe years?! I finally was able to perfectly recreate one of my favorite dishes! Unfortunately, this is an example of one of those dishes that you are never able to get the recipe for, as the person with the secret to making it either forgets or doesn't have it written down. So, despite only being left with only a vague list of ingredients, without any real amounts attached to any of them, I was able to do this dish justice. I was determined, and luckily, successful. And, of course, I am here to share it with each and everyone of you!
Honestly, homemade locro probably means nothing to most of you (however, if it does, please don't be offended). Even if you sit in front of the TV watching Iron Chef each week or obsessively look through food magazines or websites, you probably have never heard of it. It actually is originally an Ecuadorian (Peruvian/Argentinian—depending on who you ask) dish, which comprises of potato and cheese. The rest of the ingredients get a little fuzzy, some including a type of meat and various types of vegetables.
This version definitely falls under the same category, but is meat-free and is very much one of those perfect comfort foods during the winter months. It is incredibly straight-forward and makes excellent leftovers—of which I have been surviving on for lunches for days now. You might just want to buy two humungous butternut squashes so that you can have said leftovers, which is exactly what I did. However, that also entails chopping and peeling them all up and, I have to admit, that is not the most fun task ever (one of my major fears). One simple solution is to buy pre-chopped squash, but it is a lot more expensive and the freshness is questionable. For advice on how to pick the freshest squash, read this post.
I served mine with a side of sautéed kale and red quinoa cooked in chicken broth for some added protein. The resulting plate was full of color and charm! Enjoy.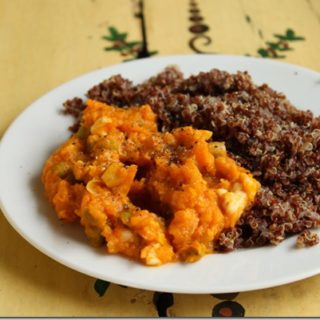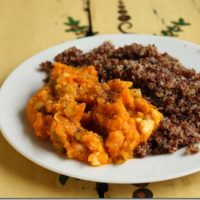 Perfect Locro
Yield: 3-4 Servings
Prep Time: 15 minutes
Cook Time: 45 minutes
Total Time: 1 hour
Ingredients
2 tablespoons olive oil
1 small onion, finely chopped
kosher salt
freshly ground black pepper
2 cloves garlic, minced
1/2 cup frozen peas
1/2 cup frozen corn
1 fresh plum tomato, chopped (or 1 tablespoon tomato paste)
3 lb whole butternut squash, stemmed, peeled, seeded, and cut into 1-inch chunks
4-5 ounces feta cheese, crumbled or cut into small cubes
Instructions
Heat the olive oil in a large pot over medium heat. Add the onions (and a generous pinch of salt and pepper) and sauté until softened and translucent in color. Add the garlic and saute for an additional 30 seconds or until fragrant.
Add frozen peas, corn, and tomatoes and cook for 3-4 minutes, stirring frequently.
Add the chopped butternut squash and reduce heat to low.
Cover the pot and let cook for 20-30 minutes, until squash has become soft and slightly chunky. If necessary, you can add a splash of water or chicken broth as it is cooking.
Five to ten minutes before serving, add feta cheese and gently stir to combine. Season to taste with salt and pepper. Serve and enjoy!
Nutrition Information:
Yield: 4
Serving Size: 1
Amount Per Serving:
Calories: 619
Total Fat: 38g
Saturated Fat: 22g
Trans Fat: 0g
Unsaturated Fat: 13g
Cholesterol: 126mg
Sodium: 1476mg
Carbohydrates: 52g
Fiber: 13g
Sugar: 15g
Protein: 25g
A Beautiful Plate provides nutritional information, but these figures should be considered estimates, as they are not calculated by a registered dietician.
See? It couldn't be more simple than that. Enjoy with a side of quinoa or simply by itself in a big bowl. You'll be heading back to the supermarket for more butternut squash before you know it. Or coming up with new spots in the refrigerator to hide the leftovers from fellow family members.
This post contains affiliate links, which means that I make a small commission off items you purchase at no additional cost to you. Please read my
privacy policy
for more information.