Negra Modelo Steamed Clams with Chorizo and Shaved Fennel-Herb Salad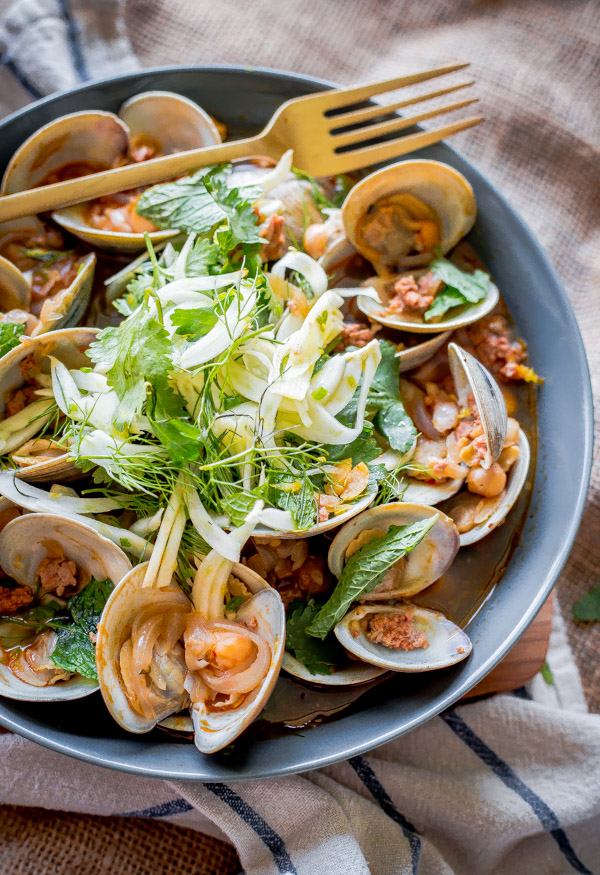 Life has been traveling a million miles an hour lately, and I feel like I've barely had the opportunity to share just a portion of it with you!
Crazy as it sounds, the week leading up to our wedding was even more eventful than I initially expected! A few weeks prior, I was invited to attend and promote a Negra Modelo dinner in Washington, DC at one of my favorite spots in the city, Union Market. I hesitated for about two seconds before deciding that I couldn't miss out on the opportunity regardless of the timing (wedding, sshhmedding, right?).
If that wasn't reason enough, it also gave me an excuse to try some amazing food and learn some new cooking tricks from two amazingly talented chefs: Chef Rick Bayless and Chef Chris Cosentino. I'm not sure if I've ever shared this with you all before, but I'm a beer girl. Through and through! I'll skip  fancy cocktails any day of the week in lieu of a cold one.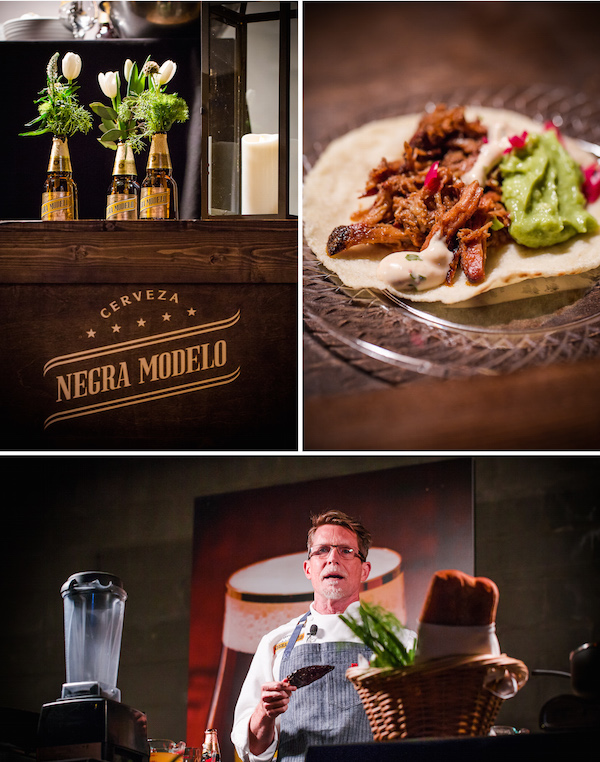 But I'm the first to admit that as much as I love beer, I do not cook with it nearly enough. Negra Modelo just happens to be my favorite Mexican lager though.
Its signature reddish color is the product of caramelized and toasted malts, giving the beer its slightly sweet, extra smooth and balanced flavor. It also happens to be the perfect complement to so many different foods as Chef Bayless and Chef Cosentino demonstrated that evening. I was excited to see what tricks these chefs had up their sleeves!
As you guys already know, I'm a huge (I repeat: huge!!!) fan of Rick Bayless, so it felt pretty darn special to sit about five feet away and watch him cook for us that evening alongside Chef Cosentino. I may or may not have gone up to him at the end of the evening, and told him that I was moving to Chicago (and was obsessed with XOCO). Here's hoping we become best friends. I'm sure stranger things have happened.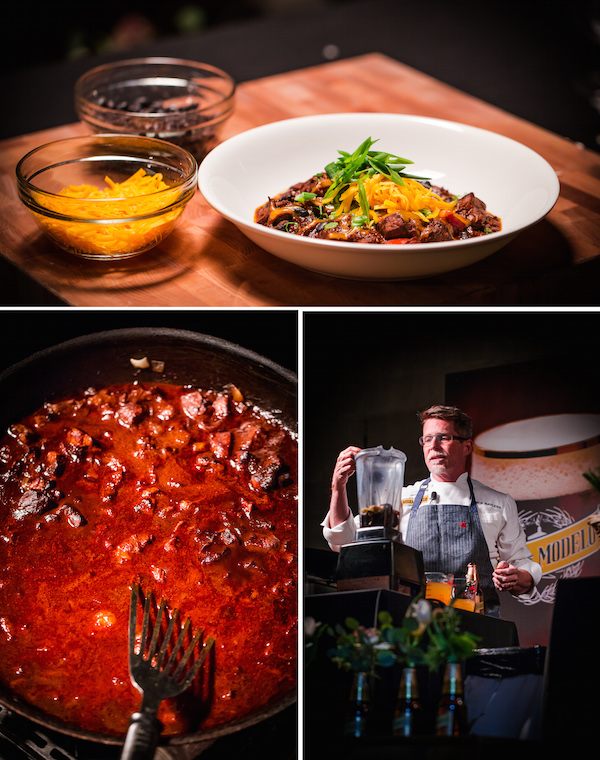 The entire evening was lots of fun, the venue was beautifully decorated (note to self: use beer bottles as flower vases), and the cooking demonstrations were very informative and entertaining.
Although we had the chance to try several dishes throughout the night that had been prepared with Negra Modelo (including some very delicious beer braised pork tacos with chipotle aioli and guacamole) the highlights of the evening for Connor and I were the dishes prepared by Chef Bayless and Chef Cosentino on stage.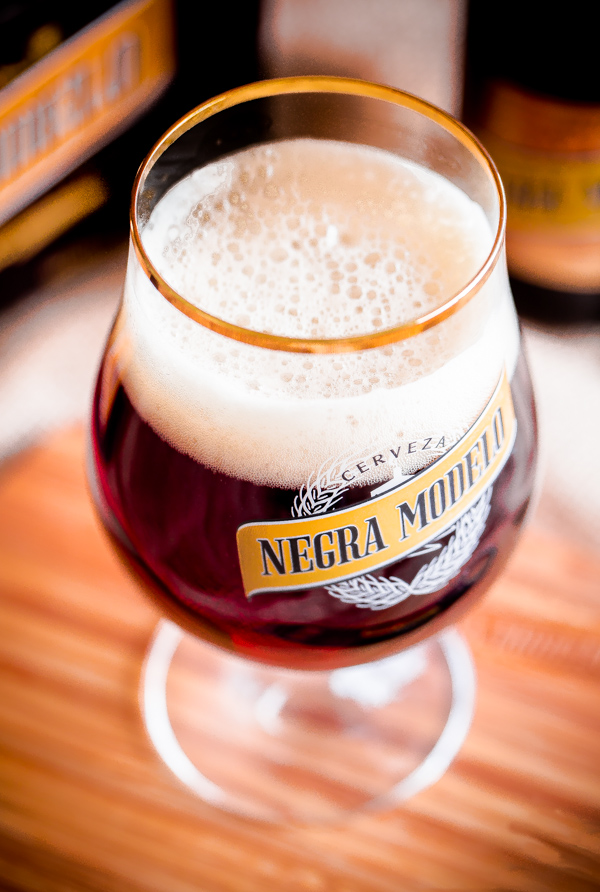 Rick Bayless prepared an amazingly hearty and flavorful pork chili with dry-roasted ancho chile peppers and thickened with masa harina. Bayless toasted the chiles in a dry pan (an essential step for maximum flavor!), and braised the meat with a combination of Negra Modelo and fire-roasted tomatoes.
One word: YUM.
Chef Bayless also noted that he prefers cooking and braising with Negra Modelo, because its malty undertones complement dried chiles extremely well and unlike more hoppy beers, it does not become bitter during the cooking process–something I've definitely struggled with in the past!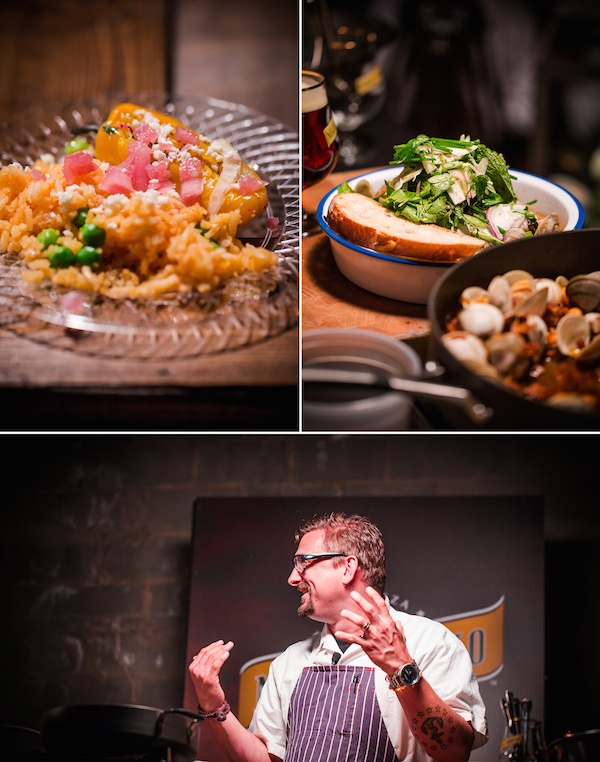 Chef Chris Cosentino prepared an amazing Portuguese-inspired Negra Modelo steamed clam and pork chorizo dish. The combination of the spicy chorizo sausage, briny clams, and bright, citrusy fennel-herb salad topping was perfection.
He gave us tips for cleaning clams (put them in a large bucket or bowl with ice, water and salt and shake extremely well to remove any sand/dirt), and told us that the original Rhode Island clam chowders was made with beer! I had no idea and it was all very fascinating.
Even though it was a very difficult decision to make, I decided to share a lightly adapted version of Chris Cosentino's dish for you all today! It is a perfect appetizer or main course, especially during the summer, because it can be prepared in less than 30 minutes and is quite impressive, despite being simple and straight-forward to prepare.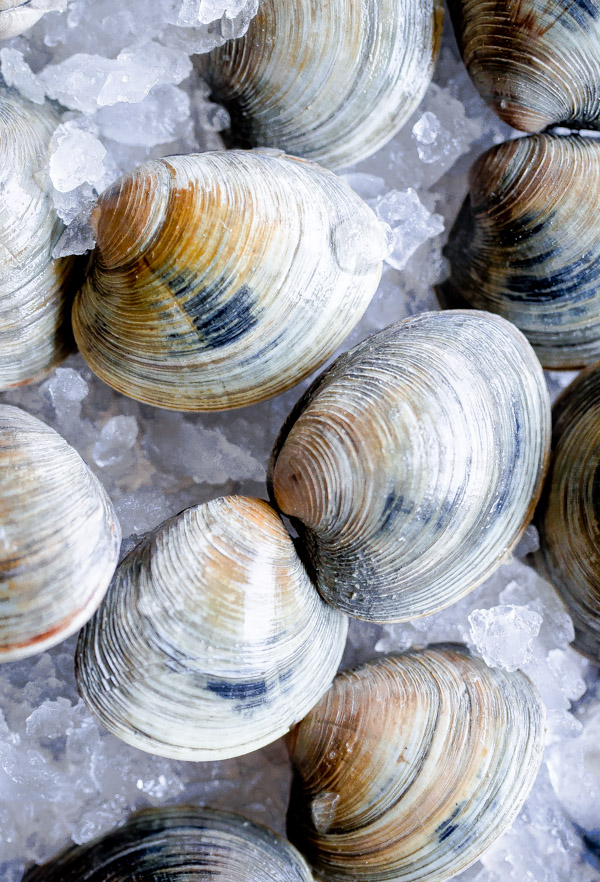 In addition to chorizo, the dish also contains canned chickpeas! I never would have thought to add these to a clam dish until now, but I loved the additional texture and heartiness they provided.
The simple fennel-herb salad, a combination of shaved fennel, fresh mint (this is a game-changer!), fennel fronds, chives, cilantro (my own substitution for parsley, however you could choose either!) and tossed with lemon juice and a little drizzle of olive oil, helped balance the entire dish out and gave it so much dimension and flavor.
You guys have to try this recipe! You will love it. I want to thank Negra Modelo again for such a fantastic evening! It was the perfect way to kick off such a special week in my life.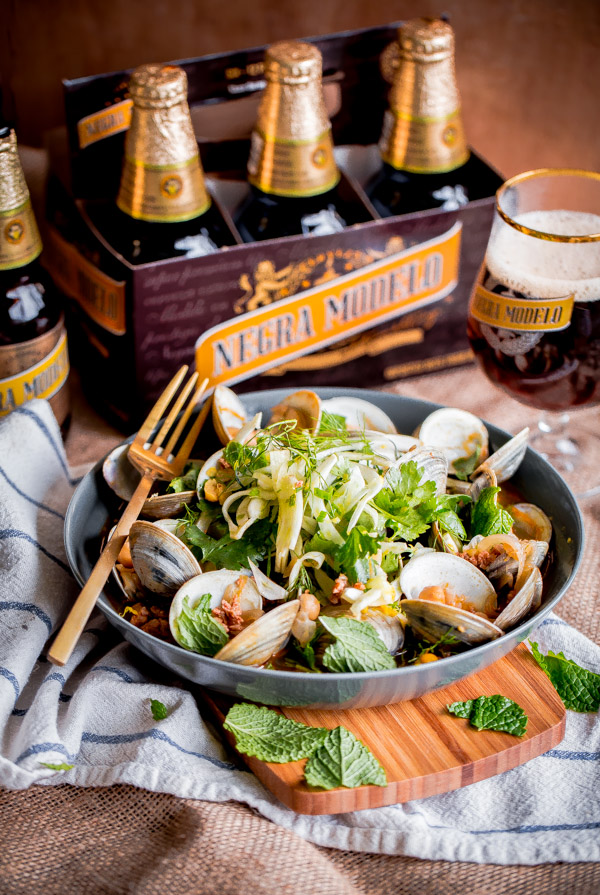 This post is sponsored by Negra Modelo. Thank you for supporting the brands that allow me to get in the kitchen, be creative, and share my passion for great food! For additional information, visit www.NegraModeloUSA.com or follow @NegraModeloUSA on Twitter, Instagram and Facebook.