Cinnamon Raisin English Muffins
About a month ago, I was perusing a cookbook and came across a recipe for homemade English muffins.  I was immediately intrigued.  Why had I never thought of making homemade English muffins before?
I mean, I eat English muffins all the time.  Sounds boring, but really I do.  They are a perfect on-the-go breakfast, delicious with a slab of peanut butter for a post-workout snack, and can even be used for dinner as an alternative to a burger bun.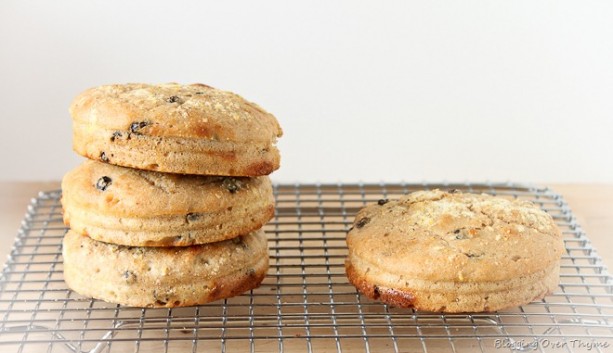 Making English muffins from scratch definitely required a bit of experimentation and patience, but in the end, I was pleasantly surprised and thrilled to find out that making English muffins at home is not only fun, but pretty straight-forward and simple!
Since I was already making English muffins from scratch,  I decided to take it a little further and make a Cinnamon-Raisin variety.  However, if you prefer plain, you can easily adapt this recipe.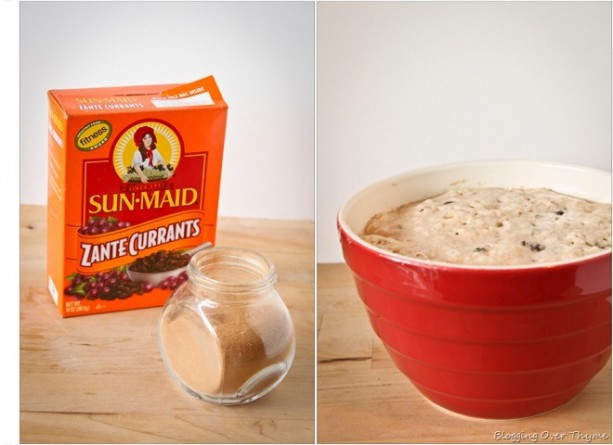 My research into how to make English muffins from scratch led me in two very different directions.  Recipes either called for a dense, knead-able dough or a very, very wet dough, which required being placed in molds in order to hold it's classic English-muffin-shape during the cooking process.
I decided to go with a wet English muffin dough, because that is what gave me the most success.
The classic way to make English muffins is on a hot, oil-free griddle, however I found it difficult to come up with consistent results using this method.  Either the bottoms turned brown too quickly or they would look perfectly done, only for me to later discover that the inside or the muffin was still gummy and under cooked.
In order to prevent you all from dealing with these frustrations, my method uses the oven, which makes the baking process much more fool-proof and simple.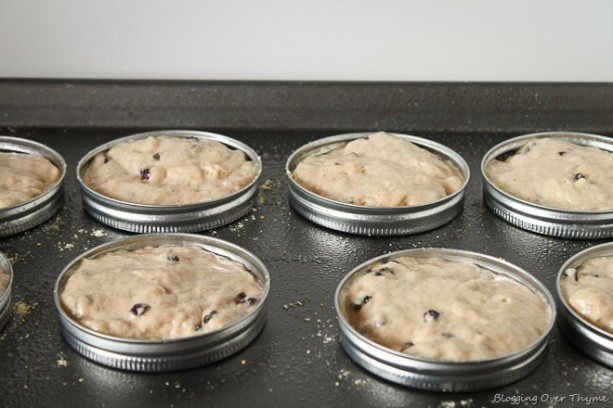 Note:  If you do not have English muffin molds (which I did not have—and I assume you will not either) you can either make your own using aluminum foil (see this tutorial) or use well-greased quart mason jar lids (my method—seen above).  If you predict making a lot of homemade English muffins in your future, you can also buy affordable molds.
If you do decide to use mason jar lids, as I did, please, please, please grease them well!  Around every nook and cranny to be precise.  I learned from experience.  If a little dough does stick, let the lids sit in a large bowl of hot water with soap and they will clean relatively easily with a sponge.
Without further ado, here is the recipe!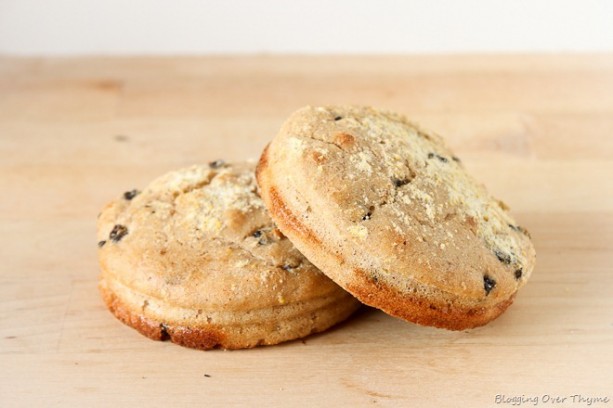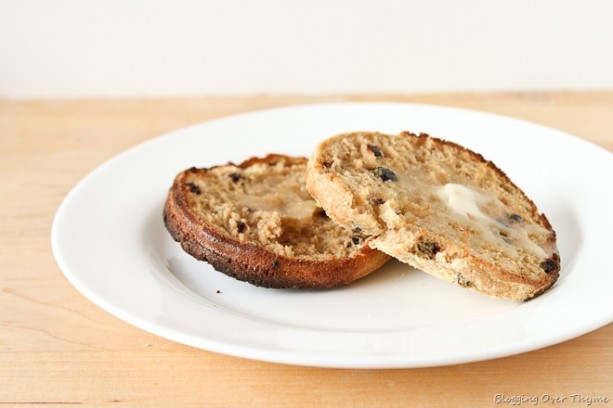 **This recipe was originally created as a guest post for Bob's Red Mill blog—which you can check out here!