Baked Cinnamon Raisin English Muffins
Learn how to make simple cinnamon raisin English muffins with this easy baked recipe. Serve toasted with salted butter or jam.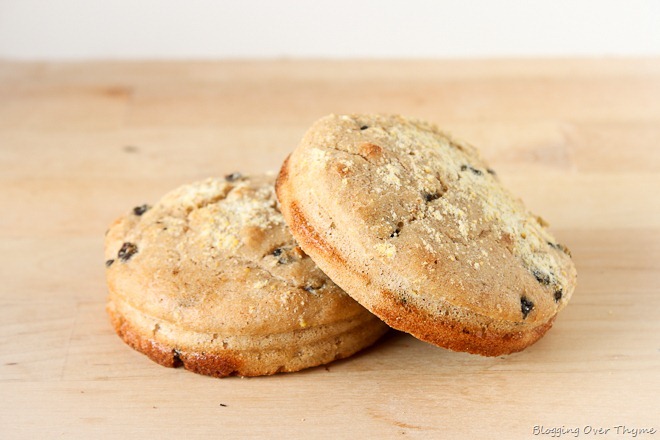 One of my favorite healthy and quick-to-grab breakfasts is an English muffin. Incredibly versatile, you can top them with your favorite nut butter, jam, cream cheese, or have them plain with a nice pat of butter.
Even though you can pick up English muffins at your grocery store, you'd be surprised how fun and easy English muffins are to make in your own kitchen.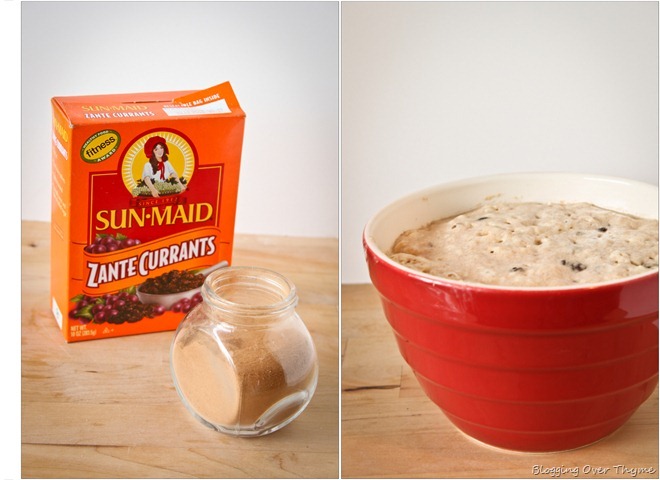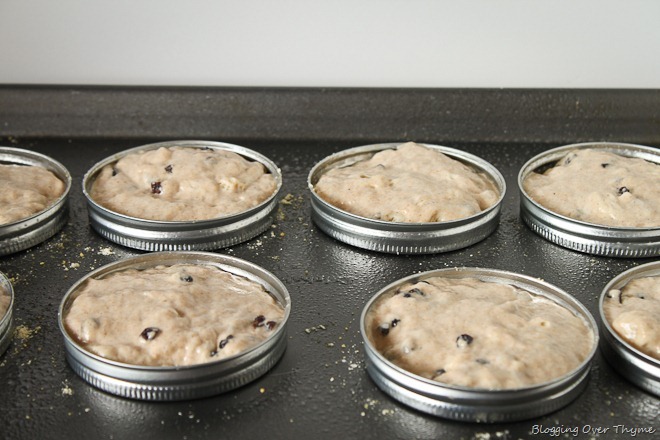 The classic way to make English muffins is on a hot, oil-free griddle, however I found it difficult to come up with consistent results using this method. Either the bottoms turned brown too quickly or they would look perfectly done, only for me to later discover that the inside or the muffin was still gummy and under cooked.
In order to prevent you all from dealing with these frustrations, my method uses the oven, which makes the baking process much more fool-proof and simple.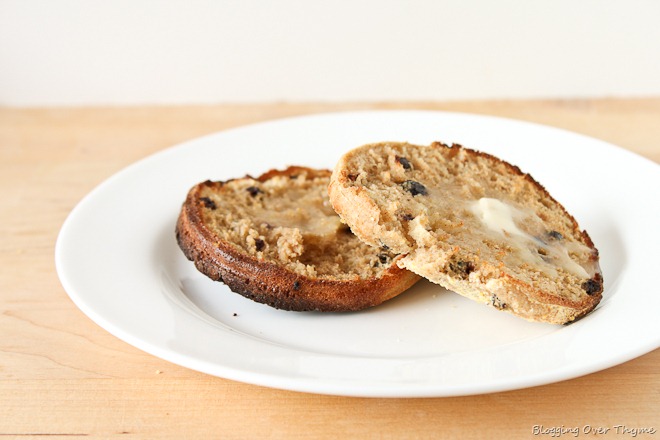 Equipment Note: If you do not have English muffin molds, you can make your own using aluminum foil or use well-greased quart mason jar lids (seen above). If you anticipate making them often, I highly recommend buying molds.
If you do use mason jar lids, grease them extremely well.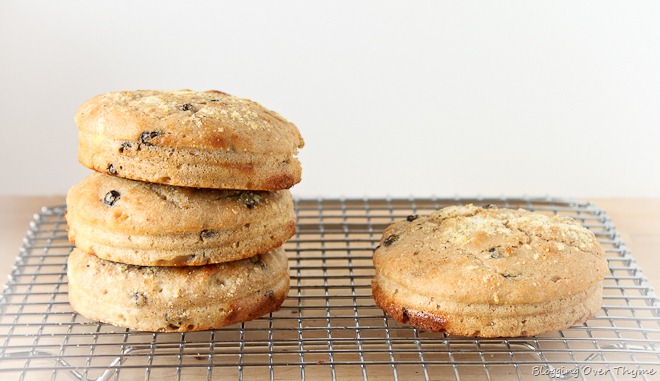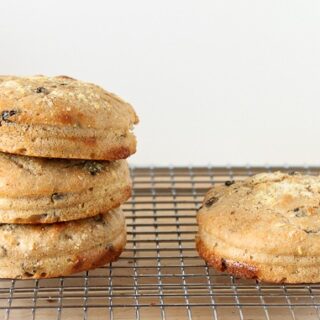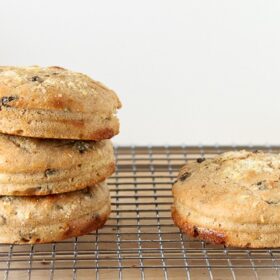 Baked Cinnamon Raisin English Muffins
Learn how to make simple cinnamon raisin English muffins with this easy recipe. Instead of cooking these English muffins on a hot griddle, they're baked on a sheet pan in the oven. Serve toasted slathered with salted butter or jam!
Ingredients
2½ teaspoons active dry yeast
⅓ cup (80 mL) hot water (110°F / 43°C)
2 tablespoons granulated sugar or 2 tablespoons pure maple syrup
1 cup (120g) unbleached all-purpose flour
1 cup (120g) whole wheat pastry flour
2 teaspoons ground cinnamon
1 teaspoon kosher salt
1 cup (240 mL) warm whole or low-fat milk
⅓ cup zante currants or raisins
cornmeal for dusting
Instructions
In large mixing bowl, whisk together the yeast, hot water, and maple syrup. Let rest for 10 minutes, uncovered, or until foamy.

Add the all purpose flour, whole wheat pastry flour, cinnamon, salt, and warm milk. Stir with a wooden spoon until well incorporated. The batter will be wet and sticky. Stir in the currants (or raisins, if using). Cover the bowl tightly with plastic wrap and let rise in a warm place for 45 minutes.

Preheat the oven to 350°F (175°C) with a rack in the center position. Place well-greased ring molds  on a half sheet pan. Lightly dust the inside of the rings with cornmeal. Once the English muffin batter has risen, evenly distribute the batter among the rings using spoon. Lightly dust the top of the batter with cornmeal.

Bake for 15 to 25 minutes or until lightly golden brown and the internal temperature reads 210°F (98°C). Set on a wire rack and let the muffins cool on the sheet pan for 5 to 10 minutes, then remove from rings and set on a rack to cool until lukewarm or room temperature. Serve toasted with butter or jam.

Storing: English muffins can be stored in an airtight container or Ziplock bag at room temperature for 3 to 4 days. If freezing, slice in half before storing.
Serving: 1serving, Calories: 359kcal, Carbohydrates: 74g, Protein: 11g, Fat: 3g, Saturated Fat: 1g, Polyunsaturated Fat: 1g, Cholesterol: 6mg, Sodium: 322mg, Fiber: 6g, Sugar: 17g
This post contains affiliate links, which means that I make a small commission off items you purchase at no additional cost to you. Please read my
privacy policy
for more information.