Cinnamon Raisin English Muffins
About a month ago, I was perusing a cookbook and came across a recipe for homemade English muffins.  I was immediately intrigued.  Why had I never thought of making homemade English muffins before?
I mean, I eat English muffins all the time.  Sounds boring, but really I do.  They are a perfect on-the-go breakfast, delicious with a slab of peanut butter for a post-workout snack, and can even be used for dinner as an alternative to a burger bun.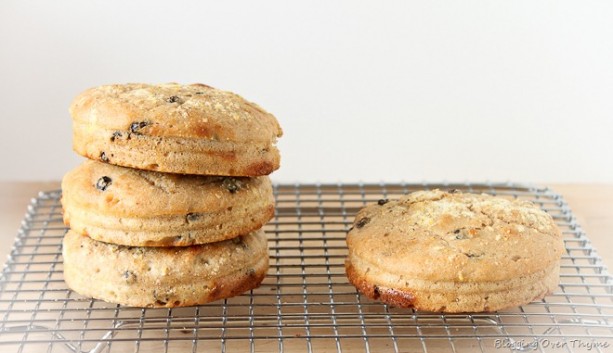 Making English muffins from scratch definitely required a bit of experimentation and patience, but in the end, I was pleasantly surprised and thrilled to find out that making English muffins at home is not only fun, but pretty straight-forward and simple!
Since I was already making English muffins from scratch,  I decided to take it a little further and make a Cinnamon-Raisin variety.  However, if you prefer plain, you can easily adapt this recipe.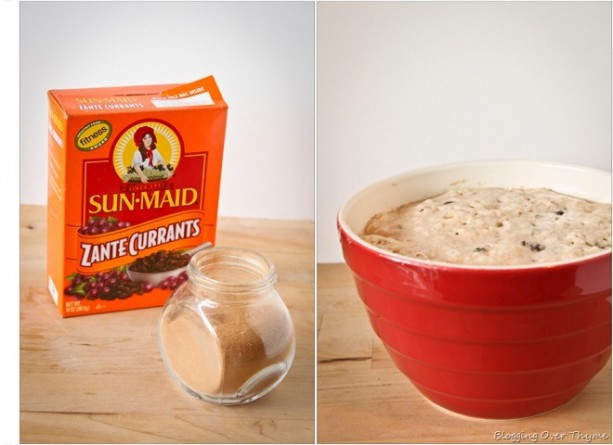 My research into how to make English muffins from scratch led me in two very different directions.  Recipes either called for a dense, knead-able dough or a very, very wet dough, which required being placed in molds in order to hold it's classic English-muffin-shape during the cooking process.
I decided to go with a wet English muffin dough, because that is what gave me the most success.
The classic way to make English muffins is on a hot, oil-free griddle, however I found it difficult to come up with consistent results using this method.  Either the bottoms turned brown too quickly or they would look perfectly done, only for me to later discover that the inside or the muffin was still gummy and under cooked.
In order to prevent you all from dealing with these frustrations, my method uses the oven, which makes the baking process much more fool-proof and simple.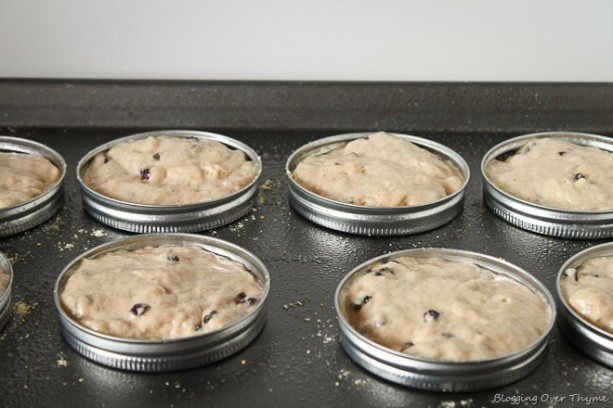 Note:  If you do not have English muffin molds (which I did not have—and I assume you will not either) you can either make your own using aluminum foil (see this tutorial) or use well-greased quart mason jar lids (my method—seen above).  If you predict making a lot of homemade English muffins in your future, you can also buy affordable molds.
If you do decide to use mason jar lids, as I did, please, please, please grease them well!  Around every nook and cranny to be precise.  I learned from experience.  If a little dough does stick, let the lids sit in a large bowl of hot water with soap and they will clean relatively easily with a sponge.
Without further ado, here is the recipe!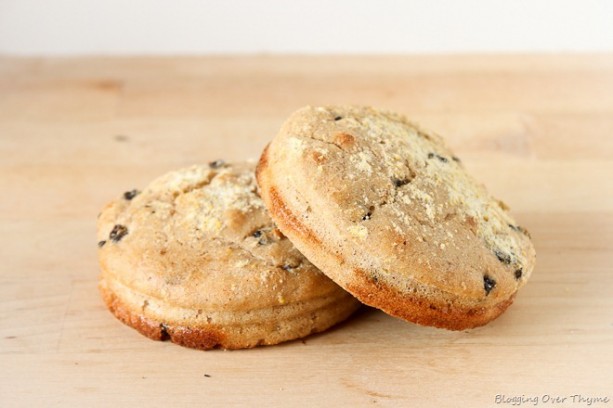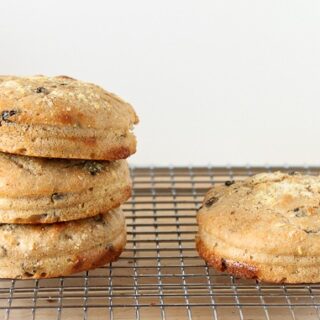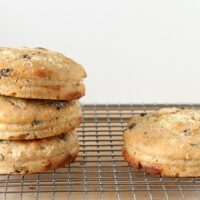 Cinnamon Raisin English Muffins
Yield: 8 Servings
Prep Time: 1 hour
Cook Time: 25 minutes
Additional Time: 5 minutes
Total Time: 1 hour 30 minutes
Ingredients
1/3 cup hot tap water (~roughly 110 degrees)
2 tablespoons pure maple syrup or 2 tablespoons granulated cane sugar
2 ½ teaspoons active dry yeast
1 cup skim milk, warm
1 teaspoon salt
2 teaspoons ground cinnamon
1 cup unbleached all-purpose flour
1 cup whole wheat pastry flour
1/3 cup Zante currants or raisins
cornmeal (for dusting)
Instructions
In large mixing bowl, whisk together yeast, hot water, and maple syrup. Let rest for 10 minutes, uncovered, or until foamy.
Using wooden spoon, add flours, salt, cinnamon, and milk, stirring until smooth. Batter will be wet and sticky.
Slowly stir in currants or raisins.
Cover bowl with plastic wrap and let rise in warm, damp place for 45 minutes.
Preheat oven to 350 degrees Fahrenheit. Place well-greased ring molds (if you do not have English muffin rings, you can make your own out of aluminum foil or use well-greased wide-mouth Mason jar lid rings—inside facing up), on a greased baking tray. Lightly dust the inside of the rings (where batter will be placed) with cornmeal.
Once batter has risen, evenly distribute batter among the rings using spoon. Lightly dust the top of the batters with more cornmeal.
Bake (center rack) for 15-25 minutes or until lightly brown and internal temperature reads 210 degrees Fahrenheit.
Let cool on baking tray for 5-10 minutes, remove from rings, and allow to cool to room temperature. Serve toasted with butter, jam, or any topping of your choosing!
Nutrition Information:
Yield: 8
Serving Size: 1
Amount Per Serving:
Calories: 359
Total Fat: 3g
Saturated Fat: 1g
Trans Fat: 0g
Unsaturated Fat: 1g
Cholesterol: 6mg
Sodium: 322mg
Carbohydrates: 74g
Fiber: 6g
Sugar: 17g
Protein: 11g
A Beautiful Plate provides nutritional information, but these figures should be considered estimates, as they are not calculated by a registered dietician.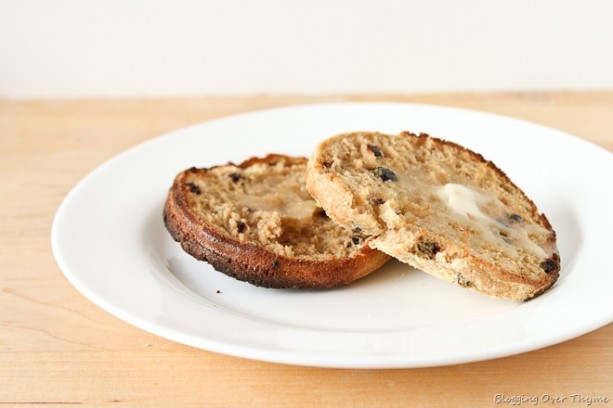 **This recipe was originally created as a guest post for Bob's Red Mill blog—which you can check out here!
This post contains affiliate links, which means that I make a small commission off items you purchase at no additional cost to you. Please read my
privacy policy
for more information.