Sheet Pan Cauliflower Curry with Raita
This easy cauliflower curry, inspired by Indian Aloo Gobi, is prepared on a sheet pan and bulked up with canned chickpeas!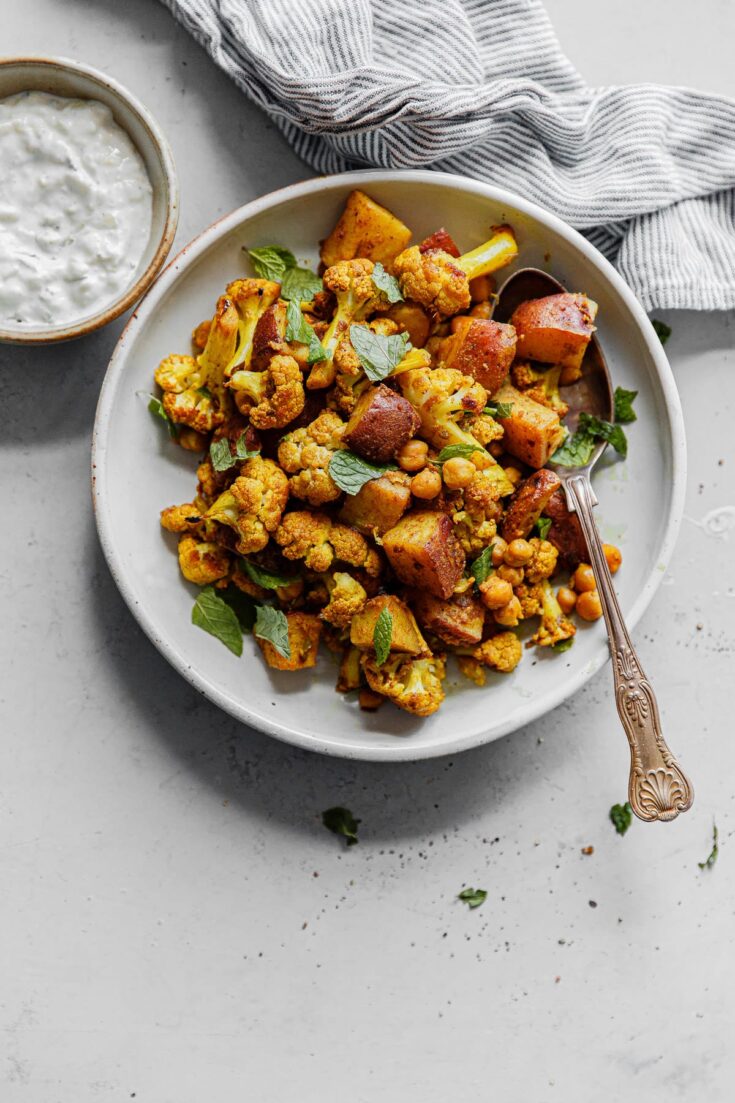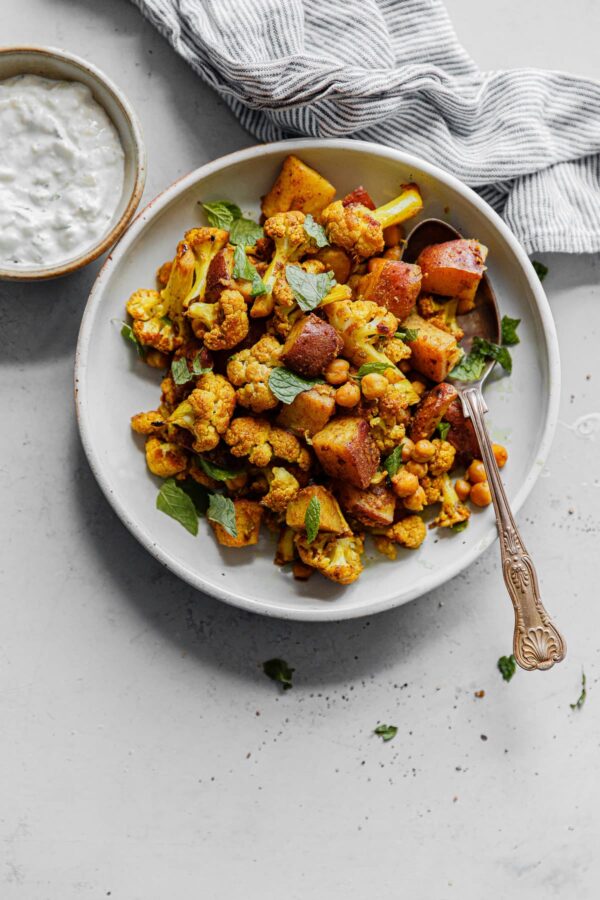 Aloo Gobi has always been one of my favorite dishes.
If you've never had it, Aloo Gobi is a traditional Indian dish made with cauliflower and potatoes and sautéed on the stovetop. It is boldly spiced, comforting, and hearty.
Today's Sheet Pan Cauliflower Curry is loosely inspired by the flavors in Aloo Gobi. Bulked up with canned chickpeas, it has all of the essential elements, but is prepared entirely on a sheet pan for maximum ease.
Served with homemade raita (recipe included), a simple cucumber yogurt sauce, and coconut rice or toasted naan, it makes for a delicious, flavorful, and easy plant-based dinner.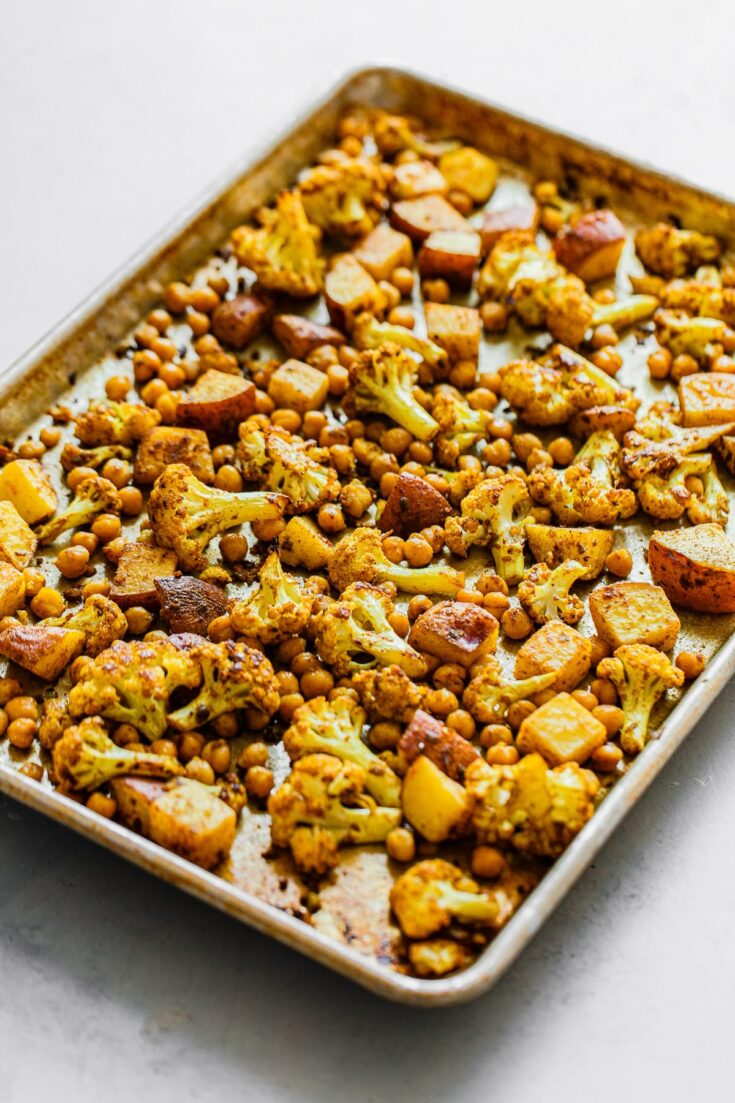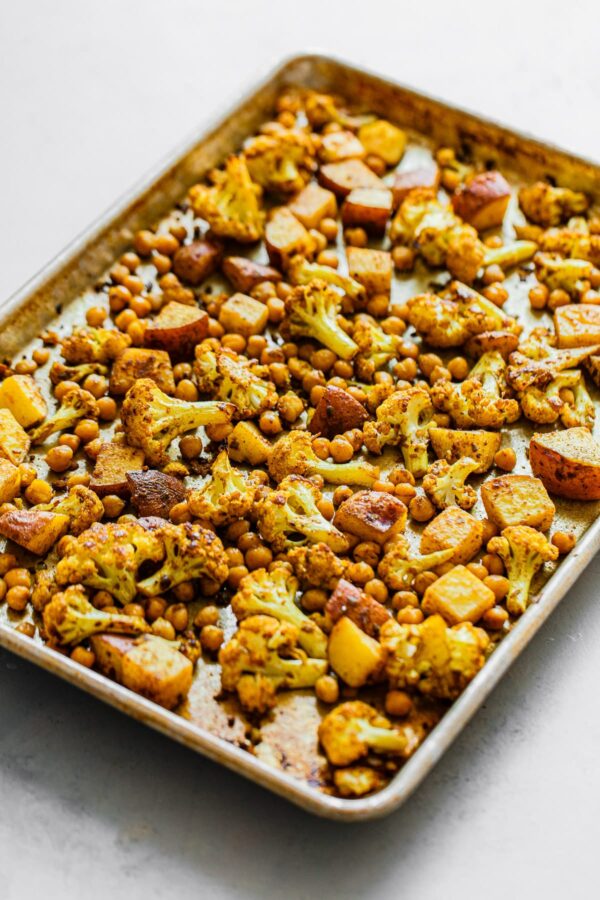 How to Make Sheet Pan Curry Cauliflower:
While you'll need several ground spices to prepare this dinner, the entire dish comes together with just one large mixing bowl and a standard rimmed half sheet pan.
Medium cauliflower florets (be sure to reference my guide on how to cut cauliflower!) and cubed red potatoes are generously tossed in a spiced oil marinade and spread into an even layer for the first stage of roasting. Carefully follow my preparation instructions in the recipe box below to ensure even cooking.
In the last 10-15 minutes of roasting, we'll add our drained, rinsed, and patted dry canned chickpeas to the pan. Just before serving, we will deglaze the pan with a touch of hot water and garnish everything with lemon zest, mint, and cilantro.
Equipment Note: If you're looking for sheet pan recommendations, I strongly recommend USA Pan or Nordic Ware (affiliate links).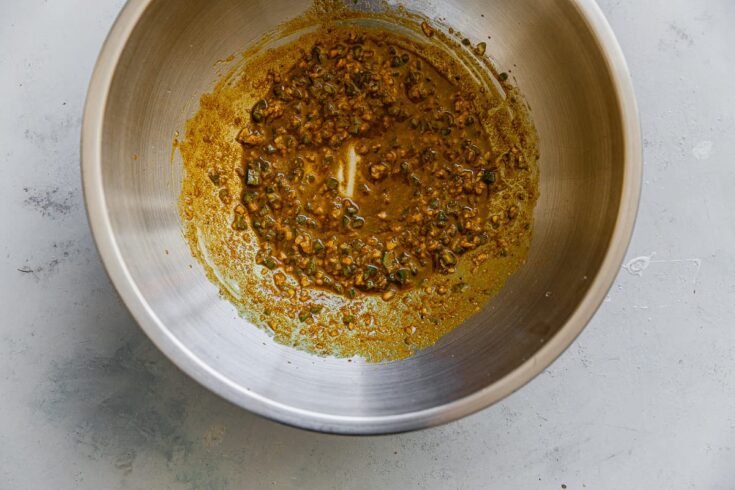 Step 1: PREPARE SPICED OIL MIXTURE
Whenever I'm roasting vegetables with a variety of seasonings or aromatics, I like to first combine the oil and spices in a large mixing bowl.
This allows you to mix everything thoroughly and ensures the vegetables and potatoes are evenly seasoned and coated before roasting.
For this dish, we'll combine extra virgin olive oil, finely minced jalapeño pepper, fresh ginger, garlic, lemon juice, garam masala, turmeric, cumin, coriander, garlic powder, and salt.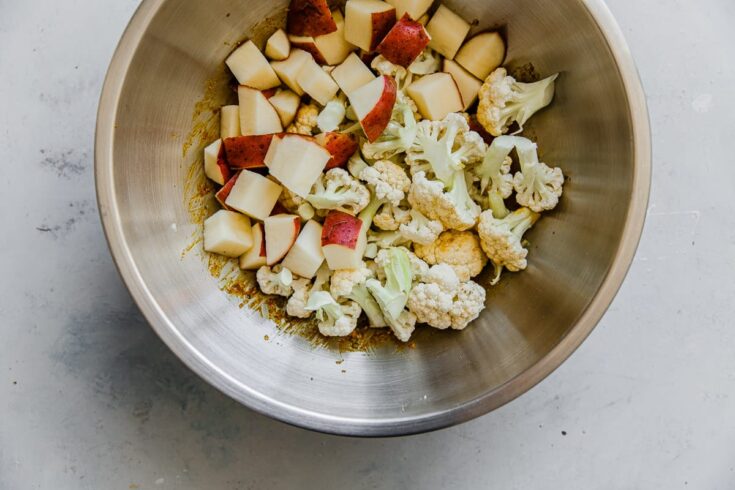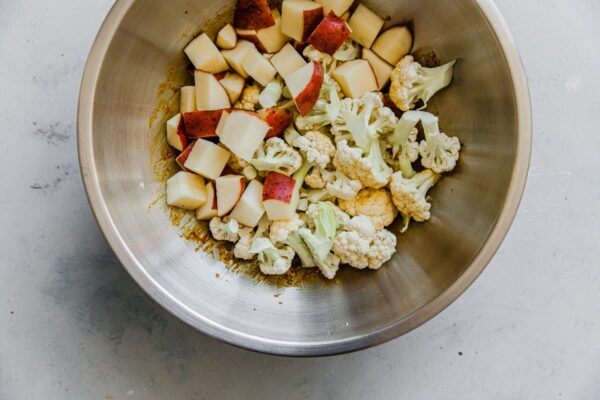 Step 2: ADD THE CAULIFLOWER AND POTATOES
Add your cauliflower florets and cubed red potatoes to the bowl.
Toss the mixture together gently (*I like to use my hands, but if you're sensitive to spices or heat, use disposable kitchen gloves or mixing spoons) until the spiced oil mixture is well distributed and evenly coats everything.
I like to allow the mixture to marinate for 15 to 20 minutes at room temperature as the oven preheats, but you can skip this step if you're short on time.


Step 3: ROAST AT 450F
Spread the cauliflower and potatoes in an even, thin layer – leaving space between the pieces to encourage even caramelization during roasting – on a rimmed half sheet pan.
Roast for 25 minutes, rotating the pan and flipping the vegetables halfway through.
Step 4: ADD CHICKPEAS TO THE PAN
Remove the sheet pan from the oven, distribute the canned chickpeas (drained, rinsed, and patted dry) evenly onto the sheet pan, and roast for an additional 10 to 15 minutes or until the vegetables are caramelized and fork tender.
Step 5: DEGLAZE THE PAN
Remove the sheet pan from the oven and deglaze the pan with 1/3 cup water, gently tossing the vegetables and scraping the bottom of the pan to pick up any caramelized bits. You can skip this step, but I like that it adds a little bit of sauciness and moisture. Garnish with lemon zest, torn mint leaves, and cilantro!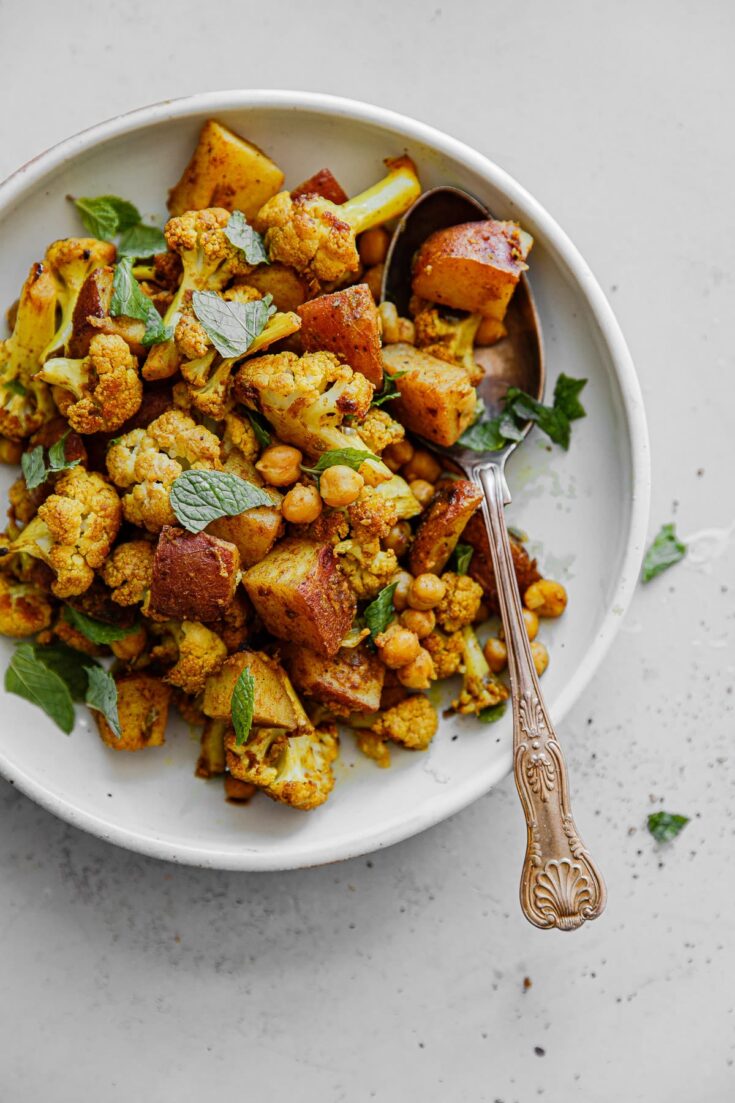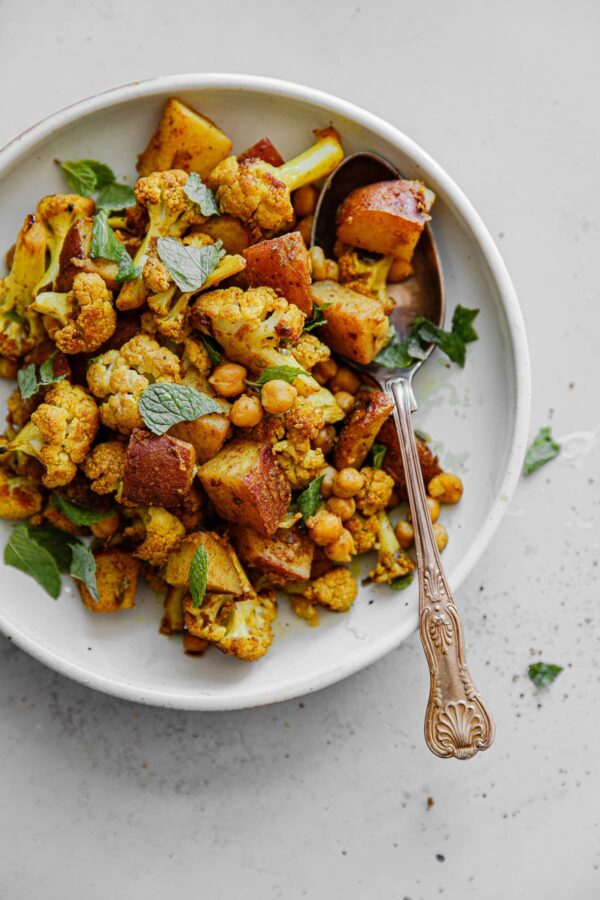 How to Serve Sheet Pan Cauliflower Curry:
During roasting, we'll prepare the raita sauce.
Combine the greek yogurt, grated cucumber (*be sure to squeeze it out to remove any moisture), garlic, lemon juice, salt, cumin, black pepper, and mint leaves in a medium bowl. Stir to combine. Season to taste, adding more salt, lemon juice, or fresh mint as you like.
This dish is hearty enough to be enjoyed on it's own, but I like serving it with homemade coconut rice or toasted naan. Garnish generously with fresh mint and cilantro and eat up!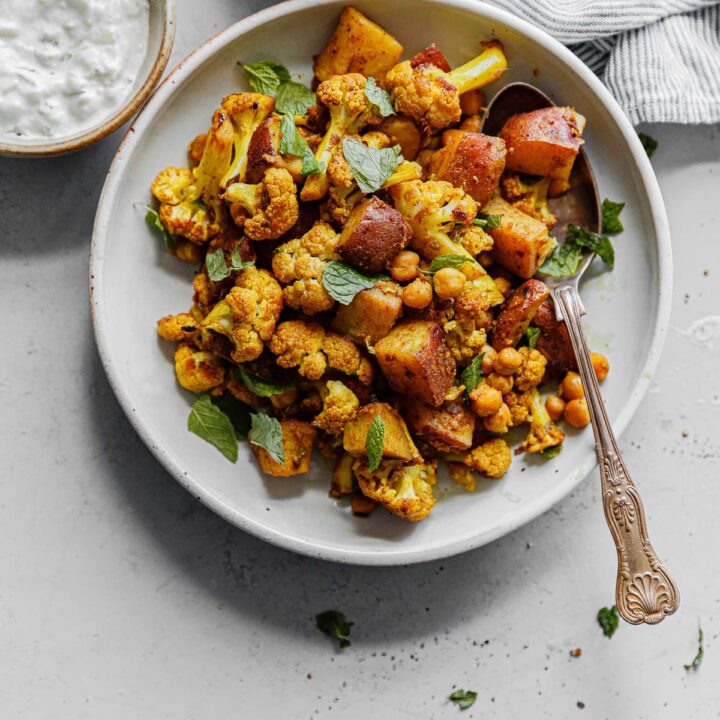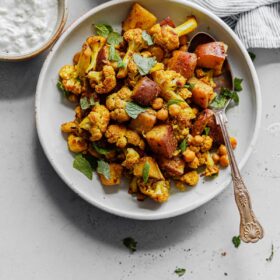 Sheet Pan Cauliflower Curry with Raita
Serving: 1serving, Calories: 260kcal, Carbohydrates: 42g, Protein: 14g, Fat: 6g, Saturated Fat: 2g, Polyunsaturated Fat: 3g, Cholesterol: 13mg, Sodium: 1135mg, Fiber: 10g, Sugar: 9g
This post contains affiliate links, which means that I make a small commission off items you purchase at no additional cost to you. Please read my
privacy policy
for more information.