5 Easy Ways To Reduce Kitchen Waste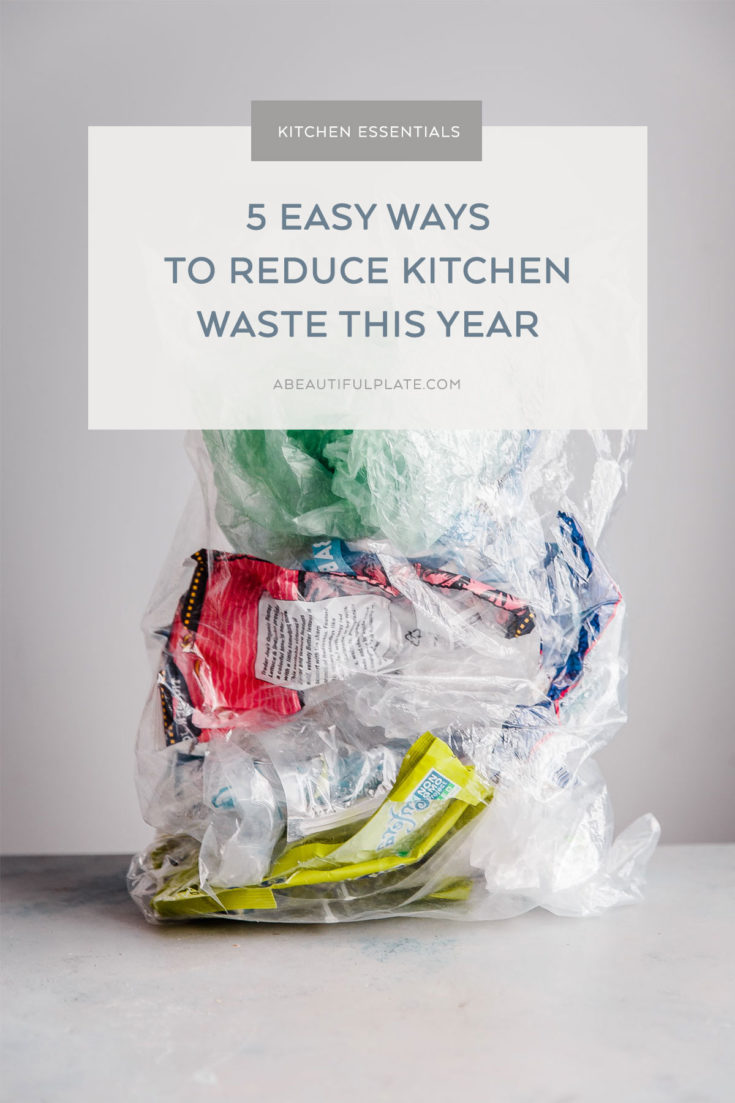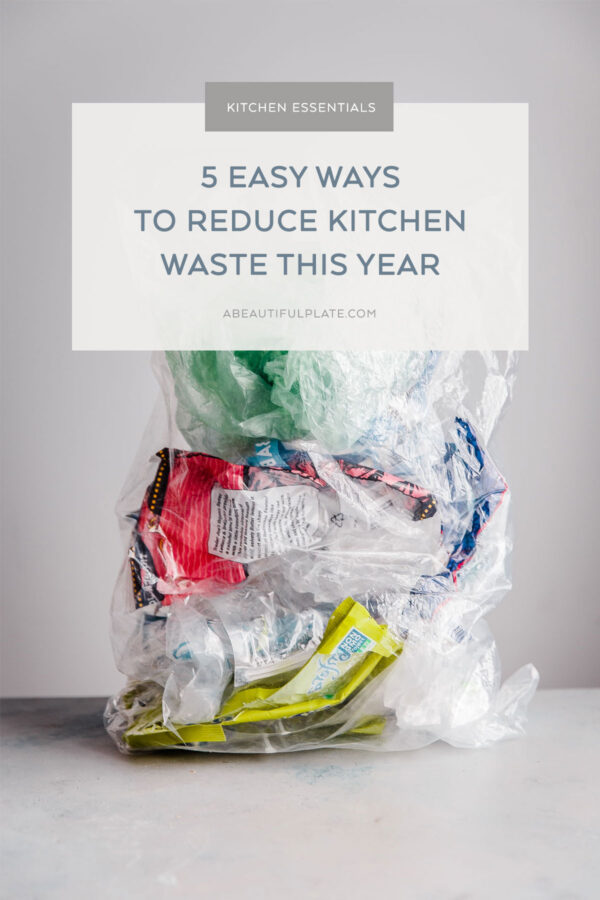 I'm so excited to bring you today's post! This has been a topic that has been on my mind a lot this past year, particularly since this job requires a lot of recipe testing, grocery shopping, brand and product shipments, etc.
Let me start off by saying that I'm not here to preach or advocate a zero waste lifestyle. I do not have one. Striving for perfection, in any area of your life, is impossible, overwhelming, and can often lead to inaction. This is particularly true, at least in my experience, when it comes to kitchen waste.
While reducing waste is incredibly important and does require a bit of a mindset shift, even the smallest changes can have huge impacts. Small efforts eventually lead to long-standing habits and lifestyle changes.
For some, that might mean investing in a travel mug (if you love your coffee shop visits!) or water bottle for travel. For others, that might be using reusable containers and packaging, in lieu of plastic wrap or Ziploc bags, a few extra times a month. This will look different for everyone.
My goal with this post is to simply share resources, helpful tips, and approachable ways that I've reduced my kitchen waste this past year. I hope you find it useful and inspiring!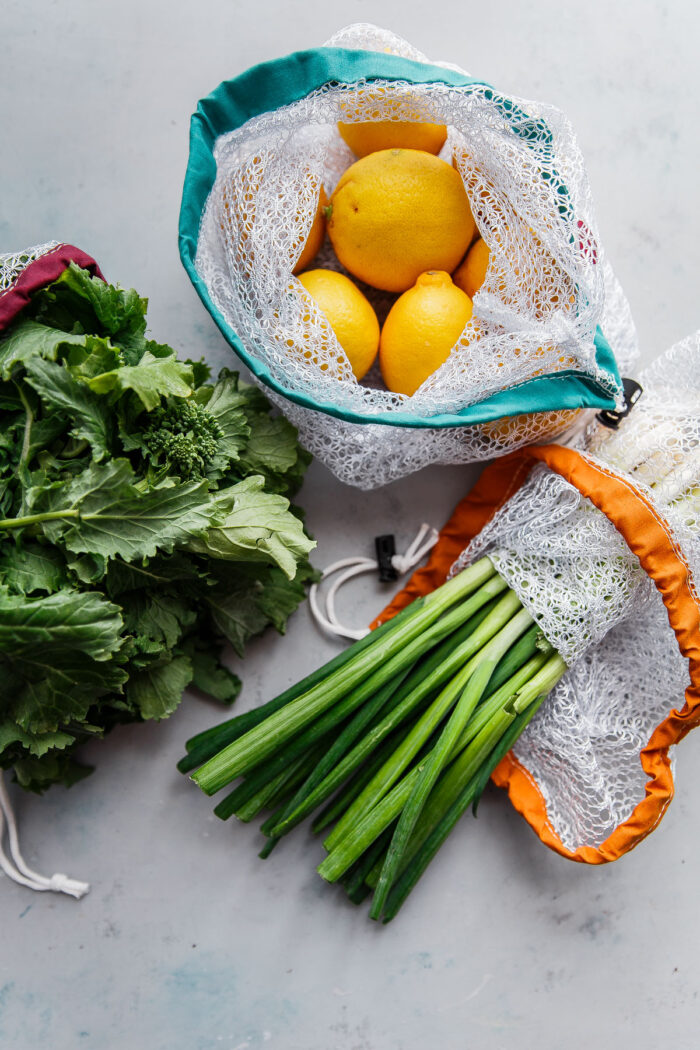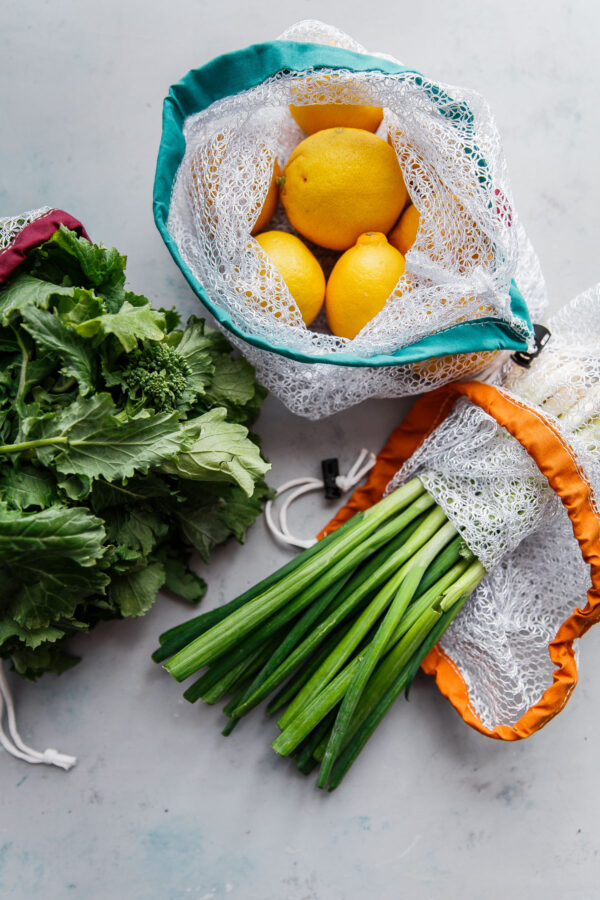 This post contains affiliate links. If you purchase an item below, I may receive a small commission at no cost to you.
Stash Reusable Produce and Grocery Bags on Hand
I've been using reusable grocery bags for years and years, and am constantly amazed by how many people – particularly city dwellers – I see at the check out line without them. Although there are definitely times when I forget them, this is one of the easiest (and best) changes to add to your routine.
Reusable grocery bags are incredibly practical, as they hold significantly more items, can often be placed on your shoulder comfortably and have zero risk of breaking. They also come in handy for moves and other household chores.
In the past year or so, I've also invested in a set of reusable produce bags. These are another wonderful tool to cut down on soft plastic usage, but they don't keep delicate produce nearly as well, so it's best to prep, wash, and store those items separately after getting home.
Helpful Tip: Keep a small set wherever you are most likely to need them: car trunk, pantry/hallway, office, workout bag, purse, etc. I prefer the super thick sturdy ones, which are sold at places like Trader Joe's and Whole Foods, as they're very durable and can hold a lot, but there are many thinner options as well. It just depends on your preference!
Find Your Local Soft Plastic Recycling Center
The most substantial way that I've cut down on kitchen waste this past year is doing research on soft plastics. A little bit of research goes a long way. If you're not sure how to recycle (or if you even can recycle) an item, look it up on the internet, contact your recycling service, or reach out to your favorite brand.
Basic plastics, such as food containers, milk jugs, or other plastic cartons are usually processed by your standard weekly recycling service (*be sure to look up your local recycling rules, as they vary!).
Recyclable soft plastics are items like garbage bags, newspaper bag coverings, product wrapping, shopping bags or dry cleaning bags, bubble wrap, deflated air pillow packaging, Ziploc bags, and the list goes on. These types of plastics require different processing than your basic hard plastic items. as they clog standard recycling systems and can easily contaminate large batches of recycling (resulting in them being dumped in a landfill). You can read more about this and other items you might be recycling wrong here. Educate those around you!
Many local big box stores (eg. large grocery chains, Target, Walgreens, etc.) are required to offer soft plastic recycling containers. You can search for your nearest plastic film recycling location here. We collect our soft plastic items in a reusable grocery bag and take them to our local Target every month or so – it's an easy change that drastically cuts down our landfill waste!
Helpful Tips and Resources:
Learn more about what's recyclable and what's not here.
Set aside a large bag in a closet or pantry, save and fill it with any soft plastic items, and drop it off at your local soft plastic recycling location on a bi-weekly, monthly, or bi-monthly schedule. You can find your nearest plastic film recycling location here. Remember that these items need to be dry and unsoiled, but usually a quick rinse under the sink and dry session can fix this.
Terra Cycle is another amazing resource, which offers many free recycling options through popular household brands (eg. Colgate, Clif, etc.), as well as paid recycling options (for practically every single item you can think of – silicone, baby food pouches, snack bar packaging, clothing, kitchen tools, etc.).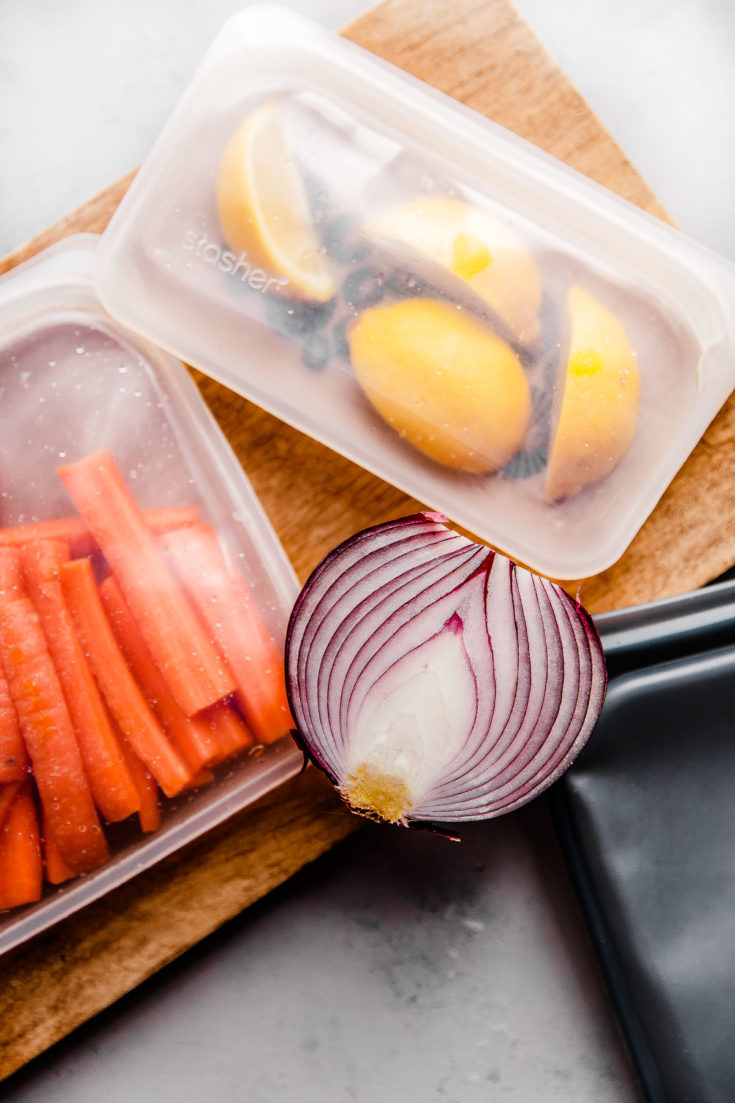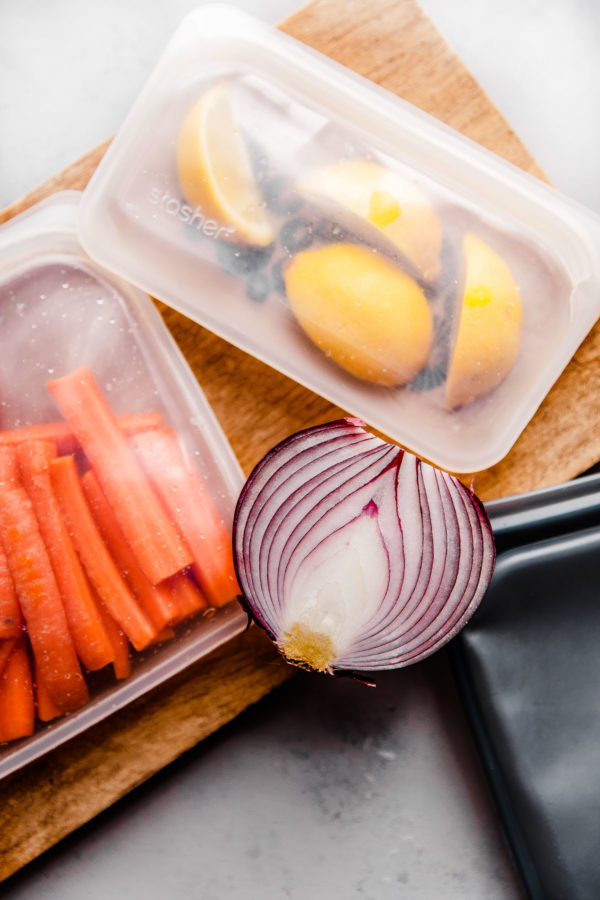 Invest in Reusable Silicone Bags and Containers
I've been using glass storage containers for a long time, but I'm the first to admit that grabbing an easy, disposable Ziploc bag for marinades, food storage, etc. can be tempting some days.
One common theme surrounding kitchen waste is convenience. Convenience is often accompanied by waste. It is tempting on most days. I totally get it. Reducing kitchen waste, at least in this day and age, does requires conscious effort and for you to sacrifice convenience. We all need to do our part, especially if we are in a privileged position to do so.
It is easy to make small changes on a regular, daily basis if you start slow and ease your way up. One specific goal of mine this past year was to invest in a few reusable silicone bags, eg. Stasher bags, in various sizes to reduce my use of Ziploc bags. We use them for travel, food storage (sandwiches, veggies, cheese, avocados, etc.), as well as prep (marinading meat for the grill, etc.).
If you do use a Ziploc bag, remember that they can be washed, dried, and reused multiple times, particularly if you're using them for basic things like bread, nuts, produce, etc. Once they become unusable, they can be recycled with your soft plastic items (see above).
Helpful Hint: You don't need to invest in a large set of expensive containers or bags to reduce kitchen waste; repurpose glass food jars, buy affordable mason jars, use covered mixing bowls or other dishes you already own for fridge storage, etc.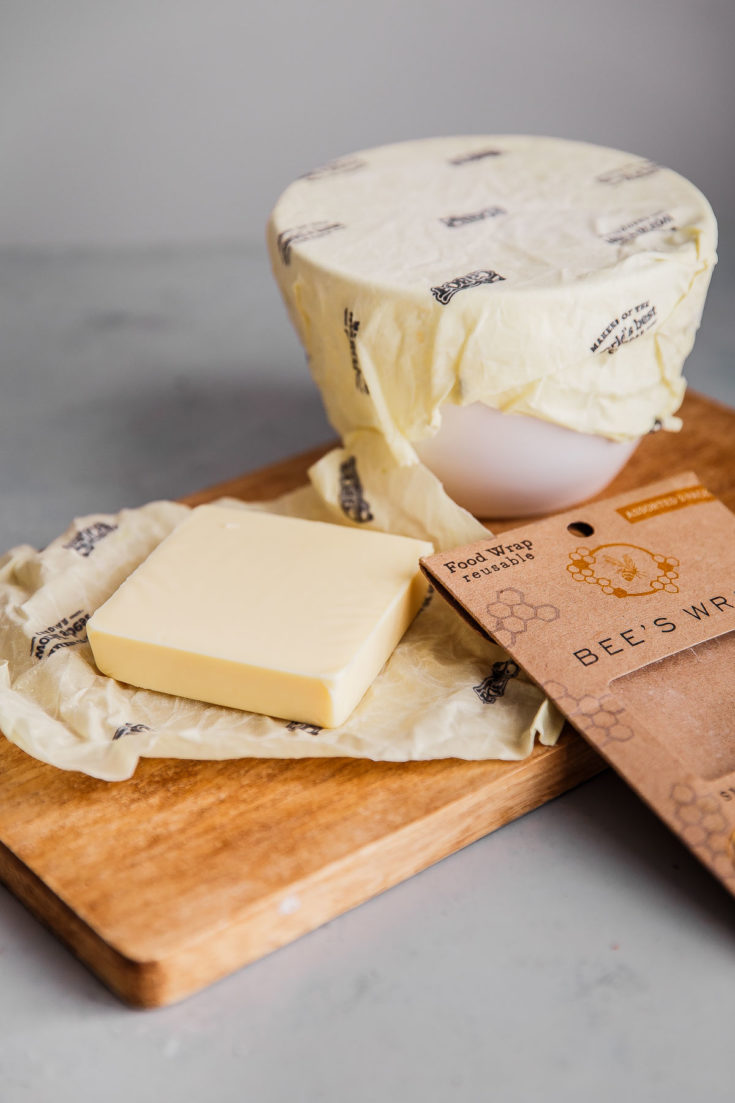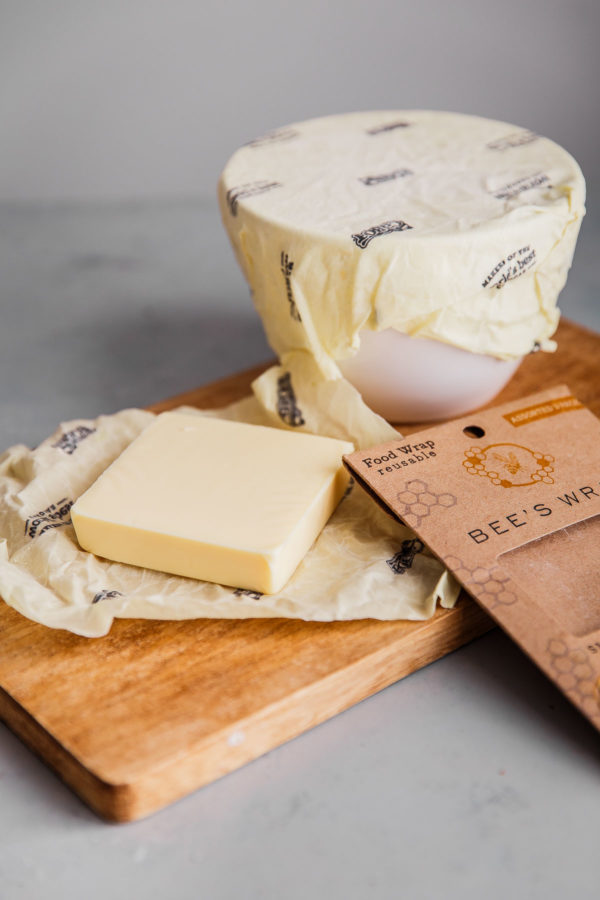 Use Bee's Wrap in Lieu of Plastic Wrap
One of my favorite sustainable kitchen products is natural bee's wrap! It is a fantastic (and better) biodegradable alternative to plastic wrap, which is non-recyclable. Bee's wrap is organic cotton that is dipped in melted beeswax. I came across this brand a few years ago when my mom bought me a pack, and have been a huge fan ever since.
You can buy them in sets or in specific sizes, and they work well for covering, wrapping and storing just about everything (with the exception of raw meat). They conform to the shape of your item with the heat of your hands. We use them for everything from bread storage, cheese, covering bowls, wrapping cut fruit, etc.
Best of all, they can be rewashed under cold water with soap, dried, and reused for up to a year or longer! Having a set of these on hand (along with a few reusable storage bags or containers above) will drastically reduce your plastic wrap usage.
Another great way to eliminate plastic wrap? Stop buying it. Out of sight, out of mind, Again, one of the biggest roadblocks to reducing kitchen waste can be pure convenience (and just having the option at your fingertips). Once you don't have it on hand – and have a few other options at your disposal – you won't think about it.
Helpful Hint: Trader Joe's sells a generic version of beeswax wraps, but I have tested those and find them way too thick to work effectively. I highly recommend the original bee's wrap brand, which is a much thinner and better option! If you're feeling ambitious, you can even make your own.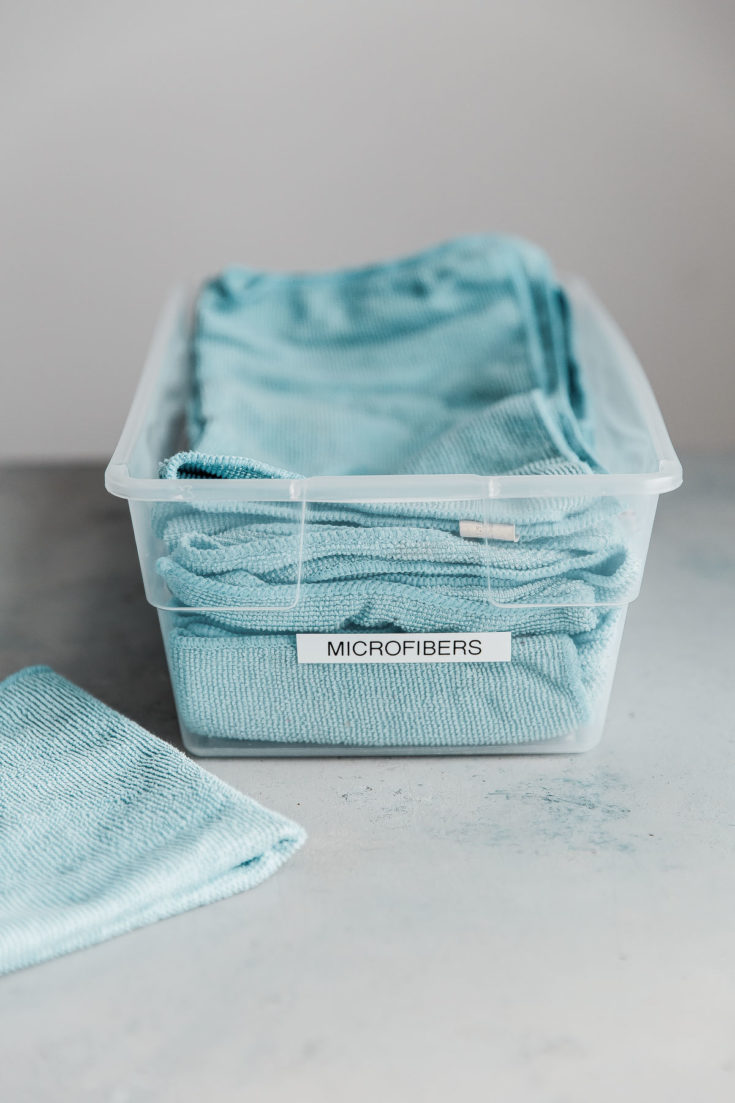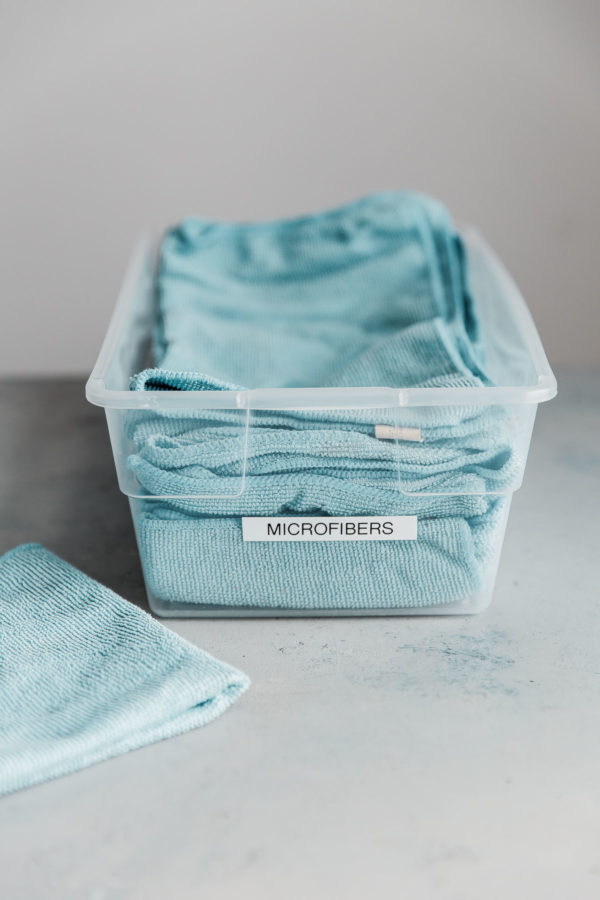 Replace Paper Towels with Cloths
Another big change that I've made with my kitchen routine over the past two years is to (almost completely) eliminate paper towel use by investing in a set of basic microfiber cloths.
This is another easy way to reduce kitchen waste. You'll also save a lot of money on paper towels! We use cloths for wiping down countertops, appliances, cleaning spills off the floor, etc. and keep a container of them under the kitchen sink for easy grabbing. Unlike paper towels, you can also easily give them a rinse too.
While I do keep a roll or two of paper towels on hand (for the rare, particularly disgusting, household or pet cleaning task), I rarely, if ever, use them. The trick is to get a large enough set (18-24) so that you never run out between laundry loads. We set aside some for kitchen cleaning, and others for bathroom, household cleaning, etc.
Helpful Tip: Microfibers can be fairly static by nature, so keep this in mind when doing laundry. If they develop any sort of off smell, add baking soda or basic white vinegar to your washing load. It almost always takes care of it!
Other Significant Ways to Reduce Kitchen Waste:
research home or local composting options or pick-up services
even if you don't have outdoor space, there are usually pick-up compost alternatives in most cities. The majority of kitchen trash is made up of compostable items, such as a food scraps, compostable fibers, etc. I'm actively looking into investing in this service this year and will keep you posted about it!
This post contains affiliate links, which means that I make a small commission off items you purchase at no additional cost to you. Please read my
privacy policy
for more information.