Strawberry Buttermilk Panna Cotta with Macerated Strawberries and Basil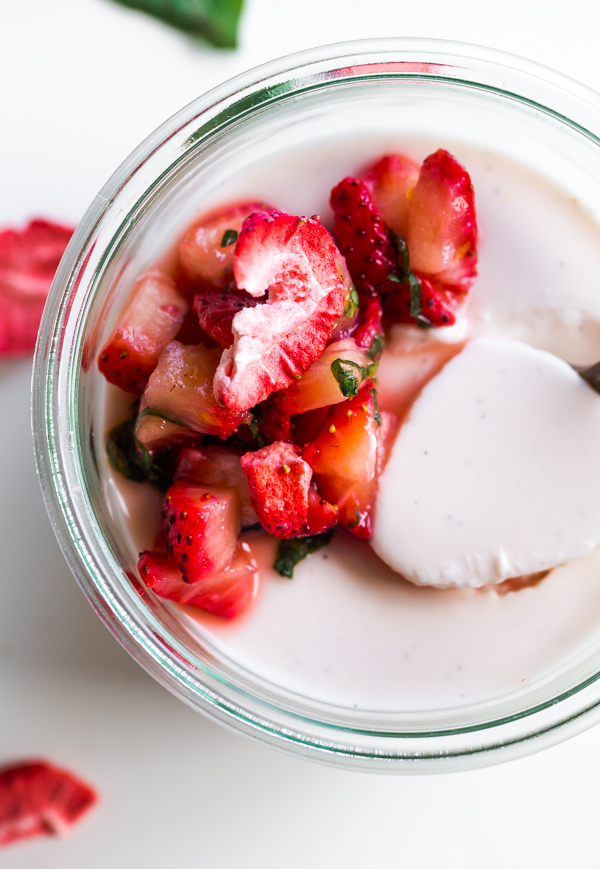 You guys! I literally can't believe it. The big day has come and gone! It was the fastest day of my entire life and here I am, writing to you for the first time almost an entire week after the wedding. Where has the time gone? No, seriously, where has the time gone?! Everything went absolutely perfectly and we could not have asked for a more special weekend.
It didn't rain (in fact, the weather could not have been better), we didn't forget anything at our hotels, the dress fit (thank god), all of our vendors showed up when they were supposed to show up, the venue gardens could not have looked more beautiful, and I didn't fall down the aisle…once. Miracle in and of itself.
I did end up crying hysterically at my maid-of-honor's speech, accidentally gave myself a Hitler mustache with an anemone flower's pollen (the words, "I look like Hitler on my wedding day!" escaped out of my panicked lips more than once), and destroyed my wedding shoes (and I literally mean, destroy) in the process…but those are stories for a different day!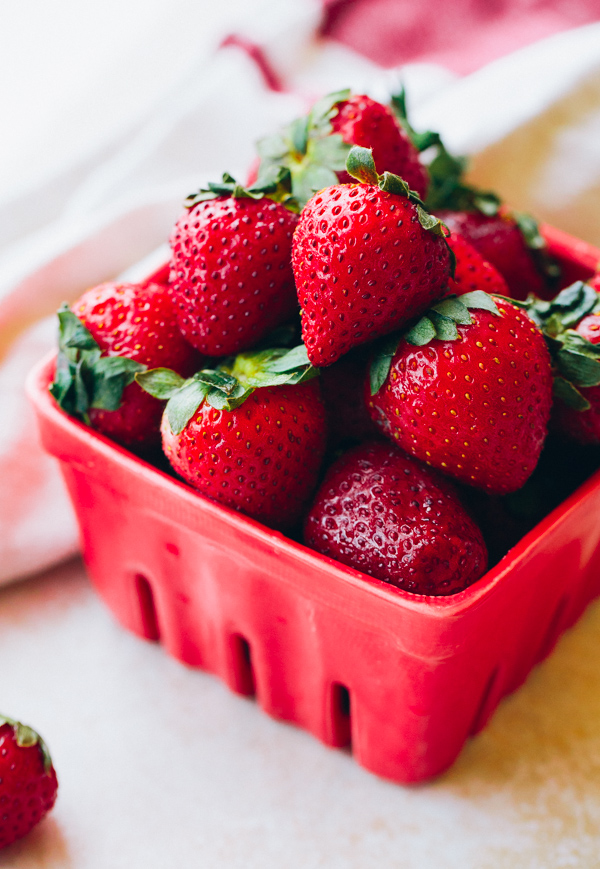 If you don't mind indulging me, I cannot wait to share more about the big day, along with lots of wedding photographs (it takes a few weeks, so bear with me!) when the time comes. In the meantime, if you want to see little snippets of the weekend and our mini-moon in Charlottesville, I've been sharing a few on Instagram along the way! [#ConnorandLaura]
[On a separate note, please send happy thoughts to Connor's grandmother, who broke her hip tearing it up on the dance floor on Saturday night, but is now recovering well from surgery and heading home this afternoon! She's so spunky, and I hope I have half as much energy as she does when I'm her age.]
On a sweeter note, I've been waiting to share this strawberry panna cotta recipe with you for far too long! If you've ever prepared homemade panna cotta before, you know that it is one of the easiest desserts to throw together.
Majorly spring-y, springtime (or summertime) dessert right here. Elegant, colorful, and a great recipe that can be prepared well in advance for dinner guests.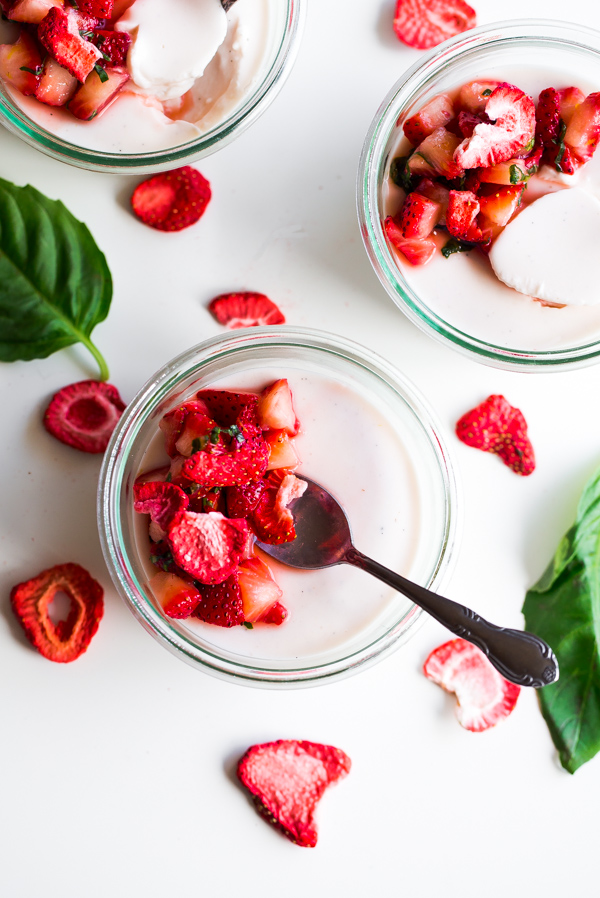 Traditional panna cotta is made with a combination of heavy cream, milk, and set with gelatin. This version uses a combination of heavy cream and tangy buttermilk, which cuts the sweetness and creates a slightly lighter panna cotta! Although the custard is topped with macerated strawberries with fresh basil and lemon zest (so good!), the actual panna cotta contains freshly pureed strawberries and vanilla bean caviar too.
Imagine your favorite homemade strawberry ice cream in custard form, and you can imagine just how good these strawberry panna cottas taste.
To add a bit of texture, I topped mine with a few pieces of freeze-dried strawberries! [You can find these at Trader Joe's.] Feel free to leave this step out, but it makes for an even more impressive dessert and ups the strawberry flavor even more, if that's possible!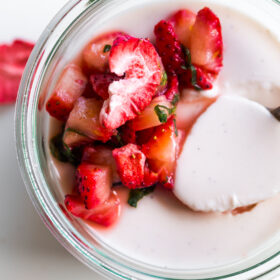 Strawberry Buttermilk Panna Cotta with Macerated Strawberries and Basil
Ingredients:
Strawberry Buttermilk Panna Cotta: 
4 ounces hulled fresh strawberries, cold from fridge
2 teaspoons powdered gelatin (such as Knox brand)
1 and 1/4 cups heavy cream
7 tablespoons granulated sugar
1/2 whole vanilla bean
1 and 3/4 cups buttermilk
Macerated Strawberries and Basil:
6-7 ounces fresh strawberries, trimmed and diced
1 teaspoon granulated sugar
1/2 teaspoon freshly grated lemon zest
2-3 large fresh basil leaves, chiffonade
Garnish:
freeze-dried strawberries (optional)
Directions:
Strawberry Buttermilk Panna Cotta:
Puree the strawberries in a small food processor. Strain pureed strawberries through a fine-meshed sieve into a small bowl. Sprinkle the puree evenly with the powdered gelatin (you want the puree to be cold in order for the gelatin to bloom properly), and allow the mixture to sit for 10 minutes.
Meanwhile, place the cream and sugar in a small saucepan. Split and scrape the vanilla bean caviar into the cream, and then add the entire vanilla bean half. Place mixture over medium heat, stirring frequently, until the sugar completely dissolves, roughly 3 to 5 minutes. Add the strawberry gelatin mixture to the hot cream, whisking gently until the gelatin has dissolved completely. Stir in the buttermilk, then strain mixture through a fine-meshed sieve into a large bowl (to remove any undissolved gelatin pieces and vanilla bean half).
Divide panna cotta into small ramekins (depending on the size of your ramekins, this will yield either 4 larger panna cotta servings or 6 slightly smaller servings--I used these 2.7 ounce Weck canning jars). Cover each ramekin with a lid, or with plastic wrap and allow mixture to set in the refrigerator for 3 to 4 hours or until completely set.
Macerated Strawberries and Basil:
Roughly 30 minutes to 1 hour before serving the panna cotta, combine the diced strawberries, sugar, lemon zest, and basil chiffonade in a small bowl. Cover and allow to macerate in the fridge for 30 minutes to 1 hour.
Top the panna cotta with a spoonful of macerated strawberries, a few pieces of freeze-dried strawberries (if using), and serve.
Tips For Success:
Blooming the gelatin powder in the cold strawberry puree allows the gelatin to soften. Softened gelatin is more easily dissolved once added to warm liquids and improves overall together, eliminating any possible gelatin lumps in the final dessert.