About
Hi! I'm Laura and welcome to A Beautiful Plate! I'm so glad you're here! 
Cooking, trying new ingredients, traveling and experiencing different cuisines, and experimenting in the kitchen excite me more than anything else. I grew up cooking with my mom, grandmothers, and sisters.
Spending time in the kitchen inspires me, challenges me, and quite simply, makes me happy. Sharing my passion for cooking – and inspiring others in the kitchen – is what inspires me every day on this blog.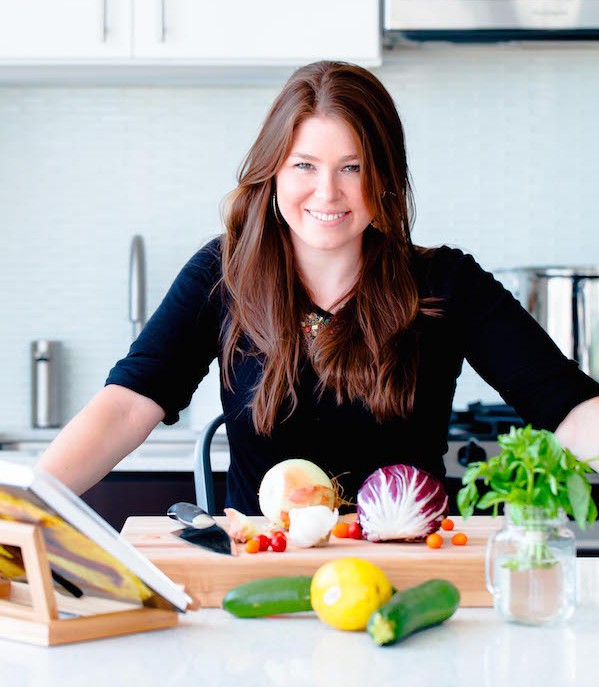 My love affair with cooking (and, well, food in general) began many, many years ago. I grew up in a family of die-hard food lovers, food is was what brought us together, and made us tick. We were the type of family that would sit down for a family dinner almost every night of the week. We discussed lunch and dinner plans at breakfast. We even took pictures of our food sometimes (yes, before cell phone cameras or Instagram existed).
Food is serious business in my household.
I always knew that cooking would be a large part of my everyday life, but little did I know just how big a role it would play until I made the life-altering (oh so dramatic, but true!) decision to enroll in professional culinary school and pursue a career in the food industry.

Attending culinary school was one of the most difficult and rewarding experiences of my life and one the best decisions I've ever made. I'm so thrilled that I was able to chronicle my experience on this blog.
After finishing culinary school, I worked as a line cook at an award-winning restaurant in Washington, DC before transitioning to managing marketing and communications for a national fine foods distributor. During my time there, I designed and created marketing catalogs, as well as photographed and styled commercial photo shoots in our in-house test kitchen. 
In August of 2014, I took the plunge and quit my full-time job to pursue blogging, freelance recipe development, and food photography full-time. I currently live in Washington, DC Chicago, Illinois with my husband, Connor, Marley (our lovable rescue dog, who we adopted in 2o16), and rescue cat, Max.
Want more? You can find me on Instagram, Pinterest, Facebook, Twitter, Google+, and SnapChat (username: abeautifulplate). If you'd like to keep in touch, you can also subscribe to my e-newsletter to receive new posts and/or my weekly e-newsletter via email! 
Most importantly, I want to thank you for taking the time to visit this site, read my ramblings, and maybe even try one of my recipes! It means the world to me, and I wouldn't be here without you.

---
My Cooking Philosophy:
I love creating fresh, seasonally-inspired meals that showcase quality ingredients in a unique, approachable, and beautiful way!
When it comes to my favorite foods, I don't discriminate. I eat a little bit of everything, and it is my goal for this site to be a true and accurate depiction of that. You'll find recipes from all ends of the spectrum: weeknight dinners, healthier and lighter dishes, pastas, comforting soups and stews, breakfasts, indulgent desserts and pastries, drinks, and side dishes. 
Everyday eats, if you will.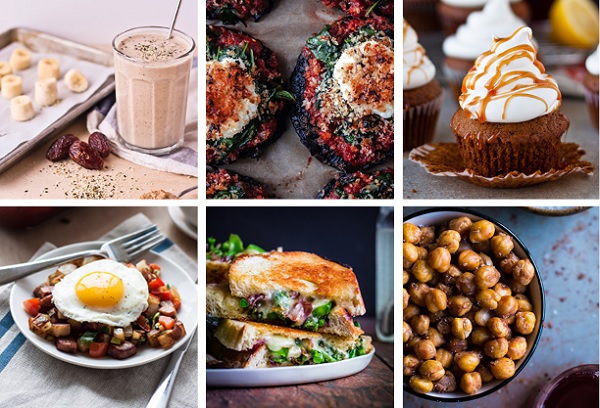 One of my favorite things to do is take a classic recipe and put a creative spin on it, like these dark chocolate and passion fruit marshmallow s'mores or these fried cauliflower steaks. The vast majority of the recipes shared on this site are elegant, yet simple and time-friendly. Occasionally, I'll share special occasion recipes every now and then. Food should be celebrated!
My biggest sources of recipe inspiration are restaurant meals, my family, food markets, magazines, cookbooks, blogs (of course!), and travel. I literally come up with recipe ideas at the strangest times and places (in my dreams, at the gym, in the shower, you name it)!
The vast majority of recipes you see on the site are my own, unless otherwise noted in the recipe. I try to test all recipes at least once (if not multiple times!) and would never share anything that I didn't try or eat myself. If you've made or tried one of my recipes, I love any and all feedback–so please feel free to leave a comment or shoot me an email!
---
Why Culinary School?:
After graduating from college and starting on the path to attend graduate school, I decided to get a part-time job working as a baker and decorator for a popular food truck in the Washington, DC area. At the time, I thought I was merely fulfilling a dream to work in the food industry before embarking on the long journey awaiting me in grad school. 

Two weeks later, I became the lead baker and I was soon whipping up and decorating between 20-50 dozen cupcakes and other baked goods daily. Just by myself! It was an amazing learning experience and I have a few burns and scars to prove it (like that one time I got a pastry tip stuck on my finger).
For the first time ever, I was actually looking forward to work.  I loved working with my hands, being busy all the time, and doing something where I could finally put my creativity and love of food to use. After going back and forth, I eventually decided to take the plunge and enroll in culinary school. 
Read more about my decision to apply here! You can also read all about my experience in culinary school on this page.
---
 Getting Around the Site:
I love to hear from you! If you want to get in touch with me, feel free to contact me using this form, or send me an email directly at  laura [AT] abeautifulplate [DOT] com. You can also reach out to me via social media!
If you are looking or browsing for a specific recipe, check out my visual recipe archive!
If you have a general question, feel free to check the FAQ page.
Have a specific question about a recipe? Please leave a comment on the original post, as I'll get a notification right away and will try to respond as soon as possible (you will get a reply notification in your email!).
For more posts related to culinary school, visit this page!
If you're curious, my press page shows where some of my recipes and work have been featured.
Want to work with me? I'm thrilled to hear that! Please send me an email directly at laura [AT] abeautifulplate [DOT] com, and I'd love to discuss your project in more detail with you.