This incredibly moist fool-proof chocolate beet bundt cake is topped with a beautiful, naturally colored beet glaze.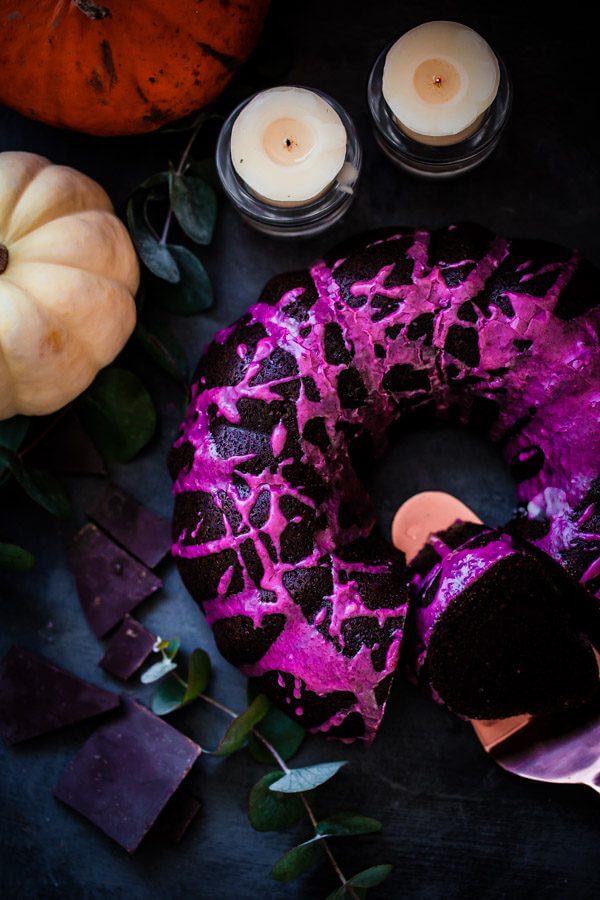 Halloween is just around the corner! This chocolate beet bundt cake is about as festive as it gets around here. I'm very much into all-purpose holiday desserts and this cake can be made any day of the year. Literally, any day. In fact, you should make this cake as soon as possible, because it is delicious.
The psychedelic beet glaze takes it over the top. It is what I would imagine a classy monster-esque cake would look like if that, in fact, was a thing. I was originally going for a 'blood splatter'-like glaze, but nature, beets, and powdered sugar can only do so much, you know? I'm OK with it.
And yes! This beautiful purple-magenta glaze is completely natural. Pureed beets contribute to this cake's incredibly moist and fluffy texture, so it only made sense to reserve some for decoration as well. I'm a huge fan of using fruit (like freeze-dried fruit!) to naturally decorate desserts, so it only makes sense to turn to vegetables to do the same job.