Za'atar spiced grilled chicken is paired with fluffy bulgur, roasted vegetables, feta cheese, and creamy tahini sauce in this healthy, flavor-packed main course.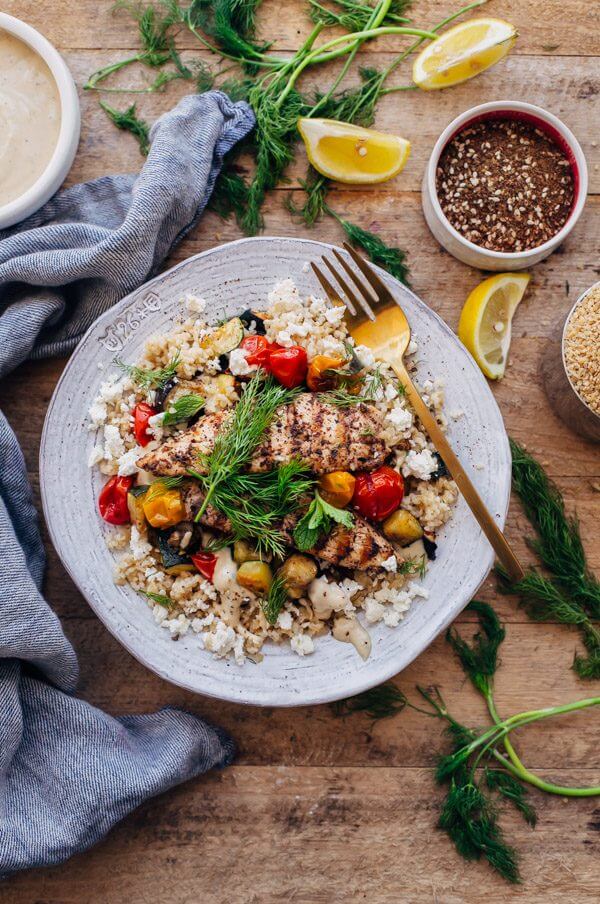 This post is brought to you by Bob's Red Mill.
Lately I've been struggling with the age-old question: "what the hell should we make for dinner?" Regardless of how large a role cooking plays in your life, I feel like this is a question that plagues many of us.
Thankfully, I have a few favorites that we turn to time and time again in this often-occurring predicament. That being said, I'm always looking for trusty (preferably healthy!) main course recipes that pack flavor, can be prepared easily, and make great leftovers. These za'atar grilled chicken bulgur bowls have been in our rotation for months, and I'm so excited to share them with you!
Please don't be intimidated by the ingredient list or recipe length. This dish comes together in a few steps – many being hands-off – and I'll share time-saving, preparation tips below that help make this meal come together even more quickly! Let's get started.