Crispy seared sockeye salmon with green chile adobo sauce and a simple frisée salad. This elegant, healthy main course can be prepared in less than 45 minutes!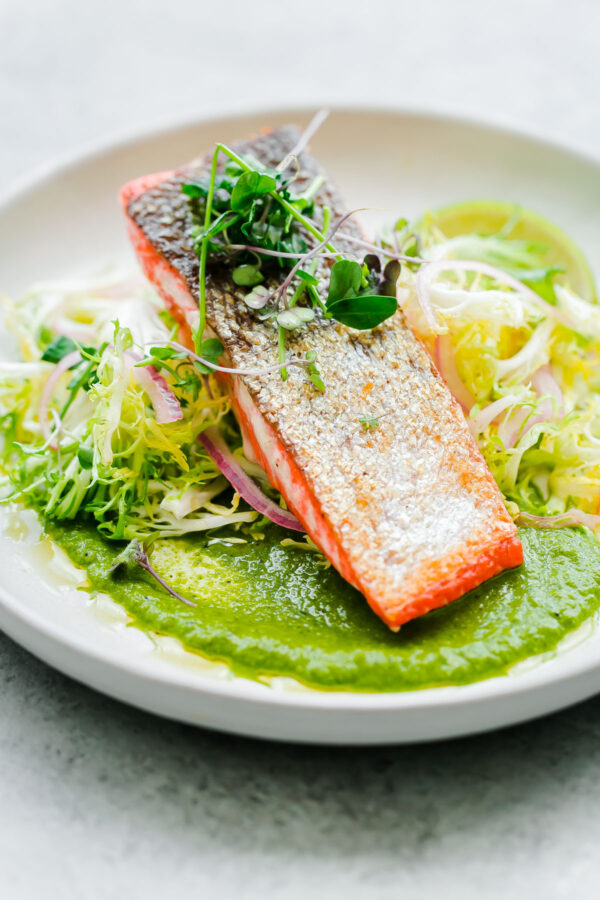 Why, hello! This seared sockeye salmon recipe might be my most favorite recipes to grace the blog in months. In fact, it might be one of my top ten favorite recipes ever. It incorporates that incredible green chile adobo sauce recipe from earlier this week.
Before I go into detail and attempt to convince you to make this dish as soon as possible (prepare yourselves!), I have to squash any preconceptions for today's recipe. This dish looks a bit fancy. Perhaps even a little high-maintenance? I feel you. It is not. It is all about the plating!
It is one of the easiest, fastest main course recipes on this blog. I repeat, this dish comes together in less than 45 minutes! It is 100% feasible to prepare this recipe on even the busiest of weekdays (in fact, it can take less than 20 minutes if you prepare the adobo sauce in advance). It is the type of dish that you'll want to share and enjoy with loved ones, but also the type of recipe that can easily be scaled down to just one or two servings.