My favorite new (and old) cookbooks for the holiday season, complete with fun pairing gift ideas. Perfect for beginner, intermediate, or experienced home cooks!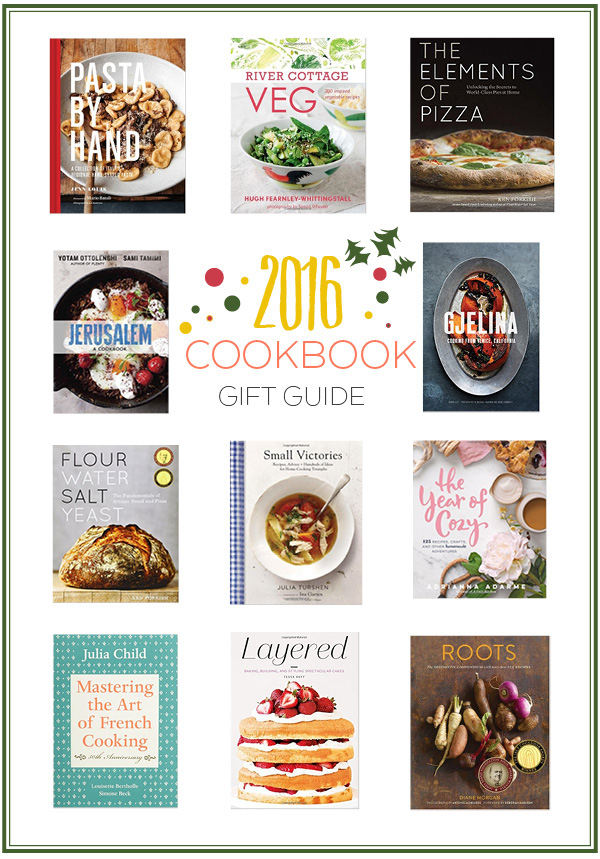 Cookbooks listed left to right, top to bottom
Despite skipping the craziness of post-Thanksgiving shopping (my least favorite thing), I've been looking forward to sharing my second annual gift guides all season. We're starting with cookbooks! Some new, some old, and several in between. As someone with a rapidly growing cookbook collection, I can't get enough of them. Cookbooks are huge sources of cooking, styling, and photography inspiration and in my humble opinion, one of the best holiday gifts. They're meaningful, useful and with a few simple additions, can be transformed into a very special gift for anyone who loves to cook.
One of my favorite things ways to gift cookbooks is to pair them with other useful kitchen items specific to that cookbook. It requires a bit more care and effort, but it will inspire your friend or family member to start cooking right away! Eg. For a baking cookbook, this might entail your favorite non-stick cake pans, spatula, and a fancy bottle of vanilla extract. If you're searching for ideas, be sure to check out the introduction (pantry or source pages) of a cookbook. Often times, they will often include detailed information on equipment or ingredients most often used within the cookbook itself. Below I've included a list of my new (and some old) favorite cookbooks below and fun pairing ideas specific to each book:
Pasta by Hand by Jenn Louis – this cookbook is one of the newest in my collection, and I'm so excited to cook more recipes from it. The book itself is all about pasta. Specifically, Itay's regional hand-shaped pastas and the history behind them. None of the recipes require special pasta making equipment, and most were completely foreign to me. You just need your hands, a love of pasta, and an appreciation for scratch cooking. This cookbook is perfect for pasta lovers or Italophiles. Pairing Ideas: bottle of Chianti, Brunello, or other Italian red wine, chunk of parmigiano-reggiano cheese (temperature sensitive), and potato ricer (to create perfect homemade gnocchi).
River Cottage Veg by Hugh Fearnley-Whittingstall – a few years old, this cookbook continues to be my go-to cookbook for vegetable-centric cooking! The recipes are fantastic, creative, approachable, and nearly every recipe is accompanied by a full-page image. It also happens to be written by a non-vegetarian. This is a great book for vegetarians or anyone who loves vegetables or wants to cook more of them. Pairing Ideas: Whole Foods or local whole food store gift certificate, 7-inch Santoku knife (for chopping), and a bag of high-quality French green lentils.