9 Books to Help You Become a Better Cook
This post contains affiliate links.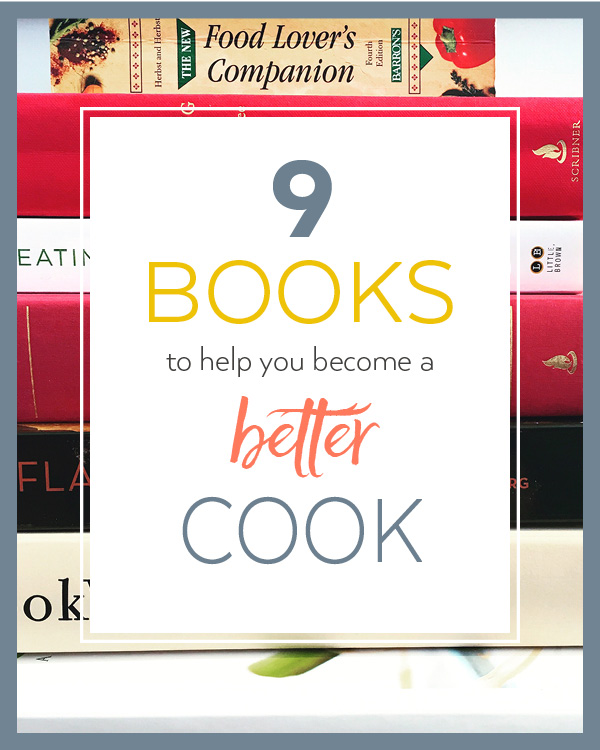 This is one of my favorite topics ever. Today, we're not talking cookbooks [ok, technically one is a cookbook]. We're talking books about food that I absolutely love and adore, and reference time and time again. Books that have helped me become a better, more creative, and more passionate and mindful cook.
Some are strictly reference books, some are part cookbooks, and others are part memoir/non-fiction. All of them are great.
One was gifted to me by my mom as recently as a week ago and I've barely been able to put it down. Most I've purchased over the years and have recommended to practically everyone I know since. If you're someone that loves food and more importantly, loves learning about ingredients, cooking techniques, and the food system, in general, I highly, highly recommend checking these out.
1. Harold McGee's On Food and Cooking: The Science and Lore of the Kitchen – if I could own only one reference book on food and cooking, this would be it. I can't even describe how much I love this book. Let's just say that if all of my textbooks in high school were this interesting, I would have been a much better student. If you've ever had a major question regarding an ingredient or cooking technique (eg. the role that sugar plays in baked goods? why slicing onions can make you cry? etc.), I guarantee you will be able to find the answer in this book. It is part science textbook/part encyclopedia, but surprisingly easy to read and understand.
2. Jo Robinson's Eating on the Wild Side: The Missing Link to Optimum Health – my mom just gifted me this book and I can't put it down. This is a read-from-cover-to-cover book, but also a fantastic reference to go back to time and time again. This book is all about reclaiming many of the nutrients in food that we've lost due to modern agriculture practices. For example, which tomatoes at a standard grocery store contain the most phytonutrients and the best way to pick and store lettuce. I love this book because it steers from preachy (and unrealistic) and explains practical ways that everyone can apply this information. If you enjoy this article, I guarantee you will love the book!
3. Rose Levy Beranbaum's The Pie and Pastry Bible – Rose Levy Beranbaum is the queen of baking, cakes, and pastries. This is the only true cookbook on this entire list, but it also acts as a reference book thanks to her incredibly thorough recipes, chapter intros, instructions, and extras. Think ingredient amounts listed out to the half gram (don't worry, volume and ounce measurements are also provided). It is borderline anal and I love it. The best part is that she explains why you want to use certain techniques for a given recipe. So, if you've been wondering why you go to the trouble to do x, y, and z – you'll most likely know by the time you've read the rest of the recipe instructions. If you love to bake pies and pastries, this is a must-have! If you're a cake person, Rose's The Cake Bible is just as great.
4. Ron and Sharon Herbst's Food Lover's Companion – full disclosure: this is the most boring book on this list, but I still love it. If you're looking for a small, easy-to-reference book for literally every food ingredient, cooking technique, international food item or term, this book will be an enormous help. Aka, it is a food dictionary and a great one at that. This is a wonderful resource if you're starting to use more complicated, technique-driven cookbooks or international cookbooks, visiting a specialty supermarket (with ingredients that you haven't heard of or you aren't familiar with), or simply, if you tried '____' at a fancy restaurant and have no idea what the heck it was. Oh, and it lists the pronunciation. Lifesaver.
5. Karen Page and Andrew Domenburg's The Flavor Bible + The Vegetarian Flavor Bible – I've mentioned these books on the blog countless times, but I can't recommend these books enough. They couldn't be farther from On Food and Cooking, because these books are strictly ingredients and ingredient pairings (think list format; with the exception of the introduction). If I'm stumped for blog recipes or trying to add another interesting element to a dish, I often reference these books as a creative starting point. If you want to experiment with favorite recipes or start creating your own, this is a must-have resource!
6. Dan Barber's The Third Plate: Field Notes on the Future of Food – by far, one the best books that I've read over the past couple years. Dan Barber, a chef and restauranteur, discusses how the food system evolved to be what it is today. Similar in ways to Michael Pollan's The Omnivore's Dilemma, but it addresses this topic at a much different, and incredibly important, level. Overall, a very well-written book that really makes you think.
7. Michael Pollan's Cooked: A Natural History of Transformation – not quite as fun or interesting a read as the last one, but just as fascinating in other ways. A great look at the entire food system as a whole and how this effects (and is effected) by what and how we eat. I'm a huge fan of Michael Pollan's work.
8. Shirley O. Corriher's CookWise: The Hows & Whys of Successful Cooking – part cookbook, part reference guide. This book, although not my favorite on this list by any means, is another great tool that I've used on countless occasions to tweak or fix various recipes – or simply understand how various techniques or ingredients can affect recipes. Unlike The Pie and Pastry Bible, which is strictly about pies and pastries, Shirley covers everything from bread to cookies to cakes, and even things like homemade stock and roast chicken.
9. CIA's The Professional Chef – this is a serious cookbook and, is in fact, the textbook that CIA students receive when they enroll at the Culinary Institute of America. Although I don't reference these textbooks that often, I do think owning a good-quality reference guide is essential for anyone that loves to cook and loves to cook often. Most textbooks like these also contain step-by-step photography, which is a must if you're looking to try new things (aka. break down fish, improve your knife skills, etc.).
What are your favorite cooking references and books?
Disclaimer: This post contains Amazon affiliate links. This simply means that I will receive a very small commission if you purchase any of the books shown above (at no cost to you). Thank you for supporting the blog!
This post contains some affiliate links, which means that I make a small commission off items you purchase at no additional cost to you. Please read my
disclosure policy
for more information.