16 Books to Help You Become a Better Cook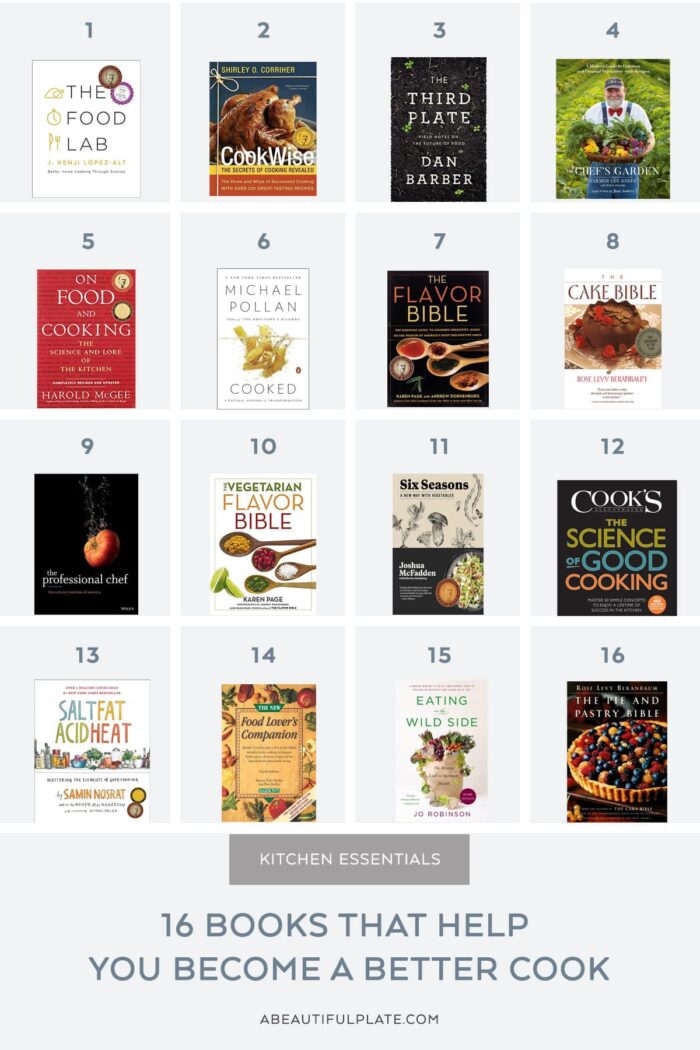 Today I'm sharing an updated list of my favorite cooking reference books! Books about food and cooking that I love and adore, and reference time and time again.
Cooking books that have helped me become a better, more creative and mindful cook. Several of these titles came on my radar during culinary school. Many of the new additions on this list have been gifted or published in years since and instantly captured my attention.
If you wish to become a more intuitive cook, love to understand the why's behind cooking, or simply enjoy learning more about the food system, I highly recommend exploring these titles and adding them to your collection.
Many books on this list are denser reference books, several are traditional cookbooks or focused on a specific category (eg. pies and pastry), and a small handful are non-fiction. All of them are fantastic and offer so much value between the pages. Happy cooking!
---
Best Cooking Books:
The Food Lab by J. Kenji López-Alt – if you are a Serious Eats fan and love learning the why's behind cooking, this is a great reference book. This is a huge book (textbook sized), but covers so many topics. Kenji uses his scientific approach to cooking to demonstrate the best and most effective way to cook just about everything.
CookWise: The How's and Why's of Successful Cooking by Shirley O. Corriher's – part cookbook, part reference guide. I've used this book on multiple occasions to tweak or improve recipes and understand the techniques and roles of various ingredients. Shirley breaks from standard convention and dives into everything from bread to cookies to cakes, and even categories such as stock and roast chicken.
The Third Plate by Dan Barber – one the best books about the food system that I've read over the years. Dan Barber, well-known chef and restauranteur, discusses how the food system evolved to become what it is today. Overall, a very well-written book that really makes you think and approach ingredients differently.
The Chef's Garden: A Modern Guide to Common and Unusual Vegetables by Farmer Lee Jones – a new addition to my library, this beautiful book is a comprehensive guide to more than 600 common and unusual vegetables. Each section contains helpful information on how to select, store, clean, and use each ingredient. In addition, you'll find 125 innovative (more complex) recipes by Jamie Simpson, the executive chef at The Chef's Garden Culinary Vegetable Institute.
On Food and Cooking: The Science and Lore of the Kitchen by Harold McGee – if I could own only one cooking reference, this book would be it! I can't even begin to describe how much I love this book. If you've ever had a question regarding an ingredient or cooking technique (eg. the role that sugar plays in baked goods? why slicing onions can make you cry? etc.), I guarantee you will be able to find the answer in this book. It is surprisingly approachable and easy to read.
Cooked: A Natural History of Transformation by Michael Pollan – not quite as fun or interesting a read as The Third Plate, but just as fascinating in other ways. It provides a historical and in-depth overview of the four classical elements of cooking – fire, water, air, and earth – and how this connects to society.
The Flavor Bible by Karen Page and Andrew Domenburg – this book focuses entirely on ingredients and ingredient pairings (list format; with the exception of the introduction). If I'm stumped for recipe ideas or trying to add a unique element to a dish, I will often reference this book as a creative starting point. If you want to make twists to your favorite dishes or start creating your own, this is a must-have book!
The Cake Bible by Rose Levy Beranbaum – a traditional cookbook, but packed with information thanks to Beranbaum's incredibly thorough recipes, chapter introductions, and instructions. It includes ingredient amounts to the half gram (volume and ounce measurements are also provided). Beranbaum explains the why's behind certain techniques and ingredients for every recipe. If you've ever wondered why you would go to the trouble to do x, y, and z for a cake, you'll understand by the time you've read through her detailed instructions.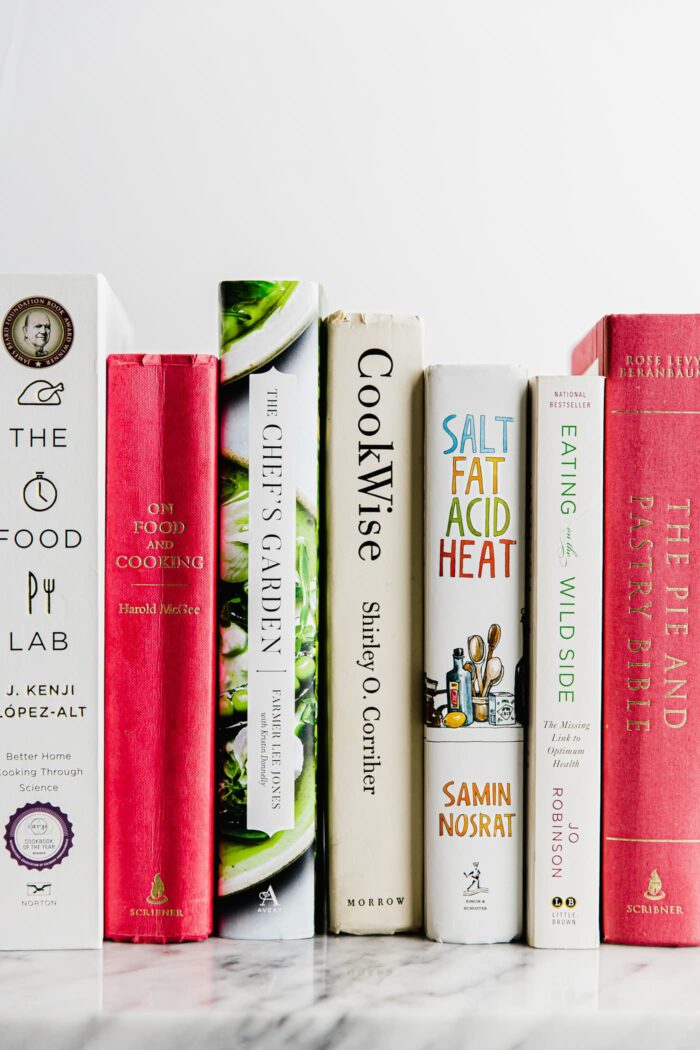 The Professional Chef by Culinary Institute of America – this is the same textbook that Culinary Institute of America students receive during enrollment. Although I don't reference these types of books often, I believe owning a high-quality reference textbook is essential for anyone that loves to cook. It also contains step-by-step photography, which is invaluable if you're learning new skills (eg. learning how to fillet fish, knife skills and cuts, etc.).
The Vegetarian Flavor Bible by Karen Page and Andrew Domenburg – a vegetarian Flavor Bible (similar to the original), this version offers A-Z flavor pairings for vegetables, fruits, grains, nuts, legumes, seeds, and more.
Six Seasons by Joshua McFadden and Martha Holmberg – approachable, beautiful seasonal recipes that don't require many ingredients or fuss. While this is not technically a reference cookbook, it contains valuable guidance and tips for how to coax the most flavor out of seasonal vegetables. You will love this book!
The Science of Good Cooking by America's Test Kitchen – a reference book, with accompanying recipes, for mastering 50 cooking concepts. If you enjoy Cook's Illustrated and America's Test Kitchen magazines and articles, this book is formatted similarly.
Salt Fat Acid Heat by Samin Nostrat – this book does an incredible job of teaching the fundamentals of cooking (balancing salt, fat, acid, and heat) in an approachable, easy-to-understand way. It is an invaluable resource for cooks of all levels and reads like a novel. One of the most approachable reference books on this list!
Food Lover's Companion by Ron and Sharen Herbst – if you're looking for a small, easy-to-use glossary for nearly every food ingredient, cooking technique, or international dish, this book is wonderful. If you're starting to use more complicated, technique-driven cookbooks or international cookbooks, visiting a specialty supermarket (with ingredients that you aren't familiar with), or stumped with a new dish at a restaurant, you'll get a lot of value out of this book.
Eating on the Wild Side by Jo Robinson – this book is about reclaiming many of the nutrients in food that we've lost due to modern agriculture practices. For example, which tomatoes at a standard grocery store contain the most phytonutrients and the best way to pick and store lettuce. I love this book because it steers from preachy (and unrealistic) and offers practical tips and information that everyone can apply to how they select and prepare ingredients. It reads like a novel, but can easily be referenced time and time again.
The Pie and Pastry Bible by Rose Levy Beranbaum – if you love to bake pies and pastries, this is another staple reference book to have on your shelf. Formatted similarly to Beranbaum's The Cake Bible, this cookbook focuses entirely on pies and pastries, including tarts, quiche, laminated doughs, ice creams, fillings and toppings, and glazes.
---
If you enjoyed this post, be sure to explore our other cooking guides.
This post contains affiliate links, which means that I make a small commission off items you purchase at no additional cost to you. Please read my
privacy policy
for more information.