A16 & Burma Superstar
Even though I've been back from San Francisco for a little over a week, I can't wrap up my trip to San Francisco without mentioning some of the restaurants and great dishes we had during my time there.  I'll try to keep this short and sweet though!
Traveling to San Francisco requires that you indulge a bit and take the time to visit some of the best restaurants that the city has to offer.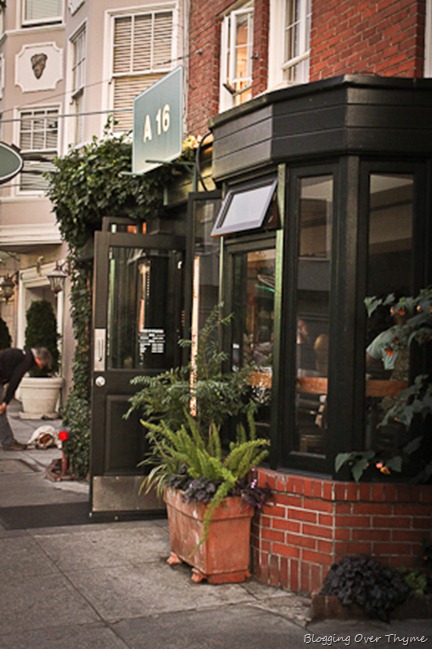 One of the highlights during my trip was A16, a well-regarded restaurant in the heart of the Marina District.  Everyone else in my family has had a chance to visit in the past, except me!  This time it was my turn…
A16 is very long and narrow, full of ambiance, and has an exposed kitchen, where you can watch the chefs whip up and plate dishes right before your eyes.  The name A16 is based on the highway that runs from Naples to Canosa, Pugliaderive in Southern Italy—the region in Southern Italy of which the menu is largely based.
They offer rustic pizzas, homemade pastas, and house-cured and butchered meats, as well as a really impressive wine menu.  After much deliberation with the dinner menu, here's what I ended up ordering:
Carpaccio of Yellowtail Jack with roasted Friarielli peppers and Calabrian Chiles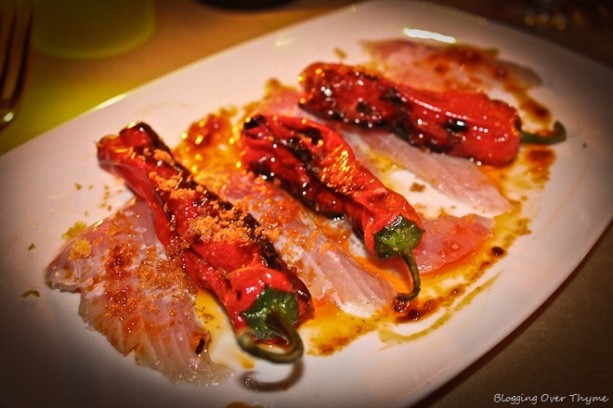 Maccaronara with Ragu Napoletana and House-made Ricotta Salata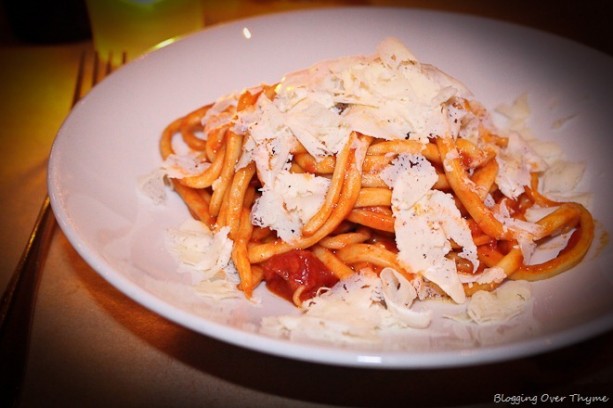 Pluot Upside-Down cake with Ricotta Mousse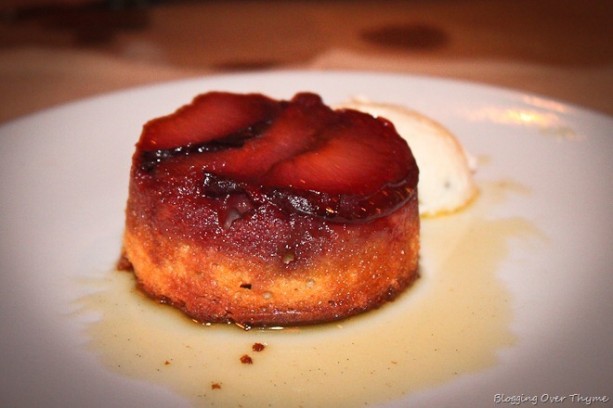 And here's a snapshot of one of the pizzas, in case you are curious.  My sister's fiance ordered one and it was delicious!   The crust and flavors were fabulous and it was topped with a runny egg at the suggestion of our waitress.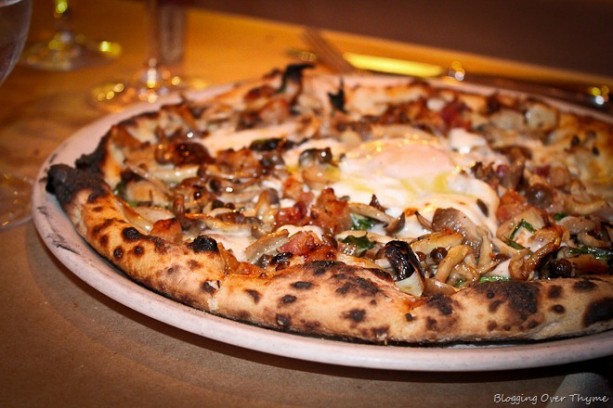 Everything was great!  My favorite dish was my starter, the Yellowtail Tuna carpaccio, which was so unique and full of fresh flavor.  The chiles added a great amount of heat and the tuna was so thin and delicate.  It tasted like butter.  Sprinkled on top was Bottarga, which is the dried, pressed roe of the mullet or tuna—sounds weird, but it was so delicious!  The texture was incredible.  So glad I had a chance to visit this restaurant!
But…I can't end this post without also mentioning another fabulous restaurant that we had a chance to visit later on in Berkeley, called Burma Superstar—which my sister has been raving about for a while.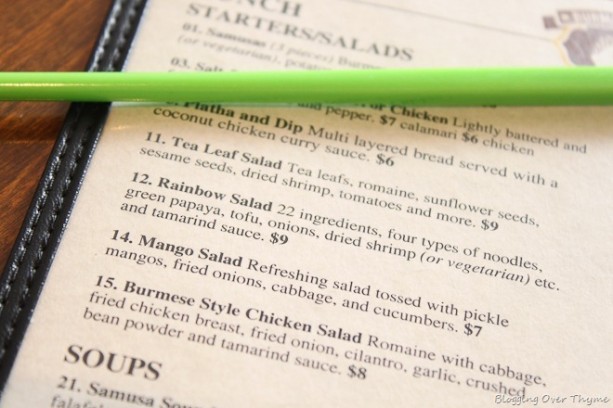 Burma Superstar is famous for a bunch of dishes, specifically their Rainbow Salad (description above and seen below).  This photo does not do this dish justice, because it was to-die-for.  I can understand why people are so obsessed with this salad—it's even been featured on the Food Network.  First of all—it has 22 ingredients, all of which add so many different flavors and textures.
They bring it to the table with each ingredient distinctly in its own little pile, explain what everything is, and then the server mixes it all together before your eyes.
Here's just a handful of what's in there:  garlic chips (crispy, sliced garlic), fried onion shoestrings, cilantro, powdered chickpeas, dried shrimp…
Rainbow Salad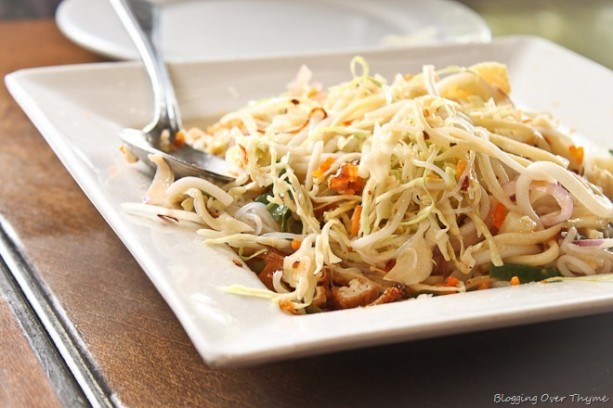 We shared the Rainbow Salad, which was definitely a favorite amongst us all.  Other dishes that stood out that day were:
Fried Yellow Bean Tofu
Slightly deceiving in name, this dish is actually homemade tofu made with fresh yellow beans.  Crispy on the outside, with a smooth inside.  Not at all like the texture of regular tofu, almost lentil-esque.  It was served with a soy – chili sauce.  The presentation was beautiful!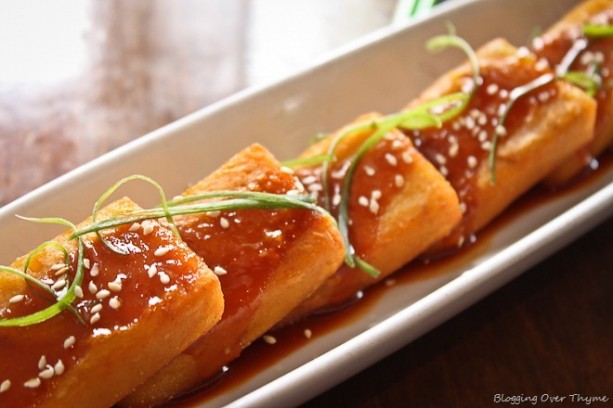 Chili Lamb 
Stir fried lamb with dried and fresh chili, onion and basil accompanied by sweet and rich coconut jasmine rice.

Burma Superstar was definitely a restaurant experience that I won't forget any time soon.  Unfortunately I don't think I can or would be able to recreate these dishes in my own kitchen, but I think that is what makes these types of meals all the more special.   Your taste buds are always challenged.
I've already had cravings for Rainbow Salad since I've been home (which have only been increased since looking back at these photos)…I guess that just means I'll just have to head back to San Francisco again sometime soon.  No complaining there!
This post contains affiliate links, which means that I make a small commission off items you purchase at no additional cost to you. Please read my
privacy policy
for more information.