Almond Olive Oil Cake with Brown Butter Glaze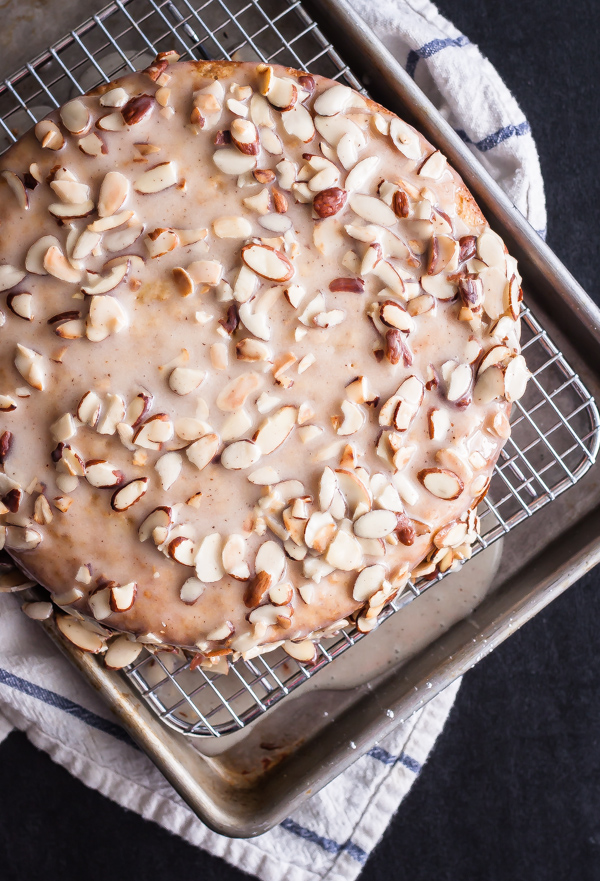 I know this is totally off topic–and has absolutely nothing to do with cake (other than the fact that they are both soft, fluffy, and absolutely necessary in life)–but I bought a mattress yesterday!
And by yesterday, I really mean today (because that is when I wrote this)–and by today, I mean less than two hours ago.
I'll shut up now.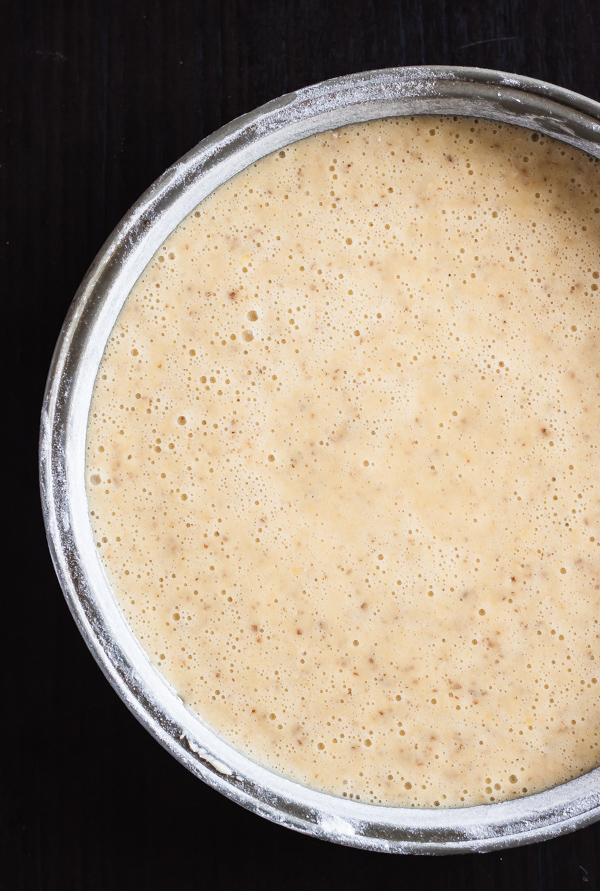 I'm not exaggerating though. Connor and I finished eating dinner last night, and spontaneously decided to drive to our local mattress place and test out new beds. Normal, right? [Said no one.]
Our current bed is roughly 100 years old–and we've been only complaining about it for a year. Possibly longer. So I think we sufficiently thought the decision through. It was my very first mattress purchase. It sort of felt like a life milestone.
But seriously. Buying a mattress is weird. You go into a massive room full of beds, walk around in circles, lie down repeatedly, and pretend to sleep on demand. Not to mention the fact that you also suddenly analyze your sleeping behavior (are you a side, back, or stomach sleeper?) like never before.
Weird, I tell you.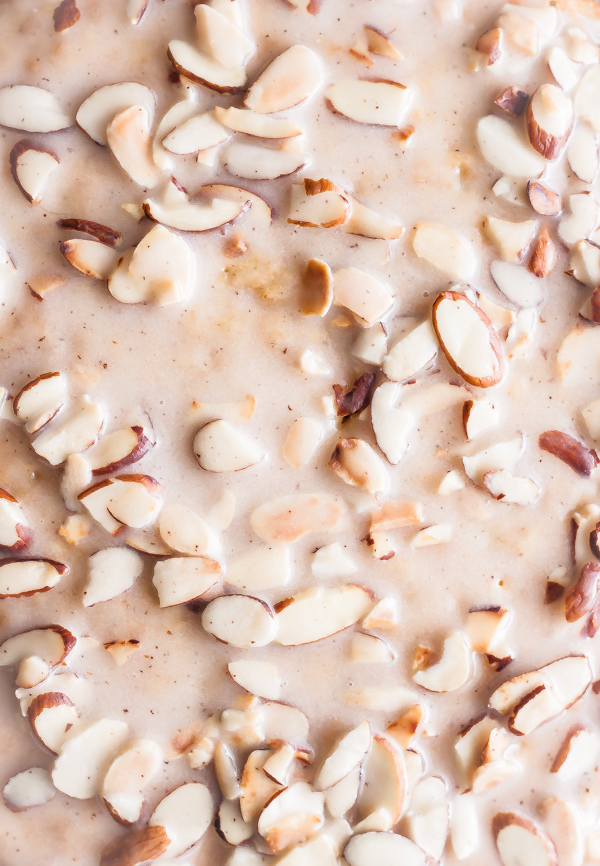 And just when you're content with your choice, you're suckered into something else. Like mattress covers and new pillows.
We were total suckers.
In my mind though, those little extras are sort of the equivalent of icing on a cake. Sure, you could just eat plain cake. But it is the whole package that seals the deal.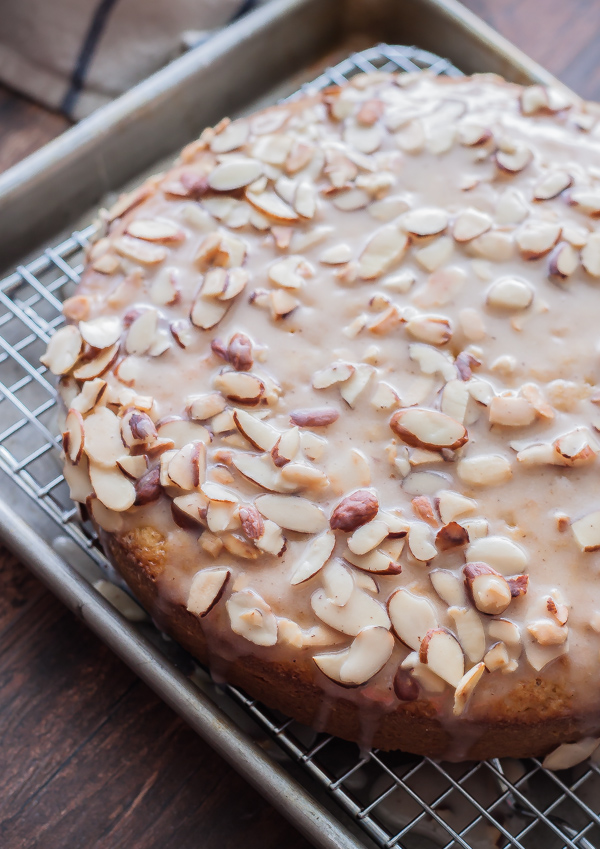 And that is exactly what this cake is about.
This dessert is just as much about the moist, flavorful almond olive oil cake as it is about the brown butter glaze, and sliced almond topping.  It is light, simple to make, and elegant for any occasion.
Heavenly. Just like my new mattress.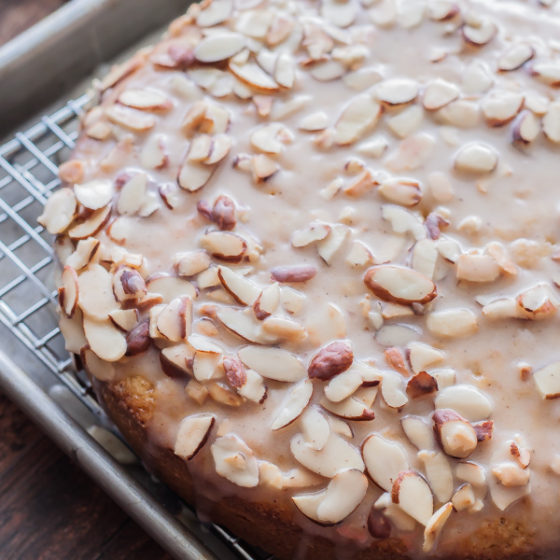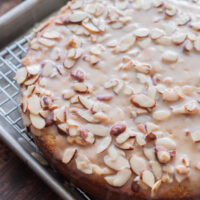 Almond Olive Oil Cake with Brown Butter Glaze
Yield: 1 (8 inch) Cake

This almond olive oil cake is just as much about the moist, flavorful almond olive oil cake as it is about the brown butter glaze, and sliced almond topping. It is light, simple to make, and elegant for any occasion.

Prep Time: 15 minutes

Cook Time: 30 minutes

Total Time: 45 minutes
Ingredients
Almond Olive Oil Cake:
1 cup all-purpose flour
1/2 cup almond meal
1.5 teaspoons baking powder
1/2 teaspoons salt
3 large eggs, room temperature
3/4 cup granulated sugar
1/2 cup extra virgin olive oil
1/4 teaspoon almond extract
1/2 teaspoon vanilla extract
1/2 cup orange juice (or substitute with milk, if you do not have any on hand)
zest of one orange
Brown Butter Glaze:
2 tablespoons unsalted butter
1 cup confectioner's sugar, sifted
3 tablespoons milk
few drops of fresh lemon juice
1/2 cup sliced blanched (or un-blanched) almonds, toasted and cooled
Instructions
Prepare Cake: Preheat the oven to 350 degrees Fahrenheit. Grease and lightly flour a 8-inch cake pan. Set aside.
In a bowl, whisk together the flour, almond meal, baking powder and salt.
In a separate bowl, whisks the eggs well. Add the sugar and whisk aggressively for 30 to 45 seconds. Slowly pour in the olive oil, whisking continuously with your other hand to combine evenly. Add the orange juice (or milk, if substituting), zest, and both extracts.
Slowly add the dry ingredients to the wet ingredients, whisking gently until just combined and batter is even.
Pour the cake batter into the greased cake pan and bake for 30 to 40 minutes, or until toothpick inserted in center comes out clean.
Allow cake to cool on rack for 10 minutes before removing from the pan. Allow the cake to cool completely on a rack.
Prepare Glaze: Heat the butter in a small saucepan or sauté pan over medium heat. Continue to cook the butter, swirling the pan continuously, until it is golden brown in color. Remove from the heat immediately (it will continue to darken off the heat). Set brown butter aside and allow to cool at room temperature.
In a separate bowl, whisk together the sifted confectioners sugar and milk. Add the cooled butter, and drops of lemon juice (to taste). Stir in the toasted, sliced almonds.
Place the cooled cake on a rack set within a lined baking sheet. Pour and spread the glaze evenly on top of the cake, allowing it to drizzle over the sides. Allow the glaze to set before serving.
Notes
Cake best served the day of baking.

Adapted slightly from Gina De Palma via Serious Eats.
Nutrition Information:
Yield: 10 Serving Size: 1 Amount Per Serving: Calories: 337 Total Fat: 18g Saturated Fat: 4g Trans Fat: 0g Unsaturated Fat: 13g Cholesterol: 62mg Sodium: 204mg Carbohydrates: 42g Fiber: 1g Sugar: 29g Protein: 5g

A Beautiful Plate provides nutritional information, but these figures should be considered estimates, as they are not calculated by a registered dietician.