Anniversary Feast
Two weekends ago, Connor and I had one of our best meals out in a long time.  I cannot possibly think of a better way to celebrate eight years (!) together than getting the opportunity to go out, drink lots of great wine and enjoy a five-course-tasting menu feast of epic proportions.  Can you?!
I know there are those that scorn or make fun of the whole "taking pictures of your food" thing (especially at restaurants), but I just cannot help it. These dishes were far too beautifully put together not to want to capture them in some way.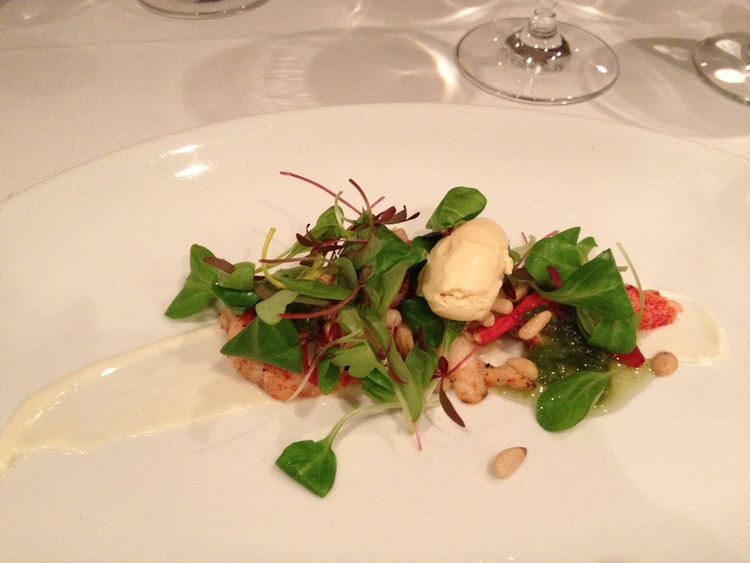 ​FIRST COURSE: GRILLED MAINE LOBSTER SALAD WITH GOAT CHEESE FONDUE, RITZ CRACKER ICE CREAM, PINE NUTS, AND GREEN PEPPER JELLY
Every dish at Vidalia that night was pretty fabulous, but I think we both agreed that our first course was our favorite of the evening.  I haven't had lobster in a long time and everything from the goat cheese fondue, microgreens, pine nuts, and green pepper jelly went so well together.  The ritz cracker ice cream was a nice salty addition and definitely lived up to its name! Might just have to recreate that…
My second course was a riff on "Chicken and Dumplings".  The veloute, a soup made from stock, cream, and roux, was poured table side   This was incredibly rich (so much cream!), but I ate all of it.  Favorite part?  The occasional bite of super crunchy chicken skin cracklings and teeny, tiny truffle dumplings.
The third course was definitely the lightest.  Lots of bitter elements from the grilled radicchio and grapefruit, which made it really interesting.
I don't know if I've ever had black grouper before, but I'm a fan now!
You can probably imagine how full I was getting at this point…little did that stop me from devouring the next two courses.  Oh well!
The last savory course, Spiced Crusted Duck Breast, was another favorite of mine!  Since trying foie gras for the first time in culinary school, I haven't been a huge fan–but the foie-gras spoonbread puree was actually one of my favorite parts of this dish.  If I were to describe it in one adjective, it would be rich.
In the last year or two, duck has quickly risen to one of my favorite things to order out at restaurants.  I love it, hmm.
And lastly, I chose (at the recommendation of the waiter) to get the following as my dessert.  I know what you're probably thinking…donuts after all that food?!  Yeah, it was a tad crazy in hindsight…
I was originally assuming that it would be more of a deconstructed dessert, with possibly two or three doughnut holes–so when this was put in front of me, my jaw almost hit the floor.  I am embarrassed to admit that I ate most of this…
Over the past two years, I've definitely developed a new found appreciation for the amount of work that goes into recreating these dishes–despite them sometimes looking effortless–which makes these types of dinners even more special.
Anyone up for some Ritz cracker ice cream?
**All photos taken with my iPhone**
This post contains affiliate links, which means that I make a small commission off items you purchase at no additional cost to you. Please read my
privacy policy
for more information.