Olive Oil Doughnuts with Dark Chocolate Glaze and Sea Salt
Baked olive oil doughnuts topped with a dark chocolate glaze and sprinkled with sea salt!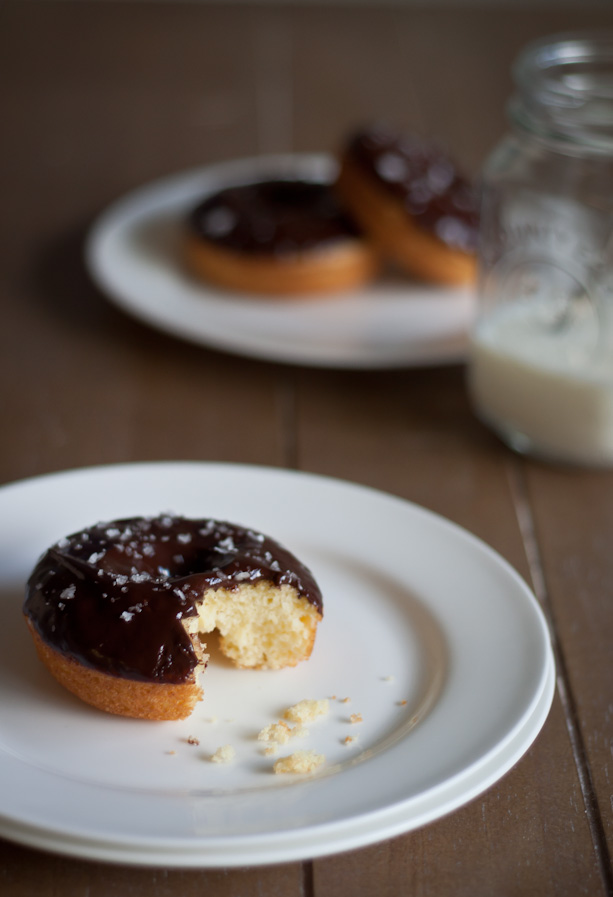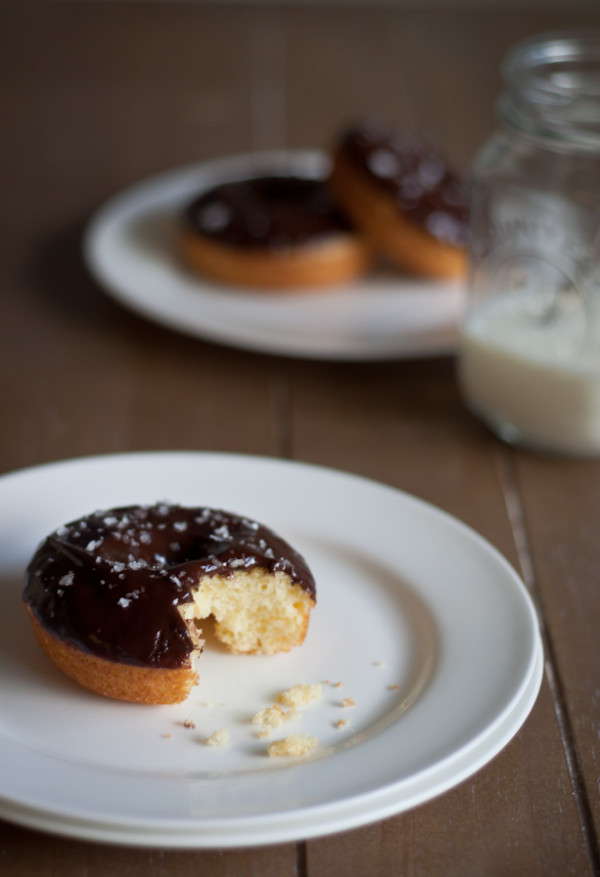 I'll admit, I rarely have a set plan for what ends up getting shared on the blog
every week.   I certainly don't have an arsenal of pre-planned posts or recipes
that I've made weeks prior.
Although sometimes that sounds kind of nice, huh?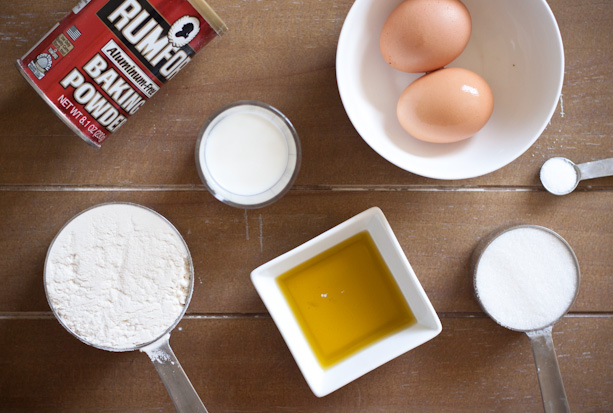 Sometimes an idea just comes to me and it is made almost right away.  And other times it is more of a thought out and organized brain-storming process.
Most of the time, I start off with a basic food group (which I am usually craving or wanting to at least try out) and things take off from there.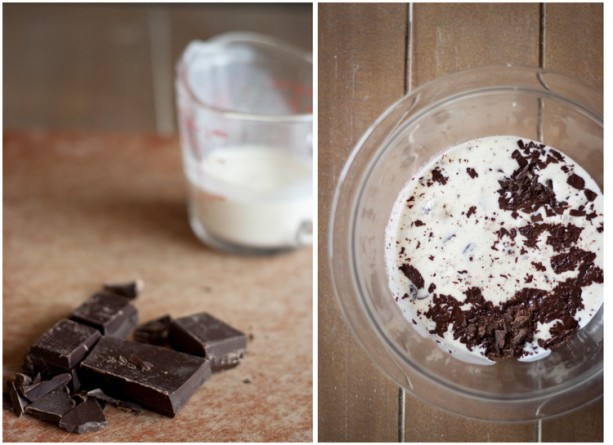 The way these donuts came about was a little bit different.  About a week ago, I was rifling
through a recent issue of Food + Wine magazine, looking for some inspiration, and saw a tiny little feature on the corner of a page that caught my attention.  It was describing a chef's simplest and favorite dessert–toast topped with melted chocolate, a drizzle of olive oil, and sea salt.
Clearly the idea stuck.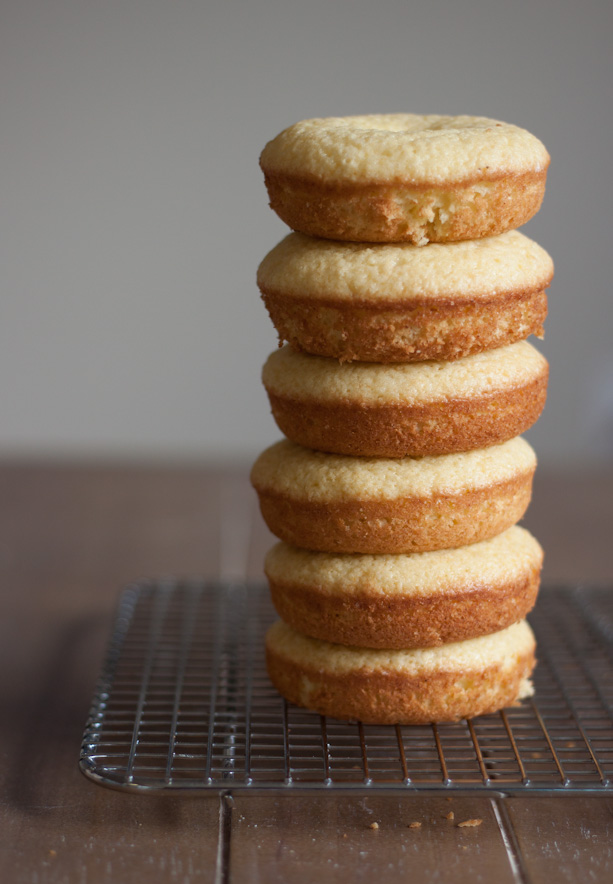 Right then and there, I decided that I needed to make a dessert that incorporated all of those ingredients.  Clearly there are a lot of directions you could go with that idea, but my mind immediately went to doughnuts.  What that says about me, I'm not exactly sure.
Being able to sprinkle crunchy, flaky sea salt on top was the icing on the proverbial cake!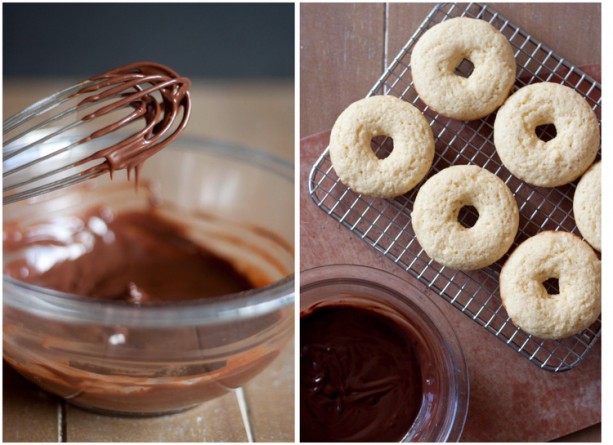 Despite other's promises, baked doughnuts really taste nothing like traditional fried ones (sorry!).  That being said, these baked doughnuts are still quite decadent.  Using pastry flour, as opposed to all-purpose, makes these doughnuts a lot more tender and I wouldn't recommend substituting one for the other.
The dark chocolate ganache is for serious dark chocolate lovers–if you prefer a more milky, sweet chocolate, you can definitely substitute that if you prefer.  And don't forget the salt!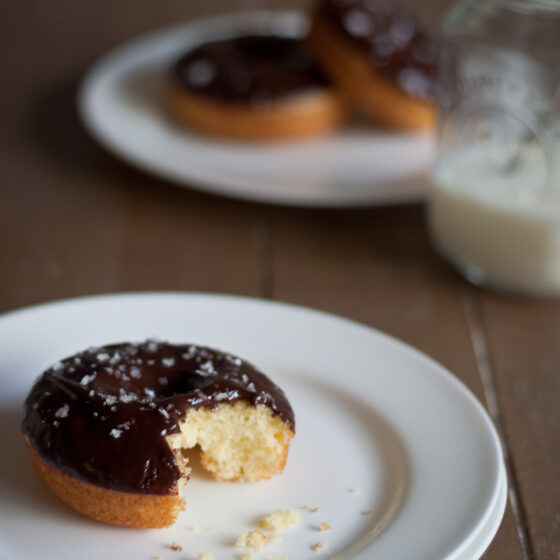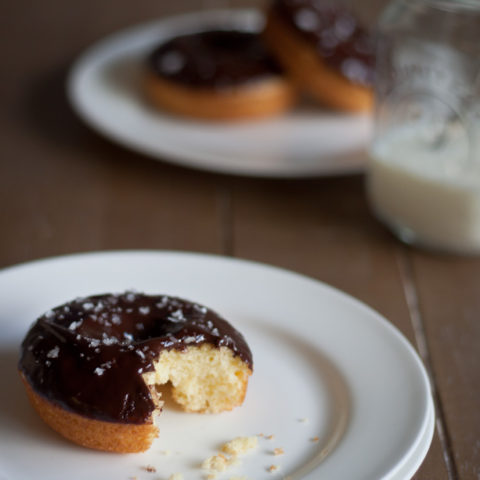 Olive Oil Doughnuts with Dark Chocolate Glaze and Sea Salt
Yield: 6 Doughnuts
Baked olive oil doughnuts topped with a dark chocolate glaze and sprinkled with sea salt!
Prep Time: 20 minutes
Cook Time: 20 minutes
Additional Time: 5 minutes
Total Time: 45 minutes
Ingredients
Olive Oil Doughnuts:
1 cup unbleached pastry flour (113 grams)
1/2 cup granulated sugar
1 teaspoon baking powder
1/4 teaspoon kosher salt
2 whole large eggs
3 tablespoons extra virgin olive oil (better quality oils will yield a more pronounced flavor)
2 tablespoons whole milk + 1/4 teaspoon fresh lemon juice (or 2 tablespoons buttermilk, if you have it on hand)
Dark Chocolate Glaze: (Makes enough to glaze 12 doughnuts)
2.5 ounces semisweet chocolate, very finely chopped (I used 72% cocoa–but choose your own preference!)
1/3 cup heavy cream
sea salt (topping) – Maldon, Fleur de Sel, or any finishing coarse/flaky
Instructions
Preheat oven to 375 Fahrenheit degrees. Grease doughnut pan with olive oil (even if your pan is non-stick)
Combine milk and lemon juice and allow to sit for 5 minutes.
Whisk together the flour, sugar, baking powder, and salt in a large bowl.
In separate bowl, combine olive oil, eggs, and milk (and lemon juice) mixture. Whisk together until uniform.
Create a well in the center of the dry ingredient mixture and add the wet, folding with a spatula until just incorporated.
Using a piping bag (this makes it much easier) or spoon, carefully distribute batter into your doughnut pan.
Bake donuts at 375 degrees for 10-12 minutes or until they lightly spring back when pressed.
Remove from pan immediately and allow to cool down completely on a rack.
Dark Chocolate Glaze:
Place finely chopped chocolate in small heat-proof bowl.
Scald cream (heat until just below boiling point)—I prefer to do this in the microwave in 10 second increments.
Pour cream over chocolate and allow to sit for a minute and a half. Using small whisk, very slowly begin to incorporate cream into chocolate—starting in center of the bowl—until mixture comes together and is very shiny and smooth.
Dip tops of doughnuts into the ganache and set aside on plate or cooling rack. Allow glaze to set for about 5-10 minutes and then sprinkle the tops generously with sea salt. Serve immediately.
Nutrition Information:
Yield: 6
Serving Size: 1
Amount Per Serving:
Calories: 489
Total Fat: 25g
Saturated Fat: 11g
Trans Fat: 0g
Unsaturated Fat: 12g
Cholesterol: 100mg
Sodium: 453mg
Carbohydrates: 59g
Fiber: 2g
Sugar: 30g
Protein: 8g
A Beautiful Plate provides nutritional information, but these figures should be considered estimates, as they are not calculated by a registered dietician.