Avocado Pineapple Smoothie
A light and healthy avocado pineapple smoothie thickened with frozen banana and topped with pomegranate arils and hemp seeds.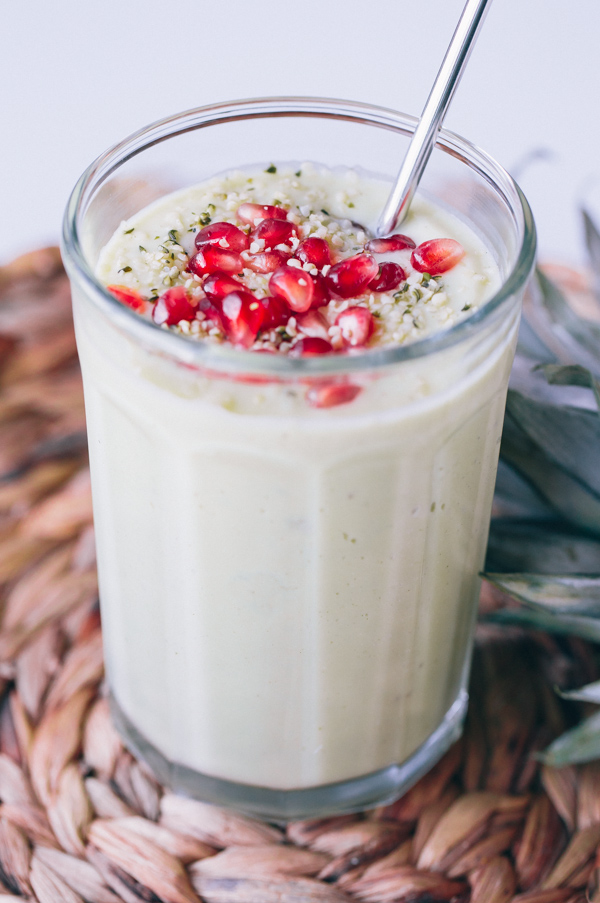 I'll keep this post short and sweet! I'm about to head to the airport to go on a 7-night photography conference and retreat (on a cruise boat…to the Carribbean). Is this real life?!
I've never been on a cruise in my entire life, and this is literally the largest boat in existence. It is basically its own planet and I'm pretty sure I'm going to get lost on it every single day. There is also an unlimited donut shop on board, so this could literally be a form of torture for me. We shall see (and don't worry, I'll definitely tell you once I get back!). Actually, let's be honest, I'm mostly terrified that I'll somehow miss getting back onto the boat at some point during the trip. That wouldn't be good.
On that note, if you would like to see little updates or pictures of what I'm up to next week, I'll be posting on Instagram! (i.e. judging from this past week's weather, you may not want too, don't kill me!). I'll also be posting regularly here on the blog as well, so I have some great new recipes coming up.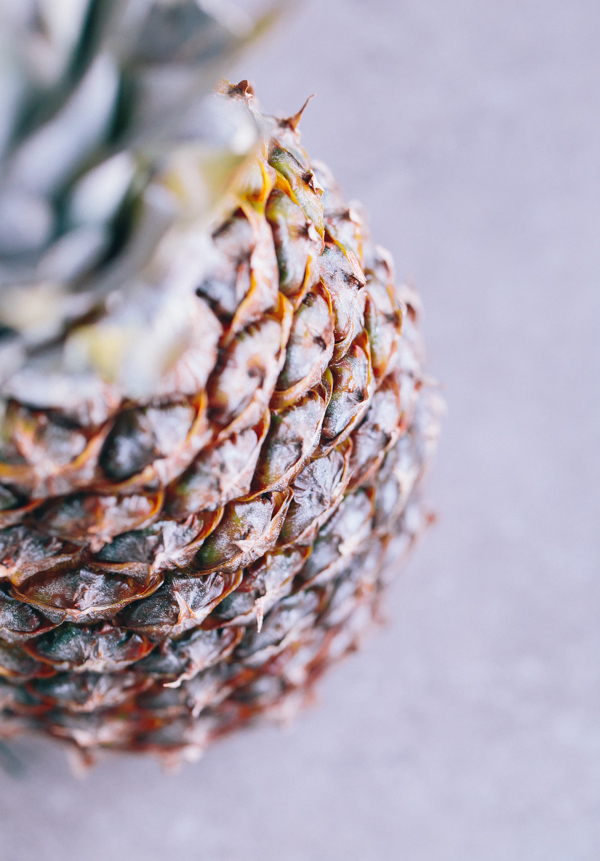 To channel my upcoming trip, I'm sharing a new tropical smoothie recipe! Tropical smoothies make surviving these winter months a bit more tolerable. This one is full of lots of healthy ingredients, such as avocado, hemp seeds, banana, coconut milk, and my favorite, pineapple!
After being reminded of this roasted pineapple dish that I shared on the blog last February, I've been dying to make something else with it.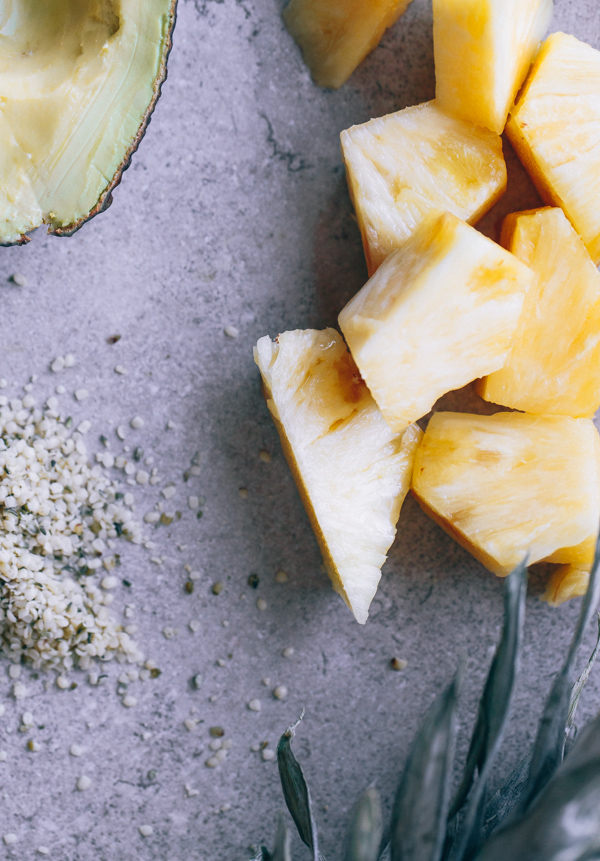 This was also my first time using avocado in a smoothie! I have no idea why it has taken me this long, but I loved it! It makes for an extra creamy, extra thick smoothie, and really helps make this drink more filling and hearty. Perfect for breakfast, as an afternoon snack, or a post-workout session.
To make it a bit more colorful, I topped the whole thing off with pomegranate seeds (my obsession continues), but feel free to leave them out! Hope everyone has a wonderful weekend!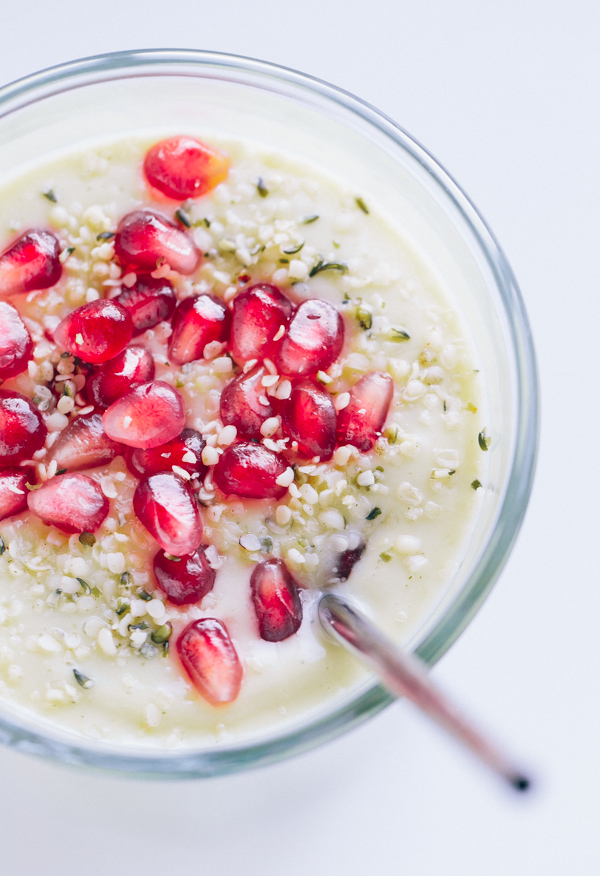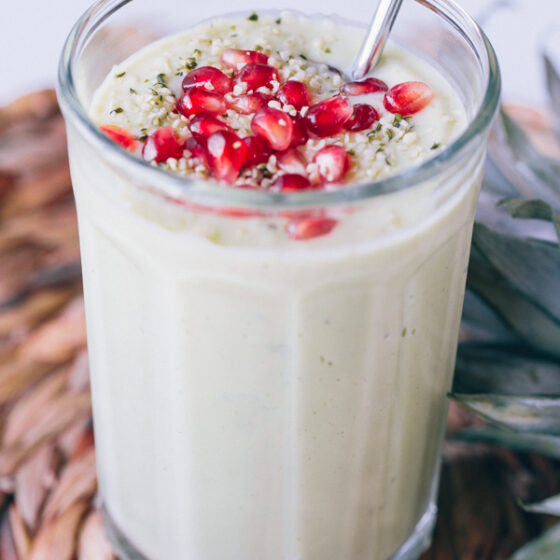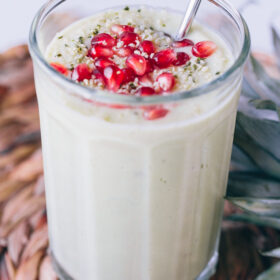 Avocado Pineapple and Banana Smoothie
A light and healthy avocado pineapple smoothie with frozen banana topped with pomegranate arils and hemp seeds.
Ingredients
5 ounces light or full-fat coconut milk or full-fat coconut milk
6 ounces fresh pineapple chunks roughly ¾ cup
½ ripe avocado
1 frozen banana broken into large chunks
½ teaspoon pure vanilla extract
1 tablespoon hulled hemp seeds plus more for garnishing
pomegranate seeds for garnishing
Instructions
Combine the coconut milk, pineapple chunks, avocado, banana, vanilla extract, and hemp seeds in a high-powered blender and puree until smooth. Pour into a large glass and sprinkle with hemp seeds and pomegranate arils. Serve.
Serving: 1serving, Calories: 479kcal, Carbohydrates: 62g, Protein: 7g, Fat: 27g, Saturated Fat: 15g, Polyunsaturated Fat: 9g, Sodium: 19mg, Fiber: 12g, Sugar: 40g
This post contains affiliate links, which means that I make a small commission off items you purchase at no additional cost to you. Please read my
privacy policy
for more information.