Ayrshire Farm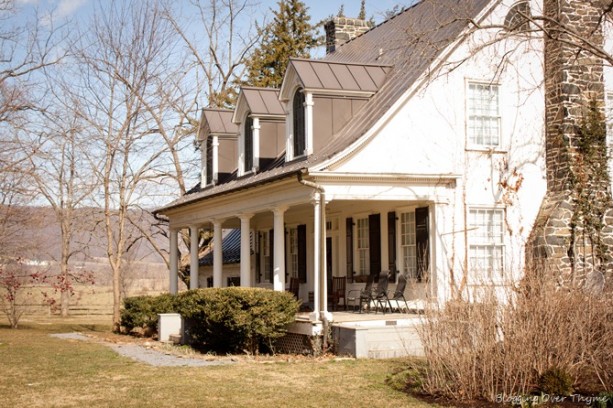 The highlight of last week was our class field trip! Thursday morning, we all drove about 50 miles west of DC to meet up in Upperville, VA to get a tour of Ayrshire Farms.
Ayrshire Farms comprises of more than 800 acres of farmland and produces organic and certified humane heritage beef, pork, poultry, and veal. It is also well-known for horse and carriage show riding. It was an amazing day! The weather was beautiful and the tour of the farm was nothing short of spectacular.
Though the owner does not live on the farm, the main house (i.e. mansion) was built in the 1900's and apparently is home to an incredible kitchen that is fully stocked with an antique wood stove and copper cookware. Unfortunately, we didn't get to go in the main house, so I'll just have to leave it up to my imagination…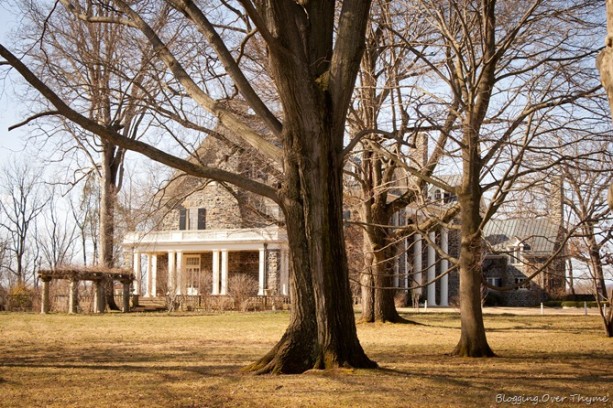 Can you believe that the building below was the stables?! It resembled a French chateau and actually had chandeliers inside it.
These horses are definitely living a good life…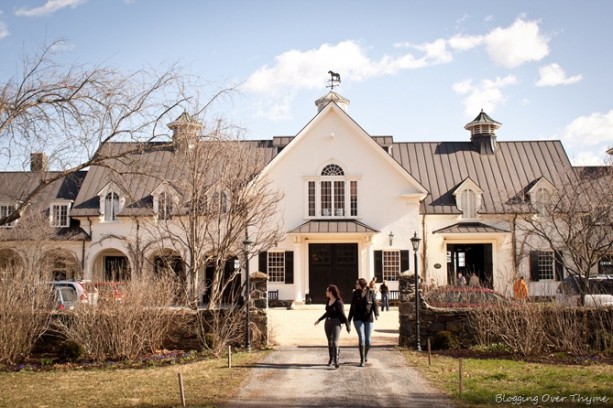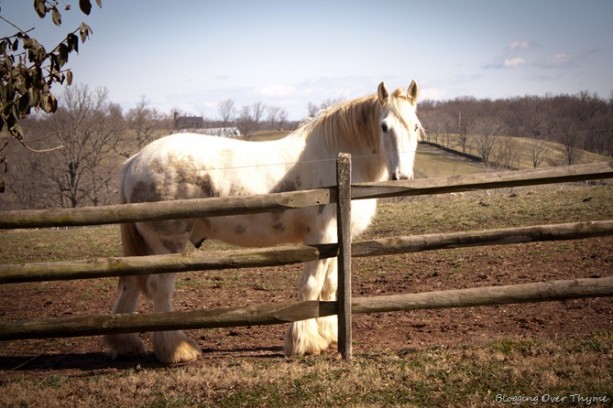 Upon meeting as a group and checking out the stables (which were filled with beautiful antique horse carriages), we headed off to start the main tour. Ayshire mostly sells their meat and products in a local organic (small) grocery store chain called "MOM's", but they also provide meat to some of the best restaurants in DC, including Harth and Restaurant Nora.
Though Ayshire used to be open to the public year-round, it is now only a couple times a year, so our trip was extra special.
Our first visit was to the pigs! Check out these guys…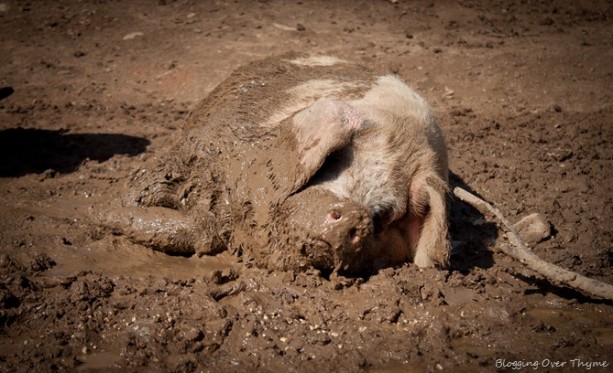 Ayrshire raises Glouchestire Old Spots pigs, which is a very rare breed of pig known for its spots, docility, and massive ears!
Though the farm has a couple boars, we only checked out the moms and babies. They were adorable, amusing, stinky, and incredibly entertaining. Apparently I am not the only one in our class who likes taking pictures, because we were all clicking away.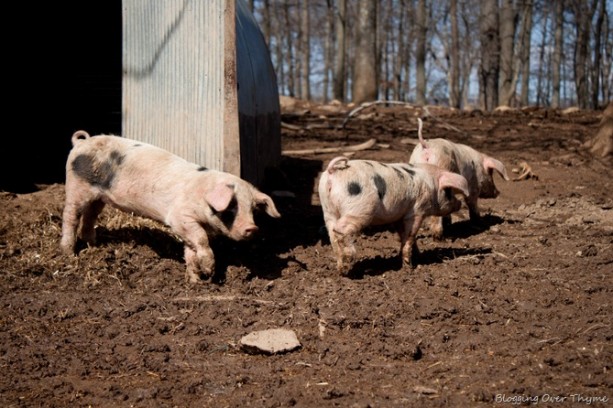 All the pigs were free to roam around the entire area, as they pleased, and only a very thin rope (which is lightly electrified) separated us from them. You can't even tell with this photo below!
They all seemed very happy and content! We were too.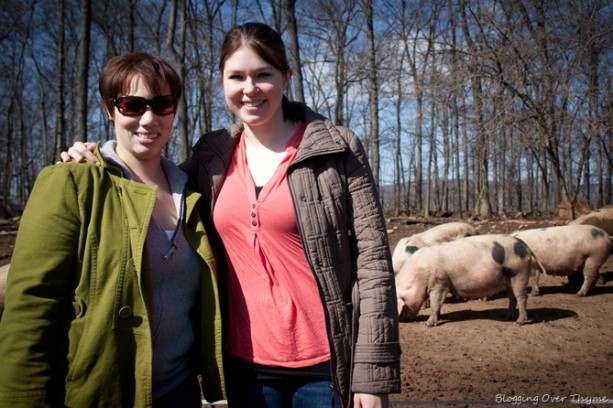 Especially when the caretaker offered to let us hold a 24-hour baby piglet! We all weren't expecting this and a lot of us rushed over with open arms. It was incredibly adorable and still had its umbilical cord attached. Pretty amazing!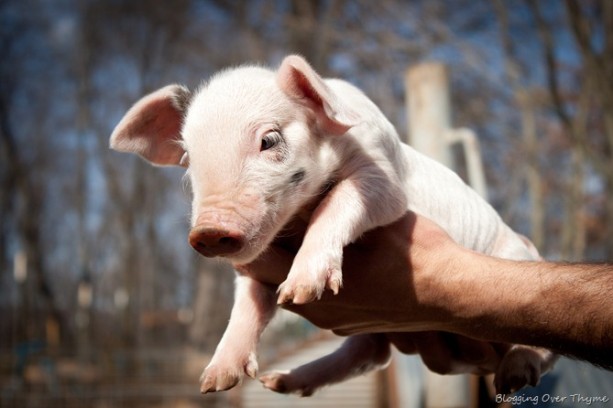 Here are Hannah (left) and Lyndsay (right) cuddling up with it!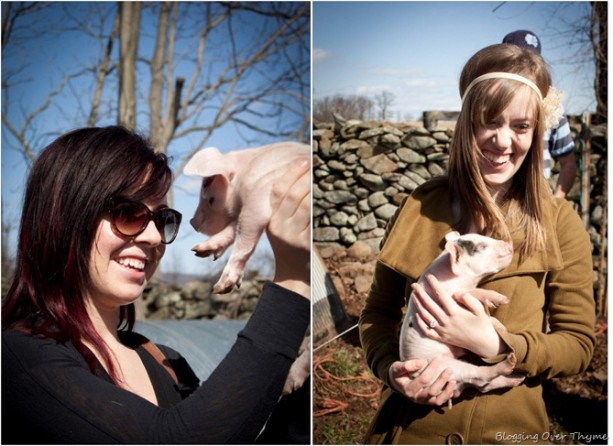 Of course, I couldn't resist, and also ended up snagging a little one-on-one time with him myself! A couple of classmates of mine nicknamed him "Proscuitto"—oh, the jokes of culinary students.
How sad!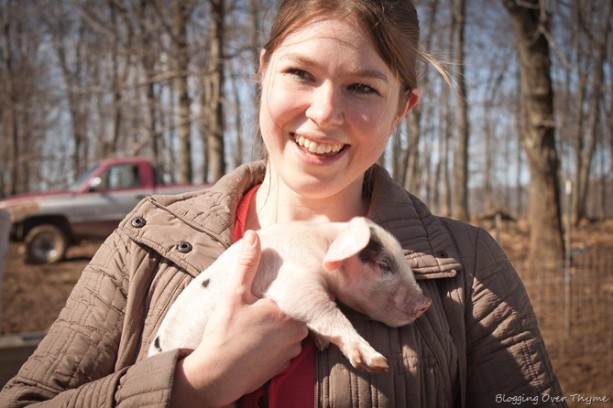 Once we finished admiring all the pigs, we headed down to the farm's compost system, which is huge and very impressive. The farm is almost completely sustainable and composts everything, including animals that have died from old age, manure, and everything used in the kitchens.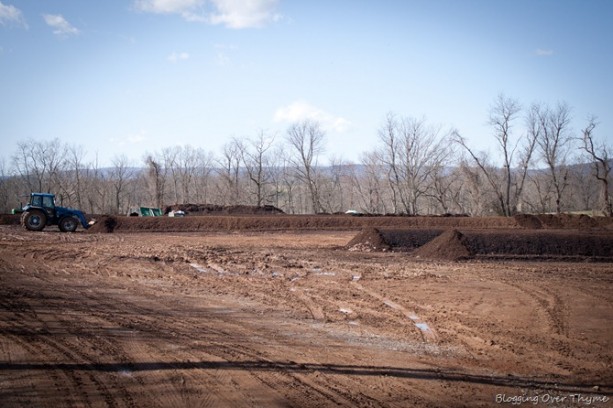 We also checked out the hens, who were incredibly curious and kept jumping on the fence to check us out! They were housed in essentially a tarp covered coop, which was incredibly spacious and even had fun ladders in the inside for them to perch and hang out on. Unlike most industrial chicken coops, the tarp brought in a ton of sunlight. It was also open, so the hens are free to hop out and walk around the grass, eat bugs, and do their thing.
Ayrshire Farm also has a store in downtown Upperville –which we visited later—that sells all their meat, as well as fresh eggs. I ended up buying a carton on the way home ($6.99/dozen—yes, expensive). Even though it's a lot of money, I felt particularly good about spending more given how wonderful the farm was and how well their animals are treated. It was the most informed food purchase I've probably ever made!
And the eggs were very delicious…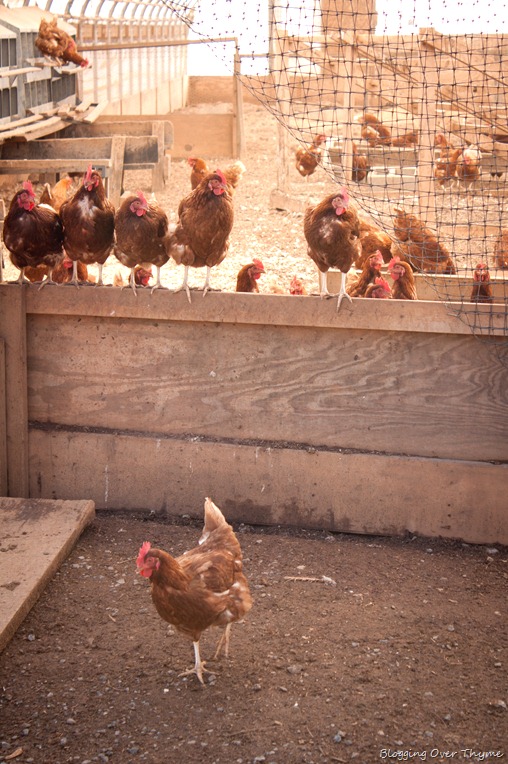 Though all the beef and pork is slaughtered at a nearby facility (organic and humanely certified) due to USDA regulations, the poultry is slaughtered on site and we had the opportunity to check out these facilities as well. It all incredibly clean and spotless. The chickens are removed from their coops roughly an hour before slaughter (to reduce stress and anxiety) and killed using an electric knife, which emits a shock and knocks the chickens unconscious, to avoid pain and suffering.
The woman giving us the tour (whose husband actually raises the chickens) was incredibly informative and clearly passionate about the animals they raise on the farm and the importance of treating them with respect throughout the duration of their lives. They really take pride in producing great products.
On a lighter note, Ayrshire also grows some vegetables, mainly micro-greens for surrounding restaurants and for sale in the local store. So we got to check out the greenhouses as well!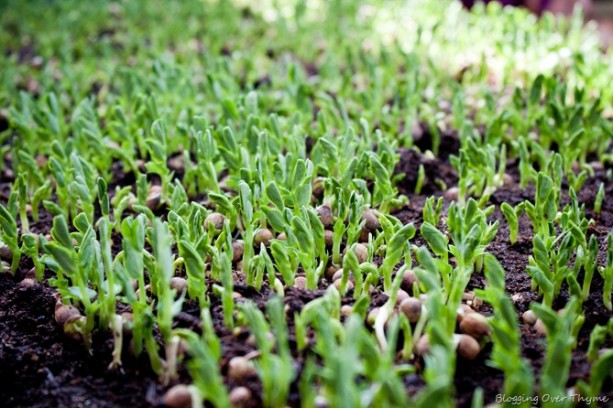 It also produces all of the food for their restaurant/pub, Hunter's Head Tavern, at the farm as well. The restaurant mainly offers Scottish and English classic dishes, such as Shepherd's Pie, Bangers & Mash, and Chicken Pot Pie—all using meat and produce from the farm. Luckily, we went there for lunch right after our tour and got a chance to taste some of the food!
Though some production does occur at the restaurant, most of it takes place in this kitchen at the farm. We got to check this out, meet the chefs, and get a few samples of some food they were cooking up.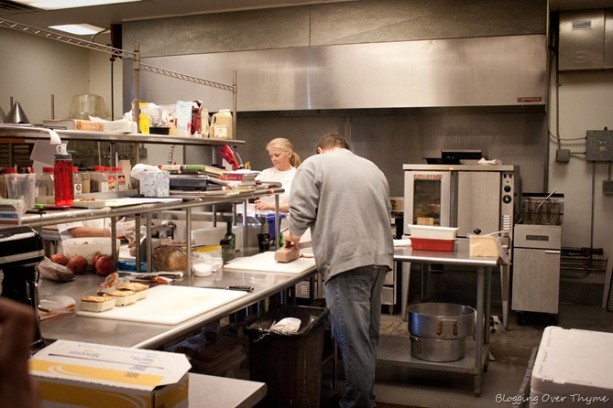 After our tour ended, we all drove into town for lunch at Hunter's Head! It was a very cute old building that reminded me so much of the pubs I've been to during my past trips to England. Very authentic, rustic, and cozy.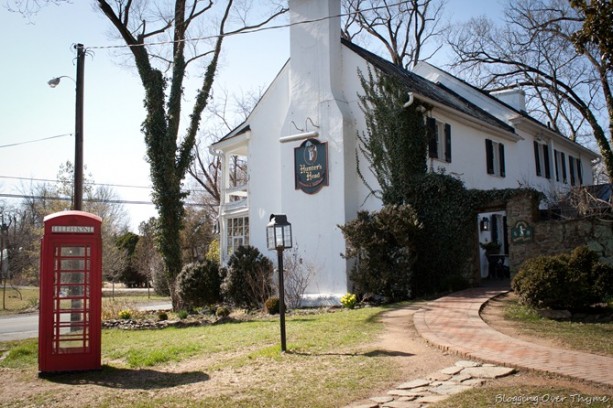 Since we were a big party, we even got a small room of our very own. As for the food, I think we got nearly everything on the menu, between all of us. Luckily, we all were able to get tastes of each other's, because it was a difficult decision to choose amongst the choices.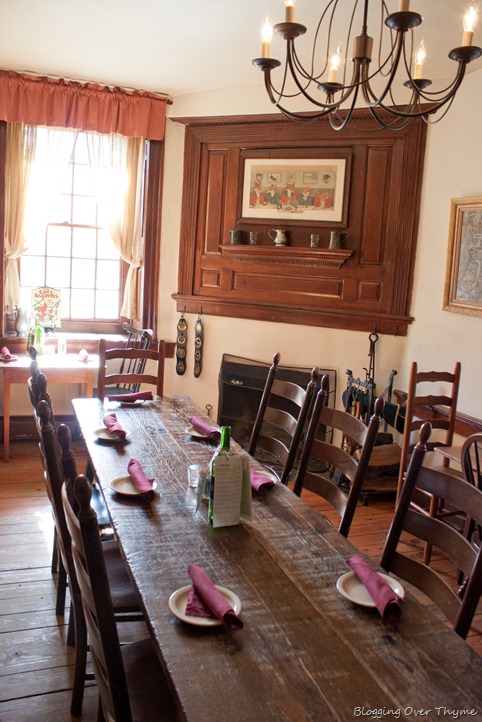 Though very uncharacteristic of me, I decided to go with a Classic Chicken Caesar. I was a little worried I would be disappointed with my decision, but I mostly wanted to get a dish that I knew would highlight the farm's chicken, which I had been told all day was wonderful! All chickens bought from Ayrshire Farm are previously brined, as well, which helps make them particularly moist and memorable.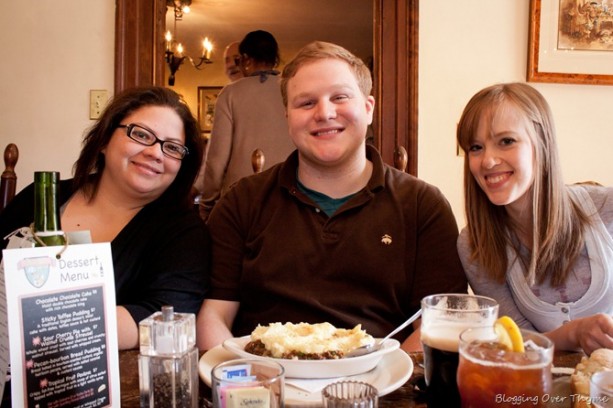 Luckily, I was very happy with my dish. But funnily enough, I loved a lot dishes of my classmates too, including things like Bangers & Mash (sausage with mashed potato & gravy).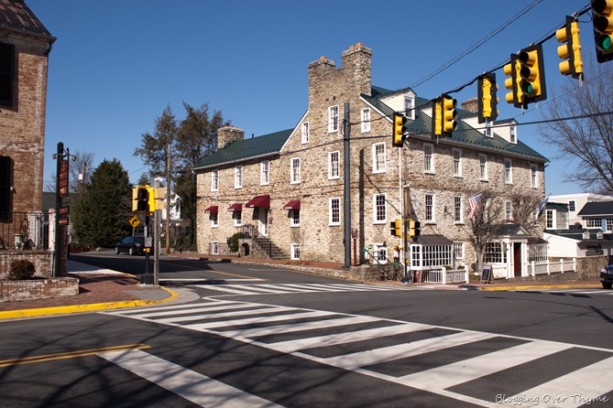 Overall, it was incredibly memorable day, especially given that our time in Phase I is coming to an end! The farm really was remarkable and a place I would like to visit again the future, but it was great getting a chance to hang out with everyone outside of class and enjoy each other's company. The beautiful 60 degree weather didn't hurt either…
This post contains affiliate links, which means that I make a small commission off items you purchase at no additional cost to you. Please read my
privacy policy
for more information.