Best Places to Eat in Columbus, Ohio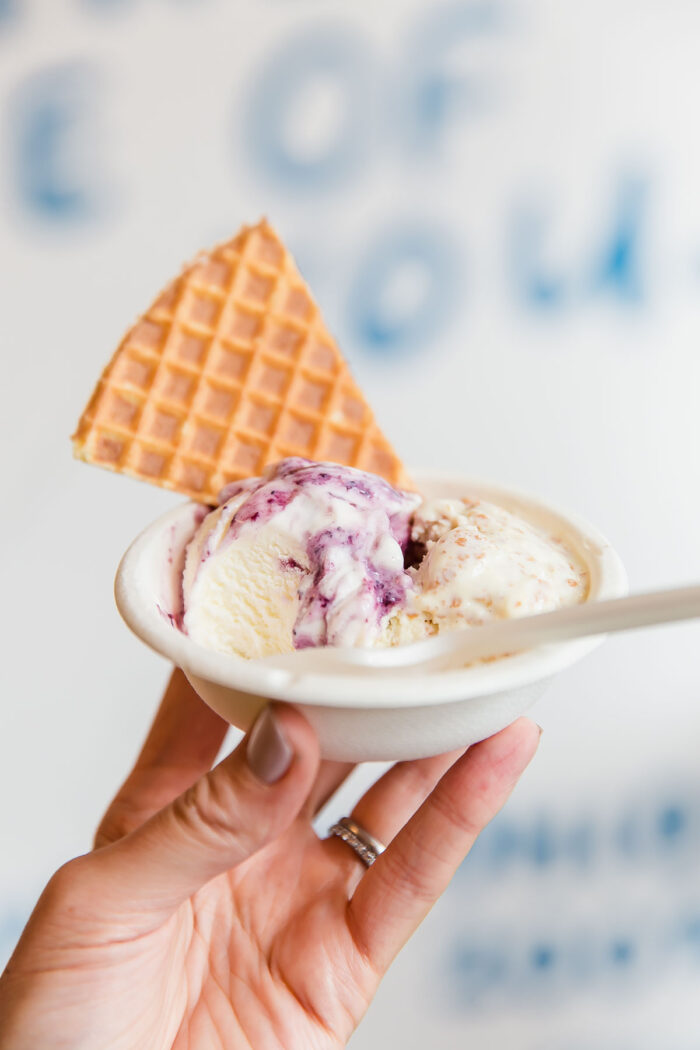 Hi! We're doing something a little different today. Think of today's travel guide as a food-filled escape from your holiday to-do list.
Back in September, I had the opportunity to travel and spend a few days in Columbus, Ohio with Experience Columbus and some of my closest (and newest!) blogging buddies. The three-day trip was affectionally called the 'Taste of Columbus', but it was basically a non-stop food marathon. I'm not even joking. We visited 17 food establishments in three days.
This was my first time visiting Columbus and I have to say, I was so incredibly impressed by the culinary scene in that city. It is full of creative entrepreneurs looking to make an impact in the food industry. The city is bursting with eclectic cafes, charming restaurants, old school bakeries, independent coffee shops, and small breweries. I'm going to share some of them with you today!
If you're looking for a fun and affordable travel spot or long-weekend trip, you should absolutely consider paying Columbus a visit.
Columbus, Ohio Travel Guide:


Where to Stay in Columbus
Whenever I'm visiting new cities, I tend to stay in small AirBnbs because they can be a bit more intimate than a standard hotel. However, for this trip, we used Hotel Leveque, a new Autograph Collections boutique hotel located in downtown Columbus, as our home base.
You guys! I can't tell you how much we loved this hotel. It's housed in the historic Leveque Tower, a beautiful art deco building built in the late 1920's, and the rooms were stunning, stylish, and incredibly comfortable. Every room had a unique layout and its own celestial themed design (my room had a star projector for the ceiling!). The bathrooms were killer too.
The hotel is also walking distance to many of Columbus's popular neighborhoods, including the historic German Village. [Random story: I saw Guy Fieri in the hotel lobby one morning!]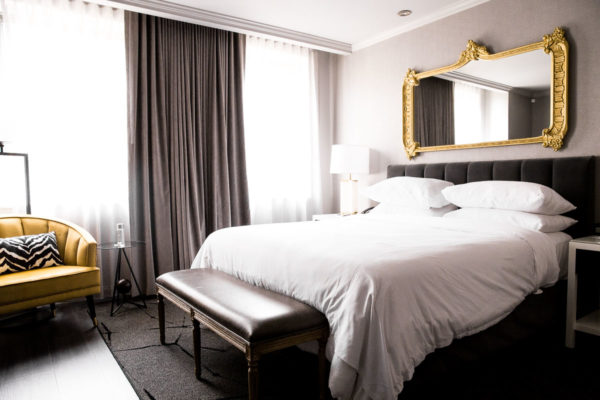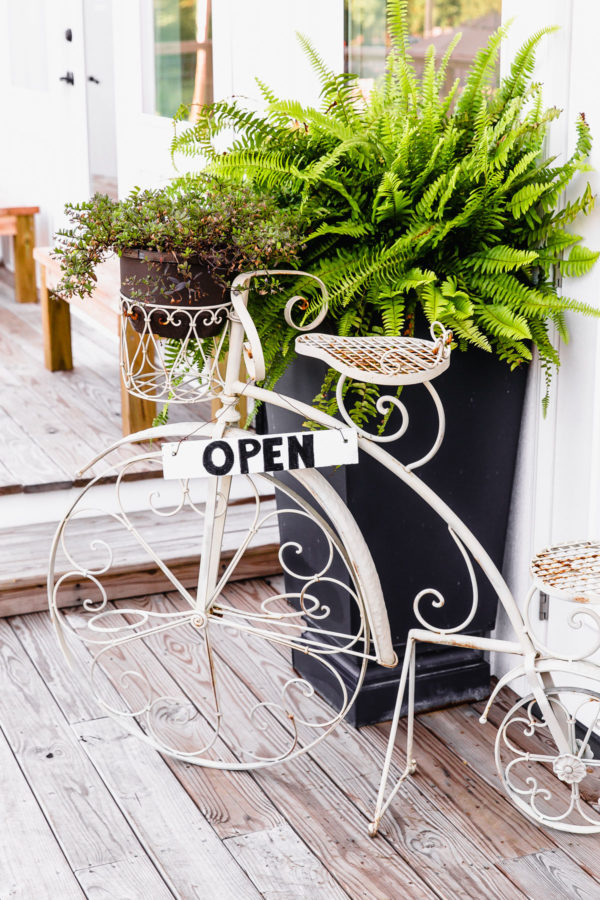 Best Places to Eat in Columbus:
Over the course of our three days in Columbus, we had a chance to visit over 17 different spots in the city. I consider myself to have a large appetite, but man, we ate a lot of food. I'm here to tell you about the best spots.
Our trip started with an evening at The Kitchen, an event space that offers communal cooking classes to groups. The idea being that you cook various dishes throughout the evening and sit down to enjoy them together as a group. It is a fun, interactive experience, and the space was beautiful.
The best part? They prep, pre-measure, and portion out the ingredients for you. You don't have to do the dishes either. ?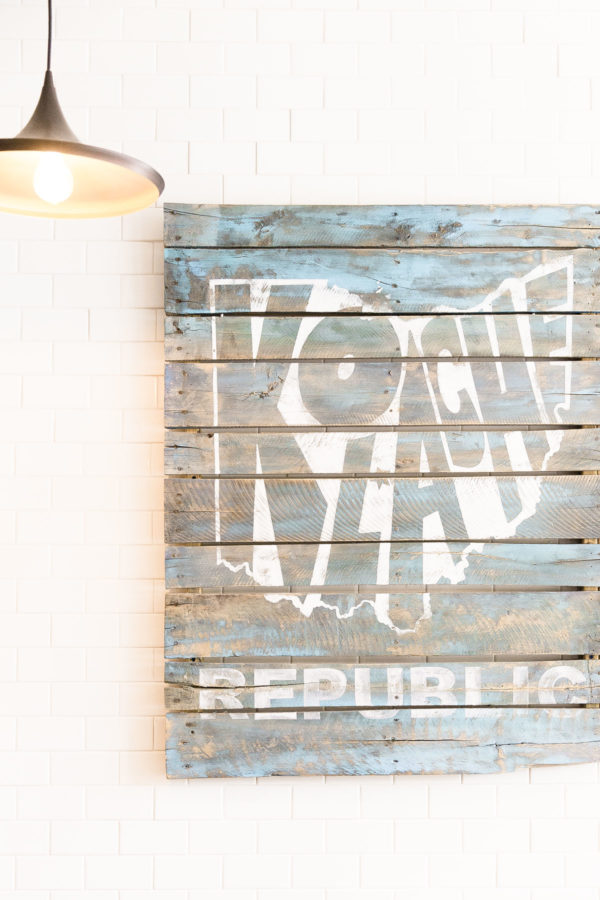 The next morning, we started the day with our first (and non-stop) marathon of eats with local food blogger Nick Dekker of Breakfast with Nick. He works with Columbus Food Adventures, which offers an incredible selection of Columbus food tours, one of which is their breakfast tour.
Over the course of a few hours, we visited five different breakfast spots in the city and got a chance to try their best and most popular items. It was a great mix of new and older spots, and they all offered very different styles of food.
Kolache Republic – our first stop on the tour, which specializes in homemade kolaches, a traditional Czech pastry filled with jam or other fillings. I wasn't very familiar with kolaches leading up to the trip, but I'm dying to try my hand at making my own now. Kolache Republic offers a mixture of sweet and savory kolaches (25 different flavors!) and we got to try bites of most of them. My favorites were the savory egg-filled ones!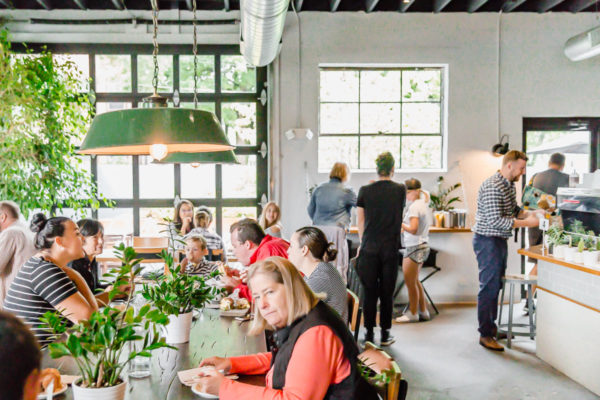 Fox in the Snow – this was my favorite spot during our breakfast tour! This incredibly trendy cafe and coffee shop, housed in a converted garage, offers a huge selection of homemade pastries (the cinnamon rolls and souffled egg and bacon breakfast sandwich were fantastic!), coffee, and breakfast items, and is beautifully designed.
They purposefully don't offer WiFi, so when you walk in you immediately see people talking to each other and enjoying themselves without the standard plethora of laptops. I could totally imagine hanging out at this cafe all the time if I was a local. A must-visit if you're in Columbus!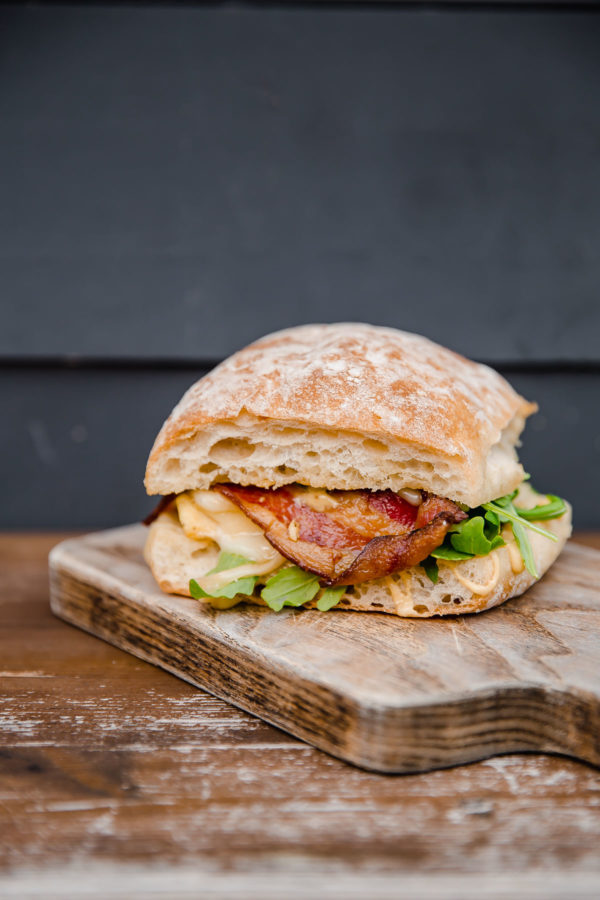 Market Italian Village – our third spot on the breakfast tour, the Market Italian Village is part-Italian deli, speciality store, and Italian/Mediterranean style restaurant. They offer a large selection of local beers and wines, food products, and a full restaurant menu. We got to try their shakshuka, which features a classic spiced tomato sauce, poached eggs, feta, crispy chickpeas, ad house-made pita. It was beautifully presented!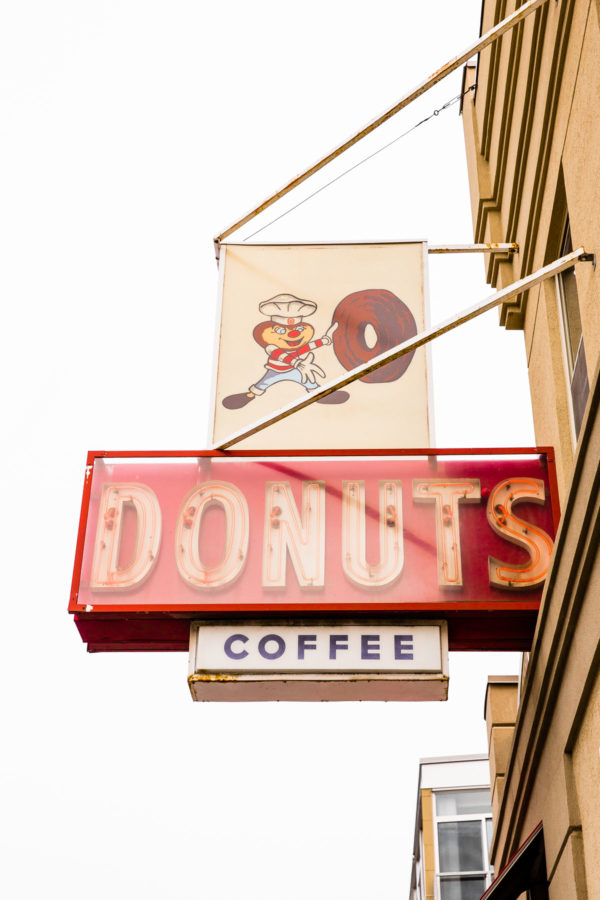 Buckeye Donuts – our fourth visit on the breakfast tour was Columbus old-school institution Buckeye Donuts. It's located within steps of Ohio State University and has been operating 24-hours a day (every single day of the year, literally!) since opening in 1969. We got to step into the back of the bakery and see the space where they bake up and glaze every donut from scratch. I managed to make room to try bites of several of them. The classic glazed, blueberry, apple fritter, and crazy-rich Buckeye might have been my favorites!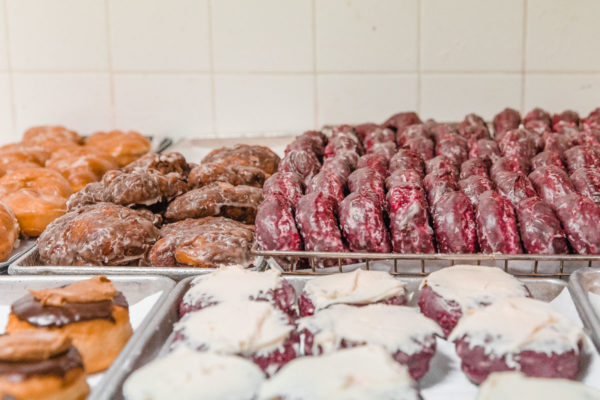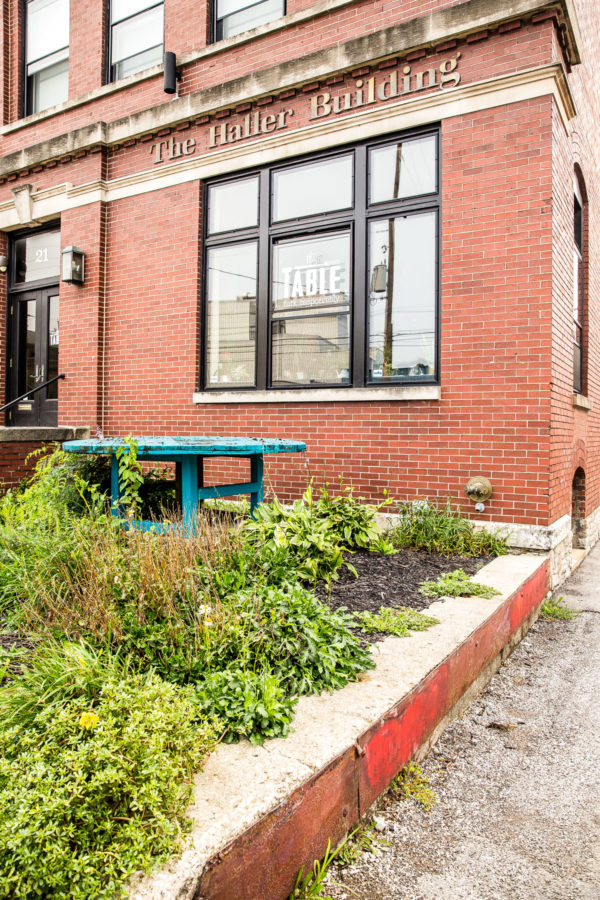 The Table – last, but not least, we visited The Table, a cafe/restaurant that focuses on farm-to-table cuisine. The cozy, light-filled space is beautifully designed with an eclectic mix of furniture, plants, and decor. At this point, I was totally stuffed from our previous stops, but the handful of items that we tried, Akoori (Indian spiced scrambled eggs) and housemade Brioche French toast (featuring sour cherries) were absolutely delicious. Again, I could have sat in the space for hours!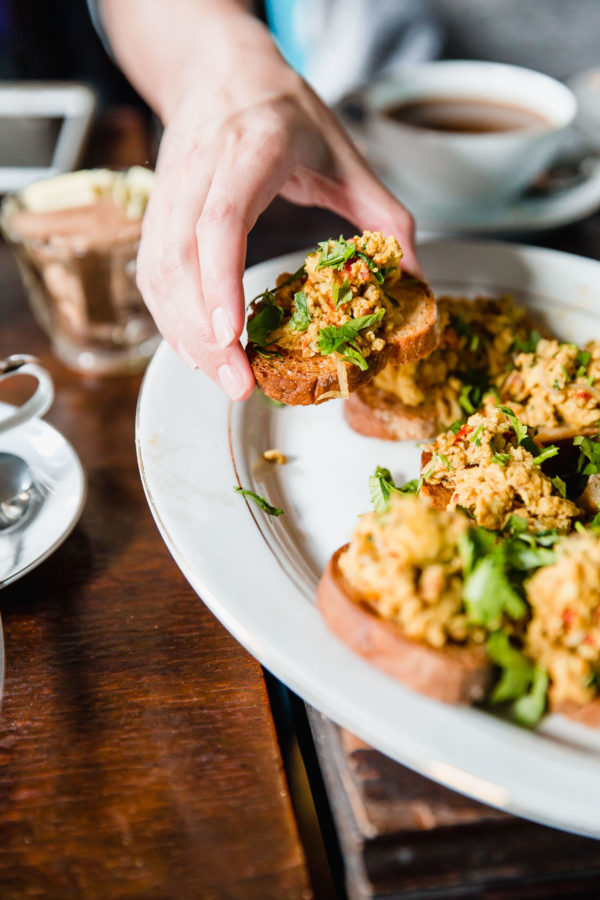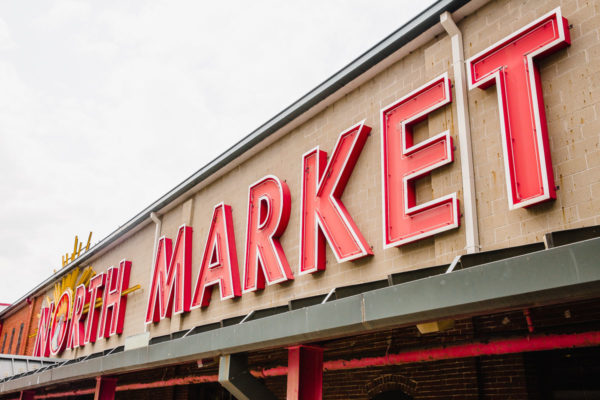 North Market
The following afternoon we visited North Market, an indoor market featuring local food stalls including a spice shop, produce stalls, bars, bakeries, and grab-and-go options. It reminded me of a small, more affordable version of the Ferry Building in San Francisco. This is a really fun spot to spend some time and try out a large selection of local eats. If you're in Columbus, don't miss the North Market!
North Market Spices – this neat spice stall offers a massive selection of bulk spices and housemade spice blends. Each spice has a sample jar for smelling! I could have stuck around in that stall for a long time. We each received a complimentary pouch of their Sazon blend, which I've already used a handful of times and absolutely loved.



Hot Chicken Takeover – inspired by classic Nashville hot fried chicken, Hot Chicken Takeover is located on the second floor of North Market. We got to try their hot and cold fried chicken (hot, all the way!), homemade slaws, and banana pudding. Pure comfort food.
Brezel – specializes in homemade Bavarian-style pretzels and pretzel products. I'm not usually a big pretzel person, but I loved that they offered all different styes of pretzels (savory and sweet!) for you to try. They were literally just baked, so they were incredibly fresh and still warm from the oven!
North Market Cheese – somehow I managed to make enough room to try a small beer and cheese tasting at this small bar in North Market. The beers and cheeses were all sourced from Ohio, and they were absolutely fantastic! Perfect stop for a light snack or cocktail with friends.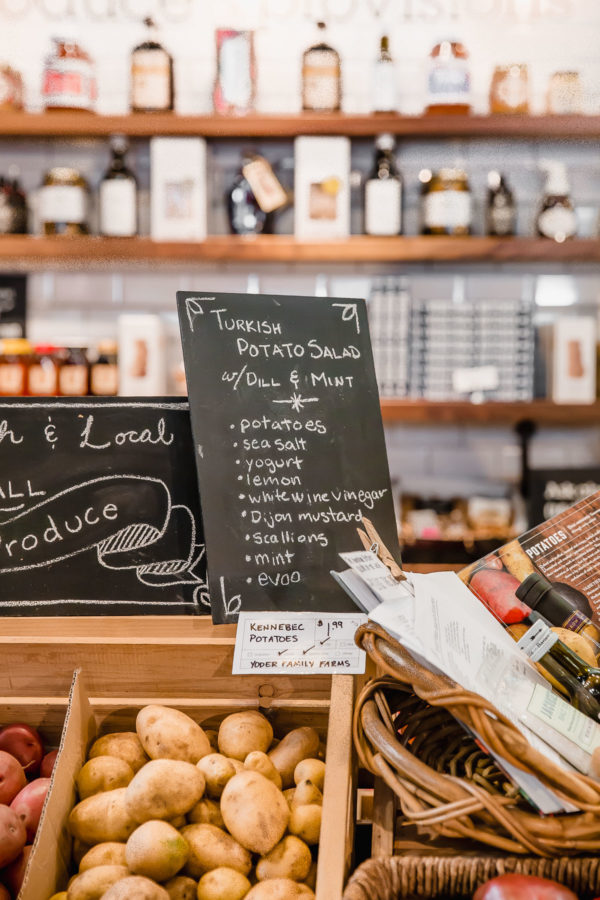 Little Eater – this adorable mini produce grocer (and restaurant, where you can grab ready-made salads and other vegetable-centric dishes!) was filled to the brim with artisan food products and seasonal produce from local Ohio farmers. The founder and owner, Cara Mangini, has a passion for celebrating vegetables and making them the star of the plate. She's the author of the new cookbook, Vegetable Butcher [affiliate link], which is a one-stop resource for learning how prep and cook vegetables – check it out! The food was fantastic, fresh, and incredibly wholesome. Another must-visit!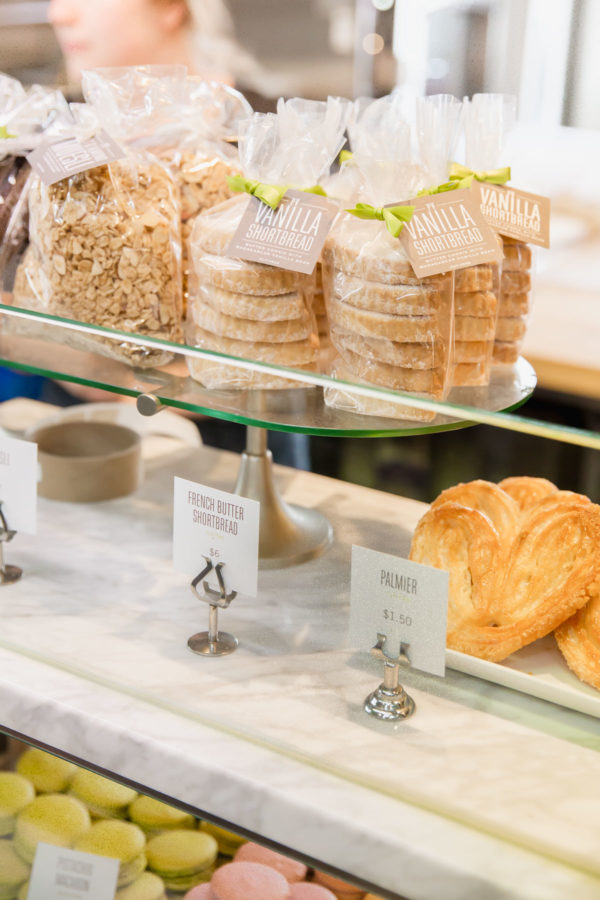 Pistachia Vera – this beautiful bakery stall reminded me of classic bakeries in Paris and Europe. They offer a large selection of French pastries (the homemade macarons, particularly the pistachio and buckeye, are best-sellers!). I wanted to try everything. They also have a more traditional sit-down cafe location in downtown Columbus too.


Jeni's Splendid Ice Creams – a trip to Columbus wouldn't be complete without a stop at Jeni's Ice Cream store, located in the trendy German Village neighborhood (Jeni's first location is located within North Market). We actually had the incredible opportunity to meet and talk with Jeni herself!
She's incredibly nice and down-to-earth and it was so inspiring to hear her talk about local producers, how she's grown from a small to large business, and her all-time favorite ice cream creations. I also got a chance to try a few new-to-me Jeni's ice cream flavors (which are not available in grocery stores!). The cream puff and lemon blueberry – a summer twist on her classic lemon buttermilk – are my favorites!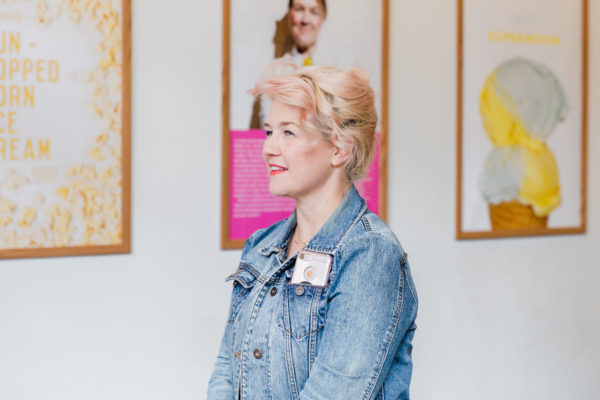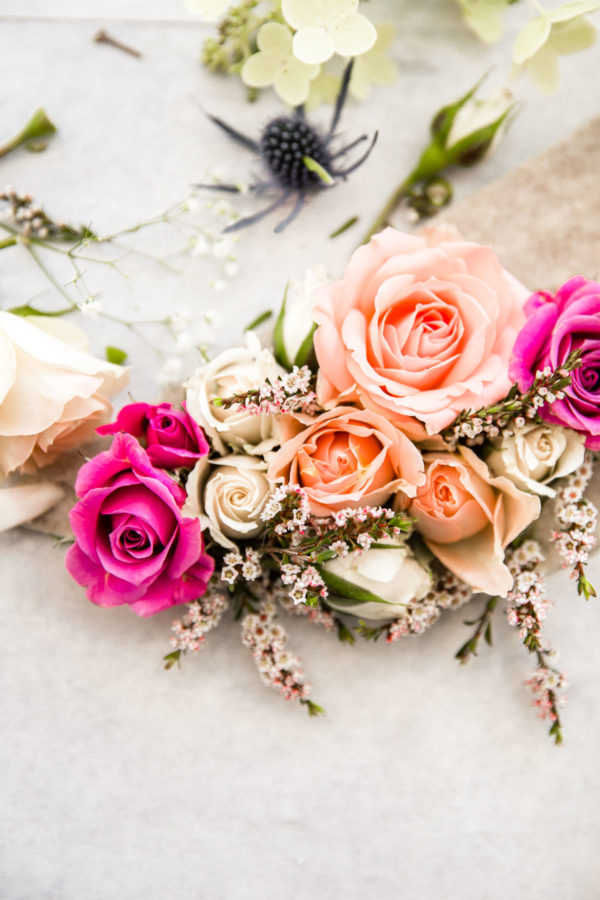 Flowers & Bread – during our second morning in Columbus, we spent the morning at Flowers & Bread, an incredibly neat space that is part bakery and coffee shop, part flower workshop space. The co-owner is a French Culinary Institute (ICE) graduate. Our visit began with a gorgeous brunch spread in their private event space (which hosts everything from baby to wedding showers, and everything in between!) and was followed with a quick bread-stenciling class, and homemade flower necklace workshop.
I've never taken a flower workshop before and this was so incredibly fun and unique! This is such a special spot in Columbus! I highly recommend paying it a visit.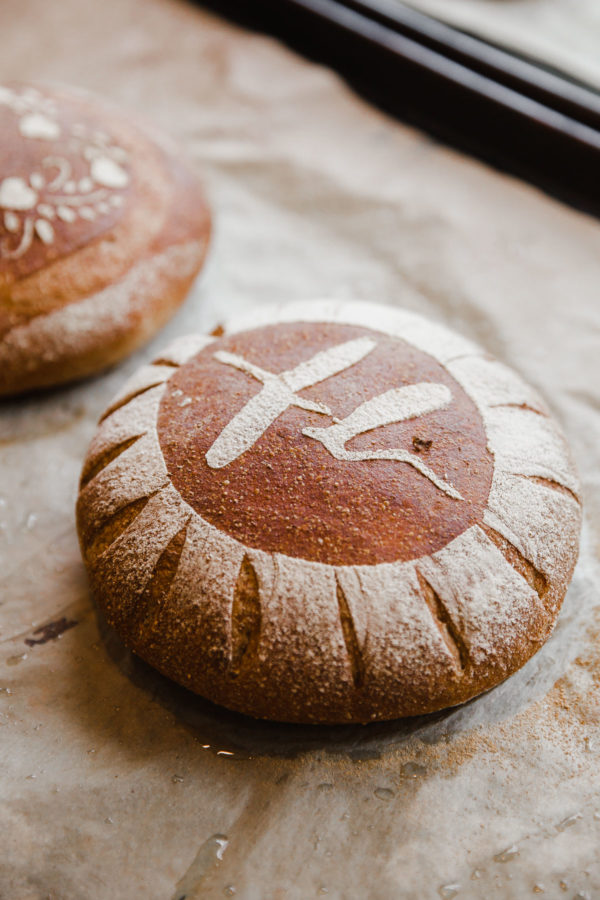 Basi-Italia – during our last night in Columbus, we had dinner at Basi-Italia, one of the most popular Italian restaurants in Columbus. The combination indoor/outdoor restaurant was so charming and intimate and the food was fantastic! Some of the best classic Italian food that I've had out in a long time. The Eggplant Parmesan (which uses cornmeal, instead of flour!) and signature Zucchini Pronto salad were my favorites, but everything was great.
Katalina's – our final spot in Columbus on our last morning! Katalina's is an incredibly cool space that offers as much in character as it does great food. It has both outdoor and indoor seating, but the indoor seating is limited – so definitely be sure to get there early to snag space! The food has a Latin and Southern twist, features local produce and artisanal foods, and they're famous for their Original Pancake Balls™ (the Nutella ones were insane!). If you're craving savory, the Shagbark breakfast black bean soup (it works, trust me) and avocado toast are delicious. I loved how unique this spot was and could definitely see myself being a regular here if I lived in Columbus.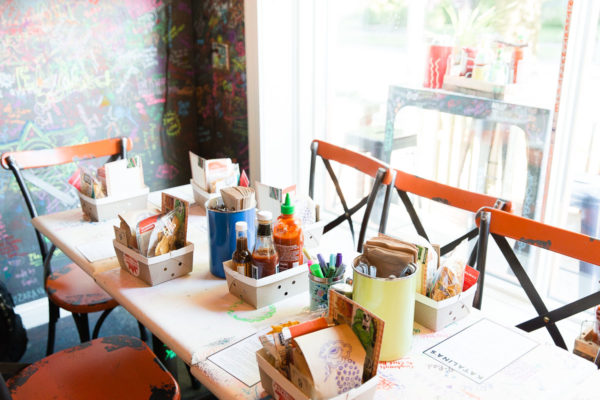 Where to Try Local Brews + Spirits:
Columbus is home to countless local breweries and distilleries that are worth paying a visit to! While we only got a try a handful of them, be sure to check out this list for additional ideas.
Rockmill Brewery – after our monster breakfast tour with Nick, we boarded a bus and headed out of the city to pay a visit to Rockmill Brewery, a brewery specializing in Belgian-style farmhouse ales. The brewery and indoor/outdoor tasting space is situated on a gorgeous former horse farm overlooking a small pond. It was so serene and peaceful, I could have spent hours there.
We got to try all of their ales (the saisons were my favorite!), see the behind-the-scenes area where they brew and bottle everything on property, and try some epic charcuterie boards featuring Ohio cheeses and housemade charcuterie.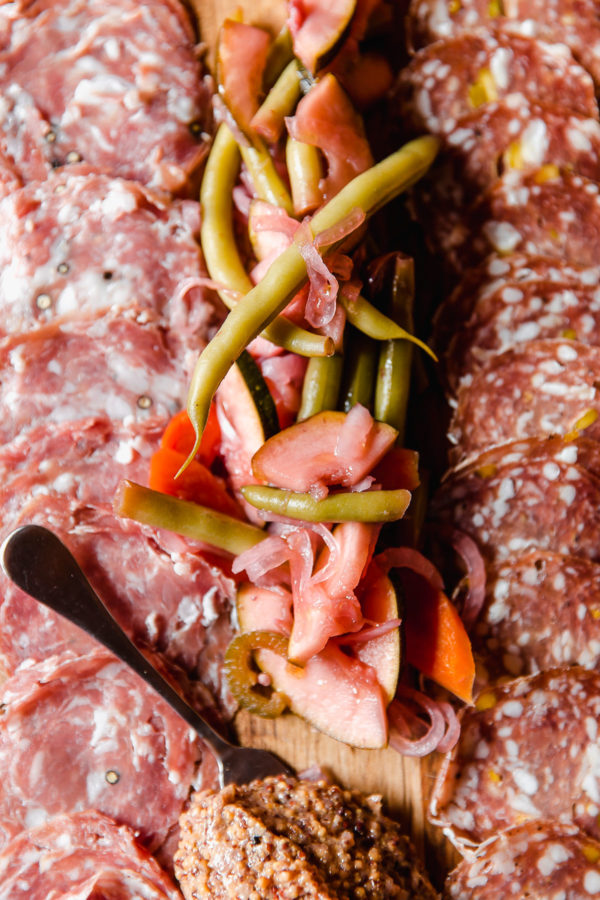 Watershed Distillery – that evening, we headed to Watermill Distillery, where we got mini sips of all their selection of distilled liquors (wowza) and dined at their in-house restaurant, which specializes in modern twists on classic comfort food (the hay smoked ribs were a favorite of mine). I'm not a big spirits gal, but the Nocino, an Italian walnut liqueur, was so different. This is a really fun spot to visit, especially if you're into local spirit tasting!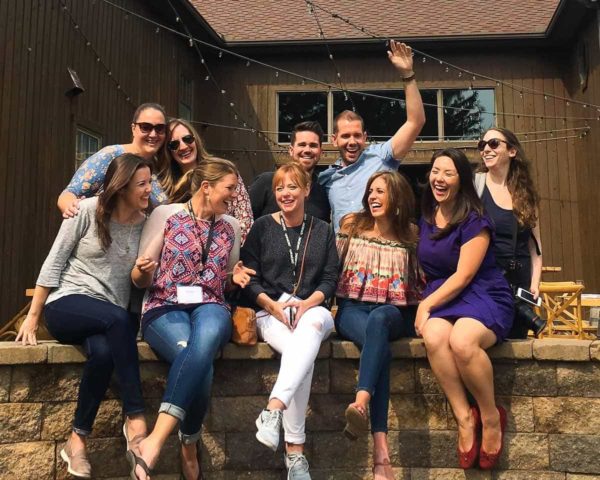 Our Blogging Crew (top row to bottom, left to right): Glory, Brenda, Phillip, Michael, Jen, Lindsay, me, Allie, Erin, and Joanne
A huge thank you to Experience Columbus for hosting us for this incredible tour of Columbus. I was so inspired by the food scene and local business owners, who are so incredibly passionate about producing great food and supporting local growers and artisans.
Again, if you're looking for a fantastic small city to explore on your next trip, be sure to add Columbus to your travel bucket list.
I received complimentary meals and accommodations in Columbus through Experience Columbus, however I did not receive any other compensation to write this post. Thanks for following me along on my travel adventures!
This post contains affiliate links, which means that I make a small commission off items you purchase at no additional cost to you. Please read my
privacy policy
for more information.