Almond Sugar Cookies with Simple Icing
Crisp and buttery almond sugar cookies made with almond meal and flavored with almond extract and fresh orange zest. This easy cut-out cookie recipe holds its shape and stores incredibly well.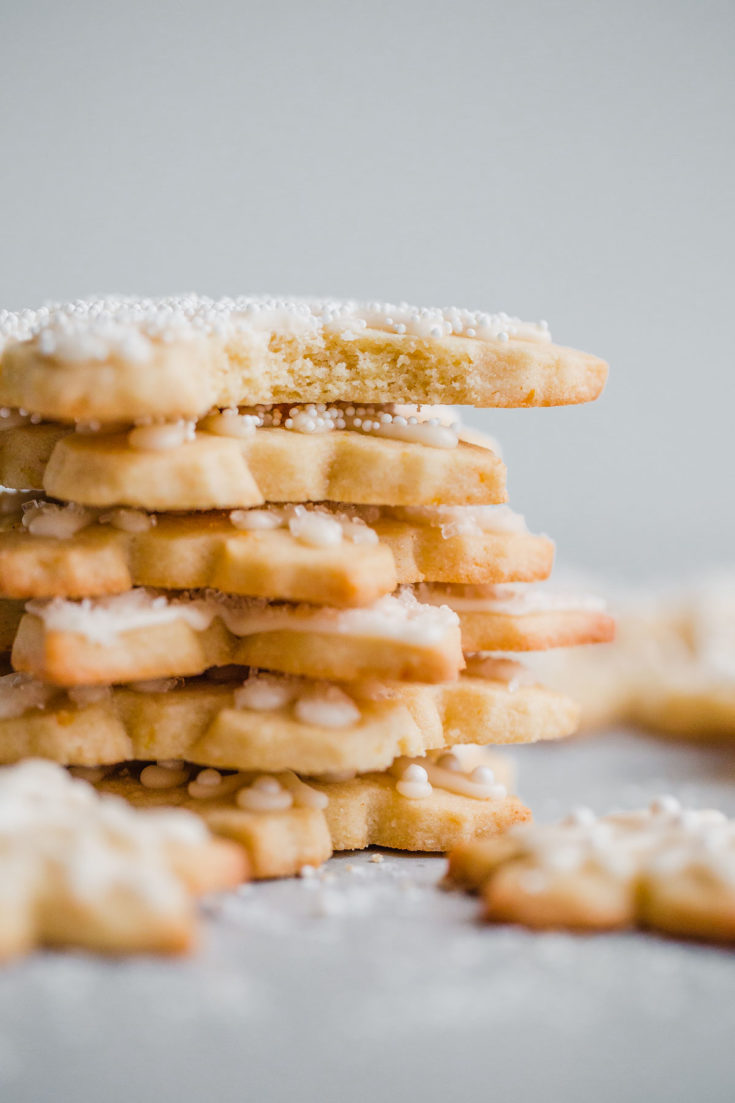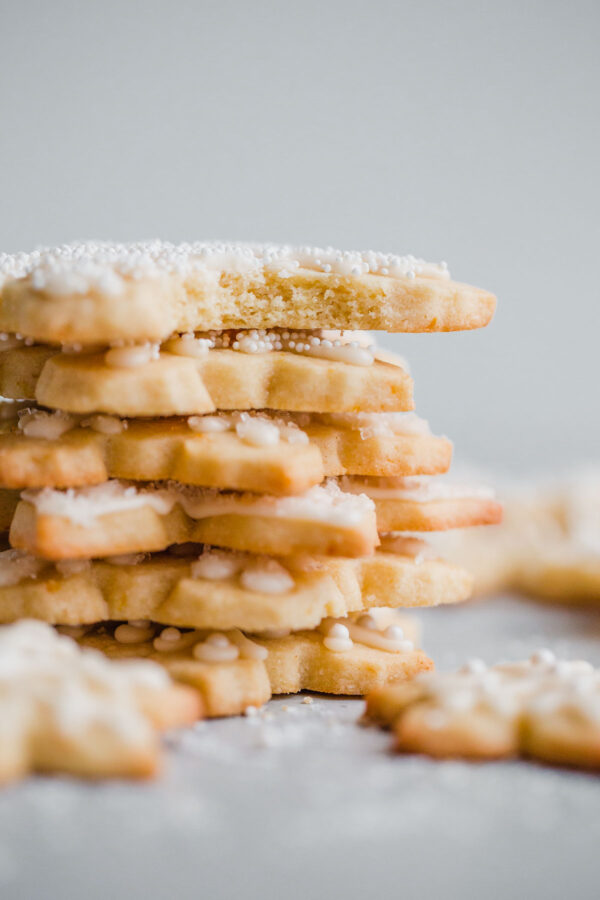 This post was created in partnership with Bob's Red Mill.
I'm so excited to share this almond sugar cookie recipe with you. It is my favorite sugar cookie recipe to date! Not only does it hold its shape (no spreading!) and allow you to produce every shape of cut-out cookie imaginable, it has fabulous flavor.
Sugar cookies can have a bad rap of being boring on the flavor scale. You know those cookies that are beautiful but kinda taste like crap? Yeah, we're not doing that. Flavor is paramount around here and these almond sugar cookies do not disappoint.
These cookies are buttery, crisp yet tender, and store extremely well, making them the perfect holiday cookie for gifting to friends, family, or, well, anyone that deserves a treat or simple act of kindness.


Classic sugar cookies and my family go way back. My sisters (ok, one of my sisters, the other didn't have the patience) and I used to make massive batches of them in the weeks leading up to Christmas. We would blast holiday music, spend hours decorating, and package them up for extended family. It is one of my favorite family traditions.
While it's no longer easy to hold marathon cookie baking sessions with my family these days, it is one of those activities that I'm excited to continue in the years ahead.
I've made countless batches of these almond sugar cookies over the last month to give out to people in my life. One of the reasons why I prefer these almond sugar cookies over other holiday cookies is that they are a blank slate. You can decorate them simply or go all out with the decorating sugar, pearls, and nonpareils. They taste great naked too.
For whatever reason, I find the process of decorating sugar cookies extremely relaxing. I'm not sure what that says about me, but it forces you to zone out for a short period of time. Edible art! I'm into it.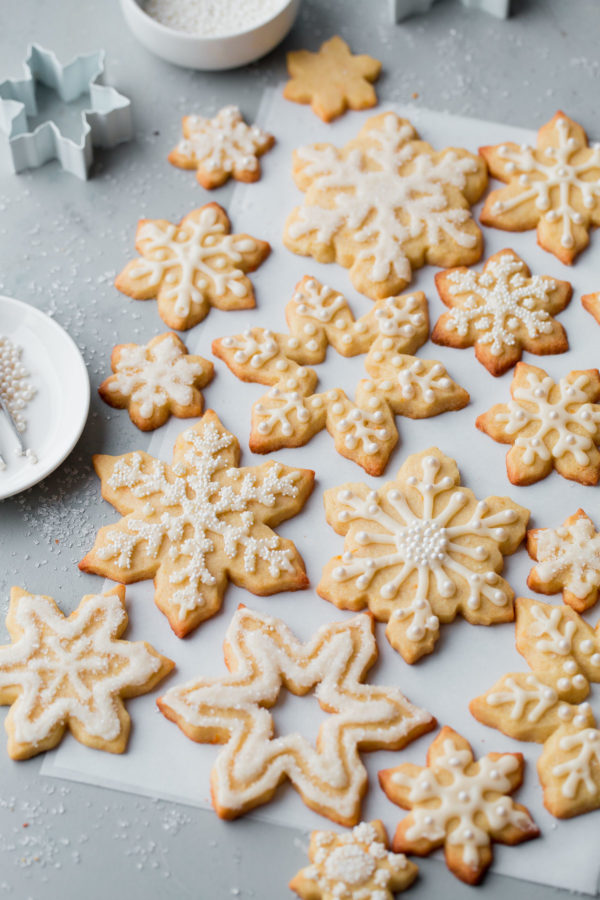 Almond Sugar Cookie: Ingredient Breakdown
These almond sugar cookies get their excellent flavor from high-quality butter, almond flour, pure almond and vanilla extract, and fresh orange zest. The orange zest is rubbed into the dry sugar and adds a touch of brightness to every bite without overwhelming them. You could absolutely use lemon zest as an alternative, but I love the flavor pairing of almond and orange together.
I love using almond flour in baked goods. It adds great flavor and touch of richness in every bite that regular all-purpose flour can't achieve on its own.
Bob's Red Mill Almond Flour is my go-to almond flour of choice, because it is made from blanched whole almonds and extremely fine in texture, allowing it to blend seamlessly into batters or doughs. It is one of my favorite baking staples and I love that it now comes in a large resealable bag.
Since warmer temperatures will accelerate the degradation of oils in almond flour, I always store my almond flour in the freezer (and allow it to come to room temperature before using) to maximize its shelf life.
To give these cookies an extra dose of almond flavor, pure almond extract is added too!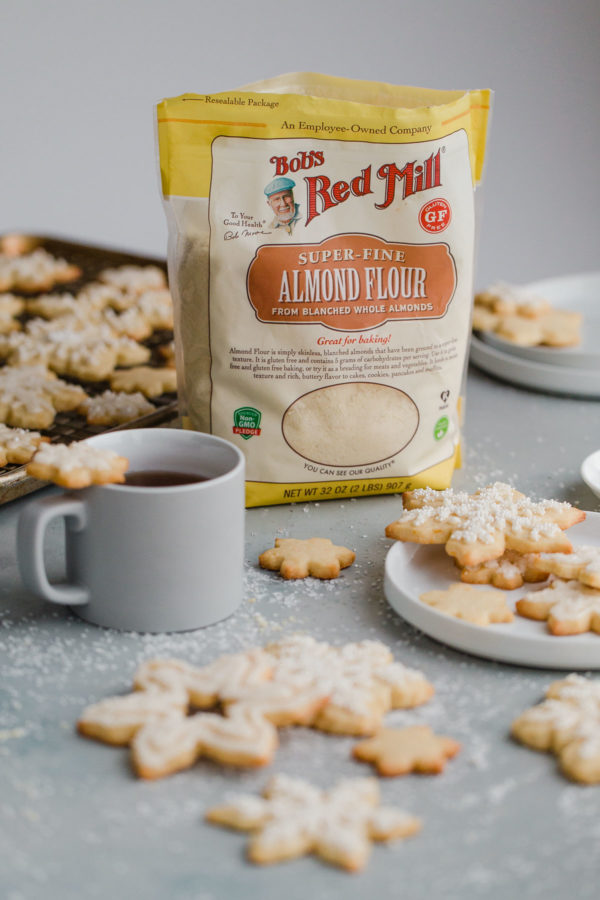 Tips for Almond Sugar Cookie Success:
Since almond flour is not a traditional flour and contains no gluten, this cookie dough also uses unbleached all-purpose flour to help create structure (more about the science behind different types of flour here!) in the final cookie.
This sugar cookie dough is naturally high in fat, both from butter and the additional natural fat in almond flour, so it is very important to chill this cookie dough before baking it. The dough will be soft and sticky at first. Once the dough is prepared, you'll divide it in half and roll it out to 1/4-inch thickness between two sheets of parchment or wax paper.
This not only allows the cookie dough sheets to chill fairly quickly (you'll need at least an hour of chilling time or longer!), but makes it easy for you to cut out your cookies, transfer them to a baking sheet, and pop them in the oven while they are still firm and chilled. Note: If your cookie shapes are at all on the softer side after they are cut, chill them once again in the fridge. The cut out cookies should be firm and chilled when they head into the oven.
This is very important. Chilling the dough makes the process of cutting cookies relatively fool-proof (especially shapes that are more intricate in detail) and allows the cookies to hold their shape and prevent spreading during baking.
Any leftover scraps of cookie dough can be pressed together and rolled out again!


The cookies are decorated with my favorite go-to cookie icing made from confectioner's sugar, cream, a touch of fresh orange juice, vanilla extract, and corn syrup. It is so simple to throw together! While I'm not using a corn syrup fan, it helps give the icing some shine.
The icing is just thick enough that it can be piped without thinning or spreading. It also sets and hardens beautifully as long as it is given a few hours (preferably overnight if you are packing or shipping these cookies!) to dry uncovered at room temperature. It also tastes a heck of a lot better than royal icing! Win-win in my book.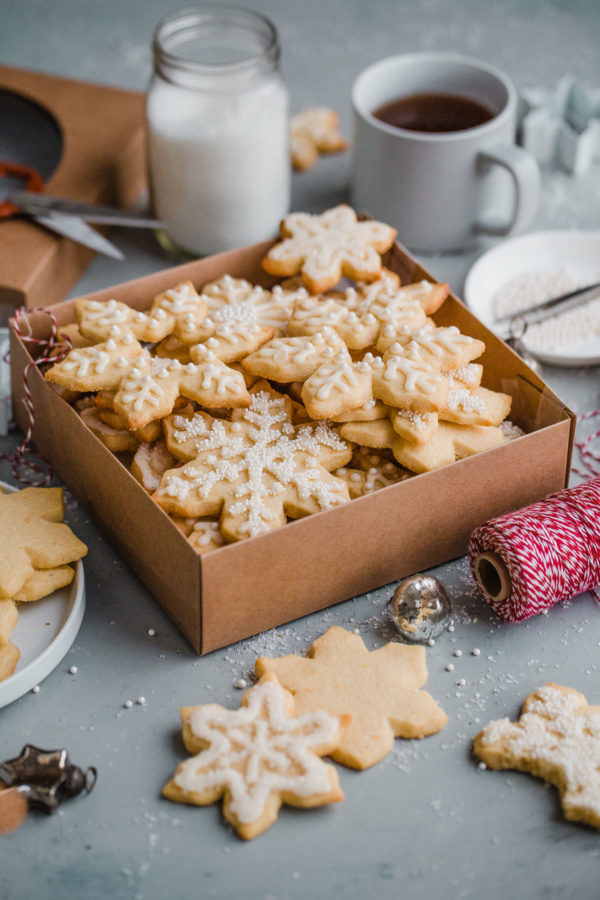 Since this recipe makes a generous quantity of cookies (3 1/2 dozen, depending on the size of your cutters!), it is perfect for boxing or bagging up.
I'll be handing these out to the staff and maintenance workers in our apartment building, and my closest friends in our neighborhood that I see at the dog park everyday. I'm also planning on delivering a box to my local fire department. Homemade baked goods make the best gifts and these cookies are a wonderful way to show your appreciation to others! Happy baking!
In case you're looking to decorate these cookies in a similar manner, here are a handful of favorite sugar cookie decorating tools: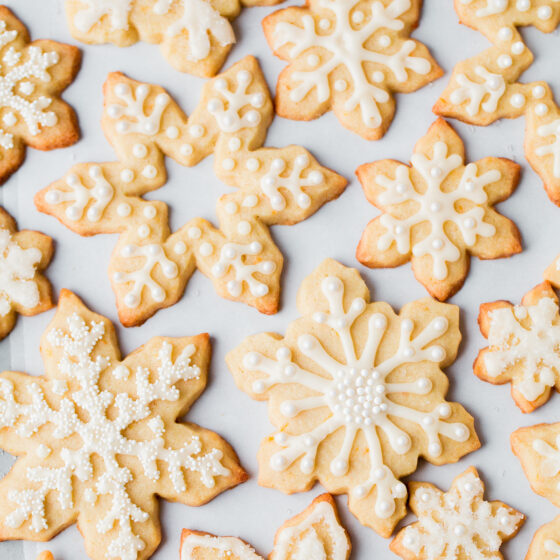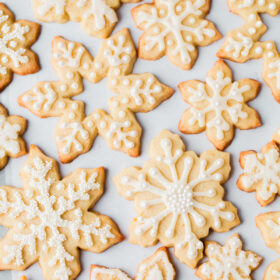 Almond Sugar Cookies
Crisp and buttery almond sugar cookies made with almond meal and flavored with almond extract and fresh orange zest. This easy cut-out cookie recipe holds its shape and stores incredibly well.
Ingredients
Almond Sugar Cookies
2½ cups (300 g) unbleached all-purpose flour
1 cup (95 g) Bob's Red Mill Almond Flour
1¾ teaspoons (10 g) baking powder
½ teaspoon (2 grams) Diamond Crystal kosher salt
1 cup (200 g) granulated sugar
zest of 1 orange
2½ sticks (10 oz; 282 g) unsalted butter softened
1 large egg
1 tablespoon pure vanilla extract
½ teaspoon pure almond extract
Simple Icing
2 cups (250 g) powdered sugar sifted to remove lumps
2 tablespoons (40 g) light corn syrup
2 tablespoons + 2 teaspoons heavy cream
2 teaspoons freshly squeezed orange juice
1 teaspoon vanilla extract
Decorations
decorating pearls
sparkling sugar
Instructions
Prepare, Roll, and Chill Cookie Dough: In a medium bowl, whisk together the unbleached all-purpose flour, almond flour, baking powder, and kosher salt until combined.

Combine the granulated sugar and orange zest in a stand mixer bowl. Using the tips of your fingers, rub the zest into the sugar until it resembles wet sand and is very fragrant.

Add the butter to the bowl. Using the paddle attachment, mix the sugar mixture and butter together at low speed for 30 seconds or until creamy. Add the egg, vanilla extract, and almond extract and mix over low speed until combined. Scrape down the sides of the bowl with a spatula to ensure all ingredients are incorporated evenly. Over low speed, slowly add the dry flour mixture. Mix until the flour is just absorbed and the dough comes together. It will be soft and fairly sticky.

Press the dough together, divide in half, and place each half between two large pieces of parchment or wax paper. Roll each piece of dough until is ¼-inch thick. Stack the rolled dough pieces on top of each other and place on baking sheet or flat surface. Transfer to the fridge and chill for a minimum of 1 hour or the dough is cold and very firm. Important Note: This dough requires chilling, so don't attempt to skip this step.

Bake Cookies: Preheat the oven to 375°F (190°C) with a rack in the center position. Line a standard baking sheet with parchment paper or silicone baking mat. Remove one half of the chilled cookie dough from the fridge, and cut into shapes using cookie cutters. Place the cut-out cookie dough on the lined baking sheet one inch apart from one another. Note: The dough sheets should be very firm during cutting - if it is at all soft or sticky, place back in the refrigerator for an additional 15 to 20 minutes. In addition, the cut out cookies should also be firm and cool when they go into the oven. 

Bake for 7 to 9 minutes, rotating the pan halfway, or until the edges of the cookies are just turning golden in color. Allow the cookies to cool on the baking sheet for at least 5 minutes, then transfer to a wire rack to cool completely. Cookies should be completely cool before decorating.

Repeat with the remaining half of rolled dough. Any leftover dough scraps can be pressed together, re-rolled, and used. I recommend rolling the scraps between new, clean pieces of parchment paper to ensure zero sticking.

Prepare the Icing: Combine ingredients in a small bowl until completely smooth and slightly glossy. The icing should be thick.

Transfer frosting to a piping bag fitted with a Wilton #3 tip. Pipe and decorate the cookies, garnishing with decorating pearls or sparkling sugar as desired. To make for easy clean-up, I like to decorate the cookies on a cooling rack set within a baking sheet. This allows me to easily collect and use any excess decorative pearls or sprinkles.

Allow the icing to set, uncovered, for several hours (or overnight) or until firm to touch before storing the cookies in an airtight container.
Cookies can be stored in an airtight container for up to a week or longer, but are best the first few days after baking.
Serving: 1serving, Calories: 97kcal, Carbohydrates: 16g, Protein: 1g, Fat: 3g, Saturated Fat: 1g, Polyunsaturated Fat: 2g, Cholesterol: 8mg, Sodium: 59mg, Fiber: 1g, Sugar: 12g
This post is sponsored by Bob's Red Mill. Thank you for supporting brands I love and use in my kitchen. Check out more delicious healthy recipes, snag coupons, and find stores near you at BobsRedMill.com!
This post contains affiliate links, which means that I make a small commission off items you purchase at no additional cost to you. Please read my
privacy policy
for more information.