Blackberry Ginger Lattice Pie
Blackberry Ginger Lattice Pie prepared with freshly picked blackberries and infused with spicy candied ginger pieces.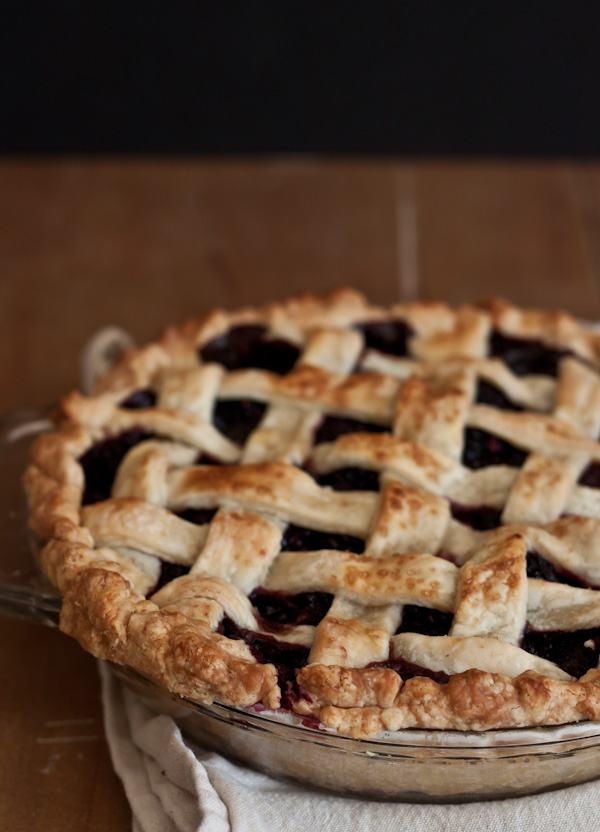 After going berry picking last weekend, I've been eating my weight in fresh blackberries. I knew a homemade blackberry pie was in order.
To give this pie an edge, we're preparing a lattice pie crust! While it sounds a bit intimidating, the process is much simpler than it appears.
It also gives you the chance to show off the beautiful blackberry filling.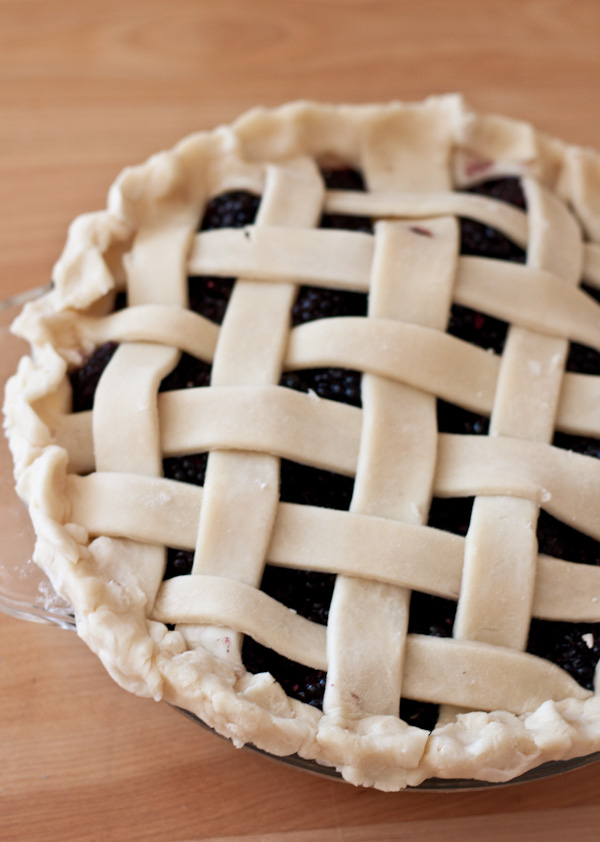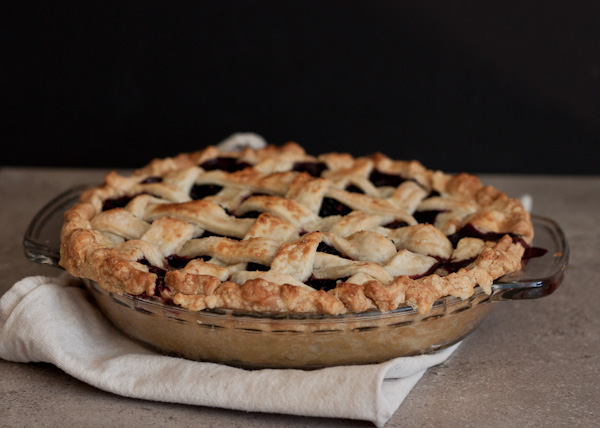 This pie is loaded with blackberries, roughly 2 lbs to be exact. To give this pie a bit of a twist, the filling also contains finely diced candied ginger. Blackberry and ginger pair wonderfully together.
The ginger doesn't overpower the dessert, but adds a little element of surprise to each bite and takes this homemade pie to the next level.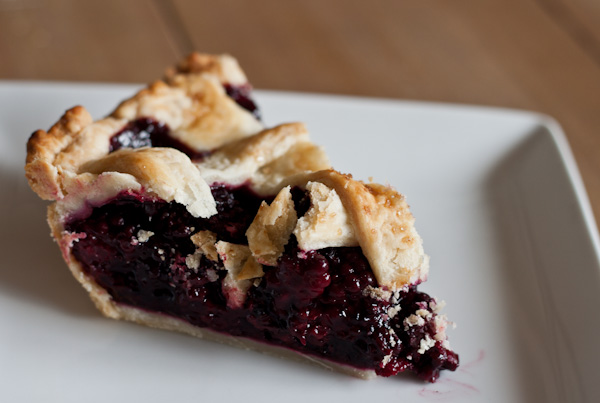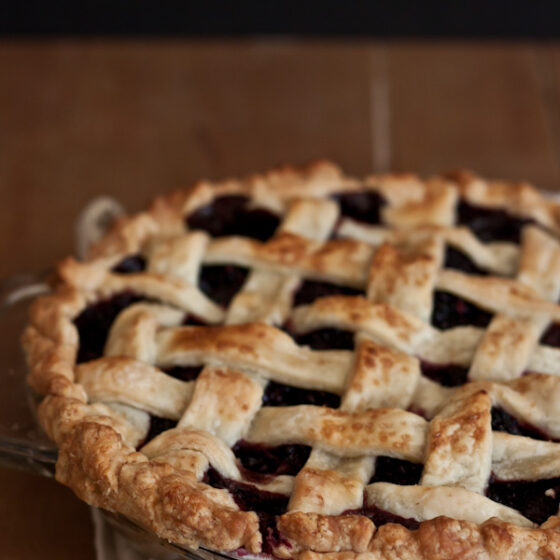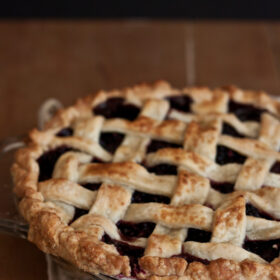 Blackberry Ginger Lattice Pie
Blackberry Ginger Lattice Pie prepared with freshly picked blackberries and infused with spicy candied ginger pieces.
Ingredients
Double Crust Pie Dough:
2½ cups (315g) unbleached all purpose flour
1 tablespoon (12g) granulated sugar
¾ teaspoon kosher salt
8 ounces (230g) cold unsalted butter cut into ½-inch cubes
½ cup (120 mL) ice water less or more as needed
Blackberry Ginger Pie Filling:
6 cups fresh blackberries roughly 2 lbs
¼ cup (50g) lightly packed dark brown sugar
3 tablespoons finely diced candied ginger
2 tablespoons tapioca starch
1 tablespoon (12g) granulated sugar if your blackberries are extremely tart, add a touch more
juice of ½ lemon
½ teaspoon ground cinnamon
⅛ teaspoon kosher salt
Egg Wash:
1 large egg
1 tablespoon heavy cream or whole milk
sparkling sugar optional
Instructions
Prepare Pie Dough: Combine the flour, sugar, and salt in the bowl of a large food processor. Pulse several times to mix thoroughly.

Add the cold cubed butter and pulse several times until the butter is thoroughly incorporated and the texture resembles that of a coarse meal. The butter pieces should be in varying sizes, some small and others slightly larger. This will result in the flakiest crust.

While pulsing, slowly add the ice water (add a little bit at a time, as you may need less or more depending on humidity) and continue to pulse until the dough just begins to clump together loosely. Transfer to a countertop and knead briefly until the pie dough comes together. Divide the dough into two roughly equal sized pieces. Flatten each piece into a round disc and wrap tightly in plastic wrap. Refrigerate for at least 2 hours or, ideally, overnight.

Prepare the Filling and Assemble: Set a half sheet pan on the lower third rack of the oven and preheat the oven (and sheet pan) to 425°F (220°C).

In a large mixing bowl, gently mix together the blackberries, dark brown sugar, candied ginger, tapioca starch, granulated sugar, lemon juice, cinnamon and salt. Set aside.

Prepare the egg wash by combine the egg and cream in a small bowl. Whisk until smooth. Set aside.

Remove one chilled pie disc from the the refrigerator, unwrap, and set on a lightly floured working surface. Allow dough to rest at room temperature for 5 to 10 minutes. Using a lightly floured rolling pin, roll the dough into a round disc that is roughly 2-inches wider in diameter than your pie pan. Lift and move the dough continuously as you work to ensure it is not sticking to your countertop. Carefully transfer the dough to the pie pan. Gently lift and nudge the dough into the edges of the pan without stretching the dough. Using a kitchen scissors or a knife, trim any remaining overhang to just 1-inch past the pie pan.

Roll out remaining chilled pie dough disc into a roughly 12 or 13-inch diameter disc. Using a pastry or pizza cutter, cut the dough into 1½-wide long strips.

Add the blackberry filling into the pie pan. Lay 4 to 6 strips of pie dough across the filling, leaving about a ¾ to 1-inch gap between each strip. Fold back every other strip to the halfway point. Place another long strip of pie dough in the center of the pie so that it is perpendicular to the rest of the strips. Unfold the folded strips over the perpendicular strip. Fold back each strip that is under the perpendicular strip and lay down another strip so that it is perpendicular. Unfold the strips back over. Repeat with remaining strips until the enter pie is covered evenly with a lattice top.

Trim any overhang to the diameter of the pie dish. Fold the bottom overhang pie dough over the lattice strip edges. Crimp the pie dough edges as desired.

Brush the top and edges of the pie crust with egg wash and sprinkle with sparkling sugar. Transfer the pie plate onto the preheated sheet pan. Bake for 20 minutes. Reduce the oven temperature to 375°F (190°C) and continue baking for an additional 30 to 40 minutes until the crust is golden and the filling is lightly bubbling. If the crust is browning too quickly, cover with a foil tent for the remainder of baking time.

Place on a cooling rack and cool for a minimum of 2 to 3 hours before slicing and serving. Serve warm or at room temperature with vanilla ice cream.
It's worth mentioning that I used perfectly ripe blackberries for this pie. Ones which were very sweet and incredibly juicy.  If your blackberries are a bit more tart and sour, you might want to add another tablespoon or two of granulated sugar.  Adjust to your taste!
Serving: 1serving, Calories: 305kcal, Carbohydrates: 61g, Protein: 7g, Fat: 4g, Saturated Fat: 2g, Polyunsaturated Fat: 2g, Cholesterol: 10mg, Sodium: 366mg, Fiber: 7g, Sugar: 22g
This post contains affiliate links, which means that I make a small commission off items you purchase at no additional cost to you. Please read my
privacy policy
for more information.