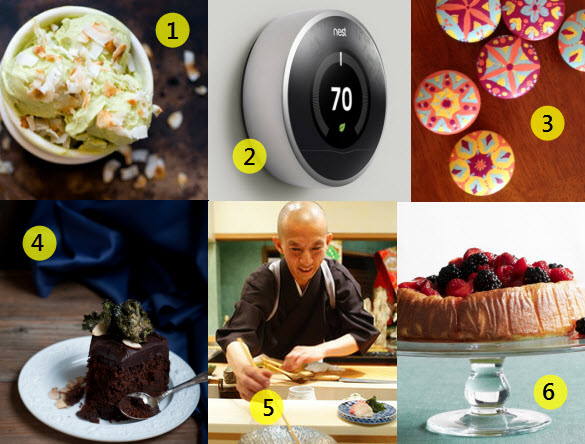 1)  I feel like I'm constantly sharing ice cream recipes in this series, but this avocado coconut ice cream is another on my "must-make" (extremely long) list.  (via. The Homesick Texan)
2)  Apparently I am getting old, because my idea of a cool gift is a nest thermostat.  Seriously, I want one and I don't even own a house. (via Young House Love) 
3)  How cool are these dresser knobs my sister painted just the other day?!
4)  This beet chocolate cake with kale chips is one of the funkiest cakes I've ever laid eyes on.  In a good way.  (via Desserts for Breakfast)
5)  Did anyone read the NY Times article about under-payed restaurant workers?  Awful.  And yet, I'm glad these issues are starting to gain some attention!
6)  I'm not a cheesecake person really, but this ricotta cheesecake has my attention.  (via Wall Street Journal)
**New recipe coming tomorrow! –> It involves blackberries.  Lots and lots of blackberries**