Brown Rice Shrimp Summer Rolls with Peanut Lime Dipping Sauce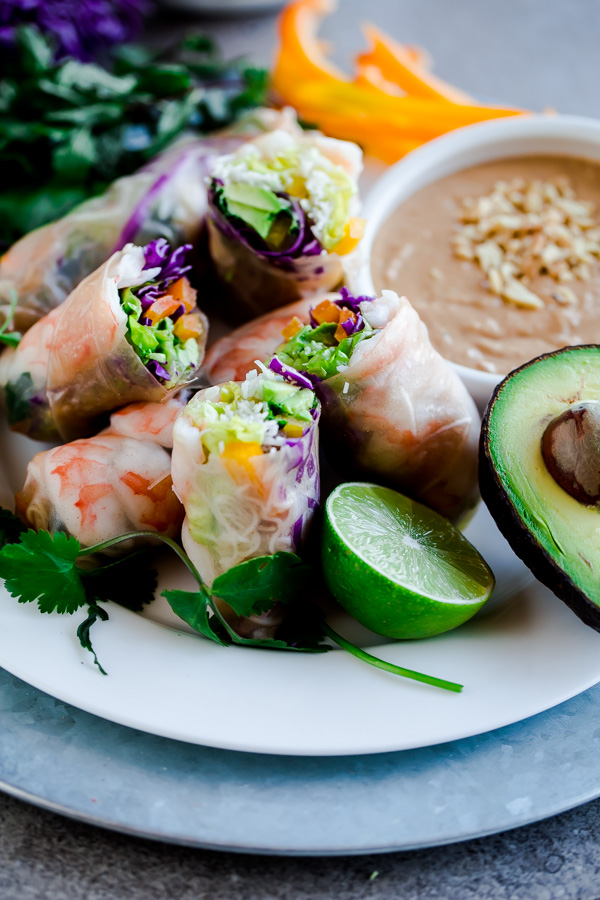 I feel like these brown rice shrimp summer rolls should be called lucky summer rolls. In fact, I was this close to calling them that. Perfect for today's holiday, no? They might not be quite as festive as this Guinness stout cake, but they are just as tasty.
This week has already been so huge for us! As great as these summer rolls are, they don't get the credit. I've alluded to this on the blog before, but the week has finally arrived. Yesterday, Connor and I anxiously awaited to hear whether he had matched into orthopaedic surgery residency for next year. It's an incredibly competitive process and frankly, couldn't be more stressful. The great news, and hence the lucky reference, is that he did. Cue all of the celebratory emojis. We got the email at noon, and couldn't be more thrilled, relieved, and thankful.
The crazy part?! We don't find out where until Friday. So until that day arrives, all we know is that we'll be in living (and most likely moving to) in one of nine very, very different cities for the next five years of our lives. No big deal. Excuse me while I go and emotionally eat everything in sight.
[Just kidding. I hope!]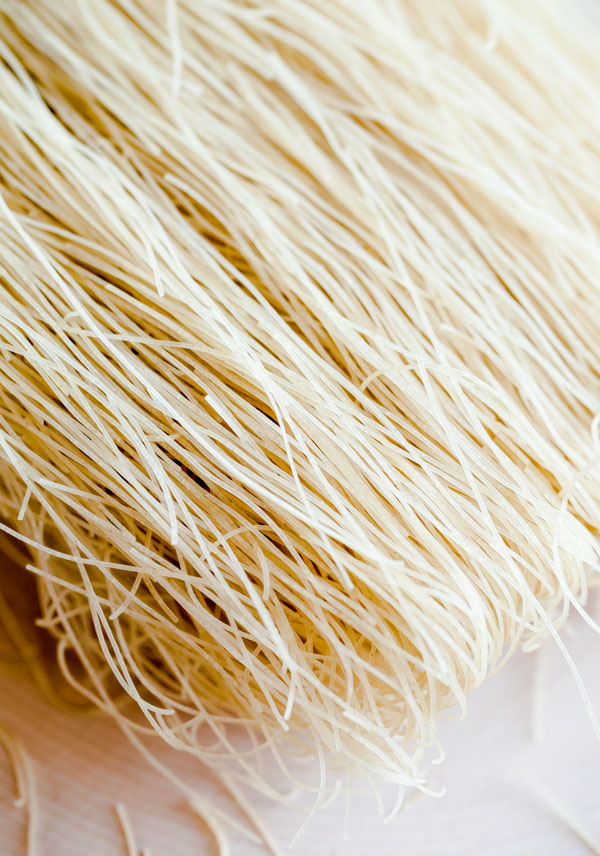 Phew.
Now that I've shared and gotten that off my chest, let's talk brown rice shrimp summer rolls with peanut lime dipping sauce! I love these things, and as complicated and finicky as they appear to make, I'm here to convince you that they are not. In fact, I have a little confession. This is only the second time in my life that I've made them myself!
Summer rolls, sometimes confusingly known as fresh spring rolls, are Vietnamese in origin, and are traditionally made with a combination of pork, shrimp, various vegetables, and rice noodles. Today's version contains shrimp only! They're paired with a simple (shockingly addictive) homemade peanut lime dipping sauce made with unsalted peanut butter, soy sauce, rice vinegar, lime juice, fresh ginger, and a touch of sriracha sauce.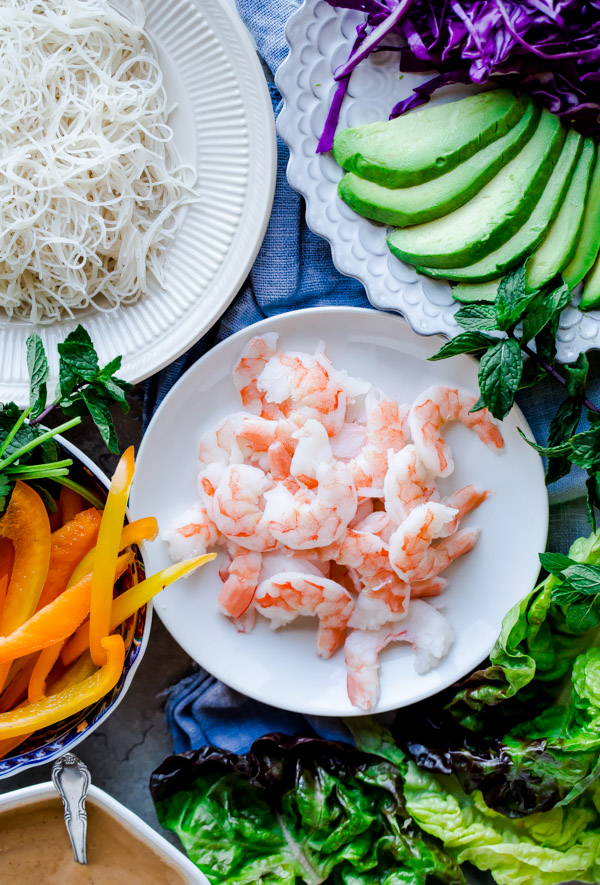 Summer rolls are actually very simple, versatile, and require little to no cook time. Particularly, if you buy cooked shrimp, which minimizes prep time considerably! They also happen to be gluten-free, and are ridiculously light and refreshing. If you prepped and put all of your ingredients out in order as you use them, you could easily turn this dish into a fun, make-your-own summer roll bar for a spring or summer entertaining!
To make this version extra healthy, I made them 100% whole-grain by using both brown rice papers for the wrappers and brown rice noodles for the filling. You can't even tell the difference!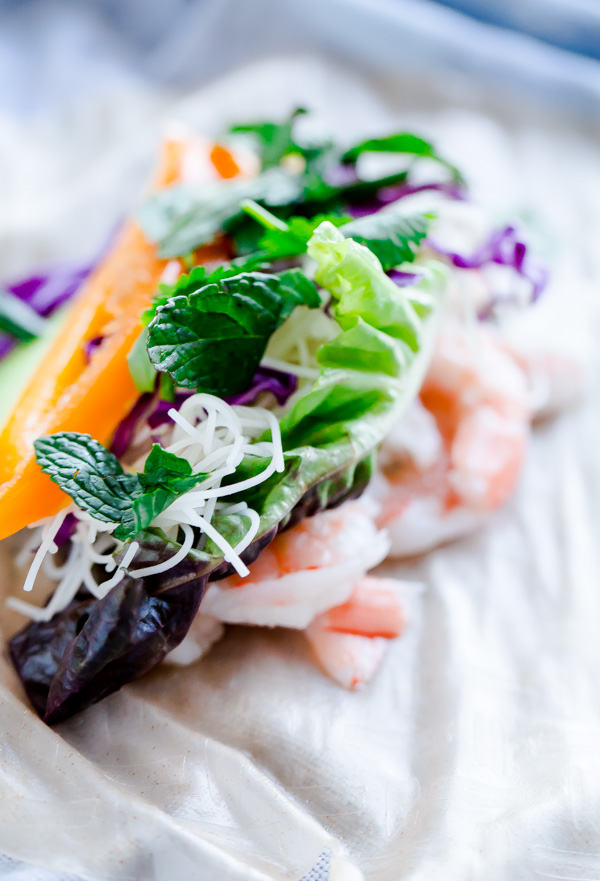 Aside from cooked shrimp and brown rice noodles, I decided to go with a mixture of different vegetables for maximum texture and color. Thinly sliced red cabbage (you could substitute with napa cabbage), thinly sliced orange bell pepper (red or yellow will work, just don't use green!), beautiful baby lettuce greens, and creamy avocado.
Feel free to substitute with additional vegetables (carrots, cucumber, etc.) or even leave out the shrimp, if you'd prefer to make these vegetarian. But don't skip the fresh herbs! The fresh cilantro and mint help pull everything together.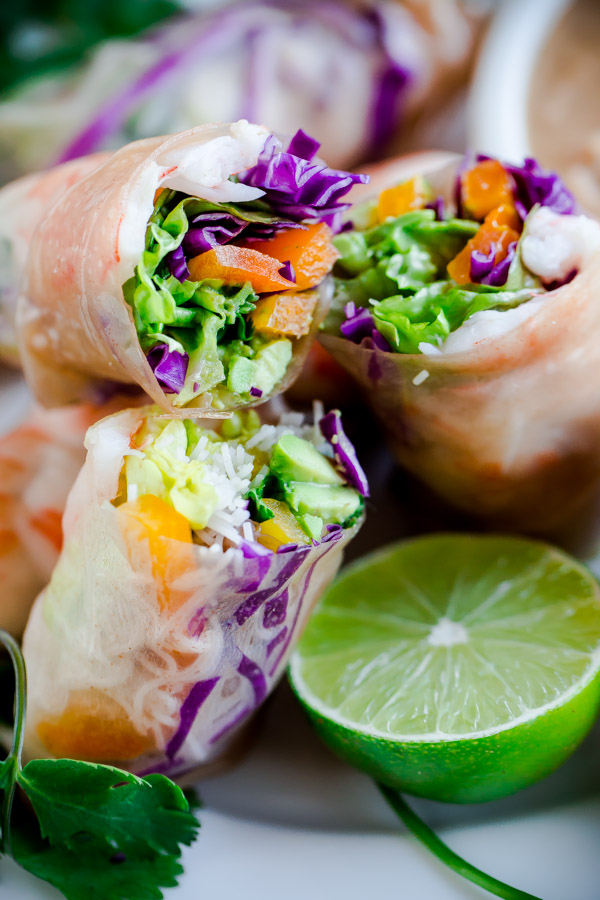 As you can imagine, the trickiest part to making these brown rice summer rolls is, well, rolling them. However, as long as you don't completely over stuff them, and layer your ingredients in certain order, it is relatively difficult to mess them up.
The trick is to work quickly, roll tightly, and commit. The rice papers are relatively sticky and can dry out quickly once soaked and softened, and need a delicate hand. I like to start by adding the shrimp, which are less prone to ripping the rice paper than other ingredients like peppers, etc.
Be sure to prepare your work area, have a damp paper-towel lined platter or container handy for holding the prepared rolls, and have fun with it! Then comes the best part, eating them. Enjoy!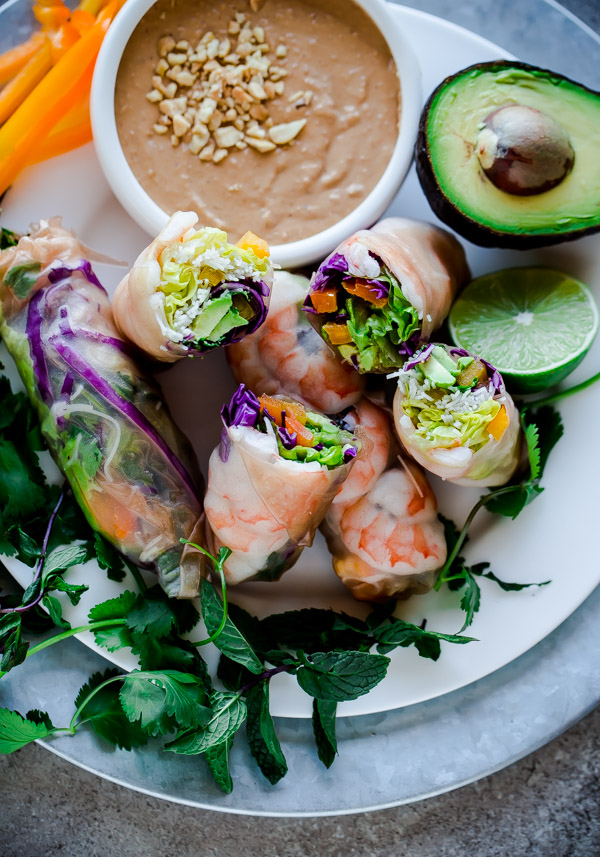 Products Recommended for this Recipe:
This post contains some Amazon affiliate links. Thank you for your support!