How to Make Garlic Confit and Homemade Garlic Oil
How to Make Garlic Confit and Homemade Garlic Oil. This delicious kitchen staple will take your dishes to the next level!
Happy first day of spring! Ummm, it's snowing outside.
Let's pretend that's not true and talk about this incredible garlic confit instead. Have you heard of garlic confit? Your life will be forever changed after this post.
Until a few years ago, my understanding of the term 'confit' was pretty limited. Sure, I knew that duck confit was a thing (a very delicious thing) and it was French–most likely learned when I butchered the word at some point or another, and someone in my family corrected me. Other than that, I was not intimately familiar with the cooking technique.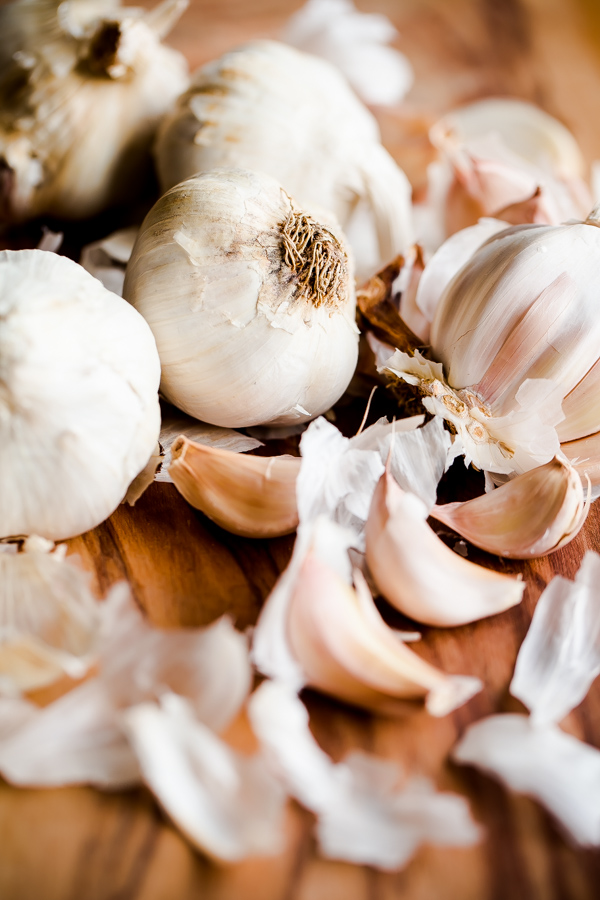 What Does It Mean to Confit Something?
When I started culinary school, I was introduced to all sorts of delicious French cuisine and classic cooking techniques. After school, I worked in a restaurant under a French-trained chef.
To confit became part of my daily routine. We confited so many foods. Garlic, tomatoes…you name it and we probably confited it.
For those unfamiliar, confit is a French cooking technique that involves submerging and cooking a food in fat over low heat for a long time. It was originally used as a preservation technique. For the most part, the fat is usually butter, oil, or animal fat (e.g. duck confit, which is cured duck legs cooked in duck fat).
Confiting is the polar opposite of frying, which is cooking a food in fat over high heat for a short amount of time.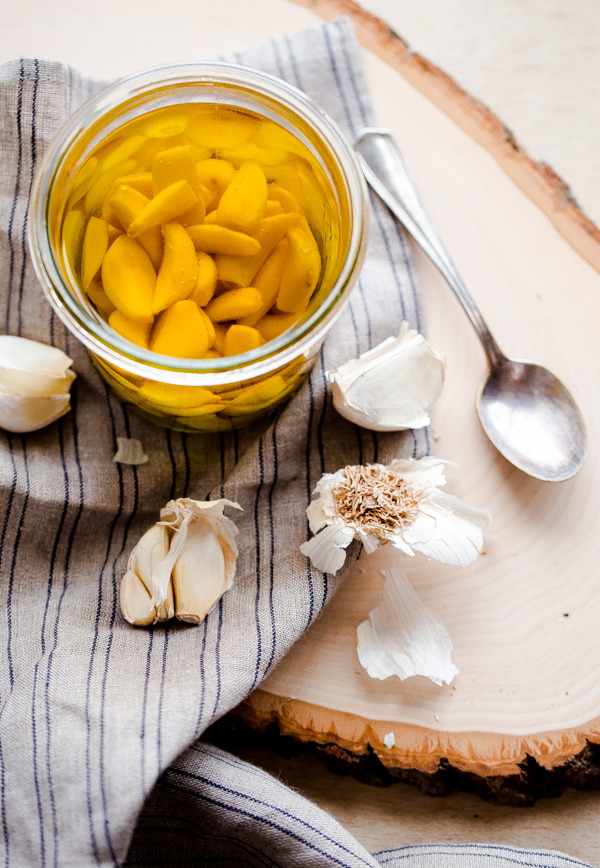 What is Garlic Confit?
Of all the things I learned to confit over that year, garlic confit remains as one of my absolute favorites!
Whole garlic cloves cooked in lots of fragrant extra virgin olive oil, for about 20 minutes, until they are incredibly tender. While I'm partial to cooking these in olive oil, you can also use avocado or other oils.
Similar to roasted garlic, the cloves become very sweet, soft, and extremely flavorful. They take less time, are far less messy, and can be stored in the fridge (in the oil) for several weeks at a time.
What To Use Garlic Confit For?
As far as what you can do with garlic confit, the possibilities are endless. Since the garlic cloves are cooked through and soft, you can mash the garlic cloves easily and spread them on top of bread for a delicious spread or garlic bread. You can also add them to dips, such as homemade hummus, salads, mashed potatoes, or roasted broccoli or other vegetables!
You can also leave the cloves intact and sprinkle them on top of homemade pizza, add them to a marinade (such as my easy chicken marinade), put them under the skin of roast chicken, or just add them to a hot pan for sautéing with any number of vegetables.
If you'd like to infuse the oil and garlic cloves with fresh herbs, such as rosemary or thyme, you can do that as well. Just follow the instructions in the recipe below!
Use the remaining homemade garlic oil for delicate cooking, drizzling on top of soups or dishes, adding to salad vinaigrette, or serving with a crusty baguette for dipping.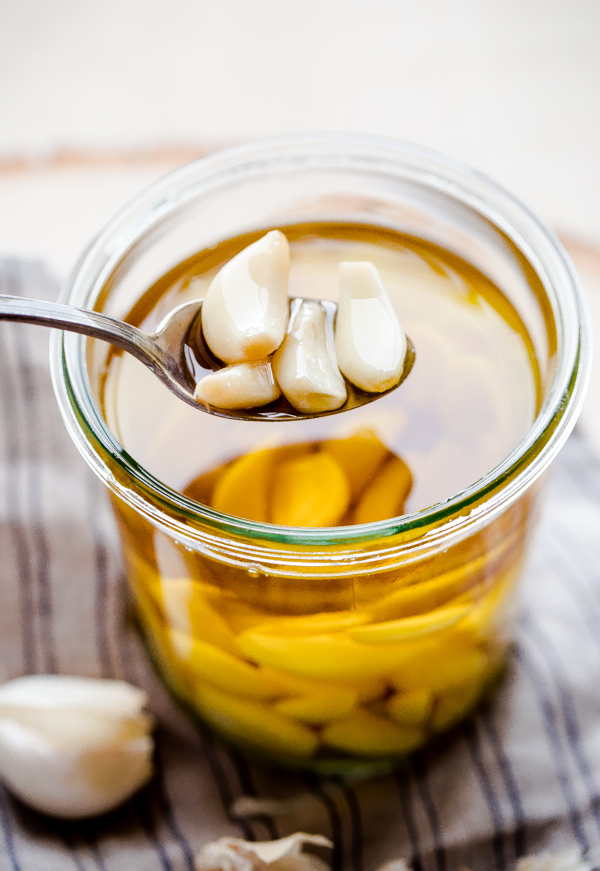 Does Garlic Confit Need to Be Refrigerated?
Yes, garlic confit should be refrigerated, particularly the confit garlic cloves. It can keep in the fridge for at least 2 to 3 weeks. If you wish to keep a small portion of the garlic oil on the counter for cooking on a regular basis, feel free to do so.
However, infused oils are more delicate and will keep better if stored in a cool place away from direct light and heat.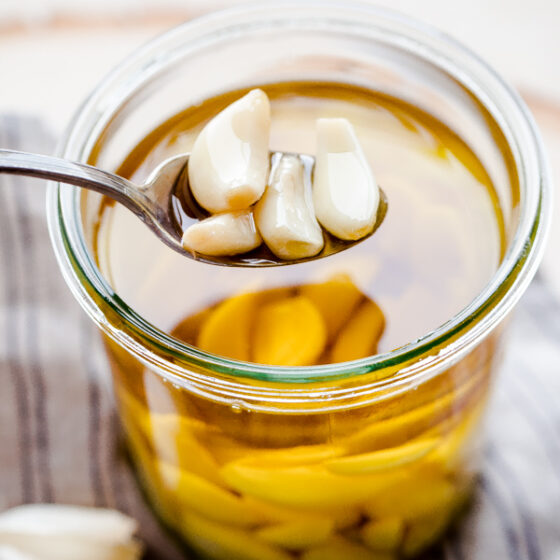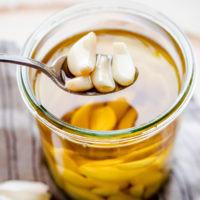 Homemade Garlic Confit and Garlic Oil
Yield: 2 Cups Garlic Oil
How to Make Garlic Confit and Homemade Garlic Oil. This delicious kitchen staple will take your dishes to the next level! Use the confit garlic cloves Since the garlic cloves are already cooked and soft, you can mash the garlic cloves on top of bread for a delicious spread or garlic bread, or even add them to dips, sauces, spreads, or roasted vegetables! Use the garlic oil for vinaigrettes, drizzling, or in numerous ways.
Prep Time: 10 minutes
Cook Time: 10 minutes
Total Time: 20 minutes
Ingredients
3 whole heads of garlic
2 cups extra virgin olive oil
fresh herbs, such as thyme or rosemary, or  (optional)
Instructions
Use the palm of your hand to carefully separate the heads of garlic. Using a sharp small knife, trim the ends of each garlic clove and then peel each clove, leaving it intact.
Place the peeled garlic cloves in a small saucepan (2 quarts or larger), cover with the olive oil, and place over very low heat on the stove. As the oil begins to warm, you will slowly see small bubbles form–they will gradually get larger until the oil is simmering slowly.
Continue to cook the garlic in the oil over very low heat, stirring carefully every few minutes, for 12 to 18 minutes (this will depend on your garlic clove size, adjust time as necessary), or until the garlic cloves are tender and nearly cooked through, yet still retain their shape and are not yet caramelized. Use a long sharp knife to pierce the cloves, they should meet little to no resistance once they are finished cooking.
Remove from the heat, and allow to cool completely (stir every few minutes) before transferring the garlic and oil carefully to a large glass jar or other airtight container. Add fresh herbs to the oil, if using. Store refrigerated for up to 2 to 3 weeks.
Nutrition Information:
Yield: 20
Serving Size: 1
Amount Per Serving:
Calories: 198
Total Fat: 22g
Saturated Fat: 3g
Trans Fat: 0g
Unsaturated Fat: 18g
Cholesterol: 0mg
Sodium: 1mg
Carbohydrates: 2g
Fiber: 0g
Sugar: 0g
Protein: 0g
A Beautiful Plate provides nutritional information, but these figures should be considered estimates, as they are not calculated by a registered dietician.