How to Make Garlic Confit and Homemade Garlic Oil
Happy first day of spring! Ummm, it's snowing outside.
Let's pretend that's not true and talk about this incredible garlic confit instead. Have you heard of garlic confit? Your life will be forever changed after this post.
Until a few years ago, my understanding of the term 'confit' was pretty limited. Sure, I knew that duck confit was a thing (a very delicious thing) and it was French–most likely learned when I butchered the word at some point or another, and someone in my family corrected me. Other than that, I was not very familiar with the concept.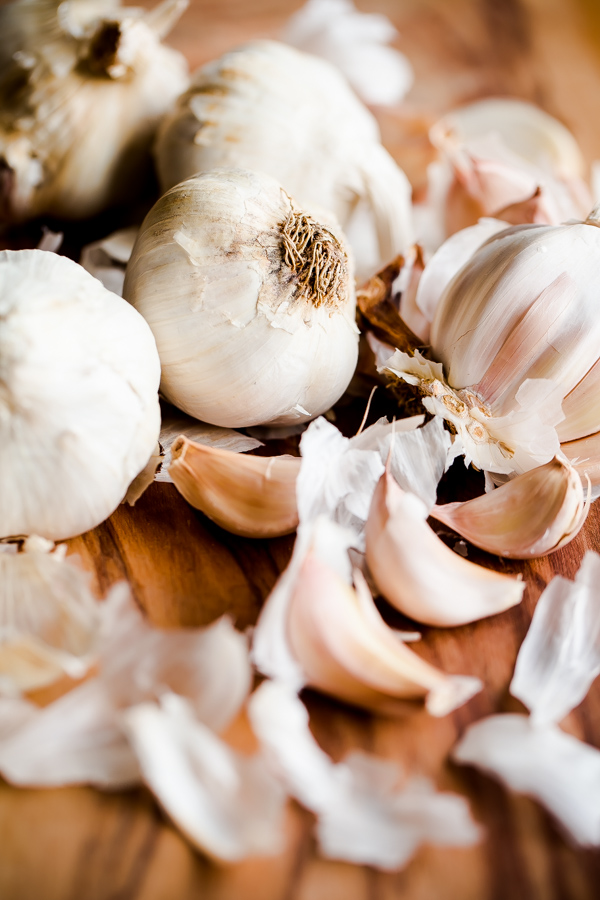 Then I started culinary school, was introduced to all sorts of delicious French cuisine and cooking techniques, and followed this by working in a restaurant under a French-trained chef.
Confit, of some sort or another, became part of my daily world. We confit-ed so many different things. Garlic, tomatoes…you name it and we probably confit-ed it.
For those unfamiliar, confit is essentially a French cooking technique that involves cooking something in fat over low heat for a very long time. For the most part, the fat is usually butter, oil, or animal fat (e.g. duck confit, which is cured duck legs cooked in duck fat). It is basically the polar opposite of frying: cooking something in fat over high heat for a very short amount of time.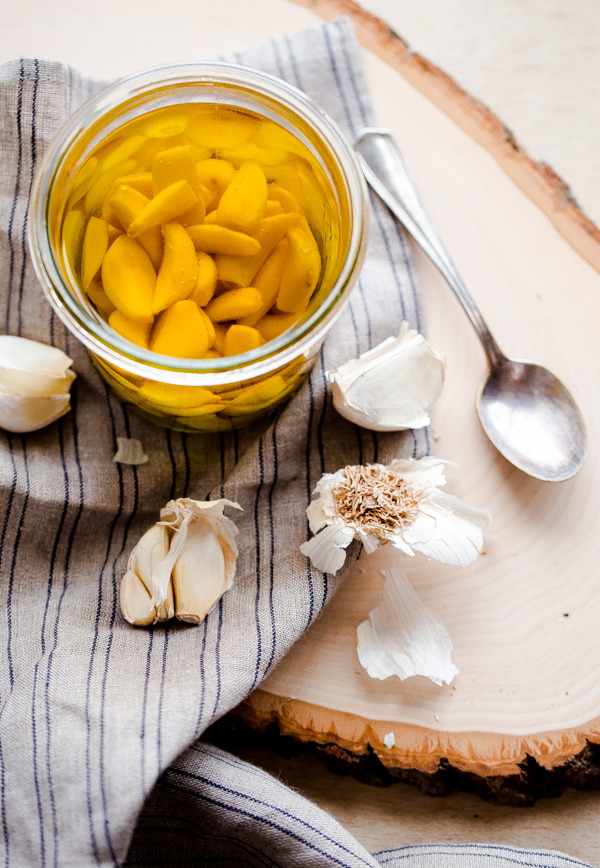 Of all the things I learned to confit over that year, garlic confit remains as one of my absolute favorites!
Whole garlic cloves cooked in lots of fragrant extra virgin olive oil, for about 20 minutes, until they are incredibly tender. Similar to roasted garlic, the cloves become very sweet, soft, and extremely flavorful. They take less time, are far less messy, and can be stored in the fridge (in the oil) for several weeks at a time. As far as what you can do with them, the possibilities are truly endless.
Since the garlic cloves are already cooked and soft, you can mash the garlic cloves easily with a fork and spread them on top of bread for a delicious spread or garlic bread, or even add them to dips, spreads, or mashed potatoes! Yes, do that.
Or you can leave the cloves intact, and sprinkle them on top of homemade pizza, add them to marinades, put them under the skin of a chicken (for roasting), or just add them to a hot pan for sautéing with any number of vegetables. If you'd like to infuse the garlic and garlic cloves with fresh herbs, such as rosemary or thyme, you can do that too!!! [See recipe notes.]
I could literally go on and on, and on…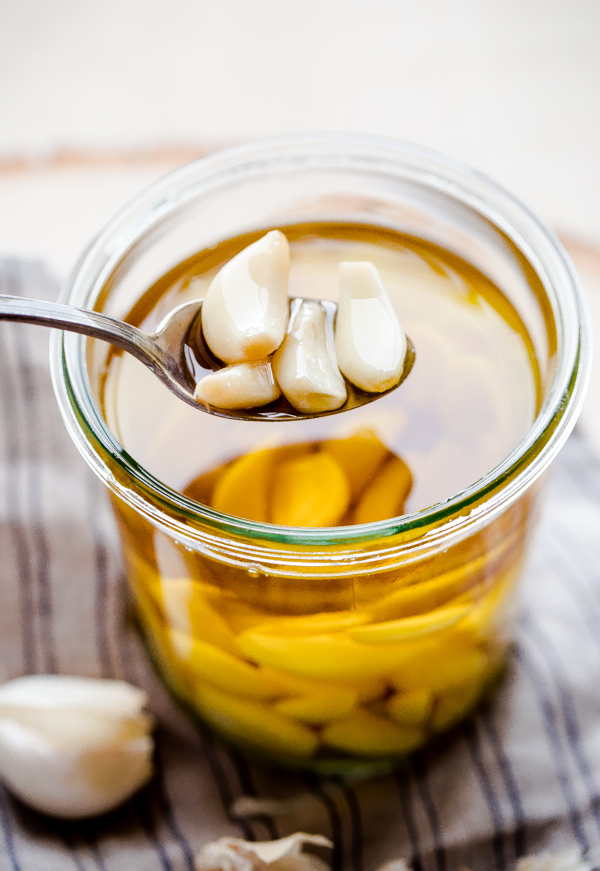 And guess what? As a result, you've just made yourself some pretty tasty homemade garlic-infused olive oil that is perfect for cooking, drizzling on top of soups or dishes, adding to salad vinaigrette, or serving with a crusty baguette for dipping.
It's the best of both worlds.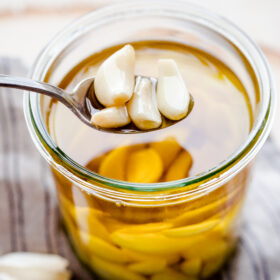 Garlic Confit and Homemade Garlic Oil
Ingredients:
3 whole heads of garlic
2 cups extra virgin olive oil
fresh herbs, such as thyme or rosemary, or  (optional)
Directions:
Use the palm of your hand to carefully separate the heads of garlic. Using a sharp small knife, trim the ends of each garlic clove and then peel each clove, leaving it intact.
Place the peeled garlic cloves in a small saucepan (2 quarts or larger), cover with the olive oil, and place over very low heat on the stove. As the oil begins to warm, you will slowly see small bubbles form–they will gradually get larger until the oil is simmering slowly.
Continue to cook the garlic in the oil over very low heat, stirring carefully every few minutes, for 12 to 18 minutes (this will depend on your garlic clove size, adjust time as necessary), or until the garlic cloves are tender and nearly cooked through, yet still retain their shape and are not yet caramelized. Use a long sharp knife to pierce the cloves, they should meet little to no resistance once they are finished cooking.
Remove from the heat, and allow to cool completely (stir every few minutes) before transferring the garlic and oil carefully to a large glass jar or other airtight container. Add fresh herbs to the oil, if using. Store refrigerated for up to 2 to 3 weeks.
All images and text ©
.