Chobe National Park + Victoria Falls, Part IV
If you missed it, check out part one, part two, and part three (of our honeymoon recap)!
I have some good news and I have some bad news. The good news is that we were not attacked by any other animal throughout the rest of our trip. Hallelujah. We can all breathe easy.
The bad news is that, despite my best efforts, I was unable to squeeze the rest of our trip (the remaining eight days) into just one post…so you'll have to bear with me just a little bit longer. Just one more, promise! Then we can talk about fun things like our wedding, Chicago, and food.
Not necessarily in that order though. Cool?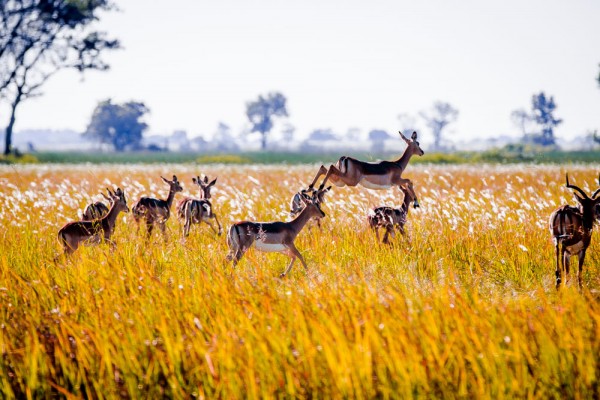 As you can imagine, our honeymoon definitely took a little bit of a turn after the elephant charge/vehicle flipping incident. I would love to say that I got over it in a second, and everything was hunky dory after that, but I would be lying.
The rest of our trip was amazing, but it definitely impacted the remainder of our time in Botswana. As I mentioned in my previous post, the manager of our first camp warned us that the second camp we would be traveling to (located nearby Chobe National Park) had a large population of elephants.
It's not that I really thought that the same thing would happen again. The elephant that charged us clearly thought we were encroaching on its personal space, or was simply doing what it felt necessary to protect the rest of its herd (and most likely, babies). Who really knows?
Elephants have incredible memories and, as one guide told us, Botswana is bordered by the country of Namibia, which unfortunately has a high rate of elephant poaching. Poachers will often travel from Namibia to Botswana, which has one of the highest populations of elephants in the entire continent of Africa. Either way, I still love elephants. They were one of the animals I was most looking forward to seeing during our safari, and I will always love them.
I just didn't particularly feel like being up, close, and personal with them at that point…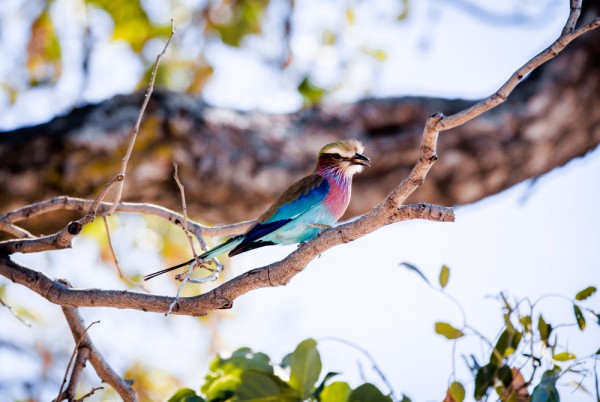 Lilac-Breasted Roller
We briefly considered rearranging our itinerary and going somewhere else, but at the end of the day, we had planned this trip more than a year in advance and we wanted to experience all of it.
In hindsight, that might not have been the wisest decision, but nonetheless, the following morning we decided to continue on our trip as planned.
Since our flight was not leaving until the following afternoon, we decided to skip the morning game drive option and take a relaxing boat ride in the surrounding Okavango Delta. Although we didn't see nearly as much wildlife, it ended up being a welcome change as we got to see many different kinds of birds, water plants, and it gave us the chance to experience the landscape in different way.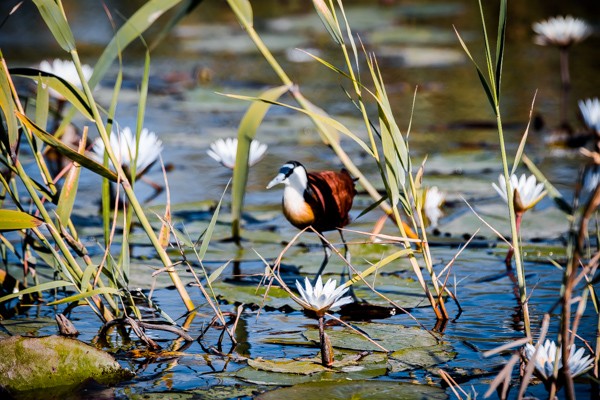 "Jesus Bird" (aka: Jacana, which walks on top of water lilies and appears to be walking on water)
The birds in Botswana were incredible and so colorful!
Luckily, many of them loved to hang out in our first camp and steal crumbs that fell their way, so I was able to capture quite a few of them on camera. They were definitely one of the unexpected highlights of our time in Botswana.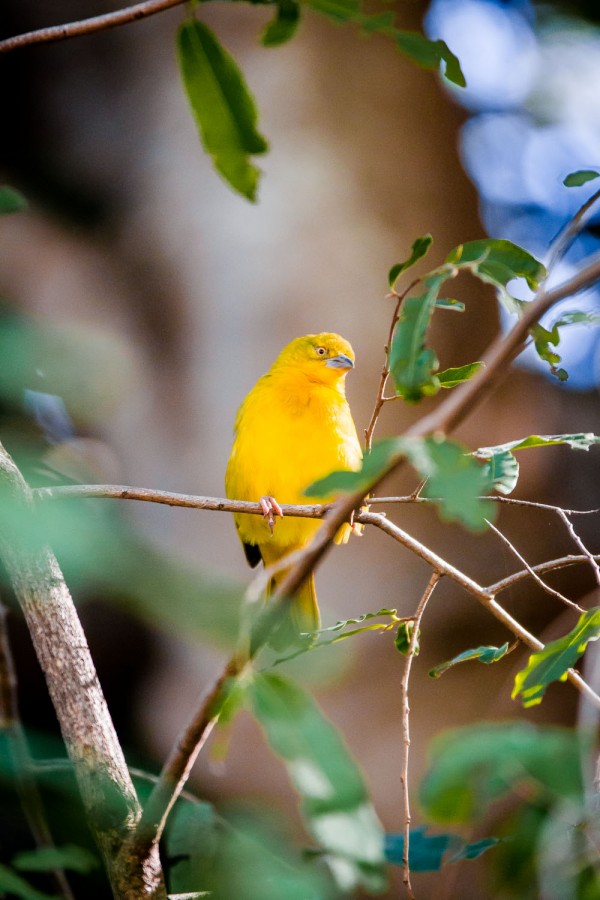 Yellow Weaver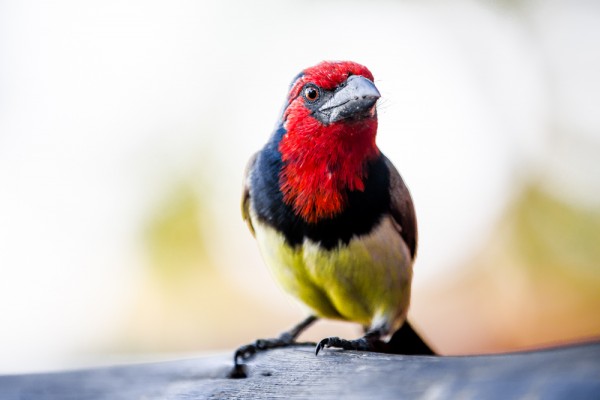 Black-Collared Barbet
Our Safari Air flight ended up departing from our camp in the Delta just after three o'clock in the afternoon that day. It was a six-seater plane but believe it or not, at this point I was used to them!
We arrived at the airstrip near our second camp in just under an hour. Our second camp was located near Chobe National Park, and just as isolated as our first camp. One of the guides picked us up and we started the hour-long drive (which in many ways resembles a fast-paced game drive) to the camp.
From this point on, we jokingly described ourselves as the 'damaged' Safari people. We always would tell our guides about our elephant experience, as a means to explain to them that if we did come across elephants, we wanted to keep driving and not get too close. All of them were incredibly understanding and gracious (and shocked to hear our story!).
About five or ten minutes into our drive, we quickly discovered that the area had a ton of vegetation and the visibility was not good. Not really a problem, but it meant that we couldn't see more than 15-20 feet in front of us at any time. In other words, you could easily round a corner and be within just feet of any animal, including elephants.
"Heart Tree" (Our guide stopped and told me to take a picture!)
The ground was incredibly sandy, surrounded tightly by small trees and brush, and you could barely drive more than a few miles per hour. Within 30 minutes of our drive, we had already seen more than 20 elephants. None of them were more than 50 feet away and at this point, I became a nervous wreck. My legs could not stop shaking and every muscle in my body was tense. Every worse scenario was going through my head.
At one point, we rounded a corner and about 75 feet away, we could see at least three or four elephants standing in the middle of the road. They were standing just before a turn, and we couldn't see anything beyond that point.
The sun was beginning to set, we were still 20-minutes from camp, and I did not want to be driving through an area like this at night. I barely wanted to drive through it during the day! But I didn't exactly want to drive into the middle of a massive herd of elephants either.
The elephants began to walk off the road and our guide (who clearly had picked up on the fact that I was completely terrified) turned to me and said, "Laura. I want you do something. I want you to turn your head and look the other way." As Connor reminds me, I was actually told to look at several cape buffalo to my immediate right.
Not exactly the confidence-boost I was hoping for…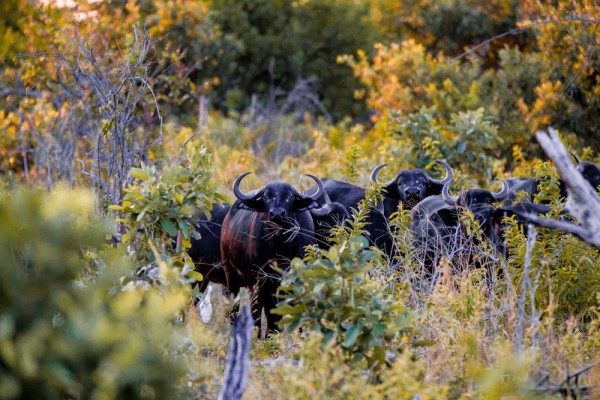 Cape Buffalo
I did what he asked, and luckily there were no elephants around the bend. We continued to drive, seeing a few more elephants along the way, and finally arrived at our camp.
We became oriented with the camp (unlike the previous camp, this camp was not surrounded by any type of electric pole fence), our room, and arrived just in time to enjoy the sun setting over the river in front of the camp before dinner. Complete with the grunting of hippos in the distance.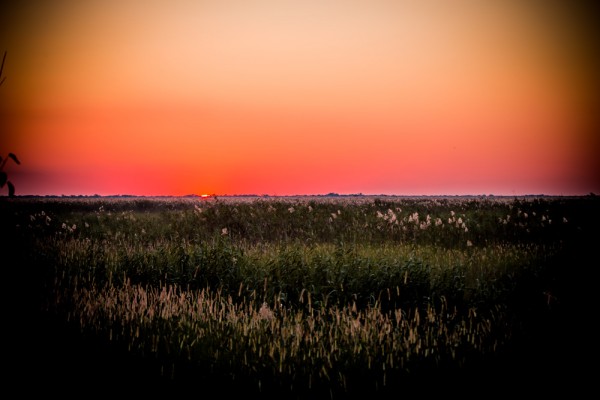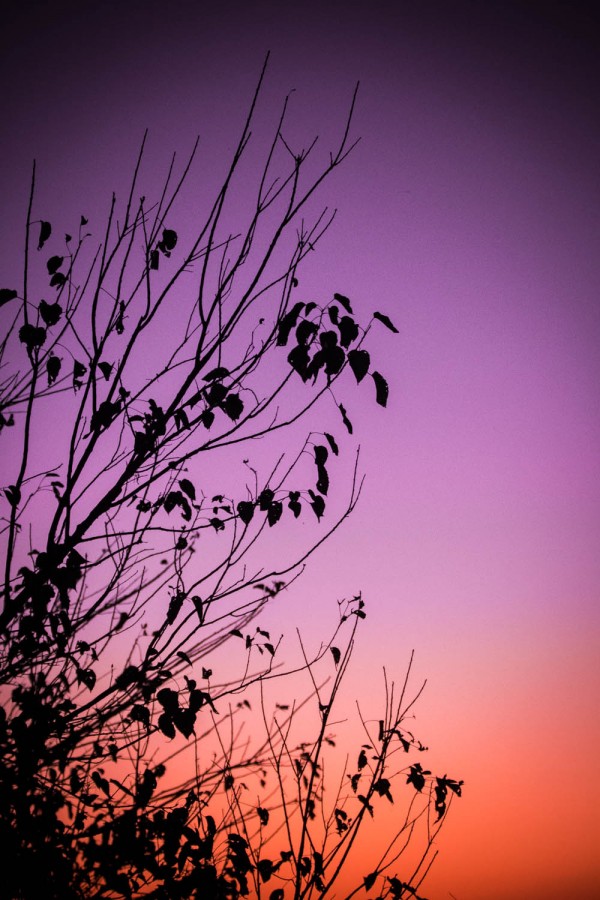 The next morning, we begrudgingly woke up at half past six to have breakfast outside near the fire. After the previous day's drive and experiencing the landscape, I really, really had no desire to go on any game drive.
Connor was supporting my decision, but the guide convinced us (clearly, we are suckers) that there would be fewer elephants out during the morning hours. Since we were the only people in the safari vehicle, he also said that we could drive and turn back at any point if we felt uncomfortable.
We went on a morning game drive, where we saw some giraffes, lots of baboons, our first mongoose family, and many birds, including the tiniest of owls.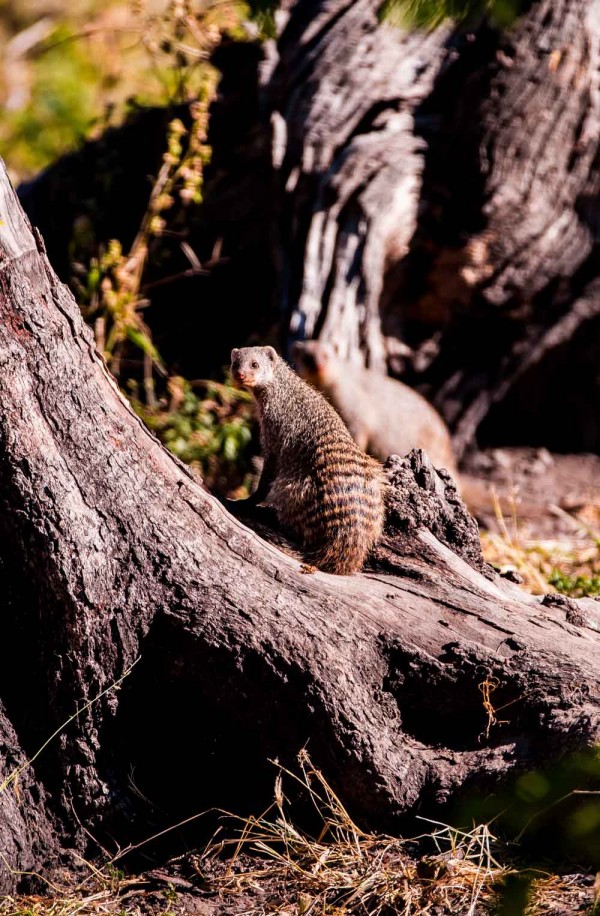 African Mongoose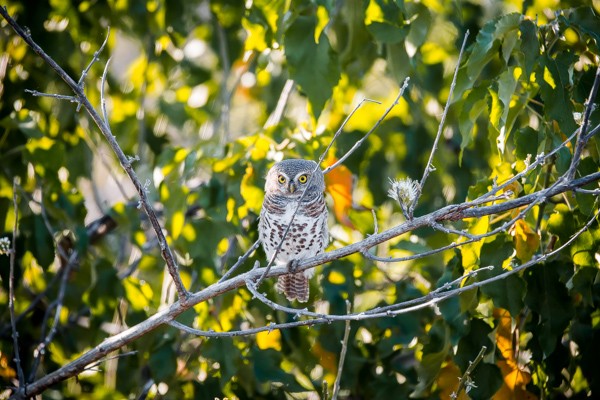 African Barred Owlet
We were also to see some traditional mokoro fishing (boats carved from tree trunks) along the river banks. Elephant sightings were almost nil and I was beginning to feel a bit better about being in the jeep. Despite this, we decided to relax that afternoon and just enjoy the camp.
We took a nap and woke up to several baboons playing outside of our raised tent.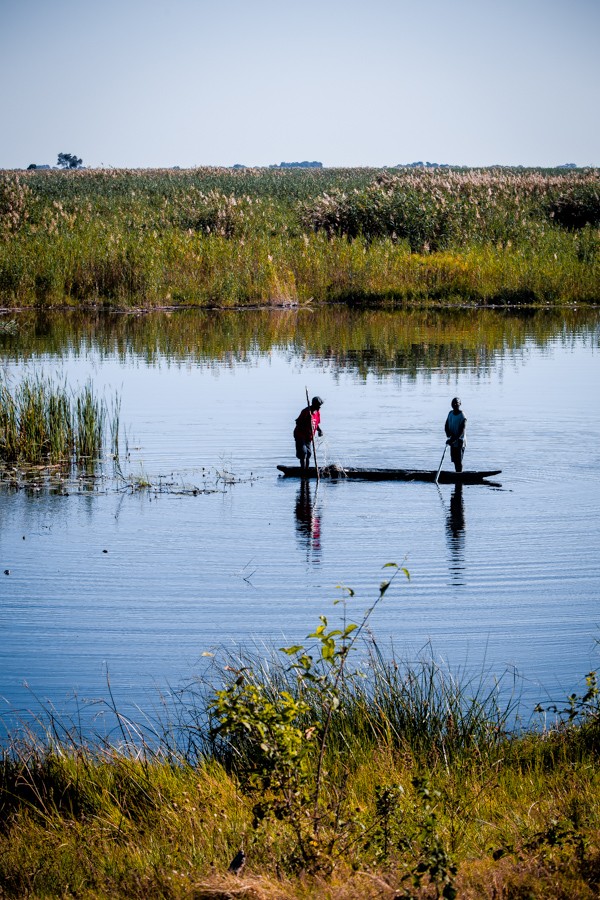 That night, I slept horribly (a first during the trip). While we were going to bed, we could hear several hippos grazing just outside of our tents and at one point in the night, I distinctly remember waking up to the sound of a lion roaring in the not-far-off distance. Later, we learned that the lion had walked through the camp that night, as its footprints could easily be seen by the guides.
Oh, and I'm pretty sure there was an elephant at some point or another as well. Suffice to say, I'm surprised I slept at all!
The next morning (our second full day), we chose to go on another boat ride in the morning. We saw even more birds during this trip, and could see where the papyrus and water reeds were pushed down from elephants and hippos grazing and walking through the river.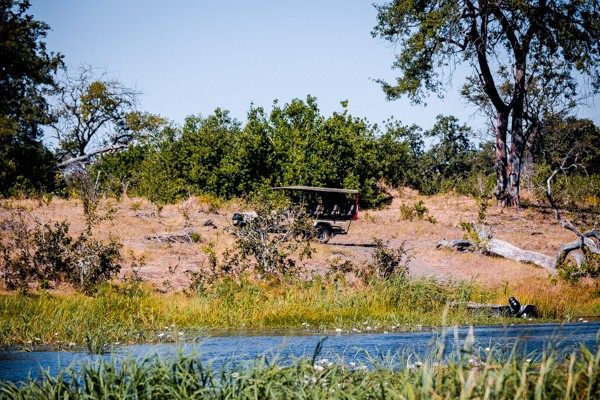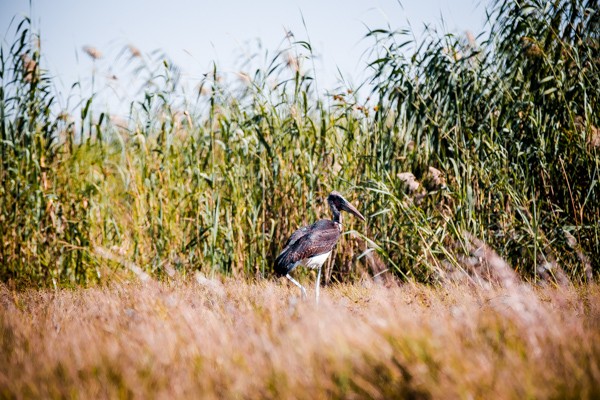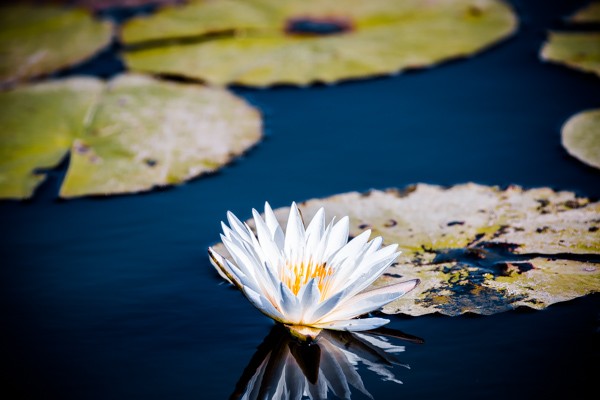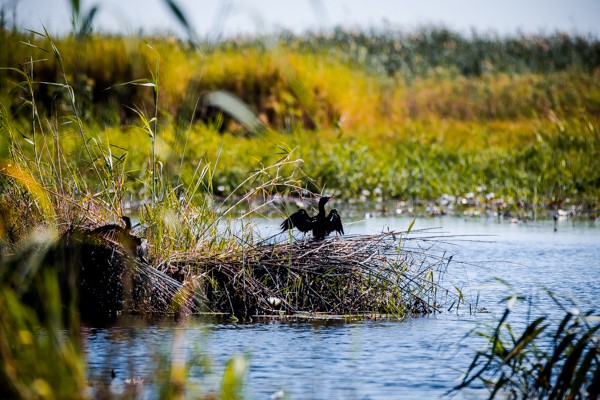 I was feeling much better at this point, but I still did not want to go on any afternoon drives. Elephants have a tendency to walk down to the river during the afternoon to cool down, which meant that the chances that we would run into many of them was very high.
We both felt guilty that we weren't taking full advantage of our entire safari experience at this second camp, but we also didn't want to risk anything–and at this point, I still felt like I was on major alert for any sign of anything whenever we went on game drives. It wasn't the most relaxing or enjoyable feeling.
As we were getting ready to sit down and lounge a bit that afternoon, one of the staff members came over to us and said that they had arranged a 30-minute scenic helicopter ride for the two of us. We were totally caught off guard! We're still not entirely sure if it was because we were on our honeymoon, or because they all felt bad due to the elephant encounter and wanted to do something nice for us.
Either way, it was very exciting and majorly appreciated! In general, I've never traveled anywhere where I've felt as welcomed and cared for as I have at both of our camps in Botswana. The hospitality was incredible.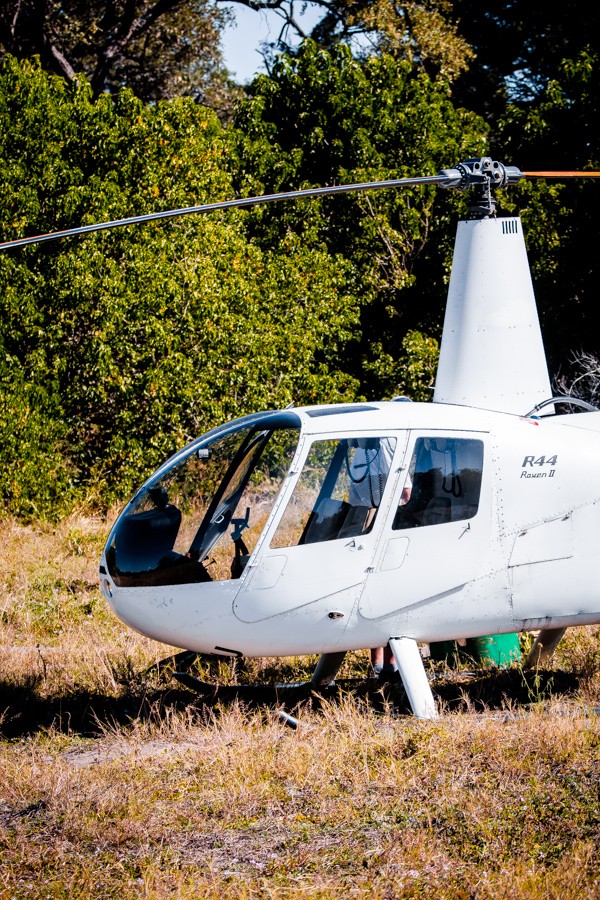 We drove about 10 minutes from camp and arrived in a slightly open area, where a very tiny helicopter sat waiting for us. Our pilot, who happened to be from New Zealand, asked us if we wanted to remove all of the doors of the helicopter for maximum viewing and Connor immediately nodded his approval! I was a little more…hesitant, but on board nonetheless.
We ended up bringing our guide, Esse, along with us and took off! It was both Connor's and my first helicopter ride and for the first 10 minutes or so, I was holding onto the bar in front of me for dear life and didn't even feel comfortable pulling out my camera to take pictures.
Part of me felt like we had just substituted a somewhat dangerous activity (a game drive) with an equally as dangerous activity (door-less helicopter ride), but as we leveled off and I began to feel more comfortable, it became a lot of fun!
Plus, we saw tons of wildlife. I was more than happy to see elephants (all the elephants!) from between one and two hundred feet up. Bring on the elephants! Even more special, we were able to see several hippos out of the water and many elephants cooling off and swimming in the river!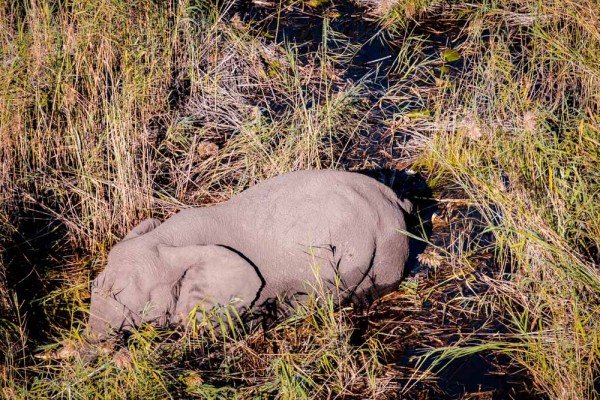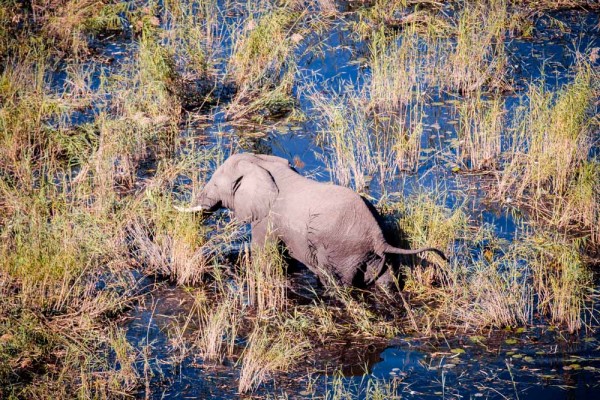 After the helicopter ride, we drove back to camp, where we were going to relax and enjoy afternoon tea (all of the camps offered tea and snacks in the afternoon!). About five minutes later, Esse walks up to us and says, "One of the safari vehicles that left just spotted a leopard coming out of the water. It's only a five minute drive away! Do you want to go see it?"
Neither of us could pass up the chance to see another leopard. We jumped in the safari vehicle and went in the direction of the other safari vehicles.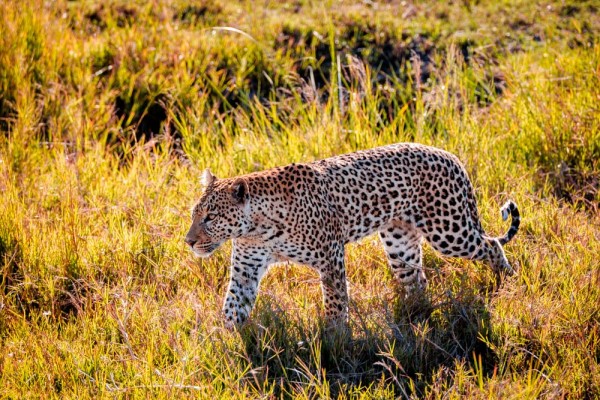 We were able to pull up just in time to see the leopard walking away from the water. It probably walked within five feet of our vehicle (ok, this part made me nervous) and proceeded to walk into the brush. It was male and much larger than the other leopard we had seen in the Okavango Delta.
It was the perfect way to end our time at the camp! Although we were sad to say goodbye to the staff, both of us were looking forward to going to Victoria Falls (and taking a short break from game drives) the next day.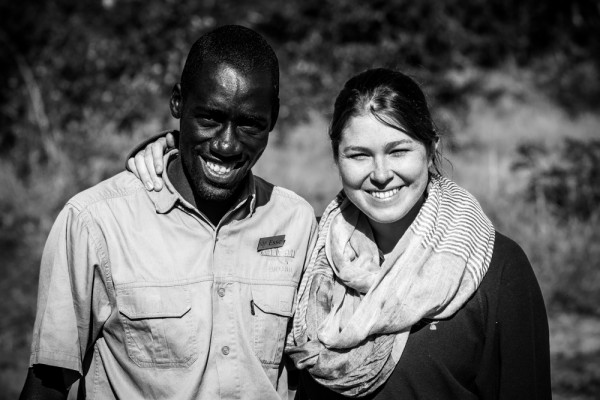 Our Guide, Esse, and Me
The next morning we woke up early and geared up for a long day of traveling. Our guide, Esse, took us on the hour-long drive back to the airstrip, where we boarded an hour long Safari Air flight to Kasane Airport (Botswana).
There, we met our transfer, which would drive us through the Zimbabwe border to get to Victoria Falls. It felt very strange to be on a paved landing strip, let alone driving on paved roads during the rest of our time in Botswana.
After going through customs and buying a Zimbabwe-Zambia visa (Victoria Falls falls between the two countries, and we visited both sides of it during the next two days), we drove 45-minutes to the Victoria Falls Hotel.
The Edwardian-era hotel is gorgeous and was actually built in the early 1900's as a means of providing accommodations for the workers that built the Victoria Falls Bridge. It felt very colonial and the views of the billowing smoke of the Victoria Falls ("The Smoke That Thunders") in the distance were breathtaking.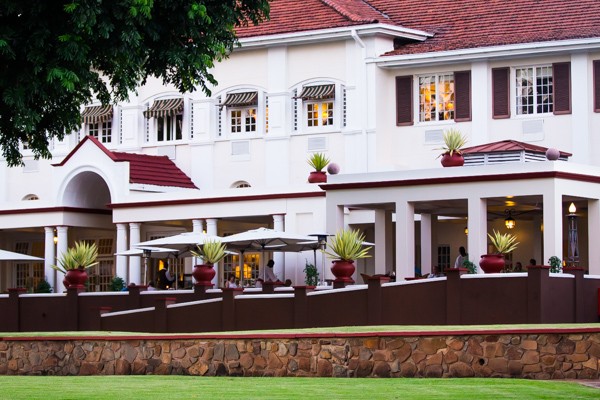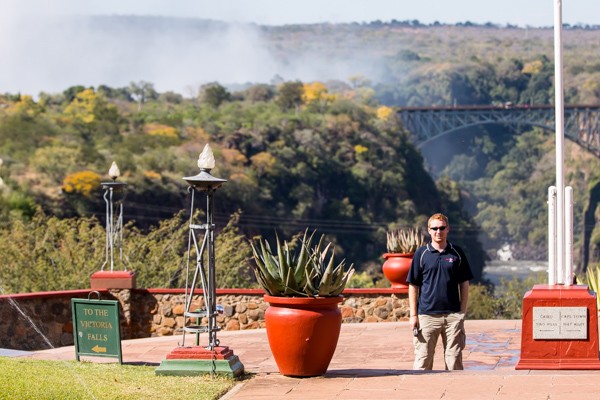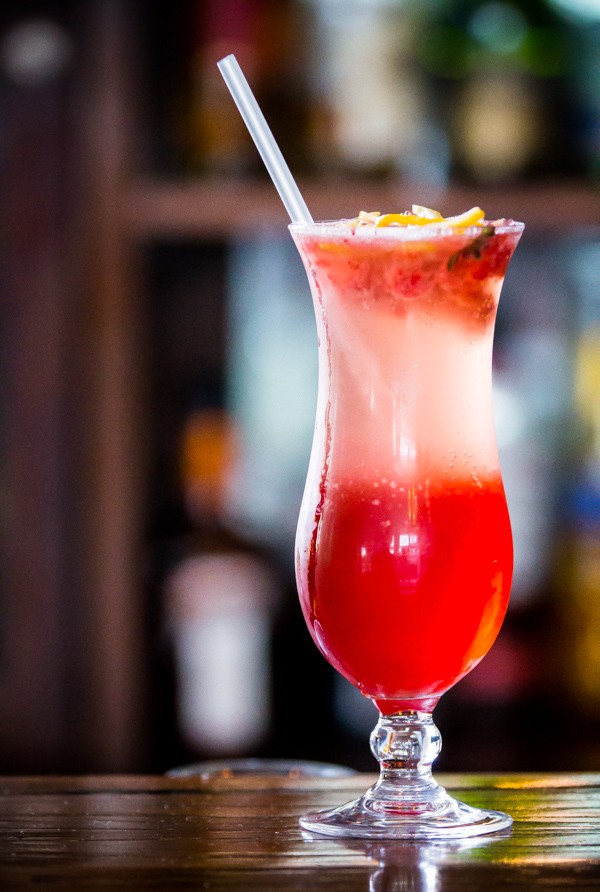 '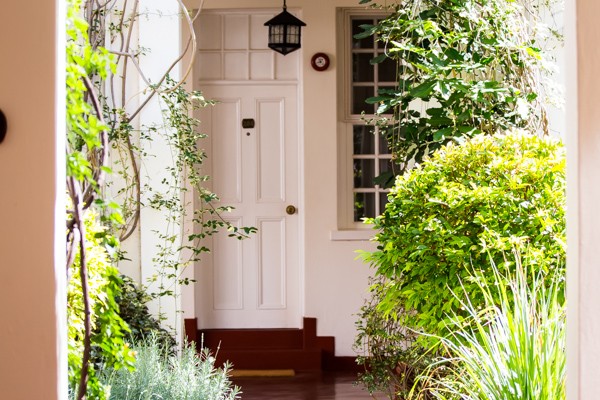 It definitely felt very strange (yet nice given our recent experience!) to be in a structured building with electricity, air-conditioning, and restaurants, but it was a nice change in routine! Granted, there were several monkeys, baboons, and warthogs running across the property, so we still got to see some wildlife.
Am I the only one who finds warthogs adorable?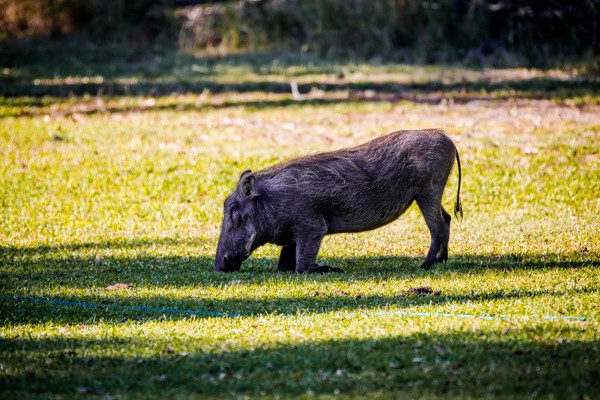 We had a leisurely lunch (Connor had an ostrich bolognese pasta!) in the outdoor dining area–with views of the falls in the distance–and got ready to go on our sunset cruise that night!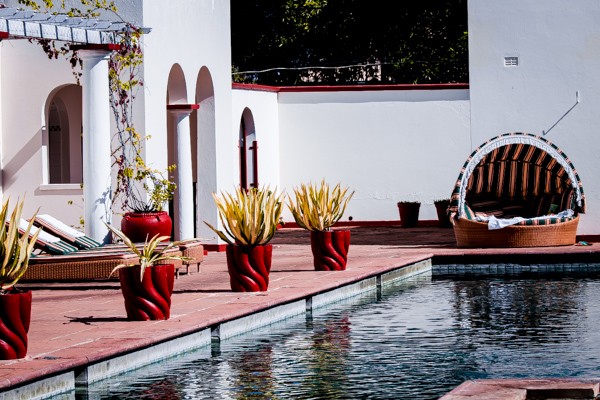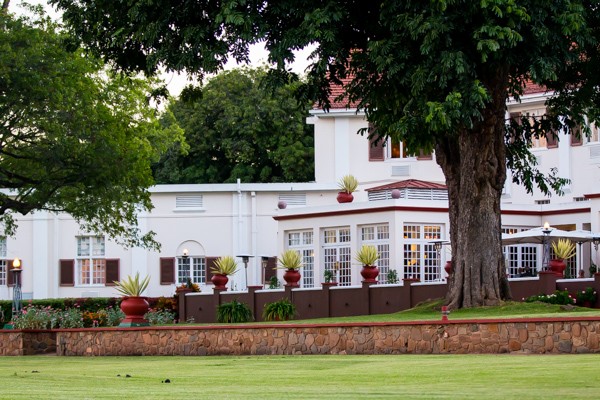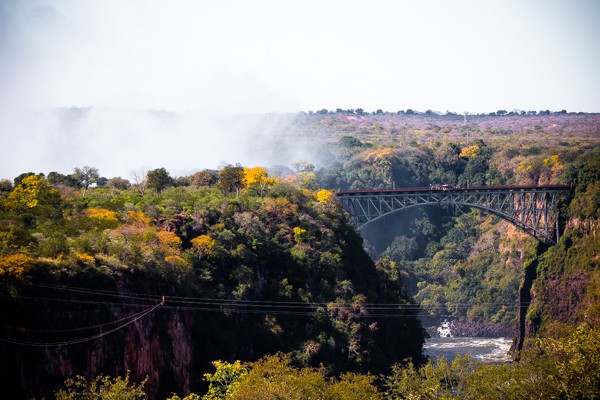 We took about a 20 minute drive to the boat, which essentially was one of many that offers sunset cruises on the Zambezi River (we were essentially above the Victoria Falls, but we obviously did not get close!).
The weather was amazing, we were able to see a rainbow created by the mist of the falls (known as Rainbow Point, which basically has rainbows at all times during the wet season), and saw the most beautiful sunset!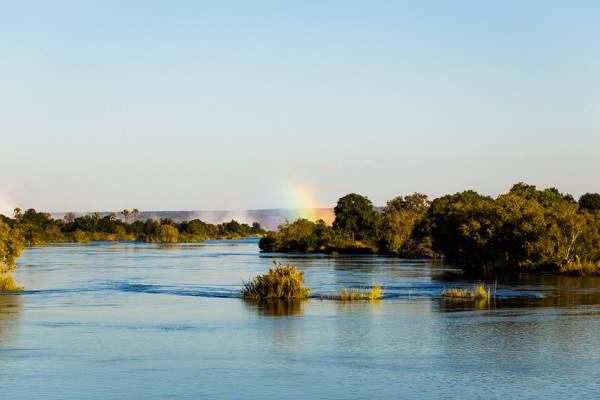 We even got to spot an elephant taking a drink from the banks of the river.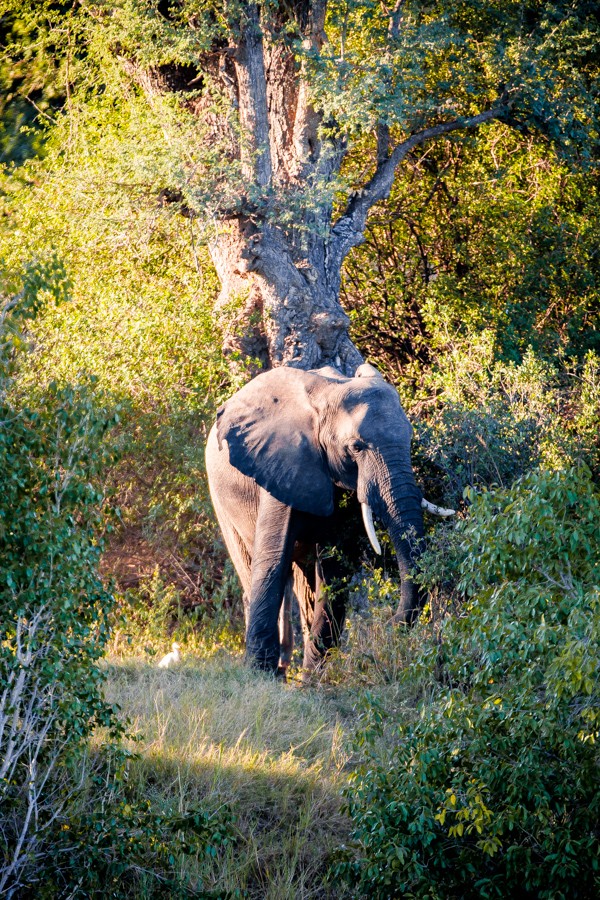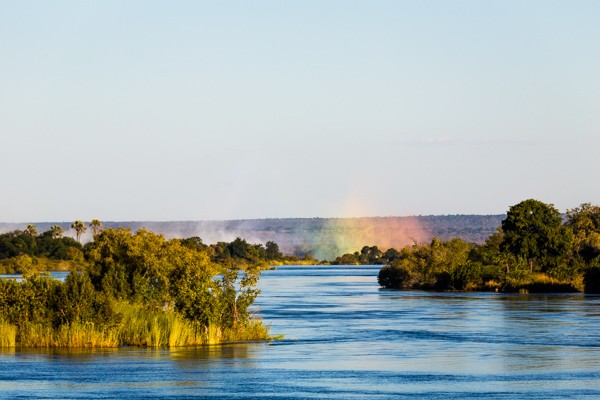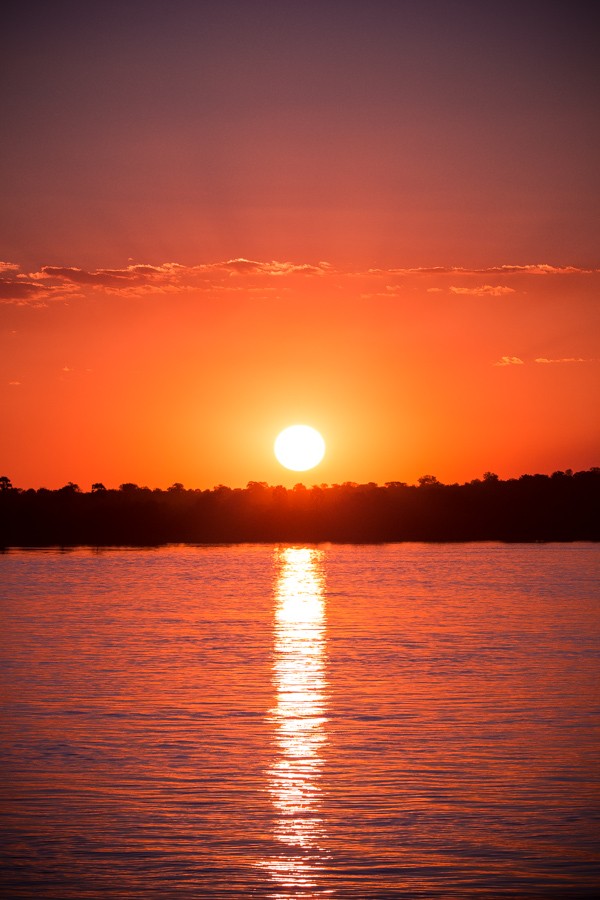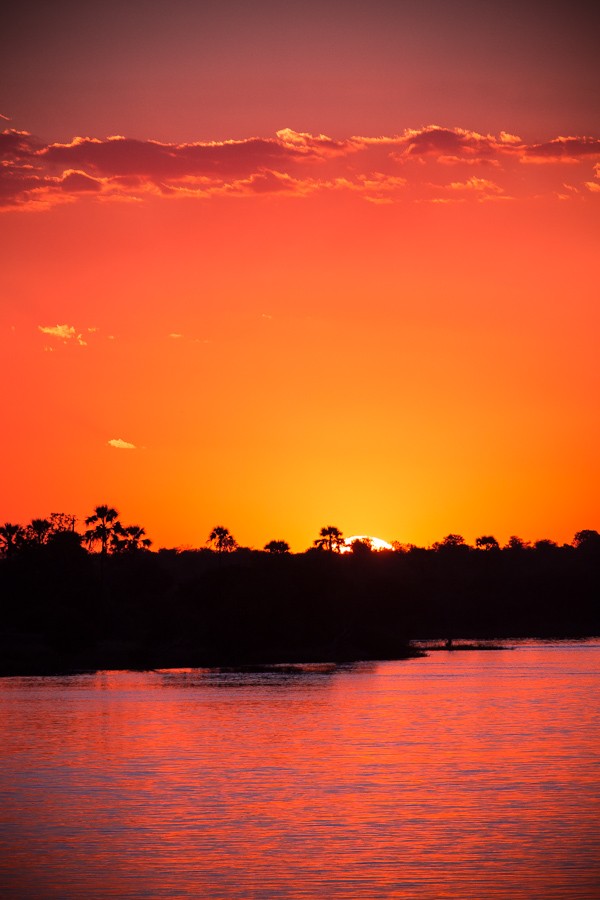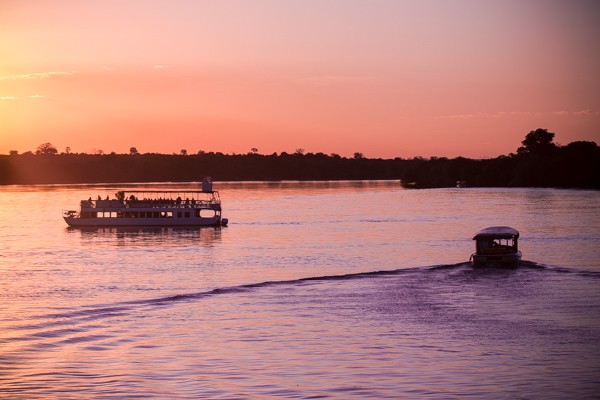 The next morning, we enjoyed breakfast at the hotel before going on private walking tours of both sides of Victoria Falls (both the Zimbabwe and Zambia side). Victoria Falls is actually the widest waterfall in the entire world–beating Niagara falls in width by more than 1500 feet. (The honor for tallest waterfall in the world goes to Angel Falls at a whopping 3,212 feet tall!)
Our travel agency had arranged a guide to show us around the area. Both sides were very different in different ways (we had to go through customs in Zambia, but the visa made it very easy!), but the views were amazing and the power of the water was incredible.
Due to issues with elephants in the past, the Zimbabwe side of the falls is surrounded by a large fence, but we saw lots of baboons and vervet monkeys in the park. You get soaked from the mist at several points while walking along the falls, so I didn't actually bring my camera for any of this, but we did bring the go-pro, which was perfect because it had a waterproof case!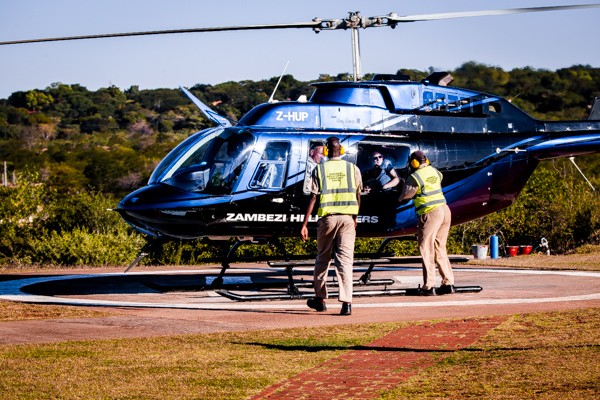 That afternoon, we went on a 12-minute scenic helicopter ride of the falls! We had arranged in advance, but never expected it to be our second helicopter ride of the trip!
Unlike our helicopter ride in Botswana, this helicopter was much larger (fitting six people) and had doors. It was our first time seeing the falls from above, and it definitely gave us a much better perspective of the entire area. We circle around the falls four times, which gave all of us a chance to take pictures and it was the perfect amount of time.
If any of you have a chance to travel there, I highly recommend taking walking tours of both sides, as well as fitting in a short helicopter ride–it allows you to see the falls from all angles!
All in all, our two days in Victoria Falls was the perfect amount of time! It was nice to take a short break from game drives after the elephant incident, and it got us more excited for our last three days on safari in South Africa!
Back soon with my final post and update, including pictures and a video of our (totally optional) elephant ride! Yes, we are officially crazy.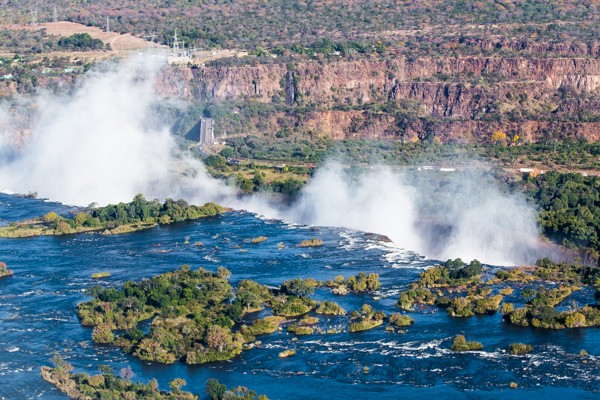 This post contains affiliate links, which means that I make a small commission off items you purchase at no additional cost to you. Please read my
privacy policy
for more information.