Chocolate Heart Meringue Cups with Whipped Cream and Berries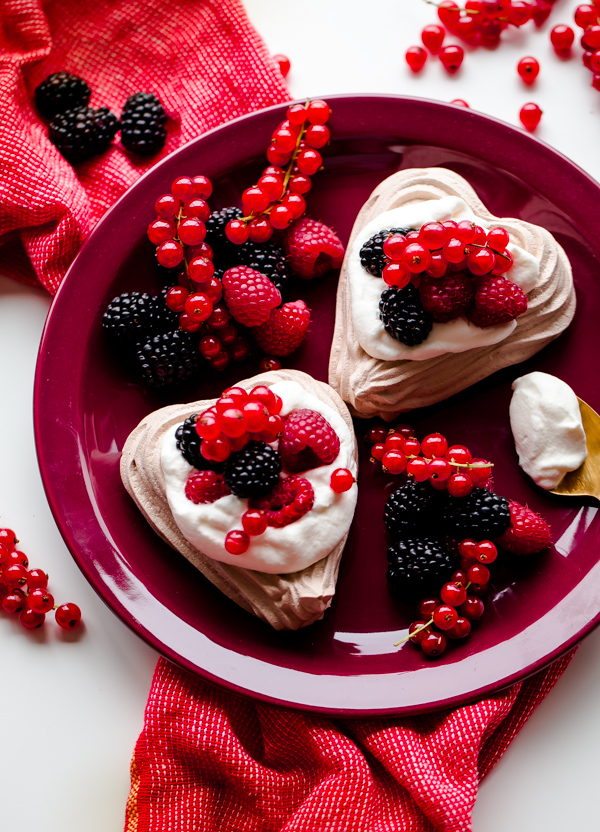 In honor of upcoming Valentine's Day, I made these chocolate heart meringue cups with whipped cream and berries! Elegant, yet simple. I love it. This idea came to me many, many weeks ago, and I've been dying to share them with you for the last couple weeks. Hopefully, I'm not too late to the Valentine's Day recipe game.
I had a mini-meltdown at the grocery store the other day because I stumbled into an aisle that was completely filled to the brim with Easter candy–and there I was thinking that I hadn't even had a chance to share a Valentine's Day recipe with you yet.
Can someone explain that to me? Puh-leeeeeeease? Is stockpiling Cadbury cream eggs three months prior to the holiday a thing now? Is there a shortage or something that I'm not aware of?
Let's make a rule that we can't talk about the next holiday before we are officially past the most immediate one coming up. Cool? Thanks.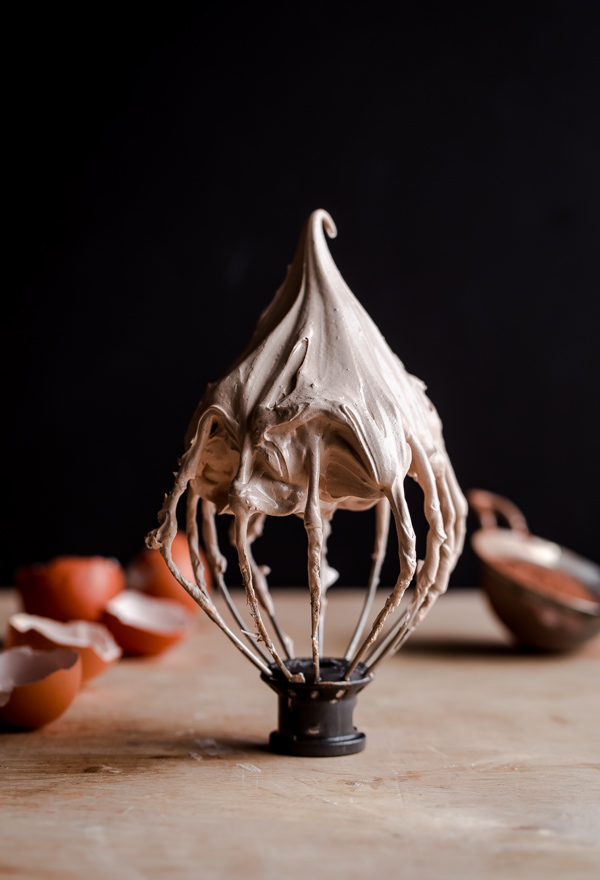 Anyway, let's get back to the Valentine's Day thing, because these chocolate heart meringue cups couldn't be more cute or festive. I've definitely mentioned this in years' past, but I'm all for Valentine's Day recipes that can be utilized for other special occasions.
These chocolate meringue cups were inspired by these simple, plain meringue cups that I shared last spring. Since Valentine's Day requires at least some chocolate, I decided to up the flavor by adding sifted cocoa powder.
Voila! Chocolate meringue cups.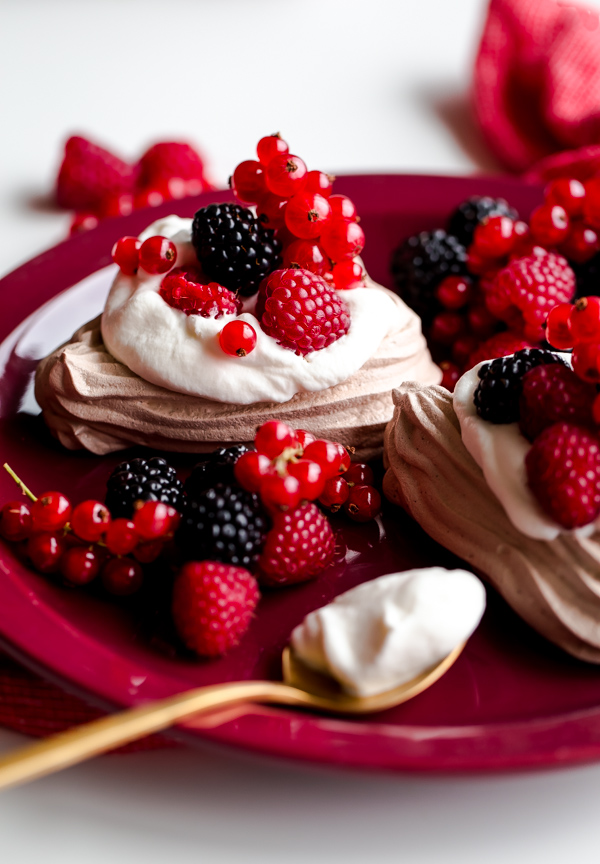 As complicated as these meringue cups look, I promise that they couldn't be easier to make! You'll need just a handful of ingredients: egg whites, granulated sugar, and cocoa powder. That's it! [Oh, and heavy cream and berries as well, but do those even count?]
The one caveat of meringue cups–and well, meringues in general–is that they take quite a bit of time to bake and dry up in the oven. Unlike a pavlova, you want the meringue cups to be completely dry for this dessert. It takes about two hours of baking time. I know! I promise it's not as bad as it sounds.
The good news is that none of this time is active (the active part of the recipe takes only 15 minutes or so), and you can spend that time snuggling up with your loved one on the couch and watching marathons of your favorite TV show, or in our case, picking out wedding music songs. Or, even more likely, emailing wedding vendors.
Ahh, romance.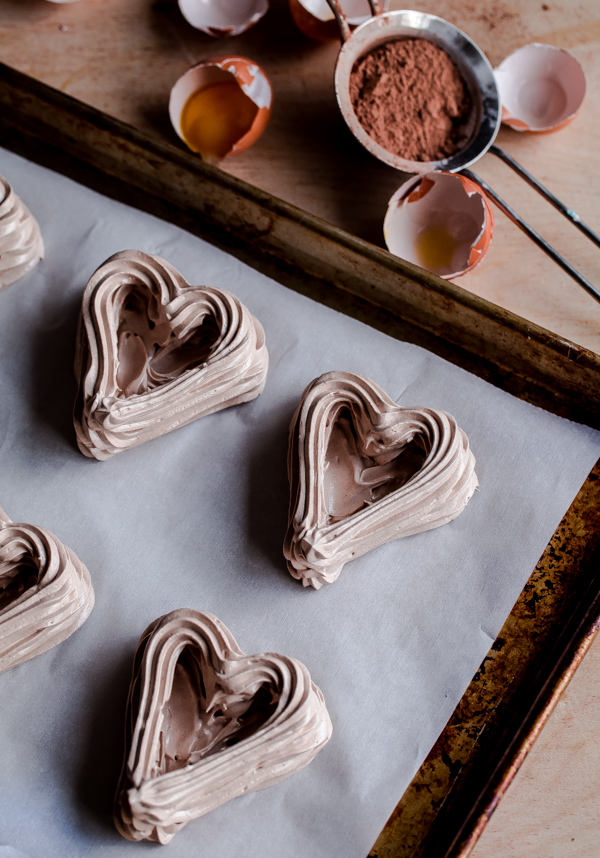 Another wonderful part of this recipe is that the meringue cups can be prepared several days in advance, and kept in an airtight container. If you make these any time between now and Saturday morning, you will be good to go–and have a beautiful, plated dessert that wows your loved one, yet only takes another 5 minutes or so to finish.
The trick to making the meringues in a decent, or at least semi-decent shape, is to trace your hearts with a pencil onto parchment paper before you start piping. The guide helps make this step much easier. Yet, feel free to free-hand the piping if you feel confident! It's up to you.
Don't worry too much if they are not perfect. The whipped cream helps cover up many of the imperfections, and they are impressive regardless of what shape they come out to be.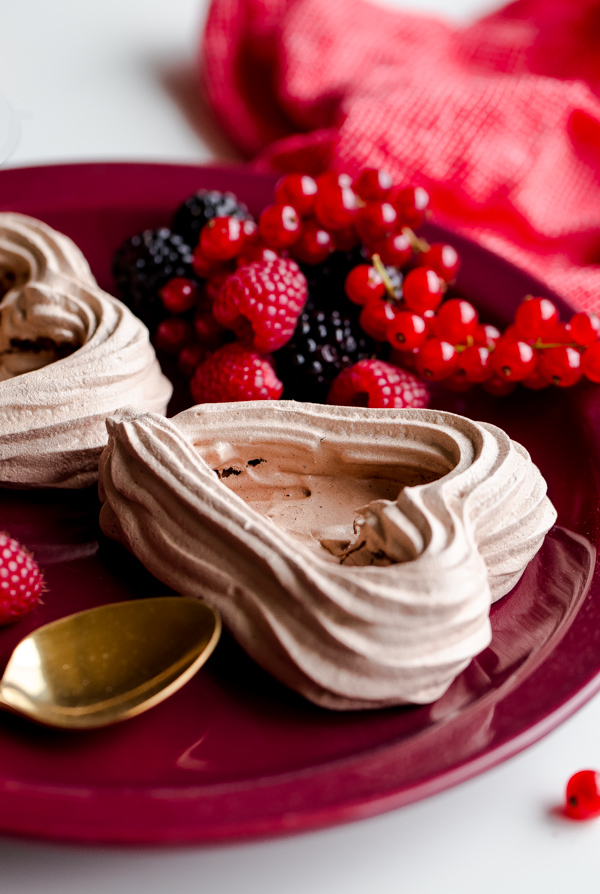 Though the meringue cups bake light in color on the outside, they still have a distinctive, yet delicate chocolate flavor, which balances perfectly with the delicate whipped cream and berries. I used a combination of raspberries, blackberries, and tart, plump red currants (available sometimes at Whole Foods), but feel free to use any mixture of fresh berries.
The crisp, melt-in-your-mouth meringue combined with the soft, pillow-y whipped cream, and tartness and texture of the berries couldn't be better.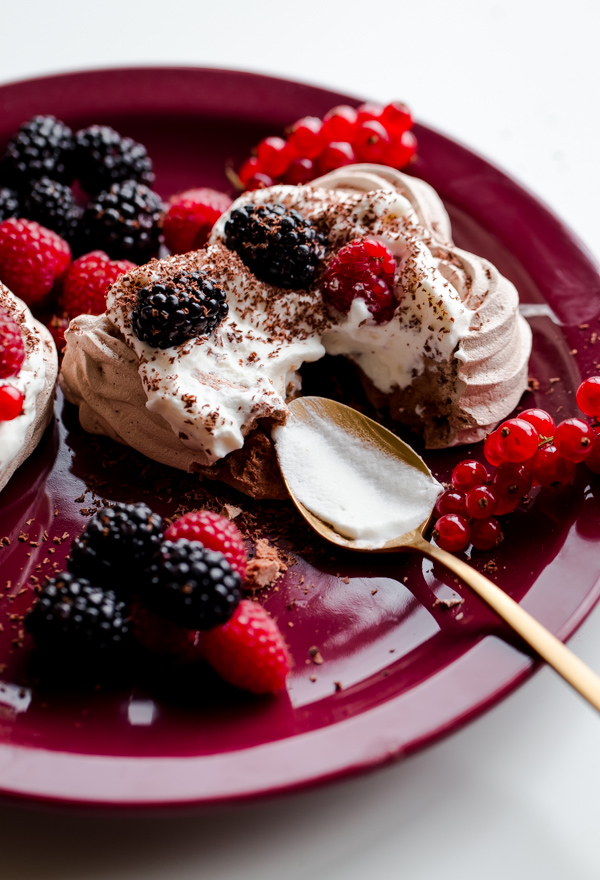 A touch of shaved dark chocolate on top doesn't hurt either! Pretty please make these.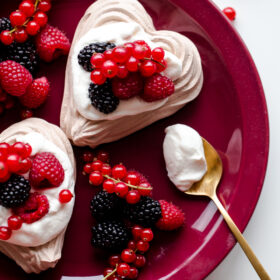 Chocolate Heart Meringue Cups with Whipped Cream and Berries
Ingredients:
Chocolate Heart Meringue Shells:
4 egg whites, room temperature
1 cup granulated sugar
1/4 cup unsweetened cocoa powder, sifted
Assembly:
1 cup cold heavy cream
1/2 teaspoon pure vanilla extract
2 tablespoons powdered sugar
roughly 2 half-pints of mixed berries (eg. raspberries, blackberries, and fresh red currants)
semisweet chocolate, for shaving (optional)
Directions:
Preheat the oven to 225 degrees Fahrenheit.  Trace six large hearts (roughly 3 inches tall x 2.5 in wide) on a large sheet of parchment paper.  Place parchment paper on a large baking sheet–pencil side facing down.
Place the egg whites in the bowl (clean and free of any grease) of stand mixer, fitted with a whisk attachment.  Whisk over low speed for 1-2 minutes, or until egg whites are foamy.  Increase speed to medium and continue to whisk for an additional 1-2 minutes.  Slowly start sprinkling in the granulated sugar, while continuing to whisk at medium speed.  Increase speed to high and whisk until meringue reaches a stiff peak (10 to 12 additional minutes).
Gently fold in the cocoa powder with a spatula. Place the meringue in a pastry bag fitted with a small star tip. Pipe a thin layer (roughly 1/2″ thick) of meringue–filling the entire heart–to form the base of the cup.  Carefully trace the edges of the heart four times with piped meringue to form the sides of the heart meringue cups. It should be relatively tall, about 1.5 inches tall at least. Repeat until all of the meringue cups are formed.
Immediately (and carefully) place the meringue in the oven and bake for 1 hour and 45 minutes, or until the meringue is dry.  Once baked, turn off the oven and allow meringues to dry in the warm oven for an additional 15 to 20 minutes.  Meringue should be crispy, hard, and not sticky.  If the meringue is wet or sticky (which can depend on humidity levels), allow them to bake for an additional 10 to 15 minutes.
Remove the meringue cups from the parchment paper and set aside. Allow the meringue to cool completely.
Assembly:
Place the cold cream, vanilla extract, and powdered sugar in the bowl of a stand mixer (or medium sized bowl). Using the whisk attachment, or a hand-held mixer, whip the cream until it reaches soft peaks. Do not overheat. 
Fill the meringue cups with dollops of whipped cream, top with mixed berries, and garnish with shaved semisweet chocolate (optional). Serve immediately.
Meringue shells can be prepared up to a day or two in advance and kept in an airtight container at room temperature (preferably with a silica gel pack to keep moisture out).
All images and text ©
.