Candied Blood Orange Slices with Dark Chocolate
Homemade candied blood orange slices dipped in dark chocolate! These delicious, deceptively easy candies make the perfect homemade gift for the holidays.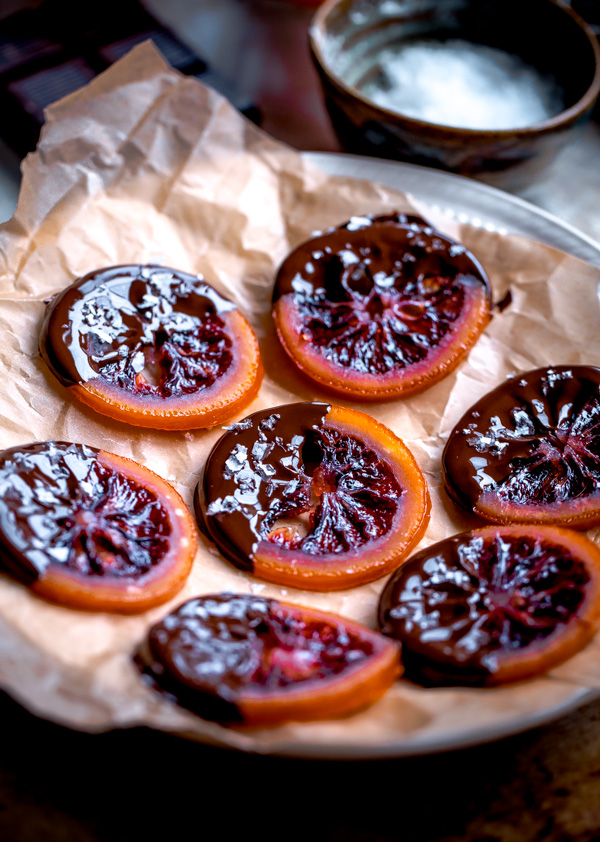 I have a very, very important question to ask all of you. How do you feel about orange and chocolate?
It is quite possibly my favorite chocolate pairing. Case in point, this orange bundt cake with chocolate glaze and orange pistachio chocolate chunk cookies. More so than raspberry, caramel, or any other ingredient that instantly comes to mind when you think of chocolate.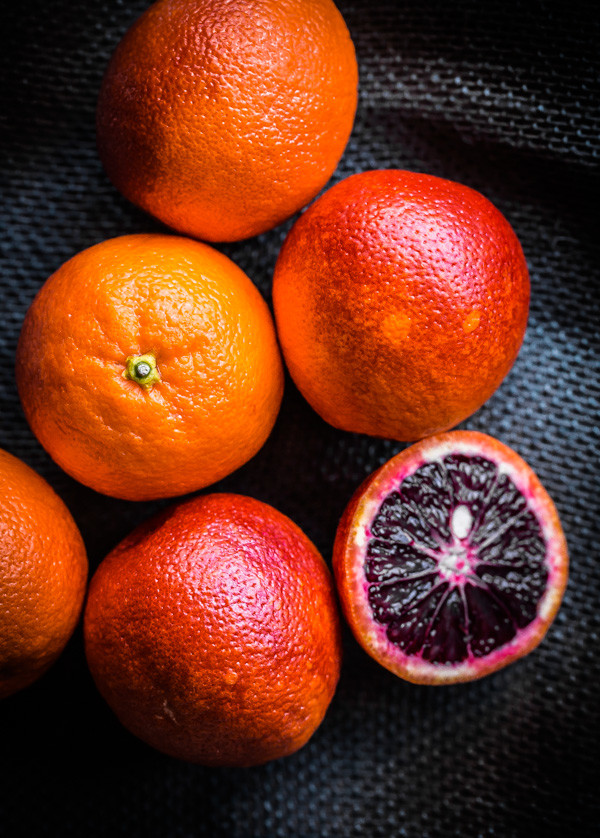 But as infatuated as I've been with anything chocolate orange (first it was Terry's milk chocolate orange balls growing up, and now I'm slightly more spoiled) throughout my life, I've come to realize that not everyone feels the same way about it.
Well, I've decided to hell with that. I am officially on a mission to force everyone to love it as much as I do, so today we're making candied blood orange slices dipped in silky, bittersweet chocolate!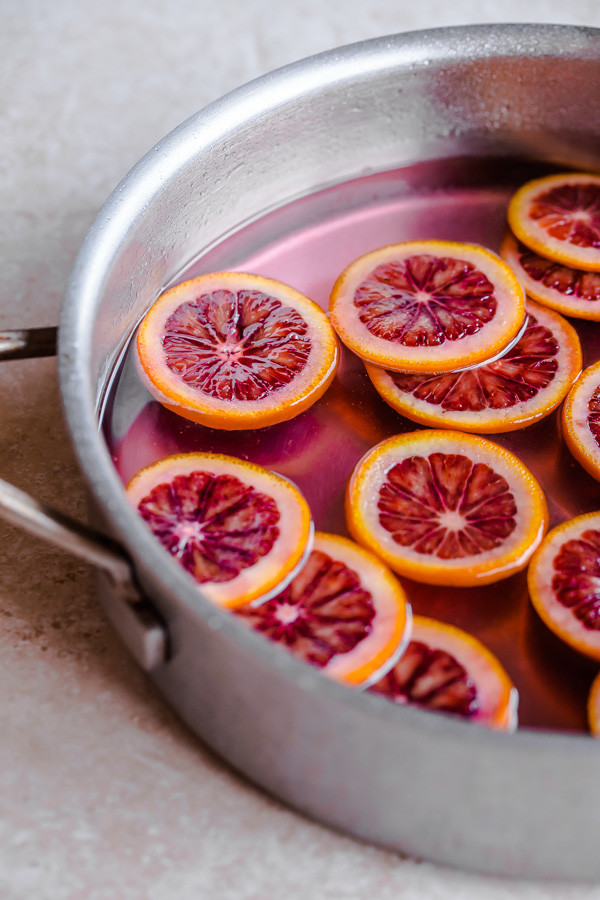 Chocolate covered candied orange slices are very traditional. Today we're mixing things up by using seasonal blood oranges. The color is unbeatable. They also offer a wonderful tartness that navel oranges do not.
Blood oranges develop their beautiful crimson color and blood-colored flesh when the citrus fruit ripens at low temperatures at night.
Due to their growing popularity, blood oranges are becoming more readily available at basic grocery stores. Since they are seasonal, you are most likely to find them in the fall and winter months. They are worth seeking out!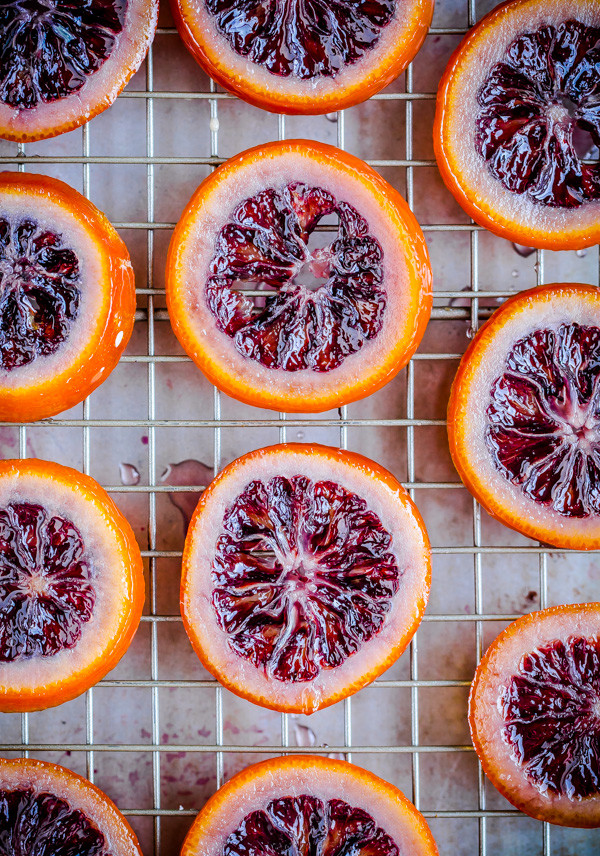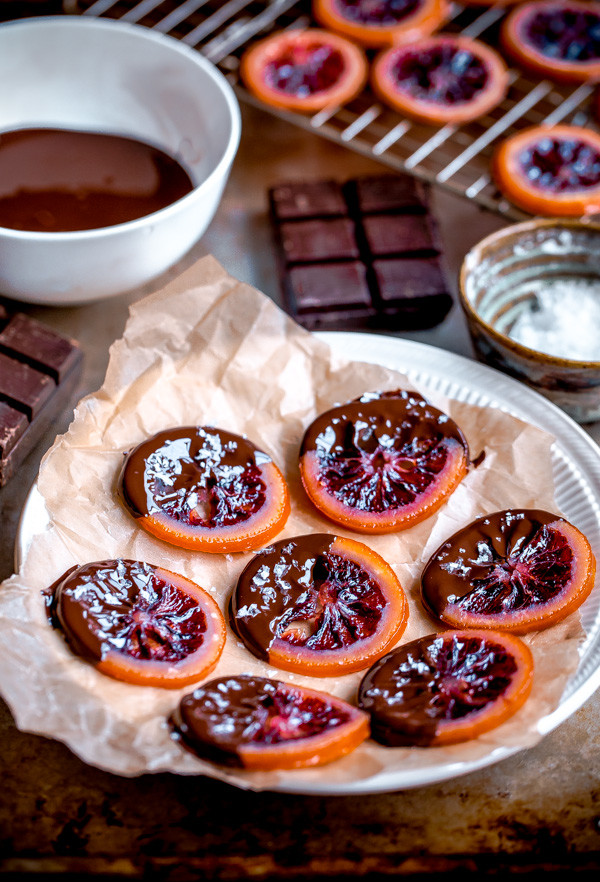 Although these candied blood orange slices require planning (they need to simmer in the simple syrup for an hour and require a dry time of at least 24 hours), they are simple to make, unlike other candied fruit.
They make a wonderful edible gift and are perfect for snacking on during the holidays. You can even add a nice sprinkle of Maldon sea salt for good measure. I preferred these without salt, but this is a personal choice and totally up to you.
Oh, and fun little blood orange fact?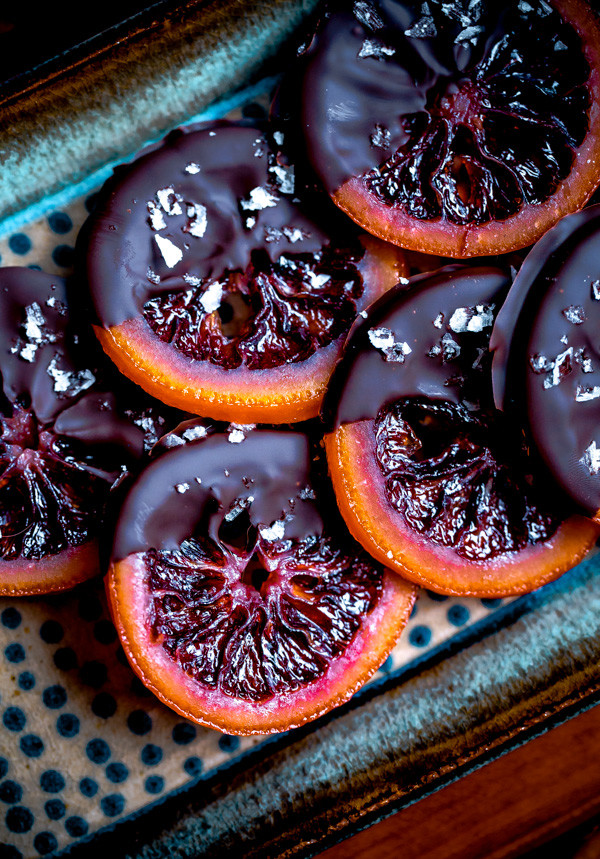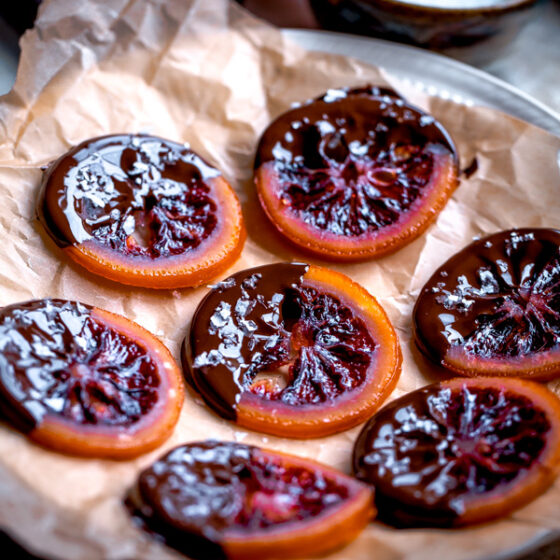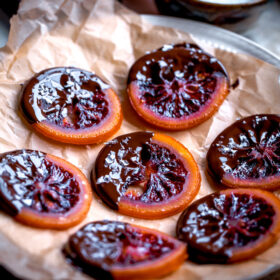 Candied Blood Orange Slices with Dark Chocolate
Homemade candied blood orange slices dipped in dark chocolate! These delicious, deceptively easy candied citrus make the perfect homemade gift for the holiday season.
Ingredients
Candied Blood Orange Slices:
2 blood oranges scrubbed well
¾ cup (150g) granulated sugar
2 cups (480 mL) water
2 tablespoons (30 mL) light corn syrup
Decoration:
4½ ounces (130g) bittersweet chocolate chopped roughly*
Maldon salt optional
Instructions
Trim the ends of the blood oranges, then slice them horizontally into ¼-inch thick slices. Carefully remove and discard any seeds.

Combine the sugar, water, and light corn syrup in a wide, deep skillet (preferably 10-inches in diameter) and bring to a boil, whisking continuously until the sugar has dissolved completely.

Add the blood orange slices to the pan in one single layer, and bring to a low simmer. Simmer the slices in the poaching liquid for 1 hour, uncovered, or until the slices have become nearly transparent (the poaching liquid will turn a deep pink color). Meanwhile, set aside a large rimmed sheet pan lined with a cooling rack.

Once the slices are transparent, transfer them carefully with tongs from the poaching liquid, allowing any excess syrup to drip back into the pan, and set onto the cooling rack, laying them out flat to dry.

Allow the candied orange slices to dry, uncovered, for a minimum of 24 hours, or until they are mostly dry and minimally tacky.
Assembly:
Set aside a platter or small baking sheet lined with parchment paper. Cut the chocolate into large chunks and place in a heat-proof bowl. Microwave in 25 to 30 second intervals, stirring with a spatula after each interval, until the chocolate has completely melted and is shiny and smooth.

Using your hands, dip the candied blood oranges slices halfway into the chocolate, ensuring they are evenly coated on each side. Set aside onto the parchment, then sprinkle with Maldon salt (if using). Once all of the blood orange slices have been coated, transfer to the refrigerator and allow the chocolate to set for 10 to 15 minutes before serving.

Storage: Store chocolate covered blood orange slices in a container, separate each layer with parchment paper to prevent sticking, in the refrigerator for 2 to 3 weeks. Since the chocolate coating is not tempered, this will ensure the chocolate does not melt. If you choose not to dip them in chocolate, the candied blood oranges can be stored in an airtight container (preferably with a silica gel packet to help absorb excess moisture) at room temperature for 1 to 2 weeks.
Tips for Success:
I love to use 72% bittersweet chocolate from Trader Joe's, as it is ver affordable and tastes great. Feel free to substitute with semisweet chocolate; however, the contrast of the bitter chocolate paired with the sweet candied fruit is wonderful.
Chocolate coated candied oranges can be stored in an airtight container in the refrigerator for 2 to 3 weeks.
Inspired by
Martha Stewart
.
Serving: 1serving, Calories: 138kcal, Carbohydrates: 21g, Protein: 2g, Fat: 6g, Saturated Fat: 3g, Polyunsaturated Fat: 2g, Sodium: 55mg, Fiber: 2g, Sugar: 17g
This post contains affiliate links, which means that I make a small commission off items you purchase at no additional cost to you. Please read my
privacy policy
for more information.