Chunky Pea and Leek Soup with Poached Eggs
A chunky pea and leek soup topped with a poached egg. This simple spring soup comes together in less than 30 minutes!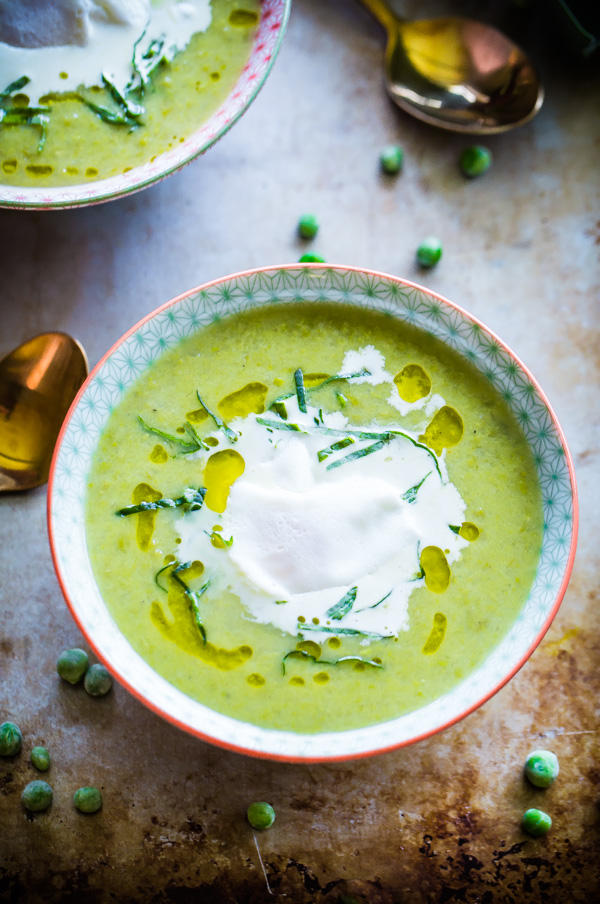 Ok, I have a little bit of a confession to make. I'm happy to say that there are very few vegetables that I don't care for, but I really don't care that much for peas. In fact, I could take them or leave them.
Growing up, my mom would occasionally serve steamed peas with a little bit of butter as a dinner side, most likely because it was my older sister's favorite vegetable. I would begrudgingly eat or feed them to our voracious chocolate lab, Geordie, underneath the dinner table.
He loved everything, peas included.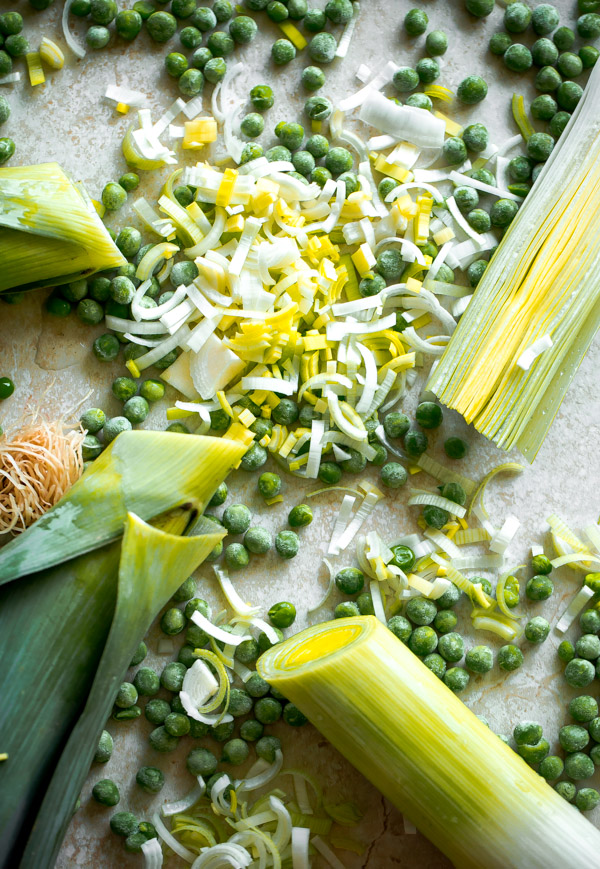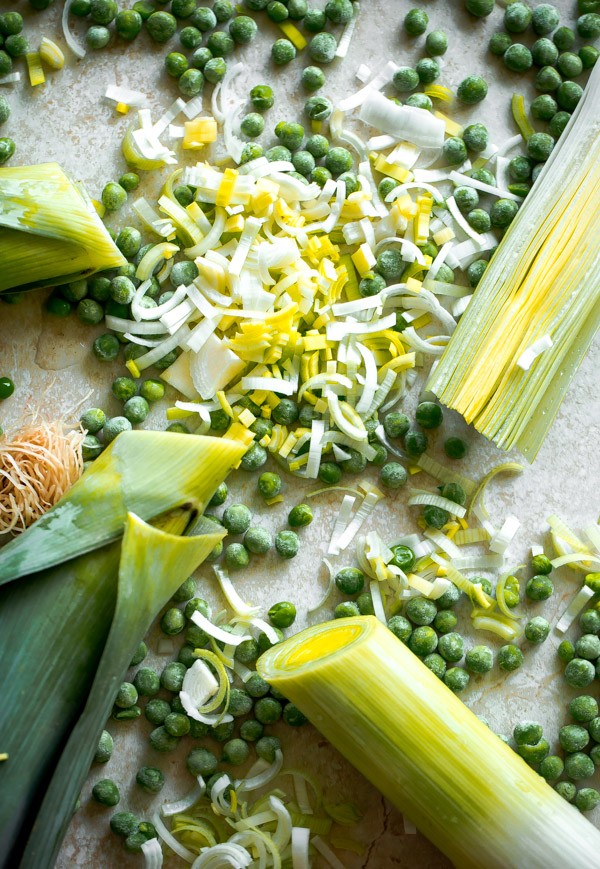 So why exactly am I sharing a soup recipe that is predominantly made with peas? Well, because I've discovered that really don't mind peas all that much when they are in soup form. In fact, I kinda love them. [Truthfully, I think whenever they are part of a dish with more than just one ingredient, I'm a fan.] Remember this spinach soup from last year?
But first, let's start off by answering some questions. You're probably wondering what the heck a poached egg is doing in this bowl of soup. I totally feel you. Hear me out.
This springtime chunky pea and leek soup was inspired by a handful of meals that I've had over the last few weeks. Although our real honeymoon isn't until mid-May, you may have noticed that we went away on a mini-moon to a beautiful bed and breakfast in Charlottesville, Virginia immediately following the wedding.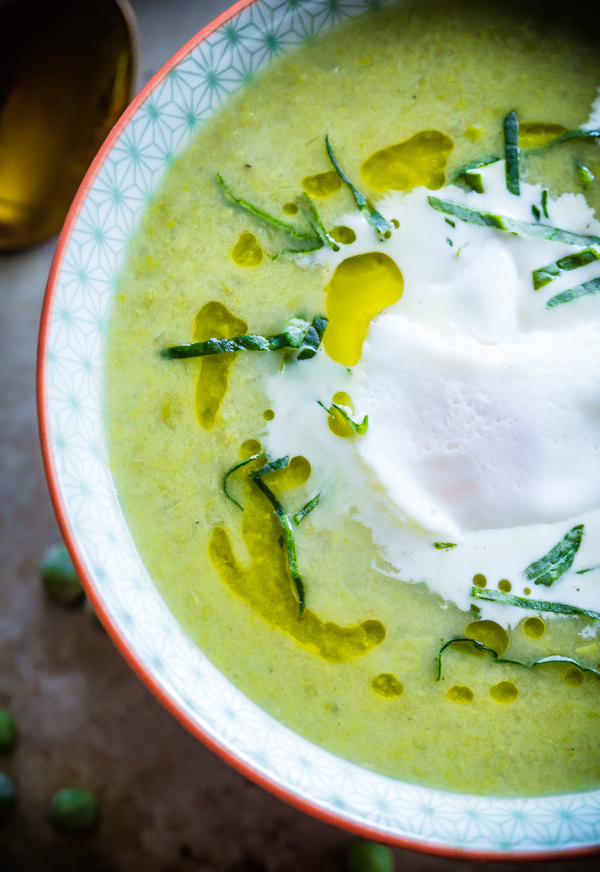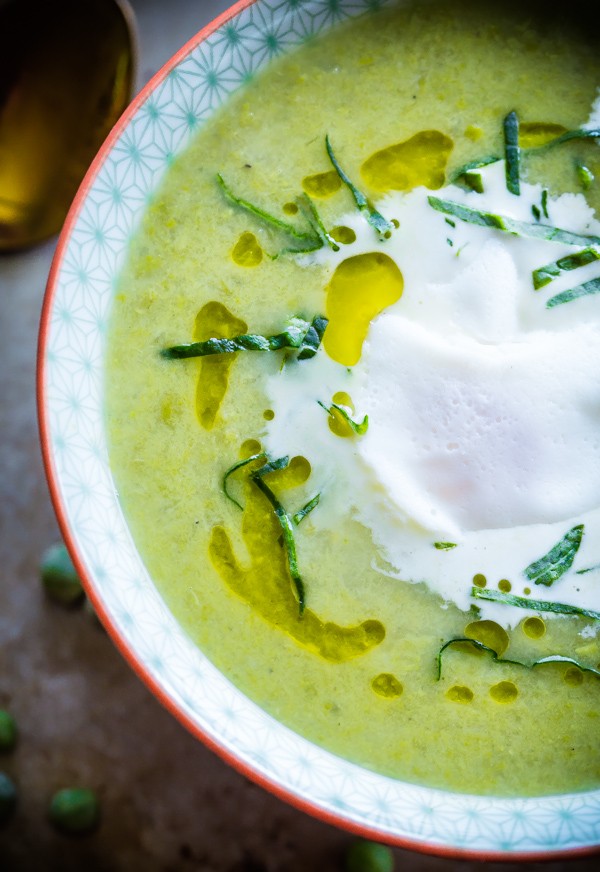 One of the nights there, we opted to stay in and have the farmhouse four-course dinner.
As you can probably predict, one of the courses was a chunky pea soup. It was done very differently (with a sage gastrique and several other elements), but it definitely inspired me to come home and do something similar for the blog. Even though this soup is made with frozen peas, it is the perfect soup to reign in spring.
I also loved that it was left a bit chunky, as it made a relatively light soup seem more hearty and gave it great texture.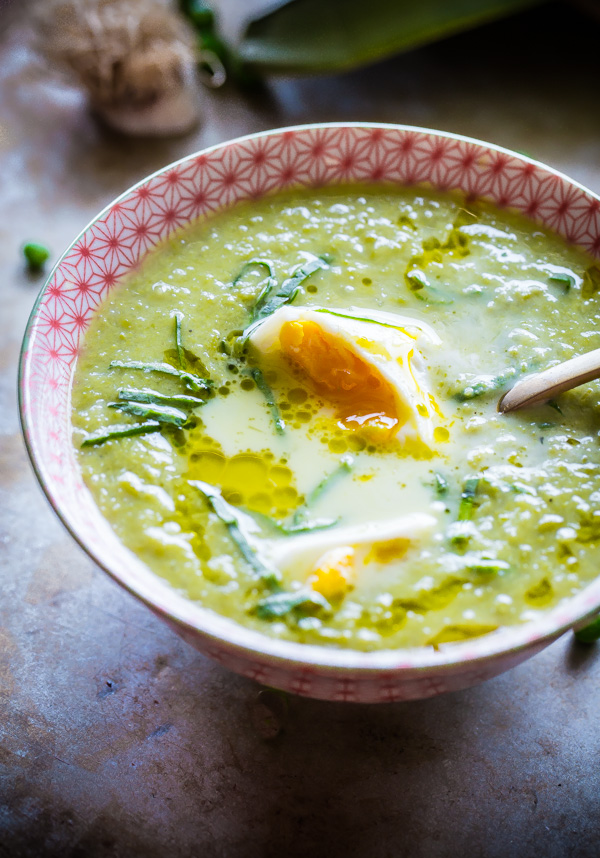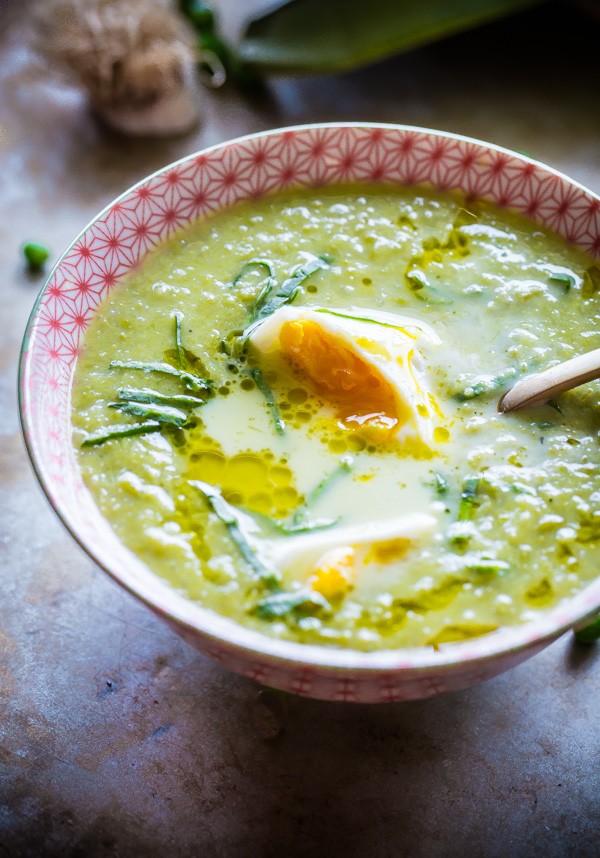 Soon after coming home from our mini-moon, I went to one of my favorite neighborhood cafes to do a bit of catch-up work and treated myself to a large bowl of a hearty braised pork stew.
It contained no peas and could not have been farther from this vegetable-laden soup, but it was topped with a poached egg! And just like that, inspiration struck. In fact, it was sort of life-changing. Not so much the soup (despite being delicious), but the concept of topping basically any soup with a poached egg. Obviously, this is done with ramen and other soups all the time, and yet, I'd never thought to do it with any of my other soup recipes before.
And guess what? It tastes really, really good. Plus, it's an amazing way to add protein and heartiness to an otherwise very light soup! Another great way to serve it, which I discovered with the leftovers, is to top it with tzatziki and chopped chives! Both equally good in very different ways.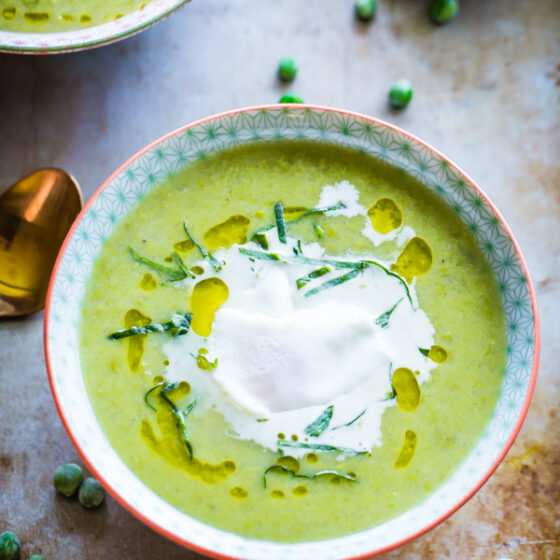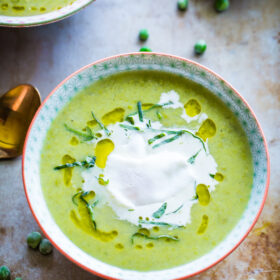 Chunky Pea and Leek Soup with Poached Eggs
A chunky pea and leek soup topped with a poached egg. A lovely spring soup that comes together in less than 30 minutes! If you prefer to not serve this soup with poached eggs, this soup also tastes fantastic with a dollop of yogurt or creme fraiche and finely chopped chives!
Ingredients
2 tablespoons (30 g) unsalted butter
2 large leeks, white and light green parts only finely sliced
1 medium yellow onion diced
15 ounces frozen peas
4 cups (1 quart) low-sodium chicken stock
kosher salt
freshly ground black pepper
pinch ground cayenne pepper
1 teaspoon fresh lime juice
Soup Toppings:
4 large eggs, for poaching see instructions below
2 tablespoons (30 mL) heavy cream
fresh basil, mint, or dill or garnishing
extra virgin olive oil for drizzling
Instructions
Heat the butter in a large soup pot over medium-low heat until it begins to bubble slightly. Add the leeks and onion, a pinch of salt, cover, and saute for 8 to 10 minutes, stirring occasionally, or until very soft and translucent.

Add the frozen peas and chicken stock. Bring the soup to a boil and immediately reduce to a low simmer. Simmer the soup uncovered for 15 to 20 minutes, or until the peas are very tender. Carefully transfer the soup to a high-powered blender, such as a Vitamix, and puree lightly until the soup is mostly uniform in texture, but still slightly chunky.

Return the soup to the pot and simmer for an additional 5 to 10 minutes, or until it has thickened slightly. Season to taste with salt and pepper and add the cayenne pepper and lime juice. Place over low heat while you prepare the poached eggs for topping.

Prepare the Poached Eggs: Fill a large skillet with several inches of water, salt heavily, and bring to a boil. Reduce the heat so that the water is barely simmering. Very small bubbles should be visible on the bottom of the pan.

Crack the eggs, one at a time, into a fine-meshed sieve set over a bowl. Discard any loose egg whites that drain into the bowl and transfer each egg into a small ramekin. Tip the eggs gently into the simmering water. Using a slotted spoon, gently stir to ensure they are not sticking to the bottom of the pan. Cook, turning them once, for 3 to 4 minutes, or until the whites are cooked through and the yolk is soft to touch. Lift with a slotted spoon and transfer to a paper towel-lined plate.

Finish the soup by stirring in the heavy cream. Serve in large bowls, garnish with fresh herbs, a little drizzle of olive oil, and place the poached egg gently in the center of the soup. Serve immediately.
Tips for Success:
If you prefer to not serve this with poached eggs (or are serving it as a first course), this soup also tastes fantastic with a dollop of tzatziki yogurt (or you could substitute this with creme fraiche), and finely chopped chives! A drizzle of olive oil adds a beautiful touch as well.
Serving: 1serving, Calories: 327kcal, Carbohydrates: 27g, Protein: 17g, Fat: 17g, Saturated Fat: 7g, Polyunsaturated Fat: 9g, Cholesterol: 210mg, Sodium: 865mg, Fiber: 8g, Sugar: 9g
This post contains affiliate links, which means that I make a small commission off items you purchase at no additional cost to you. Please read my
privacy policy
for more information.