Fresh Spinach Soup with Minted Pea and Cilantro
A fresh spinach soup made potatoes and onions, and elevated with flavor from the addition of fresh peas, mint, and cilantro. This beautiful green soup can be served hot or cold!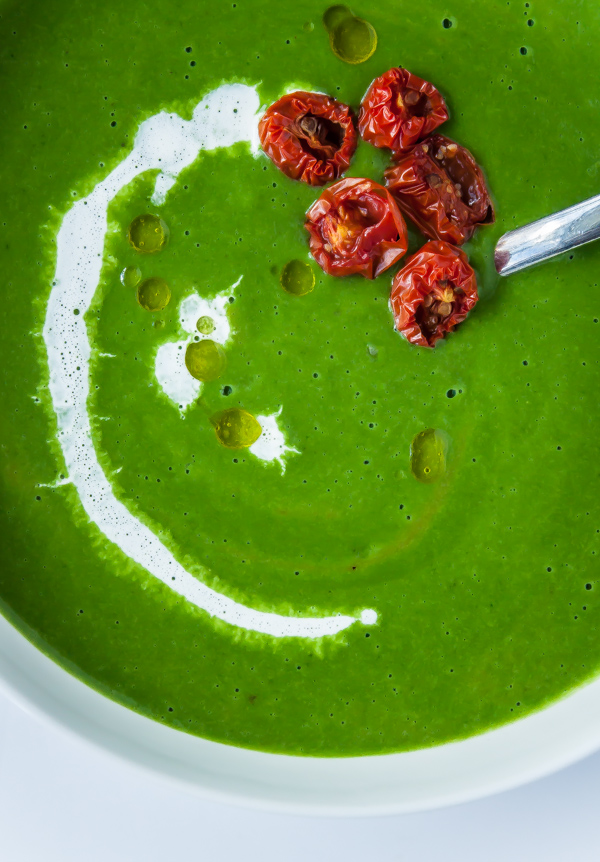 Apparently this week is all about the green food.
We ate some fried zucchini on Monday (you know, because it was Monday), and now I'm back to convince you to add this healthy, super green spring soup to your meal rotation as well. It's all about balance, right?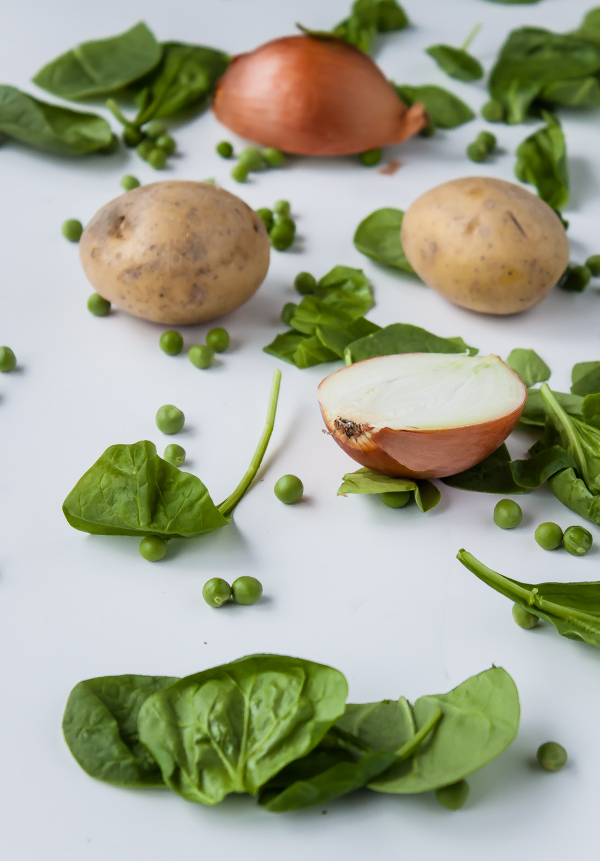 Even though the weather is warming up, soup is not even close to being off my radar. I'm pretty sure I've been making a homemade soup at least once every two weeks for as long as I can remember (i.e the past three months or so).
I tend to break my favorite soup recipes into a few different categories. Some are heartier and reserved for the winter months, some are lighter and ideal for spring, and others I prefer to serve cold in the summer months.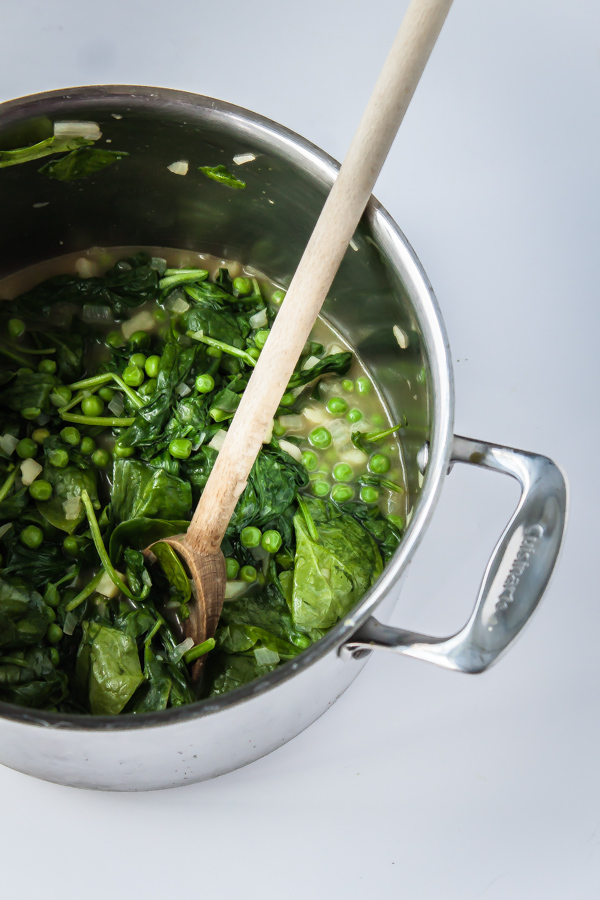 Luckily, this soup is versatile in that it can be served both hot or cold. It tastes just as good either way, so it is really up to your own preference! [After trying it both ways, I'm partial to say that I may even prefer it cold? This is very unusual for me.]
Don't be mistaken, this soup is definitely delicate in flavor. I always fear that spinach-based soups will be a little dull or flat, but this soup is quite the opposite of that. The addition of potatoes and onion definitely helps, but it is really the combination of the fresh peas, mint and cilantro that helps take it to the next level.
Fresh herbs are a must!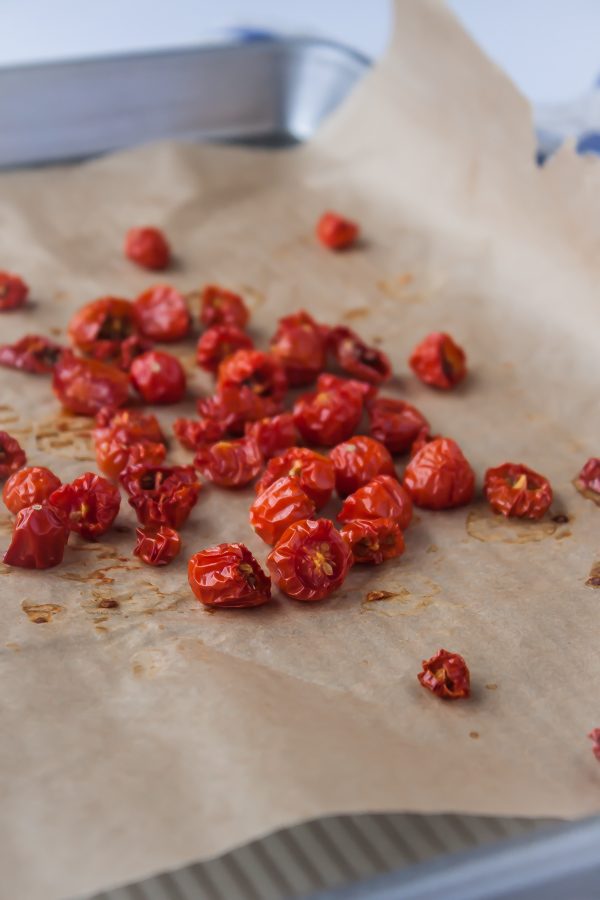 The soup itself is incredibly easy to put together! It takes less than thirty minutes from start to finish (longer, of course, if you need to allow it to cool if you are choosing to serve it cold).
If you have time (roughly 3 hours of inactive time to be exact) and are feeling up to it, the oven-dried tomato garnish is the perfect finishing touch. They can be made ahead of time (and kept in the fridge in a covered container for a few days) too.
To make oven-dried tomatoes, simply place some halved grape or cherry tomatoes on a parchment-lined baking sheet, set your oven to 200 degrees Fahrenheit, close the door, and walk away. Don't come back for a while.
Making oven-dried anything is the ultimate test of patience, which is probably why you don't see a lot of oven-dried things around these parts.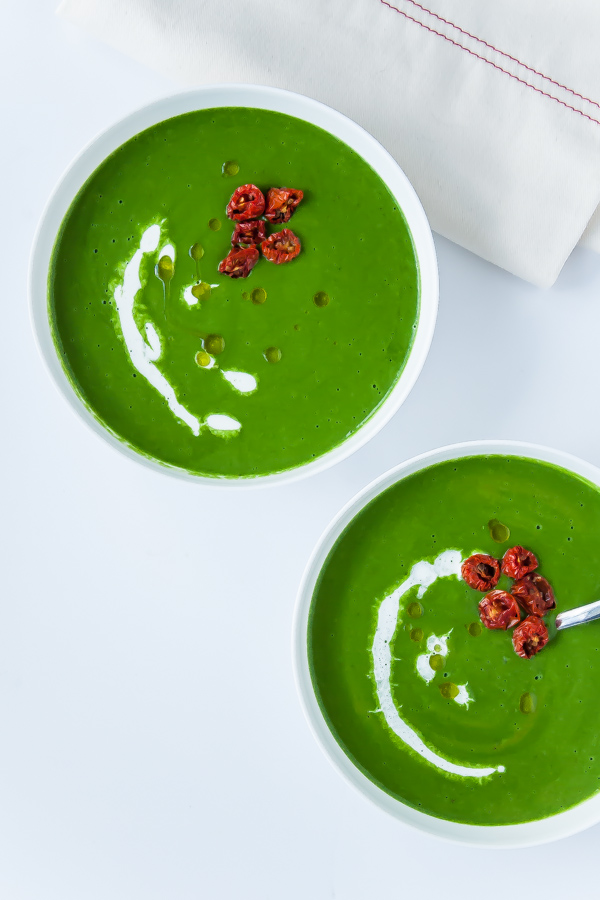 It is completely optional–seriously, it is definitely not an integral component, so don't feel like you will be missing out–but it definitely adds a little drama to the bowl! The contrast in color can't be beat.
Seriously, this soup is good. My dad, who tends to be a little wary of anything too green, happened to try this one and loved it. And if that is not the ultimate stamp of approval, than I don't know what is!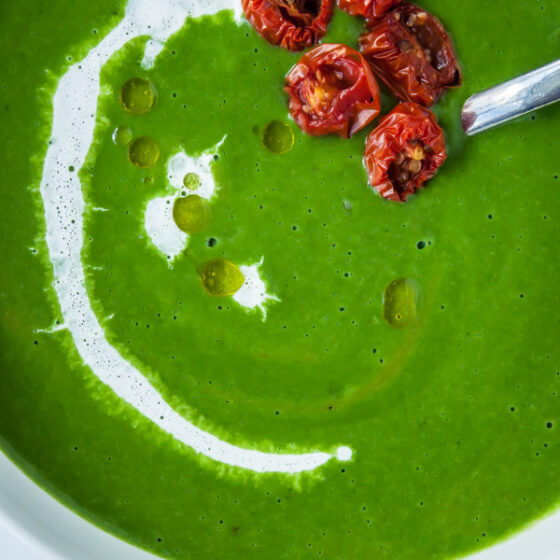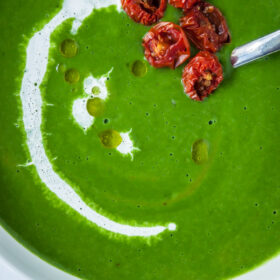 Fresh Spinach Soup with Minted Pea and Cilantro
A fresh spinach soup made potatoes and onions, and elevated with flavor from the addition of fresh peas, mint, and cilantro. This beautiful green soup can be served both hot or cold!
Ingredients
Oven-Dried Grape Tomatoes (optional):
½ cup grape or cherry tomatoes halved
Fresh Spinach Soup:
1½ tablespoons (22 g) unsalted butter
1 medium onion chopped
2 small white potatoes peeled and diced
3½ cups (780 mL) low-sodium vegetable stock
10 ounces fresh or frozen peas
1 lb (16 oz) baby spinach
10 fresh mint leaves
3 tablespoons freshly chopped cilantro
juice ½ lemon
⅓ cup (80 mL) heavy cream plus more for garnishing
kosher salt
freshly ground black pepper
extra virgin olive oil for drizzling
oven-dried grape or cherry tomatoes for garnishing
Instructions
Prepare Oven-Dried Tomatoes: Preheat the oven to 200°F (93°C) with a rack in the center position. Place the halved grape or cherry tomatoes on half sheet pan lined with parchment paper.

Dry the tomatoes in the oven for 3 hours, stirring every hour or so, until they are shriveled and have lost most of their moisture. Allow tomatoes to cool on a rack. If preparing in advance, store them in an airtight container in the fridge for up to a week.

Prepare Soup: Heat the butter over medium heat in a large soup pot until melted and bubbling. Add the onion and potato, and sauté, stirring frequently, for roughly 3 to 4 minutes. Add the vegetable broth and simmer for roughly 15 minutes, or until the potatoes are tender.

Add the fresh peas and simmer until just tender, or roughly 2 minutes. Avoid overcooking the peas, as they will lose their vibrant green color. Add the spinach and immediately remove the soup from the heat. Stir the spinach into the broth and soup base until it has wilted and the volume has decreased significantly.

Transfer the soup to a high-powered blender, such as a Vitamix, and puree until very smooth. Add the mint and cilantro to the blender, and puree again until incorporated and pureed. Return the pureed soup to the pot and return to heat. Add the lemon juice and season with salt and pepper to taste.  Before serving, stir in the heavy cream. Serve soup hot or cold with a drizzle of cream, olive oil, and garnish with oven-dried cherry tomatoes.
Tips for Success:
Soup can be served hot or cold. If serving cold, you may need to thin the soup down with another dash or two of vegetable stock and re-season with additional salt and pepper.
Adapted heavily from
The Times Magazine
.
Serving: 1serving, Calories: 465kcal, Carbohydrates: 66g, Protein: 17g, Fat: 17g, Saturated Fat: 8g, Polyunsaturated Fat: 7g, Cholesterol: 35mg, Sodium: 487mg, Fiber: 17g, Sugar: 20g
This post contains affiliate links, which means that I make a small commission off items you purchase at no additional cost to you. Please read my
privacy policy
for more information.