Classic Pound Cake with Fresh Strawberry Glaze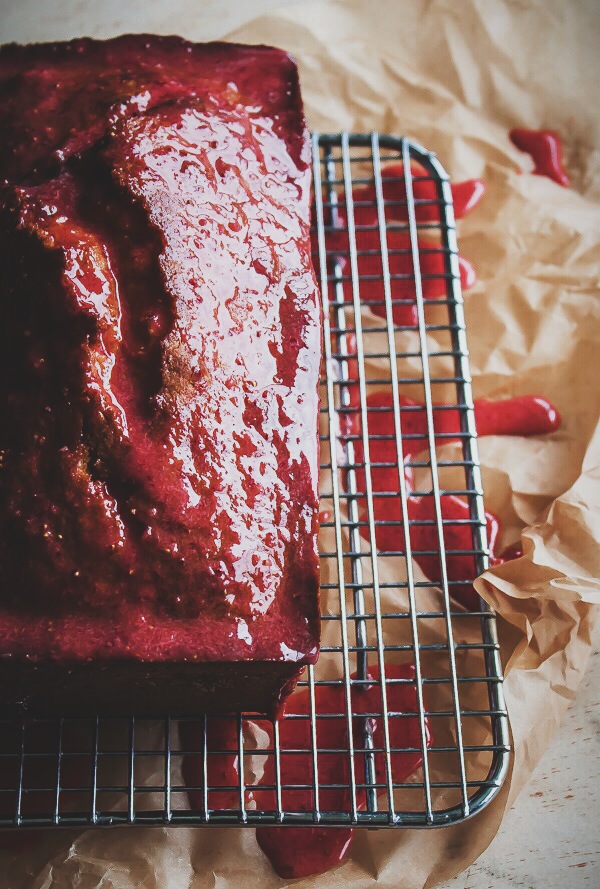 Pound cake and I go way back.
You see, I used to have this thing for Sara Lee pound cake growing up. We had it in the house every once in a blue moon, and let me tell you, I could go through one of those in an instant.
My preference was to eat it straight out of the freezer. I would cut off a thick slice, and savor every crumb–even the strange, smooth top "crust". I don't know what it was, but I think the butter reeled me in. I couldn't help myself.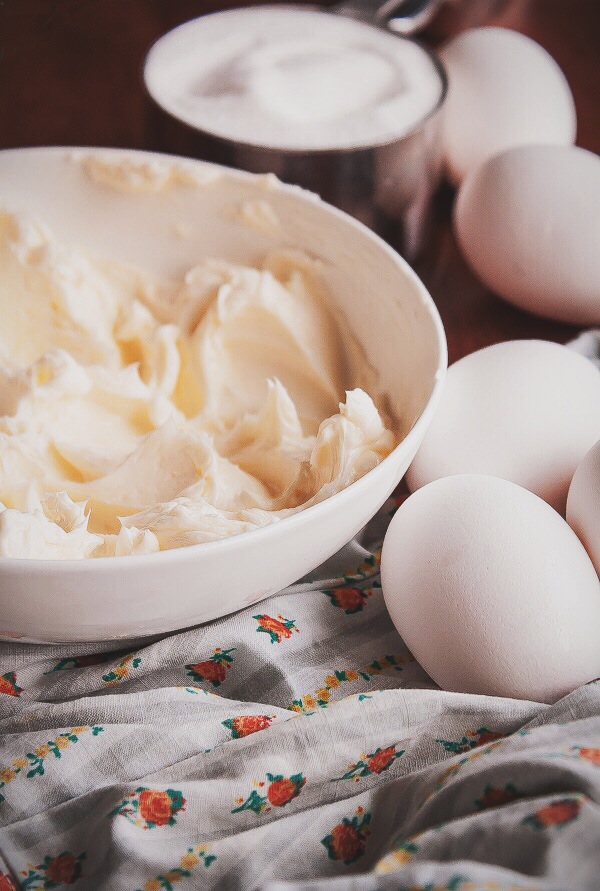 Over the years, my infatuation with Sara Lee pound cake was replaced with the real deal stuff. Now I secretly indulge in other things like the Real Housewives of OC (why is it so good?)…and the occasional bag of sour gummies. Feel free to judge me.
With that said, I don't make homemade pound cake all that often. As I'm sure some of you have experienced, there is always a small level of guilt when you grab two sticks of butter out of the fridge and live with only one other person (hi Connor!).
Two sticks of butter, two people (one of whom has to fit in a wedding dress in eight months). You do the math.
And let's be honest, if there is a loaf of pound cake sitting on the kitchen counter when I wake up in the morning, I'll most likely end up eating it all.day.long.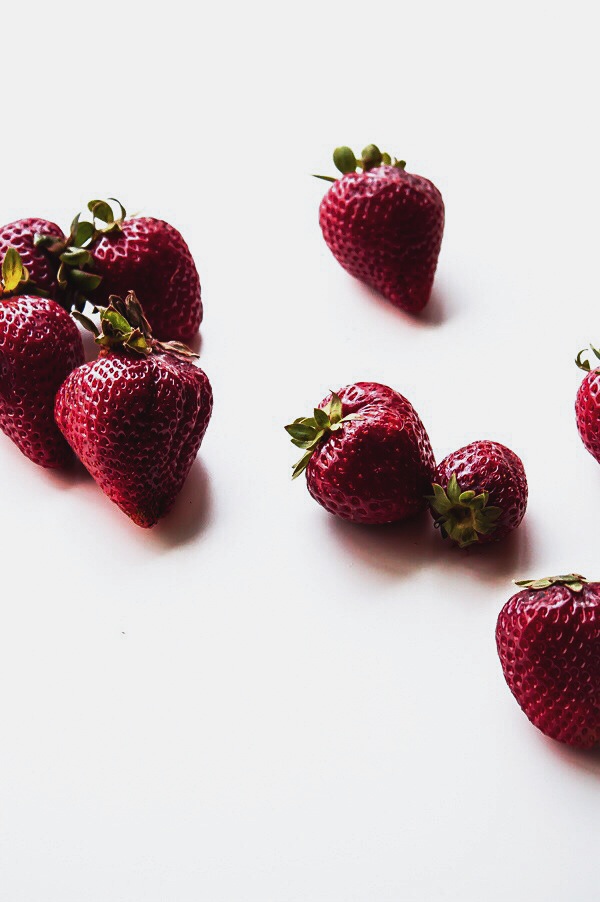 But man, this stuff is good. If I just made you feel guilty for wanting to go into the kitchen and make pound cake (and for that, I am very, very sorry!), read this article.
Wahoo! Moral dilemna solved = more pound cake for us.
And although it sounds contradictory to describe any pound cake as light, this particular recipe is just that. To achieve the lighter texture, the egg whites are beaten separately and folded into the cake batter just before baking. I'm not sure if I'll make pound cake any other way again.
To make it a little more fun and summery, I decided to go all out and top it with a fresh strawberry glaze. The glaze is incredibly easy to make–simply fresh cut strawberries, powdered sugar, and a touch of lemon juice pulsed together in a food processor. Fresh, bright, and irresistible.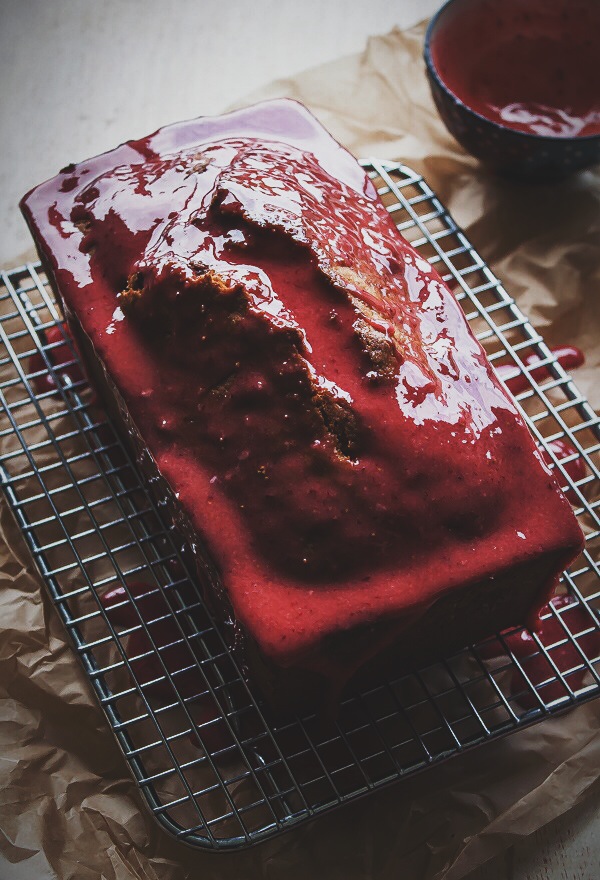 Did I mention that Connor has been in San Francisco all month, which means I was left alone with this thing? Yeah….not good people.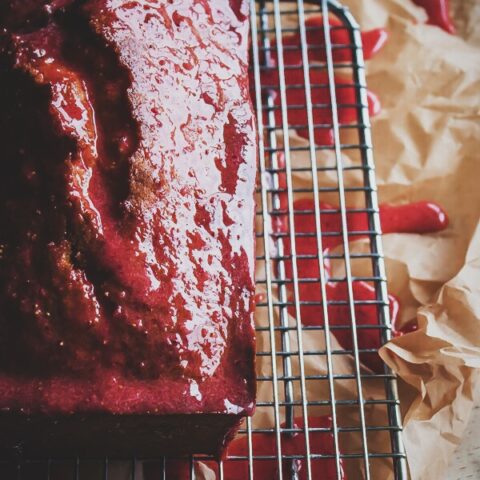 Classic Pound Cake with Fresh Strawberry Glaze
Yield: 1 (9 x 5 inch) Loaf

Prep Time: 25 minutes

Cook Time: 1 hour 15 minutes

Total Time: 1 hour 40 minutes
Ingredients
Classic Pound Cake:
2 sticks (1/2 pound) unsalted butter, softened (plus more for greasing)
9 ounces (2 cups) cake flour, sifted
1 teaspoon baking powder
1/8 teaspoon kosher salt
1/2 teaspoon freshly grated nutmeg
1 cup granulated sugar
5 eggs, separated
2 teaspoons vanilla extra
Fresh Strawberry Glaze:
1/3 cup chopped strawberries
1 1/4 cup powdered sugar
1/8 teaspoon fresh lemon juice
Instructions
Separate the eggs, and place in separate bowls. Allow the eggs to come to room temperature (separating the eggs at room temperature will be much more difficult).
Preheat the oven to 350 degrees Fahrenheit. Butter a 9 x 5 inch loaf pan and set aside.
In a bowl, whisk together the sifted cake flour, baking powder, salt, and grated nutmeg.
Place the butter in a stand mixer, fitted with a paddle attachment (note: the butter should be very soft and similar to the consistency of mayonnaise). Add half the sugar, and beat the mixture on medium-high speed until well-blended. Add the rest of the sugar, and continue to beat until light and fluffy–scraping down the sides of the bowl as necessary.
Add the egg yolks, one at a time, and beat until incorporated. Scrap the butter-yolk mixture into a large mixing bowl. Mix in the dry ingredients by hand with a spatula  (the batter will be relatively dry–don't worry). Add the vanilla and stir until incorporated. Clean the stand mixer bowl thoroughly and dry.
Place the egg whites into the stand mixer bowl, fitted with a whisk attachment, and beat until whites form soft peaks. Fold them gently into the batter until consistently distributed.
Pour batter into the greased loaf pan, and smooth the top with an offset spatula. Bake at 350 degrees for 1 hour and 10-15 minutes, or until toothpick inserted comes out clean and loaf is golden brown.
Allow loaf to cool in the pan on a cooling rack for 5 minutes; then invert and allow cake to cool to room temperature.
Once pound cake has cooled, place the chopped strawberries, powdered sugar, and lemon juice in the bowl of a small food processor. Pulse until ingredients come together to form a smooth, pourable glaze.
Place the pound cake on a cooling rack above a sheet of wax paper, and drizzle the glaze evenly over the entire top of the cake. It should drip off the sides. Allow the glaze to set slightly before slicing and serving.
Notes
Best served the day of baking. Pound cake can be carefully wrapped and kept at room temperature for up to 1 to 2 additional days.

Cake recipe barely adapted from How to Cook Everything.
Nutrition Information:
Yield: 12 Serving Size: 1
Amount Per Serving: Calories: 501Total Fat: 5gSaturated Fat: 2gTrans Fat: 0gUnsaturated Fat: 2gCholesterol: 83mgSodium: 109mgCarbohydrates: 100gFiber: 3gSugar: 28gProtein: 12g

A Beautiful Plate provides nutritional information, but these figures should be considered estimates, as they are not calculated by a registered dietician.