Old Bay Stove Top Popcorn
This post contains affiliate links.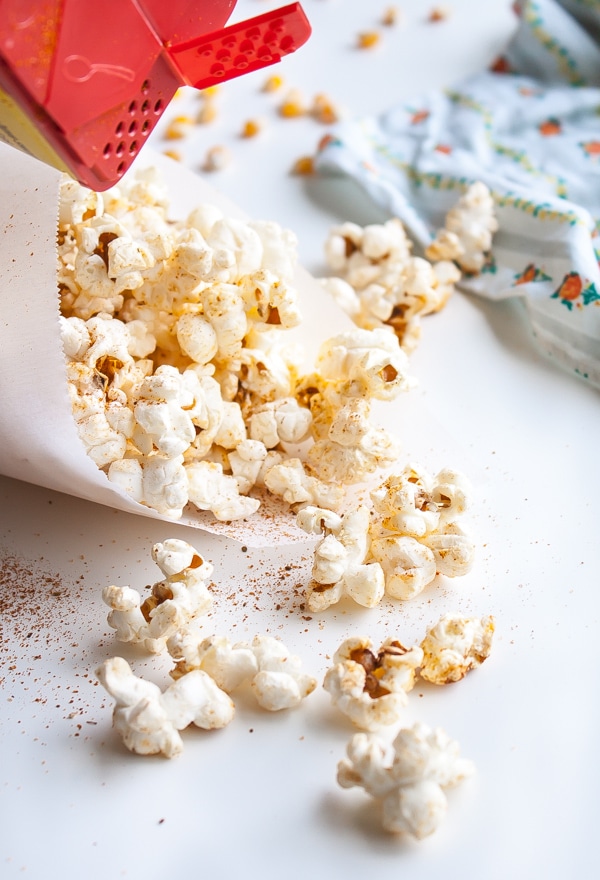 I'm kind of embarrassed to share this recipe. I mean, I'm telling you how to make popcorn–and then toss it with melted butter and a (pre-blended) spice mix. Not exactly rocket science, I know. But oh my gosh, this stuff is good.
I could get away with eating popcorn for dinner good, if you know what I mean. It is my new favorite snack. I'm not even that much of a popcorn fanatic, but give me all the Old Bay stove-top popcorn.
It combines everything that is great about summer. Corn, Old Bay, and lots of snacking.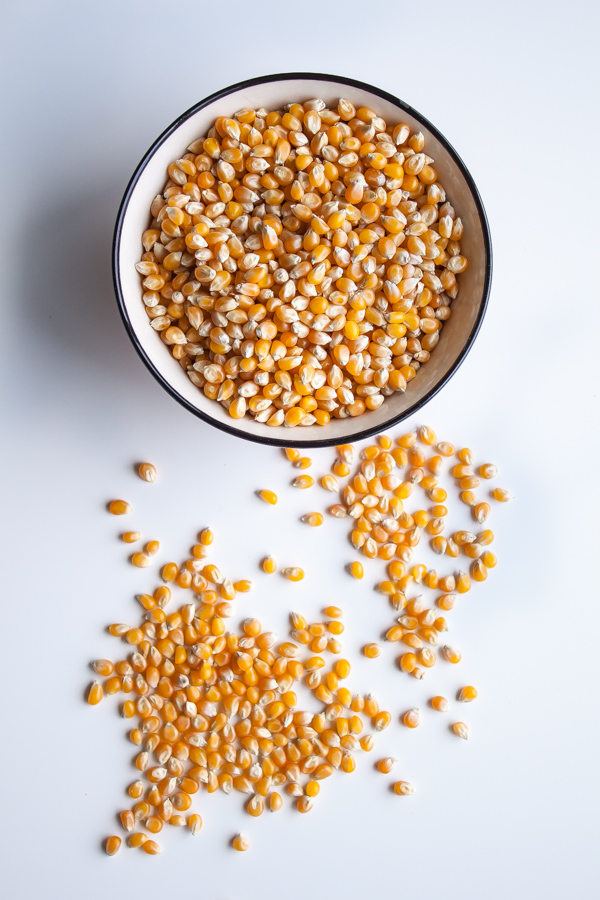 Learning how to make stove-top popcorn was definitely an 'ah-ha' moment for me. Similar to that feeling that you get when you make homemade bread for the first time.
The "why haven't I always been doing this?" moment.
If you've never popped popcorn on the stove-top, try it! It is incredibly easy, and after you do it you'll never want to make popcorn in the microwave ever again.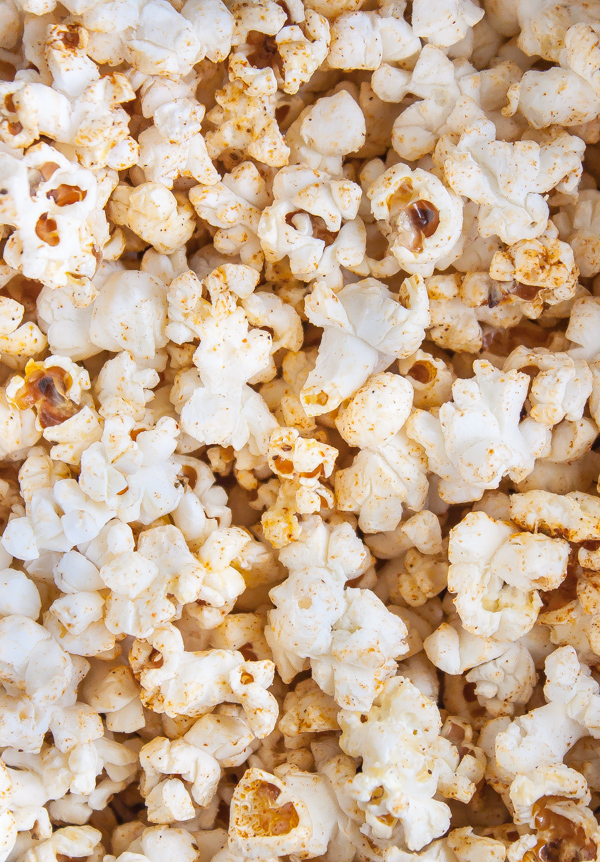 You can make as little or as much popcorn as you want anytime, and it is ridiculously cheap. It would probably take me a year (maybe two) to go through an entire bag of popcorn kernels. The ratio is crazy. Like one tablespoon of kernels yields 6 cups of popcorn. I kid, I kid. But seriously, this stuff goes far.
The trick to popping this stuff on the stove is to heat a little bit of oil (safflower, or practically any oil will work, even ghee!) in a large pot on the stove.
Test a few kernels to check the temperature, add all the kernels, reduce the heat, cover the pot tightly with a lid, and shake it back and forth. Word to the wise? Don't peek or open the lid! I did that the first time I made popcorn on the stove, and it was…not so great. Popcorn will literally fly everywhere.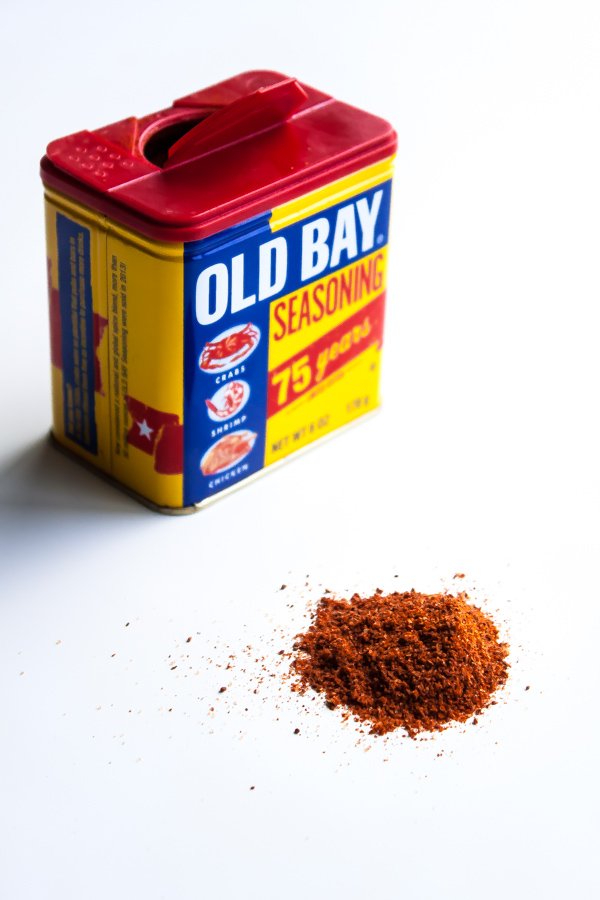 Once the popping slows down dramatically (similar to the microwave-method), remove the pot from the heat and immediately throw the popcorn into a large bowl. Drizzle with melted (unsalted) butter, top with a generous amount of Old Bay, and toss.
Since Old Bay seasoning contains salt already, the final result ends up being perfectly seasoned. It also has just enough of a kick to have you coming back for more!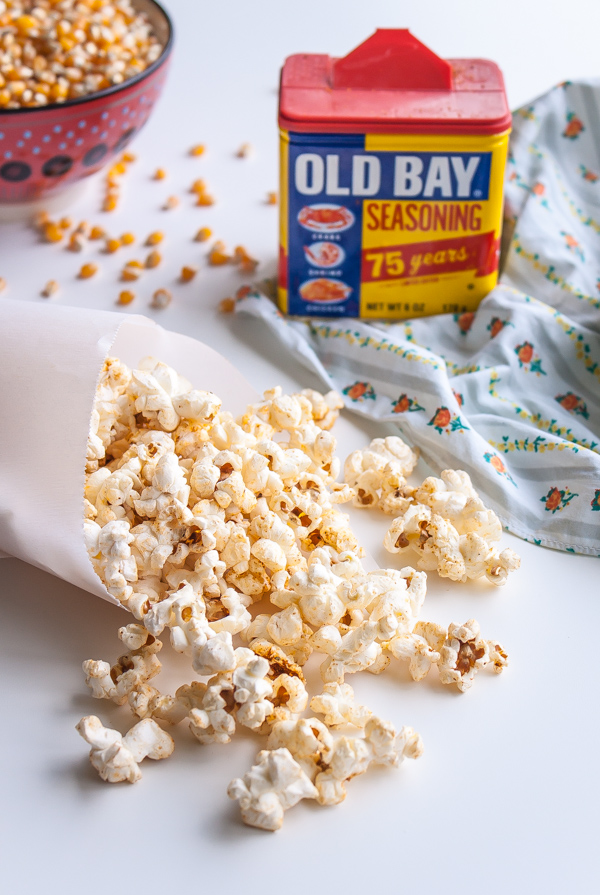 Also, if you're wondering, I tried to be crafty and make cute popcorn cones with parchment paper. Well, technically I wanted to make the cones with newspaper, but then I realized (fairly quickly) that I don't have any old newspaper lying around my apartment.
I wish I could tell you how to make said parchment cones, but I became impatient within about 60 seconds of making them–which is also why you only see part of the cones in the pictures above.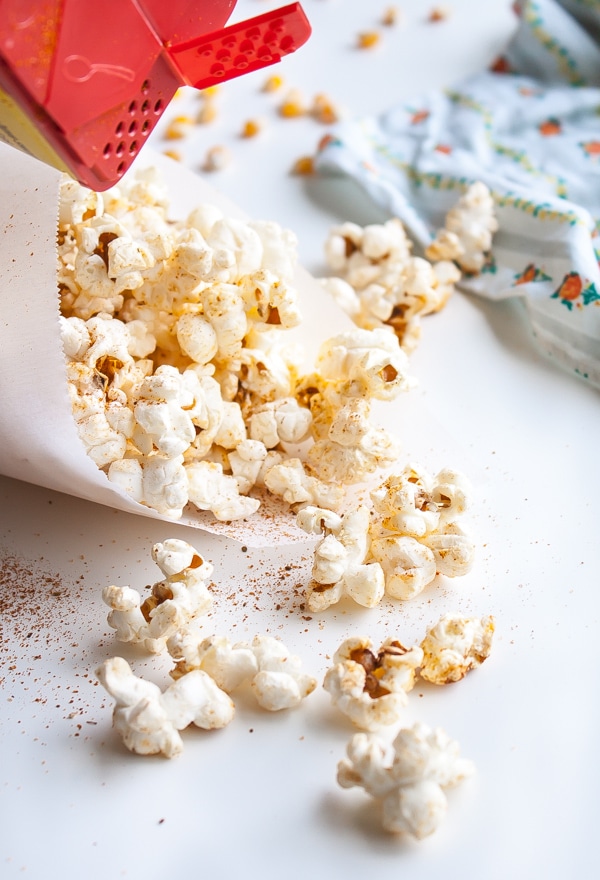 Old Bay Popcorn
Homemade old bay popcorn! This easy stovetop popcorn recipe is prepared from scratch and tossed with signature Old Bay seasoning for a delicious kick.
Ingredients
2 tablespoons (30 mL) safflower oil
½ cup yellow corn kernels
2 tablespoons (30 g) unsalted butter melted
1 tablespoon + 1 teaspoon Old Bay seasoning
Instructions
Place the butter in a small microwave-safe bowl, cover, and melt in the microwave. Set aside at room temperature.

Heat the oil in a large saucepot (5 quarts in size) over medium-high heat. Once the oil is heated, add 3 to 4 kernels of corn, cover the pot, and wait until they have popped. Immediately add the remaining popcorn kernels, and cover the pot tightly with a lid again.

Once the popping begins, immediately reduce the heat to medium or medium-low. Holding the lid closed with one hand, and holding the handle of the pot with the other, shake the pan back and forth as the popcorn begins to pop. Continue to do this until the popping slows down significantly and remove the popcorn from the heat.

Dump the popcorn in a large bowl, drizzle with the melted butter and toss together until well distributed. Add the Old Bay seasoning, and continue to toss the popcorn until it is evenly coated with the spice mixture. Serve immediately.
Storage: 
Popcorn can be stored in an air-tight container or large Ziploc bag for up to three days.
Serving: 1serving, Calories: 130kcal, Carbohydrates: 4g, Protein: 1g, Fat: 13g, Saturated Fat: 4g, Polyunsaturated Fat: 8g, Cholesterol: 15mg, Sodium: 154mg, Sugar: 1g
This post contains some affiliate links, which means that I make a small commission off items you purchase at no additional cost to you. Please read my
disclosure policy
for more information.