Coconut Sorbet with Orange Marmalade Swirl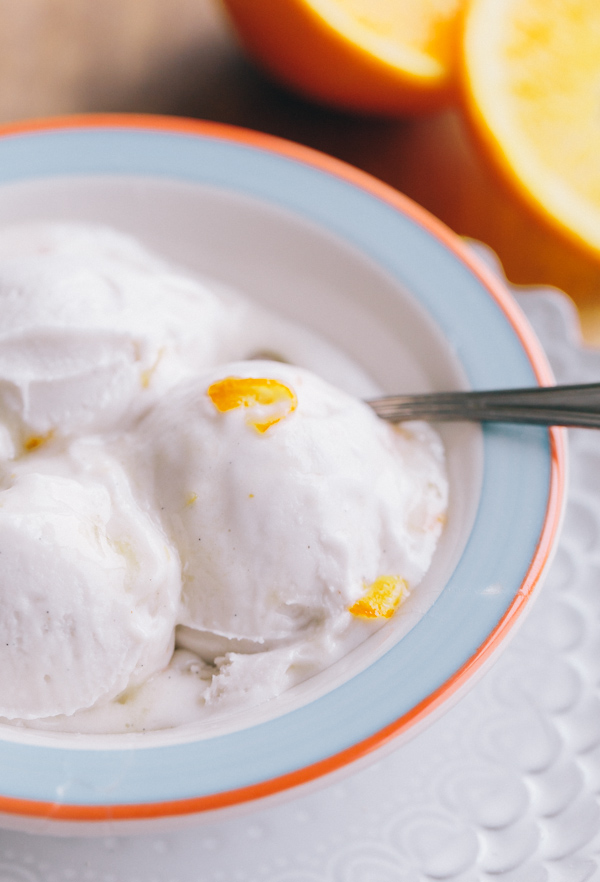 It snowed yesterday and yet, here I am sharing coconut sorbet of all things. Makes total sense, right? I blame severe vacation withdrawal.
I first made this coconut sorbet several weeks ago in anticipation of my upcoming trip, and I just made another batch the other day. There is something about a tropical dessert that makes everything better, particularly during the winter time.
It almost makes me forget the fat and fluffy snowflakes falling outside my window. Almost.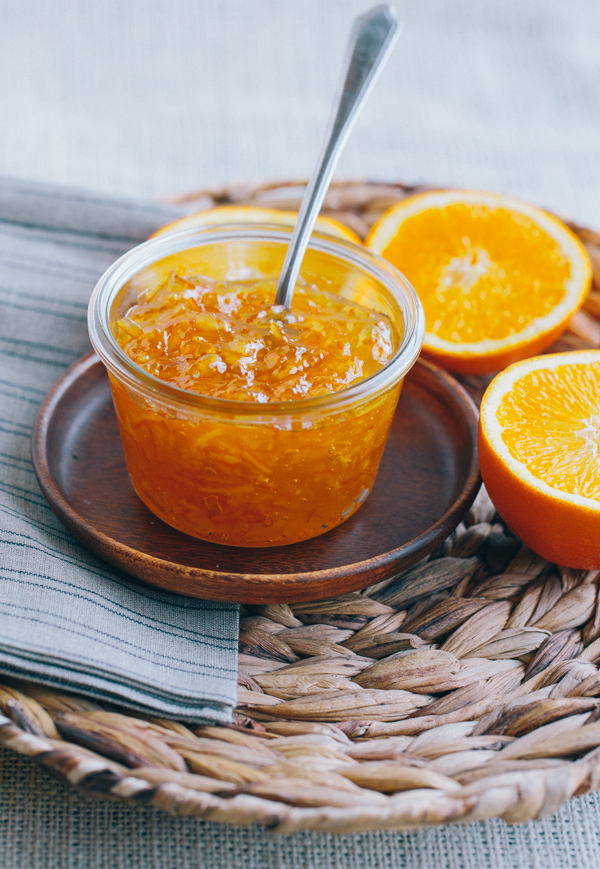 As you can probably tell, this coconut sorbet is not just any ordinary coconut sorbet. It has an orange marmalade swirl! As in, you literally take some good-quality canned orange marmalade, grab a spatula, and fold it into the just-churned coconut sorbet.
It is magical, particularly the spoonfuls that contain any orange rind! So, so good.
If you're thinking that this sorbet is essentially a coconut version of a creamsicle than you are absolutely correct (and we should probably be best friends). In other words, it is basically three million times better than a normal creamsicle. The coconut takes everything over the top. Sadly, vanilla just won't  cut it anymore.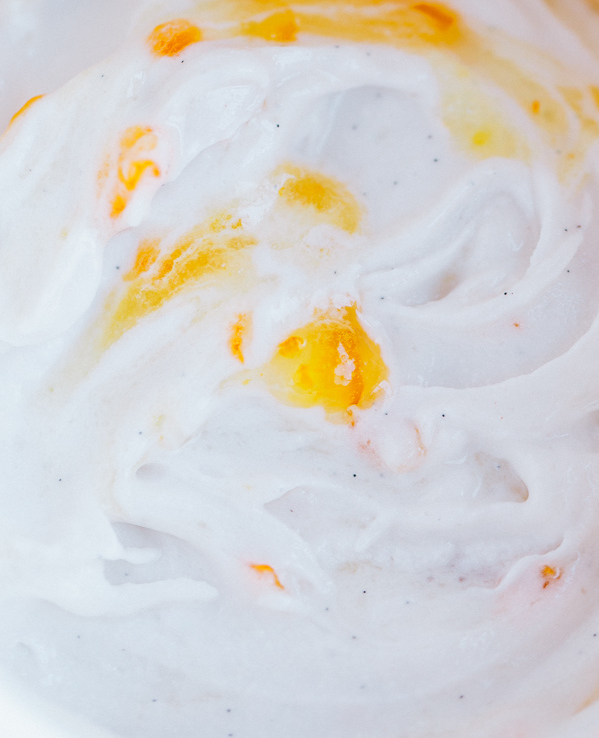 But really, creamsicles have always been one of my favorite ice cream flavors. As a kid, we used to spend nearly all summer at our local pool and whenever we visited the pool's ice cream stand, I would always choose a classic creamsicle or the shockingly green Teenage Mutant Ninja Turtle frozen popsicle.
Thankfully, my ice cream standards have increased dramatically with time.
If you're a creamsicle, coconut, or marmalade fan, I promise you will love this sorbet! The base is ridiculously simple to throw together (you will, however, need an ice cream maker!) and the recipe requires just four easy-to-find ingredients. On that note, be sure to use full-fat coconut milk.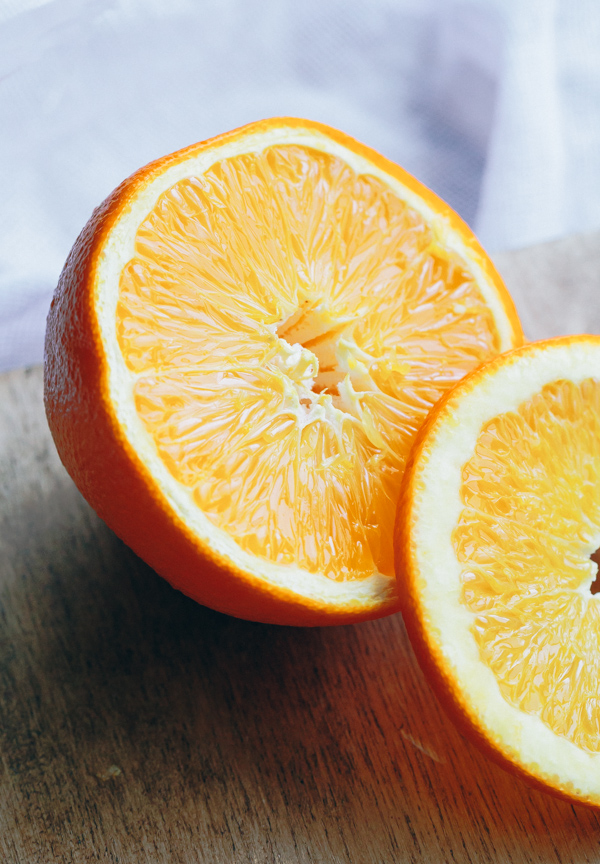 It's hard to believe, but a simple combination of full fat coconut milk, granulated sugar, and a touch of vanilla bean paste (or extract) is enough to produce a ridiculously rich and creamy sorbet.
Oh, and this dessert just happens to be vegan too. Enjoy!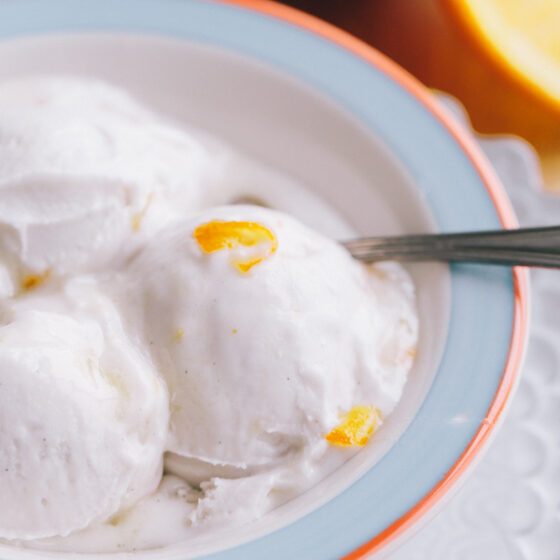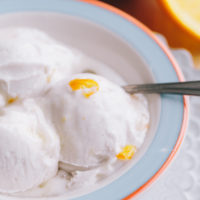 Coconut Sorbet with Orange Marmalade Swirl
Yield: 1 Quart
Prep Time: 15 minutes
Additional Time: 1 hour
Total Time: 1 hour 15 minutes
Ingredients
2 cans (14.5 fluid ounces each) full-fat, unsweetened coconut milk
3/4 cup granulated sugar
1/2 teaspoon vanilla bean paste (or 1 teaspoon vanilla extract)
1/2 cup good-quality orange marmalade
Instructions
Before opening the cans of coconut, shake gently (this will make them easier to pour out—as the fat and water tends to separate). Combine the coconut milk and sugar in medium-sized saucepan. Place over medium-low heat and using spatula, stir continuously, until sugar has dissolved completely.
Transfer the coconut mixture to a large heatproof bowl, and stir in the vanilla paste (or vanilla extract, if using). Allow to cool to room temperature before transferring to fridge. Chill in fridge.
Remove ice cream mixture from the fridge.  Pour the mixture into an ice cream maker and churn according to the manufacturer's instructions. Transfer to a container, fold in the orange marmalade, cover container, and allow to chill for a minimum of 6 hours, or preferably overnight until firm.
Nutrition Information:
Yield: 6
Serving Size: 1
Amount Per Serving:
Calories: 178
Total Fat: 2g
Saturated Fat: 1g
Trans Fat: 0g
Unsaturated Fat: 0g
Cholesterol: 0mg
Sodium: 19mg
Carbohydrates: 43g
Fiber: 0g
Sugar: 41g
Protein: 0g
A Beautiful Plate provides nutritional information, but these figures should be considered estimates, as they are not calculated by a registered dietician.