Southwest Burgers with Pepper Jack Cheese and Avocado Salsa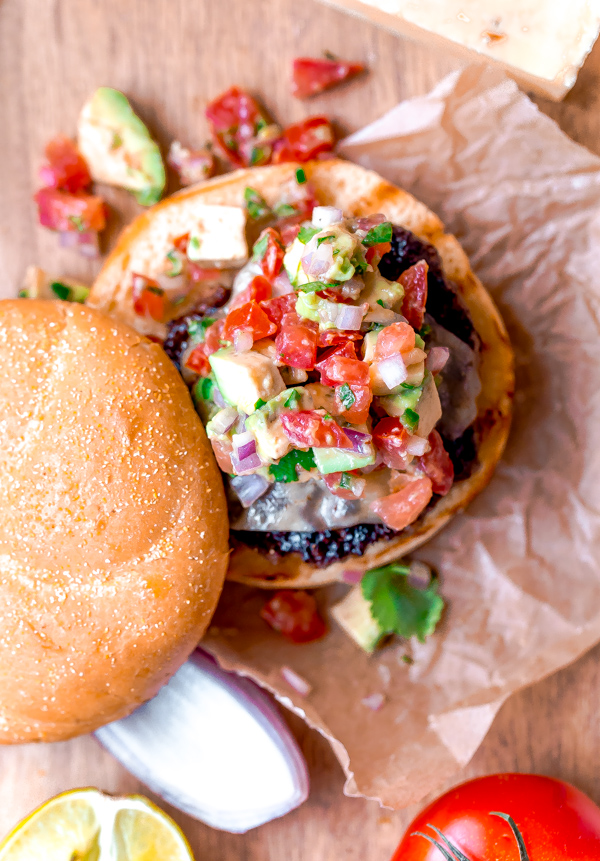 Today's recipe is a collaboration with Cobblestone Bread Co. via AOL Media. I'm so grateful for opportunities like this that allow me to get in the kitchen and be creative. Thank you so much for your support! 
Super Bowl parties and good food go hand in hand. In fact, I'm convinced that is the best and most sacred part about football games to begin with.
Let's be honest, a fabulous food spread is one of the only things that can convince me to sit down for more than five minutes, and actually watch a football game. I may have no idea what quarter it is, whose winning (or umm…whose playing?), but if I have a plate full of delicious food planted in front of me and happy guests for company, that is all that matters.
Everyone wins.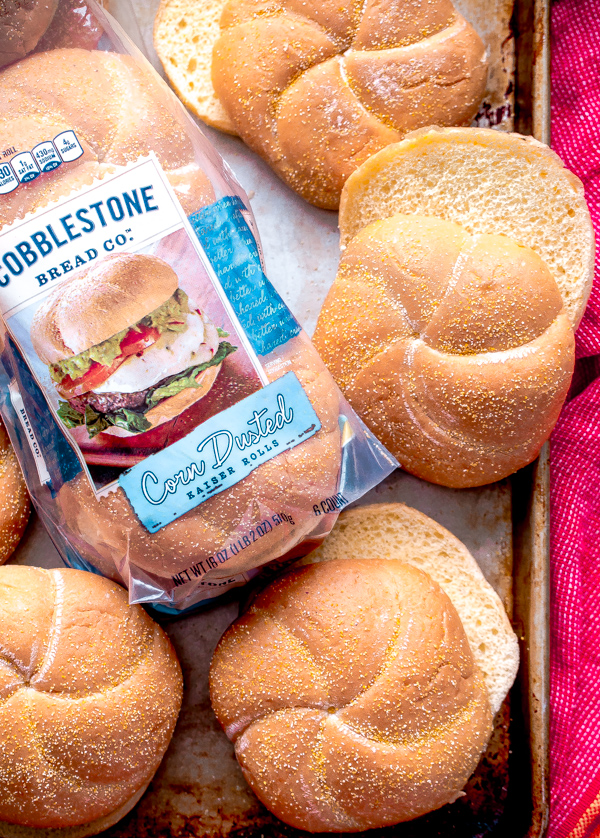 We might not be able to soak up the sun, break out the bathing suits, or even crank up the outdoor grill (big thanks to the person that invented grill pans), but let's at least eat like we are!
Burgers epitomize game day food for me. Especially ones that are loaded with toppings, like this avocado salsa situation that is happening. I don't eat burgers very often, but when I do, they better be loaded with flavor, and have a little bit of spunk! 
There is nothing sadder than a bland burger. Am I right, or am I right?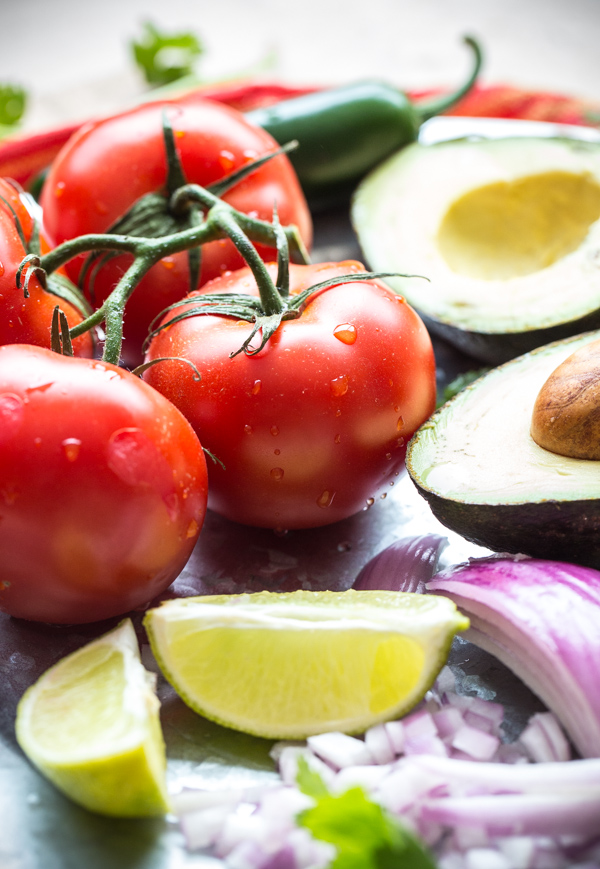 Since the Super Bowl will take place in Arizona this year, I decided to use the location as the inspiration for these Southwest themed burgers. The Cobblestone Bread Co. Corn Dusted Kaiser Rolls paired with them perfectly!
To take the burgers to the next level, I added a hefty amount of seasonings to the ground beef mixture. Paprika, chili powder, cumin, garlic powder, oregano, and jalapeno hot sauce–just to name a few! The spice mixture was not at all overpowering, but definitely shined through in every bite. These are the opposite of bland.
I even experimented with a prickly pear salsa topping, but quickly decided that a) I was not a fan (it tastes like bubble gum), 2) prickly pear seeds are not salsa-friendly. This avocado salsa is ten times more tasty, and is very quick and easy to throw together.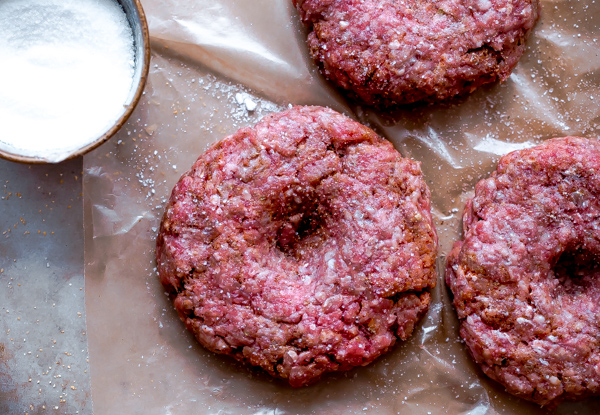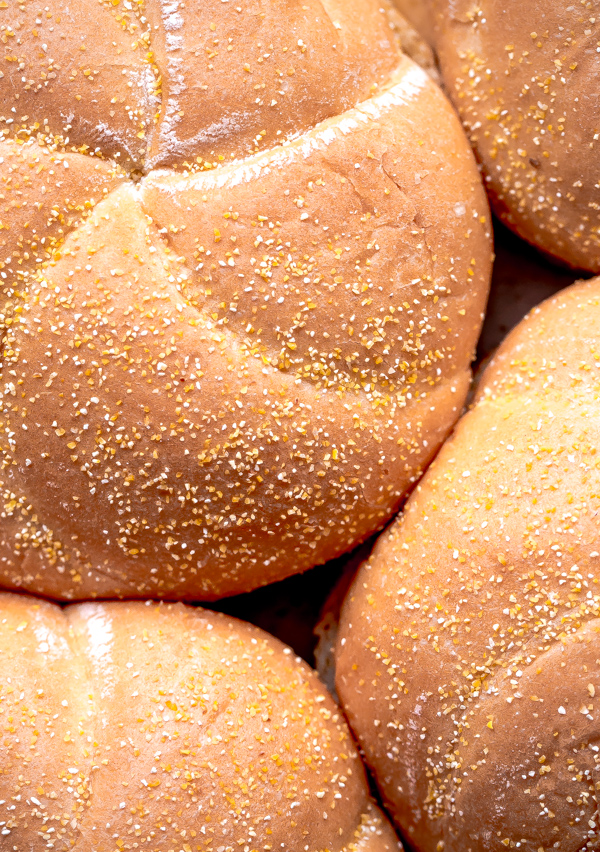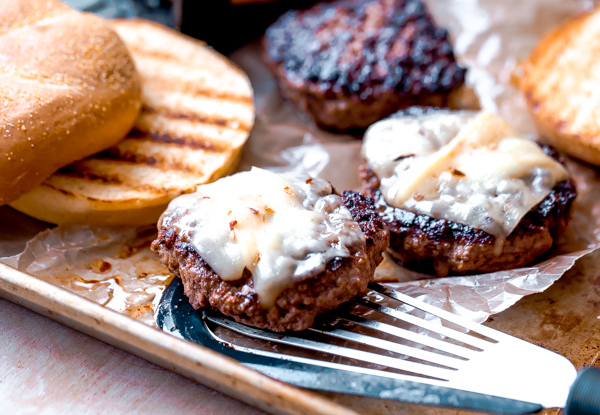 Let's talk burgers though! Everyone wants a juicy, nicely grilled burger–but sometimes, achieving this can be a little trickier than you expect. These are my favorite tips for making great (extra juicy and flavorful) burgers on a grill (or grill pan):
Allow the meat to come to room temperature (for a minimum of 30 to 45 minutes) before grilling. This will prevent the meat from being 'shocked' by the high temperature of cooking.
Form a 'dimple' or indentation in the center of your patties with your thumb (see photos above). This helps the burgers maintain their shape during cooking!
Weigh or scale your hamburger patties (this recipe makes 6 ounce patties), which will ensure that they are uniform and cook evenly!
Avoid over-working the meat when mixing or forming burger patties–the burger patties should be relatively delicate. This will help keep them extra tender and moist.
Generously season both sides of the patties with salt and pepper just before grilling! (And whatever you do, don't salt the meat before forming the patties!). Don't skimp on the salt, seriously. It is the key to a well-seasoned burger. I find that you need slightly less than a 1/4 teaspoon of sea salt for each of these 6-ounce burger patties.
Grill or toast your buns! Toasted buns are essential for a key burger.
I recommend serving these burgers with a big bowl of tortilla chips (the perfect vehicle for picking up any leftover avocado salsa) and some homemade margaritas.
I guarantee that you will make several new, long-lasting friends!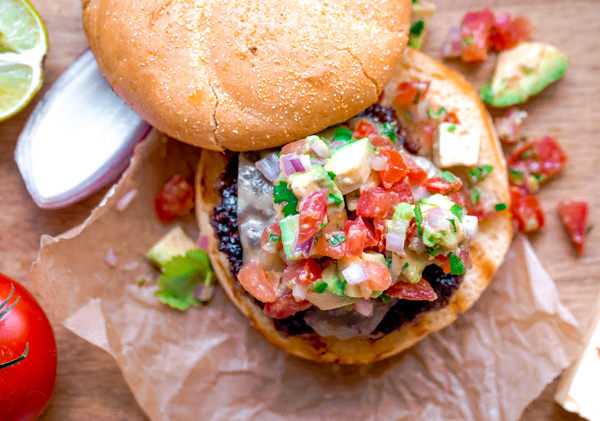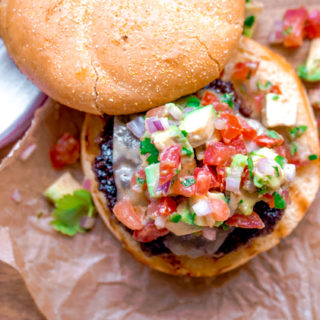 Southwest Burgers with Pepper Jack Cheese and Avocado Salsa
Yield: 6 Servings
Prep Time: 20 minutes
Cook Time: 8 minutes
Additional Time: 2 minutes
Total Time: 30 minutes
Ingredients
Avocado Salsa:
2 large vine-ripened tomatoes, seeded and diced
1/3 cup finely diced red onion
1/2 jalapeno, finely diced (seeded and ribs removed)
1.5 ripe avocados (pitted), large dice
1/4 cup packed cilantro leaves, roughly chopped
1 tablespoon freshly squeezed lime juice
1/4 teaspoon sea salt
Southwest Burger:
36 ounces (2 lb, 4 ounces) 85% ground beef
1.5 teaspoons jalapeno hot sauce
1.5 teaspoons ground cumin
1.5 teaspoons dried oregano
1.5 teaspoons garlic powder
3/4 teaspoon ground coriander
3/4 teaspoon chili powder
3/4 teaspoon sweet paprika
sea salt or kosher salt (roughly 1/4 teaspoon per burger)
freshly ground black pepper
For Assembly:
6 ounces pepper jack cheese, thinly sliced
8 Cobblestone Bread Co. Corn Dusted Kaiser Rolls
avocado salsa (see above)
Instructions
Allow ground beef to rest at room temperature for 45 minutes to an hour.
Prepare the Avocado Salsa: Combine the tomatoes, red onion, jalapeno, lime juice, and salt. Gently stir in avocado chunks and cilantro. Set aside while you prepare the burgers.
Prepare the Southwest Burgers: In a large bowl, combine the ground beef, jalapeno hot sauce, cumin, oregano, garlic powder, coriander, chili powder, and sweet paprika. Mix gently with your hands—but do not over mix. Form the ground beef mixture into 6-ounce burger patties (roughly ¾-inch thick). Heat a large cast iron grill pan (over medium-high heat, and grease lightly with cooking spray. Cook the burgers on each side until charred, roughly 4-5 minutes per side (or until the internal temperature reaches roughly 150 degrees Fahrenheit). Top each burger with 1 ounce of pepper jack cheese, tent pan with foil (or close grill top), and cook until the cheese has just melted. Remove and allow the burgers for rest for several minutes. Meanwhile, grill or toast buns lightly, if desired (spray grill pan lightly with oil, if grilling).
To Assemble: Place burgers on toasted buns, and add a large spoonful of avocado salsa. Serve immediately.
Compensation for this post was provided by Cobblestone Bread Co. via AOL Media.  The opinions expressed herein are those of the author and are not indicative of the opinions or positions of Cobblestone Bread Co. or AOL.