Double Chocolate Biscotti with Sea Salt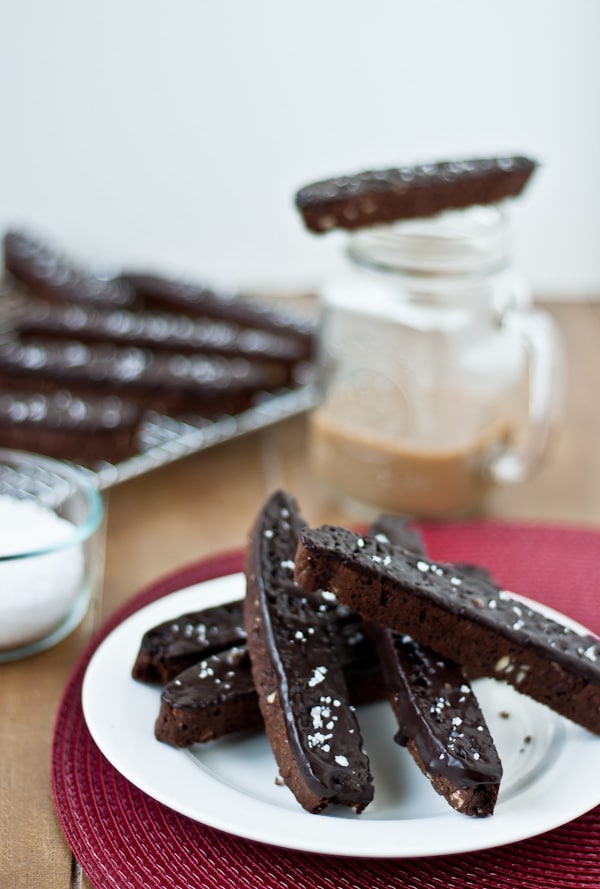 I have a little confession…
I've always thought of biscotti as the rejects of the cookie world.  Yep, I went and said what everyone was already thinking.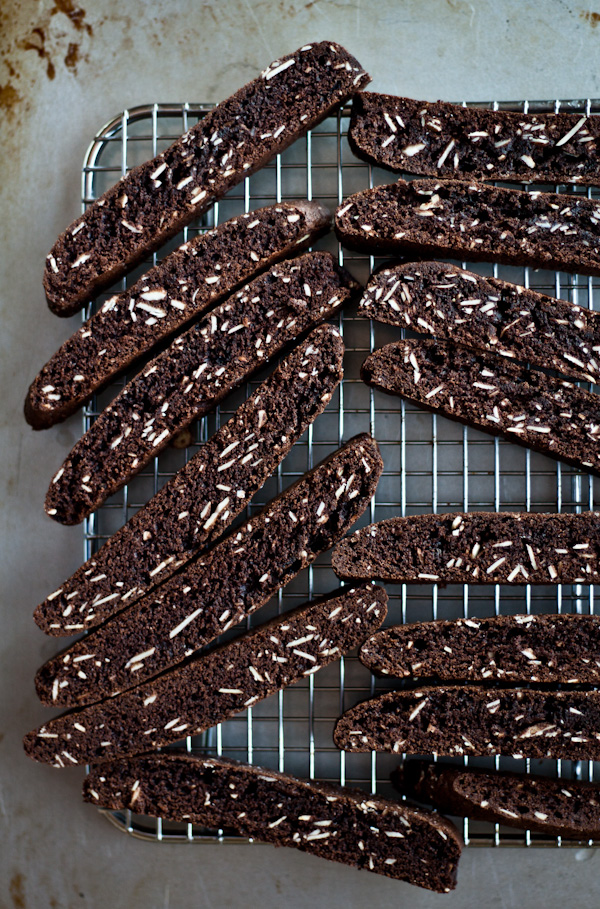 I imagine that biscotti probably have second child syndrome–they feel a little neglected compared to their chewier, softer, and overall more popular cookie siblings.  I mean, I've never once heard someone declare that biscotti is their favorite cookie.
No, I'm fairly sure that's never happened in the history of the universe.
[Analogy!  No hate mail from middle siblings, please–including my own (middle sibling) sister, who is probably reading this with a frown on her face.]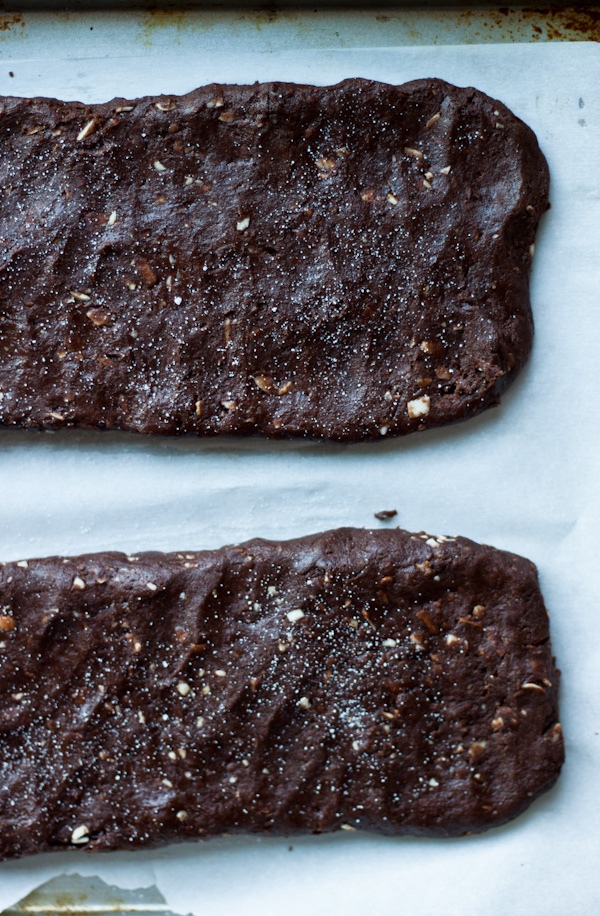 So you're probably wondering why I chose to make said biscotti for this year's Great Food Blogger Cookie Swap extraganza.
Well…it turns out that if you make biscotti from scratch, dip them in a lot of dark chocolate, and then proceed to sprinkle them with sea salt, they taste a heck of a lot better than those that you've probably tasted in the past.
This recipe was also adapted from Dorie Greenspan, so that helps.  She's sort of a pro when it comes to baked goods.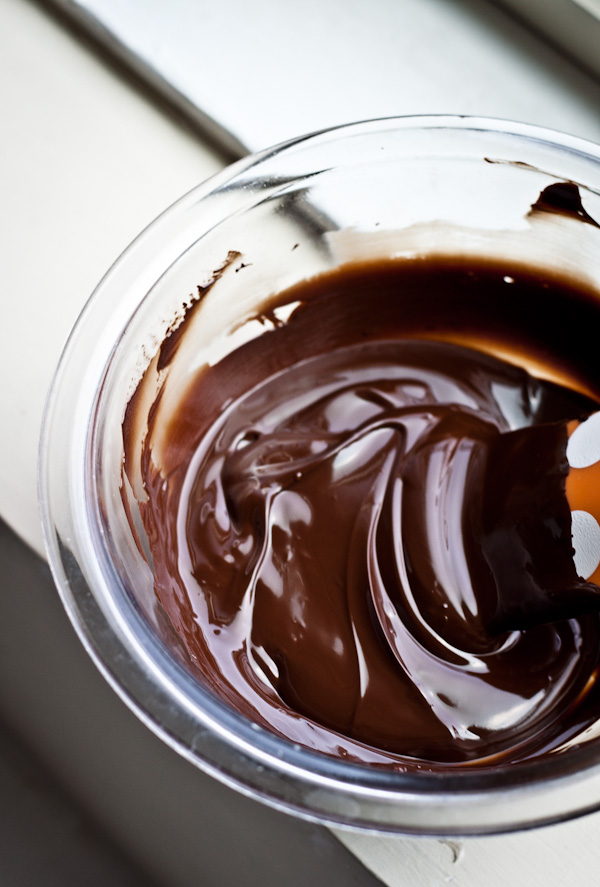 If you've never made biscotti before, they're actually quite simple to make and the dough comes together very quickly.  The first step involves flattening the dough into rectangular logs and baking them for about 20-25 minutes.
At this point, you remove the baked logs and allow them to cool, before slicing them into the classic biscotti shape, and baking them once more until their crispy and firm.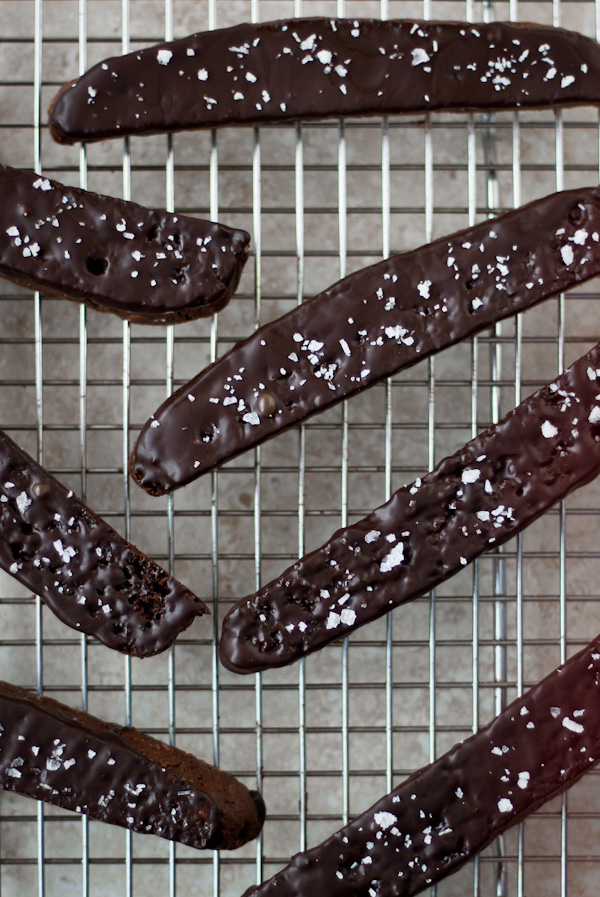 Obviously, I decided to take it one step further–and double the chocolate-y goodness–by dipping the baked biscotti in dark chocolate and sprinkling them with coarse sea salt.  As you can probably predict, the salt and extra chocolate totally made these.
Crunchy (not in a break your tooth kind of way) and perfect for dipping into your morning or afternoon coffee.  They also can be shipped extremely well–since they aren't very fragile and can hold up well.
Maybe I'm a biscotti lover after all?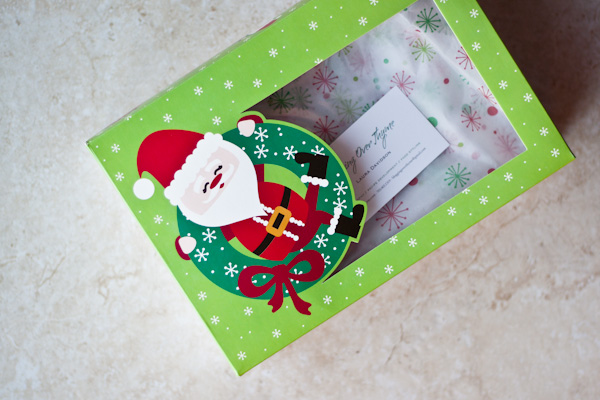 If that wasn't enough, I've also been eating my weight in cookies over the last week or so, thanks to some amazing bloggers who sent some pretty delicious treats my way–including these salted caramel & nutella stuffed chocolate chip cookies, peppermint brownies, and peppermint bark chocolate cookies.
So happy to be part of this year's cookie swap for the first time, which raised more than $13,000 for Cookies for Kids' Cancer.  And a big thank you to Julie and Lindsay for putting this whole event together!