Double Chocolate Biscotti with Sea Salt
Crisp chocolate biscotti cookies dipped with dark chocolate and finished with flaky salt. These traditional Italian "twice-baked" cookies will turn even the biggest skeptics into biscotti lovers!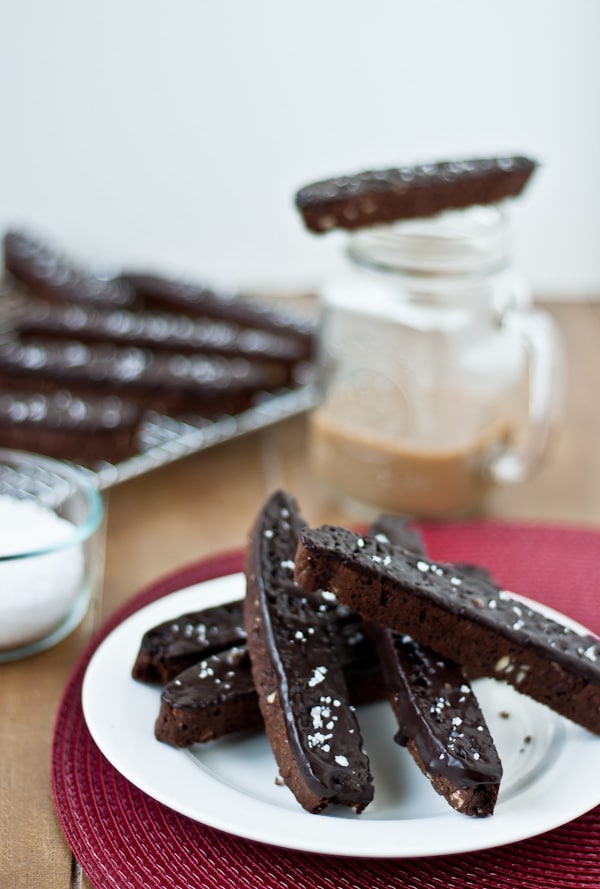 I have a little confession…
I've always thought of biscotti as the rejects of the cookie world. Yep, I went and said what everyone was already thinking.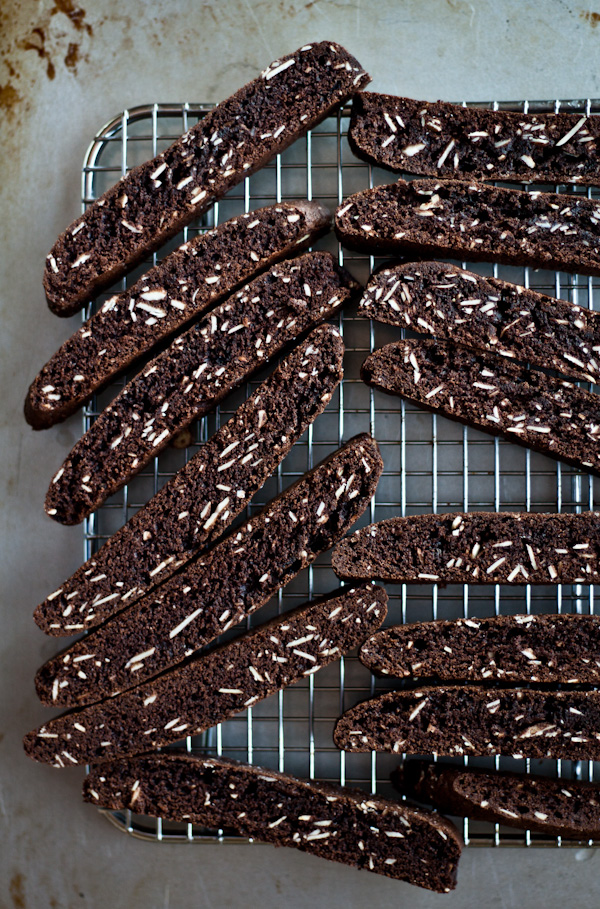 I imagine that biscotti probably have second child syndrome. They feel a little neglected compared to their chewier, softer, and overall more popular cookie siblings. I mean, I've never once heard someone declare that biscotti is their favorite cookie.
No, I'm fairly sure that's never happened in the history of the universe.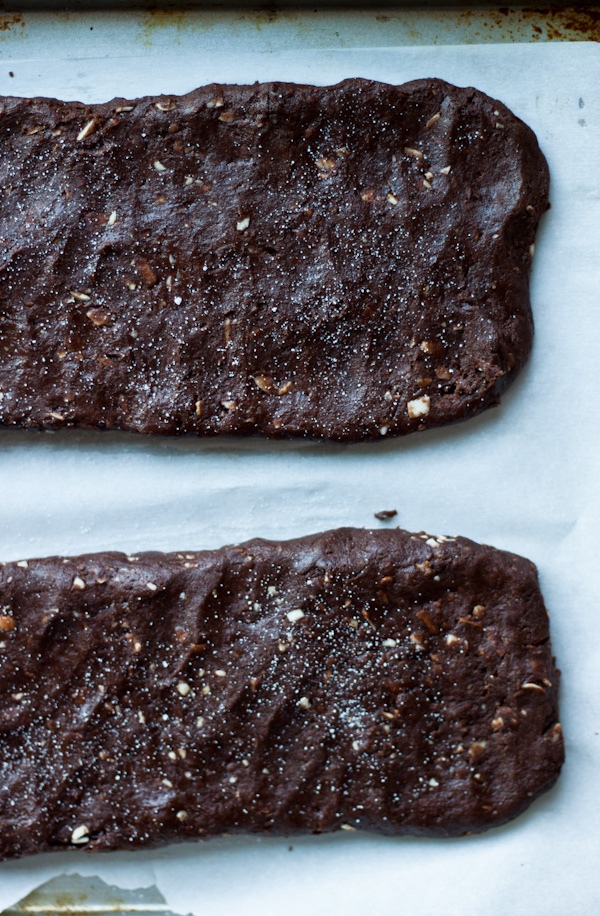 Turns out that if you make biscotti from scratch, dip them in a lot of dark chocolate, and then proceed to sprinkle them with sea salt, they taste a heck of a lot better than most biscotti you've tasted in the past.
This recipe was also adapted from Dorie Greenspan. She's sort of a pro when it comes to baked goods.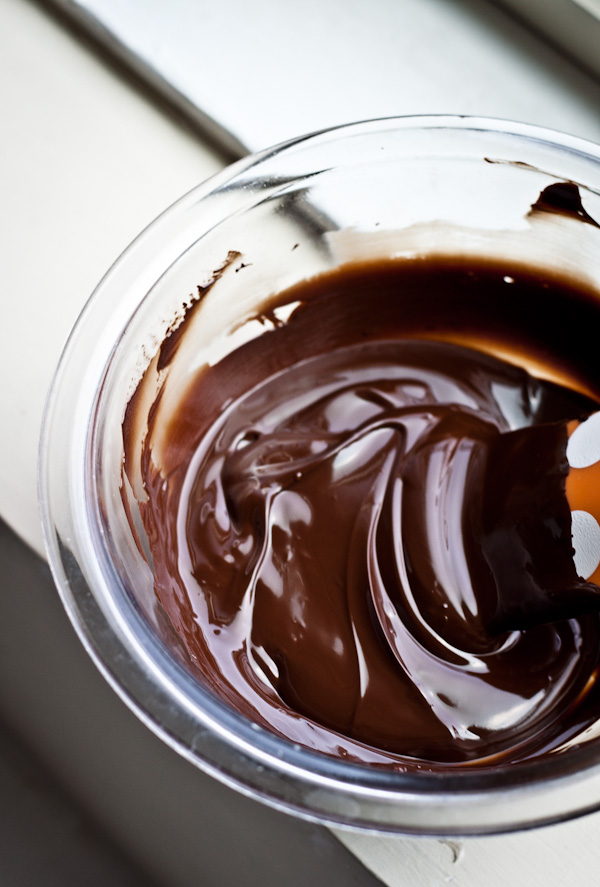 If you've never made biscotti before, they're actually quite simple to make and the dough comes together very quickly. The first step involves flattening the dough into rectangular logs and baking them for about 20-25 minutes.
At this point, you remove the baked logs and allow them to cool, before slicing them into the classic biscotti shape, and baking them once more until they're crispy and firm.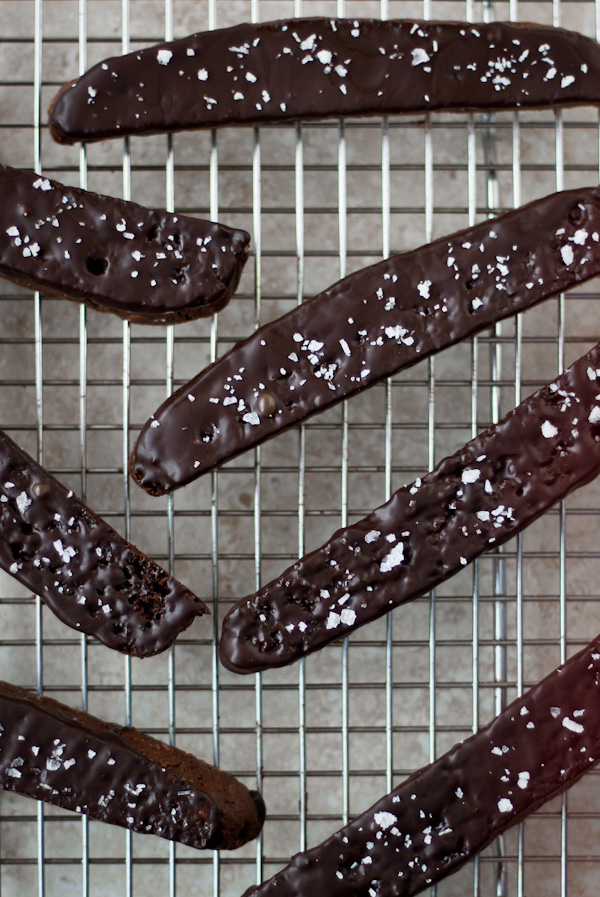 Obviously, I decided to take it one step further and dip the baked biscotti in dark chocolate and sprinkle them with flaky finishing salt. As you can probably predict, the salt and extra chocolate totally took these biscotti over the top.
Crisp and perfect for dipping into your morning or afternoon coffee. They also ship extremely well in the winter months since they aren't fragile.
Maybe I'm a biscotti lover after all?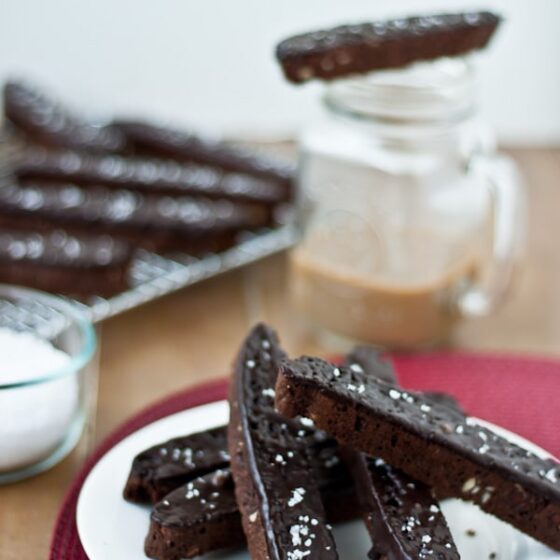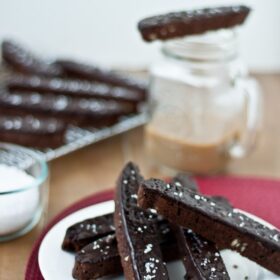 Double Chocolate Biscotti with Sea Salt
Crisp chocolate biscotti cookies dipped with dark chocolate and finished with flaky salt. These traditional Italian "twice-baked" cookies will turn even the biggest skeptics into biscotti lovers!
Ingredients
2 cups (240 g) unbleached all-purpose flour
½ cup (50 g) unsweetened cocoa powder sifted
2 tablespoons instant espresso powder I recommend Medaglia D'Oro
¾ teaspoon baking soda
½ teaspoon baking powder
1 teaspoon Diamond Crystal kosher salt
6 tablespoons (3 oz; 85 g) unsalted butter softened
1 cup (200 g) granulated sugar
2 large eggs room temperature and slightly beaten
1 teaspoon pure vanilla extract
1 cup (65 g) raw sliced almonds roughly chopped
granulated sugar for dusting
Decoration:
12 ounces dark chocolate or glazing chocolate, melted
Fleur de sel or Maldon for sprinkling
Instructions
Preheat the oven to 350°F (176°C) with a rack in the center position. Line a half sheet pan with parchment paper and set aside.

Combine the flour, cocoa powder, espresso powder, baking soda, baking powder, and salt in a medium bowl, whisk together, and set aside.

In the bowl of stand mixer, fitted with a paddle attachment, combine the butter and sugar. Beat over medium speed for 2 to 3 minutes, or until the mixture is fluffy and pale in color.  Add the eggs and vanilla and continue to beat for 1 to 2 minutes, scraping down the bowl with a spatula to ensure all of the ingredients incorporate evenly.

Reduce speed to low and slowly add the dry flour mixture, mixing until a dough just comes together. Add the almonds and mix until just incorporated. The dough will be thick and fairly sticky.

Turn the dough onto a clean counter top and knead the dough lightly to combine any dry ingredients that were not incorporated. Divide the dough in half using a bench scraper. Roll each piece into a 12-inch (30 cm) log and set on the lined sheet pan, leaving space between them for spreading. Flatten the logs with your palm, until they are ¾-inch to 1-inch (2 cm - 2.5 cm) thick and rectangular in shape. Sprinkle the tops of the logs with granulated sugar.

Bake for 25 minutes or until the logs are firm to the touch. Set the pan on a rack and allow the logs to cool on the baking sheet for 20 minutes. Leave the oven preheated.

Remove the logs to a cutting board, and using a serrated knife, cut each log cross-wise into ½ to ¾-inch thick pieces. Set the cookies, cut-side down, onto the lined half sheet pan. The pieces can be placed close together, as they will not spread during this second baking.

Bake at 350°F (176°C) for 10 minutes or until crisp. Transfer the biscotti to a wire rack to cool completely.

Decorate: Once cookies are cool, melt the chocolate in a microwave-safe bowl in 15 to 20 second increments, stirring with a spatula between each interval. Dip the cookies lengthwise into the melted chocolate, coating half-way up the edge.

Lay the biscotti on the parchment lined baking sheet. Allow the chocolate to set a bit before sprinkling with flaky salt. If using glazing chocolate, the chocolate should set fairly quickly. If not, feel free to place them in the refrigerator for 5 to 10 minutes or until the chocolate is firm. Biscotti can be kept in an airtight container for up to 1 week or longer.
Serving: 1serving, Calories: 128kcal, Carbohydrates: 18g, Protein: 2g, Fat: 5g, Saturated Fat: 2g, Polyunsaturated Fat: 3g, Cholesterol: 12mg, Sodium: 117mg, Fiber: 1g, Sugar: 10g
This post contains affiliate links, which means that I make a small commission off items you purchase at no additional cost to you. Please read my
privacy policy
for more information.