Cranberry Apple Compote and Honey Yogurt Parfait
This post contains affiliate links.
Cranberry apple compote and honey yogurt parfait. An EASY fall-inspired breakfast made with Greek yogurt!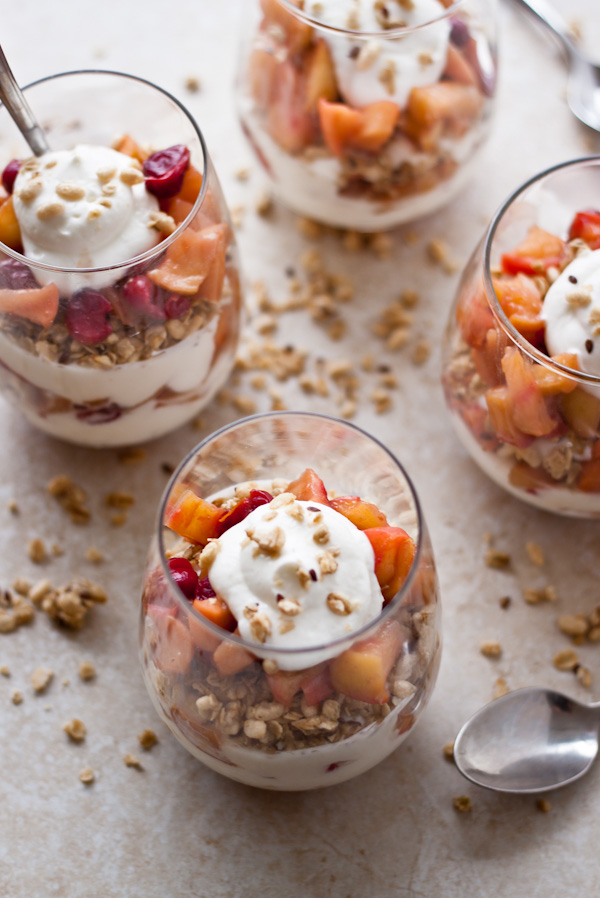 More festivity coming your way in the form of a parfait! I'm not sure what I'm going to do with myself once the holiday season is over.  Maybe you'll be thrilled, who knows.
It is actually extremely ironic that I've been posting so many holiday-esque recipes on the 'lil blog (don't worry, there is more coming your way), because Connor has recently nicknamed me Scrooge.
Yes, like that Scrooge.  The guy who hates Christmas and all things merry!  How rude.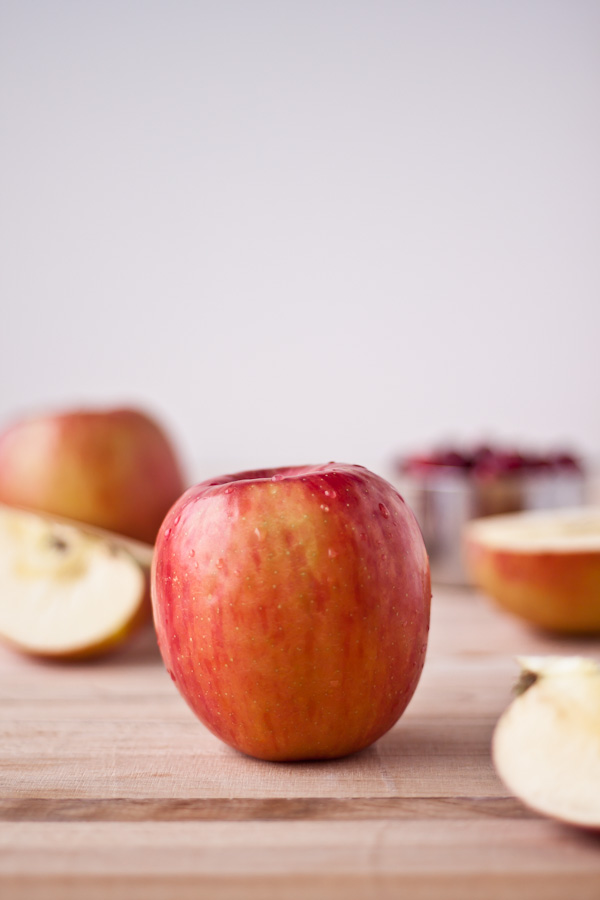 He's holding a grudge, because I complained, loudly, for a few days last week about getting a Christmas tree for our apartment.  Don't get me wrong, I love Christmas.  I also love Christmas trees.  It's my favorite holiday of the year without question.
But….a) we live in a 700 square foot apartment, b) I'm afraid my cat is going to eat it (which is a ridiculous notion, considering he barely branches out with cat food, let alone plants), and c) I'm still a baby, who has a lot of nostalgia when it comes to tree decorating.
Specifically, that it should be reserved for my parent's house, while we listen to the same Christmas CD's (yes! CD's…from the late 90's) we've listened to for years and break out the classic box of old ornaments.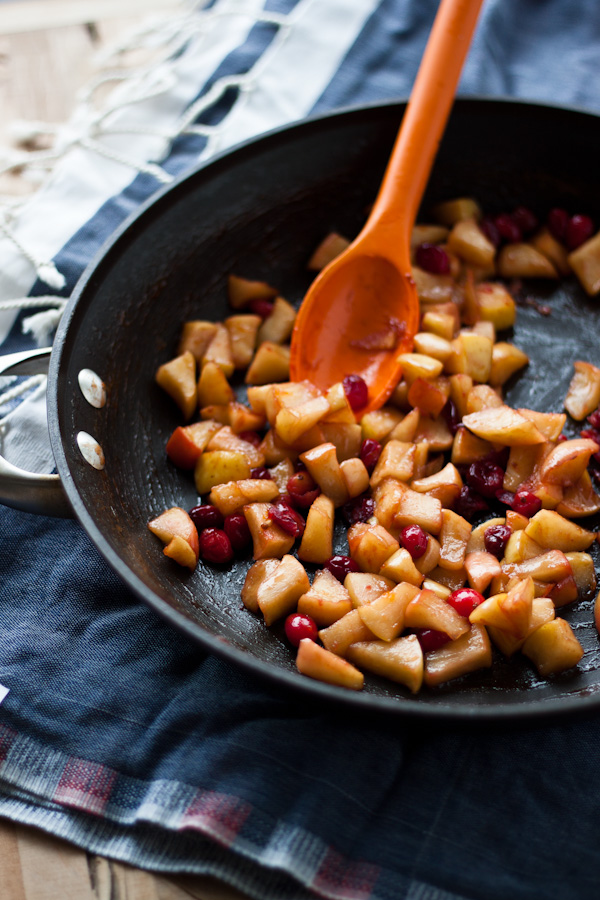 Well, Connor was determined and I finally got on board with the idea assuming that he would go out and just get a small tabletop one…
And lo and behold, he traipses into the apartment the other afternoon hauling a massive (see point A above) tree.  Not massive at all really, but massive in a we-live-in-a-700-square-foot-apartment kind of way.
He then had to spend the next 45 minutes trimming the branches–with a power drill, no less–to the point where it was almost naked, because it wouldn't fit into the tree stand that he also secretly bought on Amazon.
Of course, I now, predictably, love the tree.  I even demanded that we return the environmentally friendly (and unfortunately, ugly) LED lights to get the classic white and colored twinkle lights that I'm used to.
Nostalgia, I tell you… it wins every time.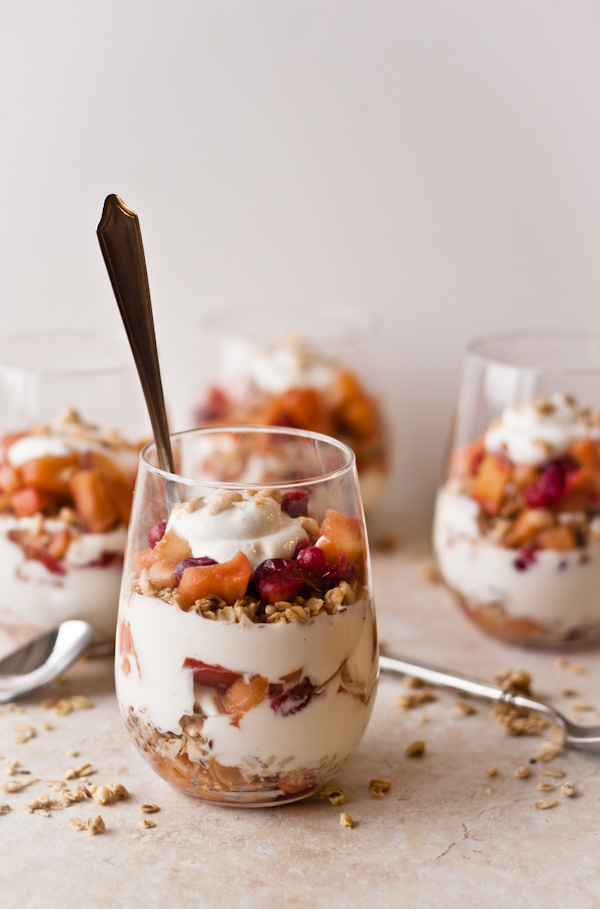 Anyway, onto the extremely festive (totally non-Scrooge worthy) parfait.  It's super easy.  Almost non-recipe worthy easy, but sometimes those can be fun to share.
The compote is a simple mixture of Fuji apples, fresh cranberries, maple syrup, a tiny pat of butter, cinnamon, and fresh orange zest.  It's layered up with yogurt, whipped together with some honey for a touch of sweetness, and lots of your favorite granola.
I'm a fan.  Bah humbug!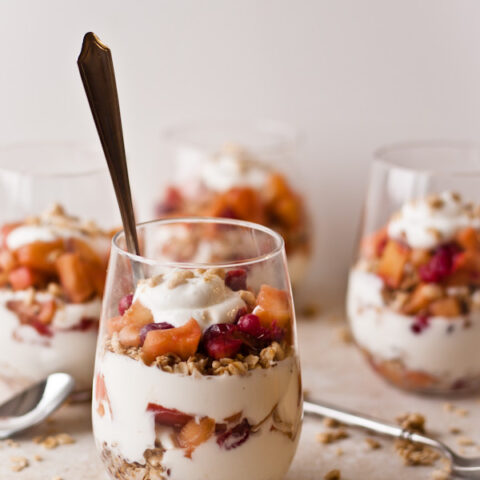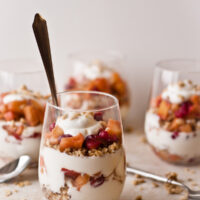 Cranberry Apple Compote and Honey Yogurt Parfait
Yield: 4 Servings
Prep Time: 5 minutes
Cook Time: 10 minutes
Total Time: 15 minutes
Ingredients
1 and 1/4 cup of your favorite granola
Cranberry Apple Compote:
2 tablespoon unsalted butter
4 large apples (Fuji, Pink Lady, or another variety that holds its shape), cut into 1/2″ chunks
1 cup fresh cranberries
1/4 cup pure maple syrup
1 teaspoon freshly grated orange zest
1/2 teaspoon ground cinnamon
small pinch of salt
Honey Yogurt:
3 cups (24ounces) greek or regular yogurt
3-4 tablespoons honey, depending on your preference
Instructions
Heat the butter over medium heat in a medium non-stick skillet until just beginning to bubble.
Add the apples all at once and cook for 2-3 minutes, stirring occasionally. Add the maple syrup, pinch of salt, cinnamon, and orange zest and continue to cook for another 3-4 minutes, or until the apples begin to turn translucent.
Add the cranberries and continue to cook, stirring frequently, for another 4-5 minutes until they just begin to burst. If necessary, de-glaze the pan with 1-2 tablespoons of water.
Remove from heat and allow to cool completely before assembling the parfaits.
In a separate bowl, whisk together the honey and yogurt.
Using a pastry bag (fitted with a small round tip)–or spoon–add a layer of yogurt to each glass. Add a thin layer of granola. Add a layer of compote and repeat the process again. Top with another small dollop of yogurt and sprinkle with additional granola.
Serve immediately.
Nutrition Information:
Yield: 4
Serving Size: 1
Amount Per Serving:
Calories: 473
Total Fat: 14g
Saturated Fat: 5g
Trans Fat: 0g
Unsaturated Fat: 8g
Cholesterol: 18mg
Sodium: 78mg
Carbohydrates: 85g
Fiber: 9g
Sugar: 63g
Protein: 7g
A Beautiful Plate provides nutritional information, but these figures should be considered estimates, as they are not calculated by a registered dietician.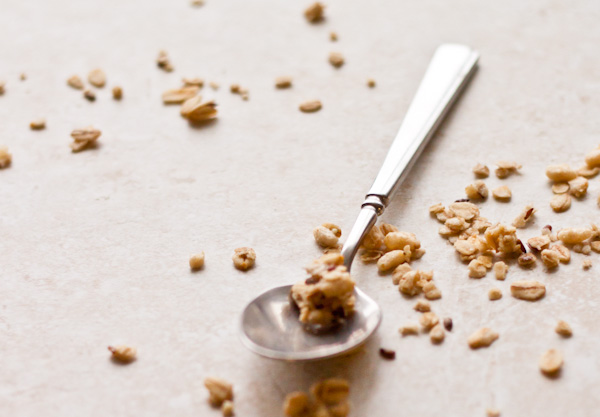 This post contains some affiliate links, which means that I make a small commission off items you purchase at no additional cost to you. Please read my
disclosure policy
for more information.