Eggnog and Gingerbread Ice Cream Cookie Sandwiches
This post contains affiliate links.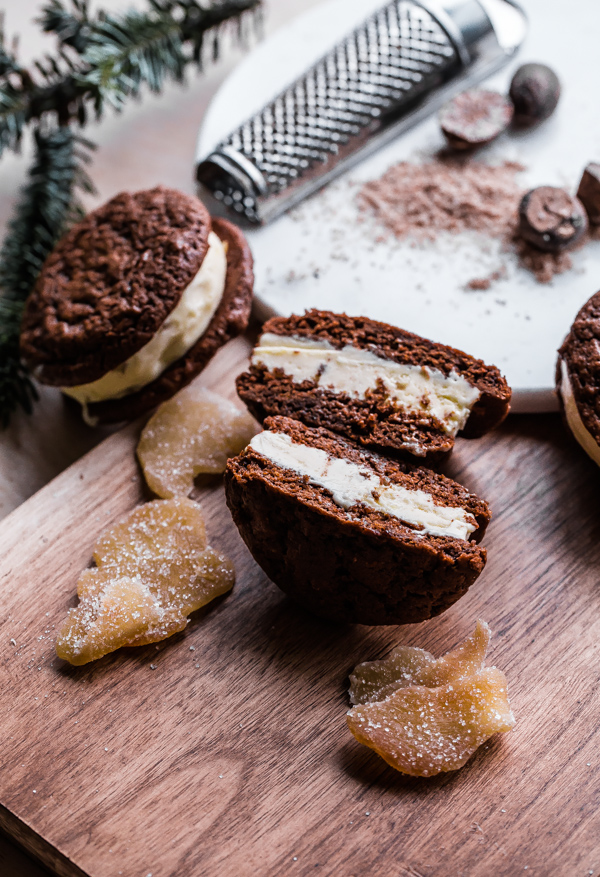 This recipe is sponsored by Davidson's Safest Choice Pasteurized Eggs.
Today's the big week!
I'm sure you are all extremely busy with last-minute gift shopping and menu planning, and all of those time-consuming activities that take place at this time of year–but I have one more recipe to share that you must include (or at least, seriously consider including) in this week's menu plan!
Eggnog and gingerbread ice cream cookie sandwiches studded with crystallized candied ginger! Oh yes.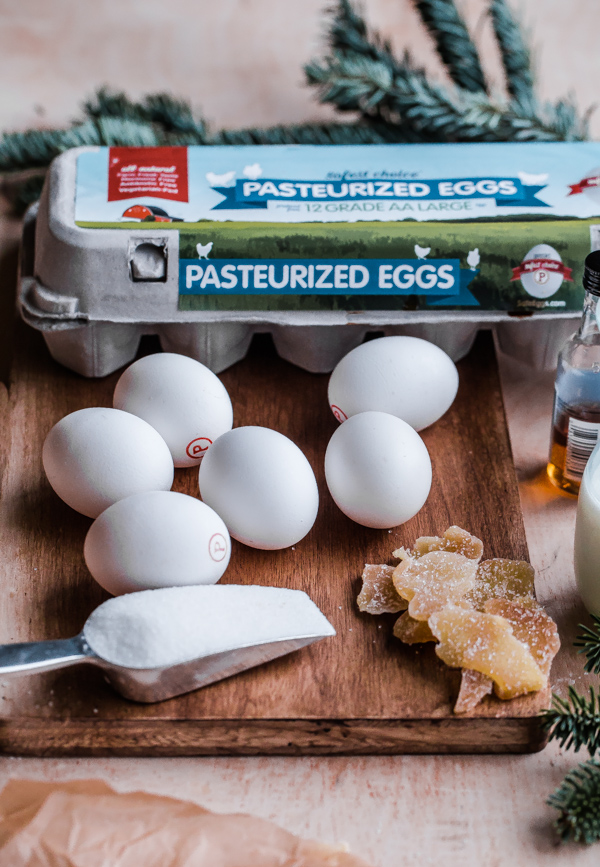 They are ridiculously festive, delicious, a little bit spicy, and have quickly risen to the top of my all-time favorite holiday desserts list.
This recipe also uses Davidson's Safest Choice Pasteurized Eggs in celebration of the Dozen Days of Nog! I've shared my love of Safest Choice eggs before, but I'll say it again.
I absolutely love the peace of mind they provide, particularly at this time of year, when you're serving a crowd, cooking with kids, and making all sorts of baked goods and egg dishes.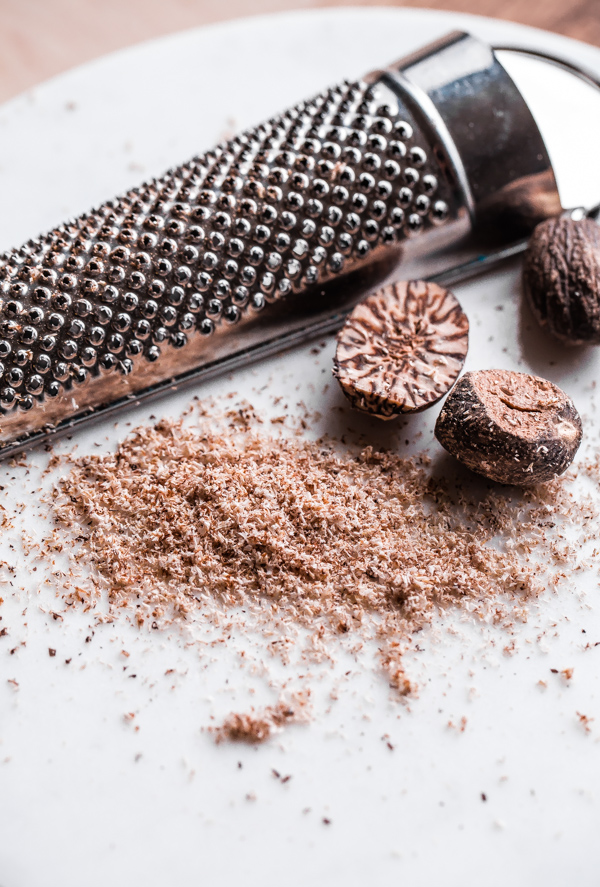 One of my favorite applications for pasteurized eggs is, of course, homemade ice cream. The use of pasteurized eggs eliminates the need to cook the custard until it reaches an exact temperature and it also gives me the chance to taste the ice cream base and adjust any ingredients or flavorings as needed.
As a bonus, this 'lick the bowl' or 'batter' step can help you catch any recipe errors or mistakes, like leaving out the sugar or salt, which I'm more than prone to do when multi-tasking at this time of year.
They are particularly important for my family this holiday season, as my older sister is 32 weeks pregnant. We're still planning on serving and making all of our favorites under-cooked or raw egg dishes, including runny baked eggs for breakfast, homemade aioli for appetizers, and, of course, these homemade ice cream sandwiches. She's thrilled!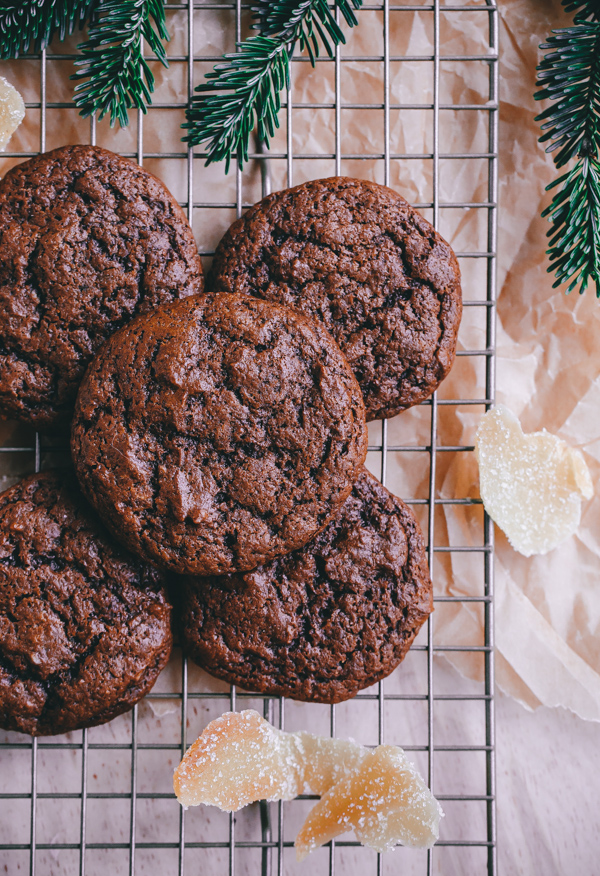 Here is the deal though. These ice cream sandwiches take a little bit of prep (and chilling) time, BUT you can make them well in advance and pull them out of your freezer for a last minute holiday dessert or snack for loved ones.
And trust me, your family will love you for these ice cream sandwiches. To quote Connor, "They taste exactly like Christmas"–and I can honestly say that I whole-heartedly agree with him on that statement.
I mean, eggnog and gingerbread? It doesn't get much more festive than this.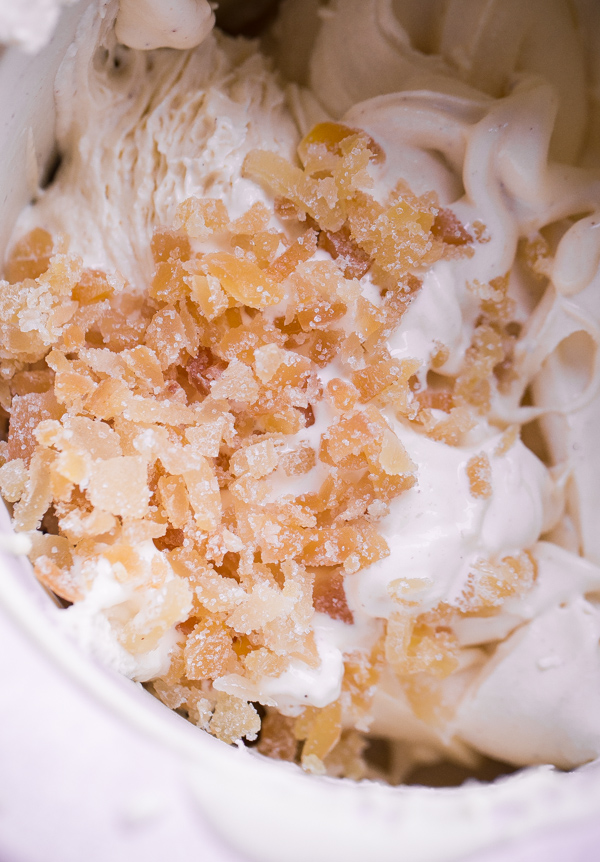 They also meet the key requirements of any good ice cream sandwich.
The gingerbread cookie remains perfectly soft and chewy once frozen and they do not fall apart once bitten into. I'm a huge ice cream sandwich cookie person, and these are absolutely key for any homemade version. I can't stress this enough. A touch of brandy to the eggnog ice cream also helps keep the ice cream from firming up too much–another major no-no for homemade ice cream sandwiches.
To make these even more easy to assemble, I spread the ice cream into a thick layer (in this case, in a 8-inch lined cake pan) and use a biscuit or cookie cutter to cut out the ice cream into discs. This requires one extra step, but is so worth it. You'll get perfectly uniform ice cream sandwiches and eliminates any mess or melt-y situations.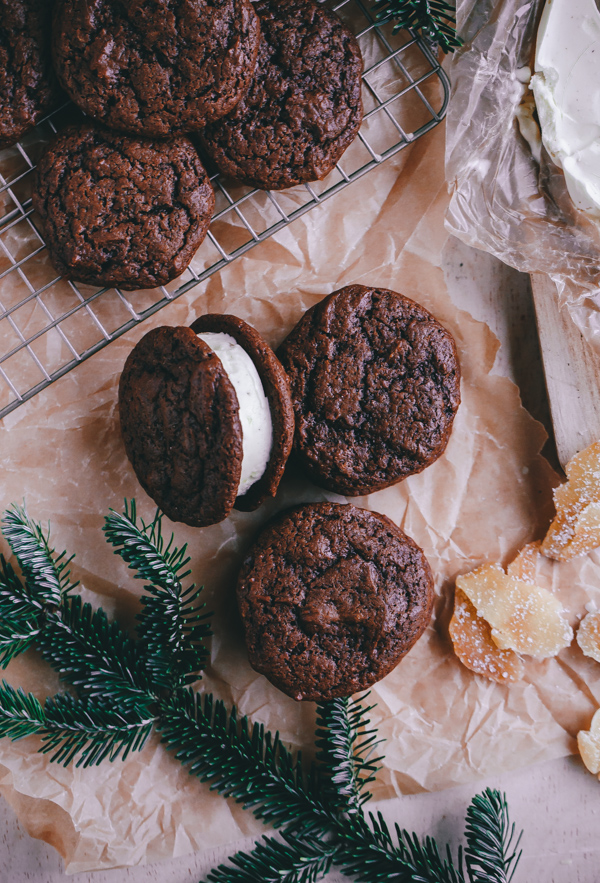 If you don't have enough time to make these ice cream sandwiches, do me a favor and at least try the eggnog ice cream! You're in for a major treat, especially if you've only tried the carton variety in the past.
Happy holidays!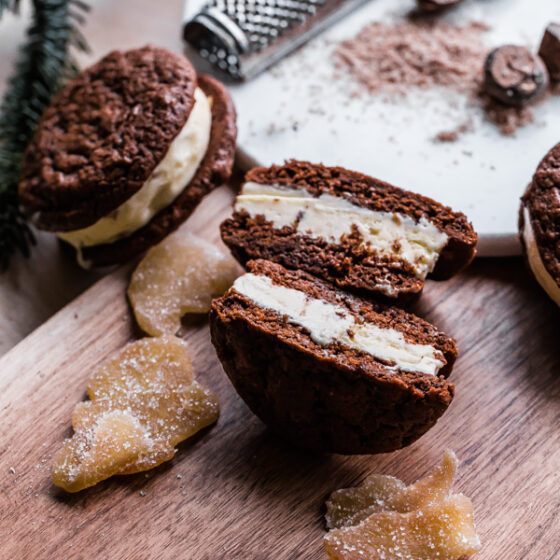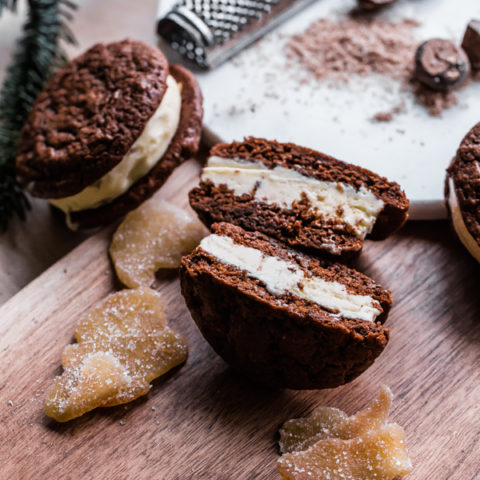 Eggnog and Gingerbread Cookie Ice Cream Sandwiches
Yield: 6 Servings
Prep Time: 45 minutes
Cook Time: 25 minutes
Total Time: 1 hour 10 minutes
Ingredients
Egg Nog Ice Cream:
6 Safest Choice Pasteurized egg yolks
2/3 cup (134 grams) granulated sugar
1 cup (237 ml) whole milk
1 cup (237 (ml) heavy cream
1 teaspoon packed freshly grated nutmeg
1 teaspoon brandy
1/4 cup (40 grams) finely chopped crystallized ginger
Chewy Gingerbread Cookies:
5 ounces (142 grams) unbleached all-purpose flour (*roughly 3/4 cup flour)
1/4 cup (100 grams) granulated sugar
1 teaspoon ground ginger
1/2 teaspoon ground cinnamon
1/2 teaspoon + 1/8 teaspoon baking soda
1/4 teaspoon kosher salt
1/4 cup (80 grams) dark unsulphured molasses
1/6 cup (40 ml) canola, safflower, or vegetable oil
1/2 (25 grams) Safest Choice Pasteurized whole egg, beaten
1/6 (40 ml) cup hot boiling water
Instructions
Prepare Ice Cream: In a large bowl, whisk together the sugar and remaining 1/4 of sugar aggressively until the mixture is thick and pale yellow in color. It should fall from the whisk in thick ribbons (otherwise known as ribbon stage). Combine the whole milk, heavy cream, and freshly grated nutmeg in a medium saucepan, and bring to a rolling boil. Remove immediately from the heat. Temper the milk and cream mixture slowly into the eggs, whisking continuously.
Return the mixture to the saucepan and cook over low heat, stirring continuously, until the ice cream base has thickened and coats the back of a wooden spoon. Remove and pour custard into a large bowl, stir in the brandy, and allow the custard to cool completely, stirring every 5 or 10 minutes. Refrigerate base until cold or overnight, if preparing in advance. Freeze the ice cream according to your ice cream maker's manufacturer's directions. Right before the ice cream is finishing churning, add the chopped candied ginger. Line the bottom and sides of an 8-inch cake pan with wax paper. Spread the ice cream into the cake pan with an offset spatula until it is in a smooth, flat layer. Cover with plastic wrap and foil, and allow to freeze for 4 to 6 hours, or preferably overnight.
Prepare Gingerbread Cookies: Preheat the oven to 350 degrees Fahrenheit. Line a large baking sheet with a Silpat mat or parchment paper and set aside. In a medium bowl, whisk together the all-purpose flour, granulated sugar, ginger, cinnamon, baking soda, and salt. Add the molasses, oil, and egg and whisk to combine. Slowly pour in the boiling water and whisk until smooth. The batter will be thick.
Drop the dough in balls (the dough should yield 12 cookies) with a spoon, or small scoop, onto the baking sheet–leaving the cookies at least an inch apart. Bake at 350 degrees for 10-12 minutes. Allow the cookies to cool on the pan for 5 minutes, before transferring to a rack to cool completely.
Assemble the Sandwiches: Once the ice cream has chilled substantially, remove from the freezer and lift the ice cream out of the cake pan. Using a 2.5-inch biscuit cutter, cut the ice cream into six discs (the ice cream should be very firm, but not difficult to cut). For each ice cream sandwich, place 1 disc of ice cream between 2 gingerbread cookies. Gently press together (ice cream should spread to edge of cookies). Serve immediately, or set them carefully into one layer in a large Ziploc freezer bag (lay flat on the bottom of a freezer drawer or shelf) and freeze until ready to use.
Notes
Gingerbread cookie barely adapted from here.
Nutrition Information:
Yield: 6
Serving Size: 1
Amount Per Serving:
Calories: 614
Total Fat: 8g
Saturated Fat: 3g
Trans Fat: 0g
Unsaturated Fat: 4g
Cholesterol: 71mg
Sodium: 158mg
Carbohydrates: 121g
Fiber: 4g
Sugar: 37g
Protein: 14g
A Beautiful Plate provides nutritional information, but these figures should be considered estimates, as they are not calculated by a registered dietician.
This post contains some affiliate links, which means that I make a small commission off items you purchase at no additional cost to you. Please read my
disclosure policy
for more information.