Fried Zucchini Blossoms Stuffed with Basil Ricotta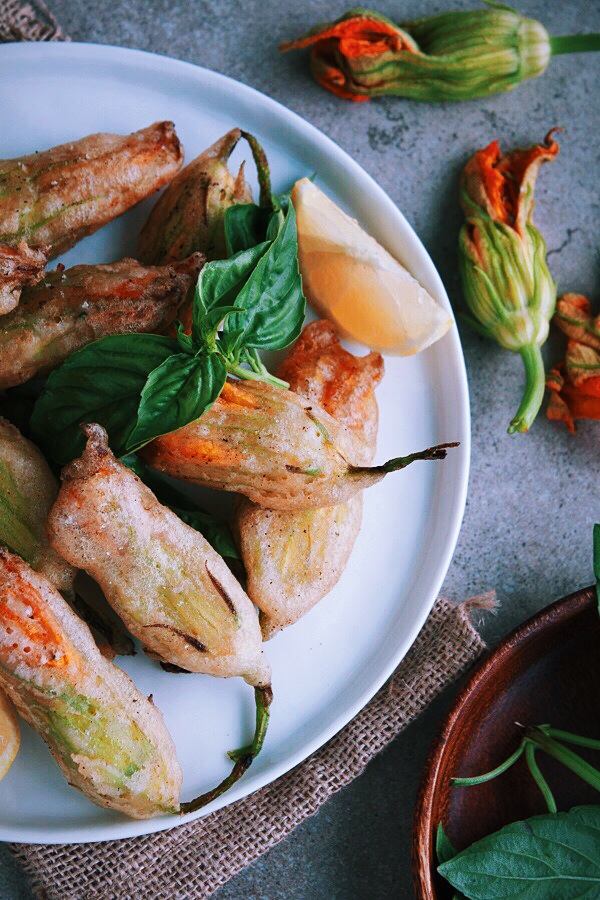 I am so, so excited about today's post!
You see, every summer I tell myself that I will finally put fried zucchini blossoms on the blog–and it has taken me almost four years to accomplish that goal.
The universe has thwarted my plans every single summer up until now.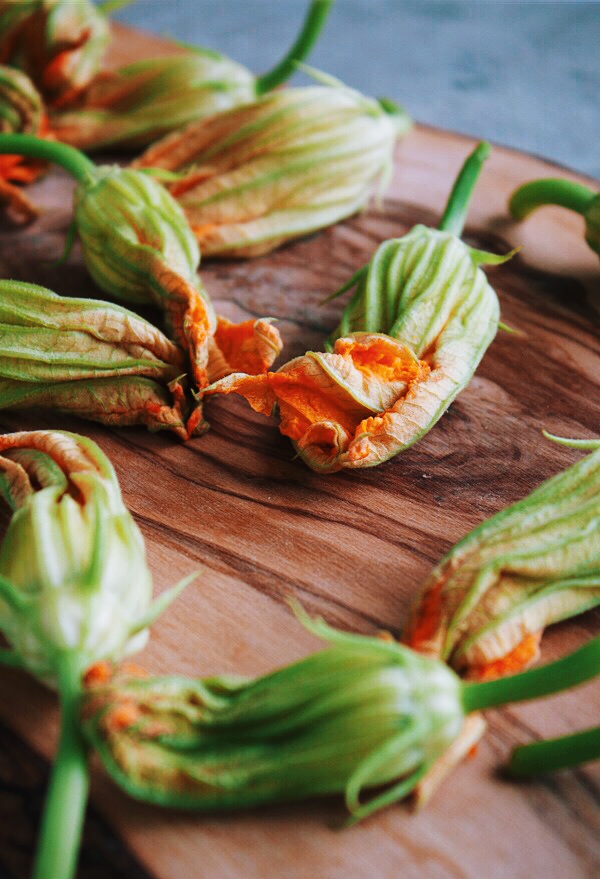 Usually my zucchini blossom consumption is reserved for the occasional restaurant meal. Seriously…if I see zucchini blossoms on a menu, you can bet that I will be ordering that dish. I savor every little bite.
As many of you are probably already aware, zucchini blossoms are not the easiest ingredient to get your hands on. They are incredibly delicate, and unless you have a garden full of zucchini at home, you will most likely only find them at your local farmer's market.
Even that can be tricky at times.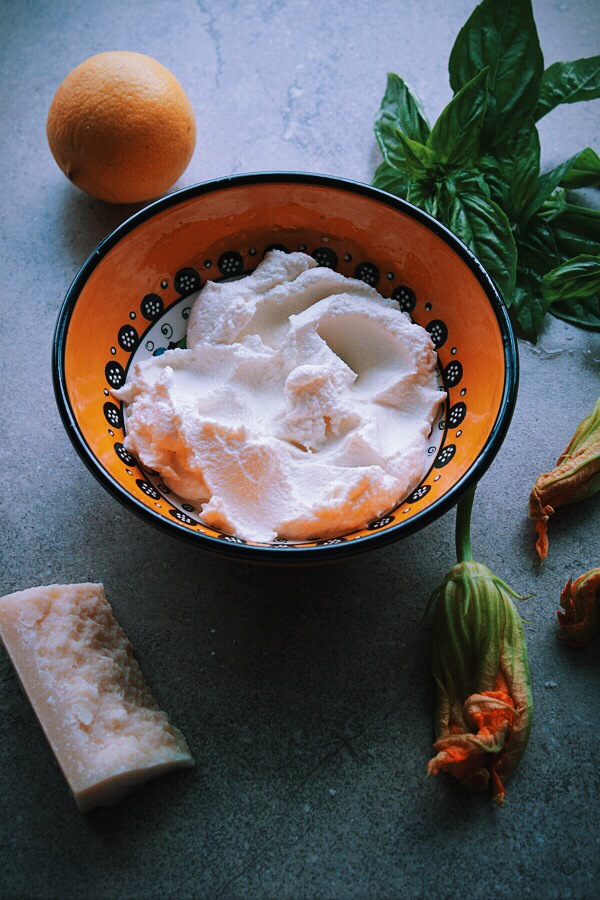 Zucchini blossoms also need to be prepared relatively quickly in order to hold up well. If you are lucky enough to find them at the market, they really need to be made that same day. Otherwise, the flowers will wilt and become mushy, and that is never a good thing.
Every single time I've picked (or contemplated picking) up a box of them at the farmer's market, a person standing nearby has politely tapped me on the shoulder and asked what the heck I'm doing with them.
I then go into about a 5-minute saga about my love for them…because I want everyone in the universe to try zucchini blossoms at one point or another, and fall in love themselves.
It happens every time. I can't help myself.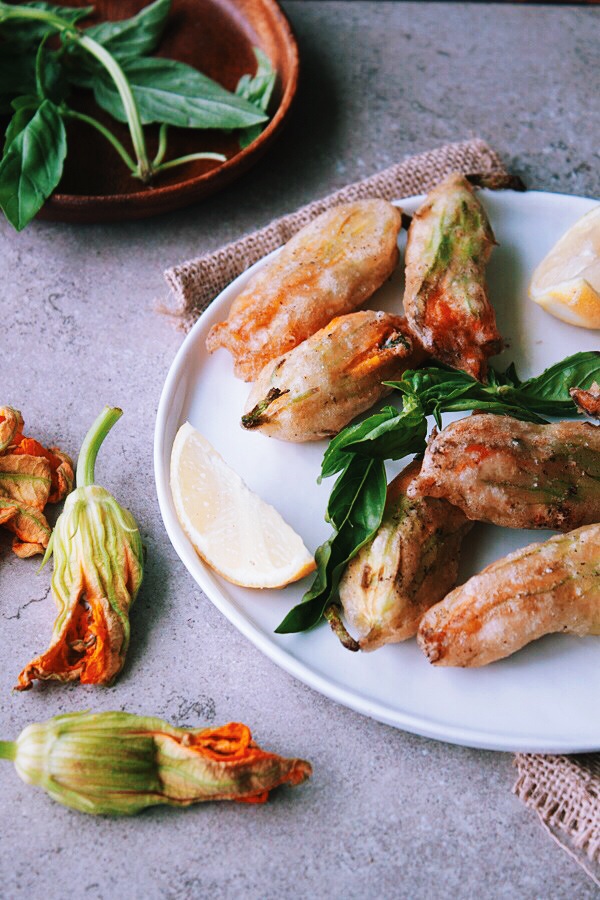 I think a lot of people shy away from zucchini blossoms because they have absolutely no idea what to do with them. It makes perfect sense! I mean, you can only find them every once in a blue moon and they're flowers.
But the minute you start thinking of them as an extension of a zucchini, it starts to make sense. They actually have a taste very similar to that of a young zucchini–and can be served raw in salads, on top of pizzas, stuffed, and tossed into pasta. You can prepare them in so many ways.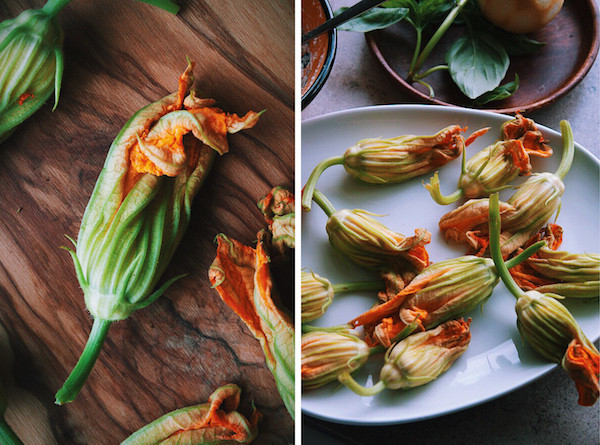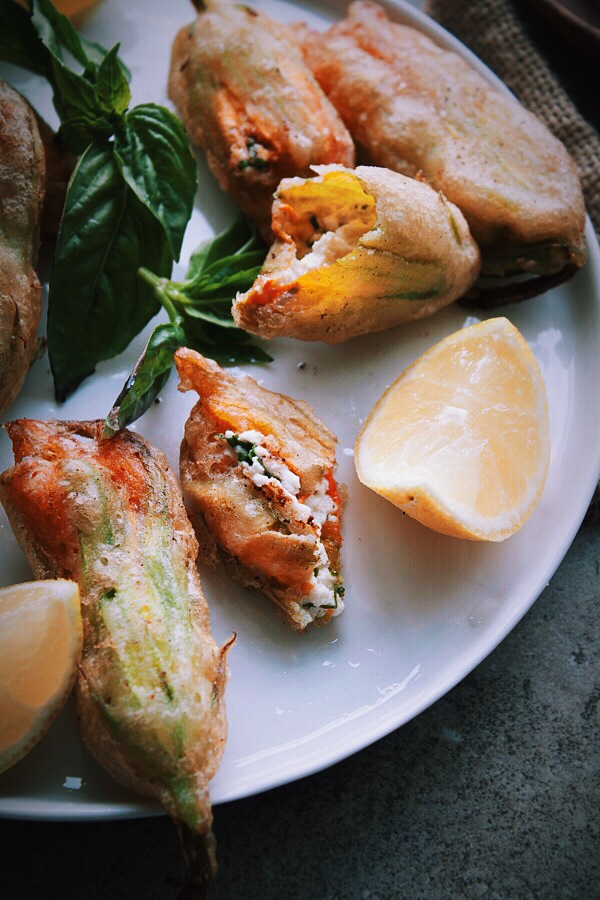 My absolute favorite way to prepare them is to stuff them with a light ricotta mixture and pan-fry them (alternatively, they can also be served raw). For this dish, I decided to flavor the ricotta simply with lemon zest, basil, and salt and pepper. You really want to stick with simple flavors in order not to overpower the blossoms.
I also chose to fry them using a light batter made of all-purpose flour, baking powder, and seltzer water. It coats the zucchini thinly, and the seltzer water and baking powder make it very crisp–similar to tempura batter in many ways. My favorite way to serve them is with lots of lemon wedges!
These were devoured. Enjoy.