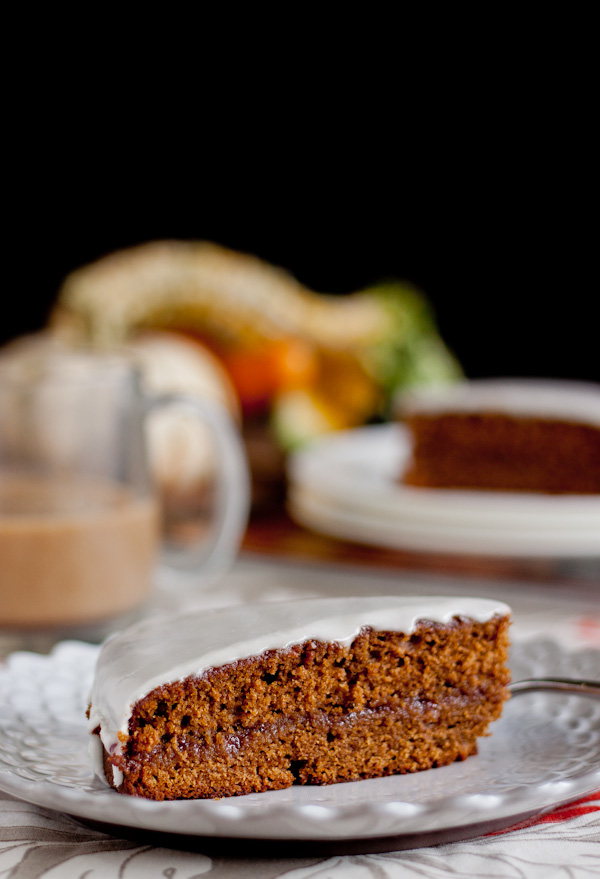 I made you cake!
Well, really, I just made myself some cake.  Unfortunately, the internet has not developed a way for me to share this directly with you.  Until that day arrives (please hurry, internet), I'll just describe it in excessive detail and take some pictures, OK?  Sounds like a plan.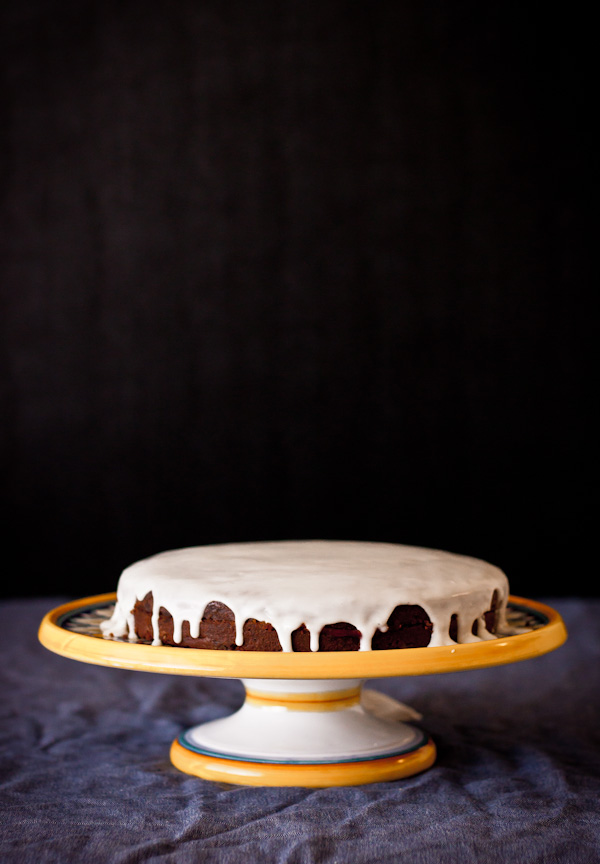 I recently watched a New York Time's video that was all about the business of food writing.  Or to be more specific, how newspaper food critics go about describing food.
It was fascinating–and while its quite a complicated process, to be sure, I was more than happy to hear that even the pros struggle at times.  To quote Ruth Reichl, there are only so many words in the English dictionary that can be used to describe food.  Delicious and my personal favorite, aghhhhh-oh-my-god-this-is-so-good (clearly, I need to work on this) only go so far…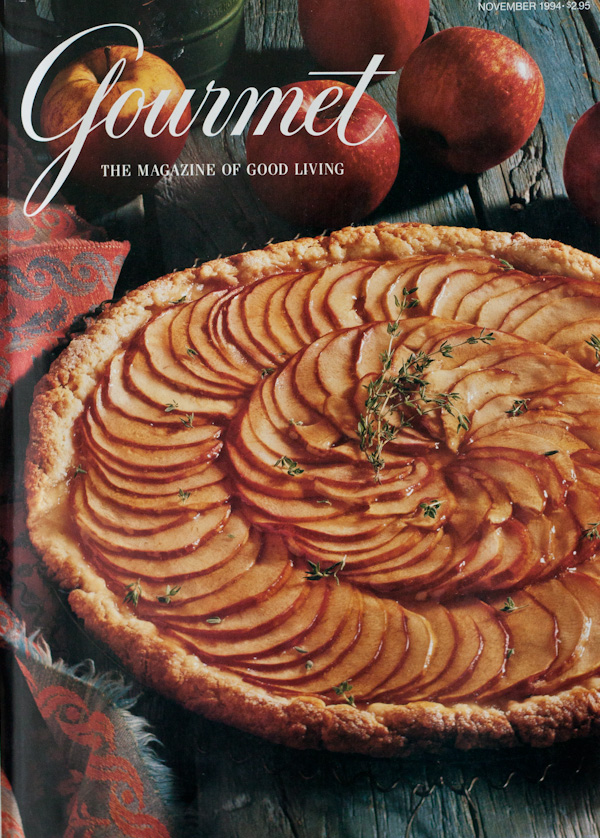 At a certain point, it comes down to how the food makes you feel.  Or simply, the memories and traditions that a certain dish evokes.
This cake is a perfect example of that.  It is warm, full of spice (from ginger, allspice, cloves and cinnamon), and simply put, tastes exactly how I would imagine fall would taste….that is, if fall was a flavor in and of itself.
Simple, unpretentious, and pretty addicting.  Just as the name suggests, it is the type of cake that will make you want to snuggle up in bed with a blanket, good book, and a hot mug of tea.  And, of course, a mandatory slice (or two) of cake.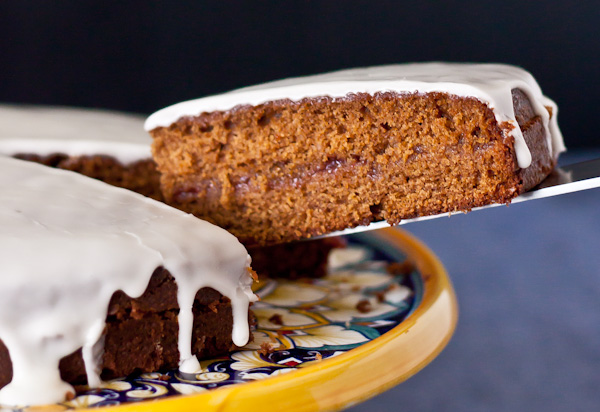 I discovered this hidden gem of a recipe in the reader submission section of a November 1994 issue of Gourmet–and didn't look back.  
The original cake recipe called for raspberry jam filling, which I highly recommend (don't worry, all you need is a steady hand and serrated bread knife), and chocolate buttercream frosting.  I chose to forgo the latter in lieu of a light, zesty lemon glaze that can be put together in mere seconds.  All three work so wonderfully together.
The glaze is simply the icing on the cake.  Both literally and figuratively, of course.  Enjoy!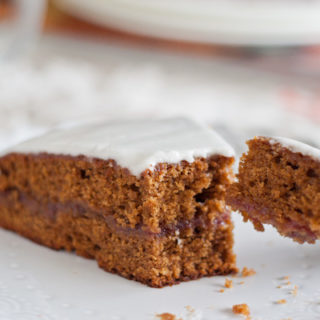 Gingerbread Tea Cake
Yield: 1 (9-Inch) Cake
Prep Time: 15 minutes
Cook Time: 40 minutes
Additional Time: 5 minutes
Total Time: 1 hour
Ingredients
Cake:
1 1/2 cups all-purpose flour
1/2 teaspoon baking soda
2 teaspoons ground ginger
1 teaspoon ground cinnamon
1/4 teaspoon ground cloves
1/4 teaspoon ground allspice
1/4 teaspoon salt
1/2 cup buttermilk, room temperature
2 teaspoons vanilla extract
1 stick (1/2 cup) unsalted butter, softened
1/2 cup firmly packed brown sugar (light or dark)
1/2 cup unsulfured molasses
2 large eggs, room temperature
Filling:
1/3 cup raspberry preserves
Lemon Glaze:
1 cup powdered sugar, sifted
juice of one lemon
3 tablespoons heavy cream (or half and half)
Instructions
Prepare Cake: Preheat oven to 350 degrees Fahrenheit. Grease and flour (tapping out the excess) a 9-inch cake pan.
In a bowl, whisk together the flour, baking soda, spices and salt. In separate bowl, whisk together the buttermilk and vanilla extract.
Using a stand mixer (or handheld), beat the butter and brown sugar together over medium high speed until light and fluffy. Add the molasses and mix over low speed until just combined. Beat in the eggs one at a time, scraping down the mixer bowl after each addition.
Add the flour mixture in three additions, alternating with two additions of the buttermilk mixture–ending with the flour mixture. Mix until just combined.
Scrape down the bowl with a spatula and ensure that all the ingredients are well incorporated (without over mixing).
Spread batter evenly into the greased cake pan and bake, in the center of the oven, for 30-40 minutes, or until cake tester comes out clean.
Cool in pan on rack for 10 minutes, invert cake onto rack and allow to cool completely. (Cake can be prepared up to a day in advance and tightly covered with plastic wrap and stored at room temperature).
Assemble Cake: Once cake has cooled completely, use a long serrated bread knife to cut the cake horizontally in half. The easiest way to do this is to go slowly–but don't worry about making it perfect.
Arrange the bottom layer cut side up on a cake plate and using a offset spatula, layer with the raspberry preserves. Place remaining cake layer cut side down on top.
Whisk together the sifted powdered sugar, lemon juice, and heavy cream in a small bowl until well combined. The glaze should be easily pourable (but not too thin). Adjust as necessary.
Using a spoon, drizzle spoonfuls over the top of the cake. Use a clean offset spatula to spread it out–allowing it to drizzle gently over the sides.
Serve immediately. Cake can be stored in an airtight container at room temperature for up to three days.
Notes
Cake recipe slightly tweaked from November 1994 issue of Gourmet magazine.
Nutrition Information:
Yield: 8
Serving Size: 1
Amount Per Serving:
Calories: 343
Total Fat: 5g
Saturated Fat: 3g
Trans Fat: 0g
Unsaturated Fat: 2g
Cholesterol: 57mg
Sodium: 221mg
Carbohydrates: 70g
Fiber: 1g
Sugar: 48g
Protein: 5g
A Beautiful Plate provides nutritional information, but these figures should be considered estimates, as they are not calculated by a registered dietician.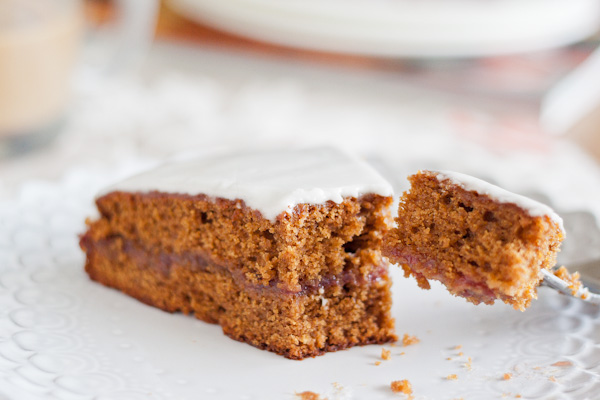 Previously on Throwback Thursday…