Pumpkin Butter Pecan Scones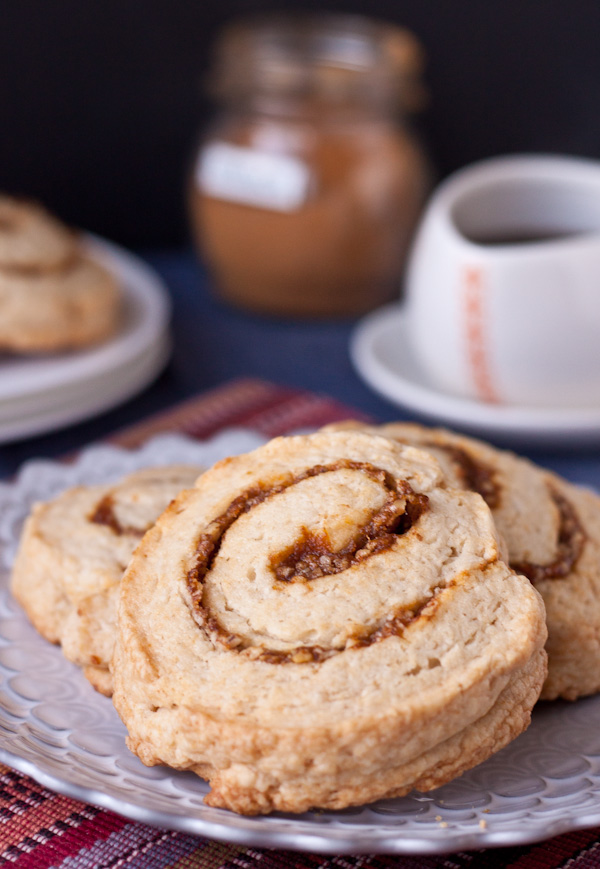 Sorry for the disappearing act last week!  I ended up taking a few days off of work and heading down to Hilton Head Island with my family for the long weekend.  Thankfully, the week-long downpour of rain in DC did not follow us and we had picture-perfect weather the entire time. If you follow me on Instagram, you'll know that the majority of my activity involved sitting by the pool and drinking smoothies.  It was extremely rough.
Anyway, I ended up taking it as an opportunity to disconnect for the week, which I must admit, is a task that I am not extremely good at.  Baking, on the other hand, comes a bit more naturally to me.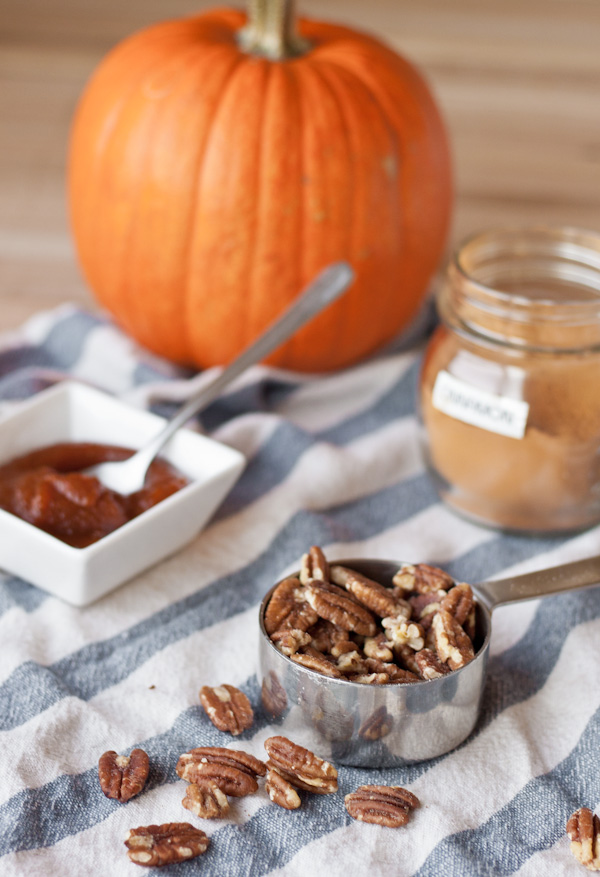 After avoiding pumpkin for as long as possible, I couldn't help it anymore.  At a certain point, your body just craves it–especially when crunchy leaves, scarfs, and sweaters come into play.
Every year, I tell myself that I'll make all sorts of crazy, over-the-top things with pumpkin.  Pumpkin marshmallows, three-tiered pumpkin cakes, pumpkin ice cream, pumpkin cookies, pumpkin risotto, etc, etc.  My imagination goes wild with the possibilities.
And then fall arrives and I end up resorting to my favorite, traditional staples.  Pumpkin quick breads, homemade pie, pancakes, and streusel muffins.  The old idiom, "if it ain't broke, don't fix it" comes to mind.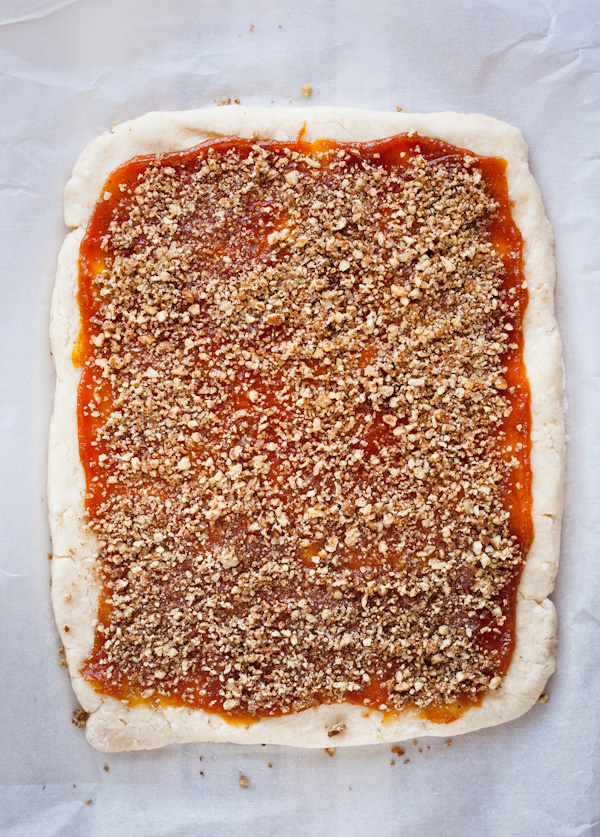 But with that said, I still wanted to do something a bit more different and exciting this year.  You guys deserve it.
So after a bit of brainstorming, I came up with the idea for these.  Similar to the idea of a cinnamon bun,  these scones are comprised of a traditional scone dough, which is layered with a filling of pumpkin butter, ground pecans, cinnamon, cloves, and a touch of brown sugar.
If you've never worked with pumpkin butter, it is essentially a slow-cooked, thick jam made from pure pumpkin, baking spices, and sugar.  I ended up using a store-bought version (from Trader Joe's), but feel free to substitute with homemade, if you are lucky enough to have it on hand.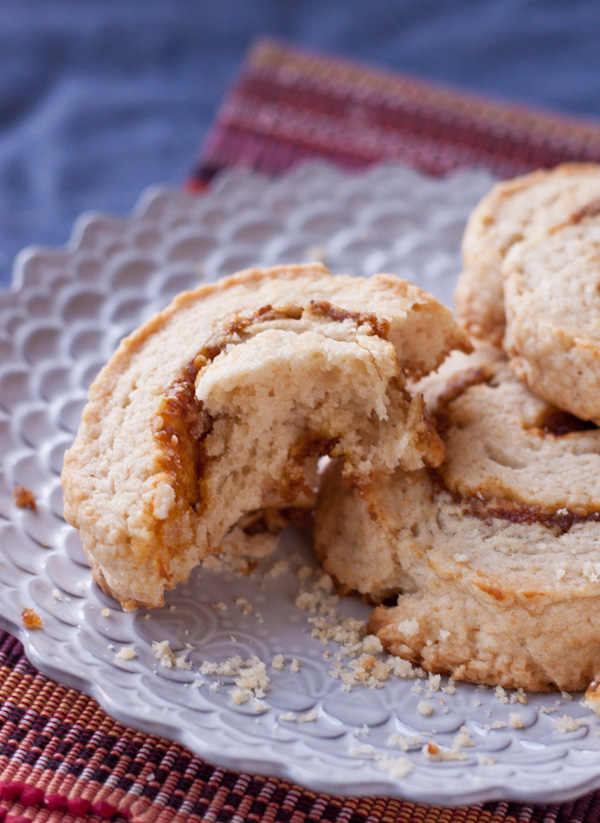 Despite how its name suggests, pumpkin butter does not have an overly strong pumpkin flavor, so if you happen to have friends and family who are not big fans (my dad's one of them), I'm fairly positive they will still love these.  

They are buttery, tender, and surprisingly light (despite the obvious heavy cream and butter)–as any good scone should be–and infused with the perfect amount of fall spice and pumpkin goodness.  The dough comes together fairly quickly, but be sure to allow it to chill sufficiently in the fridge.  Chilled dough equals taller, more tender scones.  Enjoy!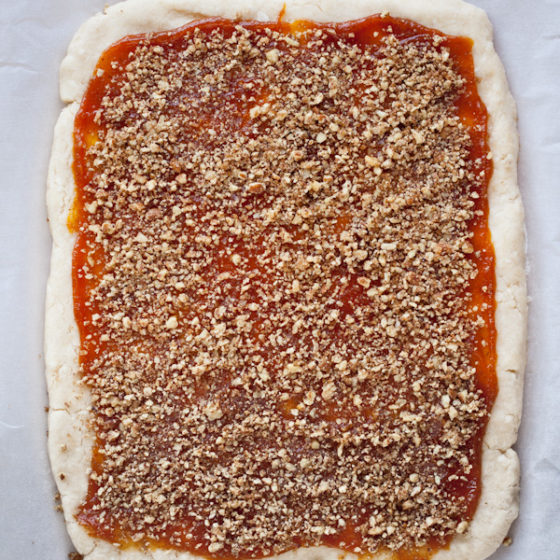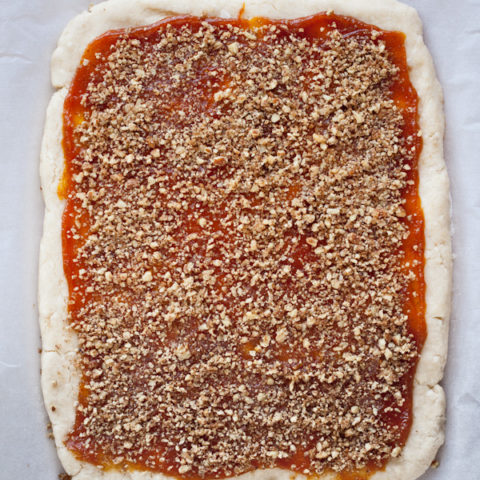 Pumpkin Butter Pecan Scones
Yield: 10 Servings
Prep Time: 2 hours 30 minutes
Cook Time: 30 minutes
Total Time: 3 hours
Ingredients
Dough:
2 1/2 cup all-purpose flour
1/2 cup sugar
2 1/2 teaspoons baking powder
1/2 teaspoon salt
1/4 teaspoon ground cinnamon
4 ounces (1 stick) cold unsalted butter, cut into 1/4″ cubes
1 cup + 1 tablepoon chilled heavy cream
Filling:
1/3 cup canned pumpkin butter (I used Trader Joe's brand)
1/4 cup roasted whole pecans
1 teaspoon packed brown sugar
1/8 teaspoon ground cinnamon
pinch of ground cloves
pinch of salt
Instructions
Before starting, place the butter and cream in freezer for 5-10 minutes to chill.
Grind the pecans in a small food processor until it resembles wet sand, set aside in a bowl and mix with 1/8 teaspoon cinnamon, brown sugar, and pinch of salt.
Place flour, sugar, cinnamon, baking powder, and salt in (large) food processor bowl. Pulse several times to combine thoroughly. (Alternatively, rub the butter into the flour mixture using your fingertips. Work quickly until the butter resembles grains of rice and is distributed evenly among the flour.)
Add the cold, cubed butter to the flour mixture and pulse several times quickly until the butter pieces are no larger than the size of a pea.
While pulsing, pour in the cream and continue to pulse until the dough just comes together–if necessary, add an additional tablespoon of cream.
Flour your hands lightly and move the dough to a well-floured counter top. Press together and knead briefly. Using a lightly floured rolling pin, roll the dough into a 8 inch x 10 inch rectangle. Move the dough with a bench scraper periodically as you do this to ensure that is not sticking to the counter top–continue flouring lightly if necessary. Use your hands to square the corners.
Using an offset spatula, spread the pumpkin butter on the top of the dough–leaving a 1/2″ border on all sides. Sprinkle evenly with the nut mixture.
Roll the long edge of the dough up, patting the dough as you go, until the dough forms a long 10″ log. Place seam side down to seal. Cut evenly in half, wrap the respective pieces with plastic wrap, place on a plate or baking sheet and allow to chill in the refrigerator for 1-2 hours or preferably, overnight (if the dough is too warm, the scones will spread more in the oven).
Preheat the oven to 350 degrees Fahrenheit. Line a full baking sheet with parchment paper (or Silpat). Bake 5-6 at a time (allowing the baking sheet to cool completely between batches).
Remove the logs from the fridge and slice each respective half into 5 equal rolls–about 1 1/2″ wide.
Place the scones spiral side up on the baking sheet. Squeeze the dough with your hands to shape them into rounds. Bake for 30-35 minutes. The scones are ready when the bottoms are golden brown.
Best served hot out of the oven or within the first day of baking (they can be stored in an airtight container at room temperature for an additional 2-3 days).
Notes
The dough can be made ahead and stored, covered tightly with plastic wrap, in the fridge for up to a day before baking.
Nutrition Information:
Yield: 10
Serving Size: 1
Amount Per Serving:
Calories: 220
Total Fat: 7g
Saturated Fat: 4g
Trans Fat: 0g
Unsaturated Fat: 2g
Cholesterol: 19mg
Sodium: 253mg
Carbohydrates: 35g
Fiber: 1g
Sugar: 11g
Protein: 3g
A Beautiful Plate provides nutritional information, but these figures should be considered estimates, as they are not calculated by a registered dietician.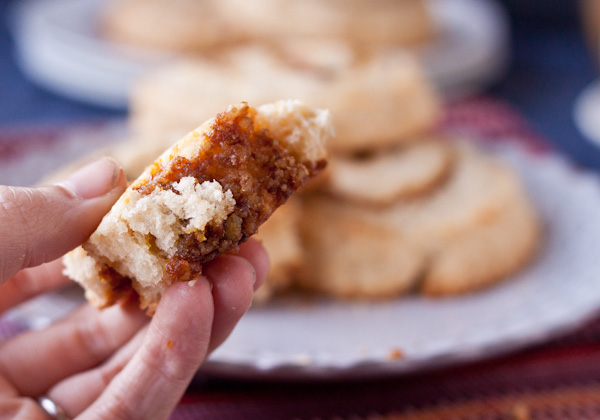 PS.  I promise not to go overboard with the pumpkin recipes this year, but hopefully I'll have a few more fun recipes to share over the next month or so!