Pumpkin Butter Pecan Scones
Rich and buttery swirled scones filled with pumpkin butter, finely chopped pecans, brown sugar, and cinnamon.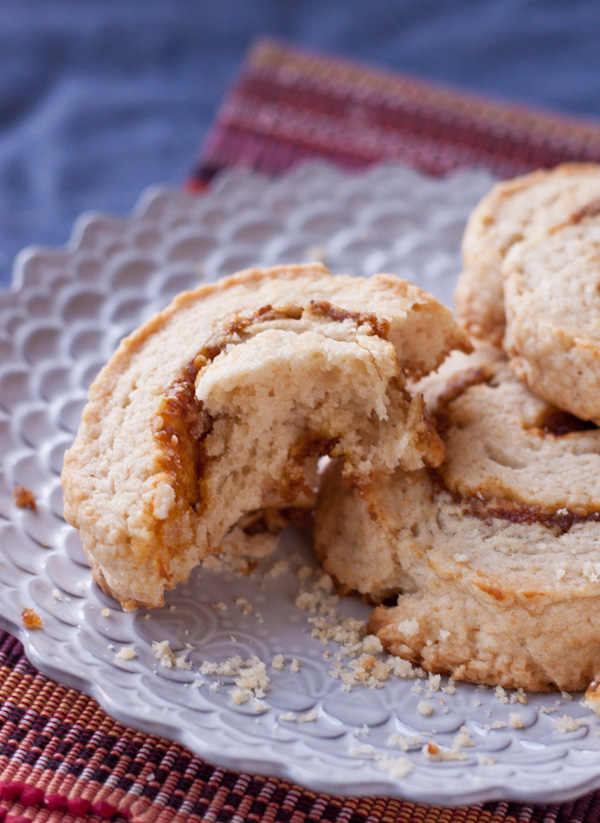 If you're looking for a fun and exciting twist on the classic pumpkin baked goods, these Pumpkin Butter Pecan Scones are right up your alley!
These scones are buttery, tender, and surprisingly light. Not to mention, they are infused with the perfect amount of fall spice and pumpkin goodness.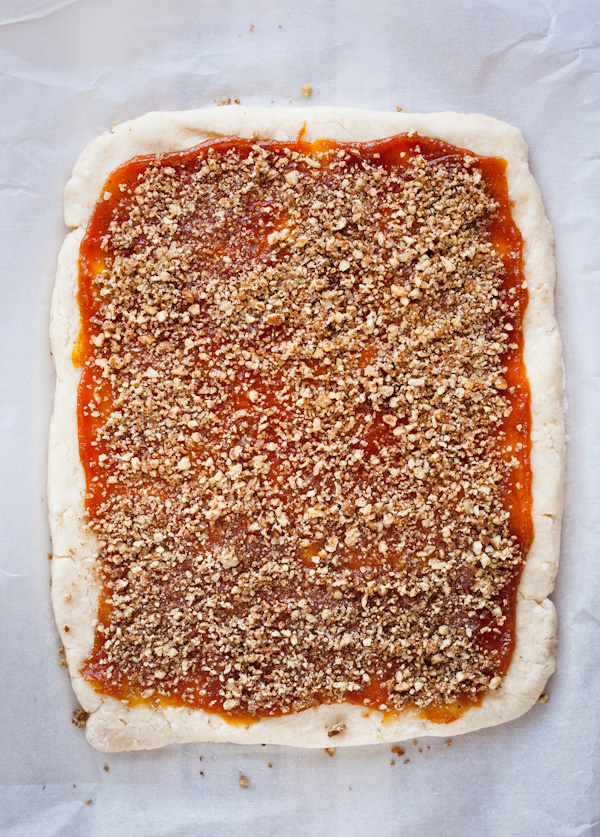 So after a bit of brainstorming, I came up with the idea for these pumpkin butter scones. Similar to cinnamon buns, the scone dough is layered with a filling of pumpkin butter, ground pecans, cinnamon, cloves, and brown sugar, rolled into a log, and cut into spiral slices.
If you've never worked with pumpkin butter, it is essentially a slow-cooked jam made from pure pumpkin, baking spices, and sugar. Feel free to use store-bought or homemade if you prefer.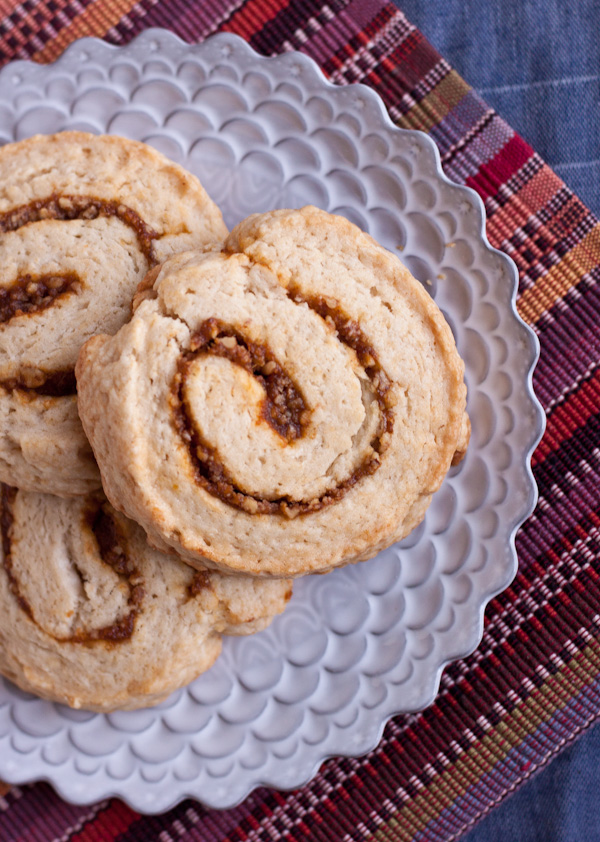 This scone dough comes together fairly quickly, but be sure to allow it to chill sufficiently in the fridge. Chilled dough equals taller, more tender scones.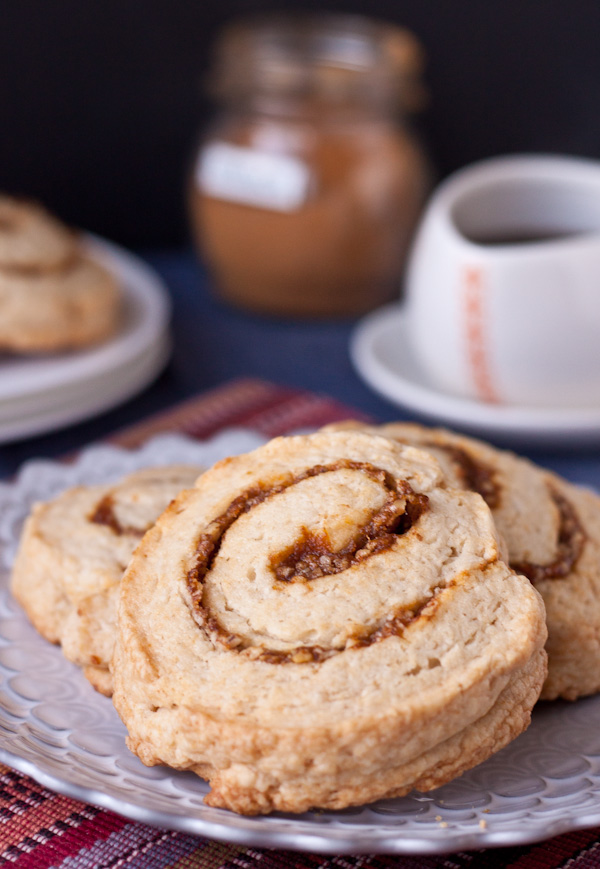 Despite how its name suggests, pumpkin butter does not have an overly strong pumpkin flavor, so if you happen to have friends and family who are not big fans, they will most likely still enjoy these scones.
Be sure to try this Spiced Coffee Cake with Pumpkin Butter Swirl next!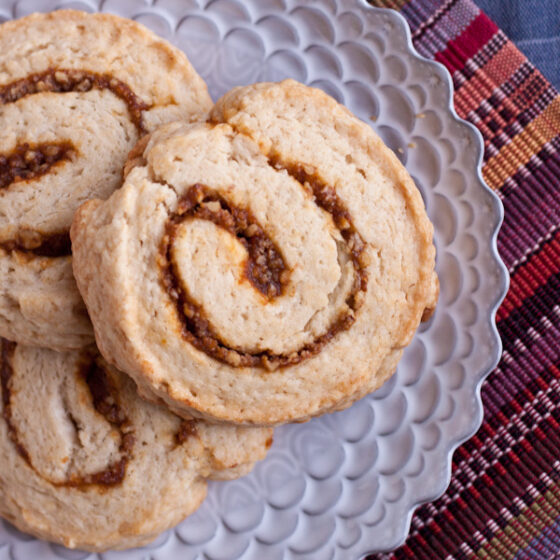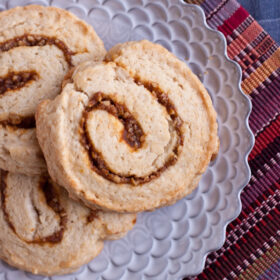 Pumpkin Butter Pecan Scones
Rich and buttery swirled scones filled with pumpkin butter, finely chopped pecans, brown sugar, and cinnamon.
Ingredients
Filling:
¼ cup toasted whole pecans
1 teaspoon packed brown sugar
⅛ teaspoon ground cinnamon
pinch ground cloves
pinch kosher salt
⅓ cup pumpkin butter I used Trader Joe's brand
Scone Dough:
2½ cups (300g) unbleached all-purpose flour plus more for dusting
½ cup (100g) granulated sugar
2½ teaspoons baking powder
½ teaspoon kosher salt
¼ teaspoon ground cinnamon
4 ounces (8 tablespoons; 115g) very cold unsalted butter cut into ¼-inch cubes
1 cup + 1 tablespoon cold heavy cream
Instructions
Prepare Filling: Grind the toasted pecans in a small food processor until fine - be careful not to over process or you will start creating nut butter. Place in a small bowl and add the brown sugar, cinnamon, cloves and salt. Mix and set aside.

Prepare Scones: Combine the all purpose flour, sugar, baking powder, cinnamon, and salt in the bowl of a large food processor. Pulse several times until well mixed. Add the very cold, cubed butter and pulse several times quickly until the butter pieces are no larger than the size of peas. Do not over process.

While pulsing, pour in the chilled heavy cream and continue to pulse until the dough just begins to come together. If needed, add an additional tablespoon of cream.

Transfer the dough to a lightly floured working surface. Press the dough together and knead briefly. Using a lightly floured rolling pin, roll the dough into a 8 x 10-inch rectangle. Move the dough with a bench scraper continuously as you work to ensure it is not sticking to your countertop. Use your hands to square the corners of the dough as best you can.

Using an offset spatula, spread the pumpkin butter on the top of the scone dough, leaving a ½-inch border on all sides. Sprinkle the butter evenly with the pecan-sugar mixture.

Starting with the long edge of the rectangle, roll the scone dough to form a 10-inch log and set seam-side down to seal. Using a sharp knife, cut the log in half and wrap each half tightly with plastic wrap. Chill the dough in the refrigerator for 1 to 2 hours or preferably overnight (if the dough is warm, the scones will spread in the oven).

As the dough is finishing chilling, preheat the oven to 350°F (175°C) with a rack in the center position. Line a half sheet pan with parchment paper and set aside -

Remove the chilled dough from the fridge and slice each log into 5-equal sized slices roughly 1½-inches wide. Place the scones spiral side facing up on the lined sheet pan (you will need to bake the scones in batches - 5 to 6 at a time - to avoid overcrowding the sheet pan).

Bake for 30 to 35 minutes or until the golden brown. Transfer to a wire rack to cool slightly. Serve warm out of the oven or ideally the day of baking.
Serving: 1serving, Calories: 220kcal, Carbohydrates: 35g, Protein: 3g, Fat: 7g, Saturated Fat: 4g, Polyunsaturated Fat: 2g, Cholesterol: 19mg, Sodium: 253mg, Fiber: 1g, Sugar: 11g
This post contains affiliate links, which means that I make a small commission off items you purchase at no additional cost to you. Please read my
privacy policy
for more information.