Greek Salad with Crispy Feta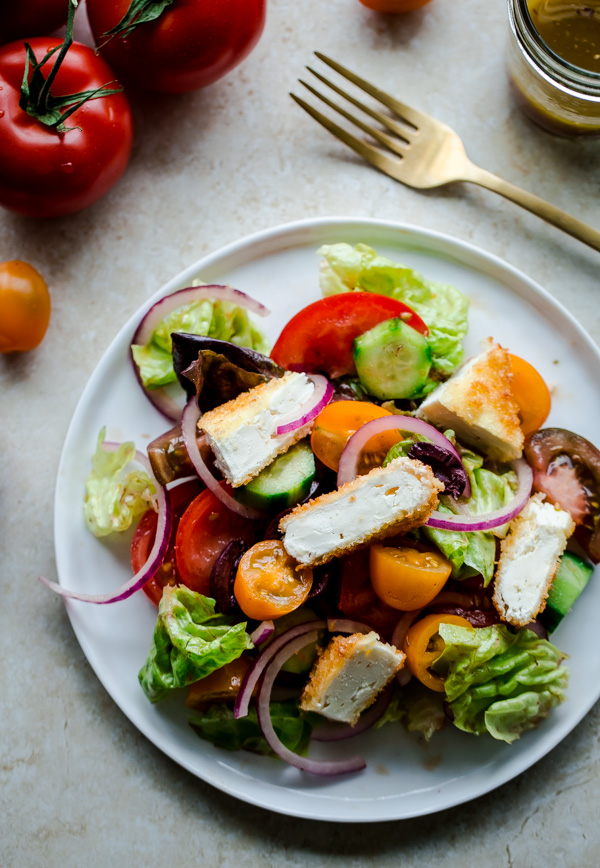 Yes, yes, yes. Monday is about to get a whole lot better!
This salad excites me for many reasons. 1) Tomatoes are just coming into season! 2) Feta is involved, and we all know how much I love feta (are there people that don't like feta? I don't know how I feel about that), 3) I'm always looking to introduce new, exciting salads into my life, and 4) um, CRISPY FETA.
Are you freaking out as much as I am right now?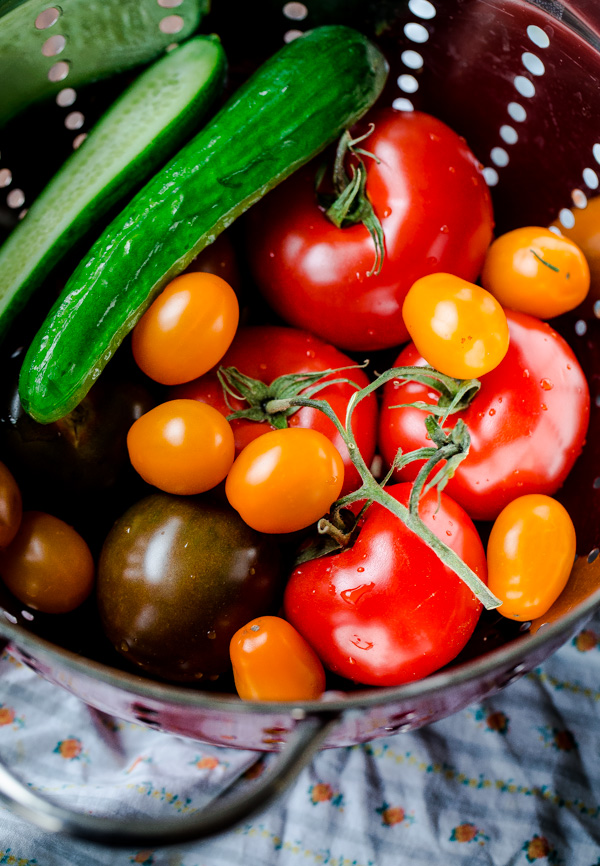 If you're having difficulty imagining how this works, basically picture how tasty feta is on its own. Now imagine breading it with panko breadcrumbs and shallow frying it in olive oil.
I give you warm, crispy feta.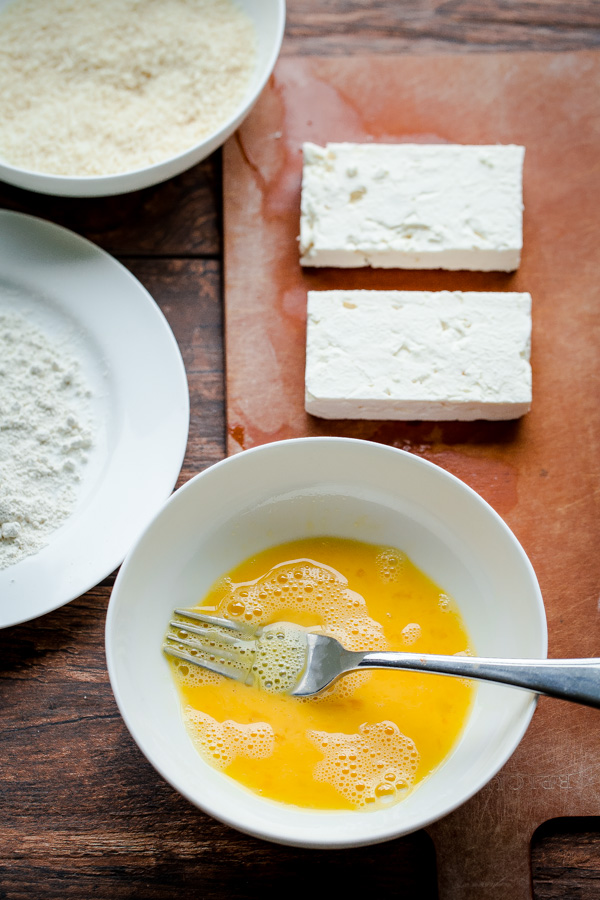 Little bites of salty cheesy heaven thrown on top of a classic Greek salad loaded with tomatoes (I used three different varieties, and can't wait to make it again once heirlooms are available), sliced red onion, kalamata olives, cucumber, and a few leaves of delicate butter lettuce. I chose to make this salad very vegetable heavy, but to each their own!
If you have a favorite homemade Greek salad dressing, feel free to use that. I included my favorite homemade Greek vinaigrette, which I shared with you a few months ago!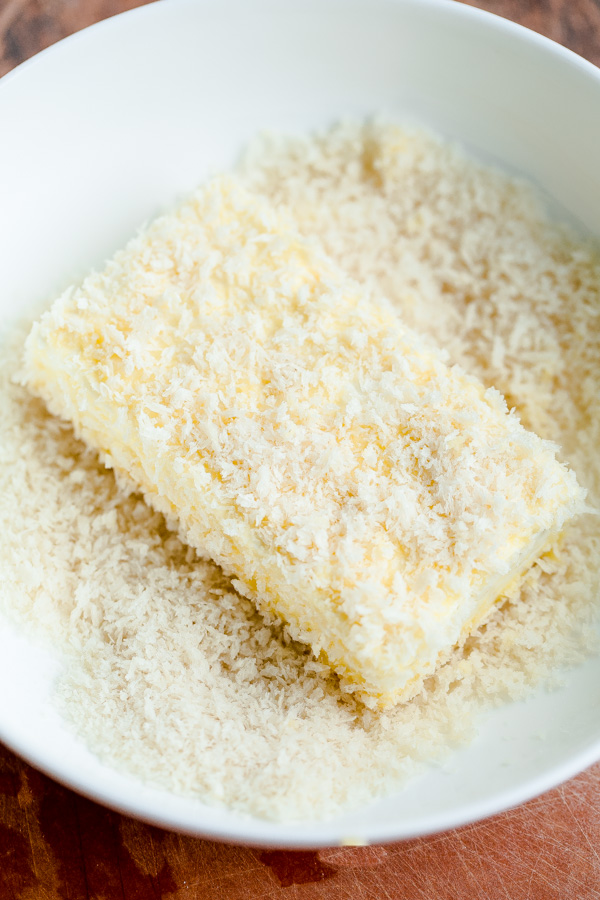 Although making the crispy feta is fairly straight-forward and easy, there are a few key things to remember! Firstly, you'll need to buy a block of feta. I love to buy feta in the brine, because it seems to have a longer shelf life once opened (as opposed to the kind vacuum-packed in plastic).
The next step is to slice the feta into 1/2-inch wide blocks. Depending on which brand of feta you purchase, this size will vary, so adjust the amount as needed to yield approximately 2.5 to 3 ounces of feta per salad serving. If you need to cut it into smaller squares or cubes, you can do that too!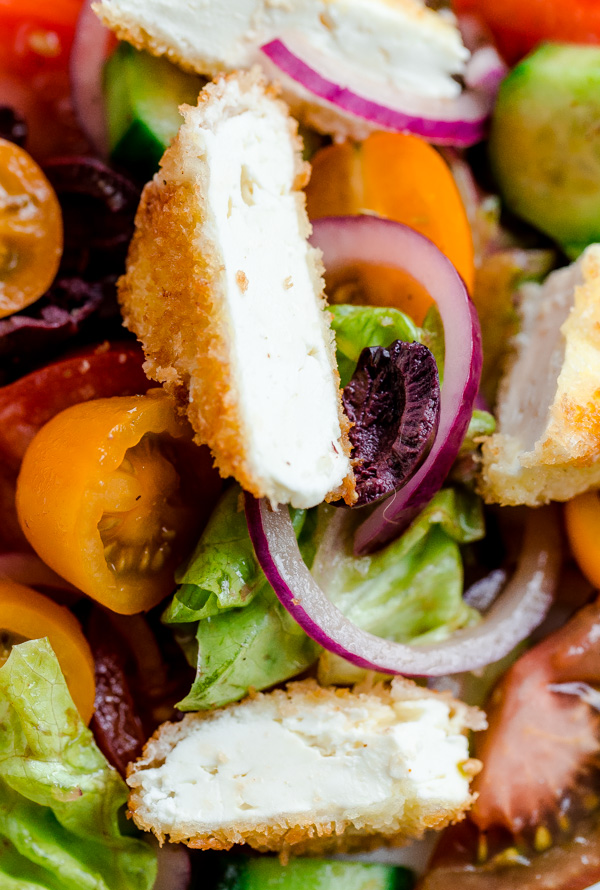 The next step is to thoroughly pat dry the feta (this is particularly relevant if it was packed in brine) on several paper towels, before you coat it in breadcrumbs. If the block of feta has a lot of moisture, it's more likely that the breadcrumb coating will not stick.
And the most important tip! Shallow fry the feta pieces in about 3/4″ inch deep or 1″ inch deep worth of olive oil relatively quickly at medium to high heat. If you don't fry quickly (i.e. it should only take about 1 minute max per side), the feta will have a chance to start to melt and become more difficult to handle or flip.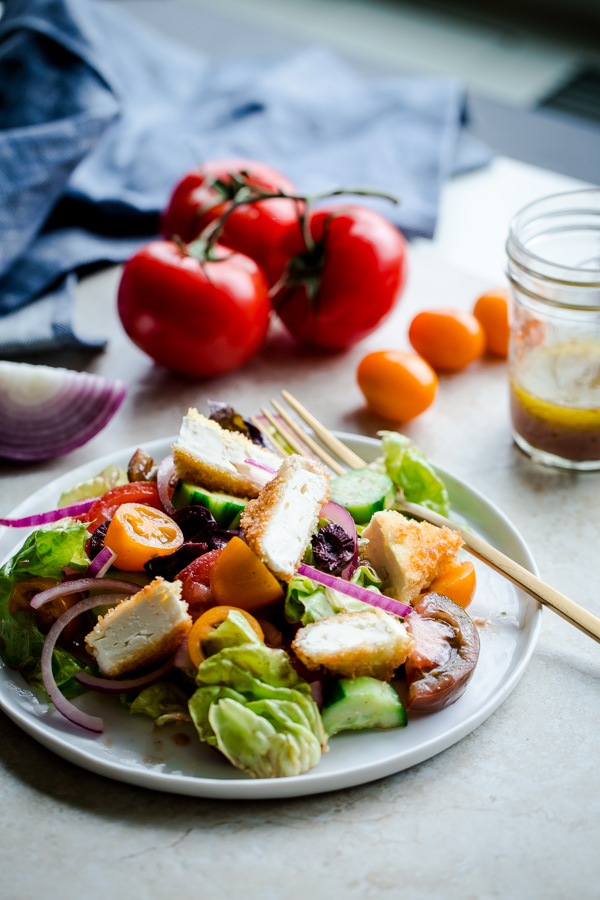 And last but not least, have the rest of your salad tossed and ready to go, so you can enjoy the feta while its crispy and warm straight out of the pan!
Enjoy.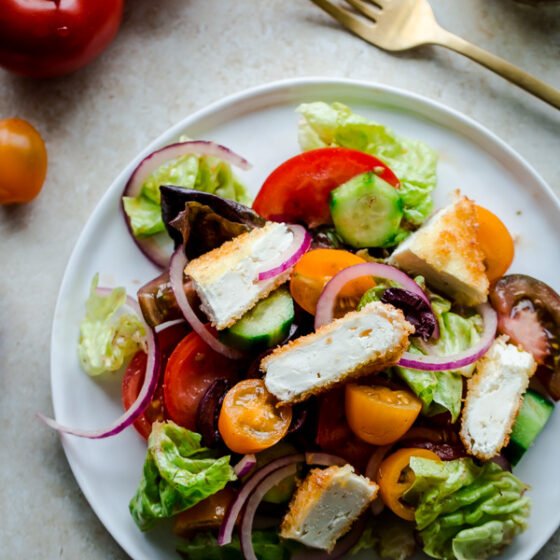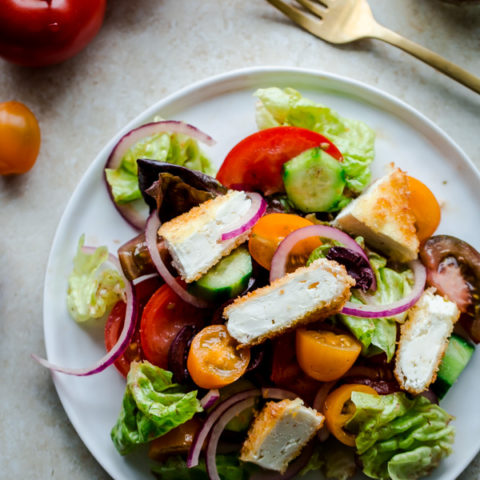 Greek Salad with Crispy Feta
Yield: 2 Servings

Prep Time: 20 minutes

Cook Time: 5 minutes

Total Time: 25 minutes
Ingredients
Vinaigrette:
1/4 cup red wine vinegar
1 teaspoons Dijon mustard
roughly 1/4 teaspoon sea salt
freshly ground pepper
1/4 cup extra virgin olive oil
1/2 teaspoon dried oregano
Greek Salad with Crispy Feta:
1/4 red onion, thinly sliced
2-3 large vine-riped tomatoes, sliced into wedges
1 kumato tomato, cut into wedges
4-5 small golden tomatoes, halved
1 Persian cucumber, peeled and cut into chunks
1/4 cup pitted kalamata olives, sliced lengthwise
1 – 1.5 cups butter lettuce, torn into large pieces
5-6 ounces feta cheese , cut into 2 (1/2-inch) thick rectangles* (see notes below)
1/4 cup all-purpose flour
1 large egg, beaten
1/2 cup panko breadcrumbs
olive oil, for frying
Instructions
Prepare the Vinaigrette: Jar Method: Combine all ingredients in a small glass leakproof container and shake well for 20 to 30 seconds. Shake dressing before serving. Can be stored at room temperature for up to three weeks. Extra Creamy Method: Combine red wine vinegar, mustard, salt, and pepper in a blender or food processor, and turn on high speed. Slowly pour the oil in a very thin stream into the blender or food processor, allowing it to emulsify with the other ingredients. Store in container and stir in the fresh oregano leaves.
Prepare Salad: Combine the onion, tomatoes, cucumber, and olives in a large bowl. Toss lightly with vinaigrette (reserve the butter lettuce to just before serving, so that it doesn't wilt) and allow the salad to marinate while you prepare the crispy feta.
Slice the feta block into 1/2-inch wide pieces. Dry and pat the feta slices thoroughly on a thick set of paper towels, until the feta is mostly dry and very little moisture is left.
Assemble the breading station: set out the flour on a small plate, whisk together the egg in a small, shallow bowl, and place the breadcrumbs in a separate shallow bowl. Very lightly coat the feta pieces in flour, then dip in the egg mixture. Allow any excess egg to drip back into the bowl, then transfer and evenly coat the feta with panko breadcrumbs. Set aside a large plate lined with a paper towel.
Fill a small frying pan with olive oil, so that the oil is roughly 3/4″- inch to 1″-inch deep. Place over medium high heat. Place a few spare breadcrumbs in the pan to check if the oil is the right temperature (they should sizzle immediately).
Gently add the breaded feta (do not crowd the pan; you may need to do this in batches), and fry for roughly 1 minute per side, or until golden brown. Flip the feta pieces carefully with a fish spatula. Transfer them carefully to the paper-towel lined plate to drain any excess oil.
Add the butter lettuce to the tomato mixture, and season salad to taste with salt and pepper, and serve. Cut the warm, crispy feta into chunks and place on top of the salad. Serve salad immediately.
Notes
Inspired by Knife & Fork magazine and the Ivy Inn.
Nutrition Information:
Yield: 6 Serving Size: 1
Amount Per Serving: Calories: 599Total Fat: 44gSaturated Fat: 23gTrans Fat: 0gUnsaturated Fat: 19gCholesterol: 157mgSodium: 1535mgCarbohydrates: 26gFiber: 4gSugar: 12gProtein: 25g