Grilled Polenta Bites with Roasted Red Pepper, Feta, and Thyme
Grilled polenta bites topped with a roasted red pepper, feta, and thyme topping. Serve as a bite-sized spring or summer appetizer!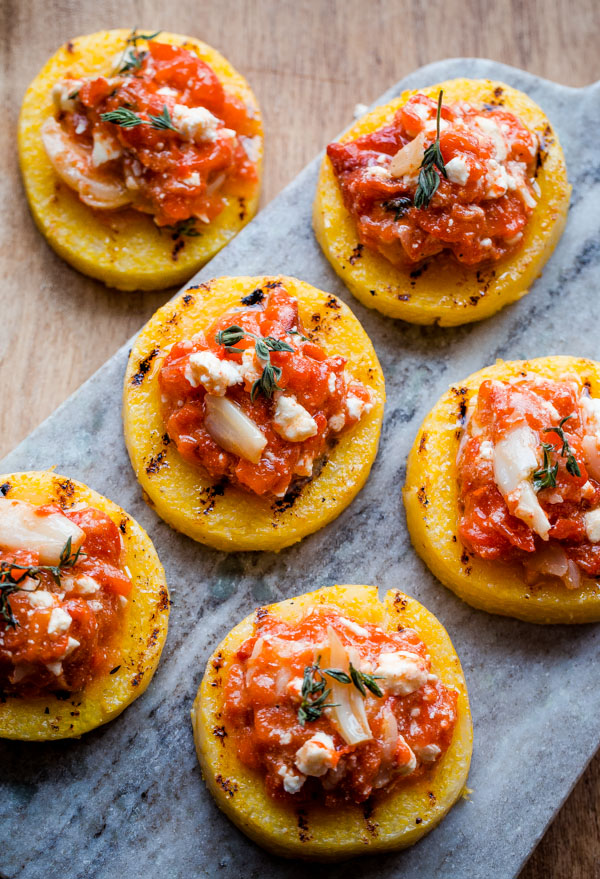 Let's talk bite-sized appetizers. Who else is a fan? I'm pretty sure I could live on them.
They are quite possibly one of my favorite things in the entire world! Quite honestly, I'm more than happy to ignore main courses on any menu in lieu of a few appetizers or tapas.
One of the biggest highlights of wedding planning was tasting and choosing our passed hors d'oeuvres. It took a lot of willpower to narrow down our choices to just five–and that was one extra than originally planned. Sadly, I didn't get to eat a lot of said hors d'oeuvres during the actual wedding (I was prepared for this reality, but it still made me sad). These grilled polenta bites somewhat make up for that!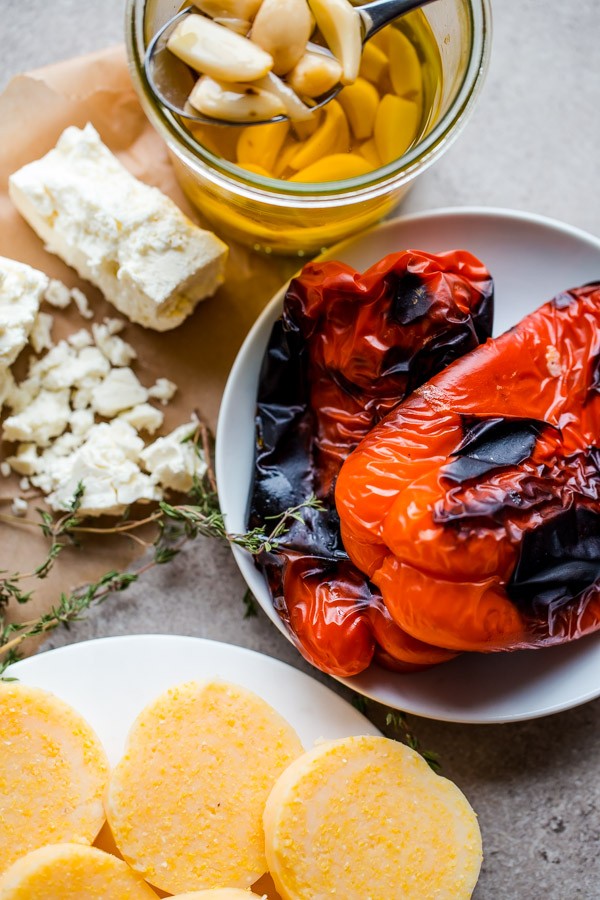 These grilled polenta bites came about in a very strange way. A couple months ago, Connor and I went out for an impromptu dinner in DC. We originally planned on trying to use a gift certificate at one of our favorite restaurants, Roses Luxury, but left after hearing that the wait could be more than three hours (YES, I'm not even joking, this is normal).
Since we're crazy, we decided to then try our hand at yet another ridiculously popular restaurant (which we also happened to have a gift certificate for) called Little Serow. Long story short, we still had to wait more than two hours to be seated. While we were waiting for our table, we went across the street to a cute little Greek restaurant, where we passed the time with a few tapas and a glass of wine.
One of the tapas involved a delicious roasted red pepper and feta spread, which I could have happily gobbled up all night long. I knew that I wanted to recreate it in some way for a blog recipe, and somehow along the way of brainstorming, came up with the idea of putting it on top of grilled polenta, so there you go!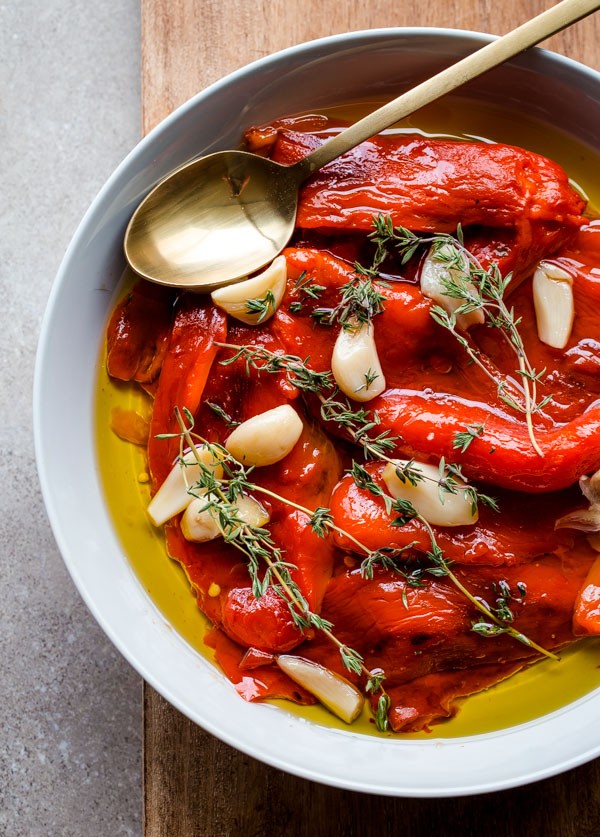 The actual roasted red pepper spread is very simple, and involves only a handful of ingredients: fresh red bell peppers (charred under the broiler), good-quality feta cheese, fresh thyme, and my favorite addition, garlic confit (or roasted garlic cloves!).
Ok, so I realize this is the third recipe that I've shared in the past month or so that calls or talks about garlic confit. First, I shared these Don't hate me. I can't help myself. I told you that stuff was versatile (and I happened to have quite a lot of it in my fridge at one point), so I thought I might as well share a few recipes that use it. One of the side effects of making garlic confit is that you will want to add it to everything.
Once the bell peppers have been roasted, they are chopped roughly in a small food processor, or this can be done by hand as well.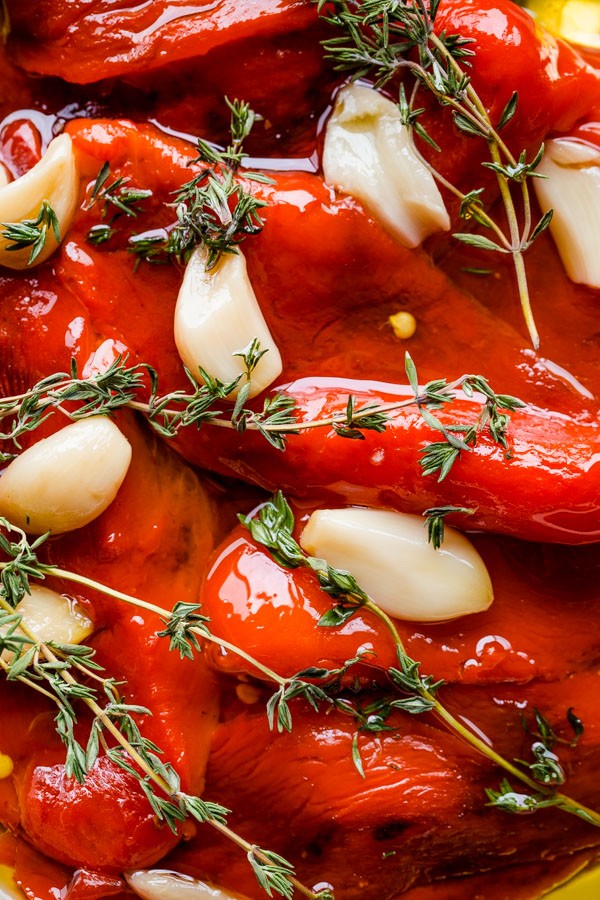 Side note: Several of you have been asking in the comment section whether you can make garlic confit in a slow cooker. At this point, I don't know the answer, as I've never owned a slow cooker before. Truthfully, I don't think it will save time or energy, so my current answer is "I don't recommend it."
However, one of our wedding gifts was indeed a slow cooker, so hopefully I'll have a chance to test this out at some point, and I'll be sure to share the results!
The grilled polenta discs are easily prepared by buying several of those pre-cooked polenta logs, and brushing them with olive oil before grilling. I have to admit, the logs look like weird sausage things (and I shied away from them for quite a long time), but they are one of the best cooking shortcuts out there.
Not only do they save an enormous amount of time, but they are perfect for grilled applications (they hold their shape extremely well), and even better for preparing little bite-sized appetizers like these or mini polenta pizzas. Yes, those are quite delicious too.
Since the polenta rounds are quite small (two bites max!), I recommend grilling them on a grill pan, as opposed to an outdoor grill, where they might have a tendency to fall through the grates.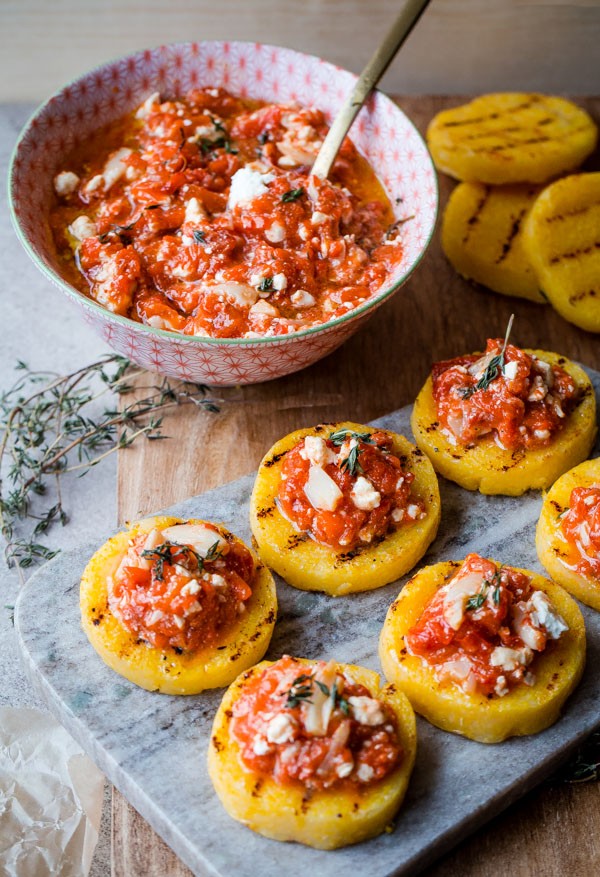 The best part about these is that they taste just as good warm, or at room temperature, so you don't have to worry about preparing them a little bit in advance! You could easily add all sorts of little touches to them like fresh basil or a little handful of arugula!
How fun would these be at a spring or summer cookout?! Do it.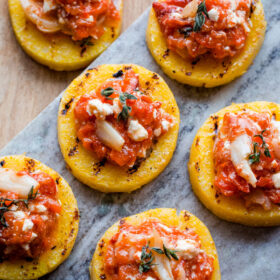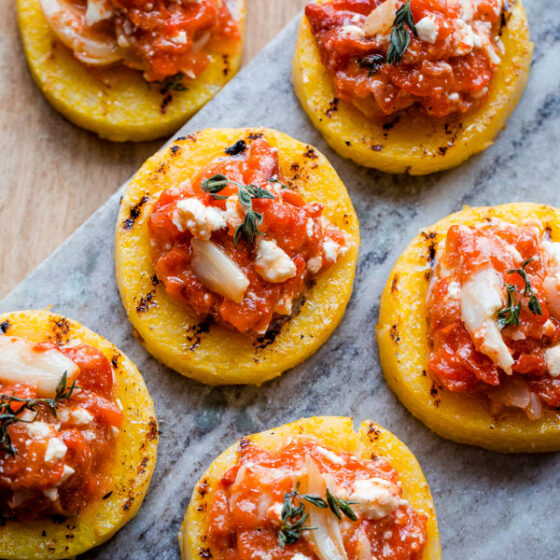 Grilled Polenta Bites with Roasted Red Pepper, Feta, and Thyme
Grilled polenta bites topped with a homemade roasted red pepper, feta, and thyme topping. Serve as a bite-sized spring or summer appetizer!
Ingredients
Roasted Red Pepper, Feta, and Thyme Spread:
3 large red bell peppers
¼ cup (60 mL) extra virgin olive oil
6-8 garlic confit cloves or roasted garlic cloves roughly chopped
3 ounces feta cheese, in brine crumbled into large chunks
2-3 sprigs fresh thyme plus more for garnishing
kosher salt
freshly ground black pepper
Grilled Polenta:
2 (18-ounce) tube pre-cooked polenta
extra virgin olive oil for brushing
kosher salt
Instructions
Prepare spread: Preheat the oven broiler. Place the bell peppers on a foil-lined half sheet pan and slide under the broiler. Allow the peppers to char on all sides, rotating them with tongs every few minutes. This will take anywhere from 10 to 15 minutes, roughly.

Transfer the peppers to a bowl and allow to cool until comfortable to handle, then cut in half, discarding the stems, seeds, and peel.  Slice the peeled roasted peppers into thick strips and place in a large bowl with the olive oil, garlic confit cloves (or roasted garlic), and thyme sprigs. Allow to marinate for 15 to 20 minutes while you prepare the polenta rounds.

Prepare polenta: Trim and discard the ends of the polenta tubes. Slice the logs into ½-inch thick rounds (this should yield roughly 10 rounds per tube). Brush (or spray) both sides of the polenta discs with olive oil. Heat a large grill pan or outdoor gas grill over medium-high heat. Grill the polenta discs for 3 to 4 minutes on each side, flipping them carefully to avoid breaking them. Place on a platter, sprinkle lightly with salt, and allow the grilled polenta to cool slightly while you finish preparing the topping.

Remove the strips of roasted red pepper from the oil, allowing most of the oil to drip off, and place in a small food processor. Pulse the peppers until roughly chopped. Transfer to a medium bowl, add the roughly chopped confit (or roasted) garlic cloves, and stir in the crumbled feta. Season to taste with salt and pepper.

Top each piece of grilled polenta with a large spoonful of pepper spread. Garnish with fresh thyme leaves. Serve immediately.
Serving: 1serving, Calories: 98kcal, Carbohydrates: 4g, Protein: 2g, Fat: 9g, Saturated Fat: 2g, Polyunsaturated Fat: 6g, Cholesterol: 8mg, Sodium: 200mg, Fiber: 1g, Sugar: 2g
This post contains affiliate links, which means that I make a small commission off items you purchase at no additional cost to you. Please read my
privacy policy
for more information.